Using The App To Order Our Dinner At The Greyhound In Derby
---
Published On Thursday 30 Jul 2020 by Sticky Beak
See Recent Dining Out Reviews | See All Recent Reviews


After essentially four months away (thanks to Covid-19 and all its nastiness) His Nibs and I have been getting back in the gastro saddle, so to speak, and eating out again. We started by dipping our toes into quieter venues outside of the city, but were thrilled when The Greyhound in Derby invited us along to try their food and handy online ordering app.
We got a parking space that was only a few yards down the road, so we crossed over and made our way inside; the two doors have easily formed a natural one-way system and there's a sanitising station as you enter and leave the premises – as well as several others scattered around inside.

A lovely member of staff showed us where our table was and asked if we'd got the Derby Brewing Company (DBC) app installed and if we were happy to use it; we replied positively to both queries. Actually, I have to say that even for a non-tech numpty like me, the app was remarkably easy to install and navigate; better still, it has a feature that if an item sells out it is removed from the app so you can't order something to then be told that it's not available #noneedtobefrustrated.At the same time, the server informed us of the one-way system and pointed out the sanitising stations.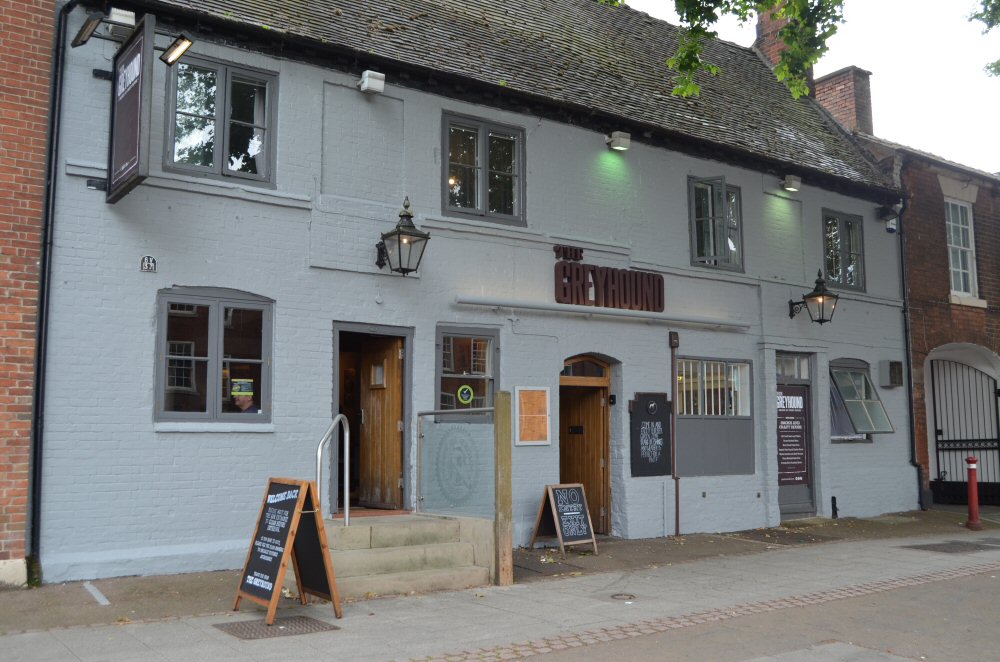 Although we'd booked a table ahead of our visit, you don't have to reserve one. Obviously, although The Greyhound does accept walk-ins, if you want to be sure of table a table (due to the reduced number available, in compliance with social distancing regulations) then reservation is till your best bet. Like-wise you don't have to install the DBC app (you can pay contactlessly by card), but we chose to, to see what it was like – plus the fact you get loyalty points with every purchase which you can then redeem for food and drinks further down the line.

After we popped our table number into the app we kicked the evening off with a glass of Malbec and pint of Hop House13, some Beef Dripping Popcorn and Smoked Maldon Sea Salt Padron Peppers. We'd arrived early (about 6.30pm) and the venue was still buzzing with Derby's after-work crowd, but the tables were nicely distanced and there was a clearly marked walkway on the floor. Drinks come on a tray (it's all table service in The Greyhound) and you take the glass off it yourself, rather than the staff handing the drinks to you; all these little touches reduce the amount of cross-contamination opportunities for the Corona virus.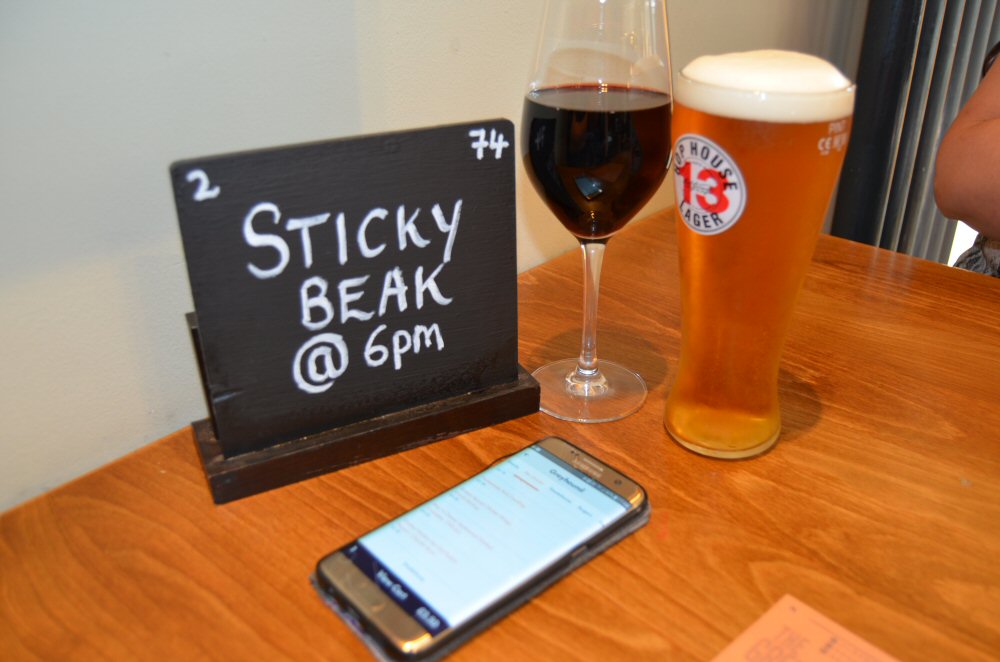 There are some fantastically vibrant, modern canvasses adorning the walls of The Greyhound, done by a local artist and these enhance the contemporary vibe of the venue. Another fab feature of this DBC venue is its outdoor terrace area; this space has a retractable roof, so it can be used in all weather conditions and on this particular evening was open when we arrived and closed part-way through our visit thanks to some pesky showers. Gotta love English summers!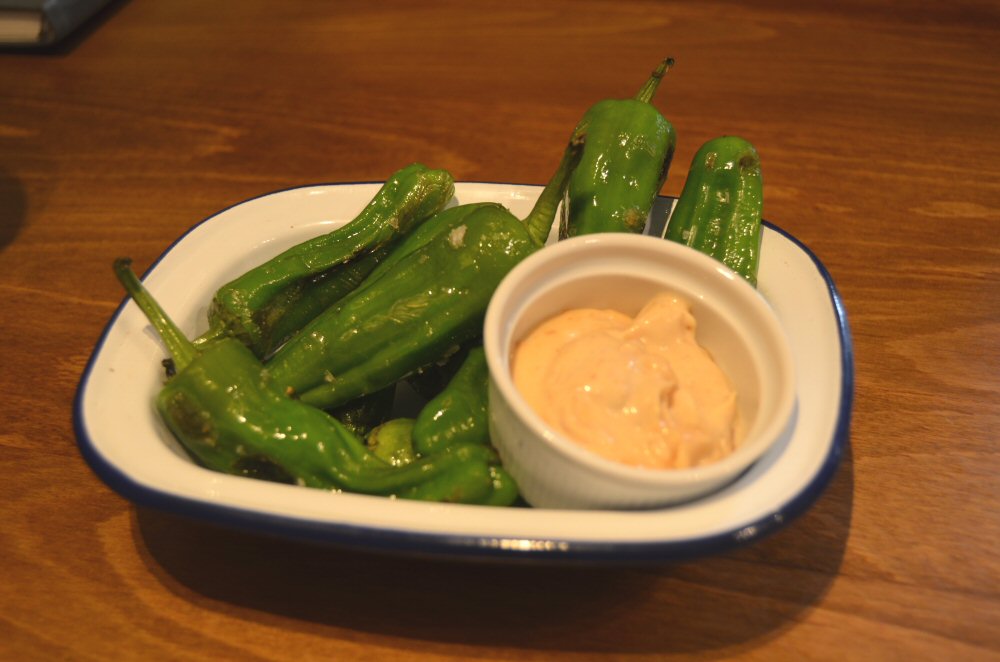 Anyhow, back to the food: the Popcorn (£2) was fab; not greasy at all, but it had a super meaty tinge to its taste thanks to the Beef Dripping used to pop the corn kernels. The charred Padron Peppers (£3.50) were deliciously smoky and sweet, and just softened enough to retain a smidge of their natural crunch whilst yielding easily to the bite. Contrasting nicely against the peppers' natural flavour was the tang of the Maldon Sea Salt flakes and the nice smoky note it had. Add to this the kick that the accompanying Mayo had and you'd got a banging little nibble on your hands (or in my mouth, to be more accurate!).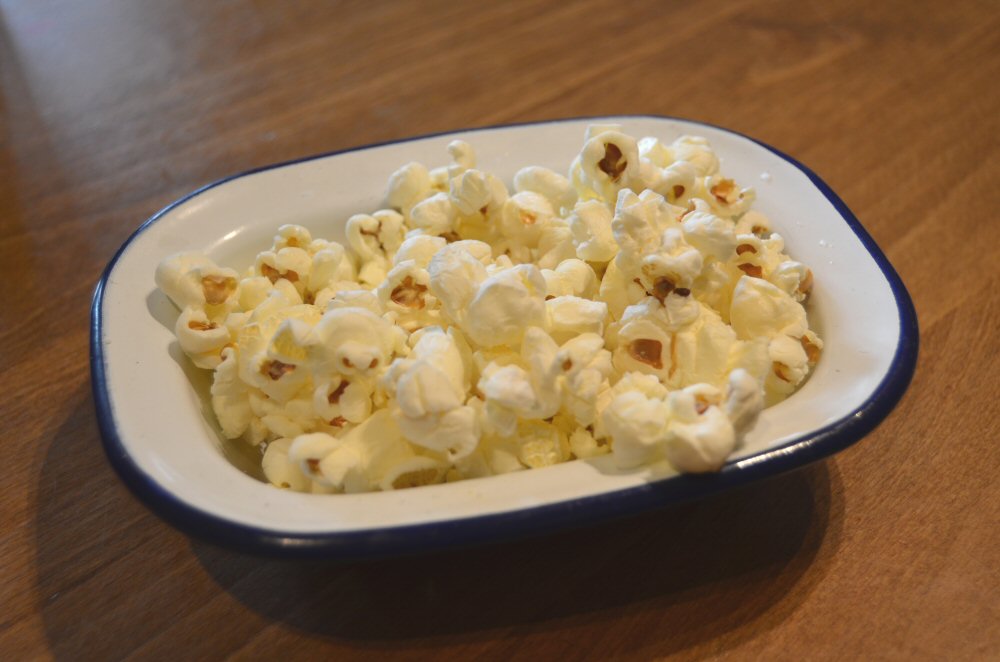 As we were awaiting our mains, I could see that each member of the team was meticulously cleaning down each table when it was emptied. On a couple of occasions they were also politely directing folks to use the one-way system if it looked like it was about to be contravened. It must be difficult if you're a regular somewhere, because you automatically walk certain routes and everything has been turned upside-down in these crazy Covid times. Everyone took these hints in their stride though; there was no ill-temper or awkwardness.

For main course I'd chosen the Louisiana Crab Chowder (£11.95) with a side order of House Pickles (£2.50) and The Man Bird had opted for the Low and Slow Brisket (£13.95). Tom Burton (previously Head Chef at The Palfrey) is now Head Chef at The Greyhound producing Smokehouse dishes that DBC used to be renowned for – taking them back to their roots you might say. The food was fab last time we visited this DBC venue, but after taking our respective first mouthfuls, His Nibs and I both agreed that Tom had ramped up the delish factor somewhat!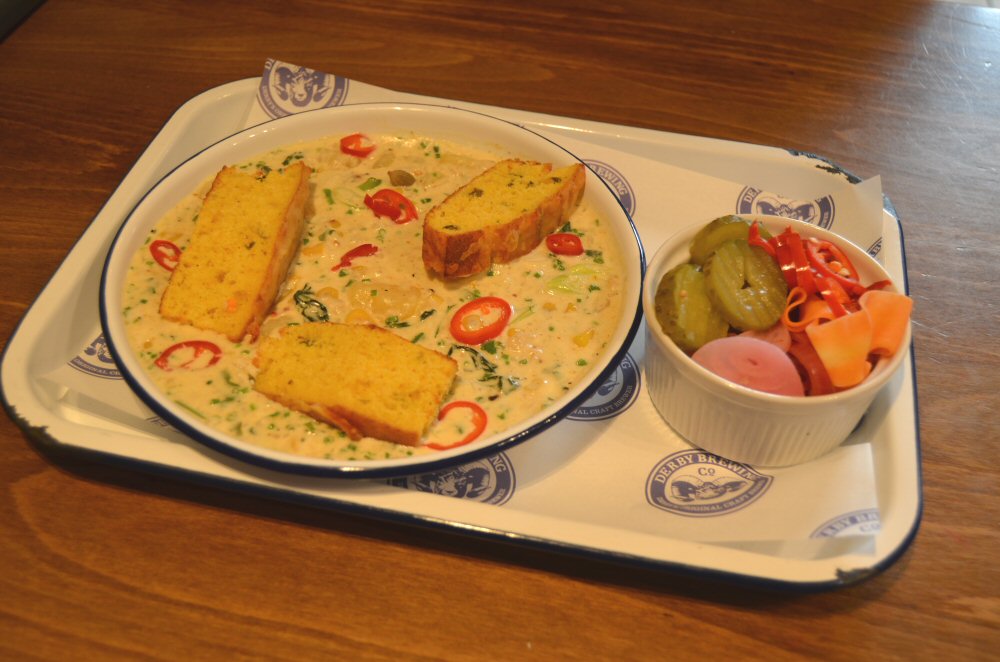 My Chowder was lovely and creamy with a bisque-enhanced base note that had been livened up with skilful use of Creole spices to give a pleasing heat on the palate. Chunks of soft, floury New Potatoes had absorbed all of these amazing tastes; smoky, sweet, creamy and spicy all in one go! Fragrant pieces of sweet Crab meat mingled in with the intense, charred nuggets of Sweetcorn and verdant slivers of Spinach, and a pleasant heat from the red pickled Chilli slices teased the taste buds. Topping the chowder was a trio of slices of house made Jalapeno and Cheddar Cornbread and this was brilliant, both in terms of taste and texture. Personally, I loved the extra punch of spice it brought to the table and I think the creaminess of the Chowder gave Chef plenty of room to introduce the spicier elements whilst keeping it all balanced in the mouth.

In complete contrast to the heat and creaminess of the Chowder were the homemade Pickles I'd ordered as a side. These minxes added a brilliant umami element to my meal as well as some gorgeous crunchiness and bite in my mouth. Yep, I was extremely content with my food choice – compliments to Head Chef Tom Burton and his kitchen team.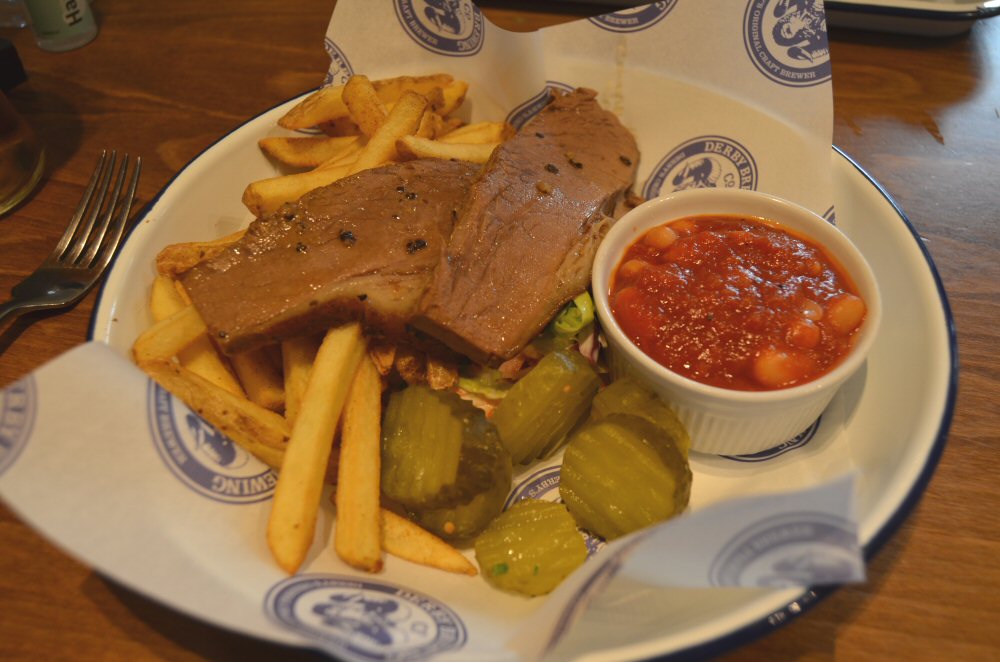 The Man Bird does like a piece of slow-cooked Brisket and was impressed with this morsel; it was uber-tender with a delicious note of smoke to it that was quite lovely on the palate. The generous pair of Brisket slices was comfortably nestled on a bed of the colourful Spring Green 'Slaw, although not for long once The Man started tucking in! The 'slaw was quite fine in texture and superbly fresh tasting with its Kale, Carrot, Onion and Herb components.

As well as adding a beautiful crunch, the pickles' sourness contrasted well with the intense sweetness of the Boston Beans' fruity tomato sauce. The seasoning on the skinny fries had a fieriness that stealthily crept up on His Nibs' taste buds, imparting its heat generously. Sometimes you just can't beat a bit of heat and it certainly made a change to have fries seasoned this way rather than just with Salt and Pepper, however fancy they are!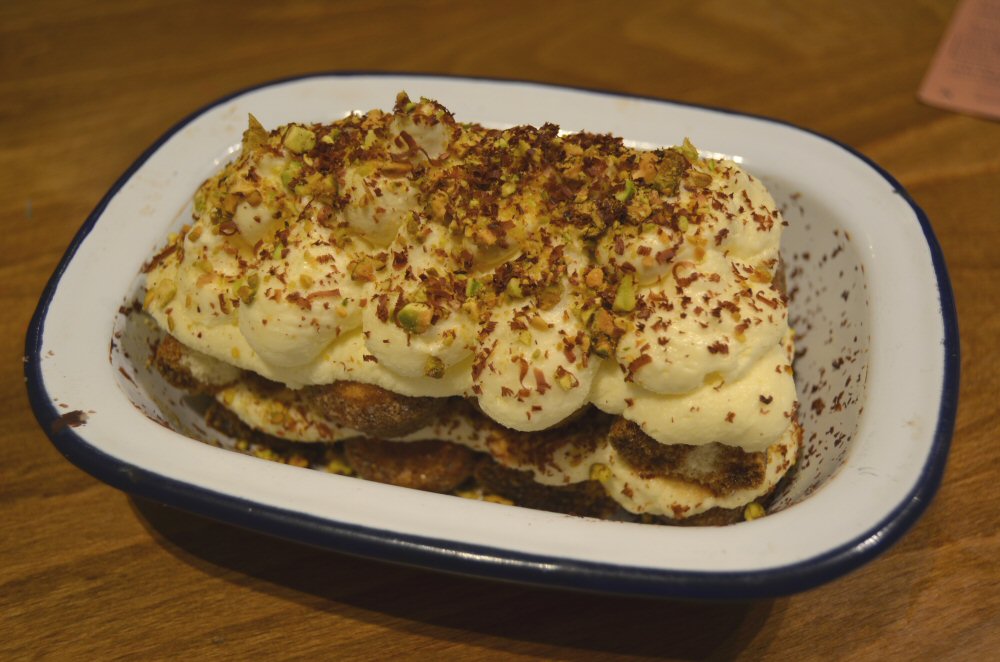 For pud we had the Dark Chocolate and Pistachio Tiramisu (me) and the Pecan Sticky Toffee Pudding with Salted Caramel Sauce and Vanilla Ice cream (His Maj), both priced at £6.50. I am bloody fussy/ pernickety when it comes to Tiramisu (I'm the first to admit it) and although it wasn't up there with the classics the version served at The Greyhound was jolly nice in its own right. The lady's fingers were too firm in my opinion (they could've done with being soaked in liquid for longer) and I would've liked a stronger coffee hint coming through. That said, the cocoa hit was superb and I loved the Pistachio pieces on top of the ample cream top. Although there's no denying the soft, comfort factor of a perfectly executed Tiramisu, the crunch was a welcome departure from the norm and quite imaginative. I was also a massive fan of the copious amount s of whipped cream.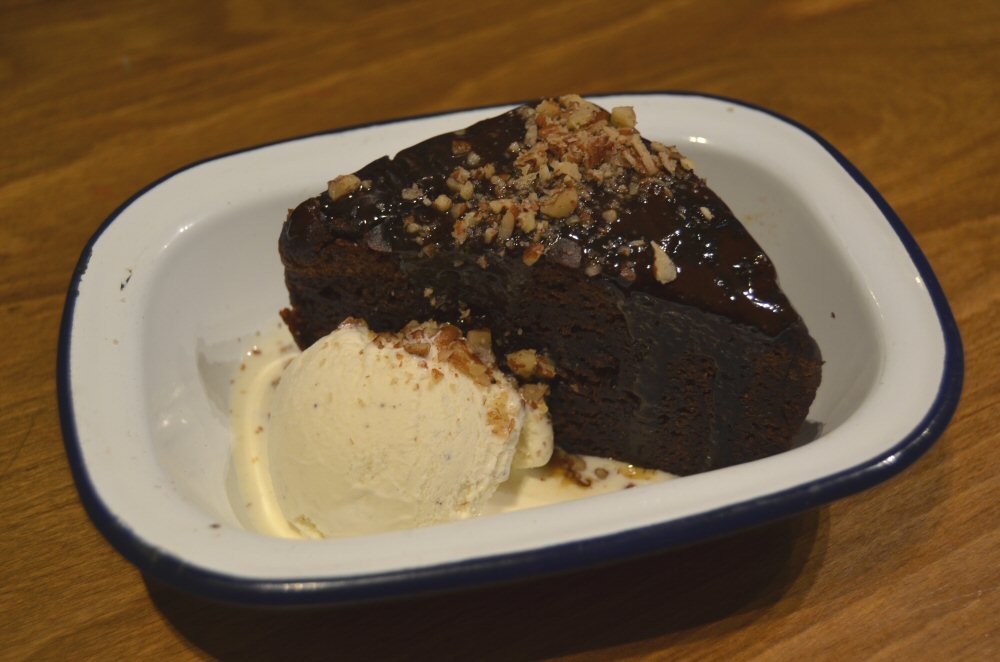 His Nibs was really impressed with the Sticky Toffee Pudding Chef Tom produces, not least by the feat of making it satisfyingly dense in texture whilst light on the tummy. The toffee sauce was beautifully rich and indulgent, and wonderfully thick and sticky as it should be. There was a beautiful textural element provided by the pieces of Pecan nut, without it being overly "nutty" – essential for those who aren't huge fans of nuts (like His Nibs)! A gorgeous, good quality, Vanilla seed-flecked Vanilla Ice Cream was a superb temperature contrast to the warm pudding and provided the completing piece to this excellent dessert.

Hot Wings happily given to this city of Derby venue; yet again Derby Brewing Company have stepped up to the culinary plate and delivered. You don't have to have their app installed, all payments are contactless anyhow. To book a table, simply email the team on greyhoundbookings@derbybrewing.co.uk, they're open for food Wednesday 5-10pm, Thursday-Saturday Noon-10pm and Sunday Noon-6pm.
Some form of incentive was provided to visit this venue
read more