A Full English Breakfast Delivered By Somercotes Sunday Dinners
---
Published On Thursday 9 Jul 2020 by Sticky Beak
See Recent Take Away Reviews | See All Recent Reviews


It's no secret that I love a full fry-up at the weekend, so imagine my sheer joy when the lovely folk at Somercotes Sunday Dinners (SSD) offered to cook and deliver a couple of yummy breakfasts for His Nibs and me.
Fellow fans of this British institution will be pleased to know that SSD are now doing this 7 days a week 8-11am, with free delivery on orders over £10 and a small £2 charge for orders under this amount. Delivery is only within a strict 3-mile radius of Somercotes to ensure the food is as fresh as possible for you.

Gotta say, if I worked on any of the local industrial estates, I would be ordering these bad boys at least once a week for my break – and clubbing together with work-mates to qualify for free delivery! SSD are also doing a range of breakfast cobs that all come in extra large soft cobs; more on those later.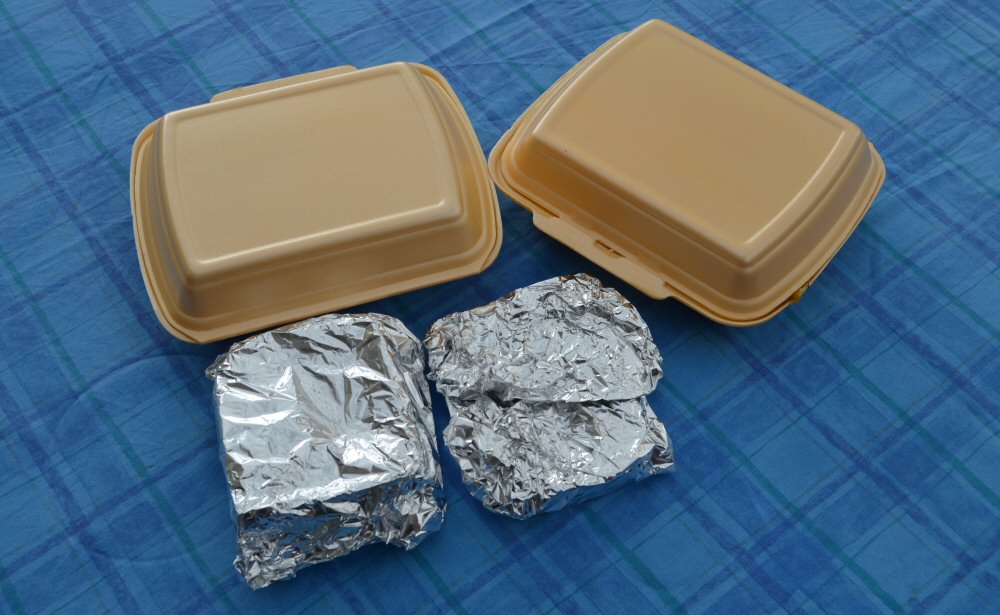 Our breakfasts were dropped off on our doorstep with a lovely smile as always and a cheery "enjoy!", so having brought them in and done the obligatory photos etc. that's what we did. Each breakfast was housed in a ready portioned polystyrene container, and those of you who are like me will appreciate it when I say that this means the beans and tomatoes weren't touching the other ingredients. Little things like this make a huge difference to picky Polly's like me!

Clearly our reputation as gluttons preceded us as we found ourselves tucking into the largest of the three breakfast options, the Mega Breakfast Tray (£5 per person), which is composed of: 3 thick slices of Bacon, a trio of yummy Butchers Sausage, a generous slice of Black Pudding, 1 fried large, free-range Egg, a couple of Hash Browns, Baked Beans, chopped Tomatoes, quartered Mushrooms sautéed in butter, 2 slices of buttered Toast and a slice of crispy Fried Bread (yes!!!).

There is a medium breakfast available at £4 that has 2 slices of Bacon and Sausage, 1 slice of Toast and no Black Pudding (but otherwise the same as the Mega Tray), or a small breakfast tray for £3 with 1 slice of Bacon, a Sausage and 1 Hash Brown, no Black Pudding with choice of Beans or Tomatoes.




The Breakfast Cobs are pretty much customisable to your personal preference all you need to do is choose what you fancy from the following: Thick-cut Bacon, Pork Sausage, Butter-cooked Mushrooms, large free-range Egg, Hash Brown, Beans, Tomatoes, and Black Pudding; prices are £2.50 for one item, £3 for 2 items, £3.50 for three items and then an additional 50p per item thereafter.

Our plates were groaning under the amount of food on them, so we wasted no time in tucking in; first up for me was the Bacon, and it was every bit as meaty as it looked. You can always tell 'proper' bacon from the water-injected, pumped up cheapo stuff, and this had a great texture to it, matched by a great depth of flavour. Wasting no time at all, The Man Bird popped his butter-cooked Mushrooms onto my plate; needless to say I soon gobbled those beauts up!

I'm dead fussy when it comes to Sausage, having had unpleasant experiences over the years with high 'repeat factor' varieties (Yuk!!), so I'm always a bit cautious when I take my first bite. I was pleasantly surprised by the quality of these meaty morsels; let's face it, for a fiver you hardly expect the good stuff, do you? Credit it where it's due though, SSD recognise the stature that the humble banger has within the Great British Brekkie and don't skimp on the quality that they use. I couldn't handle three though, so in the spirit of playing nicely I handed one over to His Nibs in thanks for the 'Shrooms.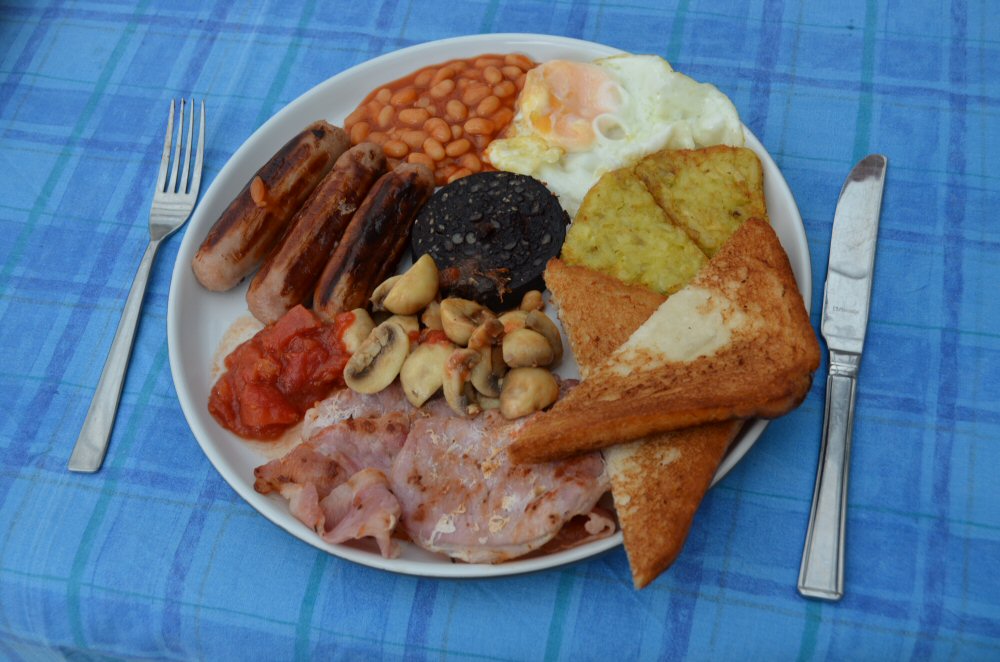 Fresh-out-of-the-pan fried eggs are notoriously difficult to replicate when it comes to delivery options and I think that folks have to accept the fact that the yolk is never going to be runny in these circumstances. That being said, that doesn't mean that you should ever be served with a house-brick of a fried egg! Thankfully SSD don't serve eggs that are going to have you ringing the dentist for an emergency appointment; the yolk may be totally cooked rather than runny, but it is still soft enough to dip fried bread into and was deliciously rich and creamy in taste, too.

Ah yes, the fried bread; I absolutely love this stuff! Wrapped in its own foil parcel, this treat was waiting patiently for me to savour it; I know it's not remotely healthy, but as an occasional treat I see no problem at all with enjoying it. The knack to fried bread is to use fresh oil (otherwise you get that awful stale grease taste lingering in your mouth for what seems like eternity), and get the oil hot enough so that the bread crisps pretty swiftly on the outside to prevent it absorbing the grease like a sponge. I'm happy to report that SSD got both of these points right, and the result was crispy outered bread that wasn't oozing oil when cut into, and there was no oil taste left in our mouths.

One of my guilty pleasures is to top fried bread with juicy chopped, tinned tomatoes and leave it for a while to soak in to soften the bread and combine the flavours. I know it's terribly common, but I don't care; I love it, and that's that! Try it; you may be converted once you release your grip on that inner 'Hyacinth Bucket' lurking inside you.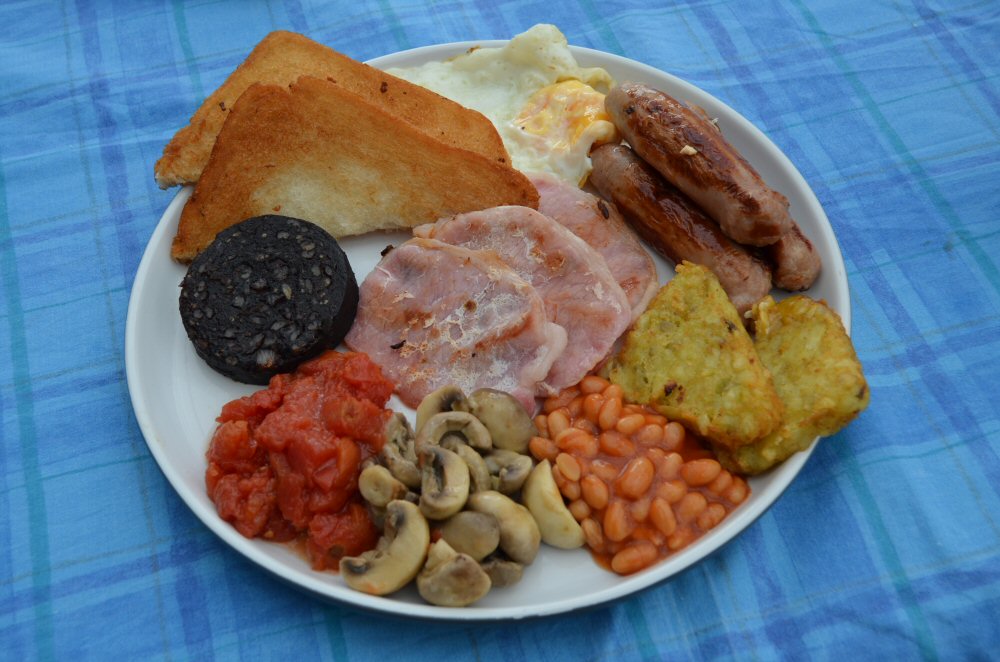 His Nibs isn't the biggest fan of Black Pudding and I can take-or-leave Hash Browns so we swapped about, leaving me with 2 slices of Black Pud and The Man with 3 Hash Browns. I was impressed with the flavour of the Black Pudding and the fact that it wasn't one of those grain-filled versions that come apart at the merest whiff of a knife. You need a robust taste from this treat so that it can stand up to a splodge of Brown Sauce (don't start screaming ketchup fans, HP is the sauce of champs!) and SSD use one that does just this. Across the table, The Man was dipping his crispy Hash Brown into a lake of ketchup - sacrilege, I know – and said that they weren't soggy or greasy at all.

Baked Beans are well, beans at the end of the day, and as long as they're plentiful- and hot- enough that should suffice. The sauce was a flavoursome, thick version so the juice didn't slither all over the plate; one of the things that turns my stomach is when bean juice and egg yolk combine, I can't bear it!

All that remained was to tuck into the generously buttered slices of toast, and to me, this is perfectly acceptable to eat when all the butter has soaked in and the bread goes comfortingly soft. As with the fried bread, SSD wrap the buttered toast in a blanket of foil, which keeps it snug and toasty (excuse the pun) so even though His Nibs and I left this until the end, it was still nice and warm.

For a measly fiver you certainly can't go wrong with this breakfast offering, especially when you get it delivered to your door! Quality-wise it was great for this type of offering and the packaging certainly hit the mark for keeping things separate, contained, and warm. You don't get a runny egg yolk and there's no fancy garnish, but then I'll go to a pub or restaurant (now they've re-opened) for that.

Hot Wings awarded for this honest, no-frills belly-filler. To order yours, simply call 07468 123720.