Enjoying Breakfast En Bread From The Barge House in Hackney @AllDayBrunchers #breakfastenbread
---
Published On Monday 15 Jun 2020 by Sticky Beak
See Recent Food Producer Reviews | See All Recent Reviews


Over the course of this blooming lockdown I have spent waaaaay too much time surfing the 'net and drooling over #foodporn, often making a note of ideas that I think I'd be able to do. One item that caught my eye was a bread 'bowl' where you scoop out the middle of a cottage loaf and fill it with all manner of yumminess to make an instant multi-layer sandwich; imagine my surprise then when a similar item (but much better!) was gifted to us to try – actually not one, but two, scrummy versions.
London-based business The Barge House asked if we would like to try their "legendary" Breakfast En Bread offering: needless to say we replied heartily in the affirmative, especially when they said all we had to do was unwrap, pop in the oven, crack an egg into the middle and pop under the grill. I like things to be as easy as possible, so for me it sounded heavenly! The next day, as if by magic, there was a lovely delivery man stood at a distance on our steps saying that he'd brought us a parcel.




With no further ado, His Nibs and I opened the parcel to find two vac-packed 'B-en-Bs', two pots (which contained the free range eggs!), a couple of sachets of herb and black pepper garnish, and a nifty little ice pack keeping everything well chilled. It was well past breakfast, and we'd already popped some spuds in the oven for jackets so we made the decision to save the first morsel for brekkie or lunch the next day. This isn't a problem as The Barge House team's food keeps for a couple of days in the fridge or you can freeze the B-en-Bs for up to a month.

We decided to have 'The Original'(priced at £14.50) for lunch, so The Man Bird duly did his fab piccie-taking thing whilst I put the oven on to heat up and unwrapped the Sourdough loaf that was packed with Oyster Mushrooms, Bacon, The Barge House Banger, Spinach, sliced Onion, Tomato, Cheese (and soon, Egg as its golden crown). All the cooking instructions are clearly printed on a label on the vac-pack wrapping, so it was a simple case of popping it on a baking tray and then separating the egg to put the yolk in the hollow on top and grill it for a few minutes. Job done!!




Clearly you can't just eat this like a burger, it's way too big for that; for lunch, a single Breakfast-en-Bread fed the pair of us quite nicely. So out came the knife and fork, ready to do justice to this mouth-wateringly tasty bite, but then we discovered our first tip to pass on to you all: you need a really sharp knife to cut through the crusty outer of the sourdough loaf. We used our good old steak knives that The Tribal Elders had bought us when they visited Paris one year (oh, to be able to do that now!), something that one of The Barge House's founders, Fred DeFaye, would appreciate – he's French.

One thing is for sure, these beauties certainly fill you up! You get the same quantity of bread as you would in a breakfast sandwich, so despite the whole being encased in a loaf you don't just get a mouthful of bread (lovely though it was); there was an abundance of the fillings too. The Bacon was proper, thick butcher-quality stuff; full of flavour and gorgeously substantial in texture. Usually you get ordinary field mushrooms with a 'full English' but this team like to go that extra mile so they pack Oyster Mushrooms into their offering, and jolly nice they are too – even His Nibs liked them – and you all know what a legendary Mushroom-moaner he is!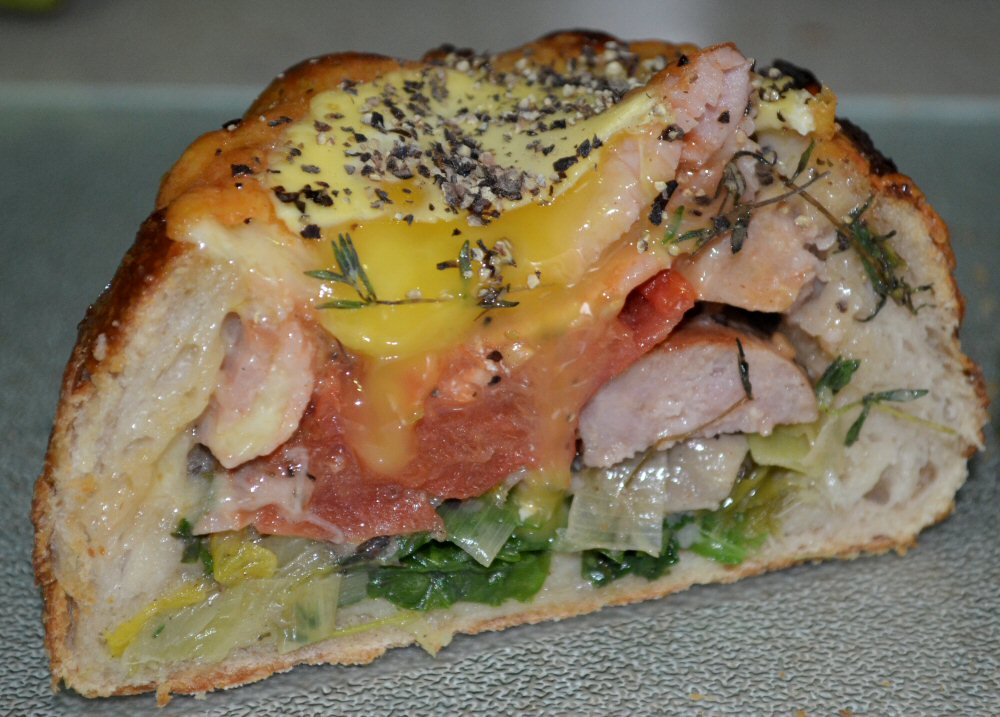 The roasted Tomatoes were superbly sweet in taste and the sliced onions were softened perfectly to enhance their mellower side. Spinach added a smidge of crunch, and it was really gratifying to discover that it hadn't just gone soggy. The Man was banging on about the banger – he was a massive fan of this; I'm dead fussy about sausages, and they're not my fave part of a traditional brekkie, but there is no disputing the quality of this one. On top of the loaf is a thick layer of cheese that melts and turns that irresistible shade of gold as it's cooking and then when you add the gloriously sunny-hued free-range egg yolk – oh my days, it's definitely insta worthy! So when it was ready, it got 'grammed to death; well, something this yummy needs to be shared around the globe!

His Nibs and I kicked the weekend off in style with fresh coffee and 'The Vegetarian' (£14.50), and let me just say that this was the stuff of legends! Just as with 'The Original', The Barge House team absolutely cram the bread bowl full of goodies; actually they cram the cramming in, these guys are serious feeders. Both times The Man Bird and I have shared a B-en-B between us and been more than full so if you think, at first glance, that the prices seem a bit steep, let me just say that they're really not; given the quality and quantity of the food, you get great value for money.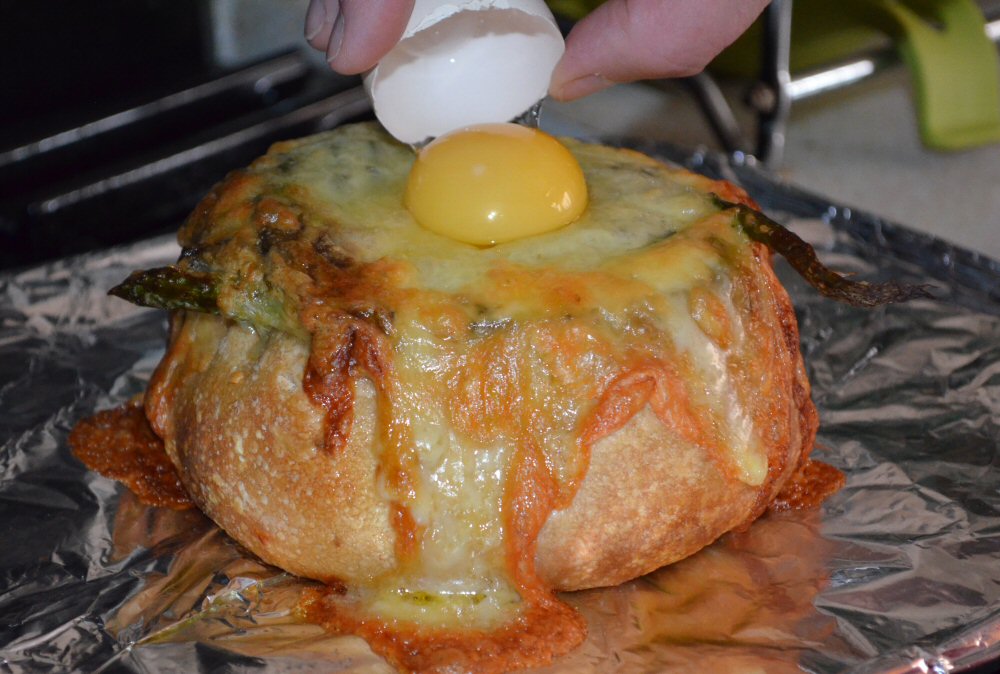 Also, imagine the kudos you'd get if you served one of these bad boys up to your loved ones: that, as they say, would be priceless. Lovely meaty-textured Oyster Mushrooms were very much in evidence again and the thick slices of creamy Avocado were delicious in their warm and toasty state. Intensely sweet roasted Tomatoes added a fab depth of flavour on the palate, accompanied by the still-crunchy Asparagus spears. The punchy cheese had oozed down the side of the sourdough bread bowl like a tempting molten Krakatoa and you all know how crazy I am about cheese! Yep, weekend living was looking pretty good after eating and drinking like royalty.

For food that tastes as good as it looks (and it looks blooming stunning with its rainbow palate of colour), you're not going to get much better than the Breakfast En Bread minxes let me tell you!




Breakfast En Bread is available to order Monday-Thursday for next day delivery; order before 3pm for next day delivery (all orders over £22 are FOC). If you order after 3pm Thursday through till 3pm Monday, delivery will be on Tuesday; orders after 3pm Monday will be delivered to you on Wednesday. The Barge House team don't do deliveries Saturday-Monday for the reason that they want you to experience your B-en-B in tip-top fresh condition.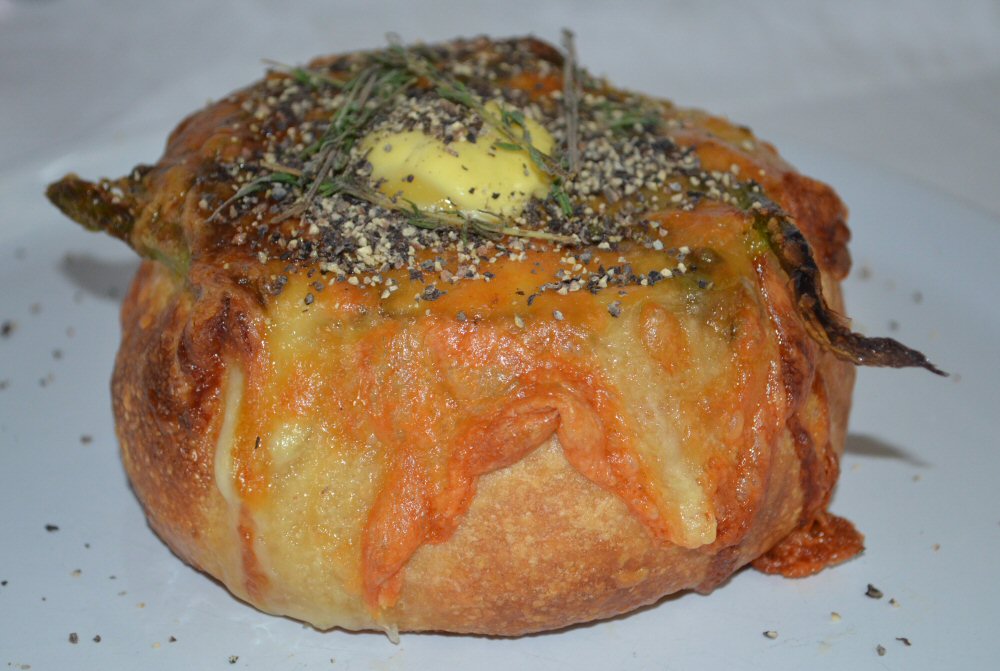 If you live local to Hackney, or are visiting there for business or whatever, then you can use the natty click-n-collect service: collections are 11am-5pm (providing you order before 2pm for same day pick-up, orders after 2pm are available from 11am next day) – please allow at least 1 hour before going to fetch your morsel.

There is currently a fantastic launch discount of £10 on orders over £20 when you enter the code Hungry10, and we've been told that this is valid until at least 10th July 2020.

Personally, I could eat these stupendous creatures at any time of day – they are so tasty and versatile; have them alone, with fries or with a crisp, fresh salad. I can imagine them , *sob*, to be great to share with friends at your house after a evening out in a local pub when you are feeling peckish and there's too much more fun and gossip to be had before everyone goes home.

Hot Wings enthusiastically given to this great London business that spread its joy nation-wide – thank you for introducing me and The Man - and our readers - to your food.

Visit: www.breakfastenbread.com