A Drive Thru Takeaway from Andwhynot in Mansfield
---
Published On Sunday 14 Jun 2020 by Sticky Beak
See Recent Take Away Reviews | See All Recent Reviews


As you know, during lockdown The Man and I have been searching out venues doing takeaway offerings, and the one that popped up on our radar this week was andwhynot in Mansfield. Props where they're due, this was a seriously slick collection operation; when His Nibs rang up to place our order the team member not only takes payment and gives you a time-slot, they also take your car reg number, its colour and your name. Andwhynot are operating a telephone-only ordering system (call 01623 633330 between Noon-4pm Thursday –Saturday only) and are unable to take orders via email or Facebook. You need to pre-order before 4pm on the day of collection and before 4pm on Saturday for Sunday lunches.
Photo By Enchufla Con Clave / CC BY-SA
With our order placed and time for collection confirmed, it was time to jump in the trusty old jalopy and head over to Mansfield –the A38 was a lot quieter than usual, although the seemingly never-ending sets of traffic lights still held us up (cursed things!).Andwhynot have set up a nifty one-way system, so we entered via Leeming Street and after picking up our order, left onto Tooting Lane.




When we pulled up in the back area we held up a sheet of A4 with our order confirmation printed on it and held it up at our closed car window (as instructed) for the team member to see. They then directed us to one of the 3 spaces that had a table and whiteboard at it. Our details were written on the whiteboard and we waited for our meals to be brought out to the table. There were a couple of orders before us so we watched the smooth running of this Mansfield team's operation; after the order had been placed on the table, the team member retreated and the car occupant got out to grab their food and put it in their vehicle. When the car left, the team member would sanitise the table and wipe the board down ready to start the process again – very clever.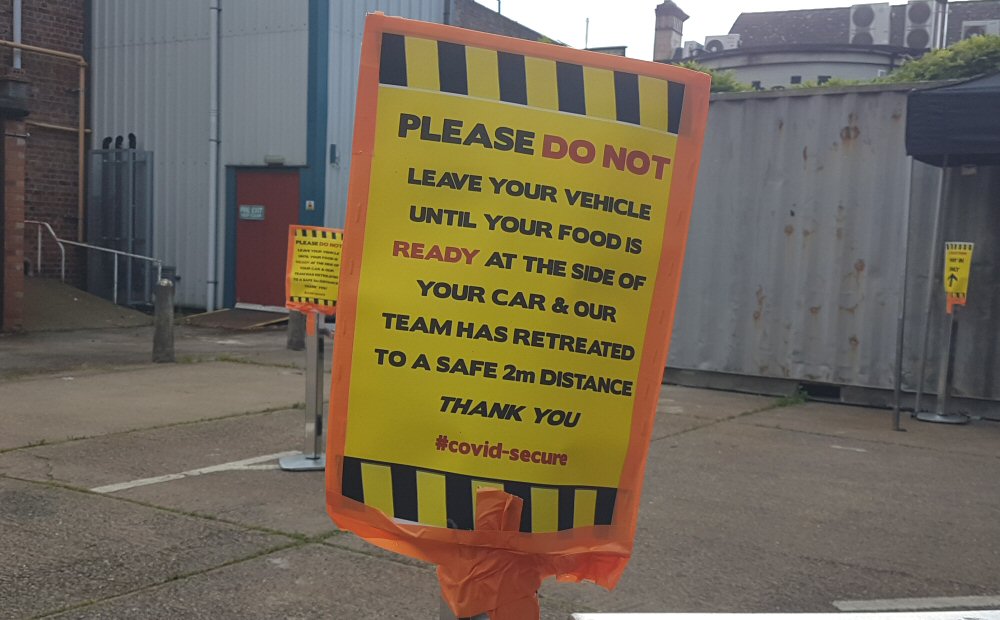 We were soon sorted and it was time to make our way home; yet again those pesky bloody lights on the A38 were against us, so it was 25 minutes before we got home! It didn't take us long to decant the food onto our plates and do the photographing. We did put our meals into the nuker (microwave) for 50 seconds to get them piping hot again and then sat down to sample them.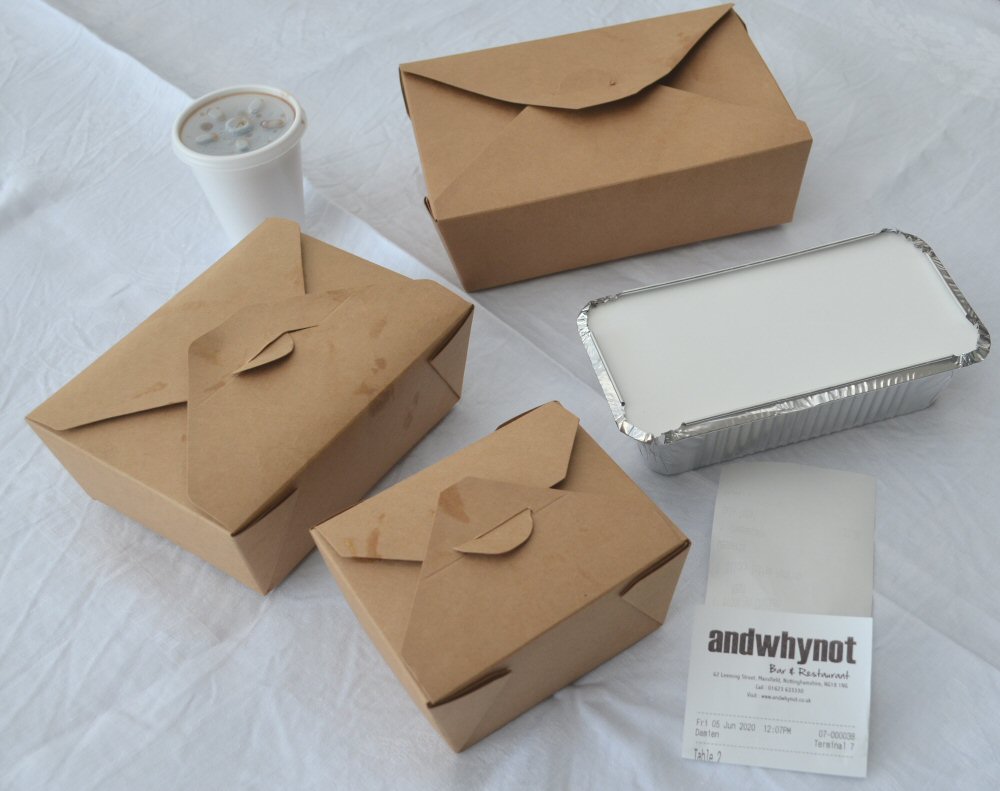 The Man Bird had the 12-hour braised Blade of Beef with Creamy Herb Mash, Buttered Wilted Greens, Smoked Bacon, Shallot, Mushroom and rich Red Wine sauce (£12) and I had the Brooklyn Chicken (strips of Chicken Breast in a Creamy field Mushroom, Cognac and Paprika sauce) with Herb Mash - you can have steamed Basmati Rice if you prefer - and homemade craft Ale-battered Onion Rings (£10).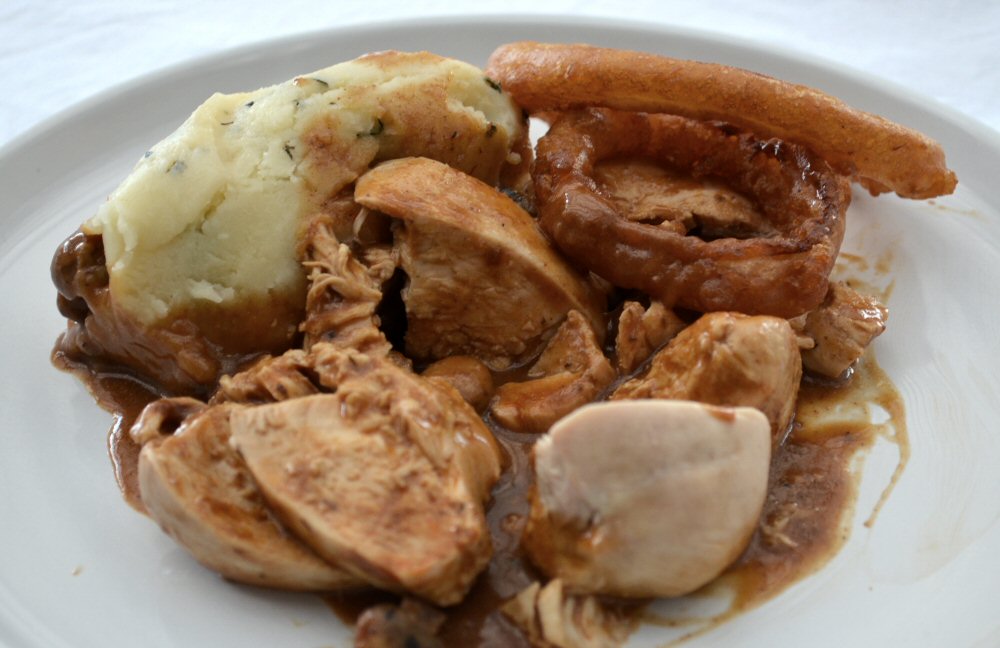 We were both impressed by the amount of meat you got in the meal, and the Chicken and Beef were both nice and tender. Likewise, we both loved the Herb Mash; it was plentiful and had a great flavour to it thanks to the herbs flecked within it. This was super-smooth but not overly buttery so you really did get the subtle tastes of the herbs coming through in the mouth. His Nibs' greens were Broccoli, Shredded Cabbage and Green Beans and there were also baby Carrots in there too, all of which were cooked perfectly to preserve some crunch.

His Nibs loved the strips of Smoked Bacon in the sauce; their notes were partnered beautifully by the softened, sweet Shallots. I got passed the dinky whole Button Mushrooms and they'd got a bit of the intensely rich Red Wine sauce on them – which was gorgeous I must say. I was equally smitten by my creamy Mushroom, Cognac and Paprika sauce; it was nicely balanced, with the warm Cognac notes particularly hitting the spot. There was plenty of the sauce too, so it got larruped over the mountain of herby Mash, as well as the Chicken strips. Yep, we were both fans of our respective main meal choices and not a crumb remained on the plates.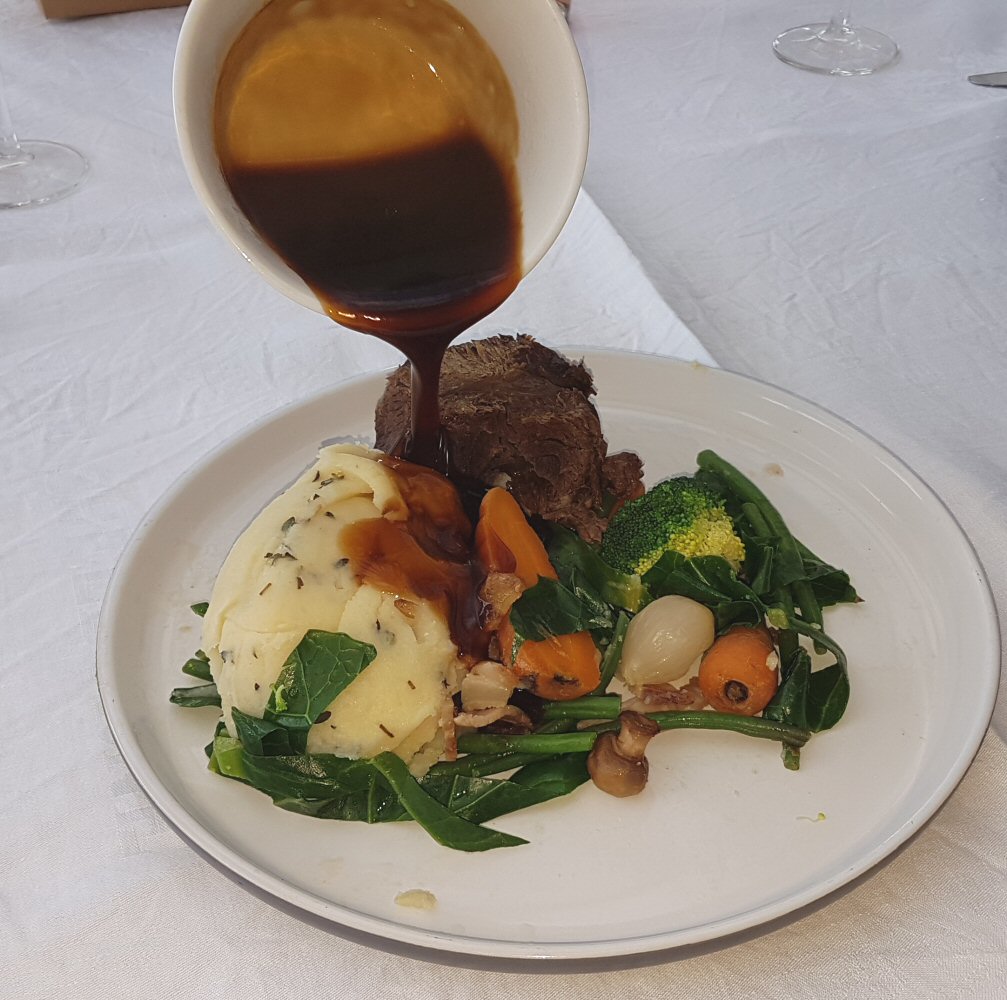 We'd also ordered desserts; Chocolate Junkyard Cheesecake for moi, and Sticky Toffee Pudding with Butterscotch Sauce for The Man (no surprise there!), both priced at £5. As per the menu, the desserts were served chilled, with re-heating instructions provided where appropriate; there was neat little label attached to the box housing the Sticky Toffee Pudding, so His Nibs trotted off to set the wheels in motion, so to speak, whilst I popped my cheesecake onto a plate.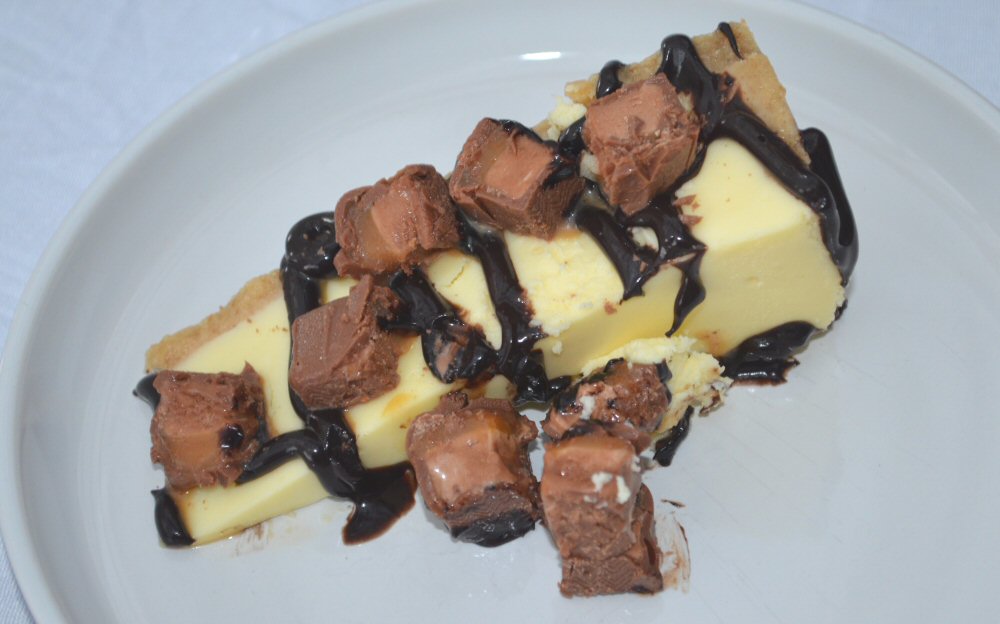 In comparison to a lot of other takeaway meals we've had during lock-down I have to say that I was a bit disappointed with the portion of standard-depth Cheesecake I got. If I'm being totally honest I would've expected to have double the size of portion I actually got for the fiver it cost; that said, the cheesecake was delicious. The filling was beautifully creamy and rich and there were plenty of pieces of Mars Bar to savour, as well as thick ribbons of dark chocolate sauce to swirl around my mouth. Most cheesecake bases are buttery biscuit affairs compacted to make them easier to manage; this one from andwhynot was a bit off the beaten track, tasting more of oats than biscuit. It also was moister in texture and not as golden brown as you'd perhaps be expecting, more pale caramel coloured I'd say. Good enough, but not my favourite dessert.

The portion of the Sticky Toffee Pudding was more generous and having been reheated properly, the Butterscotch sauce was lovely and runny and gorgeously creamy tasting.The Man Bird really liked the texture of this pud and it had an equally good depth of flavour to it that satisfied his appetite. For those of you not able to have gluten, but still wanting a fab sweet treat, you'll be pleased to hear that this traditional fave comes as a gluten free option if required.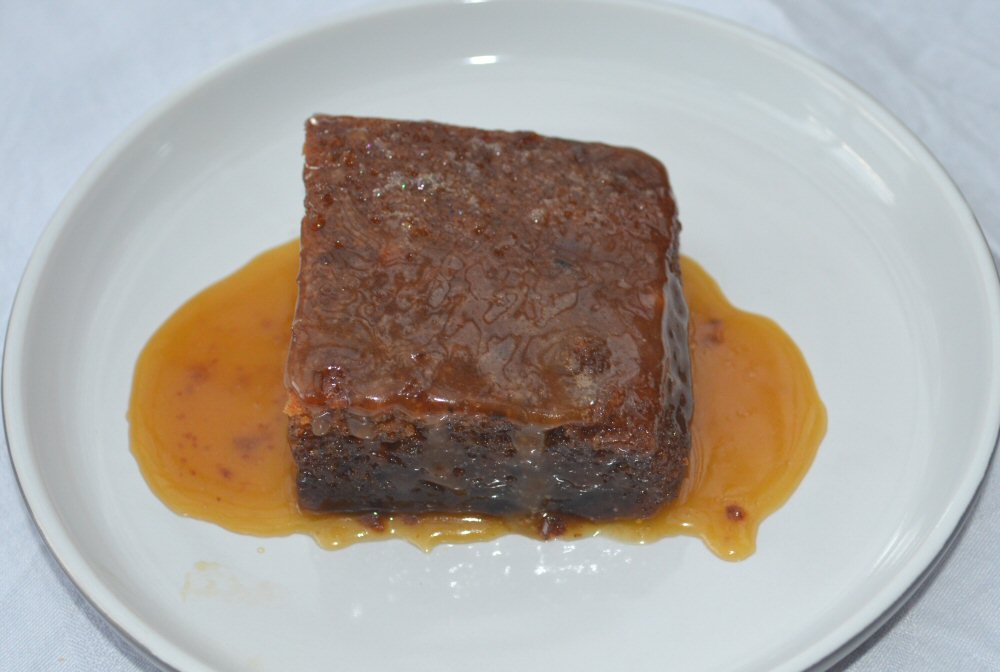 Andwhynot also offers a range of beverages for you to takeaway, but we'd already got a cheeky rosé waiting in the fridge, so we didn't avail ourselves of this offer. All meals are cooked fresh to order, so at busy times there may be a bit more of a wait for your food; personally I'd always rather wait a bit longer and know the food is fresh, wouldn't you?

Hot Wings awarded to this Mansfield venue.

Read The Takeaway Menu