A Tasty Tapas & Paella Takeaway from Lorentes, Derby
---
Published On Wednesday 10 Jun 2020 by Sticky Beak
See Recent Take Away Reviews | See All Recent Reviews


The Man Bird and I had a lovely surprise the other day – the offer to try, as a gift, Lorentes' 'Meal Deal for Two'. We've been to Lorentes before with Mummy Bird and Chickadee, and it was a fantastic night in all respects: food, service and ambience (and the company, obvs!); so we jumped at David's kind offer.
David Lorente and his team have been offering a takeaway/collection service from the venue on Friar Gate in Derby's Cathedral Quarter for about a month now and word is spreading about it nicely. The 'Meal Deal for Two' is priced at £26 and you can choose to add on some Pan Tumaca for £2 (saving a third off usual price) or a bottle of House Wine for a tenner (saving £2 off the usual price). There are two ways you can choose to have your meal deal: you can choose any Paella and 3 Tapas dishes, or you can just have any six Tapas and forego the Paella; we chose to go the Paella and Tapas trio route.

After a bit of convincing that the seafood could be easily picked out, The Man agreed to have the Paella De Marisco; rice with Squid, King prawn and Mussels (£16.70). We chose the Croquetas 4U, Escalibada and Chorizo as our tapas dishes, priced at £6.50, £5.60 and £5.50 respectively if taken as individual items from the menu.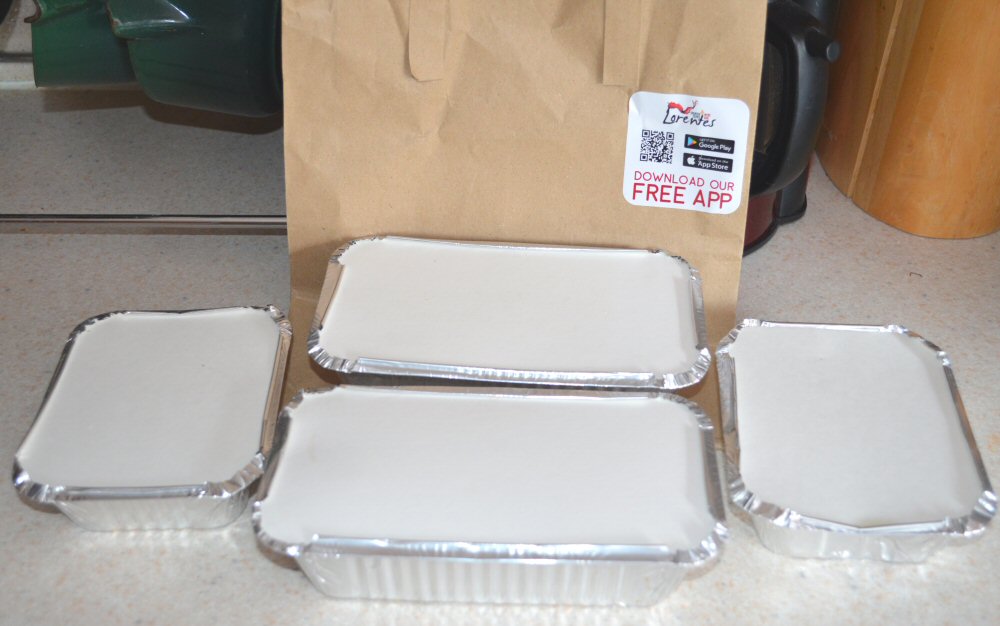 As luck would have it, His Nibs had got some business in Derby, so he was around to pick up our meal nice and early. When I got the phone call to say he was leaving the city, I popped the oven on ready to give the dishes a blast of warmth – as it turns out they didn't really need it, but I'd gone to the effort of putting the oven on so they went in for 10 minutes whilst I laid the table and got everything 'just so'.

The Croquetas 4U come in two varieties: Serrano Ham and Chicken, and Mushroom and Cheese. We hadn't specified which ones we wanted, so Lorentes' Chef very thoughtfully did us both types. Given The Man's aversion to Mushrooms, I thought he would pass that particular Croqueta over but no, he really liked it! All credit to Chef. It was absolutely delicious though; a wonderfully creamy, thick sauce into which was finely chopped Mushrooms with their sweet earthiness and punchy cheese whose taste still shone through as well. We both loved the meatiness of the Serrano Ham and Chicken Croquetas, they were excellent in terms of flavour and you could discern both meats very clearly. Size-wise these Croquetas are really good value for money; each one wasn't far off being tennis ball sized, so you definitely know you've eaten them!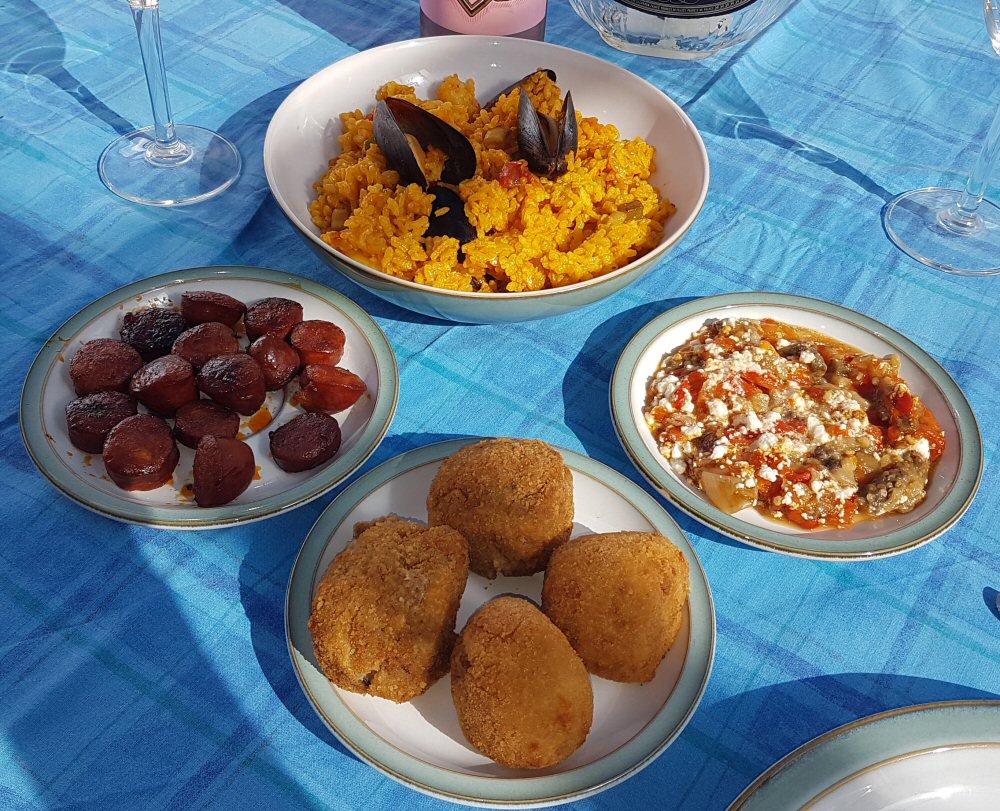 Given the fact that these morsels had travelled 25 minutes with The Man Bird, I was well impressed by how much crunch their fried outers had retained; in restaurant conditions these would be magnificent, but as it was, they'd have to settle for great.




We were also big fans of the Escalibada, which is a concoction of Roasted Peppers, Onions and Aubergine that is topped with Goats' Cheese and a Honey Dressing. This is one of those dishes that you definitely shouldn't judge on looks alone; to be fair, it isn't going to win big in the looks' stakes (not the prettiest dish to behold) – but by golly does it deliver on flavour! You get a gorgeously intense sweet taste from the roasted Peppers which is complimented by the Onion and the soft, creamy Aubergine. Another hit of sweetness from the honey dressing is balanced brilliantly by the sharp tang of the Goats' cheese, which cuts through it very efficiently. Next time I shall partner this with some toasted bread to scoop it up and add a textural element to it.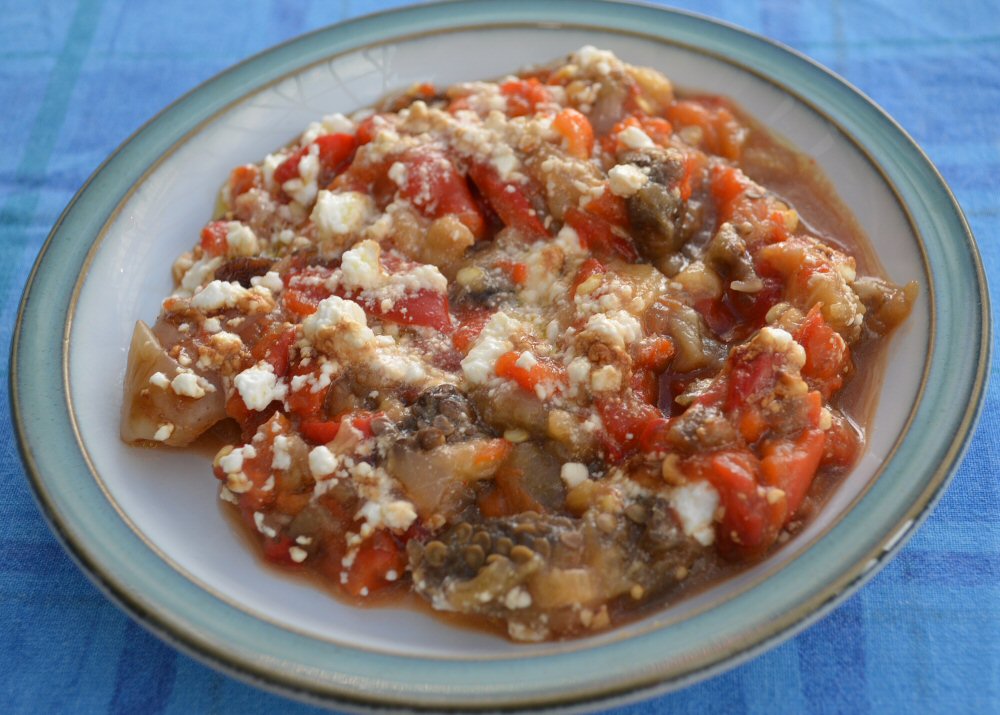 You can't beat a good quality Chorizo; when it's good you get a balance of sweet, smoky and spicy notes on the palate, and not too much fat oozing everywhere. David Lorente sources a dazzling example of this delicacy so that you get all of these incredible flavours bouncing in your mouth and partners it with a simple glaze of Honey for a superb slice of Spain. The fresh chopped herbs added a lovely pop of colour to this uncomplicated Tapas favourite.




As you would expect with a dish that serves two, the Paella was a hefty affair that needed a large bowl to house it. Amongst the mountain of sunset-hued rice were pieces of tender Squid and whole, juicy King Prawns that yielded easily to the bite. There was a nice Tomato hint to the rice as well as a good taste of fish-stock running through it; His Nibs surprised me again by saying how much he loved the Paella (not the Prawns or the Mussels – they're currently a step too far for him!). I had all the Mussels to myself and took my time to prise them from their shells, savouring the ceremony and moment of doing so. The Mussels were large in size and had a wonderful meaty texture to them; these were meant to be chewed, not just swallowed instantly.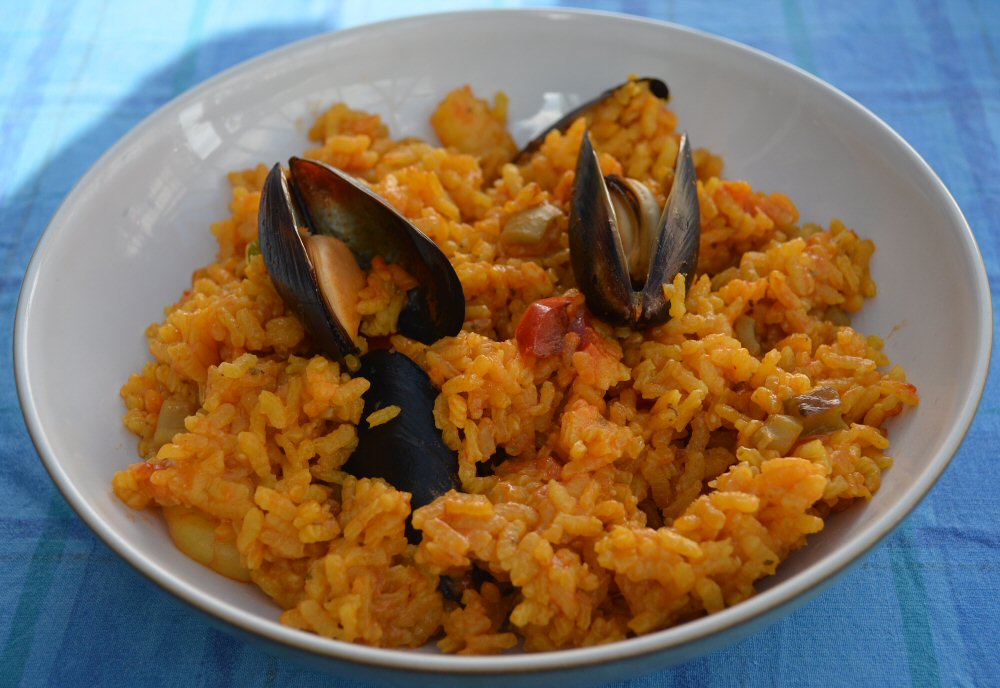 We both totally loved this meal, and what a cracking deal it is; great price too. If you don't want the meal-deal, there are plenty of other dishes to choose from on the Lorentes menu as well as other drinks' selections to ponder over. Lorentes is open Thursday- Sunday from 3-9pm and is operating a nifty online order-and-pay system that opens at Midnight for that day, allowing you to "bring a bit of Spain to your home". Delivery charges are up to 3 miles for £3.50 and £4.50 up to 4 miles.

Hot Wings happily awarded to this fabulous team. Until we get back to 'normal' service (whatever that is going to look like!) this is definitely a great go-to!

Order online at lorentestapas.app4food.co.uk/
Lorentes provided us with a complimentary takeaway to enable us to provide an honest review of their product and service.