A Hot Roast Dinner Delivered By Ring A Roast In Belper
---
Published On Thursday 28 May 2020 by Sticky Beak
See Recent Take Away Reviews | See All Recent Reviews


The Man Bird and I normally go over to the Tribal Elders' gaff for Sunday Lunch – my Mummy Bird does THE best roast in the world – but obviously since Covid-19 lockdown, this hasn't been possible. Call me lazy (actually, I'll call myself lazy!) but I haven't bothered to do a roast for His Nibs and me so it's been a fair few weeks since this morsel has passed our lips. With it having been so long, it was quite bizarre therefore to have 2 offers of roast dinners made in the space of 2 weeks; reminded me of the saying "you wait for a bus for ages, then 2 come along at the same time!".
Hayley from Ring-A-Roast in Belper gave us 2 options: we could either have our Sunday roast a day early on Saturday to have it as the 'piping hot' option, or go for the 'heat to eat' version on Sunday, as her slots for 'piping hot' were full. Referring to my previously mentioned laziness, it was clear I was going to go for the piping hot option on Saturday; we arranged a timeslot for her to deliver the dinners within social distancing guidelines.

I stood in the window and eagerly awaited Hayley's arrival, and bang on 5.30pm she appeared. There were 3 bags laden with yumminess: 1 had the hot dinners in, another held the separate pots of gravy and the Cauliflower Cheese (available as an extra for £4), and the final one housed our desserts. Normally Hayley's dinners come with gravy already on them as she says it helps to keep their heat in, but I'm a fussy bugger and like to put my gravy in specific places so I'd requested it to come in a pot of its own.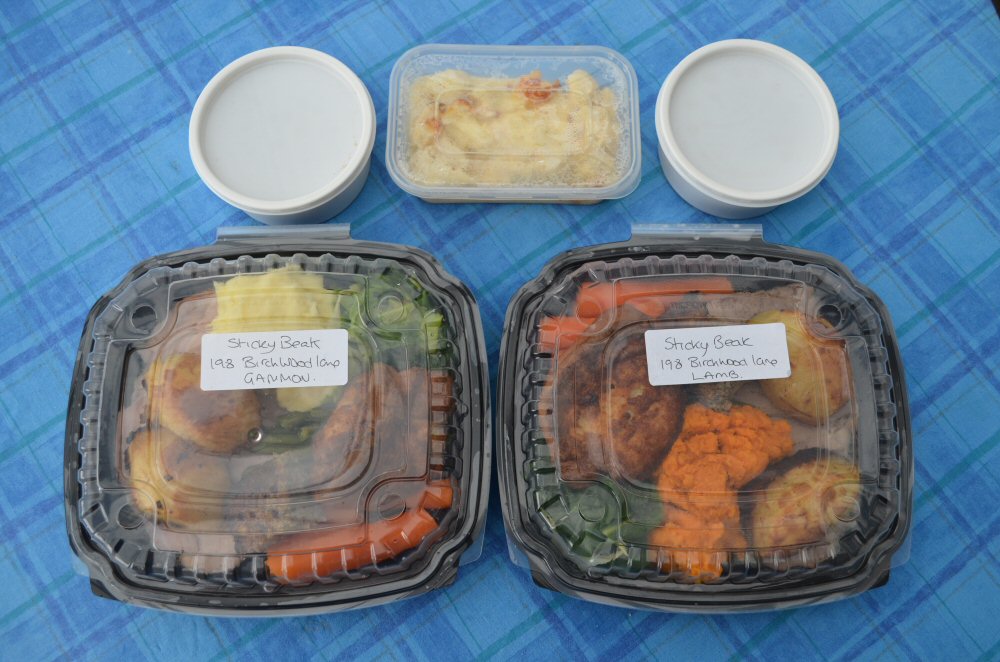 His Nibs and I worked like a well-oiled machine and soon had the roasts plated up; when we'd opened the plastic trays up a cloud of steam had billowed out – safe to say they were still plenty warm enough! The Cauliflower Cheese needed a bit of a boost; 30 seconds in the microwave had it piping hot again, so it was no hassle at all. I opened my tub of gravy and was happy to see meaty bits in it and that light sheen (indicative of meat juices) to it – proper gravy makes all the difference I think, don't you?

In our time, The Man and I have had some cracking Sunday roasts at many restaurants, but I don't think we've ever been served quite so much meat! I'd opted for Lamb (£2 extra; the usual selection is Beef, Pork, Gammon and Turkey) and there were four thick, massive slices to tuck into; Him Indoors had gone for Gammon, and there was an equally generous quartet of slices to savour here. Both meats were amazingly good: moist, succulent and bursting with flavour. In fact, I'm going to go so far as to say it was some of the best Lamb I've ever eaten! The Gammon was lovely and soft, not chewy at all and with no saltiness either and it all got gobbled up in no time.




As we've been reviewing takeaway or collection services that venues are offering at this time, I've been struck by how much care and attention each place has taken over the presentation of its offering. Not one thing has just been chucked into a container, it's all been carefully put in there; there's always been some sort of garnish too or some different presentation to what you'd usually expect. In these difficult times, it's been small touches like this that have brightened our spirits – and I'm sure we're not the only customers to feel this way, so thank you to all the Chefs and teams out there #foodheroes.

Hayley had presented her carrots whole, which was something a little different, and they were beautifully sweet and cooked to preserve a hint of firmness – perfect. Beautifully verdant Green Cabbage had been shredded and this tasted wonderfully bright and intense, full of late spring exuberance – I got most of The Man's portion popped onto my plate. When the emails were flying to-and-fro Hayley asked if we'd like Sweet Potato mash or standard mash, so we opted to have one of each and then we could split it between us at home (we're still playing nicely -most of the time).I thought it was a very nice touch that there was the choice of which mash to have, but as Hayley pointed out, some folk just prefer Sweet Potatoes.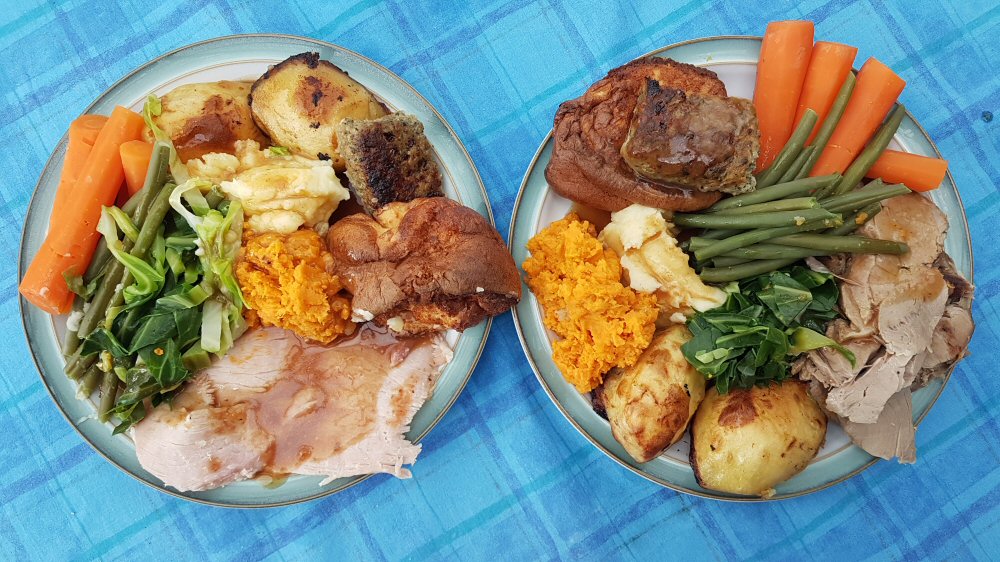 The Mashed Potato was very smooth and nicely seasoned; the Sweet Potato mash was a tad chunkier, as is the norm, and provided a fantastic pop of contrasting colour on the plate. I don't think we've ever had such big roasties - they literally were half a potato each! - and their inners were kitten soft. I've said before that the variety of potato used makes a massive difference to the taste in the mouth and these were glorious; lightly earthy, with a gentle sweetness to them. The one downfall to having roasties this size is that you don't get that really crispy outer to them that I adore so much; the colour though was that perfect golden shade, accented with slightly darker bits on the edges.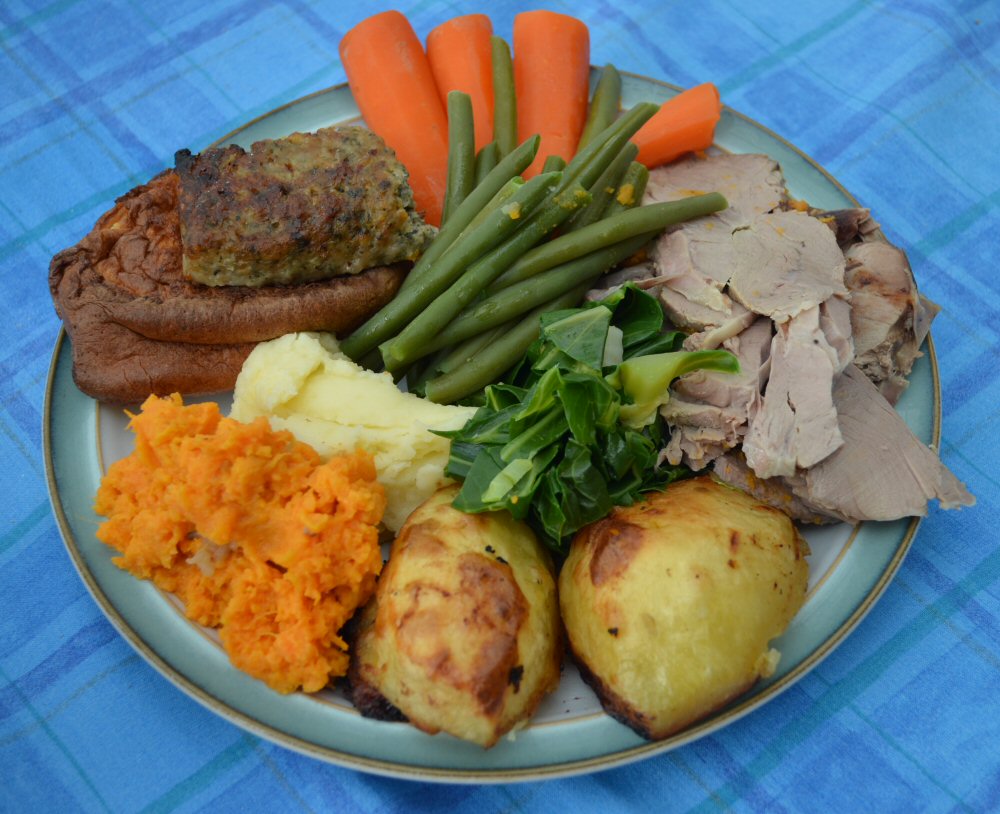 Lightly crunchy whole Green Beans, topped and tailed, were deliciously sweet and I got double helpings more-or-less, as His Nibs has an aversion to green things – bonus. No such luck with the Cauli Cheese though – that got divvied up fairly evenly! The vegetable itself was still nicely firm (nothing worse than soggy Cauli) despite the extra bit of nuking/ microwaving it endured; best of all though, the crunchy cheese crust on top remained intact. There was a nice amount of the rich cheesy sauce to dive into, so my large, beef dripping Yorkshire Pudding got treated to a bit of it too. We both loved the Yorkies; they were a rich golden colour, a good size and the batter had that beautiful rich flavour to it that any self-respecting pud has.

As far as stuffing goes, I have to say that I can take it or leave it. The Man though, is a total fan of this as an accompaniment to Sunday roasts so he was well chuffed to see a big slab of it on his plate. Credit where it's due though, this was a stuffing to really appreciate; for a start, it was perfectly cooked (and I do mean PERFECTLY) so that it was neither soggy nor hard, meaning it yielded superbly to the bite and melted on the tongue. It certainly wasn't a packet stuffing either, it's depth of flavour and texture was testament to this; it was a great sausage-meat version, like it's supposed to be if you're doing it properly.

It was with a not insignificant amount of reluctance that we had to leave some morsels on our plate and admit defeat! As you know, our appetites are good and hearty, but even we couldn't finish all the roast dinner - and there was still dessert to come too!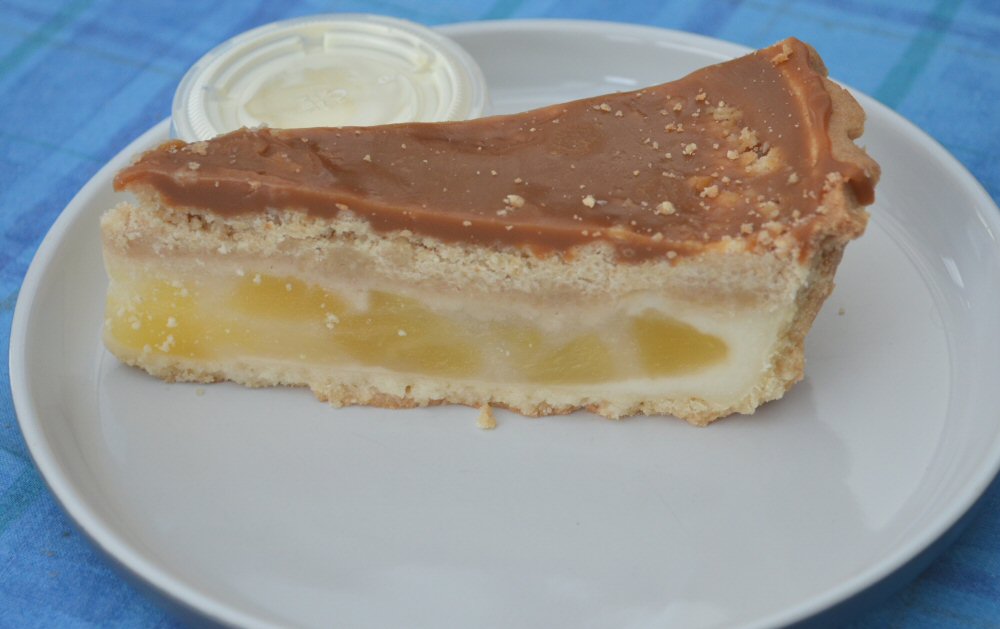 I had chosen Caramel-topped Apple Pie with Cream for my pud and The Man went for Lemon Meringue, again with Cream. Hayley popped the pouring cream into two separate pots so that we could add as much or as little as the mood took us – needless to say, the lot got larruped on!! You can have the Apple pie cold or warmed up, and Hayley had thoughtfully put the amount of time it needed in the microwave on a sticky label on the top of the container.

Warmed up, the sweet, sticky caramel melted lazily and sank into the top layer of the gently tart Apple, providing a sublime balance of tastes on the palate. The nicely buttery pastry base didn't go soggy either, something that would please a certain Mary Berry. There was a decent amount to enjoy too; Hayley doesn't skimp on her sweet course either!




Across our table, His Nibs was oohing and aahing over his large slice of Lemon Meringue Pie. I have to admit to having a twinge of jealousy here; I love Meringue, but it (for some bizarre reason known only to itself) doesn't like me, despite no allergy or intolerance on my part to any of its constituent ingredients. Apparently, the meringue layer was lighter than a cloud, not too sweet and just the right depth, and the Lemon layer was magnificently bright, zesty and sharp to provide a consummate parity of flavours in the mouth. Typical that His Nibs should be so loquacious when describing something he knows I love but can't have! Did I say that we were still playing nicely during lockdown? Scratch that, war is now declared in The Nest!

The Sunday Roast Dinners are priced at £11 per person, including dessert and Hayley also does a 24-hour slow roasted Lamb Shank for £13 per person, available by advance request. Not only that, she does a homemade Suet Pudding Menu (served with 3 seasonal veg, roast and mashed potato, stuffing and their own delicious gravy) for £10 inclusive of delivery. These morsels come in four varieties, and the vegetarian option is normally Cauliflower Cheese Pie with an oaty crumb top or Mushroom and Spinach Pie. Give Hayley a call on 07908 087095 to order your meal today – you won't be disappointed!

Suffice to say that Hot Wings are more than well deserved by Belper-based Hayley, aka Ring-A-Roast.
Somercotes Sunday Dinners provided us with two complimentary lunches to enable us to provide an honest review of their product and service