A Date Night Takeaway From Angelo's Bistro in Duffield
---
Published On Monday 25 May 2020 by Sticky Beak
See Recent Take Away Reviews | See All Recent Reviews


You know how you sometimes just get a real hankering for certain foods, well I was on the market for some proper Italian food; not pizza, more pasta based dishes. It's been a fair while since we took my Mummy Bird out for a bite to eat at Angelo's Bistro in Duffield, but the memory still burns brightly and so they were the first place that sprang to mind.
Husband and wife team Angelo and Carly worked really hard with their team to create a fantastic venue when they moved to Duffield from their previous home at The New Inn in Milford, and they weren't about to let Covid-19 scupper their dream. As soon as they had got all the measures in place to protect their team and customers from the virus, they opened for takeaway service; there are very limited slots for delivery for those self-isolating, so please make the team aware if you need this when you place your order.

We placed our order well in advance and were given a collection time of 6.30pm, so we left home at 6pm in the trusty jalopy full of happy anticipation. You can order on the same day as you want your food as long as it's before 4pm, but you might not get the exact time you want so it's always better to be that bit more organised.

Due to the roads being a bit quieter than usual we had a few minutes until our time slot so we waited in the car and watched a family of four emerge with bags laden with yumminess (there is a separate childrens menu), then a chap came out with a bag in his arms; there were going to be some well fed folk around that night!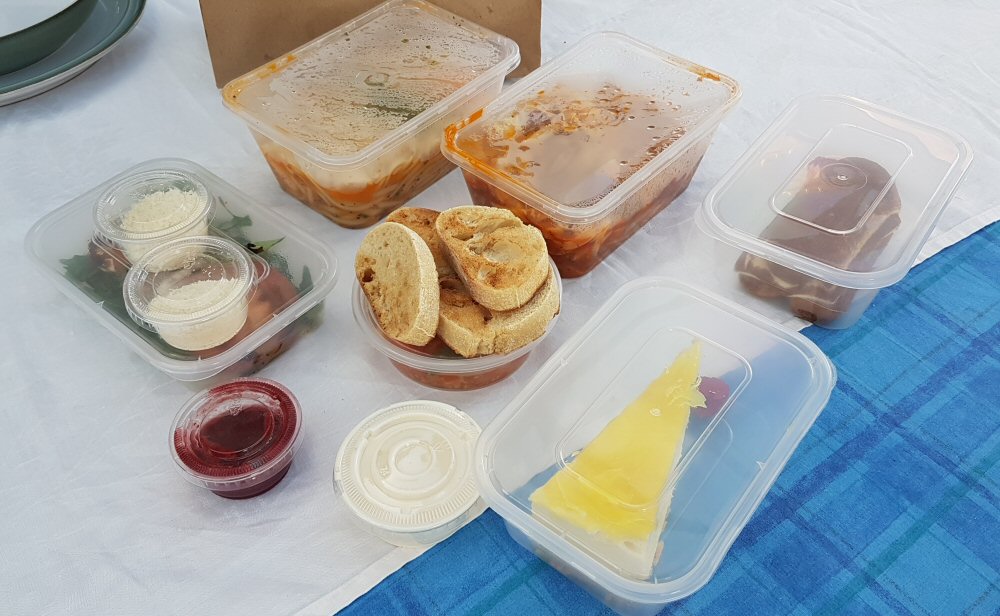 As soon as you walk into the courtyard there is a sign pointing you where to go and the floor is clearly marked out at 2-metre intervals; there's also a table with sanitising gel and instructions to use it every time you enter and re-enter Angelo's. Not gonna lie; it was heart-breaking to see the venues tables and chairs piled in one area and the usual bubble of laughter and chatter gone. Carly however, was her usual vivacious self and the team members that were scurrying from the kitchen to the counter were just as cheery; service conditions may have temporarily had to change, but the welcome and service was as spot-on as ever.

When we were handed our order and ready to leave, we walked around the nifty one-way system that Angelo and Carly have set up and exited out through the side of the pub space that adjoins Angelo's Bistro. There was no close contact with anyone; the gentleman behind us was well out of the 2-metre recommended distance from us all the time. All we had to do was get back to The Nest, decant the containers of food onto our own plates and dishes and enjoy.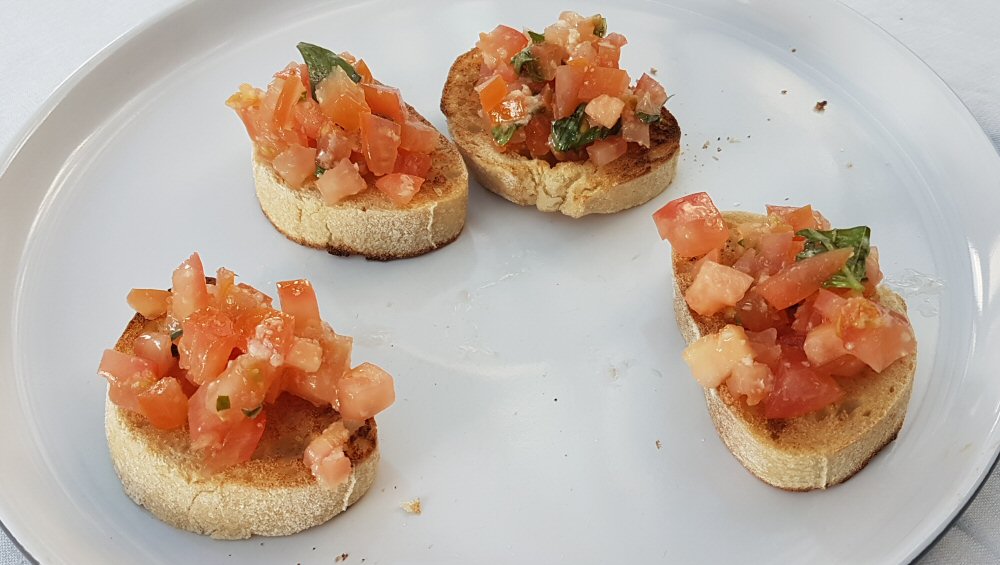 We live maybe 12 or 13 miles from Duffield, so we're probably around the limit of what you can get away with for getting takeaway home without it being cold. We'd reckoned that we'd need to give the dishes a boost in the oven or microwave to get them hot again, so we were pleasantly surprised to discover this wasn't the case. The pasta dishes were still the right side of warm at the edges, but were gorgeously hot in the middle - clearly pasta retains its heat very efficiently!

We'd got a mixture of cold starters and hot mains, so we did things topsy-turvy to how we would in a restaurant: hot mains got tucked into first. I'd ordered the Linguine Marinara and His Nibs had chosen Tagliatelle Ragu, both priced at £13.50, and they smelled incredible!




Angelo's don't skimp on portion sizes; they're Italian for goodness' sake and, as we all know, Italians love to eat and share food generously with friends and family. The Linguine and Tagliatelle were both cooked to perfection with just that hint of bite left to them – there's nothing worse than soft, soggy, over-cooked pasta – and we both grinned with happiness across the table at each other.

My Linguine Marinara consisted of the pasta and fresh Salmon, Cod and King Prawns cooked in a light Tomato and Garlic sauce. There was no shortage of the fish and seafood to tuck into and each piece was moist and tasty, sweet and succulent. The flavours partnered each other brilliantly and there was a nice level of Garlic that was discernible without being over-powering. A lot of people think that pasta is a stodgy option and perhaps it can be if not skilfully executed; Angelo, though, makes this classic dish superbly, so you get the light rainbow tastes of the sauce, fish and seafood combined with just the right amount of Linguine to satiate the appetite rather than send you into a Carb coma.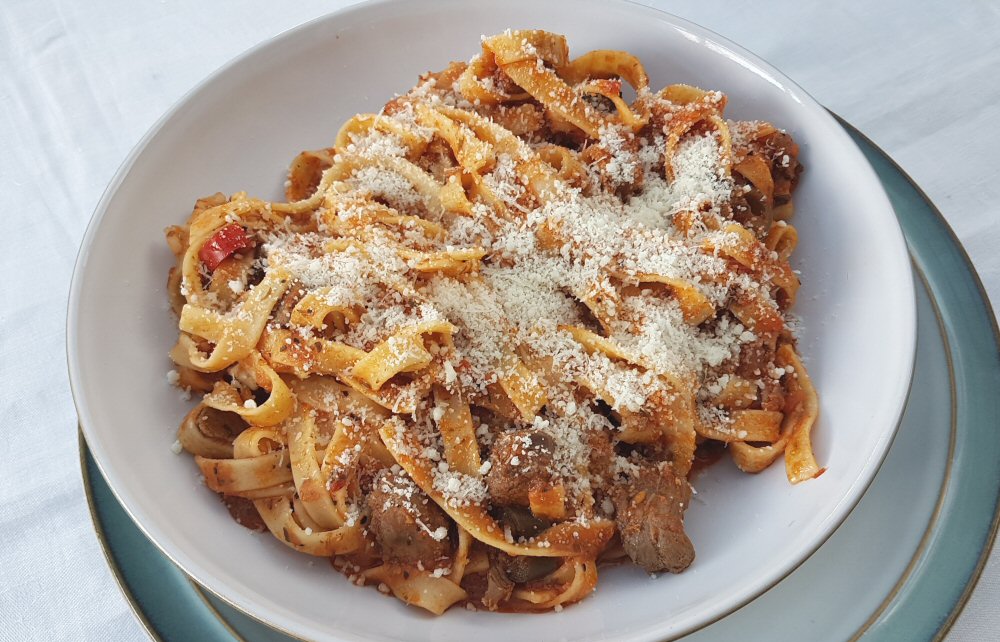 The Man Bird's Tagliatelle Ragu was a much heartier affair, based as it is around a rich Tomato sauce and filling Beef. A hint of Chilli is also in this dish and its warmth gives a lovely kick on the palate without dominating the meal. His Nibs wasn't sure how the slow braised Beef Fillet would be presented in this dish: minced, cubed, sliced or as one whole piece; when he opened the container it revealed itself to be pieces of the meat – and plenty of them. Fillet is the tenderest cut of Beef due to it basically being a hardly-used muscle (a lazy bit of the bovine body!) and this keeps its fibres soft and long with a distinct absence of fat in it. Angelo (somehow) takes this inherent tenderness and elevates it even further so that the meat melts on the tongue almost instantly; the Man Bird was in raptures of delight as he savoured each mouthful. The richness of the thicker Tomato sauce wrapped itself around the taste buds like a comfort blanket – a liquid hug, if you will.

With our hot dishes eaten, we turned our attention to the starters: Bruschetta and Caprese, priced at £3.50 and £4.95 respectively. It would've been so easy for the Angelo's Bistro team to just put the ready assembled Bruschetta in a container, but to avoid it potentially going soggy in transit they cleverly keep the toasted Ciabatta slices and the fresh chopped Tomatoes, Basil and Garlic separate. All we did was pop a spoonful of the Tomato mix on to each slice of Ciabatta and enjoy.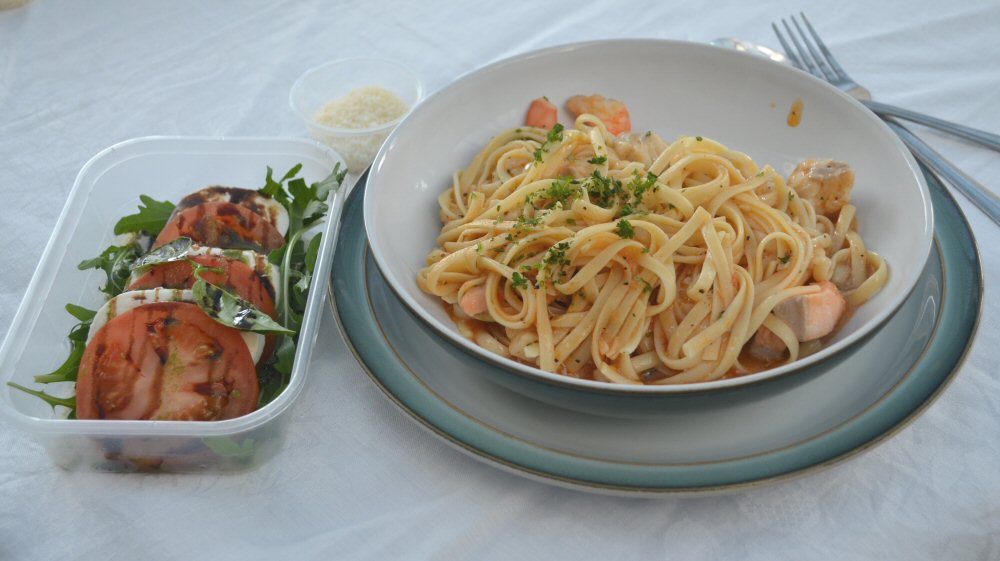 There's something marvellous about the combination of Fresh Tomato, Mozzarella, Basil, Balsamic and Rocket that transports you somewhere sunny in your imagination every time you eat it. Lush sweetness from the Tomatoes, creamy mildness from the Mozzarella and the fragrant intensity of the Basil danced with abandon in my mouth, all encouraged by the concentrated taste of the Balsamic dressing and vibrant, peppery notes of the crisp Rocket. How do you follow such simple perfection? With dessert, of course!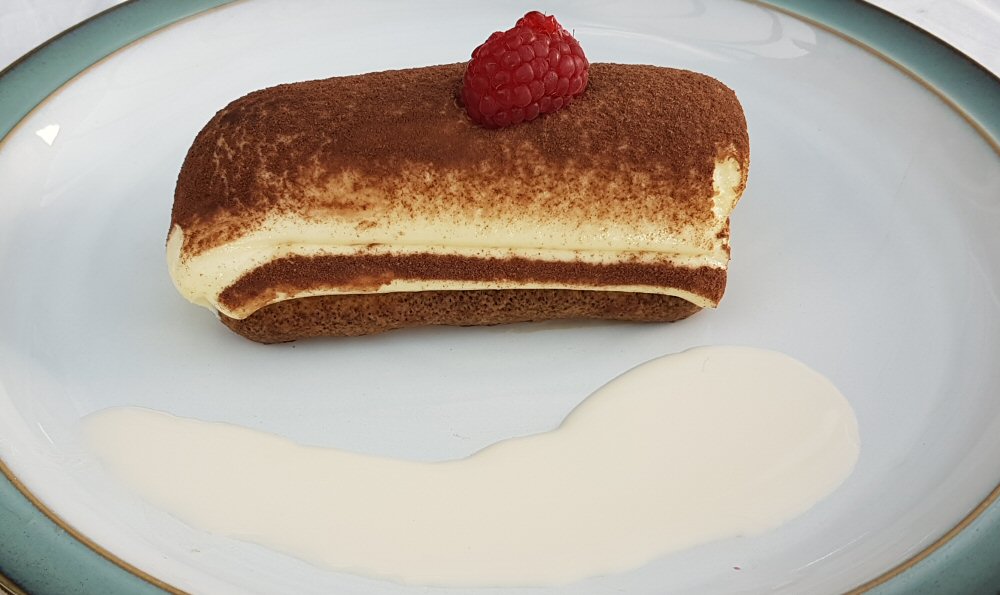 Whenever I go to an Italian restaurant that I know is run by Italians, I always have Tiramisu for dessert; there is a story behind my love affair with this sweet soul-food that I have told before and whenever I indulge in it, it always takes me back to happy times. Angelo weaves his magic again with this iconic Italian dessert and it was just heavenly in my opinion, which is saying something because I'm a particularly harsh critic when it comes to Tiramisu. The sponge fingers weren't soggy at the bottom, thanks to not being drowned in coffee (which itself wasn't over-powering, as is often the case) and the cream was soft and light, not heavy and claggy. Again, the Angelo's Bistro team had put some care and attention into the transportability of this item and the pouring cream was presented in a separate little pot, so that you got the true restaurant experience at home.

The Man Bird had the cheesecake of the day for his dessert; Lemon on this particular evening. The base was deliciously buttery and not too firm as to make it rock-hard, with a generous topping of light, creamy cheesecake. Both layers were crowned with a zingy citrus layer of Lemon gel that evoked the sunny Amalfi coast with every bite. A sharp-yet-sweet coulis of ruby hued Raspberry Coulis was in a pot of its own, just waiting to be poured over the cheesecake, and this was like Tigger in its enthusiasm and joyous bouncing around on the palate.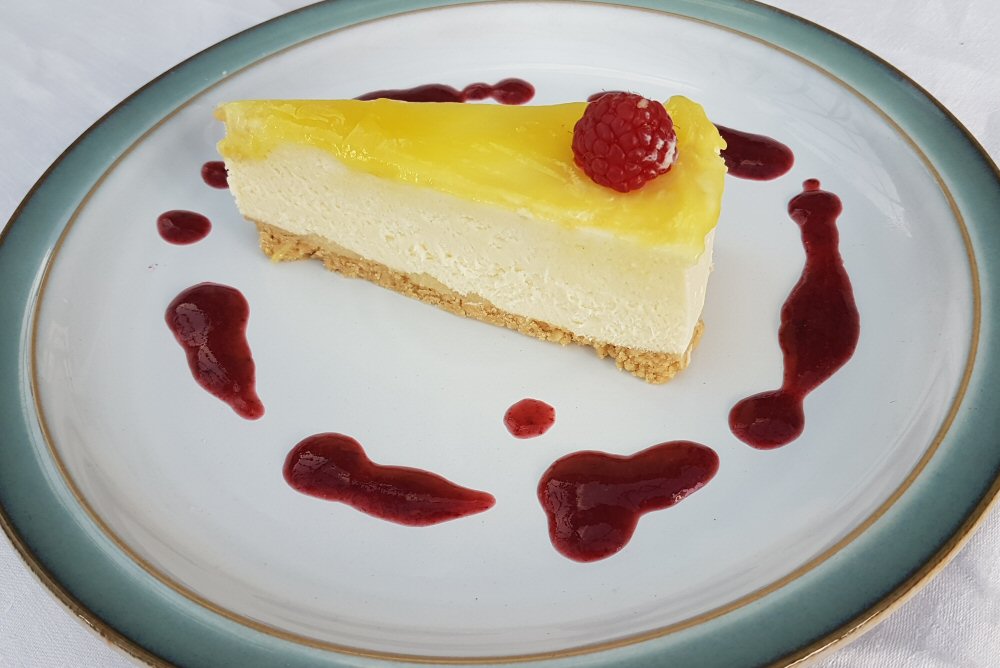 Thanks to the thought and care of the Angelo's team (not to mention the skill and talent of the Chef himself!), we might not have been dining in at Angelo's Bistro but it was as close as you could possibly get – this was one extraordinary date night chez Beak, that's for sure!!.

Hot Wings unequivocally awarded to Angelo, Carly and their wonderful team at Angelo's Bistro in Duffield.

To enjoy this superb cuisine for yourselves just give them a buzz on 01332 843121 or 07790 064397; they're open Wednesday-Saturday 3-8.30pm and Sunday 3-8pm – remember to place your order before 4pm for same day collection, or better still, do it in advance.
Angelo's Bistro provided us with a complimentary takeaway to enable us to provide an honest review of their product and service.