A Sunday Roast Delivered To The Door By Somercotes Sunday Dinners
---
Published On Wednesday 20 May 2020 by Sticky Beak
See Recent Take Away Reviews | See All Recent Reviews


One of the things that we've always enjoyed as a Flock is Mummy Birds' Sunday roast Lunch, but the social restrictions that came with Corona Virus meant that we haven't been able to enjoy this. Recognising the importance of this Great British meal, Somercotes Sunday Dinners have begun offering a delivery service of a traditional Sunday roast (available Noon-4pm) and kindly offered to bring a couple to The Nest.
We opted to have delivery at Noon and just a couple of minutes past this time there was knock at the door and a gentleman with a lovely smile popped a pair of foil-wrapped packages on our doorstep and bid us "enjoy!".

You can choose from Beef, Gammon or Chicken Breast, or any combo thereof: 1 meat and all the trimmings costs £5 per person, 2 meats is £6, or go the whole hog (as we did!) and have all 3 meats for £7 per person. Smaller portions and childrens dinners are priced at £3.50 per person. Each meal comes with Creamy homemade Mashed Potato, 2 Yorkie puds, homemade roasties, green beans, crinkle cut Carrots, Peas and Sweetcorn and a separate pot of Gravy.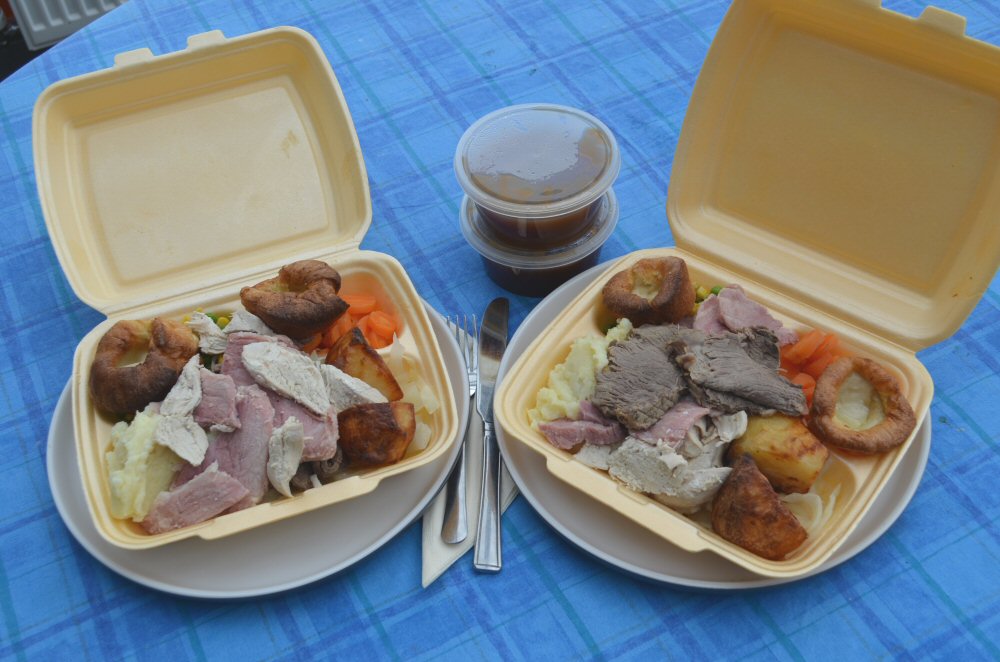 Underneath the foil was a polystyrene tray which, when opened, revealed an Aladdin's Cave of yumminess. The meals weren't just plonked in either – there'd been some care taken in the presentation: the trays themselves were comprised of several sections, so the veggies were housed pleasingly and then the meats were with the mash and Yorkies.

We plated the trays up onto our (frankly huge!) dinner plates and there wasn't any spare room, so safe to say that you get a proper dinner from this team!! Once everything was assembled and the photos taken, it was time to dig in.




Now, call me suspicious, but when it isn't my Mummy Bird's roast I want to see what the quality of the meat is like. To that end, I liked the fact that the gravy had come separately; it meant I could try each meat 'naked', to see if it was dry, gristly etc.

The Gammon was juicy and sweet; the only fat needing to be cut off was at its edge, and the Chicken Breast was equally moist and tasty. Beef is one of those meats that always has that opaque piece of I-don't-know-what running through it, so I cut that out easily enough, and there was only one other bit of connective tissue that I had to cut away. It was a nice bit of Beef though; plenty of flavour to it and not chewy or tough. You get plenty of meat too, we could easily have saved some for a sarnie at supper time if we'd so desired – handy to know if you have a smaller appetite!

Those of you who love to slather gravy all over the entire plate, you'll be glad to hear that the Somercotes Sunday Dinners team give you plenty of gravy in each pot. The Man Bird pretty much used all of his pot, but I like less wetness on my plate so our pooch was going to be in luck – biscuits and gravy for him for lunch! I was surprised by how hot the gravy had managed to stay; I'd expected it to be warm at best - probably more like lukewarm if I'm being honest - but no, it was lovely and hot still.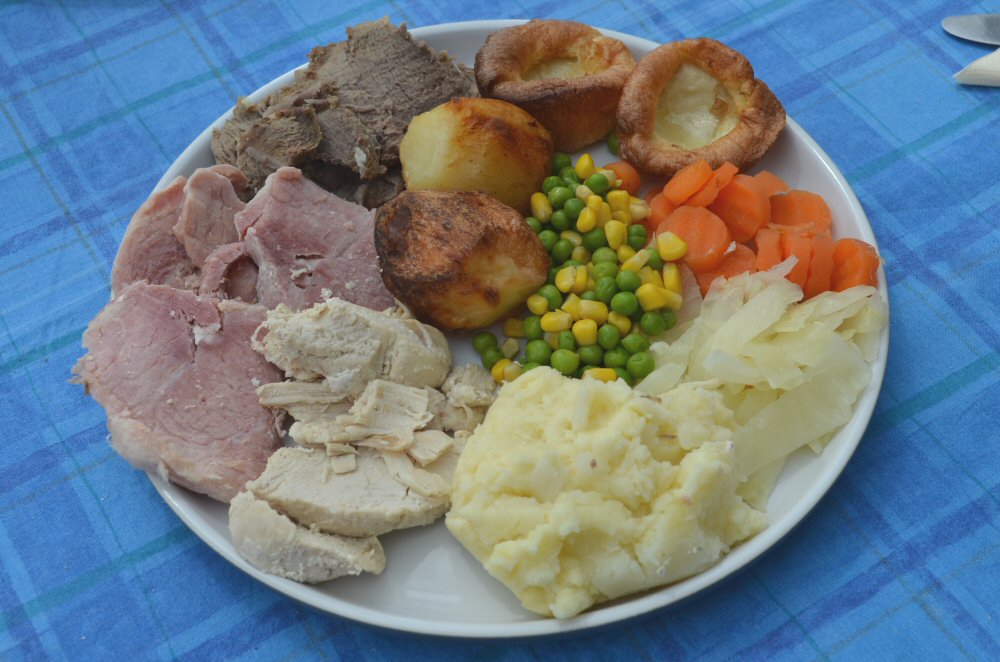 For a bit of visual appeal the Carrots are crinkle cut and it did make them look prettier on the plate, but more importantly, they hadn't been over-cooked and gone soggy. Instead of the advertised Green Beans, we had sliced White Cabbage, so I guess there must've been a shortage of Beans available; not that it mattered to us, veg is pretty much veg. Again, this had been skilfully cooked so that it retained a bit of bite rather than having been reduced to a mushy, tasteless mess. The verdant Peas and sunshine tones of the Sweetcorn added plenty of colour to the plate, as well as being sweet and tasty.

Somercotes Sunday Dinners recognise the importance of roast Potatoes in a Sunday Roast and they do some corkers. Not only are the roasties lovely and large, but they're soft and comforting in the middle with gorgeously golden outers and a gentle crispness to them – spot on!

Equally important to a great roast dinner is the Yorkshire Puddings – these can literally make-or-break this iconic meal in my opinion. They weren't the huge sky-scraper numbers that you often get in restaurants but if they were that size they wouldn't fit into the delivery containers, so the SHD team have clearly done their homework and found what works for them. There is an oriental proverb that roughly translates to 'size is no guarantee of strength' and although these Yorkies were smaller, they were certainly powerful in terms of taste and texture. They had that lovely eggy batter note to them that is creamy in the mouth, so they aren't simply bland puffs of air. I liked the fact that they weren't claggy or chewy in the mouth either, and for those that are older and don't like very crispy things that are hard to bite into, you'll be pleased to know that the edges had a gentle crunch to them so your gnashers are safe!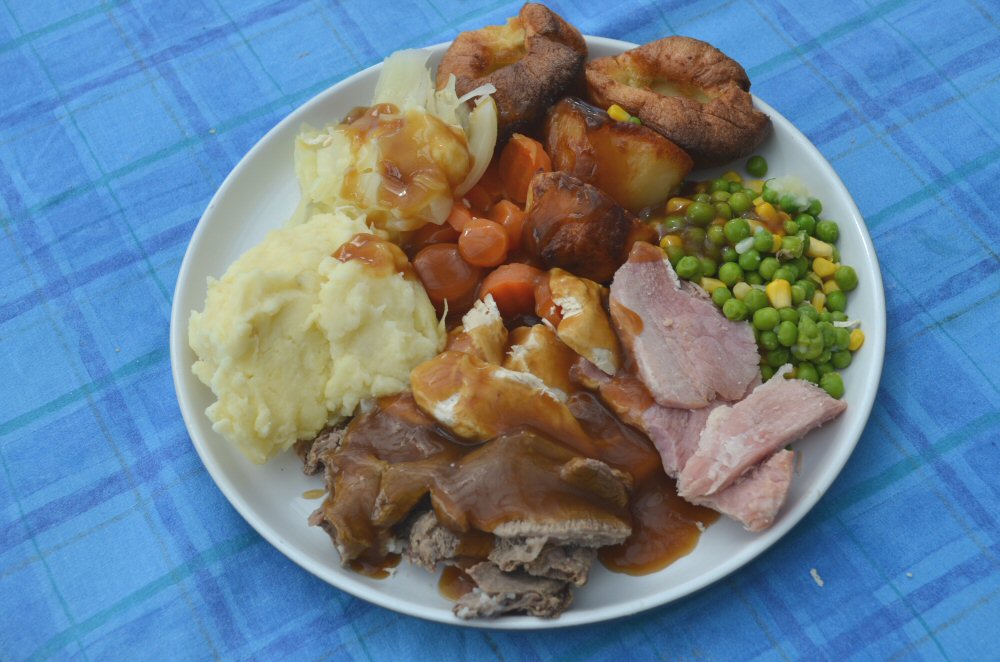 The final element of our Sunday Roast was the Mashed Potato – another crucial piece of the meal. When you go out to restaurants the mash is glass-smooth, which is lovely but let's face it, rarely happens at home (unless you resort to a blender or some other gadget). All the Potato was thoroughly cooked and therefore soft, so any small pieces that remained were as soft as their mashed comrades. His Nibs and I both remarked on how creamy the Mash was – you have to have butter in your mash for a bit of indulgence, and this was delightful.

For those that don't eat meat but still want to have that Sunday feeling, the Somercotes Sunday Dinners team offer a delicious sounding Mediterranean roasted vegetable tart with cheese encased in puff pastry that comes with butter, herb and garlic-tossed New Potatoes and Green Beans – priced at £5.




All puddings are priced at £3 and the choice is Strawberry Swirl Cheesecake, Chocolate Fudge Cake, Summer Fruits Cheesecake or Salted Caramel Cheesecake – this does vary slightly from week to week.

There is also a selection of mid-week meals available too (delivered between Noon-3pm), that are all cooked fresh from scratch and priced at £5 per person; they just ask is that you order a minimum of 2 mains to qualify for free delivery, which I don't think is unreasonable at all. Examples of the meals on offer are Aberdeen Angus Beef Lasagne, Cottage Pie, and Sausage 'n' Mash with Onion Gravy.

Deliveries have gone as far as Belper and Smalley, and slots for the Sunday Roast Dinners sell out quick so make sure that you ring the team in plenty of time to guarantee your meal. Simply ring them on 07468 123720 to place your order and pay by bank transfer prior to delivery. If you don't have access to pay this way, they will accept cash, but only if really necessary due to the contamination risk of Covid-19.

Hot Wings given to this team of local food heroes; the food was delicious and great value for money.

Find out more by visiting the Somercotes Sunday Dinners Facebook Page

Somercotes Sunday Dinners provided us with two complimentary lunches to enable us to provide an honest review of their product and service