An African Takeaway From Mimi's Soul Food In Somercotes
---
Published On Sunday 17 May 2020 by Sticky Beak
See Recent Take Away Reviews | See All Recent Reviews


Man, it's been a really hard week this week! Cleaning, grocery shopping (ours and The Tribal Elders), baking and eating the results of said baking; I don't know how I've coped ;)! I figured that the triumph of managing to not get neat bleach on any soft furnishings justified a takeaway reward; what say you, dear reader - are you with me?
I cannot believe that there has been such a treasure stuck right under my nose and I've not been aware of it; well ok, I can, it's not the first time it's happened to be fair. Anyhow, Mimi's Soul Food and Lounge Bar offers authentic African cuisine from their base at home in Somercotes and are open 3-9pm Tues-Thurs and Sunday, and 3-10pm Fri-Sat; Monday is their day off.

The Man Bird and I do like spicy food, so we figured this would be right up our street ; the mention of Goat Curry and Jerk Chicken did have me reminiscing about dinners at Turtle Bay in Derby though – not gonna lie :/. As I write, Mimi's are offering a delivery service only (no collection) so all we had to do was decide what we fancied, pay via Foodhub and wait for our meals to be delivered.

I love Goat curry, so I went for the Lamb and Goat Curry as my main meal (though I had seriously considered having the grilled whole Tilapia Fish, £8.50) and His Nibs had the Beef Brisket. We ordered Spicy Rice, Fried Plantain and Chakalaka (admit it, you all read that and then went "boom" Chakalaka didn't you?!!! ). I've had fried Plantain before at Turtle Bay, so I knew what to expect with that, but neither of us have had Chakalaka: spicy Carrot, Onions, Mixed Peppers and Baked Bean relish, so we were eager to try it.




Due to literally everybody having to eat at home, demand for takeout across the board is exceptionally high and Mimi's have put a notice on their site telling customers that there may be a longer than usual wait for food. Our meals were no different; the lady was 25 minutes behind the official estimated arrival time. Not that it matters – what else are we going to do apart from stay home; it's not like we needed to eat by a certain time because we were going out afterwards! The delayed arrival time didn't affect the temperature of the meals though; it was all piping hot.

You certainly aren't going to be hungry after you've eaten Mimi's Soul Food that's for sure – the portions are very generous. The Man Bird got the shock of his life when he opened the large cardboard container that housed his Beef Brisket; it was crammed to the rafters with pieces of meat, both on - and off-the-bone. And boy, did it smell good, although not as good as my Lamb and Goat Curry, obvs! My curry (£8) was chock-full of meat and I just tipped the whole plastic container of it onto my plate: when I'm hungry, decorum goes right out of the window. If you like your food with plenty of colour to it then the Chakalaka won't disappoint, and neither will the Spicy Rice; then again, the fried Plantain might only be one tone, but it is a lovely sunny hue that is cheery to the eye.

With everything decanted from its container, and the obligatory photos taken, it was finally time to tuck in! Oh my word, the curry is really something! Both the Lamb and the Goat meat were tender and I loved the contrast between the two: the muskiness of the Goat and the sweetness of the Lamb. Spice-wise it wasn't lip tinglingly hot but it certainly had a nice kick to it that got my taste buds on high alert. There was a gorgeous earthiness to the curry sauce, enhanced with a hint of sweetness and then lifted with a bit of heat that married really well with the richer flavours of the meats. Yep, this was certainly ticking all the boxes for me, and then some.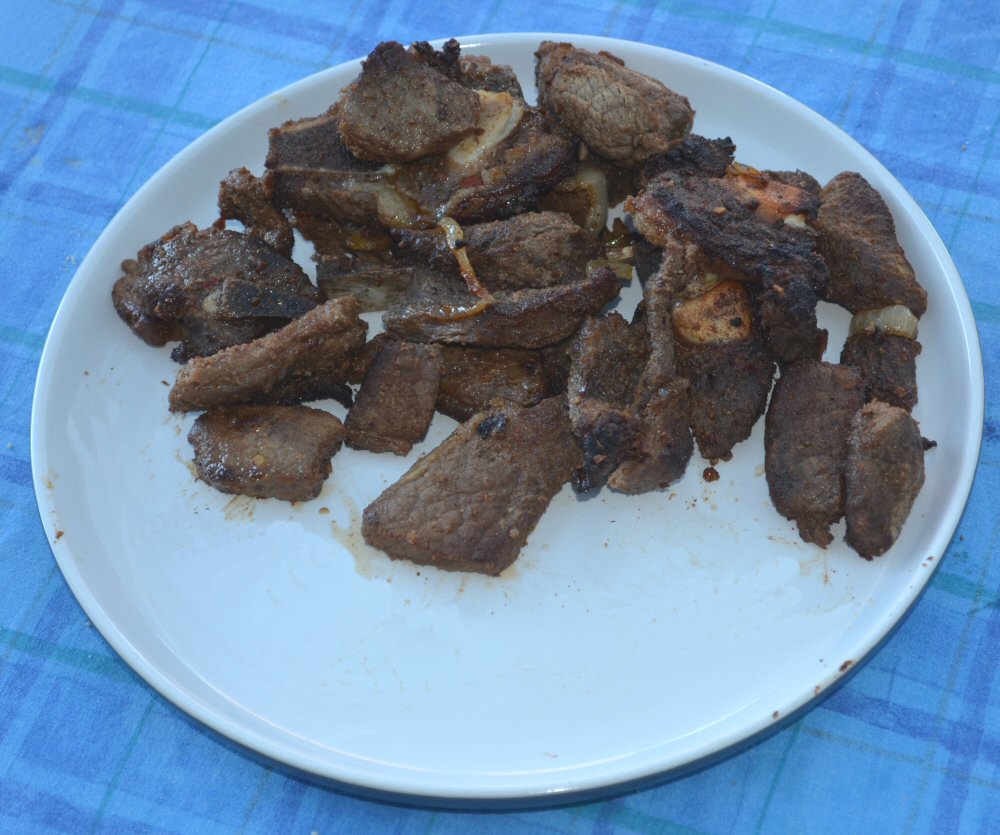 Across the table, The Man had begun to wade his way through the sea of meat that was his Beef Brisket (£9.50). The bones had been cut in half to reveal their marrow and no doubt some of this had contributed to the superb flavour of this choice. It isn't the prettiest dish to look at; it literally is the pieces of beef in the container (no sauce, no nothing), so maybe the Mimi's team could pop some fresh herbs or a charred whole chilli on the top to zhuzh it up presentation-wise? Just a thought. It didn't detract from the deliciousness of the beef though, so all is good in gastro land.

The Spicy Rice was exactly that; nice and flavoursome but not too hot as to detract from the main dishes or to make your mouth tingle, more to enhance was what being enjoyed as main courses. The rice was perfectly cooked; it wasn't soggy at all, and just had a hint of firmness left to it.There was plenty of it for the pair of us – we both had second helpings that would count as a single serving. In all honesty there would probably be enough for three people if another side was ordered.

His Nibs was a bit reluctant to try the fried Plantain, until I said it was nice and soft and sweet and not wildly unlike Sweet Potato. He quite liked it, but I wasn't really up for sharing, so I made sure that I plonked a load of it on my plate in case he got a sudden penchant for it! It isn't the healthiest morsel you'll ever put in your mouth but it is a proper comfort food to me and I revelled in its soft embrace. It has the same softness as caramelised Banana but without that yucky Banana taste – bleurgh. I think he liked the lubricant character of this side dish as it helped moisten the sauce less Beef Brisket as he popped it into his mouth.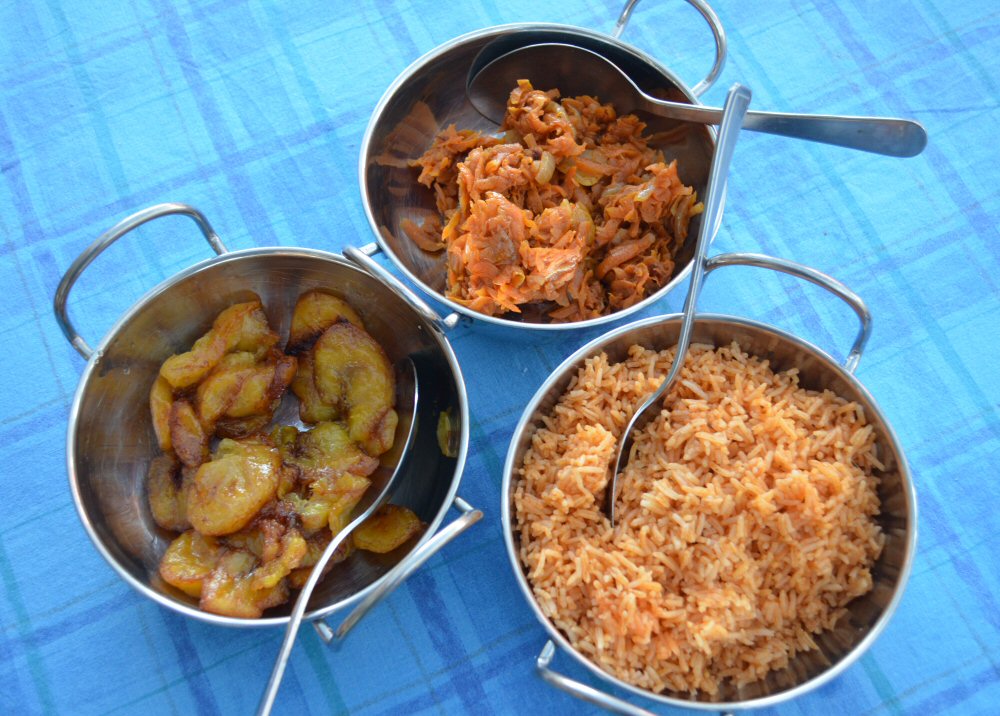 Now for the absolute delight that is the Chakalaka; honestly, this is glorious – I could eat this as a main with a flatbread or something. The vegetables still had a little texture to them to give a light resistance to the bite without a crunch. As you take your first mouthful you think "oh this is packed full of taste, it's lovely", and then after a couple of seconds the heat goes "ta-dah!!" and catches you off guard! This is a serious treat for spice fans and we lapped it up happily – next time I shall order at least 2 portions of this.

We didn't bother with dessert for a couple of reasons: a) I don't think Sticky Toffee Pudding is particularly African (His Nibs was gagging for some, though!) and b) I'd made Chocolate Brownies earlier in the day, so it seemed a shame to not eat those. That said, I can imagine Mimi's Soul Food's Sticky Toffee Pudding would be very yummy!

So there you have it folks, the review of African food courtesy of Mimi's Soul Food and Lounge Bar in Somercotes. I'm assuming that the Lounge Bar is something that is in the pipeline but put on hold by this Covid situation, so we'll all have to watch this space for details on that! The whole meal came to £24, but you get a 10% discount online; so after that (and the quid delivery charge) the bill came to £22.60 which we couldn't grumble at at all.

Hot Wings happily awarded to this local takeaway.

You can order online at mimissoulfoodandloungebar.co.uk