A Fish & Chip Supper From Mario's Fish Bar In Alfreton
---
Published On Wednesday 13 May 2020 by Sticky Beak
See Recent Take Away Reviews | See All Recent Reviews


Despite the abundance of scrummy food that The Man and I have been consuming whilst in lockdown, there was one thing that we've both been craving: good old Fish n Chips from a Chippy! We're blessed to have several good ones around our locale, but when we saw that Mario's Fish Bar in Alfreton was re-opening on Thursday (May 8th 2020), we decided to have a chippy supper for a weekend treat.
As with many other restaurants and takeaway venues, you have to pre-order your meal and timeslot to collect; (when we visited Mario's we're only offering a collection service however they have now started to deliver). Fortunately there is plenty of parking on Alfreton High Street and at nearby car parks, so His Nibs had no problem as he pulled up in the trusty jalopy.

Before we got to the pick-up stage though, we had to decide what we fancied. The menu is dead easy to navigate, which is perhaps as well when it comes to my skills (!), and I'd soon ordered a large Cod & Chips with Mushy Peas. I loved the fact that you could opt to just have salt OR vinegar added - or both -; I went for just salt so that any vinegar wouldn't make my chips go soggy. The Man also had large Cod n Chips, but had beans instead of peas.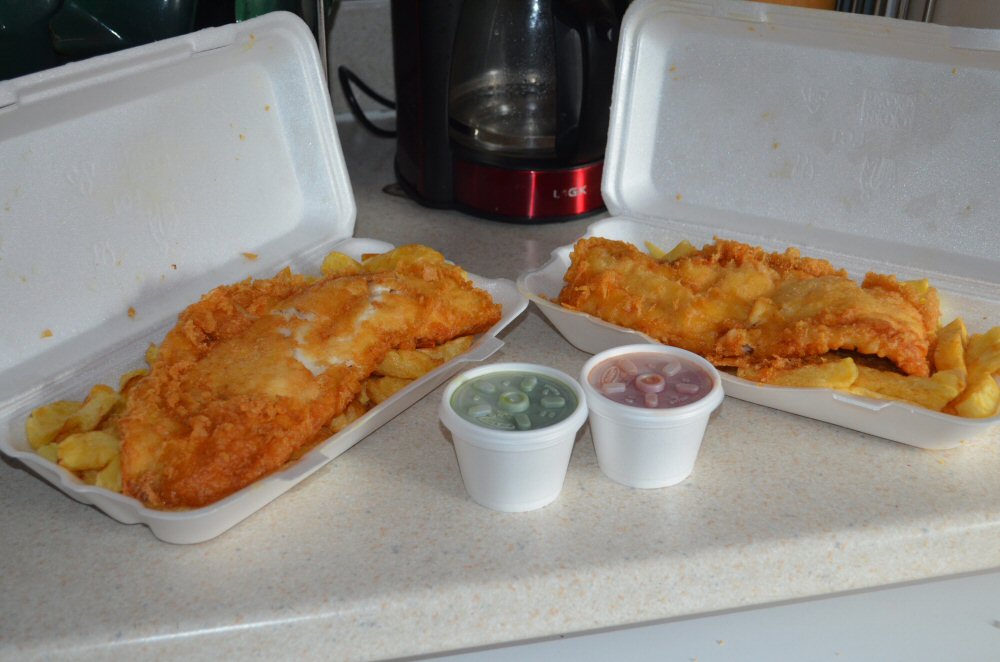 Some chippy's put their 'meals' (fish, chips and sauce/accompaniments) all in together and wrap them in paper, which makes them turn into a mushy mess by the time you get them home. Thankfully, Mario's put their fish and chips in more substantial polystyrene boxes and keep any sauces separate.

I'd got the table set ready for when The Man Bird returned, so it was simply a case of popping the food onto the plates and pouring the peas and beans on top and adding vinegar, ketchup etc. as desired. With it still being glorious weather, I'd made a jug of refreshing Gin and Tonic – maybe not your standard tipple to have with a chippy supper, but a blooming good one nonetheless!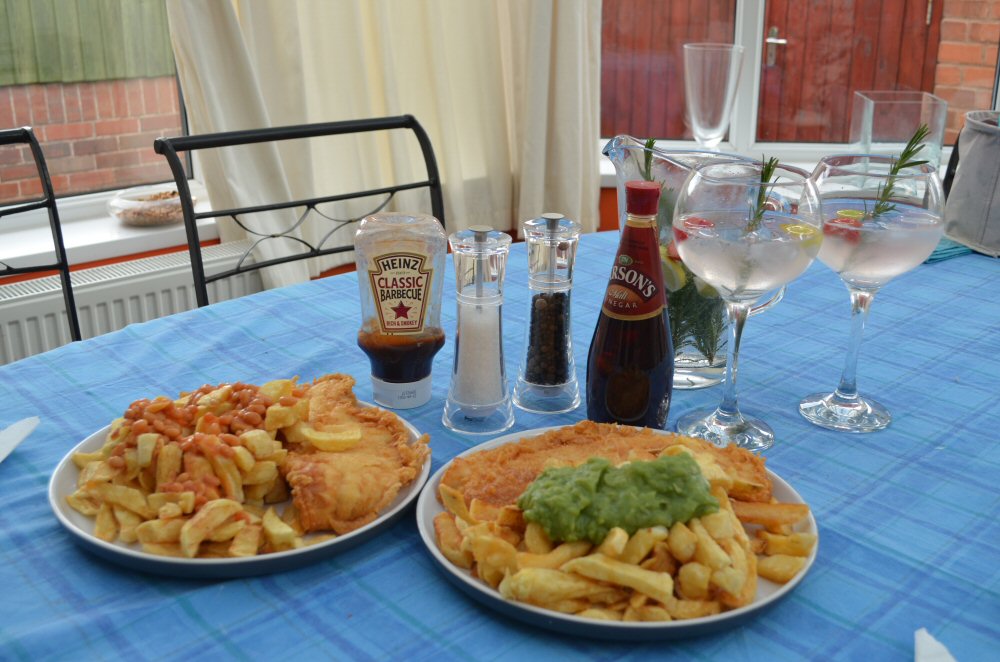 For those with smaller appetites, a large fish will feed two of you happily, or you can order a mini fish if you prefer. The fish was superbly tasty and moist, the flesh nicely firm and meaty in texture. You couldn't find fault with the batter either; it was lovely and crunchy, light in texture, and not at all greasy. Yep, this was tasty morsel, make no mistake.

The chips were just as good; not soggy but comfortingly soft to the bite – just how a good chippy chip should be. I've said before that the variety of potato used has a lot to do with the taste and quality of the final product, and the chips at Mario's Fish Bar in Alfreton are delicious. As with the fish batter, they're not at all greasy so you don't get any oily taint in your mouth, just lovely sweet, slightly earthy 'tater taste.




The two large meals (complete with Mushy Peas and Beans) came in at £15.98 for the two of us - £7.99 each, and we were absolutely podged! You definitely get good value for your money – these meals could feed a family of three or four (depending on age of kids) quite easily.

Hot Wings happily given to this team. Remember to keep supporting local businesses where possible folks; without your patronage they won't survive, and our towns and villages will be boring without them!

You can place your order online at mariosalfreton.co.uk