A Pizza Night Takeaway From The Loaf In Crich
---
Published On Sunday 10 May 2020 by Sticky Beak
See Recent Take Away Reviews | See All Recent Reviews


One thing that has impressed me during this lock-down is the creativity and resilience of smaller food and drink businesses to keep themselves afloat. Local breweries have been doing "mini kegs" and offering those on a 'click and collect' basis, and lots of eateries have started doing delivery and/or click and collect.
The small team at The Loaf in Crich had always done 'Pizza Night' on Wednesdays; there were 2 sittings (6 and 8pm), with a takeaway service too, but obviously this got cancelled at the start of the governments' lock-down and social distancing initiative. Now, I can heartily vouch for the quality of the sit-in Pizza nights – The Flock (including The Tribal Elders when they're behaving!) have been there a few times and always had a great time. However, we've never had takeout Pizza from The loaf, so this was a first for us.

Social distancing totally kiboshed the pizza night, as well as the daytime cafe side of things, but The Loaf team were determined to serve their community Pizza somehow, so they set up a marvellously efficient system for collection slots. When we placed our order we were duly allocated 7.25pm as our allotted time to go and collect. I should just mention that (as with most of the current takeaway offerings) you do need to get in contact to pre-order your chosen pizzas, garlic bread, and calzones; you can't simply rock up and queue outside on the off-chance.

When we arrived there was a chap already inside, just finishing off paying for his order (you pay in-store when you collect your food) so we waited on the pavement outside The Loaf until he came out. Whilst I was waiting for my pizzas I spied a rather tempting Fruit loaf on the shelf behind the counter, so that somehow got added to my order too! No prizes for guessing what I was having for breakfast the next morning; you can't beat warm, freshly toasted fruit loaf paired with a good brew for a brekkie treat.




His Nibs and I had ordered a Garlic Pizza Base, a Chorizo pizza, and a Carciofo pizza and they came out of The Loaf kitchen snuggly boxed up, ready to be winged back to The Nest. As I carefully picked them up, I got a waft of their mouth-watering aroma and a lovely comforting warmth on my skin from the boxes they were laid in.

Despite it being a 6 mile journey home, the pizzas were still plenty warm enough, so although we'd turned the oven on in anticipation of having to warm them up, it really wasn't needed – bonus!!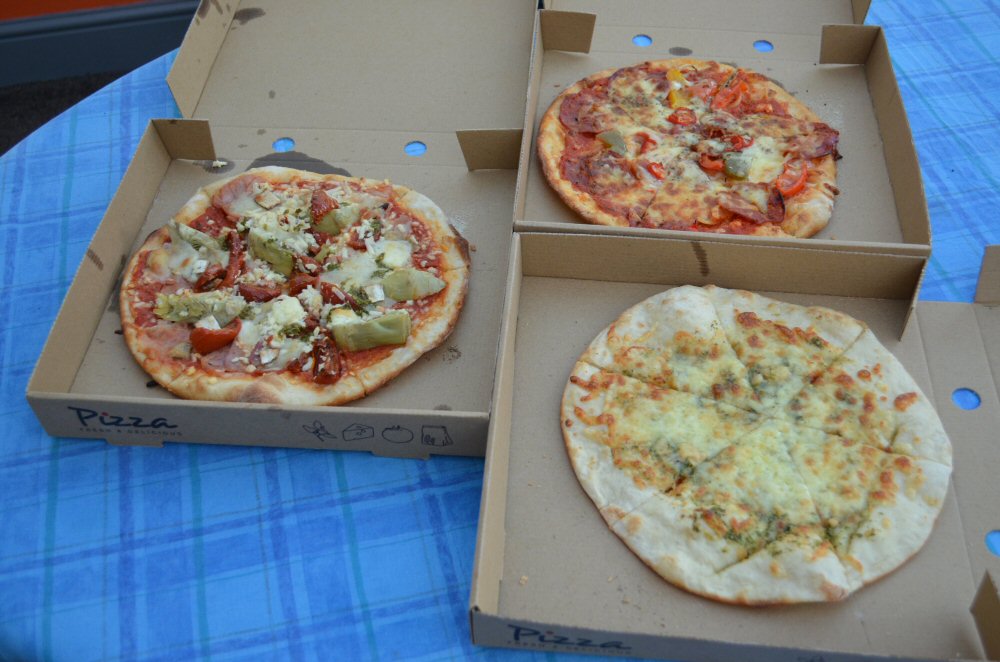 The first box we opened had the Garlic Pizza Base (£4) within it; this delight is described as having "lashings of Garlic Butter and Fresh Herbs" and it certainly didn't disappoint. The uber-thin, crispy base had been expertly cut into 6 portions and we eagerly grabbed one each and bit into its warmth and softer middle. You get an unmistakeable hit of garlic on the palate, but it isn't honkingly over-powering and is beautifully rounded rather than harsh in the mouth.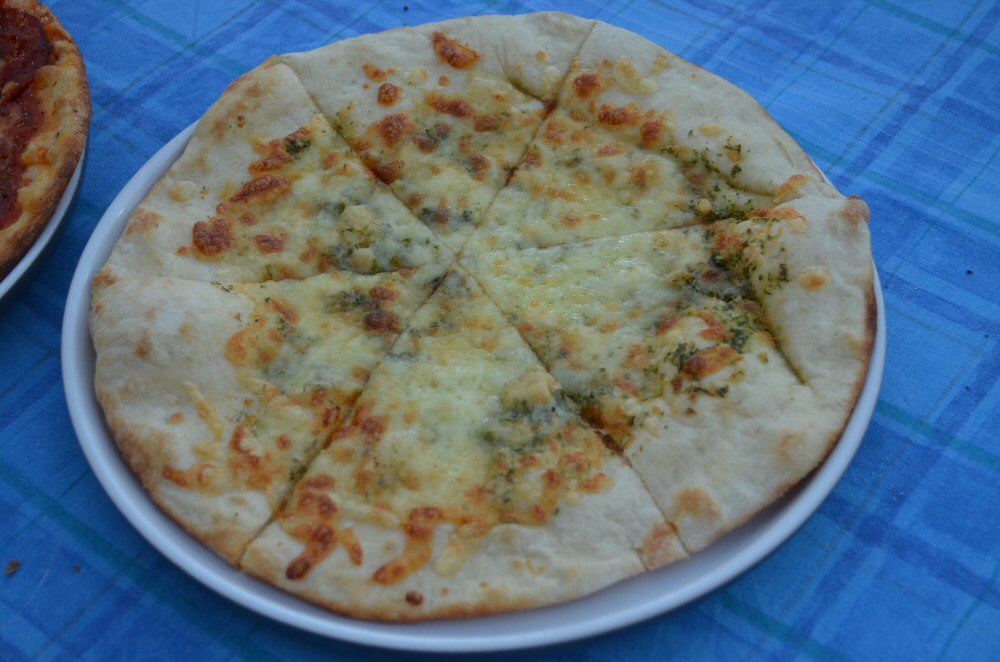 His Nibs had ordered the Chorizo Pizza (£10.95), described as 'The Fiery One' and was looking forward to biting into its Spicy Chorizo, Sweet Peppers, Onion, Mozzarella, Fresh Oregano and extra Chilli. Whoever cut the pizza had done a cracking job – each slice came away from its neighbour with no complaint. The superbly thin base held masses of toppings and each one was bursting with taste, especially the plentiful slices of Chorizo. The vegetables provided a great amount of texture and colour on this morsel, and the Mozzarella was gorgeously gooey and creamy. The Man Bird does like things a little on the spicy side, so he would've liked more of a chilli kick, but did concede that this wouldn't be to most people's taste and it is about mass appeal in the food industry. No doubt this could easily be remedied by requesting extra next time – and there most definitely will be a next time!!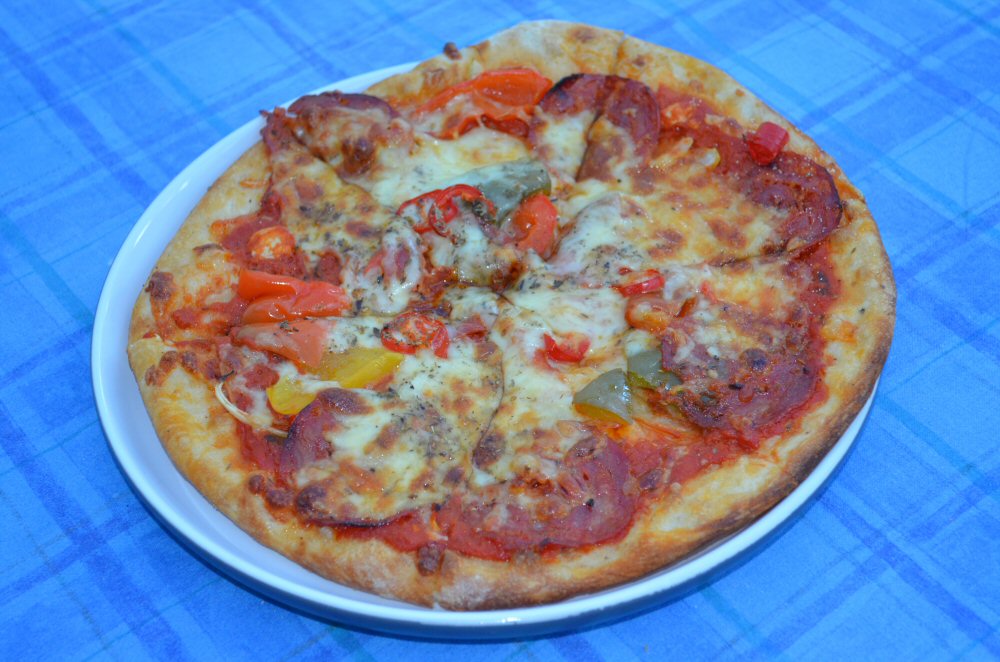 I'd gone for the Carciofo (£11.50): a "hearty and flavoursome" pizza. This particular pizza has Ham, Artichoke Hearts, Pesto, Sun-Blushed Tomatoes, Goats Cheese, Pecorino Cheese and Mixed Herbs on it. It's no secret that I'm a sucker for Goats Cheese – I just love its creamy/tangy/musky character – and to my delight there was plenty of it on my pizza. Another strong, tangy cheese, Pecorino, was also on the Carciofo pizza and it went amazingly well with the Goats cheese. Sweet, intense pieces of Sun-Blushed Tomato and creamy, quartered Artichoke Hearts provided complimentary nuances to the cheeses. Adding the final flourishes of flavour and taste were fragrant notes of fresh Pesto and Mixed Herbs. I was very impressed with the Carciofo and gave myself a smug, congratulatory pat on the back for having such good taste and choosing it!




There may be a few readers sucking breath through their teeth and thinking that The Loaf pizzas are a bit pricey. Whilst I will agree that they're not the cheapest around, I just want to point out that it is a case of "you get what you pay for" here; the ingredients are all super-fresh, tasty and top quality and then there's the skill and time of the Pizzaiolos involved to be considered. Giving my two-pence worth, I am more than happy to pay The Loafs prices. These are Pizzas that you take your time over; they encourage relaxed family dining, conversation and sharing each other's pizzas. In short, I think they are a little slice of happiness and joy and I, for one, am certainly in need of that right now!

Hot Wings happily given to this hard-working, community-helping team – see you soon!! Stay safe and well.

You can find The Loaf online at theloaf.co.uk or call them on 01773 857074