A Saturday Night Takeaway From The Schoolhouse In South Normanton
---
Published On Sunday 3 May 2020 by Sticky Beak
See Recent Take Away Reviews | See All Recent Reviews


The Man Bird and I seem to have settled into some kind of lock-down routine now, involving a restaurant delivery/collect meal on Saturday night. As the weeks have passed, restaurateurs seem to have found their groove too and their services seem to running more and more smoothly as time passes, albeit it with pared down menus and staggered collection slots.
Given that most businesses have had to furlough staff due to space issues in kitchens that don't meet social distancing requirements, I have to say that there are some fantastic venues out there producing great food. One such business local to Beak HQ is The School House restaurant at South Normanton, run by husband and wife team Martin and Sophie. In what seem very distant times, His Nibs and I went to the restaurant itself (which is beautiful, by the way, if you haven't been) and when I went inside at my designated time slot to collect our dinner, I was reminded of its charm.

Is it weird to say that I'm quite liking going to collect food orders? It's a reason to journey beyond the house and garden, for something other than the necessity of food shopping and at this juncture in time I'm getting to the point of needing a little change of scenery without exposing myself and others to flippant risk.

Martin looked in remarkably good spirits given the stress that he and Sophie must be under, and we managed to have a little chat as the meals were being packaged in their sturdy brown boxes. I've never been so excited to open a 'present' as I was when we opened this pair of beauties back at The Nest!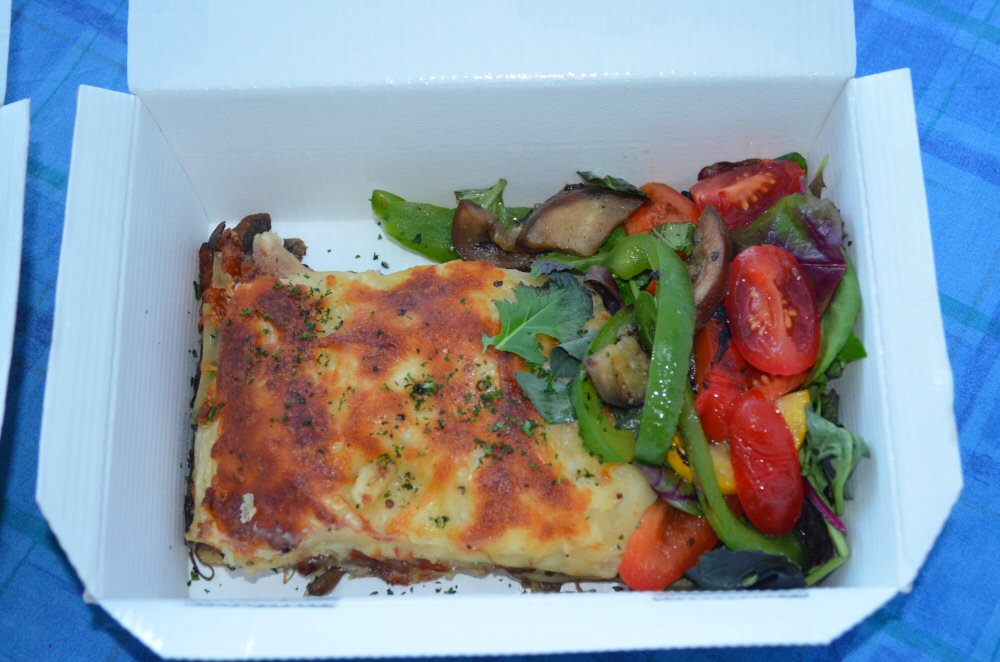 All the main meals are priced at £10 with the exception of the 8oz Rump steak, which is £14; sides and desserts are all priced at £3. The menu is fabulously diverse but still includes perennial faves like fish n chips, homemade pies and beef burger. His Nibs was lured in by the siren call of the Beef burger, and this minx comes housed in a rich, toasted Brioche bun along with cheese, BBQ pulled pork and house pickles; plenty of fries also come as part of this meal. I decided to have the roast Chicken, Wild Mushroom and Mozzarella Lasagne which comes with a mixed salad – I'd eaten my body weight in cake earlier in the day and needed to atone for such bad behaviour!




We're only about an 8 minute drive away from The School House, so we didn't bother to reheat the meals when we got home. In all honesty, both dishes had stood up to the journey remarkably well – clearly they left the kitchen piping hot. There were a few of the outermost fries that had gone a bit cooler than you'd like but the star of the show, the burger, was bang on. His Nibs was impressed with the depth of flavour this morsel had to it, and when I sampled a bit I totally agreed with him – it was rich, deep and very satisfying.

There was fab amount of melted cheese and pulled pork on top of the beef patty, so it was one of those burgers where you have to squish it down a bit and open up nice and wide to take a bite! Charred, sweet shoestring onions and thick slices of fresh tomato brighten things up nicely, urged on by the unmistakeable tang of crunchy pickles. The fries were nicely seasoned and crisp on the outside and this was certainly a choice you could eat again and again – cracking value for a tenner, too.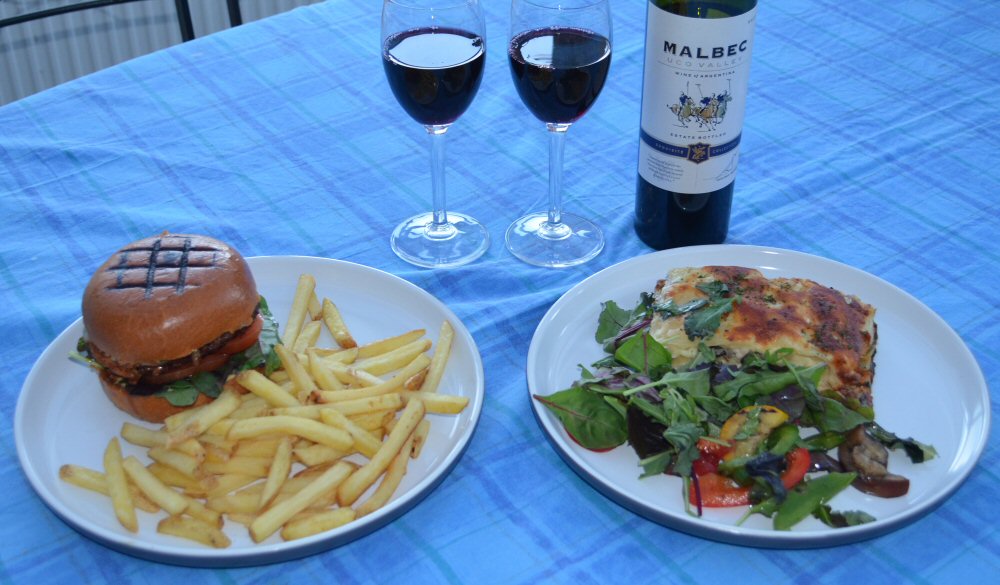 I'm a bit wary when it comes to ordering lasagne; I've fallen for its charms many a time and been served with multiple layers of pasta with very little other ingredients in between, so I've unfortunately become suspicious of what can be a blindingly good dish. I only ordered it on this occasion because I've dined at The School House previously and know the quality of food that comes out of the kitchen, so I was confident that I would enjoy their interpretation of an Italian staple. Turns out that my faith was fully justified. Given the fact that this dish needs to be transported it isn't as moist with béchamel sauce as you'd normally have in a restaurant; if it was, it would just ooze everywhere in a sloppy mess – not the look that Martin and Sophie are after!

Having said that, it was by no means dry – there was a lovely gooeyness to it, courtesy of the creamy melted Mozzarella. You can't miss the chunks of Chicken in this dish; they're lovely and large as well as being plentiful, and the breast meat is nice and moist. Mushroom lovers will thoroughly enjoy the selection of fungi in here, there were several different types present and again there was an abundance to tuck into. One of the things I really love about an al forno dish like lasagne is the crispy, cheese crust on the top that you get, and the School House restaurant's one is superb.




The salad didn't disappoint either; there had been a bit of thought gone into it, so it wasn't just a bog-standard Tomato, Cucumber and lettuce jobbie. There were various crisp leaves to munch on as well as roasted Aubergine chunks, yellow Courgette slices, sweet cherry Tomato halves and crunchy green Pepper slices. Not only was this lovely and colourful, it was a fantastic mixture of tastes and textures.

It won't surprise you to hear that not a single crumb remained on either of our plates! We had been debating whether to have a dessert, but I think we may have struggled to finish one to be honest. We have already decided what we're having next time we order from The School House and I will be ordering a dessert – purely for research purposes (!) - so I must remember not to scoff ridiculous amount s of cakes that day!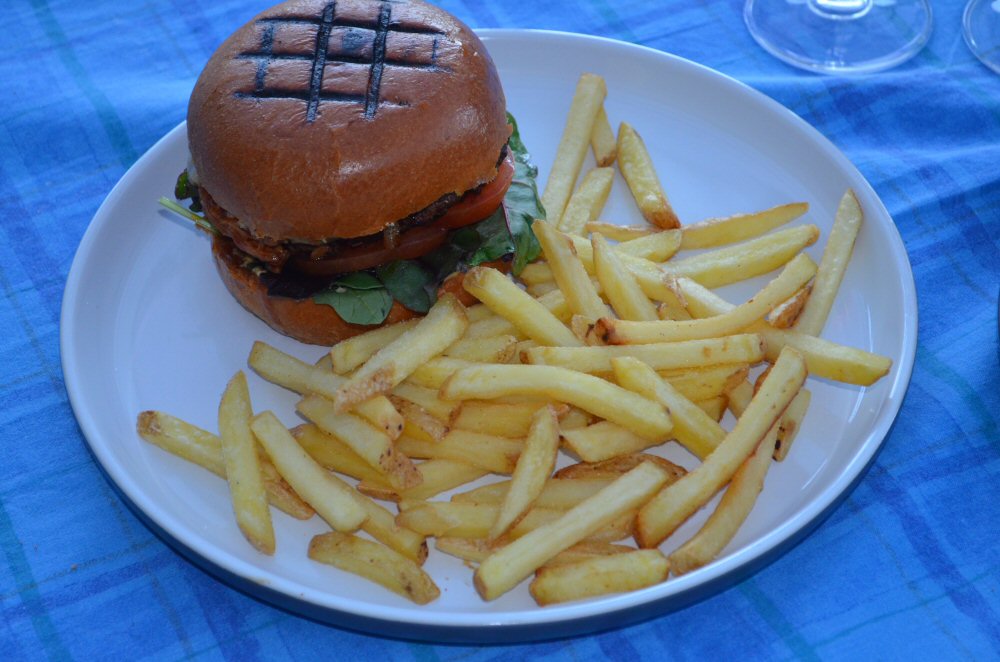 Hot Wings given for the take-out/collect menu that The School House Restaurant in South Normanton have produced for the lock-down period, they've certainly not compromised on the quality of their offering.

Martin and Sophie are operating this system on Friday and Saturday from 6 -8.30pm, with collection slots every 15 minutes. They are also doing a proper Sunday Lunch from Noon – 2.30pm on Sunday; 2 courses are £15, 3 courses are £18.

There is a delivery service available, but it is very limited and priority is given to the elderly and those that are in isolation, so ask if it's available when you ring up to place your order. There is plenty of parking on the main road so don't panic if you decide to go and collect (as we did), you'll manage to get parked up no problem.

Where possible, support your local traders folks - their community is what keeps them afloat and gives them a livelihood #weareinthistogether.

Visit their Facebook page to keep up to date with the latest menus and takeaway arrangements www.facebook.com/theschoolhouserestaurantatthewhitehart/
The current menus are shown below