Delicious, Nutritious Meals From The Creative Kitchen Company
---
Published On Wednesday 8 Apr 2020 by Sticky Beak
See Recent Food Producer Reviews | See All Recent Reviews


I make no secret of the fact that, whilst I am a champion at eating, I'm less than stellar at cooking. The Man Bird (bless him!) has had to put up with a lot in this lockdown period – not least my efforts in the kitchen, and much as he loves me I think he was praying for respite from my culinary creations!
Enter the wonderful Vicky from The Creative Kitchen Company and a few of the uber-scrummy meals she lovingly produces. There was a knock on our door and when we answered there was His Nibs' culinary saviour, Vicky, at the end of our drive, with a huge smile on her face. Vicky told us that there was Cottage Pie, Chicken Casserole and Minced Beef Hot Pot in the bag on our doorstep, complete with heating instructions on each container.

It was extremely kind of Vicky to think of us at what is a time of great upheaval and stress for us all, and it really touched The Man Bird and I; we're very fortunate to have such fantastic friends in our lives. We bade each other farewell and off she tootled in her car, no doubt delivering a weeks' worth of meals to another customer; Vicky has extended her delivery area for the time being, due to there being self-isolators and vulnerable people in need. For current information, nip over to her website.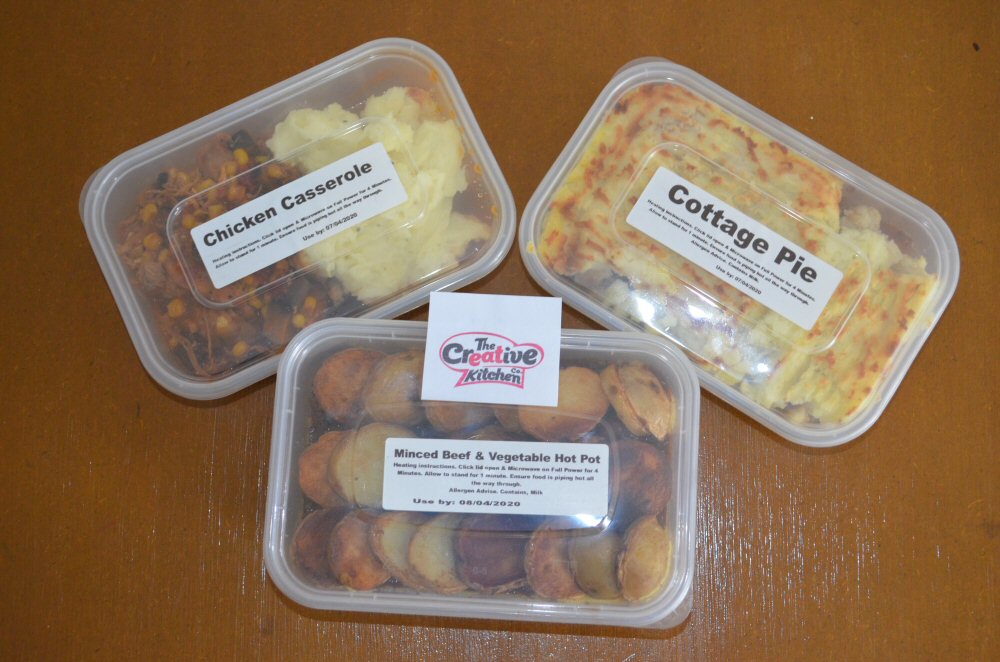 Fast forward a couple of days and The Man had that "please, take pity on me, don't make me eat any more of your cooking!" look on his face, so I popped Vicky's Cottage Pie and Chicken Casseroles in their containers into the nuke-machine (microwave) for the stated times and got the vegetables on the hob at the same time. I served the hot dishes with trimmed Green Beans, Carrots and Peas; the Casserole comes with mash on the side, and obviously the Cottage Pie is topped with potato.

As the meals were heating up, you could smell them and it wasn't half making my nostrils twitch with anticipation - and there may have been a smidge of drooling involved too (that was His Nibs, not me – I'm far too refined *ahem*!). It was all plated up in a jiffy and we sat down at the table, eager to tuck in.

The Cottage Pie was abso-blinking-lutely amazing!! No word of a lie, this would have fed the both of us quite easily! The minced beef was in a thick layer (so more than plentiful) and moistened with superb thick, meaty gravy that was wonderfully rich in flavour. In the body of the pie was carrot and onion, again plentiful and nicely softened and seasoned, and on the top was an equally deep layer of browned, lightly crispy potato. We were instant fans of this tasty, hearty dish and for those that don't eat meat, Vicky does a Vegetarian Cottage Pie too.




No less yummy was the Chicken casserole; pieces of moist, tender Chicken were cooked with Sweetcorn and mushroom and served with a generous portion of gorgeously creamy mash. This wasn't as deep flavour-wise as the Cottage Pie, which is as you would expect when comparing beef against chicken, but it was 100% delicious and definitely moreish. I liked the sweet edge that the taste of Sweetcorn brought to this meal; it paired well with the chicken.




Although we didn't have any of the puddings or cakes that Vicky offers as an add-on to her weekly meal plans for a measly quid per serving, I can vouch as to the excellence of her Lemon Drizzle Cake – it is the complete bomb – I love it!! <3 <3. As well as this utter delight, there is Chocolate and Pear Pudding, Gingerbread Pudding, Pineapple Cake and Fruit Crumble available – all of which come with custard, as well as Coffee and Walnut Cake, and Cherry and Almond Cake.

The following day, for lunch, we had the Minced Beef and Vegetable Hot Pot between us; I had a mixed leaf and Tomato salad with my portion, the salad dodger in the nest (The Man) didn't – he just had the Hot Pot.

Yet again, the portion was bounteous and would satisfy the hungriest of the hungry quite easily; put it this way it served us two greedy gannets with no problem for a quick lunch. There were plenty of sliced new potatoes on the top that had been nicely browned, and they hadn't gone soggy after being nuked in the microwave. Vicky doesn't muck about with her meals – she's a feeder for sure – and there was lots of tasty minced beef in rich, flavoursome gravy to tuck into. As well as the mince there were chunks of Parsnip, Swede, Carrot and Turnip to munch on, so you're well on your way to 5-a-day just by eating this morsel.




Got to say, I can't pick a favourite from the three meals that Vicky sent us, they were all super-tasty. The weekly menus all give you a nice variety of meals, so you can cook whatever you're in the mood for on a particular day, which gives you some flexibility.

For details of all of the meal plans (whether meat containing, vegetarian, vegan, or dairy - and Gluten-free), weekly soups, Cheese and Chutneys, Sausage Rolls, and Cheese and Onion Rolls to go The Creative Kitchen Company website. As well as the standard portion menu there is a menu for OAP's and smaller appetites. You'll also find details on how to order and pay there, too.

Hot Wings (and bucket loads of gratitude!) given to Vicky.