Mezze And Tagines At Olive Moroccan Restaurant In Belper
---
Published On Sunday 15 Mar 2020 by Sticky Beak
See Recent Dining Out Reviews | See All Recent Reviews


Before I do anything else (or rather, before I forget!) I want to say 'Thank You' to Olive Moroccan restaurant for a really fab 'date night'. The Man Bird and I always have a great time together whenever we go out and treat each occasion as date night, but it felt more special somehow in Olive. Let me explain.
Olive is a fantastically quirky, unique venue that (being honest) you could easily pass by and not notice from the pavement during the day; we had a bit of an advantage in the dark of late evening as the twinkling lights were easily spotted! It also has a fairly narrow frontage but, as you step inside, the venue takes on a Tardis-like spaciousness, sprawling out further and further back. The walls are painted in a sunny Turmeric spice shade that is complimented by mirrored lanterns and jewelled wall hangings that double up as curtains to exclude light, to enhance the intimate, cosy feel of the restaurant.




Although there are lots of recessed ceiling lights, when we visited in the evening the illumination was provided by candles that guttered gently, casting their warm glow around the room. The candelabra housed what I call 'candle towers', you know the columns of previously used candles that grow and grow like stalagmites and drip wax sensually over their holders. There were also individual tealights nestled in cavernous, stemmed holders for an even rosier glow at your table. So you see now why the atmosphere was a little extra and we felt like we were properly on date night. That's not to say that it was all mushy and slushy though; there were groups of friends in Olive too, enjoying a good catch up with not a whiff of romance at their table, just plenty of chat and laughter.




We were greeted warmly by a lovely young lady and given the choice of the tables for two, and seeing that it was less-than-Caribbean temperature-wise outside we were a bit chilly, so we opted for one by the radiator. We'd taken a bottle of a cheeky Wolf Blass Chardonnay with us that we'd bought at the local Spar, so His Nibs made himself useful and poured some into the mis-matched glasses on the table. This is another of the superb quirks of Olive; all the chairs, cutlery and glassware are individual, not matchy-matchy and this seemed to add to its relaxed charm. Olive's owner asked if we'd like some water and when we said yes please, duly popped a large jug on the table for us.




The entire menu at Olive is wonderfully simple, presented on an ornately framed board: the Mezze selection is £7.50 per item or 3-4-£20, the salad and Tagines are priced individually and the two desserts are £6.50 each (and yes, we did have both of them!). What is especially great though is that the dishes can be adapted for vegan diners easily, and there is already a fab choice of vegetarian options on the menu.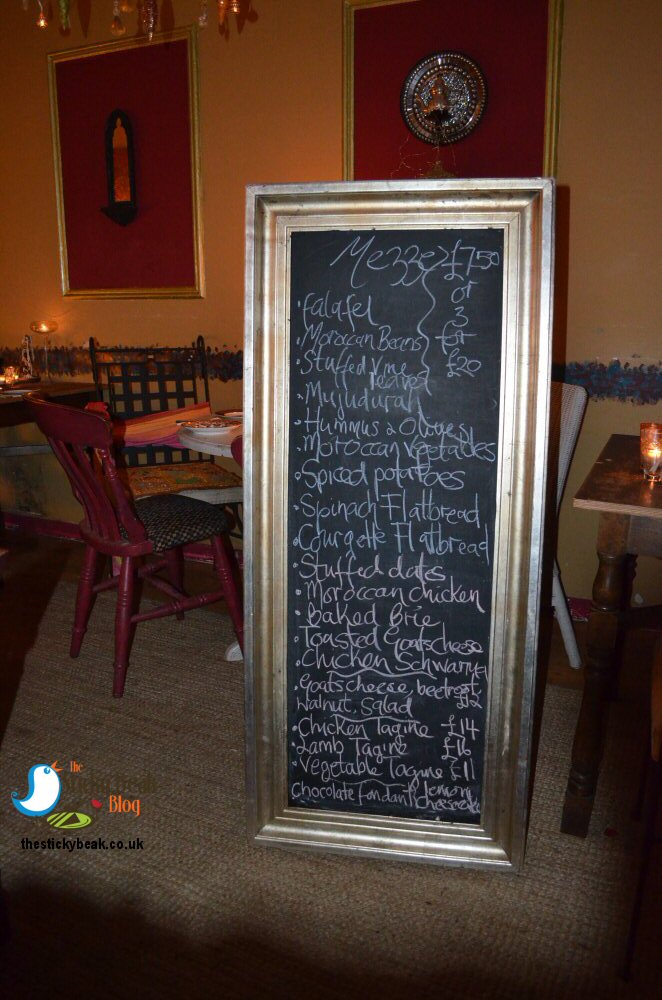 To get us started, The Man and I chose Stuffed Dates, Courgette Flatbread and Chicken Schwarma and we didn't have long to wait before the first Mezze dish, stuffed Dates, was winging its way over to us.

His Nibs doesn't really 'do' dates, but he was willing to give these morsels a try and his bravery (!) paid off – he thoroughly enjoyed them. I'm a fan of dates anyhow, so when the warmed, cream cheese-stuffed fruits hit my palate, I was in high glee. I got a superb sweet, fragrant hit of the dates first, followed by the gentle creamy cheese notes. Yet again, I was proved right in my belief that it's the simple things that are often the best with this light Mezze dish.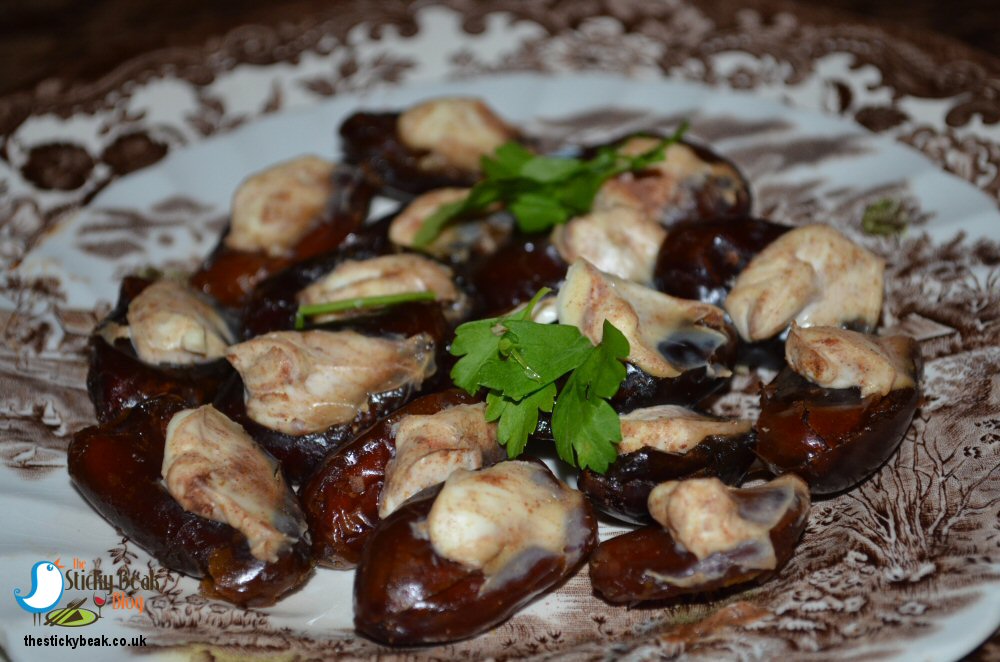 We'd both expected the Courgette Flatbread to have the vegetable baked into the dough itself, but when it came out it was a plain, charred Flatbread stuffed with julienned Courgette and cheese. The charring gave a beautiful smoky note in the mouth that contrasted well with the subtly tangy cheese stuffed in the middle of the flatbread. Courgette doesn't have a strong flavour but it did provide a lovely bit of crunch in this dish. The Man and I liked this so much that we decided to try the Spinach version as a side with our main course.




The final Mezze dish we'd gone for was the dry spice rubbed Chicken Schwarma, which His Nibs had selected. A trio of large chicken breast pieces had been generously coated with a spice mix and then grilled to perfection to preserve the chicken's moistness but give it a hint of crunch on its outer edges. This dish was vibrantly alive with spices to give it a punchy flavour hit without any tongue or lip tingle; maximum taste, minimum heat!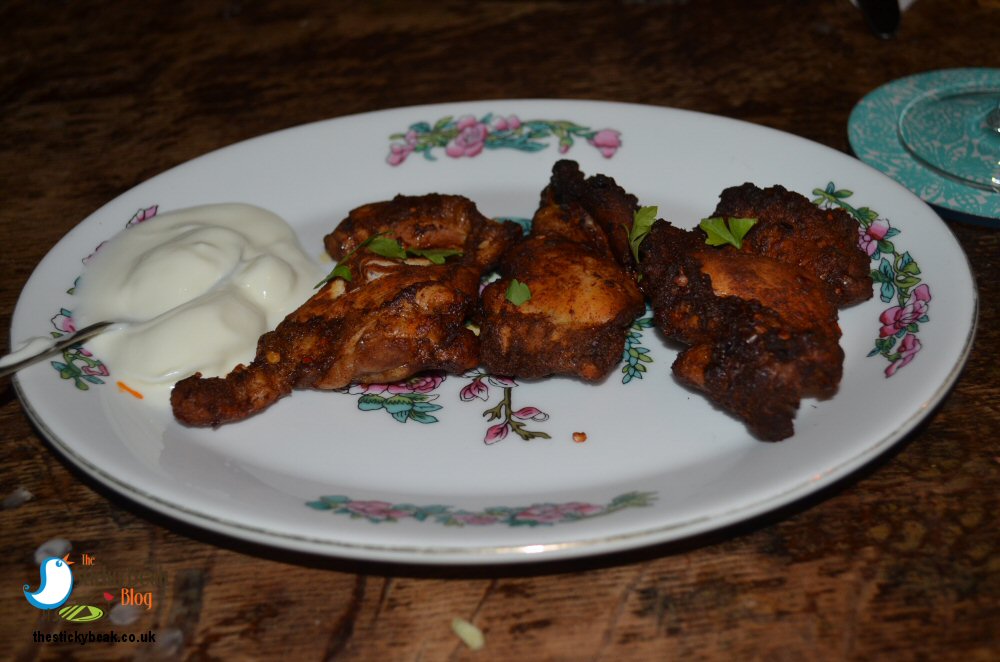 Both the younger members of staff had checked we were enjoying our food and that we had got enough water, and every time they interacted with us they did so with smiles and friendliness. The whole team at Olive make you feel as if you're friends or family rather than paying customers, something that you tend to get in smaller places.

We'd heeded the advice regarding the amount of food to order, and so opted for one main course, Lamb Tagine (accompanied with Cous Cous), between us. The meal was a glorious deep red-based colour and it smelled mouth-wateringly good – we couldn't wait to tuck in. His Nibs plunged the serving spoon into the Tagine's depths and came up with a mass of chunky meat which he served to me, before reloading the spoon and helping himself.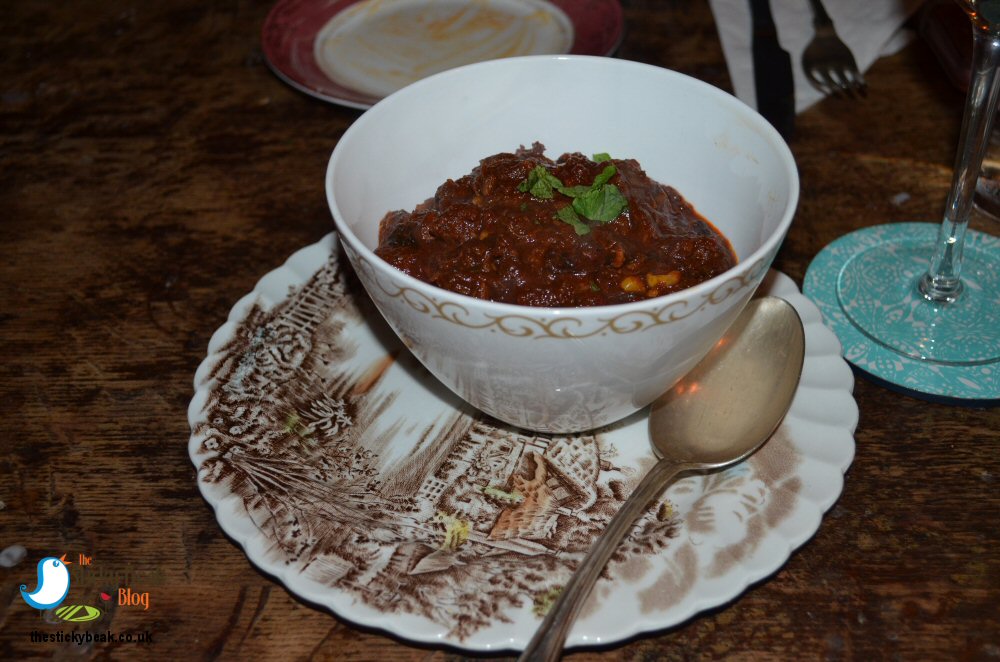 I cannot describe in enough detail how superbly tender the lamb was: the chunks were just falling apart as soon as the cutlery went anywhere in its vicinity, and oh my god, the flavour was other-worldly! Partnering the rich lamb was an excellent, thick sauce that was infused with complex layers of spice that seemed to unfurl one by one, allowing the palate to be immersed in its tapestry. Fluffy cous cous was the perfect, simple accessory to this dish; anything else would've distracted from the beauty of the meat and spice combination.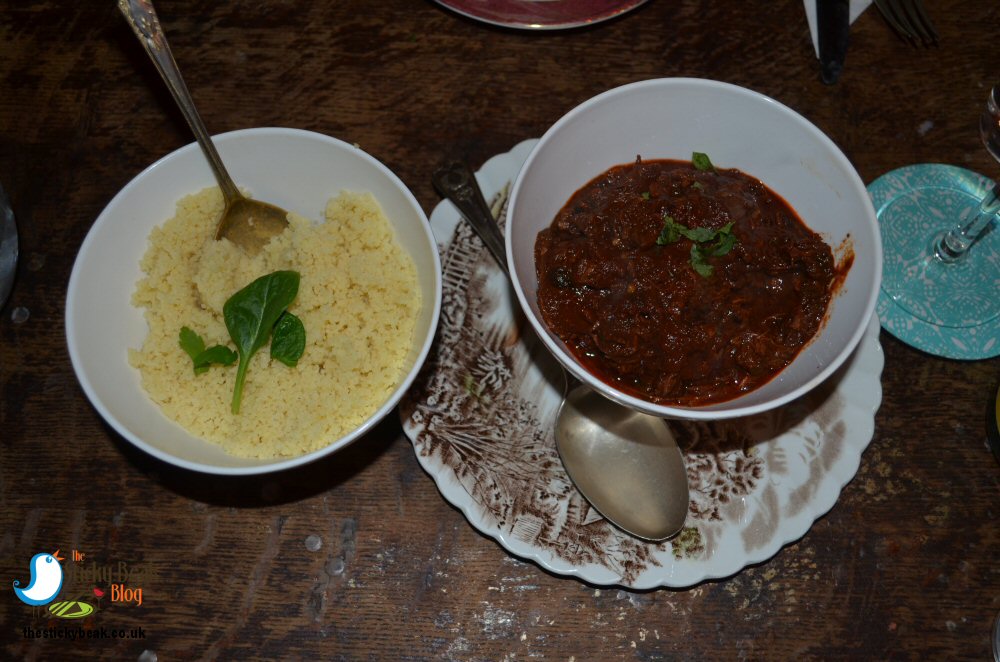 Our initial plan had been to mop up the sauce with the Spinach flatbread, but we ended up being so enveloped and consumed by the lamb that we ate it by itself when we'd finished the tagine. As it was, this turned out to be for the best. Just as with the Courgette variety before, the flatbread had been warmed and lightly charred, and this act had gently wilted the Spinach leaves to retain a bit of bite whilst preserving its taste. Melted Cheddar cheese added some extra oomph in the mouth, and we both loved this version as much as we'd enthused about the Courgette one.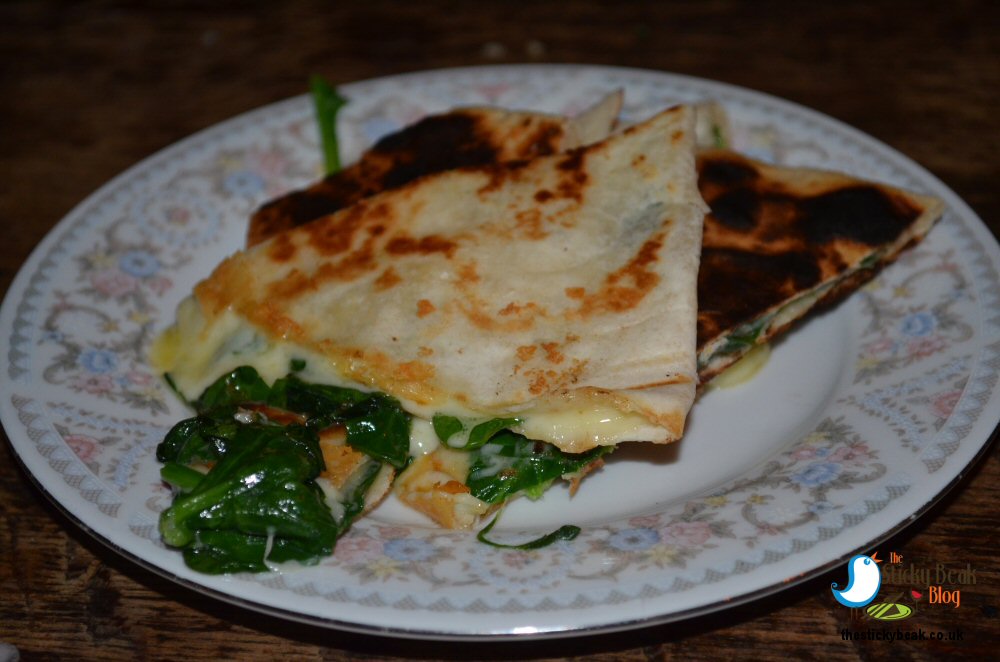 The desserts on offer weren't particularly Moroccan (Chocolate Fondant and Lemon Cheesecake), but they sounded tempting just the same and our lack of will power meant that they got ordered with our trademark enthusiasm.

If you love chocolate, the fondants have got your names all over them, trust me! The texture was divine (not too heavy, not insubstantial) and the middle was utterly amazing; liquid chocolatey indulgence with a feel of silk in the mouth that lingers on the tongue. A few fresh Blueberries and a scoop of creamy Vanilla Ice Cream provided more taste, without stealing any thunder from the fondant itself.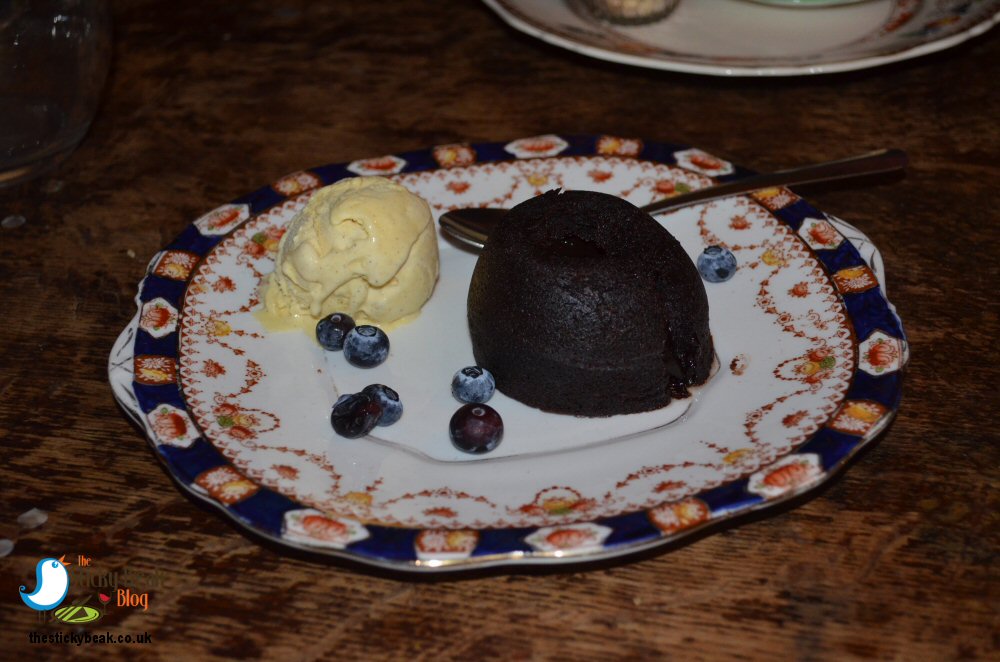 When you've experienced such a myriad of tastes and textures, it's nice to have something simple and refreshing to finish a meal with, and I have to say that the Lemon Cheesecake did this perfectly. This pud is served in individual glasses and has the most heavenly sharp, clean citrus flavour to it. My palate welcomed its straight-forward honesty, whilst my gluttony embraced the creamy, 'soft peak' texture with total abandon! Buttery, crumbly biscuit was at the bottom of the glass and provided a nice hint of crunch, and fresh Blueberries and Vanilla Ice Cream added a final flourish to this mesmerising dessert.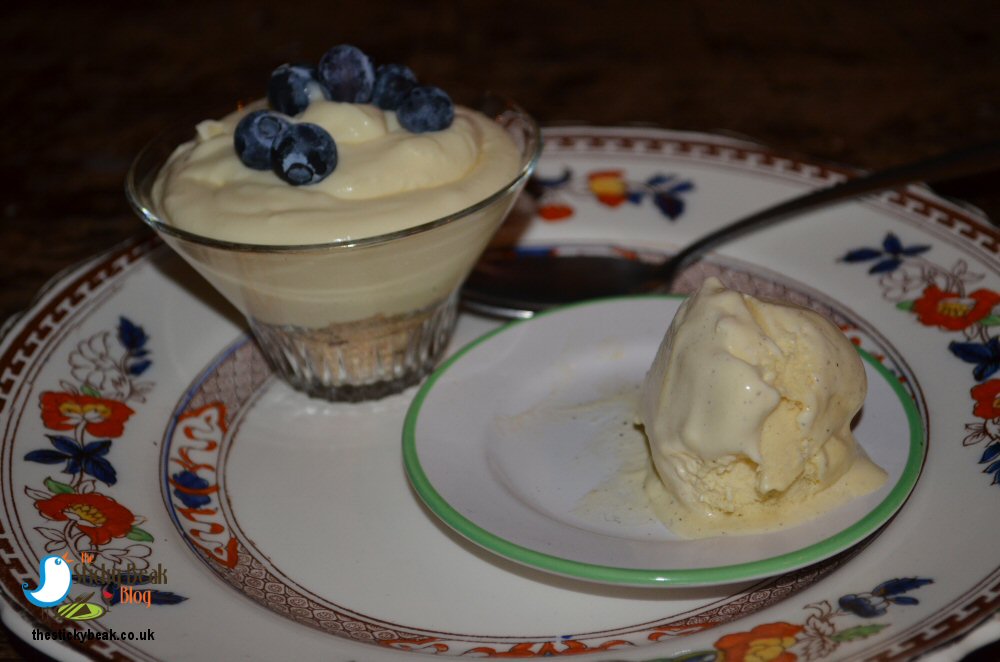 It isn't often that we feel adrift on a sea of culinary contentment, but we certainly did after our evening at Olive Moroccan restaurant in Belper; Hot Wings definitely deserved here. If you want to visit then I advise booking in advance due to its limited capacity, and also because it only opens on Thursday, Friday and Saturday evenings. One final, important thing to note: Olive is CASH ONLY!
No incentive was provided to visit this venue
read more