An Impromptu Family Dinner At The Strutt Arms in Milford
---
Published On Thursday 5 Mar 2020 by Sticky Beak
See Recent Dining Out Reviews | See All Recent Reviews


It doesn't matter what we're up to, the thought of food is never far from mine and The Man Birds' minds! Mummy Bird had come out for a few hours into Derby with us (as she'd got a few bits to do), so we incorporated a spot of retail therapy and a trip to the cinema into the day, and as we were going back to the nest it occurred to us that it was din-dins time. Due to the spontaneity of the thought, we hadn't booked anywhere so it was a case of putting our heads together and looking for suitable venues.
The Strutt Arms at Milford was on our way home and has recently re-opened after an extensive renovation, so we decided to stick our heads around the door and see if there was a chance of a table for three, Thankfully, because it was very early evening, they managed to get us in, so we perched ourselves down and perused the menu.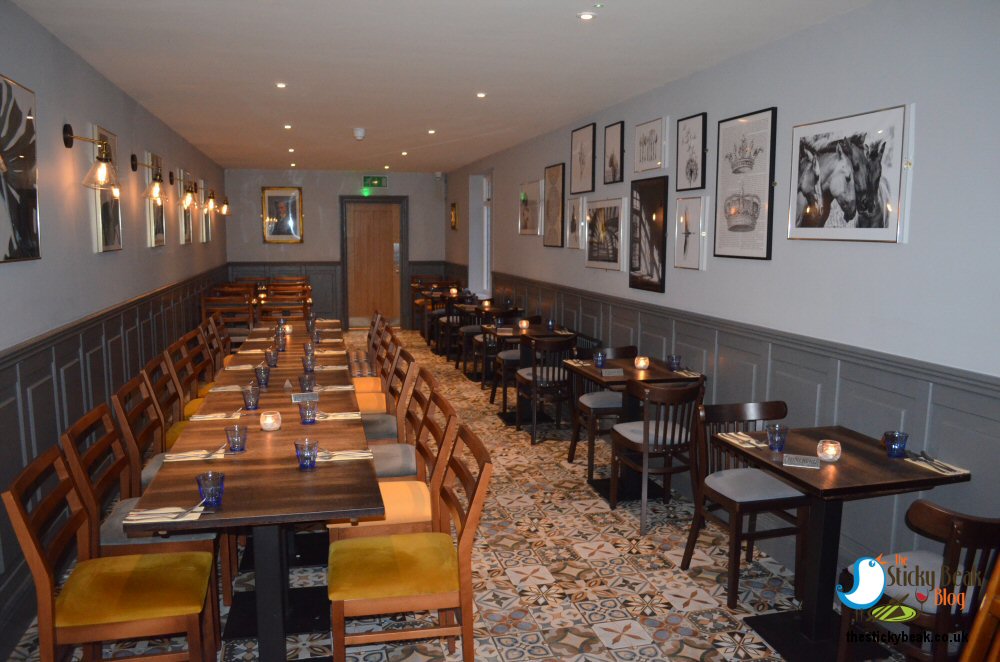 Whilst I was sipping my wine and choosing what I fancied to eat, I took the opportunity to have a gawk around. I love the ornate tiled flooring; it really is stunning. The colours within its patterns are cleverly picked up in the soft grey on the walls and by the spicier Turmeric tones on the seating. The lighting isn't garish either, so the while ambience is friendly and relaxed. There were some families with smaller children in and I noticed a couple bring their dog in too, around the other side of the venue, where the bar is.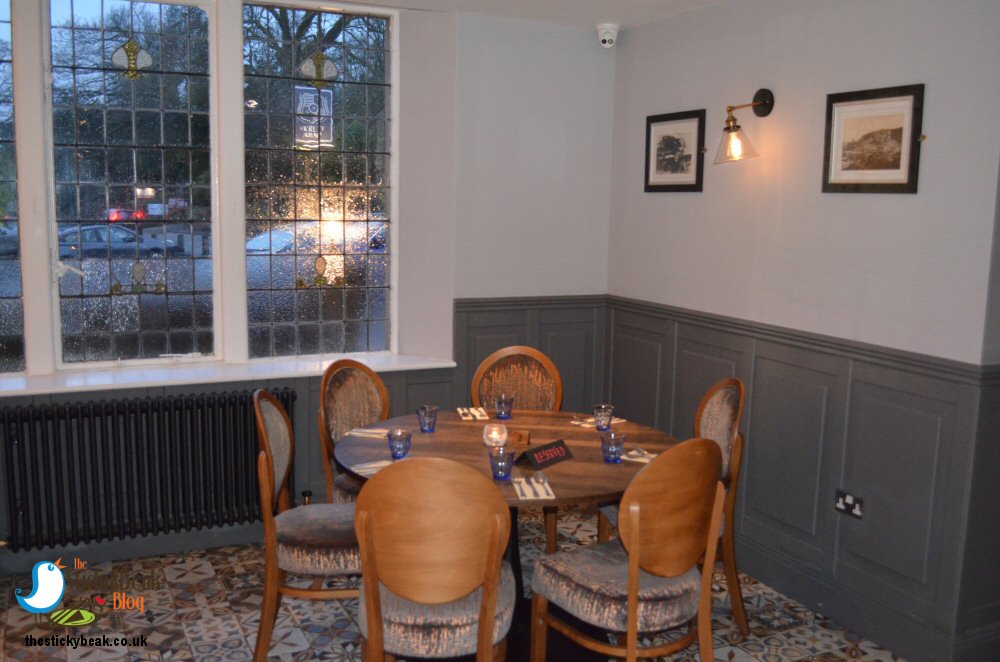 Mummy Bird was still a little full from 'cinema nibbles' so she declined a starter, which left His Nibs and I to soldier on. Since he discovered his liking for them, The Man rarely misses an opportunity to scoff Scallops; I miss the days when he didn't like them, it meant I could just have them all to myself rather than feeling that he should have them to make up for all the years he missed out! The Scallops at The Strutt Arms are pan fried with Pancetta and Garlic Butter and are priced at £7.95. I was in one of those odd moods where I didn't know what I fancied, so I chose a classic light starter of Hummus, Bread and Olives (£3.95).

It wasn't long before we were tucking into our respective dishes and I let Mummy have a few Olives to tide her over until the mains came. There was a mix of Olive types and colours and they'd been gently marinated with herbs to bring a lovely brightness in the mouth, which I savoured. There was plenty of creamy, paprika-topped Hummus to scoop up and enjoy on the sliced bread and it had a gentle garlic and citrus edge to it that my palate picked up. I was very happy that I'd picked this light starter; it wasn't complicated or fussy, so my senses could simply savour it without any effort.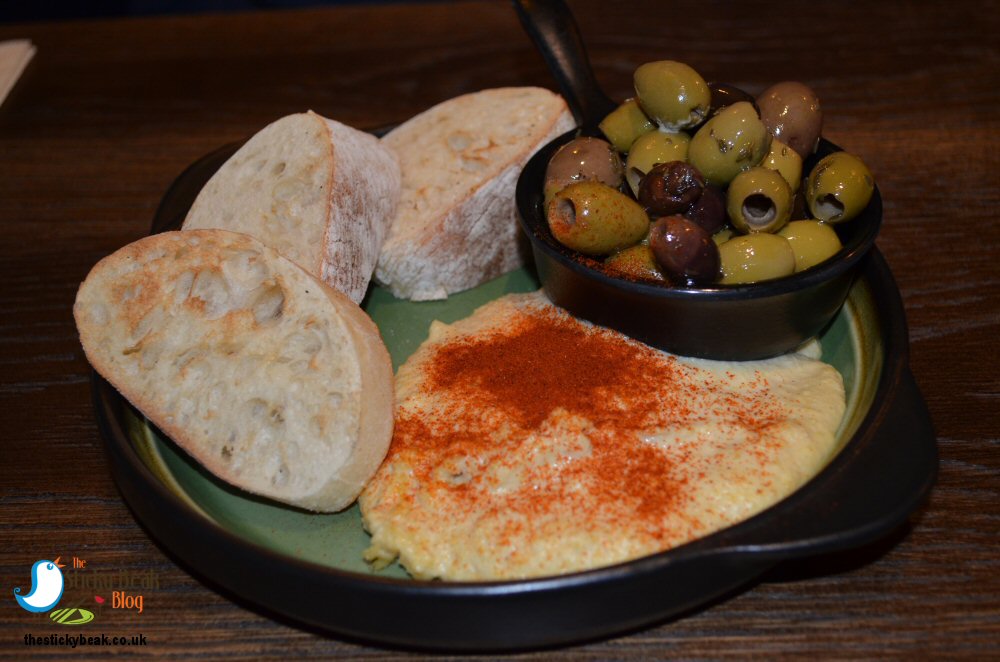 The Man was very happy when he spied the quartet of plump, juicy Scallops that were making their way over to him – and he was even happier when he took his first bite of their fragrant flesh. There was a subtle charring to one edge of the seafood which imparted a nice smoky note in contrast to the sweetness of the Scallop. Salty, smoky cubes of Pancetta burst onto the tongue and the garlic butter was mild and gentle in taste, giving a nice gloss to the elements of the dish. For texture, there was a nice salad garnish of mixed leaves: both bitter and sweet varieties.




In the Tribal Elders' nest, Saturday = Fish and Chips, so Mummy Bird had exactly that: Traditional Fish n Chips priced at £10.95. I had Tarragon Seabass with Buttery Mash, Green Beans and a White Wine and Tarragon sauce (£12.95) and The Man had Slow-cooked Beef Feather Blade with Mash, red wine reduction and herb-tossed Tenderstem Broccoli at £14.95.

Mummy Bird was thrilled with the crispiness of her batter that encased the succulent Cod fillet, and if she's giving it praise, you know it's good batter. Back in the days when everyone used a chip pan, there was no-one around that made a crisper batter than my Mummy, and her chips were lip-smackingly good too. Chunky chips partnered the Cod brilliantly, as did the tangy Tartare sauce – you can't have Fish and Chips without a good Tartare sauce can you – excepting if you get it from a chippy on a tray, then it's excusable. You get a whopping great fillet of fish, so take your appetite!




You could smell the Tarragon in my dish easily, its Anise aroma wafting through the air as our lovely server placed it down on the table before me. It was this herb and wine sauce that formed a delicate hued lake around a mound of buttery, very well seasoned mash that itself provided a comfy bed on which the fillet of Seabass reclined. One edge of the Seabass skin was a little too crisped for my taste, but this hadn't dried the fillet out thankfully.




Seabass is a lovely fish to eat, quite mild and buttery – not particularly "fishy" if you know what I mean; His Nibs will eat it and he doesn't like strong fish varieties such as Salmon, Sardines and Mackerel. I enjoyed the Seabass itself, although I don't know if I would necessarily have this again as the Tarragon was a little strong too, I thought, for the delicacy of the variety of fish. Not that there was anything wrong, but it wasn't as balanced as I would've liked it to be; however, you may totally disagree with me – everyone's palate is different after all.

The Man Bird was a jolly happy fellow as he munched his way through a big piece of tender Beef Feather Blade. He does like this cut of Beef, having first had it served to him by Chef Karl Tyler and has been converted to its charms ever since. This morsel has a super depth of flavour to it that stands up well to richer partners, such as the red wine reduction at The Strutt Arms. Simple accompaniments such as just-crunchy Tenderstem Broccoli are all that is needed to showcase this beautiful Beef, and the smooth creamy mash enhanced its appeal even further. Needless to say, His Nibs' plate was squeaky clean.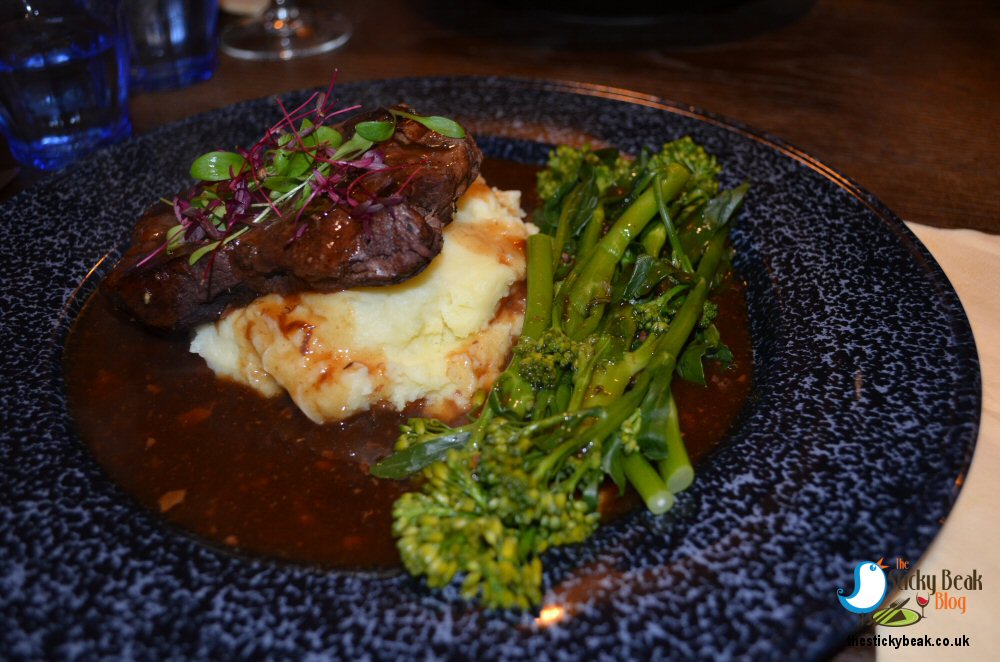 Throughout our meal, all the team at The Strutt Arms at Milford had been lovely and attentive; nothing had been too much trouble for them and they'd taken great pains to check that we were happy. As we were bringing our meal to a conclusion, the venue had really started to get busy; groups were arriving fairly steadily, some clearly celebrating special occasions, some just out for a catch up. Whatever, if they were looked after half as well as we were, they'd have had a fab night.

Hot Wings given to this newly opened venue. Evening food service is 5-9pm Monday-Thursday, 5-9.30pm Friday and Saturday, and Noon-7pm on Sunday.
No incentive was provided to visit this venue
read more