Sausage and Pork Pie making at Coghlans Cookery School
---
Published On Sunday 1 Mar 2020 by Sticky Beak
See Recent Experience Reviews | See All Recent Reviews


As Mr Vinnie Jones would say "S'been emotional"; "what has?" I hear you say: flying solo at a cooking class, something that I was petrified and excited about in equal measure. It's well documented that I can eat for Britain (and reserves), but I am shockingly lacking in the kitchen when it comes to being able to produce edible food. However, the one person who has coaxed and encouraged me to produce dishes that actually can be eaten without repercussions is Master Chef of Great Britain, Mr Simon Lilley. So when the invitation to attend his Pork Pie and Sausage making class came through from Lisa at Coghlans Cookery School, I accepted happily.
Stancliffe Hall (where Coghlans is located) is an absolutely stunning venue, so as soon as you drive down the sweeping driveway you're feeling special and jolly pleased with yourself. There's plenty of parking so there's no stress there, and when you arrive you're taken through to a lovely room and offered tea, coffee and biscuits; talk about VIP treatment before you enter the kitchen/classroom! Talking of the kitchens, this Miele kitted space is the bomb; there is every possible accoutrement that your heart could desire, thanks to Chef Lilley's very exacting standards.

The group which I was part of were the first to don the new pinny's (aprons): black, with Coghlans logo embroidered on them in white. I could've strutted down a culinary catwalk at this point, rocking my inner Chef vibe, but - first things first – get those mitts washed. That is golden rule number one in Chef Lilley's kitchen, no matter if you're the Queen of England: wash your hands please. Then it was to our stations, and pin our ears back to receive our first set of instructions.
Thankfully, our essential ingredients for the Pork Pie had been ready weighed out (one less thing for me to bodge!) and we got to work. I normally have the concentration span of a gnat, but eager not to make a complete plonker of myself (plenty of time for that!) I listened intently to what Chef was saying. A lovely couple from Sheffield, Wendy and Paul, were on the back station and were smoothly getting on with their Pork Pie pastry, Chef was helping the lovely Karen with her creation, and I had Steve (Coghlans Event Manager) as my knight in shining armour to keep me right.

I don't mind admitting that I panicked when Chef said we were making pastry – whoa fella, you never mentioned that was going to be part of the deal! Me, making pastry? This was going to be fun to watch! By some miracle, and with Steve the Magnificent (STM, as he shall henceforth be known) by my side, I managed not to cock the hot water short crust pastry up and began to fashion a vessel in which to put the meat mixture.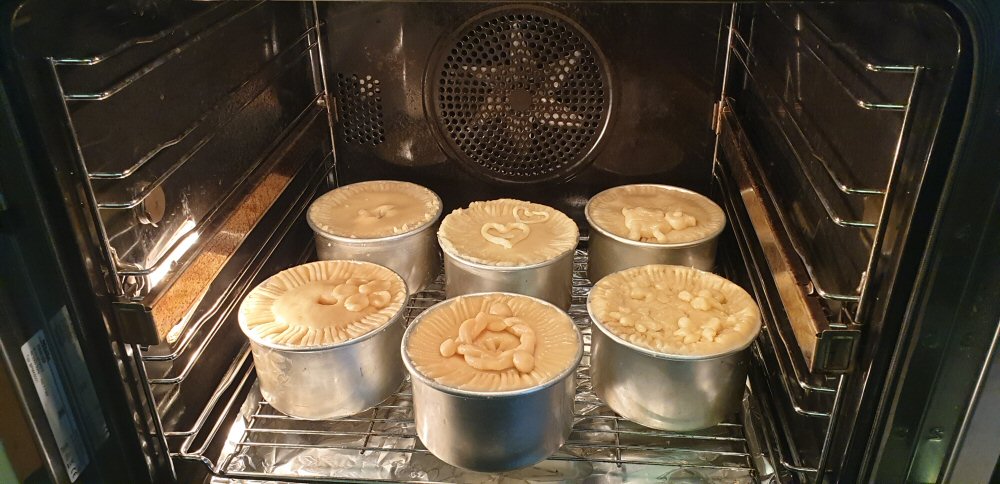 Before I knew what was happening, my Pork Pie was being popped into the oven with the others to bake to golden perfection. You'd think that this would be the perfect time for a well deserved (in my opinion!) refreshment break, but no, Chef is a tough task-master and kept our noses to the grindstone. Gotta love that Sheffield work ethic! Whilst our porkpies were basking in their warm oven nests, we cracked on with preparing the first of our two sets (!) of Sausage.

Now, I don't know about you dear reader, but I didn't have "cracking flavour combo's for Sausage" on my school curriculum, so I was a bit lost as to what type of sausage to make. Yet again, the expertise of Chef Simon Lilley and STM came to my rescue, and I decided to make Tomato, Red Onion and Oregano as my first creation. I had assumed that we'd be let loose on some swanky sausage machine; I don't know why I'd thought this, common sense would be saying that there was no way I'd be trusted with high tech equipment!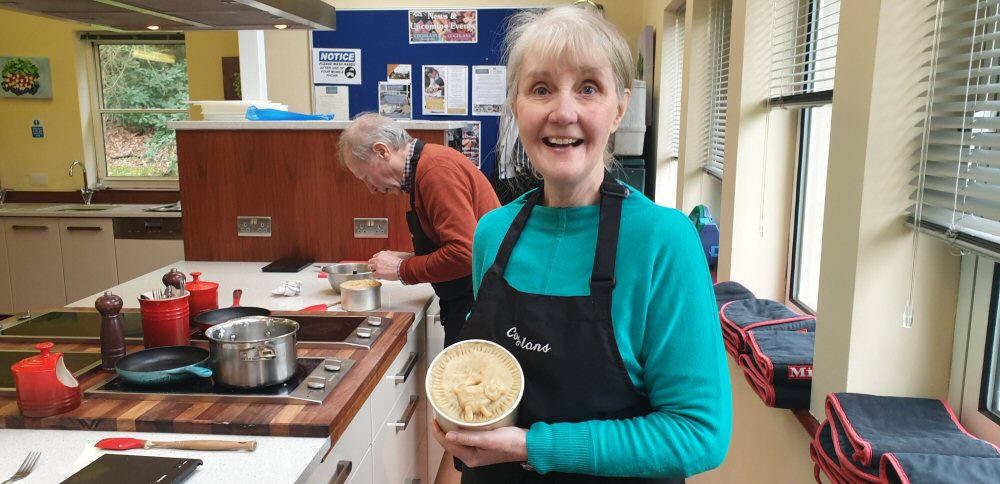 As it was, we were doing things 'a la fool proof'; Chef spends a (frankly) ridiculous amount of time researching methods of manufacture that mean everyone (even me) can make the designated items faultlessly. I chopped my Oregano and Red Onion finely, managing to get told off (surprise surprise!) for my chopping technique! Chef had previously shown me how to chop an Onion properly but, if truth be told, I'm so cack-handed it takes me three times the time to do it his way than how I've always done it, so I resorted to my way of doing it - and made the rookie mistake of getting caught doing it (doh!).

Chef brought out a tub of what looked to me like a bucket of 'whiter-than-Ross-from-Friends'-teeth-white' worms, but it was in fact the casing for the sausages. We were all going to have to somehow thread the casing onto a nozzled piping bag, put the sausage meat into said bag and then simultaneously squeeze the meat out whilst easing the casing gradually off the nozzle. Chef Lilley made it look like a walk in the park (being honest, so did everyone else) but yours truly made a complete dogs' dinner of it.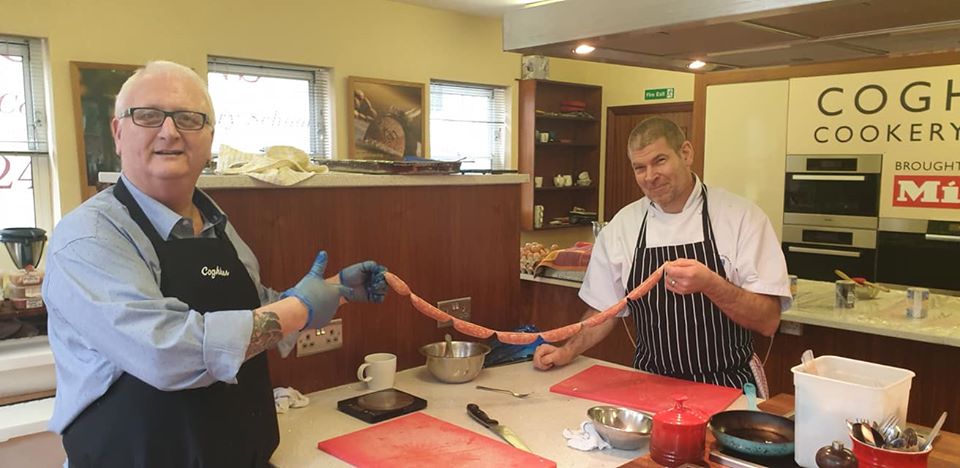 By some miracle, I eventually got my sausage meat mixture snuggled into its skin confines and then spent a while cajoling and squidging it into some semblance of the proportions of a normal sausage: length and girth are equally important, #justsaying (ladies will get me here).I think I made this first batch of bangers a bit sloppy, given the queef-esque sounds that were embarrassingly emanating from my work station! Chef then talked us through the process of twisting the sausages into individual morsels; apparently you have to twist towards you for one link, then twist away from you for the next link, and so on.

I produced a respectable looking ensemble for my initial sausage attempt and so proud was I that I arranged them into a heart shape on my meat board. This had been a real labour of (sausage) love; seriously, it had been quite emotional – a bit like birthing a child! In fact, I joked about it being akin to labour given the pressure needed to squeeze the mix out of the piping bag and I could've done with someone to mop my fevered brow. What do you know; when we produced the second batch of sausages (I made Onion and Green Chilli ones) Wendy - of Wendy and Paul - was a retired G.P, so she stepped up, entered into the fun and theatrically mopped my forehead with a cloth!




STM stepped into his usual role and made us all hot drinks, and I can say that he makes a proper brew. We had all been working really hard – yes, even me! – so we were all ready for a cuppa. This cooking malarkey is hungry work too and we all nibbled on the selection of biccies that were offered. Re-fuelling over, it was back to the task in hand, so off we trooped.

More than once I could see Chef shaking his head at our antics, but with a smirk on his face – and I think this is what makes the classes at Coghlans so fantastic. Yes, there is the serious business of learning new skills (after all that's why everyone is there), but there is also the fun element to it; you make new, like-minded friends from all walks of life. There's plenty of banter that makes its way to the surface once the initial 'getting to know you' phase has passed, and egos get left at the door (or get worn down!), and the time zooms by.
We'd all egg washed our Pork Pies to glossy perfection and put the sausages in their containers, and I was gob-smacked at the volume of food I had managed to produce. The Pork Pie was a whopping Kilo beast; my Daddy Bird was going to be chomping merrily away for a few days, no doubts there. Chickadee pilfered one of my Tomato bangers whilst I went out the next day and texted to say it was delish – now if she says it's good, it's got to be good cos she'd rather die than admit I can cook! I can confirm that the Tomato sausage was bloody tasty, even if I do say so myself, and all credit to Chef Simon Lilley for his excellent tutelage again.

We all got given a booklet with the recipes and instructions in so that we could reproduce the magic back at home – Daddy Bird has already put his order in for the Pork Pie! When I got back to the nest, His Nibs was amazed to see the quality of the food I'd produced (trust me pal, not as shocked as I was!) and asked how the afternoon had been. From start to finish I'd had a great time, as had my fellow participants, and that's the beauty of the courses at Coghlans – they cater for all skill levels. As I say; if you can't normally cook, #youcanatcoghlans .




For those that want to develop skills in the kitchen, you could do far, far worse than go to Coghlans Cookery Schools' site and see what they have upcoming on their programme. If you like to combine eating and knowledge, why not book on to one of the Dining Events at Stancliffe Hall? In the next couple of months there are Chocolate Artistry and Afternoon Tea, Eastern France and Border Demo and Dinner, Tapas, and Moroccan Evening events planned. If these sound up your street just pop to www.cookingexpert.co.uk for more details, or give the lovely Pauline and Lisa a buzz in the office.
I think I might just set up a camp bed in the corner of the kitchen (I'm sure Chef won't notice little ol' me!) and do another course; I honestly had a real blast and can't wait to return!!