Out For Dinner At The Dog At Pentrich
---
Published On Wednesday 12 Feb 2020 by Sticky Beak
See Recent Dining Out Reviews | See All Recent Reviews


We've done our usual trick of having somewhere on the doorstep and not getting around to visiting, so when Mummy Bird rang up and said "d'you fancy going out for dinner?" we knew just where to go: The Dog Inn at Pentrich.
It's been a fair while since we last went to The Dog Inn, but not a lot has changed; the bar is still friendly and bustling, although the restaurant has had a bit of a zhuzh-up. The tables are solid wood, square numbers and they have been re-arranged since last time thank goodness – it was definitely a little too cosy for comfort, but this time we had space to move between tables without risk of nudging anyone.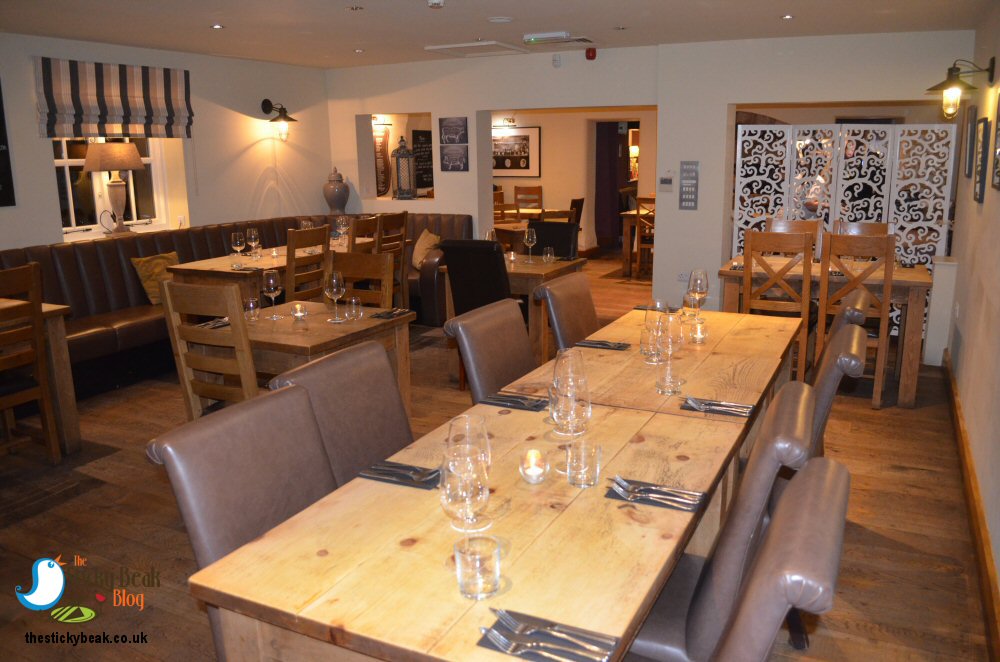 I found the natural tones of the decor very relaxing; think deep forest green, pale green and cream paint with simple, but effective, artwork prints on the walls. The striped blinds at the windows were striking but not harsh on the eyes, and the lighting came from recessed ceiling lights and wooden lamps in each window sill.




We'd arrived a little early (food service doesn't start until 6pm) but the lovely young lady took us through to our table to have a drink, rather than keep us waiting at the bar. I had a cheeky Peaky Blinders Gin with its subtle spice notes, Mummy Bird had a simple Gordon's Gin and His Nibs had a pint or Poretti which is a little lighter than Moretti, but similar in style.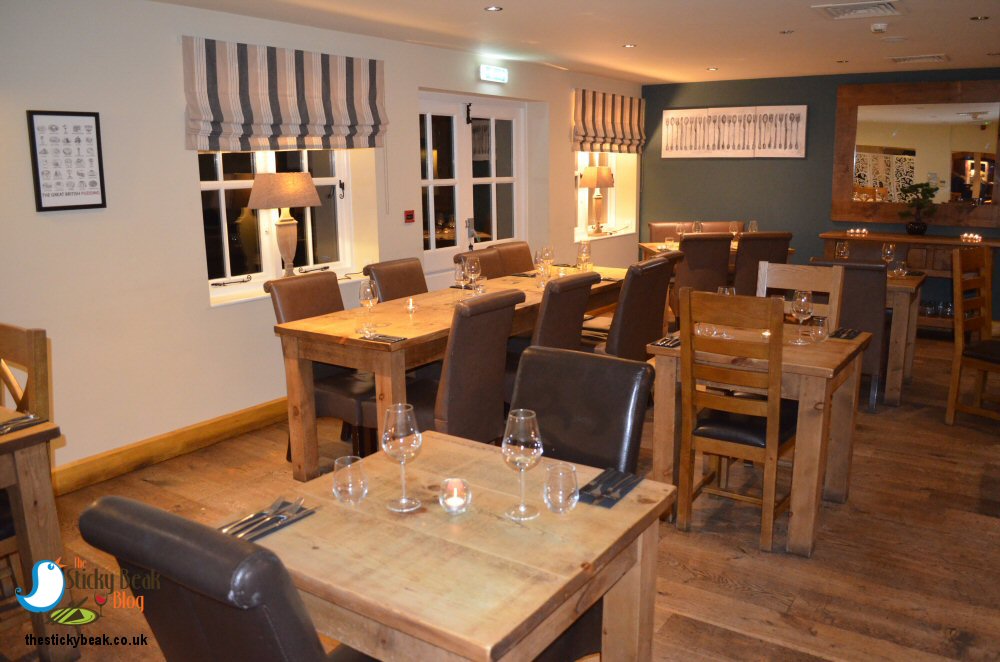 As well as the extensive regular menu, there is also a nice specials range at The Dog Inn; for my starter I had one of the specials options: the Welsh Mussels in Cider and Bacon Cream sauce served with warm house-baked bread (£7.95, and also available as a main for £14.95). The Man Bird had the roasted Chicken and Ham Hock terrine with charred Sweetcorn, Smoked Cheddar Bob-Bon and Mustard Mayo (£7.50) to start, and Mummy Bird chose the Smoked Mackerel pâté with Cider and Cucumber Jelly, Granny Smith Apple and toasted Rye Bread (£6.50).

Mummy Birds' pâté was presented in a little kilner jar, with the toasted Rye bread at the side on a wooden board. The light-textured Mackerel pâté was sealed with a pastel toned Cider and Cucumber jelly that was just as delicate in its clean taste; enhancing the cider element were strips of tart, crunchy Granny Smith's Apple. You can't mistake the rich taste of Mackerel, and both His Nibs and I could smell its distinct aroma across the table too! Mummy Bird really enjoyed it, saying it was a lovely light starter.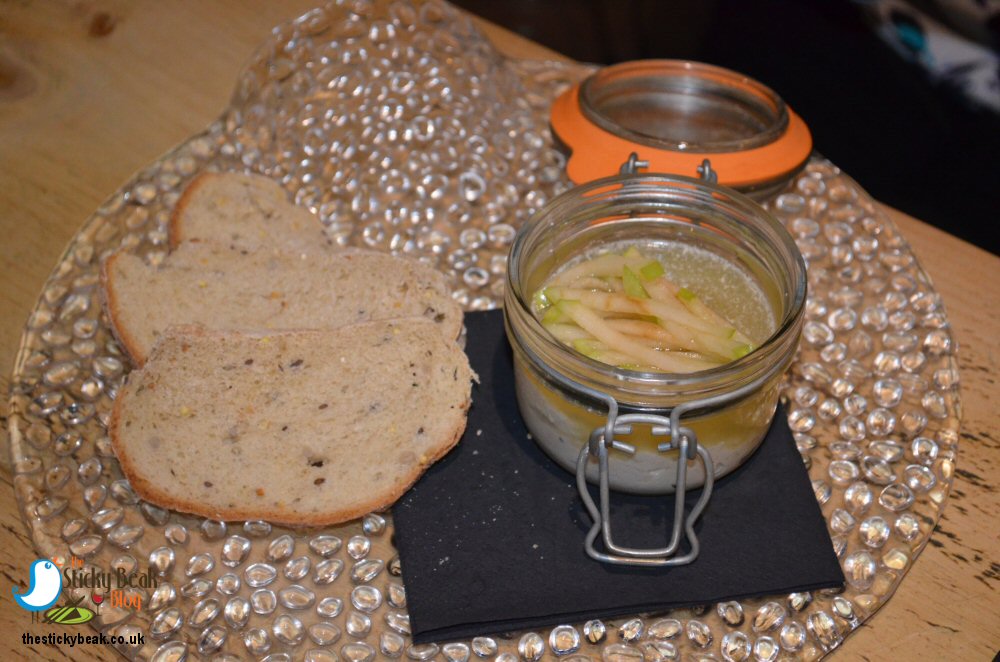 His Nibs was impressed by the chunkiness of his terrine and the fact that you could the distinct tastes of both the Chicken and Ham Hock, they hadn't been mushed together. The charred Sweetcorn was lovely and juicy in the mouth, bursting with intense sweetness that the tangy Mustard Mayo counter-balanced beautifully. It was the Smoked Cheddar Bon-Bon that was the star of this dish though; to begin with the outer gave an audible crunch sound when cut into, and then he got that intense smoky flavour of the cheese.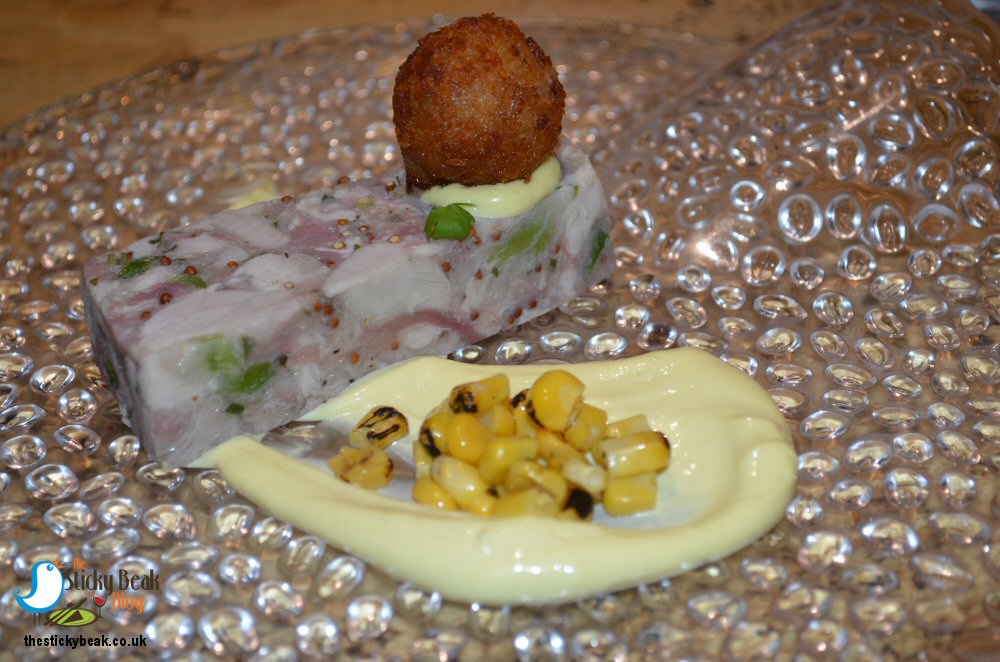 I was happily slurping my cider and bacon cream liquor from the spoon our lovely server had brought for me, pausing only to prise one of the juicy mussels away from its shell every so often. There was a good sized portion for a starter; my only criticism would be that I'd have liked a bit more bread – but then again, that would perhaps have filled me up too much for when I got my main course? I really liked this starter and it seems as if everyone else wanted a piece of the action too as it soon sold out!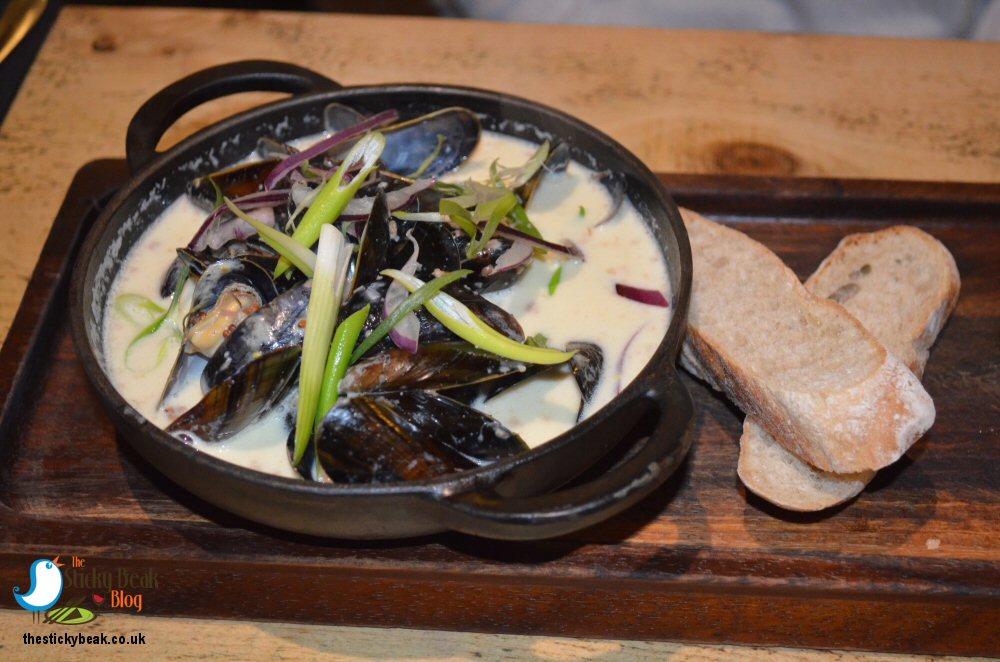 For our mains we had the Black and Blue Steak Burger (£12.95), Slow Braised Ox Cheek and pan-fried fillet of Sea Bream (both £16.50) and we also ordered a side of seasonal veg to share, £2.95.

I had been surprised a little at Mummy Birds' choice of the Steak Burger, with it being a Friday I had been certain that she'd go for the Fish 'n' Chips! This dense, rich flavoured burger was a real delight to taste, being topped with melted Blue Cheese, a whole garlic-enhanced field Mushroom, crispy Onions, tangy Mustard Mayo, and then the whole lot was housed in a toasted bun. Golden hued French fries were served in a separate silver container and were wonderfully crisp outside with soft inners. A peppery Rocket salad with croutons added a pop in the mouth, mingling well with the zingy mayo. This was a real appetite satisfier – definitely for the hungry amongst you.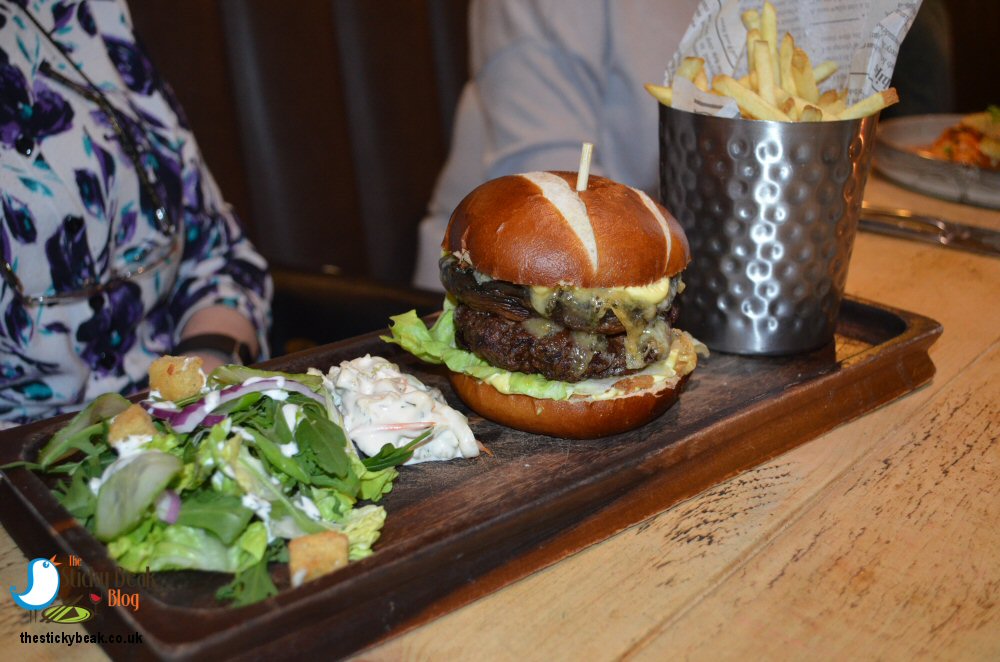 My dish was certainly striking in its colour; the Crab and Crayfish risotto was the colour of a cooked Lobster shell and its taste was just as intense! My fillet of Sea Bream was lovely and moist with a brilliantly crisped skin, and I enjoyed each bite of it. Within the risotto rice grains were pieces of fragrant Crab meat and succulent Crayfish and verdant strands of Samphire that gave a fab saline tang in my mouth.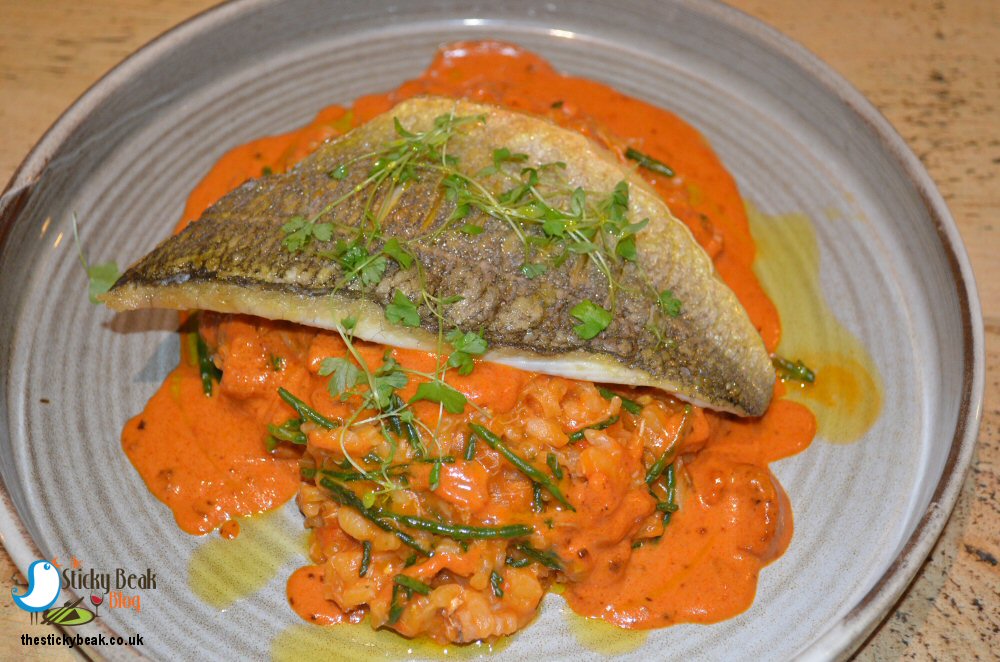 His Nibs was certainly more than happy with his choice of slow braised Ox Cheek, revelling as the tender morsel came away in shreds at the lightest touch of his knife. The intensity of the cheeks' taste was complimented nicely by the truffle mash that came with it, and the roasted whole baby onions and quartered mushrooms rounded things off very well. A hearty tasting piece of meat such as the cheek needs a robust gravy to go with it else it just fades into the background, so The Man was happy when he sampled the red wine jus with its rich flavour.




Our seasonal vegetables consisted of sliced Cabbage, Green Beans, Sugar Snap Peas and Leeks, all of which were lovely and crunchy and bursting with taste. They hadn't been covered with butter either, so their true characters could be appreciated.


Mummy Bird waved the white flag of surrender when we came to order pudding, so it was up to The Man and me to bravely soldier on (!). I ordered the Blood Orange and Chocolate offering, His Nibs had the Chocolate Tart, both priced at £6.50.
The description of spiced orange cake in my dessert was beautifully accurate; I got a super hint of spice coming through on my palate as well as a good citrus tang. Decadently rich chocolate and coffee ganache added an indulgent feel to this morsel, partnered with a great syrup with Grand Marnier liqueur in it (whose warmth spread down my throat as I swallowed it). A wonderfully vibrant Orange Ice Cream was the final element in my pudding choice and I have to say that this really was a superb end to my meal; full of taste, but not heavy at all, which was surprising given the richness of the ganache squares.


His Nibs' Chocolate Tart was every bit as rich as my dessert had been; the dark chocolate gave a fab cocoa belt in the mouth, a gentle bitter edge just kissing the palate at the last moment before it melted completely on the tongue. Whole candied Hazelnuts added some welcome crunch as well as their delicate, sweet nuttiness. More indulgence was provided by the creamy, slightly crunchy Ferrero Rocher Ice Cream and swirls of Salted Caramel.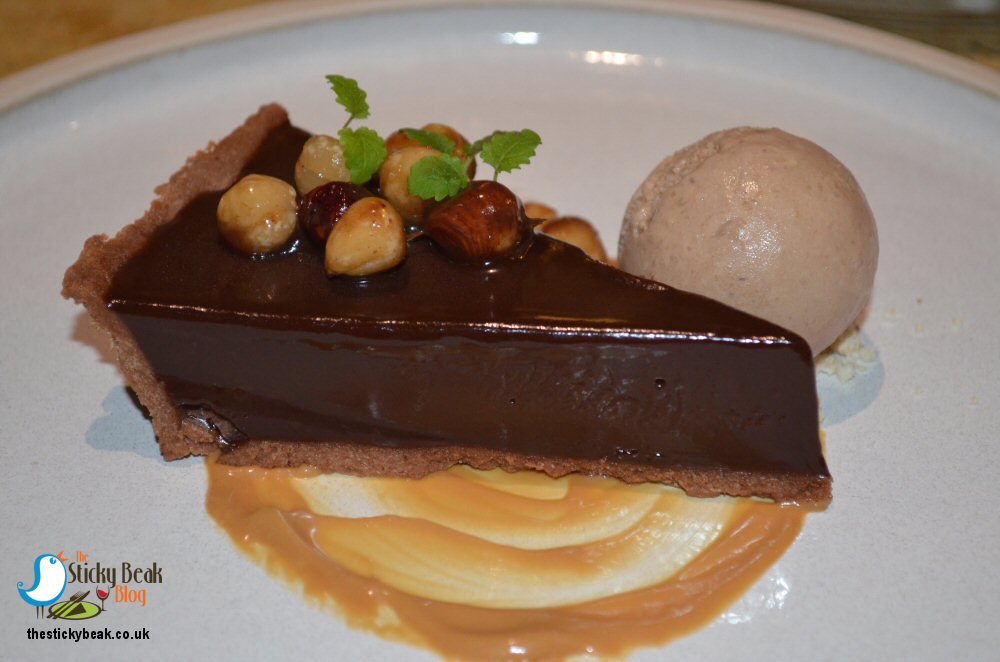 We rounded the meal off with black coffees for His Nibs and me, and a Green Tea for Mummy Bird to cleanse her palate. Hot Wings given to The Dog Inn at Pentrich, we'd had a thoroughly enjoyable family meal out.
No incentive was provided to visit this venue
read more