Celebrating Chinese New Year at Cosmo World Kitchen, Nottingham
---
Published On Tuesday 4 Feb 2020 by Sticky Beak
See Recent Dining Out Reviews | See All Recent Reviews


When people ask me if I like Cosmo World Kitchen, I always reply "what's not to like?". There aren't many other places that spring to mind that you could have a group of meat-eaters, vegetarians, vegans, grandparents, parents, kids and those with multiple allergies, and everyone would be able to sit down and eat together – but you can at Cosmo!
We were kindly invited by Sue and James from Cosmo Nottingham to celebrate Chinese New Year with them; they had got a Lion Dancer in to provide some theatrics in the restaurant, and Chef was creating some new dishes for us to try. There some great people joining us: The Notts TV team, and fellow bloggers Jeremy and Gaz and their partners; yup, it was going to be a fab evening. It was lovely to finally meet Sue in person too; we'd been exchanging emails for so long, but never met face-to-face.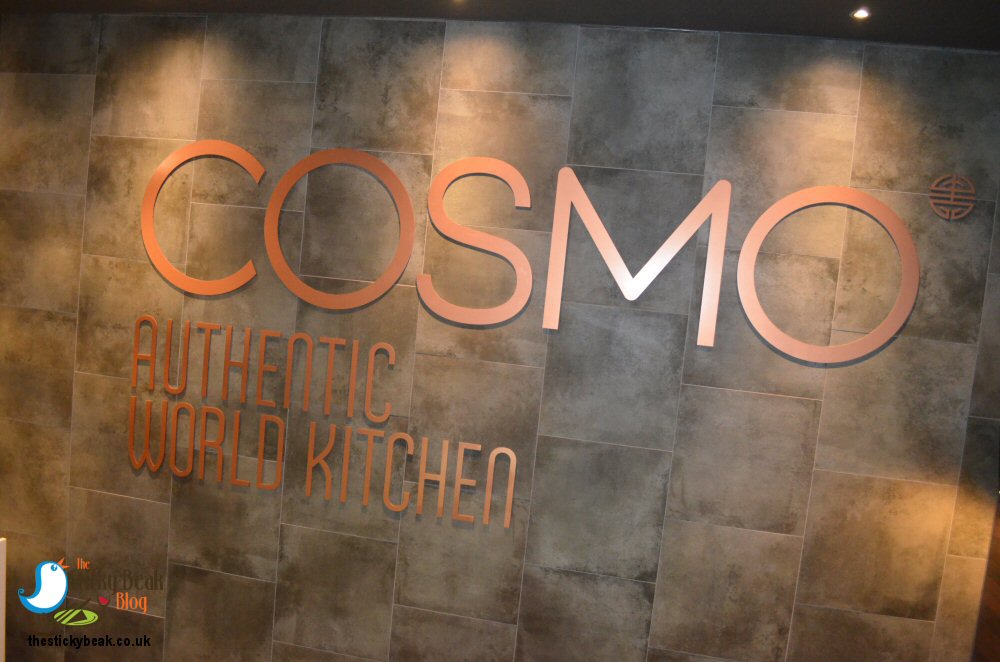 Whilst we were waiting for the Lion Dancers and musicians to arrive there was a selection of drinks to enjoy: Tsing Tao lager (The Man's fave!), classic Mojito – which is available by the pitcher (yay!!) - White wine and soft drinks for those driving. Chef also brought out his new dishes for us to tuck into. There was a seafood trio platter, comprised of Scallops, Squid and King Prawns that were cooked with a selection of vegetables. This had a really delicate taste to it that respected the gentle character of the seafood specimens within it; you got the sweetness of the scallops in particular coming though nicely in the mouth.




Next up was a striking platter of butterflied whole (head and shell-on) Prawns that had been cooked and topped with crispy, fried Glass Noodles. You got a fab crunch from the noodles that contrasted really nicely with the soft flesh of the Prawns, and then there was a distinct zing from the Garlic that had been finely chopped and liberally used. No chance that Dracula and his pals were going to be chomping on me or my dining companions any time soon, that was for sure!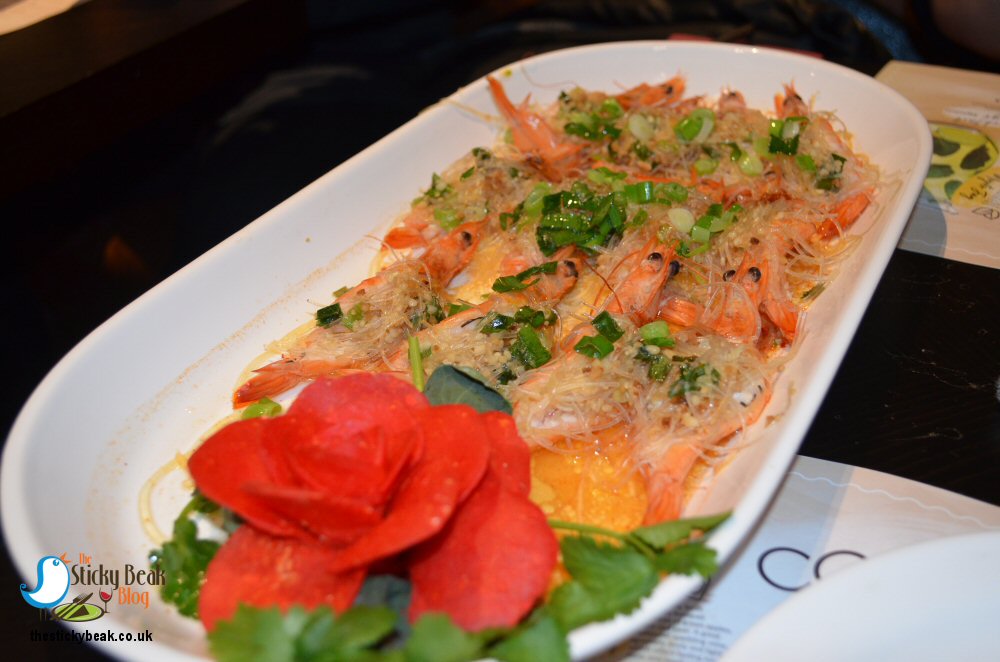 His Nibs' eyes lit up as he spied the massive platter of Crispy Chilli Beef that was coming our way; he absolutely loves this dish. The strips of Beef were coated in a crisp batter that crunched very pleasingly when bitten into and they'd all got a generous coating of sticky, spicy sauce that popped in the mouth and grabbed the taste buds attention. I'd got one very happy Man Bird opposite me at the table, let me tell you!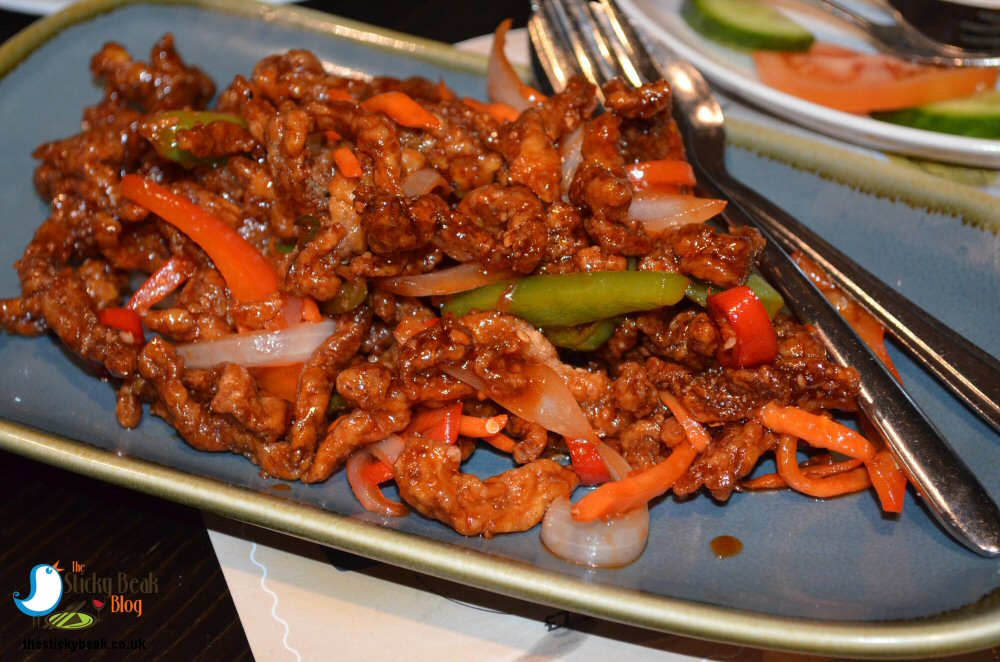 The final dish to try before the Lion dancer arrived was the Aromatic Spring Chicken, and this was a wonderfully flavoursome morsel. Pieces of bone-in Chicken had been braised to keep their succulence and flavour and Chef had used Chinese 5-spice to give a brilliant punchiness on the palate. This hit the spot for me; I don't mind the fiddliness of picking the meat from the bone, the deeper taste is worth it in my eyes. All the dishes had been well received by our group, compliments to Chef.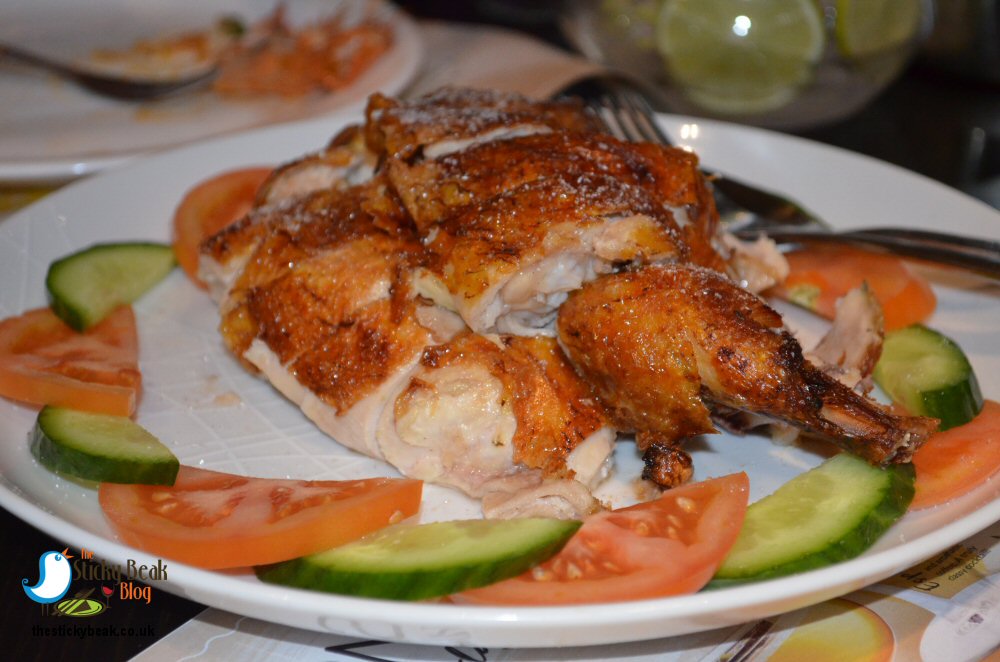 We could hear the Lion way before we caught a glimpse of him, thanks to the loud drum beat and crashing cymbals of the accompanying band. When we did see the Lion, it was mesmerising! Bold red and dazzling yellow flashed before our eyes as the dancer pranced and twirled with a frenetic energy through the restaurant, captivating the entire room. All too soon the display was over and James bade us all to go and help ourselves to Cosmo World Kitchen's extensive buffet selection.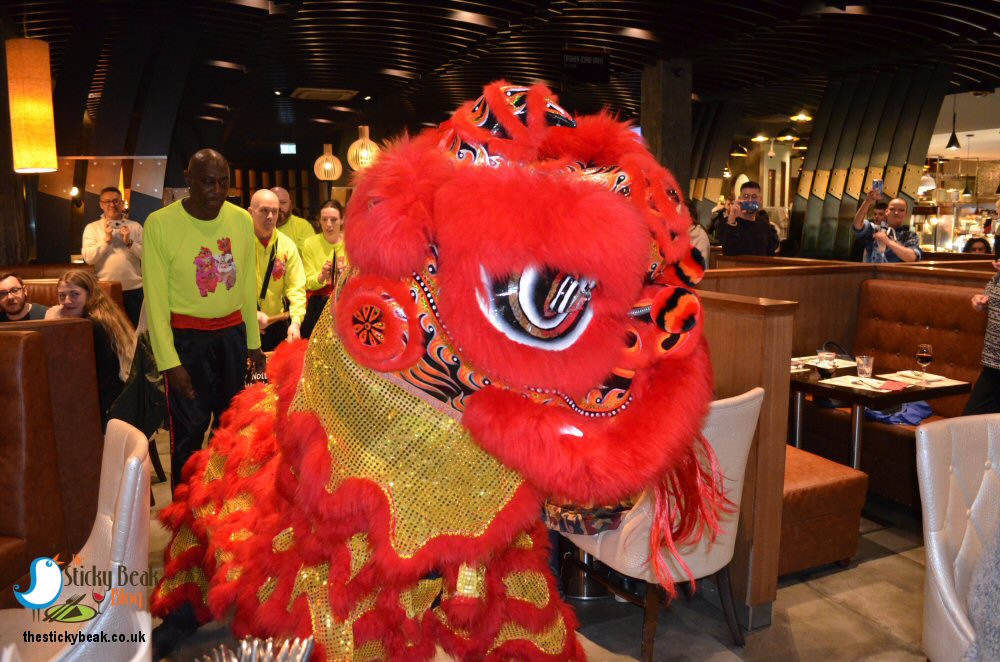 There was a flurry of activity as we all scampered off to seek out our choices, and we all came back with laden plates of yumminess. Thanks to having a pretty full tummy, courtesy of Chef's earlier offerings, I had some Greek Salad (with extra Olives) and just a couple of bits of Sesame Chicken – I did go back for seconds though! The Man came back with Sweet and Sour Chicken, Noodles, Rice and Ribs, and it wasn't long before the plate was empty and his belly full(er).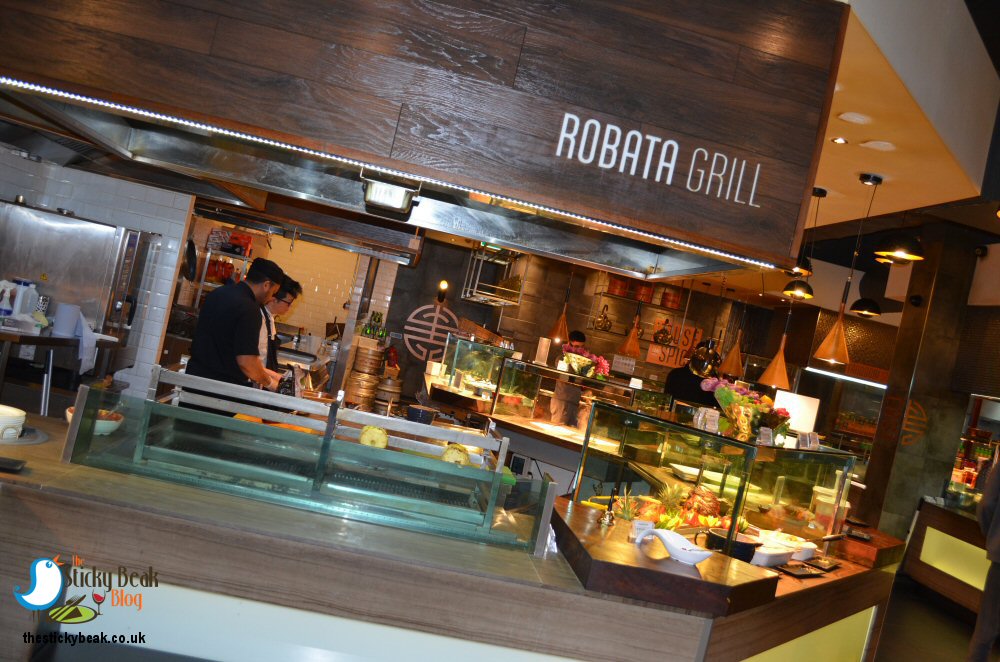 I defy anyone to not be tempted by the huge sweet selection at Cosmo, especially the chocolate fountain and its selection of dipping goodies. I tried to resist, sending The Man to go and get a selection of desserts; and it did kind of work – he came back with Carrot Cake, Chocolate Brownie, Oreo Cheesecake and fizzy Cola bottles. The Carrot cake and Brownie were lovely and moist, and the Oreo cheesecake was deliciously creamy – just what you want at the end of a meal. There's something about fizzy cola bottles though; I think it's because they were such a popular sweet in my childhood, but I just have to have them every time I spy them at Cosmo!




All too soon, it was time to wave goodbye to everyone and make our way back to the jalopy and home to the nest. It had been a superb evening though, thank you for inviting us along to share your New Year celebration with you, James, Sue and the Cosmo, Nottingham team.
Some form of incentive was provided to visit this venue
read more