Back At The Devonshire Arms Pilsley To Check Out The Refurb
---
Published On Sunday 2 Feb 2020 by Sticky Beak
See Recent Dining Out Reviews | See All Recent Reviews


Blimey, 2020 has begun at a blistering pace for The Man Bird and me! There hasn't been a week where we haven't been out at least once, and nothing makes this little birdie happier than getting out and about and eating scrummy food. Our latest invitation came from the team at The Devonshire Arms at Pilsley, on the Chatsworth Estate – one of my favourite places – so off we scampered to see what had happened since our last visit there.
As soon as the jalopy rumbles over the cattle grid on the edge of the Chatsworth Estate, I get a little thrill of happiness; there's just something about the place that I've always loved, right from the days when my Granddad would take me to paddle in the cascade during the summer months. I felt the same excitement when we pulled into the car park at The Devonshire Arms, and was very happy when we walked inside.




The Devonshire Arms at Pilsley is a marvellously quaint, traditional pub – but then, it is part of the Chatsworth Estate, so you wouldn't expect anything less than fantastic would you? This pub has recently had a refurbishment, so it looks even better than usual. We got the usual warm welcome at the bar that you get from any member of the Duke and Duchess of Devonshire's team, and we were taken to our table, seated and asked what refreshments we'd like in next to no time.




The bar area is most welcoming and there were several people sat on the comfortable banquettes and chairs, chatting amiably whilst enjoying a post-work drink. This space has a superb relaxed feel to it that makes it perfect for locals and visitors to the area alike; dogs are welcome too, although they were none to be seen on this particular occasion. Younger family members are catered for too – I spied some high chairs tucked away near to the 'powder room' when I needed to visit. What I loved most about the bar though (apart from the obvious!) was the stools that you could pull out and sit on, thanks to their moveable metal brackets. These little minxes are a great space saving idea because you can tuck them flush against the bar when they're not needed, and simply pull them out when you want to perch your derriere at the bar.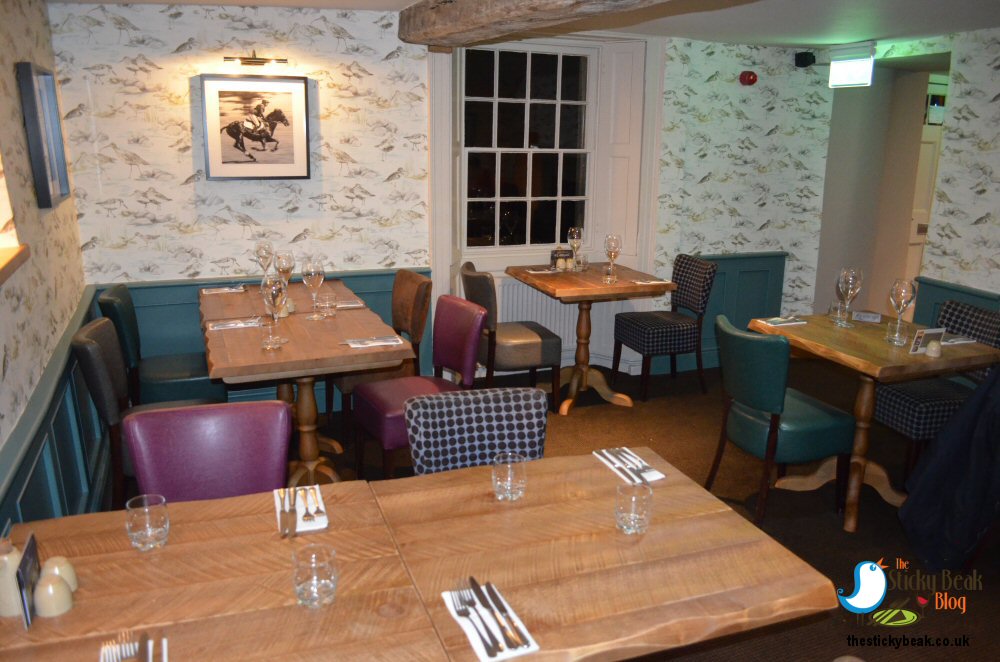 Our server for the evening, Eliza, had shown us through to one of the areas for eating and I instantly got wallpaper envy! Various water-fowl species are depicted against a back-drop of pebbles, reeds and rippling water in soothing shades of duck egg blue, soft putty, eau-de-nil and dove grey and it manages to make a statement without being bright or brazen. A hare-shaped lamp cast a warm glow from one of the window alcoves, amplified by subtle ceiling lights, and photographs of country pursuits graced the walls. The tables themselves are sturdy solid wood types, simply set with silver cutlery, thick white paper napkins and pristine glassware.

As I sipped my Robin of Locksley Gin and Fentimans Pink Grapefruit tonic and His Nibs savoured his Mason's Gin and Fentimans slim tonic, we perused the menu and discussed which morsels had caught our eye. I decided to have the Fishcake with Poached Egg and White Wine Sauce (£6) and The Man opted to have the Confit Duck with Asian 'Slaw and Chilli Dressing (£7.50).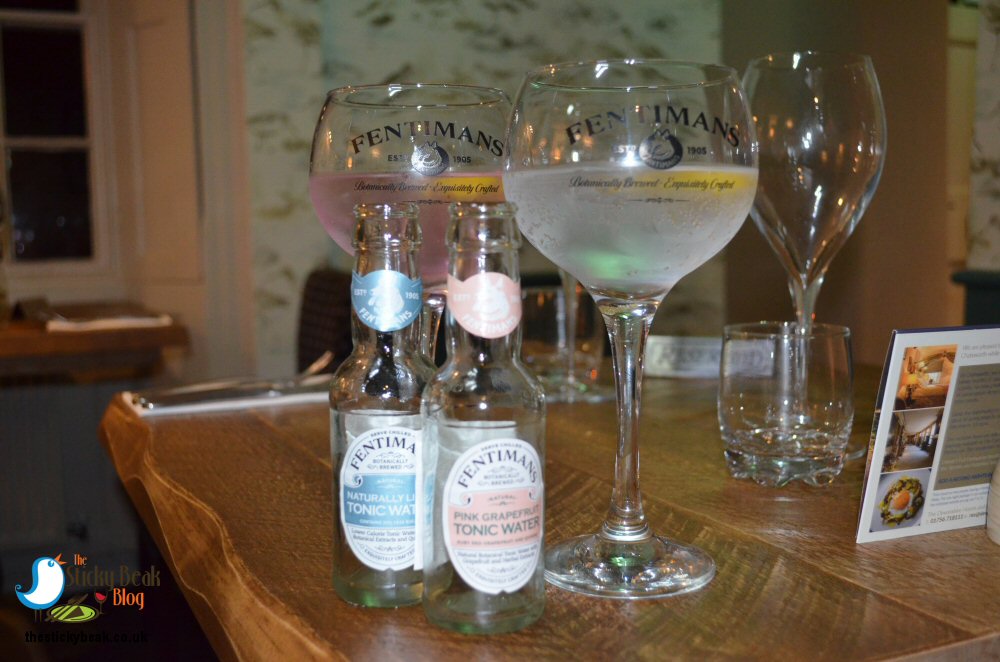 It goes without saying that both starters were beautifully presented with every element arranged to maximise its appeal and stimulate the senses. My Fishcakes with Poached Egg and White Wine Sauce was a charming little dish; not at all complicated, but perfectly executed. The fishcakes themselves were gorgeously dense in texture, packed with plenty of white fish and Salmon pieces and bound with smooth mashed potato. I was won over by the flavour of these, and even more so by the crumb coating, which was total perfection thanks to its bewitchingly crunchy crispness. You really couldn't wish for a more gloriously rich, creamy tasting yolk than the one in the poached egg that had perched itself atop the pair of fishcakes, and the dry, herbed notes of the white wine sauce lifted things superbly on the palate.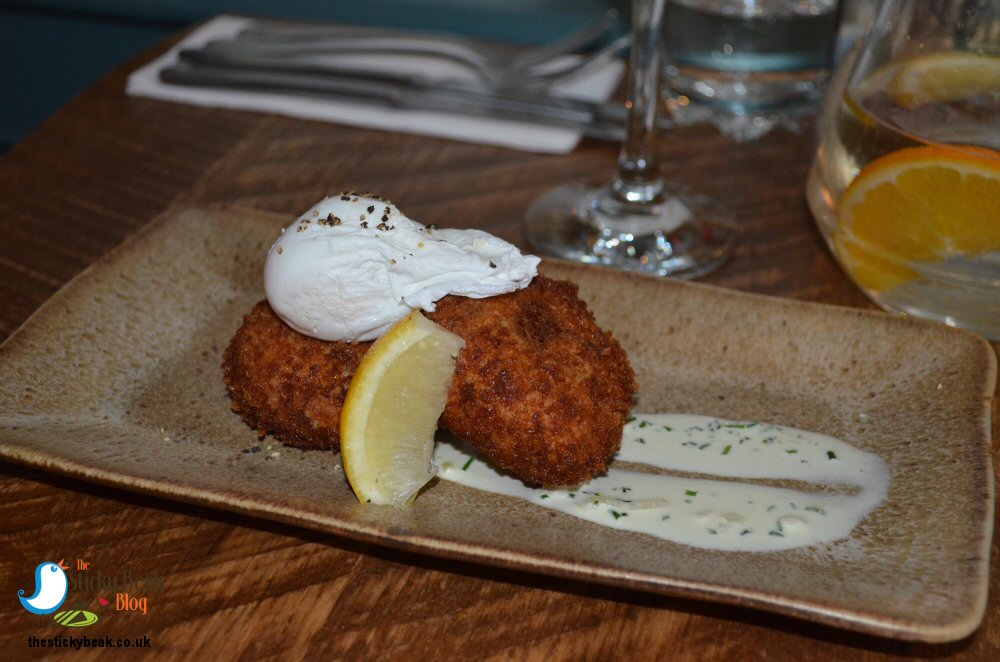 Across the table, His Nibs was merrily tucking into the wonderfully ample Confit Duck leg that Eliza had carefully placed before him. The skin had been gently crisped and had perfectly preserved the juiciness of the flesh underneath it, so The Man was savouring the moist, flavoursome morsel whole-heartedly. In contrast to the smooth, rich tasting duck meat was the wonderfully crisp, colourful Asian 'slaw that bounced around enthusiastically in The Man's mouth, leaving its clean notes of vegetable and herb to linger there. Bringing up the rear, so to speak, was the Chilli dressing and this wasn't at all shy at making its presence known; you couldn't miss its bright, fiery character.




Eliza had been back to check that we were happy with our meals and had taken the opportunity to offer us some more drinks: I had a glass of Malbec and His Nibs had a glass of Pinot Grigio. It was at this point that nature called, so off I went to answer it. I don't know why I was shocked to see a posh privy at The Devonshire Arms; it was hardly going to be a bog standard (excuse the pun) one, was it? I enclosed myself within one of the pine cubicles and then came over to the wash basins, where I spied the high-end, luxury handwash and lotion, both of which smelled divine. I don't think I've ever taken such care over washing my hands, but I sure as heck wasn't going to pass up the opportunity to have a little luxury in the lavatory!

The Man Bird had chosen to have the homemade Steak and Ale pie (that days' pie of the day, priced at £14.95) with hand cut chips, seasonal vegetables and a jug of gravy for his main course, and I had the Chatsworth Venison Loin with Fondant Potato, Beetroot, Dark Chocolate and Swiss chard (£20). It wasn't long before Eliza was once again placing some delicious looking food in front of us, and after the necessary photographs were taken we tucked in.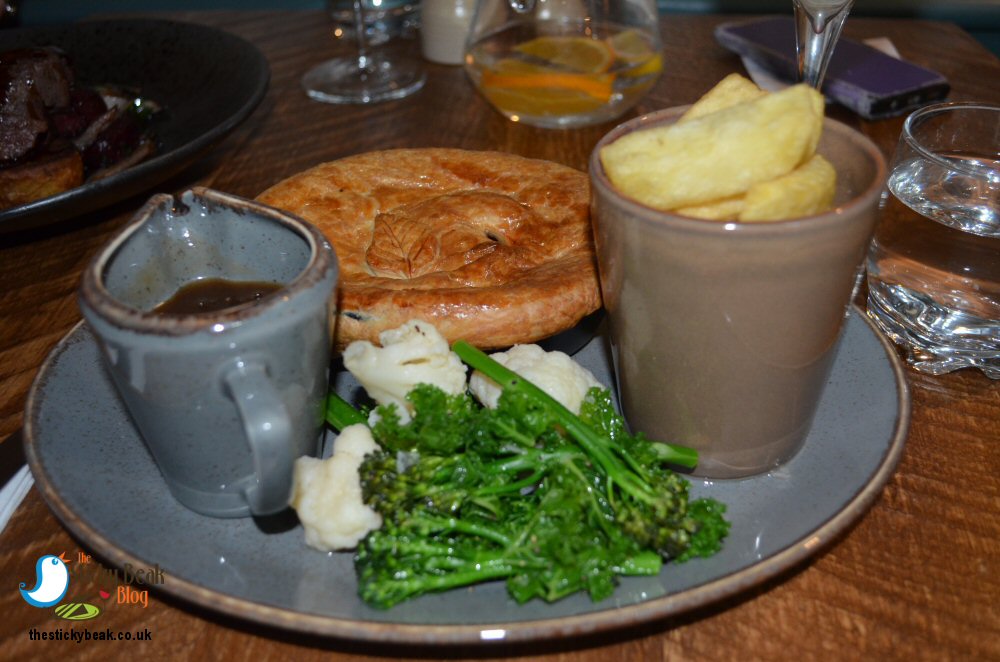 Chef at The Devonshire Arms in Pilsley is clearly a pie fan given the generous size of the one His Nibs was faced with! Underneath the pastry crust nestled large chunks of super-tender, deep tasting Beef that had a lovely Ale edge lurking at the fringe of their flavour. What can I say about the pastry, except 'wow'! This was an achingly good, proper pastry; incredibly short and rich in taste, just like the suet containing ones that my Nana used to make - and that lady could make phenomenal pies, let me tell you. The Cauliflower florets, Kale and Tenderstem Broccoli had all been cooked to perfection, retaining their natural flavour and hint of firmness when bitten into. You can always tell bona-fide meat gravy; it not only has that rich flavour that makes you lick your lips with satisfaction, it also has that unmistakeable sheen to it from the fat in the meat juices, and the one here was sublime. The chips were a pale straw colour, different to many current offerings, and they had lightly crisp outers and firmer inners too; the taste of the potato was marvellous though, and they'd been nicely seasoned with salt flakes.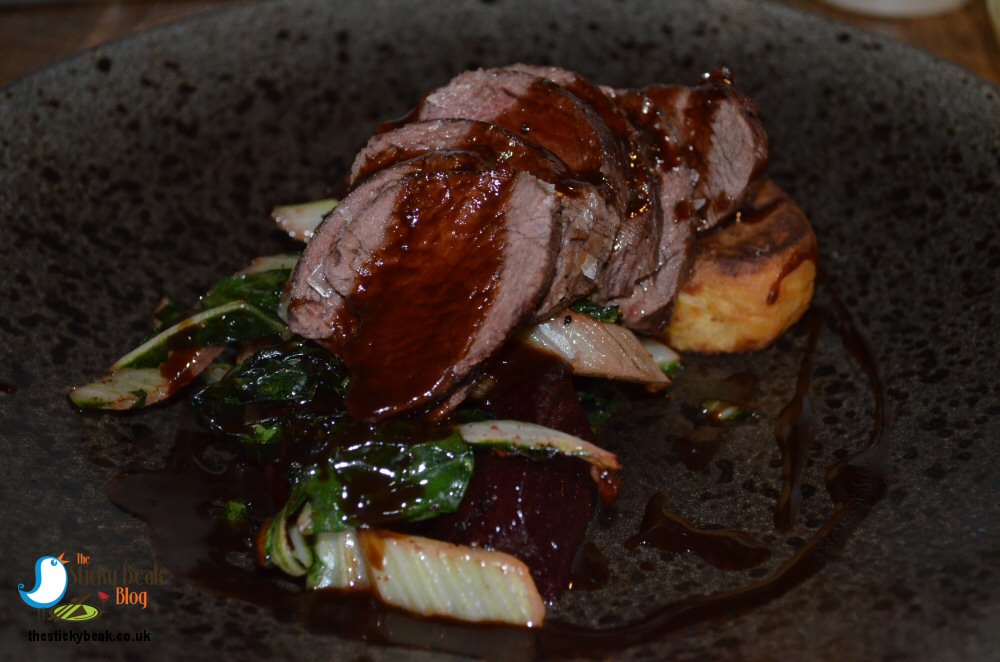 Not everybody likes the earthy, gamey taste of Venison, but I do! At The Devonshire Arms, Pilsley it's served pink in the middle, and my piece of loin was lovely and succulent with that undeniably good earthy-but-sweet flavour to it that I so enjoy. This Bambi had been a very happy Chatsworth chap or chap-ette, no doubt about it, given the intensity of its taste. The square of Fondant Potato was a delicious nut-brown shade on the outside, with a pleasing crispness to it that contrasted with the smooth, but firm, potato inside, and the Swiss chard was also nicely firm still.

I swooned in delight at the Beetroots' intoxicating smell earthy and fragrant, it took me straight back to my Grandma's kitchen. I remember that she used to cook big pans of Beetroot that my Granddad had grown in their garden; I wasn't a fan of the smell of it cooking (it was too intense for young nostrils), but I used to revel in its taste as I bit into warm spheres that I managed to sneak out from her kitchen. Funny what you remember isn't it?
Swirls of the venison's juices and Dark Chocolate decorated the plate and I thoroughly enjoyed this jus; it was superbly deep in taste but not overly sweet. There was absolutely nothing left on my plate when I put my knife and fork down, testament to the sheer quality of this dish.
We both ordered pudding; Chocolate and Caramel Torte with Chocolate Ice Cream (£6.95, for me) and Sticky Toffee Pudding with Toffee sauce and Vanilla Ice cream (£6, The Man). Honestly, I have never known someone be so smitten with a pudding as The Man is with a Sticky Toffee one! I keep telling him that he ought to compile a list of venues that serve up memorable versions; what do you reckon reader?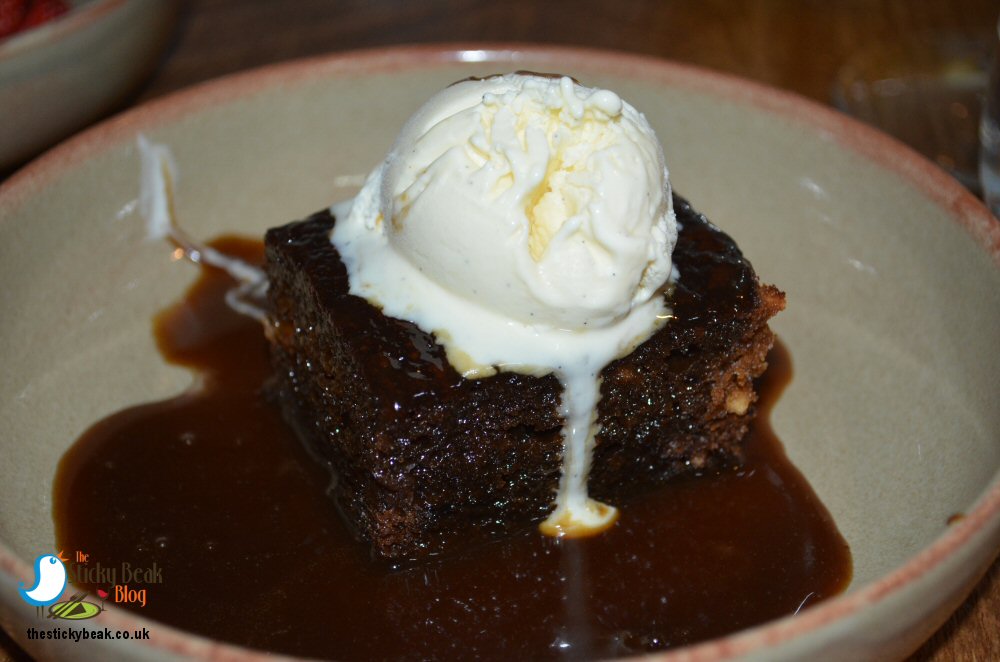 The Sticky Toffee Pudding at The Devonshire Arms, Pilsley is a delight for those of you that like a 'rib-sticker' of a dessert. This morsel will fill you up a treat without weighing heavy on your tummy at the end of a meal; it was firm and satisfying to the bite, with a glorious moistness to it that any self-respecting comfort food has. His Nibs commented on the quality of the toffee taste in it as he greedily popped spoonful after spoonful into his mouth, and he loved how this flavour was enriched by the thick toffee sauce that came with it. A good quality Vanilla Ice cream released its warm rounded notes onto The Mans' palate, lightening this dessert up wonderfully.


Tortes are always indulgent, dense numbers, and the one I had was no different. I wasn't expecting it to be quite so hard to cut into though, if I'm honest; I'm not exactly a wimp but even so, I found that I had to employ a little muscle! The reward for the exertion was worth it: a good cocoa hit landed on my palate, stimulating that pleasure centre deep inside the brain. I was pleased to detect the lighter tones of Caramel in there too – this certainly wasn't a one-dimensional pud by any means. Equally good was the Chocolate Ice Cream, although I think a Vanilla or Caramel one would've added a little more interest on the tongue to this treasure.

We finished the evening off with a couple of after dinner coffees, and lovely smooth numbers they were too. The whole team couldn't have done more for us, but they did it in a genuinely friendly manner – there was nothing contrived or forced about it. Hot Wings happily given to The Devonshire Arms at Pilsley.
Some form of incentive was provided to visit this venue
read more