A Flock Sunday Lunch At The Peacock Inn, Cutthorpe
---
Published On Wednesday 22 Jan 2020 by Sticky Beak
See Recent Dining Out Reviews | See All Recent Reviews


When an unexpected chance to go out for Sunday Lunch arose, you don't need to be a genius to figure out that we jumped at it! Daddy Bird was going out for the day and Mummy Bird is a bit incapacitated at the moment, so we decided to have a pootle somewhere new for our weekly Roast Dinner. One of you lovely lot suggested The Peacock, at the edge of Cutthorpe, so we took your advice and went there.
The Peacock is a proper traditional pub to look at from the outside, and the car park is very generous – it even has an overflow one at the back! Safe to say it's dog friendly too; there were several hounds and their humans making their way into the pub at the same time as us. If you have a dog with you and want something to eat, you go to the bar and will get a table on the right hand side; we were seated in the left hand side of the pub as we were sans pooch. Everyone is lovely and welcoming, and we felt right at home from the get-go.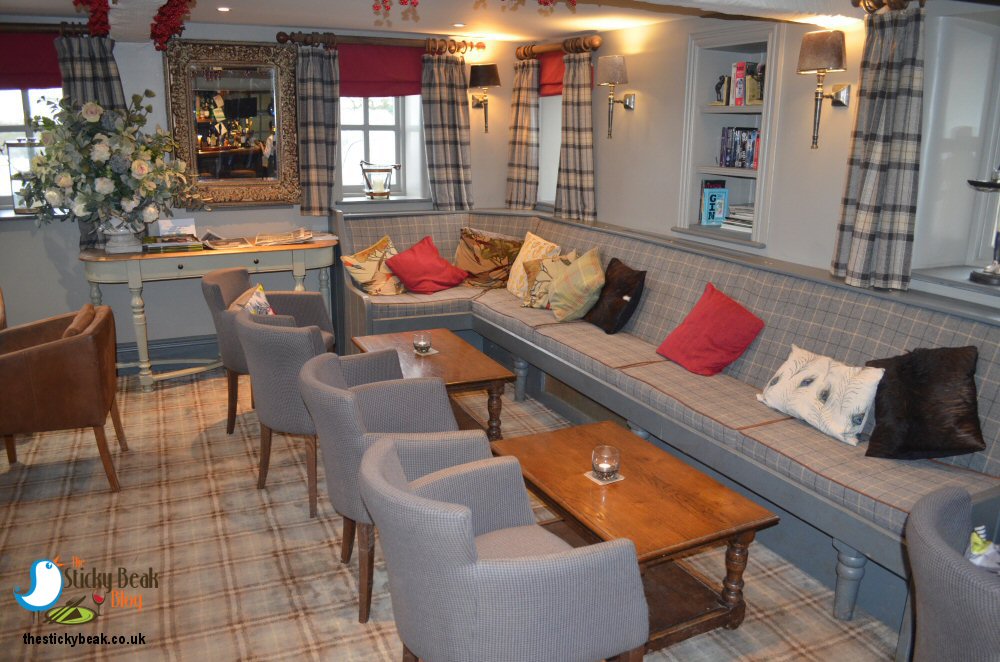 Mummy Bird and I both loved the woollen checked fabrics in muted tones that were used for the curtains and chair upholstery, and the rest of the decor was equally chic. The wine list wasn't shabby either, and we settled on a bottle of Merlot (mainly for Mummy and I), figuring that most of us would be eating red meat. Fledge fancied an Archers and Lemonade, and His Nibs had a pint of Peroni. Our lovely young server brought over a jug of iced water with lemon in, for us too.




We all decided to go for starters – Chickadee declared that she was starving; anyone would think we don't feed her! Mummy and I both fancied the Prawn cocktail with Smoked Salmon (£7), The Man had the duo of Chicken; Chicken and Ham Terrine, Chicken Parfait, Chutney and Toasted Bloomer (£7) and Chickadee had the Monkfish Scampi with Tartare Sauce (£8).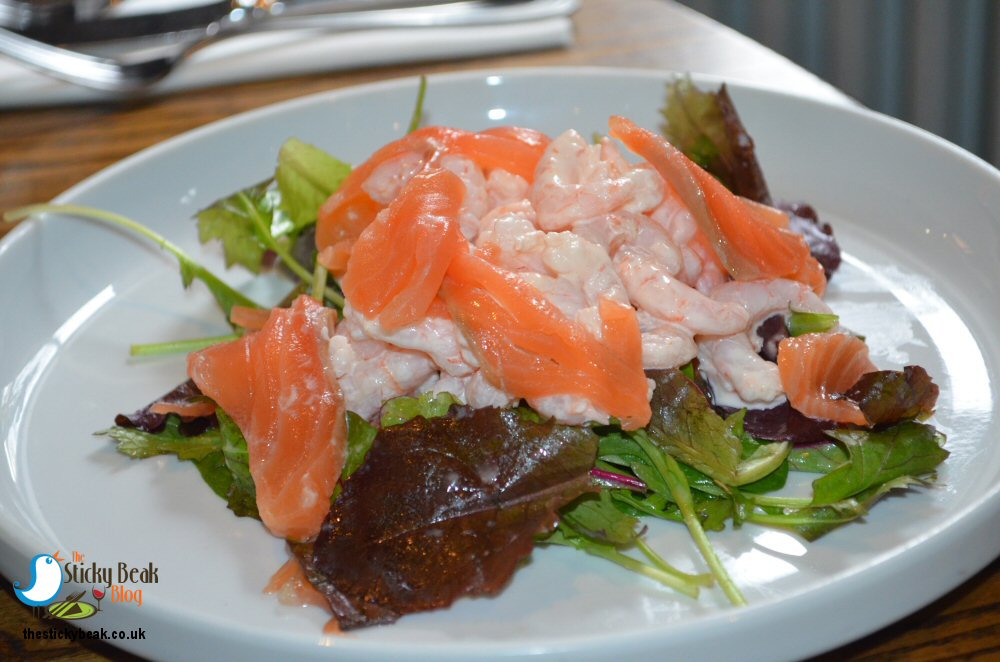 All the starters were very nicely presented and garnished with mixed leaves; the Prawn Cocktails also had slices of granary bread and pats of butter on separate side plates. Rather than being served in a fancy glass, The Peacock serves their Prawn Cocktails on a plate to showcase the abundance of Prawns and Salmon within it. Those with smaller appetites would easily be satiated with this as a main course! The Prawns were lovely and juicy and the Smoked Salmon was draped amongst them in delicate ribbons; both had been lightly coated in tangy sauce. Peeking shyly from underneath them were slivers of sliced Cucumber that were beautifully chilled and crunchy to the bite.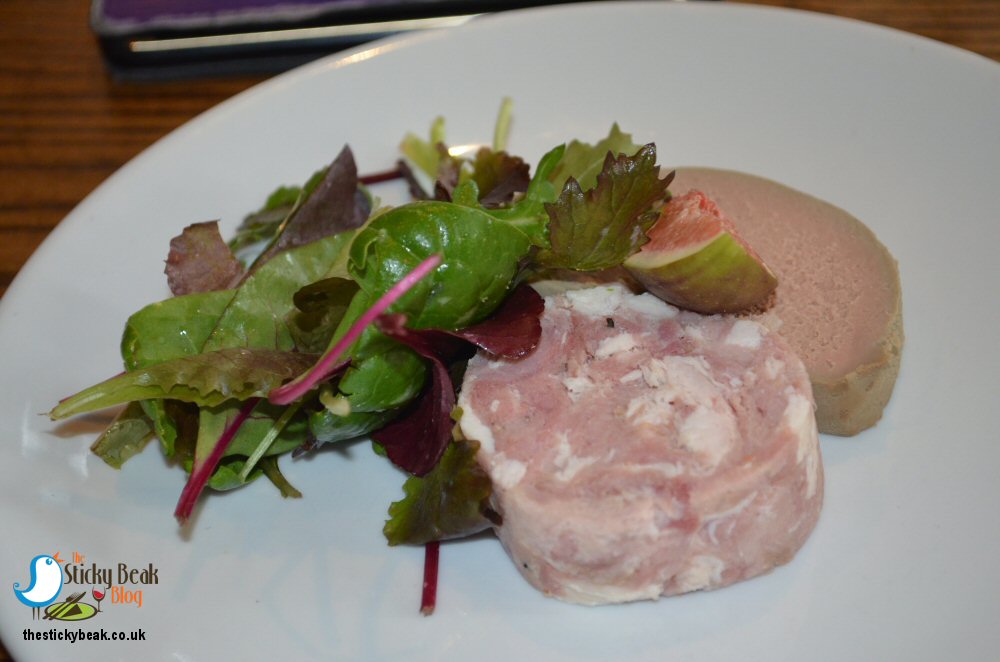 The Man Bird was enthusiastically digging into the Chicken and Ham terrine, delighting in its chunky texture and the flakes of meat that released their flavour readily onto his tongue. In total contrast to the nature of the Chicken and Ham morsel was the ultra-smooth parfait with its rich indulgent taste. This glided like silk across the palate and also across the warm, crunchy bread that was eager to provide a comfy bed for it. Both the terrine and parfait were nicely seasoned, enhancing rather than dominating the flavour of the meat.




Since she was a dinky little chick, Fledge has loved Scampi – well most kinds of fish and seafood, really – so she was eager to try the Monkfish Scampi out. The Peacock kitchens did not disappoint, I'm pleased to report. According to my Chick, the Monkfish was really tasty; nice and firm textured, giving it that satisfaction factor that every starving student Fledge needs! I don't know where she gets the drama gene from ,*ahem*. The generous chunks of fish had a superbly crunchy crumb coating that made a great sound when bitten into, and the sweet taste of the Monkfish provided a great platform for the coarse-textured Tartare sauce to bounce off.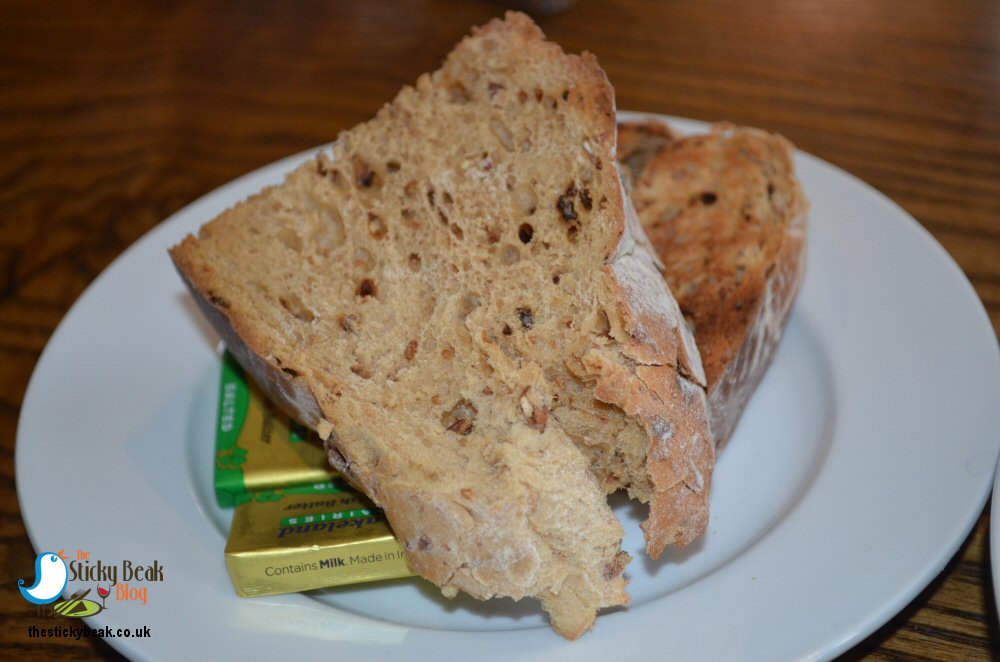 The young ladies had kept checking that we were happy with our choices, and smiled happily as they cleared a quartet of clean plates away. Yep, this had been a wonderful set of starters, and we were all looking forward to seeing if the mains would be as good. I had gone for roast leg of Lamb and His Nibs went for the roast Sirloin of Beef; both these meats come pink or well done, according to your preference, and we both chose pink. Chickadee went for her favourite, roast Pork Loin, and Mummy Bird decided to buck the Sunday Roast trend (all priced at £15) and go for pan-fried Gammon with fried egg, fat chips, and garden peas (£13)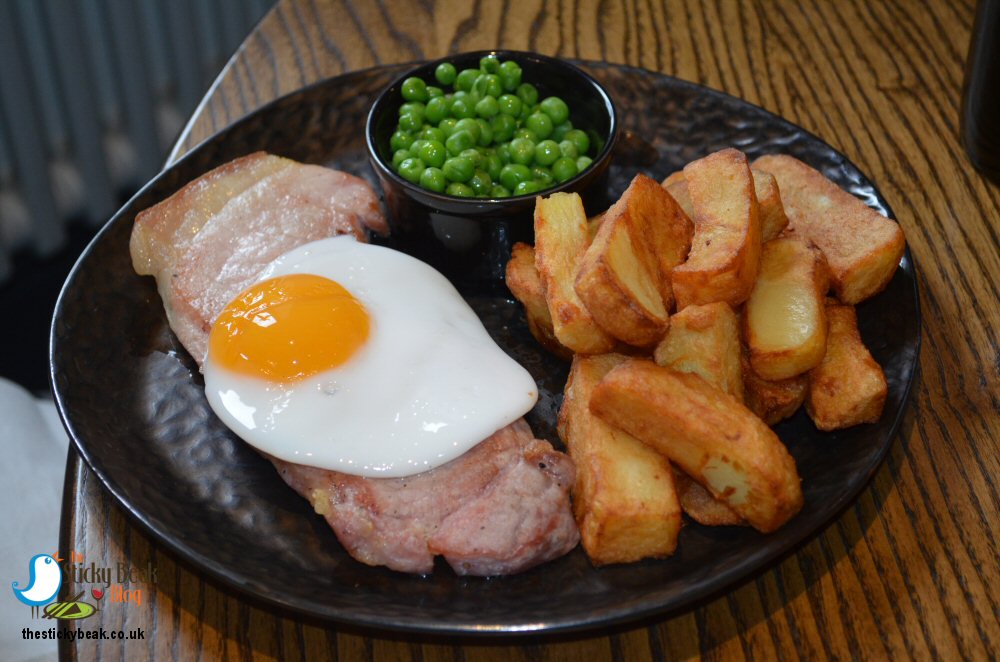 I had to give a little giggle as Mummy Birds' eyes popped out on stalks when she saw the plateful she'd got! The Gammon steak was not only thick, but large (behave, ladies!) and the portion of fat chips wasn't exactly stingy either; yep, she was going to have to pace herself here, that was for sure. The garden peas had been put into a little pot of their own on the plate, and the fried egg had that gloriously rich, sunny hue to it that you just know is going to equate to a really creamy taste in the mouth (it did).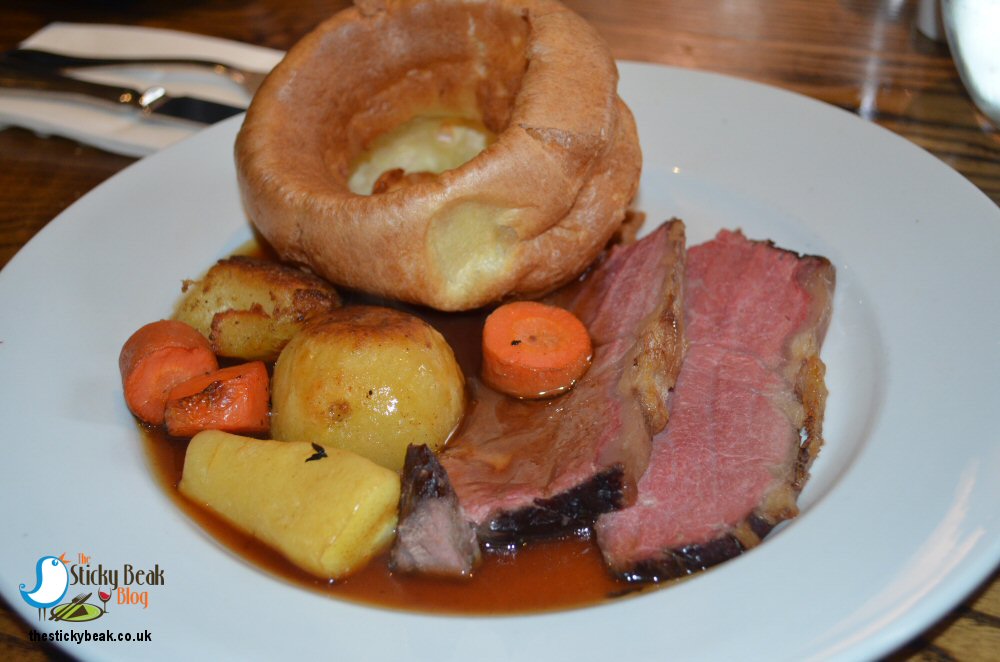 All the roasts served at The Peacock come with Yorkshire puddings (so big they should have their own postcodes!), roasted Carrots and green veggies. Our plates had got plump, crunchy outered roasties and parsnips on them too, and then there was curly Kale and sugarsnap peas in one bowl and cheesy Broccoli and Cauliflower in another, for the table to share.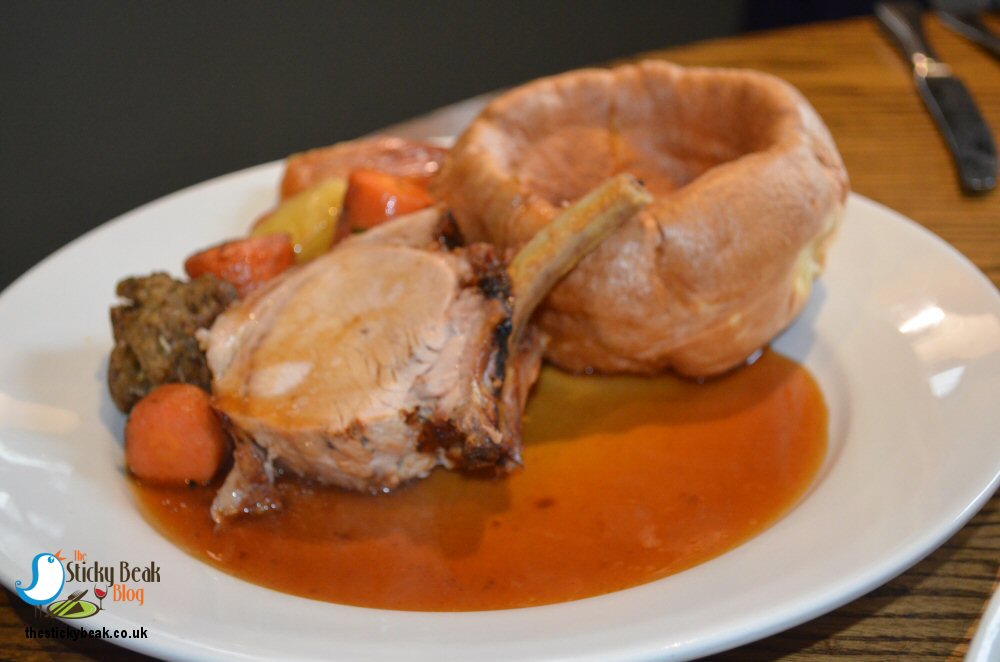 Chick loved the creamy flavour of her Pork loin, and I enjoyed the thick crackling it came with! Pork is an easy meat to dry out, but the loin here was deliciously moist and was tender enough to be cut into easily. The Sage and Onion stuffing was jam-packed full of flavour too; no insipid version here, thank you very much. Fledge declined the offer of Apple sauce and The Man didn't fancy anything with his Beef, but I accepted Mint sauce for my Lamb (a little of which I dotted onto Mummy Birds' peas).




Both the Lamb and Beef were marvellously pink, but there wasn't a speck of bloodiness to be seen on either plate, indicating the meat had been allowed to rest adequately. I always say that you can tell if an animal has had a good life by its flavour, and let's say that both mooing Maurice and happy Larry had both been more than content with their lot; the taste was excellent.




I prefer my vegetables to be on the crunchier side rather than have any sogginess, as I think most folk do, so I was very satisfied by the Kale and sugarsnaps. Equally good were the Cauli and Broccoli florets snuggled beneath their cheesy blanket; they were both nicely firm to the bite, but not hard and under-cooked.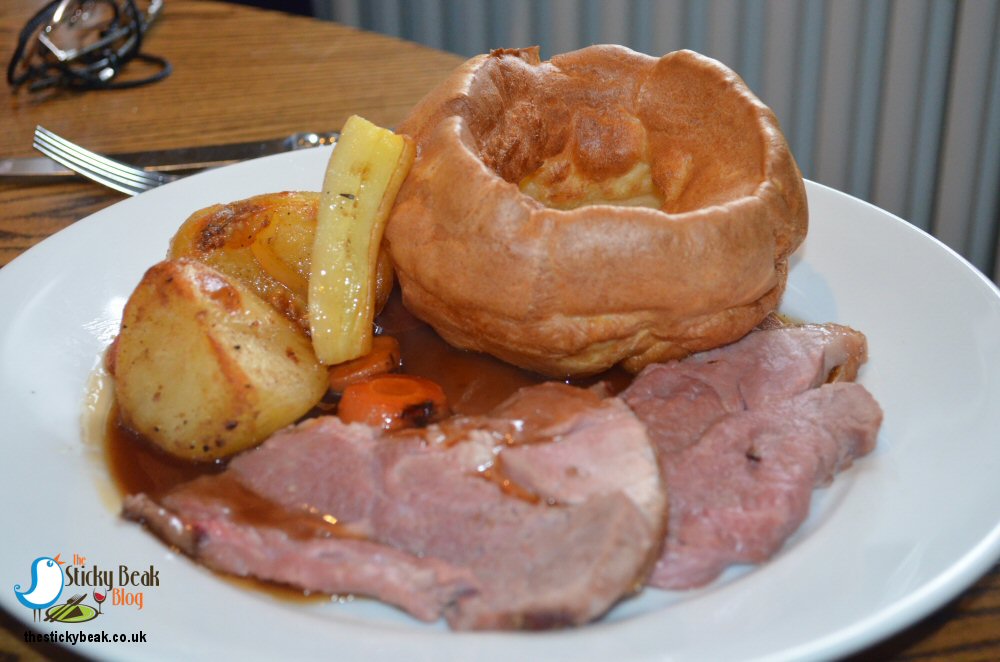 We could easily have stopped eating at this juncture, but let's face it, that was never going to happen was it?! Mummy Bird and Chickadee exercised some restraint and dipped out of a pudding, but His Nibs and I ordered Vanilla and Cherry Coconut Tart (that the lady said was actually a sponge, not a tart, as described) with Custard (£6) and Strawberry and Champagne Panna Cotta with Champagne Sorbet (£6), respectively.




So often, when you get a sorbet claiming to be of a specific flavour it just disappoints; either it simply doesn't taste of anything at all, or you get a vague whiff of said flavour. I usually end up grimacing and growling in frustration, but on this occasion I raised my eyebrows in surprise when I got a good wallop of Champagne taste on my palate. Hallelujah!! The Panna Cotta was just as fab (and seductively wobbly) but to be honest, my surprise at the utter splendour of the sorbet outshone it.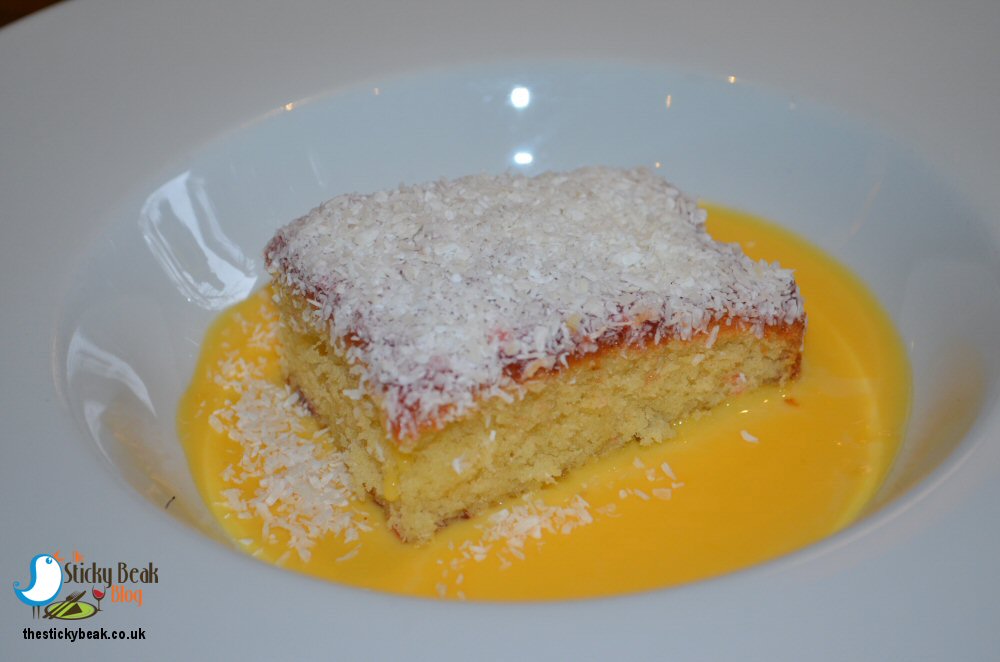 The Man was a happy chappy with his sponge; it was beautifully light in texture with plump, rosy Cherries at the bottom that partnered well with its gentle vanilla taste. Much to His Nibs' delight, it wasn't heavy on the coconut front, so he just got a nice nuance of it. Lashings of creamy custard topped it all superbly, making this a total treat to finish a fantastic roast lunch off with.

From start to finish we'd all had a top time at The Peacock, so Hot Wings scooting their way to the team, here.
No incentive was provided to visit this venue
read more