A Visit To Bohns Best Burgers In Nottingham
---
Published On Sunday 12 Jan 2020 by Sticky Beak
See Recent Dining Out Reviews | See All Recent Reviews


You would think that, given the amount of food I've managed to put away over the festive and New Year period, that I would be "fooded out", but no, the appetite is still very much hale and hearty! Perhaps as well, seeing as Bohns Best Burgers in Nottingham invited The Man and I along to sample their wares.
Bohns is located in the hip Hockley suburb of Nottingham city and in keeping with this area, the basement, below-pavement level premises are sleek and modern in their vibe. Slate floors are strewn with a mix of seating styles; the wood and metal tables are partnered variously with bench seats, mid-brown banquettes, and the raised tables have low-backed stool type seats with them.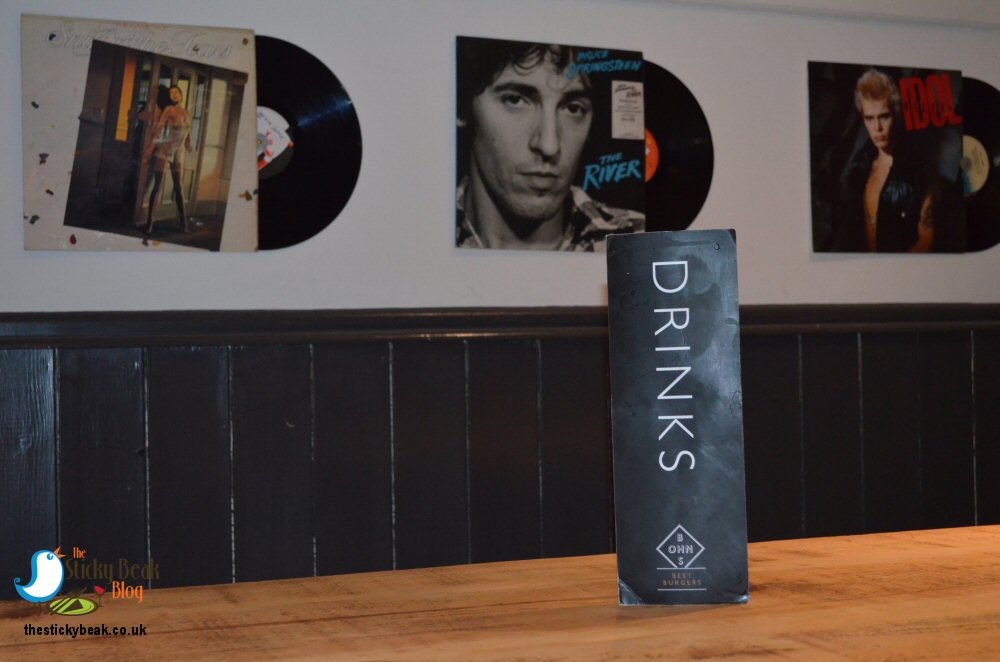 On the walls is an assortment of vinyl LPs and their sleeves, as well as some prints, and they had His Nibs and I reminiscing over our collections of vinyl. Although Bohns is very much a-la-mode it isn't a cold, stark space at all, thanks to clever lighting. The recessed ceiling lights are complemented by wall lamps and fairy lights behind the banquettes, and the collective effect is a warm, diffuse one. The addition of Yucca plants, both free-standing and ones in planters, gives an inviting note to the venue too.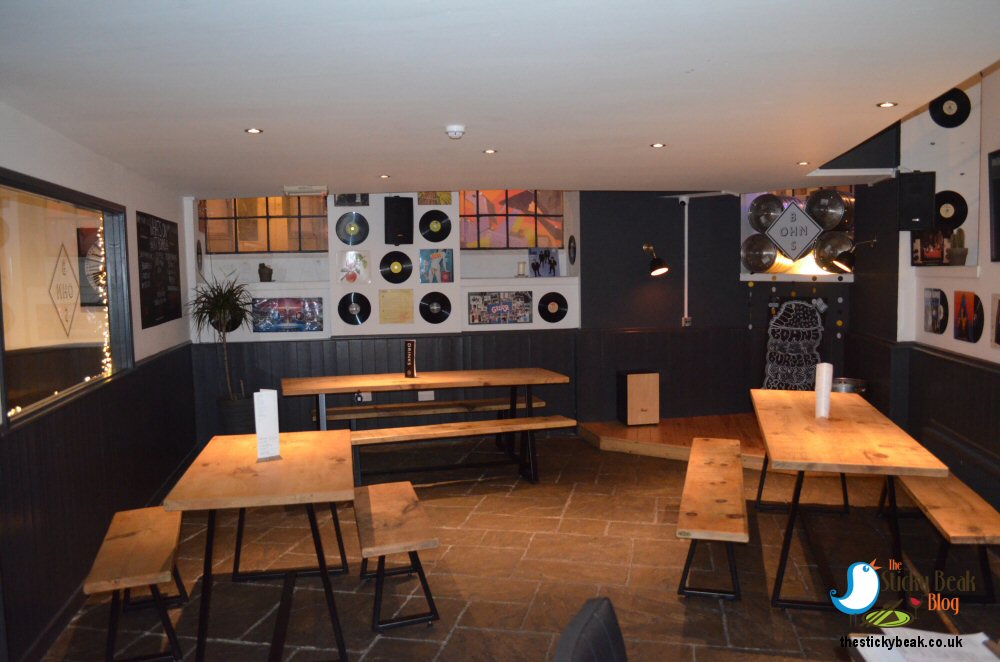 The serving team were so welcoming when we arrived (which is always nice when they don't know who we are!) and Ellie soon had us sat down and chatting over drinks as we perused the menu. As we were deciding what to have we found ourselves tapping our toes to the catchy tunes being played in the background: everything from The Who, Arctic Monkeys and Franz Ferdinand! The live music was due to start at 8pm, and this is on every Friday, so if you like live performance then this is definitely going to be your bag.




Bohns offer Bao buns as well as their other dishes, but these were currently having a break and will be back towards the end of January – as will a re-vamped lunch menu. The menu is brilliant in its simplicity: there are sections for the burgers (beef – organic by the way!, chicken, veggie and vegan options), (naked)fries, salad, loaded fries, spicy bacon croquettes and chicken wings, and all you do is choose what you want. There's no starters and mains as such, you just tuck in as stuff arrives.

I love Peanut Butter and Beef burgers, so I was looking forward to trying the Peanut Butter Jelly one that Bohns produce, and The Man went for the Rump Rub (spicy by name and by nature). We also ordered some Rosemary salted fries and some Jala-Mango wings to keep us busy.




It wasn't long before the lovely Natea was popping our cutlery, napkins and lemon scented wet wipes on the table, all snuggly housed in a metal mesh container. Bringing the cutlery out at this point eliminates any unnecessary clutter on the table, especially if you've just popped in for a drink rather than dining. Shortly after, she brought our morsels to the table for us to tuck into, and after taking the obligatory snaps that's exactly what we did!

My PBJ burger was blooming amazeballs; sometimes odd combos work the best, and it seems to be the case here. The beef patty itself was delicious to start with, so the foundations were laid nicely, and layers of flavour were built up from the melted blue cheese, Bohns own Chilli jam and the coating of peanut butter that was slightly runny from warming up. Various liquids were dripping off the burger and running down my fingers, and had The Man not got an aversion to PB we could easily have slipped into "9 ½ weeks" territory; Google it, if you don't know what I'm on about!

I think the key to this working is to not go too heavy on the peanut butter, tempting as that may be; this means you get the nutty tones clearly, but other elements can shine too (like the spicy kick of the chilli jam). Pickled red onions and gherkins add a fab sour edge to the burger, stopping it from being too sweet, and all that is needed is the fresh crunch of Gem lettuce and a tasty toasted bun. Et voila! A totally extra burger.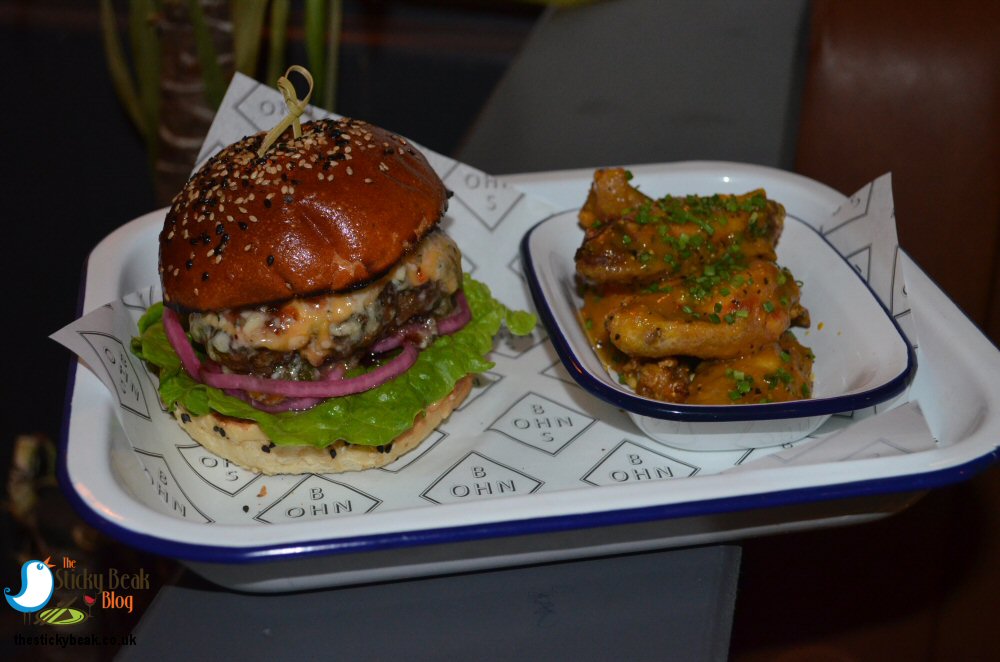 Keeping the spice factor ramped up at our table, His Nibs' Rump Rub burger was hitting the mark 100%! As with my burger, the organic beef patty is a proper juicy affair which oozes taste by the bucket load, and then you've got the hot trifecta of Jalapenos, Bohns own Rump Rub sauce and a kicking Chilli and Raspberry jam. This one's not for the faint-hearted; it left a definite tingle on The Man Bird's lips! Both our burgers were dense, meaty beasts that really satisfy the appetite and for most folks or for those wanting to not slip into a food coma (!) don't particularly need any sides to accompany them.

You know me and His Nibs though; total gluttons that have not a shred of willpower between us! No surprise therefore that we ordered some of the Rosemary Salted Fries and a portion of the Jala-Mango Chicken Wings.

The Rosemary Salted Fries were exactly that: crispy potato fries seasoned with Rosemary-enhanced salt. These little minxes were fab, and you could smell the herb as they were coming over from the kitchen! They weren't at all greasy and had lovely crisp outers that yielded to the bite easily and revealed soft, pillowy inners. Good fries/chips have a good inherent flavour all of their own if the right variety of spud is used, and the kitchen at Bohns Best Burgers in Hockley certainly use the best potatoes for the job.




What can I say about the Jala-Mango wings except that they were the absolute business! There was plenty of meat to chomp into for a start; measly, poxy wings that are all bone just irritate me –especially if I'm very hungry to kick off with! The succulent chicken was set alight by the combo of blitzed Jalapenos and Mango, which is a great spicy/sweet balance to start with, but mix in some zingy Lime juice and piquant Black Pepper and you've got yourself a serious palate party! I could happily eat a bucket load of these, they were that good.

We managed to clear all the food in front of us (just!), and Ellie and Natea had kept coming and checking on us, refreshing drinks as needed. Then it was on to the dessert section of the menu, which is thankfully nice and simple: a couple of freakshakes, a couple of hot melted cookie dough options and homemade Ice Cream (choice of Vanilla, Chocolate, Strawberry or Banana). I opted for the Peanut Butter and Choc Chip cookie dough and The Man had the Double Chocolate cookie dough.




My pud consists of Ruby Lou's Treat Company's chocolate chip cookie dough being topped with peanut butter, a Reece's Peanut Butter Cup, Vanilla Ice Cream and Caramel sauce. This treat is served in a tea cup and all the cookie dough is gooey, warm and soft at the bottom, so you dig your way through the toppings to get its comforting hug on your tongue. The contrast between the cookie dough's warmth and the cold Ice Cream is a total twizzle for the senses, and the fusion of chocolate and peanut butter is beautifully indulgent without being overly sweet and cloying. I was in ecstasy as I chomped at the Reece's PB cup (I love these!) – beam me up and take me to Peanut Butter heaven.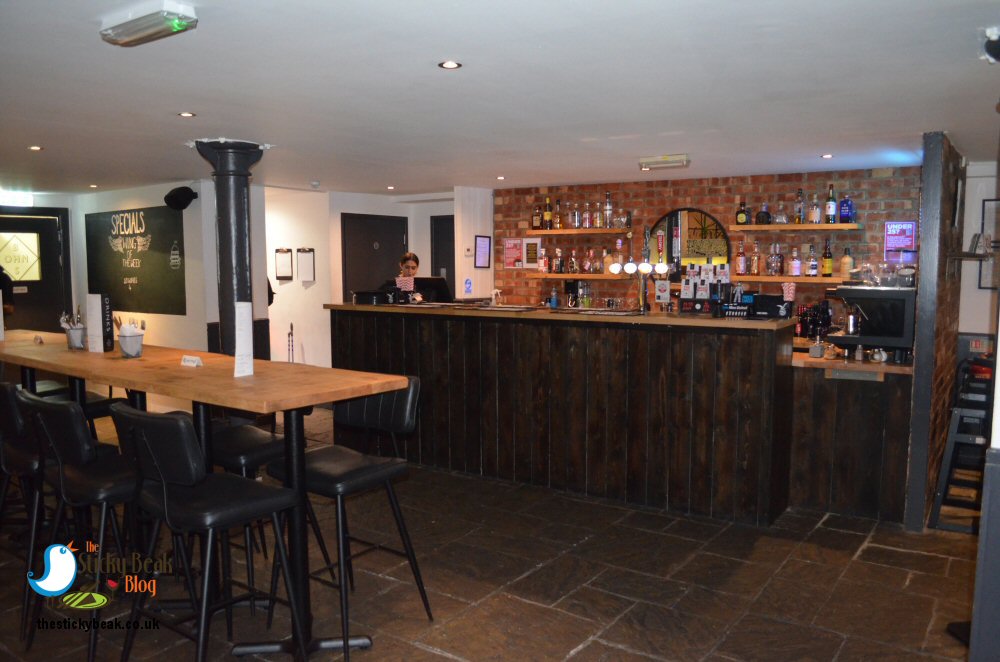 His Nibs' dessert was basically the same as mine in terms of tea cup presentation and the fact that the Ruby Lou's Treat Company's double chocolate cookie dough was waiting to be discovered at the bottom. As well as a plentiful amount of Bohns' Vanilla Ice cream, there were a couple of generous slabs of chocolate brownie to chow down on too.To cap it all off was a wickedly thick, indulgent chocolate sauce that had The Man smacking his lips and desperately scraping the cup to get every last smidge of it out! This was an unashamed, unapologetic chocoholics dream and one His Nibs thoroughly recommends to his fellow sweet-toothed humans.




A pair of clean dessert cups went back to the kitchen, and then Tom (owner/chef) managed to come over and say hello which was lovely. Whilst we were yapping to him, we spied the range of meat rubs that Bohns Best Burgers sell and just had to bring some back to the nest to try at our leisure. There's a whole plethora of variants, but we snagged the Butt Massage, Rump Rub, Breast Enhancer, and Steak Mate to try. These bad lads and lasses retail at £3.30 each or 4-4-£12 and they're also available by mail order.

Hot Wings happily given to this vibrant venue.
Some form of incentive was provided to visit this venue
read more