Sunday Carvery With Jack Rabbits At The Seven Stars In Riddings
---
Published On Sunday 22 Dec 2019 by Sticky Beak
See Recent Dining Out Reviews | See All Recent Reviews


Tucked away in the (mostly) sleepy village of Riddings is a quaint, unassuming Traditional Pub called The Seven Stars. Despite it being on our doorstep, His Nibs and I have never set foot over its threshold – more fools us, as it transpires!
I does like me a bargain as you all know, my lovelies– but even I gasped when this particular juicy one got revealed: I ordered a glass of Merlot and the Landlady uttered those glorious words "you can have the bottle for a tenner". Seriously? A measly Tenner for a nice bottle of Merlot??!!!! Count me the heck in!!Actually, don't count me in – I'm the driver today; but hold that thought for another time. However, my happiness came back when the large glass of said Merlot and a pint of Stella Artois came to just £6.50 – you can pay more than that for a medium glass of vino in some places!

We got a lovely warm welcome from the Seven Stars team, which I forgot to mention in my rush to tell you about the purse friendly prices; my bad, sorry. As you might expect from a traditional local haunt, there are features galore; those of stature may want to keep an eye out for the low beams. If you're taller than 5'11" you'll need to duck (or grouse, as the sign wittily says!); no worries for tiddly ol' me.




Well behaved dogs are more than welcome at The Seven Stars pub in Riddings, but they must stay on their leashes and be in the bar area. Dogs need to ensure their accompanying humans are able to play nicely too ;D. If you have your hound with you, you can still take advantage of the Sunday Lunch we were there to sample but you'll need to be seated in the bar area rather than the dining room.

Speaking of the dining room(s), they can hold up to 50 people and are located to the right hand side as you go in the main pub door or to your left if you're already in the bar area. They aren't particularly flashily decorated, but they are clean and bright; the Christmas decorations were all out when we went, and they look lovely.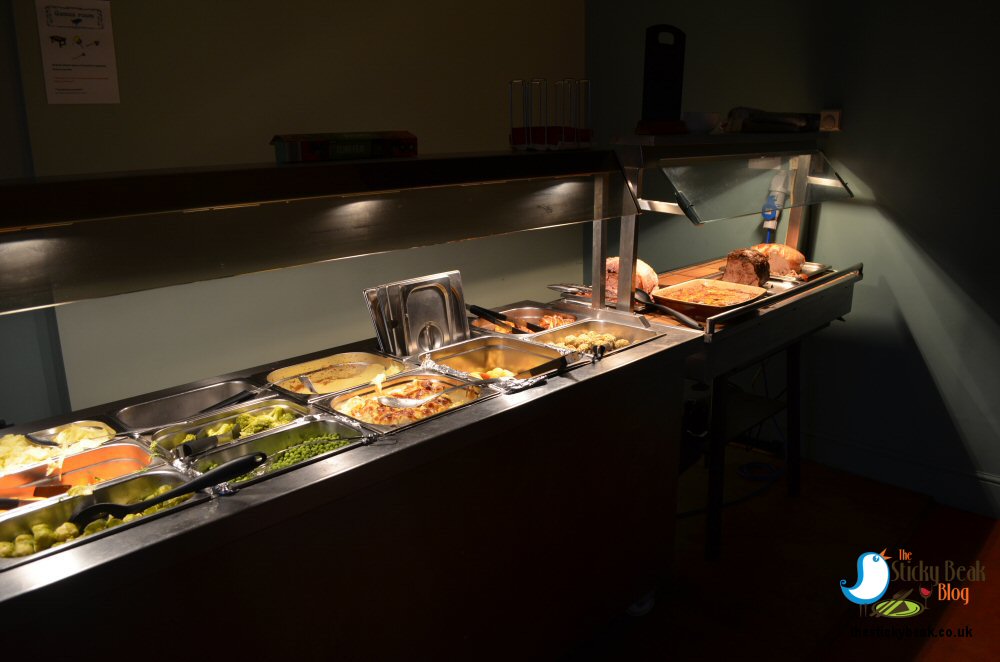 There is a (very clever, if you ask me) trend at the moment where venues that don't want to employ a Chef, but have their own kitchens, collaborate with Chefs and allow them to "freelance" cook on their premises. Win-Win for us customers. The Seven Stars pub has teamed up with Jack Rabbits, a dad (Matt) and daughter (Jasmin) team of small caterers; Matt has had experience of running his own pub and kitchen before, so they're not entirely wet behind the ears! As a family man, Matt has thoughtfully included a free vegetable bowl for babies, and the small junior carveries are priced at £4.95. Adult prices are £8.95 for the standard option, or you can "go large" for £10.95 and choose to add either extra meat or have a slice of Matt's Steak and Ale pie with your carvery.

It doesn't matter where you go in the world, chances are you'll bump into someone you know; don't ask me why, it's just one of those weird things! Amber Sound 107.2 FM's boss and breakfast DJ Chris Knight was also at The Seven Stars to fill his boots. Many moons ago, His Nibs and I used to do the community diary events slot at this fantastic local radio station, so it was lovely to catch up with Chris and all that's been happening at Amber Sound FM.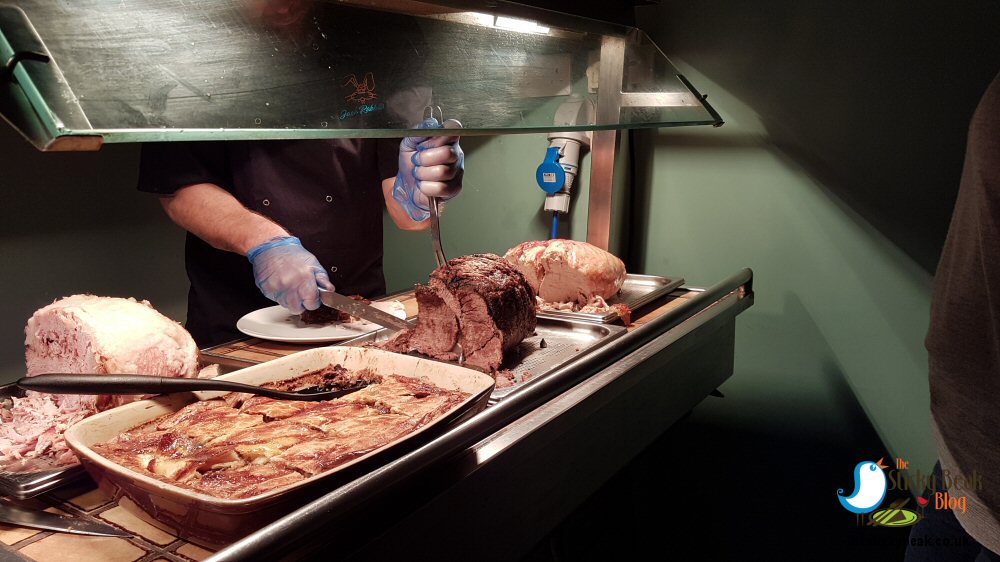 We made our way over to the carvery counter where Matt had got the roast Beef, Turkey, and Gammon joints all laid out, as well as the Steak and Ale pie and the vegetarian and vegan offerings. Unsurprisingly, The Man Bird and I had decided to "go large"; well, they do say go big or go home don't they?! Matt carved us generous slices of each meat and then gave us a good slab of pie to go with it, and popped the homemade Yorkie on the plate too.

All that remained was for us to make our way along the counter, loading our plates up with stuffing balls, sprouts, carrots, mash, roasties, peas, cabbage, and cauliflower cheese. Across the way stood a big vat of homemade, meat-juice gravy (made to Matt's partner, Terri's, late mums' recipe) and dishes containing mustard, cranberry sauce, mint sauce, apple sauce and horseradish cream. I had a bit of horseradish and mint sauce, and then larruped loads of the drool-inducingly great smelling gravy over the entire lot!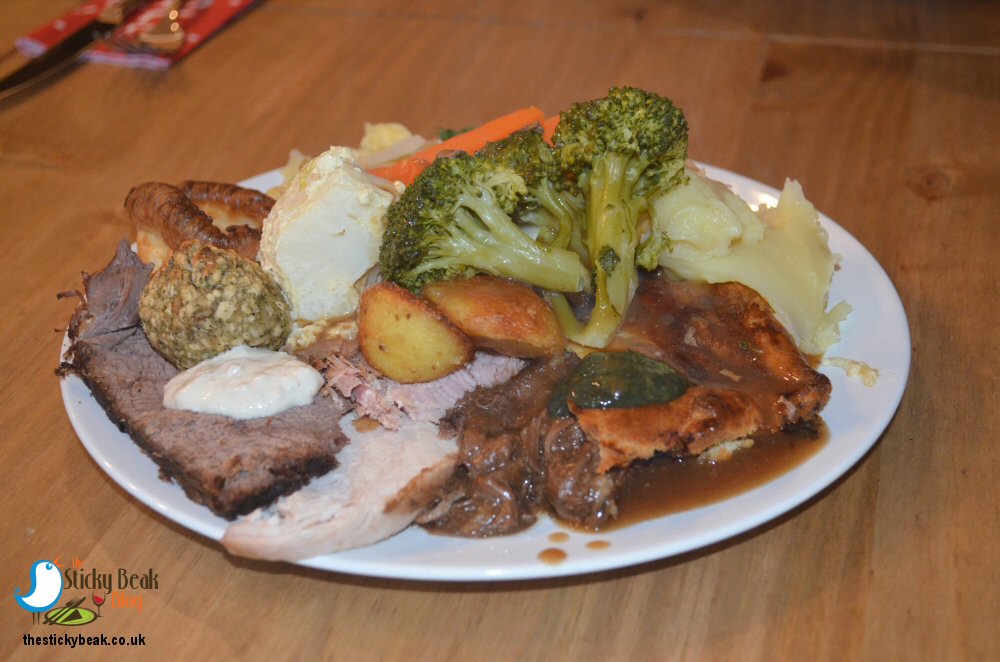 With such a wide selection of yumminess to tuck into, it was hard to know where to start! I decided to try each meat in turn, just to check that they'd all been cooked well – and I'm happy to confirm that they were all moist and juicy, not dried out at all. The turkey was lovely and creamy in taste, the beef beautifully deep in flavour, but the gammon was the stand-out cut for me. Matt slow cooks the gammon joint in coca-cola and studs the skin generously with cloves, too. Cooking it this way results in a gorgeously tender, lightly sweetened morsel that melts on your tongue, releasing that glorious warm, spicy Clove note as it does so – we were both instant fans of this!

No-one can deny the god-like status a proper pie holds in the British collective psyche, and Matt makes his own Steak and Ale pie with the reverence it deserves, if the taste of it was anything to go by! This was seriously good food, not fancy; it let its quality speak for itself. Underneath a thick, golden, crisp pastry top were masses of lovely chunks of tender meat, all cocooned in a thickened ale-enhanced sauce-cum-gravy. My Nana (god bless her) would've called this a "put hairs on your chest" pie and it was a magnificent belly warming offering that I could've eaten over and over and over again.

Matt knows his stuff when it comes to veggies too; no bitter tasting, soggy sprouts here, just lovely semi-firm ones instead with a nice gentle sweetness to them. The mashed potato was ultra-smooth and gorgeously buttery, in contrast to the crisp, golden roasties that you could help yourself to as many of as your heart desires. Humble garden peas released their sweet notes in the mouth, as did the orange-glazed carrot batons that had been scattered with fresh chopped herbs to enhance their beauty.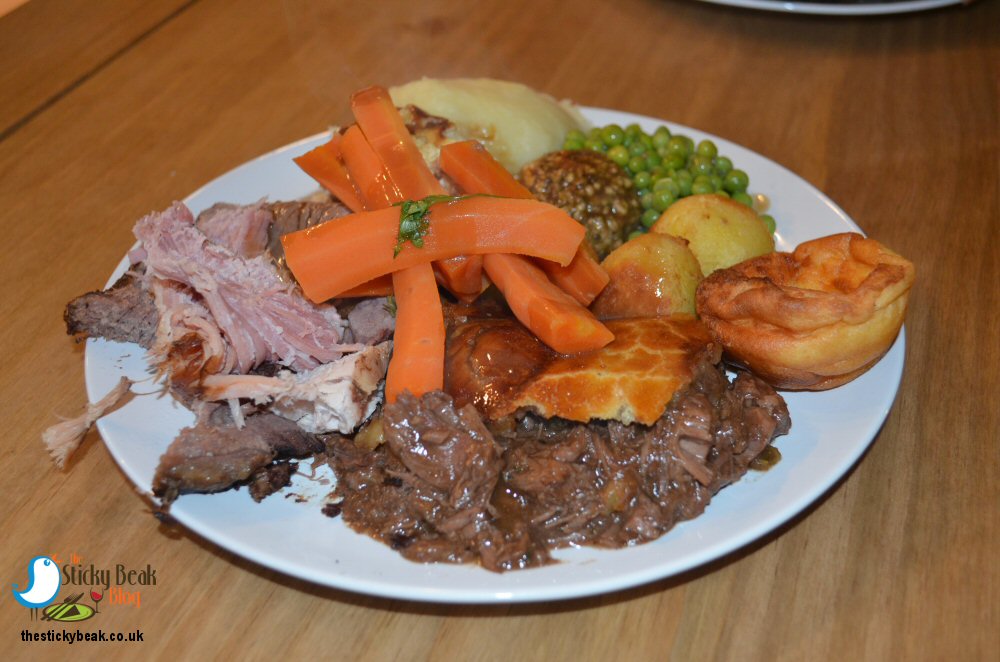 Cabbage is often eschewed, thanks to it being over-cooked by school dinner ladies; generation after generation has been scarred from childhood, and consequently doesn't cook it for the next. Go to the Seven Stars pub in Riddings and have one of Jack Rabbits' Sunday lunches and you'll change your mind; Matt's white cabbage had crunch left to it without being too firm and chewy. White Cabbage often misses out to its more glamorous cousin, Red, (especially when it gets zhuzhed up with spices and currants) but it had a surprisingly mellow sweetness to it that holds its own with no embellishment needed.

I love Cauliflower Cheese and I was won over by Matt's homemade version. Instead of using a wet cheese sauce, you just get perfectly cooked florets of Cauli topped with oodles of melted cheese that form an intense-tasting crust; a simple but effective way of doing this side dish. The key is to use ample quantities of cheese though; it just wouldn't work if you were stingy with the dairy element.




It might be picky of me (moi? Picky??) but stuffing has got to be cooked spot-on; too dry and you feel like you're eating sawdust, too wet and it's just a claggy mess of breadcrumbs and herbs. Matt's stuffing balls were perfect: crisp outers that weren't hard or burnt, and beautifully yielding inners that were cooked all through but still soft. Yorkshire Puddings are another cornerstone of a Sunday Roast that can make-or-break the experience, and they come in all guises. Depending on my mood, I sometimes like them resembling skyscrapers; other times I want something more manageable. Matt had clearly given the matter some thought and favoured the smaller sized Yorkie, figuring that they're easier for little family members (and older ones) to get to grips with and cut up.

Every self-respecting Sunday roast deserves to be completed by an equally good pud, and Jack Rabbits offer a quality choice of New York Cheesecake, Lemon Meringue or Treacle Sponge; all priced at £4.45 and accompanied by your choice of Ice Cream, Cream or Custard. I decided to try the New York Cheesecake (with pouring cream) and The Man Bird opted for Treacle Sponge with custard.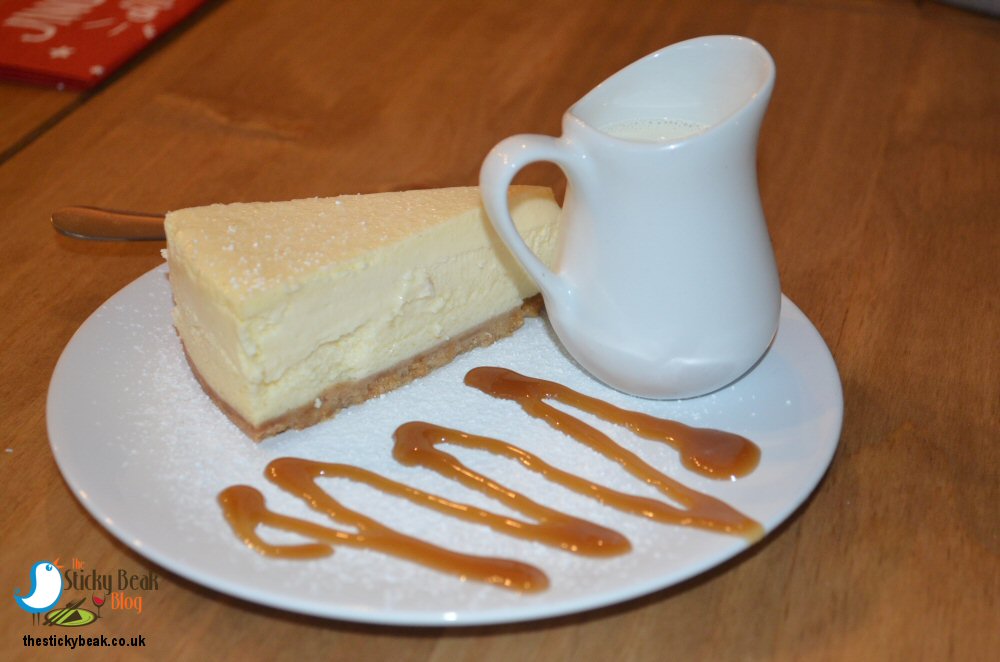 The Man Bird was a very happy Chappo with his Treacle sponge; it had a lovely light texture, rich with a strong treacle taste that hit the sweet spot. Better still, it was a pleasingly generous portion. The plentiful, creamy custard was piping hot and lay like a sunny blanket over the sponge – not for long though; His Nibs had soon gobbled it all up!

I'd sort of had my choice of pudding made for me; The Man loves his sponge puds (so I let him have that, like the good wifey I am) and I can't have Meringue, so it was the Cheesecake almost by default. I do believe that things happen for a reason though and Lady Luck was shining on me on this particular day. A lot of cheesecakes are artificially sweet in my opinion; to my mind they should have a sour twang to them that laps at the edge of your palate, and that's exactly what Matt's one had. Texture-wise it was lovely and light, not cloying or heavy at all and there was a good amount of it for me to enjoy.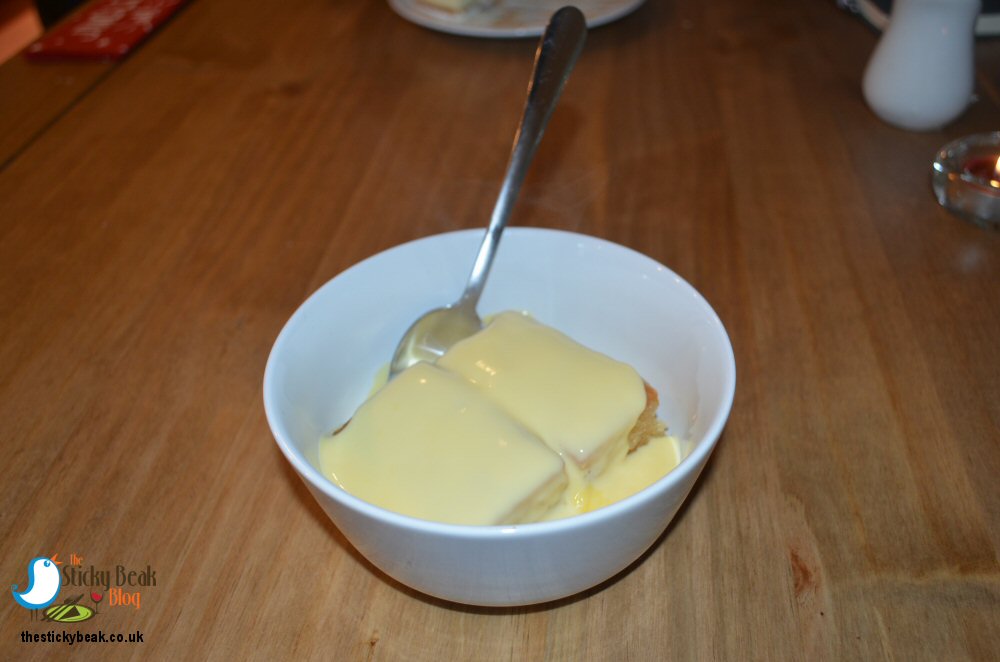 The swirls of Caramel sauce that decorated the plate provided the sweet element, but keen not to cancel the sublime sour note, I gingerly dipped my fork into its honeyed hue. The cream comes in a separate jug so you can add as much or as little as you like, and I surprised myself by exercising some self-restraint and not using it all!

No mistaking that our tummies had been well and truly filled; we rolled out of The Seven Stars like the greedy little Weebles we are! Every mouthful had been delicious, hot and plentiful and certainly good value for money. It's not fancy pants by any mark, but it's very well cooked, good, honest grub and the staff at The Seven Stars are all super-friendly. Hot Wings given to this dynamic dad-and-daughter duo!!

Contact Details For Jack Rabbits
Some form of incentive was provided to visit this venue
read more