Sunday Lunch At Hide Burger Bar in Derby
---
Published On Thursday 19 Dec 2019 by Sticky Beak
See Recent Dining Out Reviews | See All Recent Reviews


No matter how organised I try to be, there's always something I forget when it comes to Christmas present shopping; every year, without fail. We'd had a marathon session at the Intu centre, list in hand, pen at the ready to tick items off one by one and then the inevitable happened: I got distracted, and it all went south. The result was that one present got missed all together, although it wasn't the disaster His Nibs had thought, because I needed to exchange a couple of bits after they'd been tried on.
Anyhow we did all the necessaries in the morning and then went to hide to try out their Sunday lunch menu, something we haven't done before; we've done bottomless brunch and had evening burgers, but not Sunday lunch. Martyn (the owner) and Chef Gary were busy in the kitchen when we arrived and the smells emanating from there were making my mouth water - and that's before I even sat down!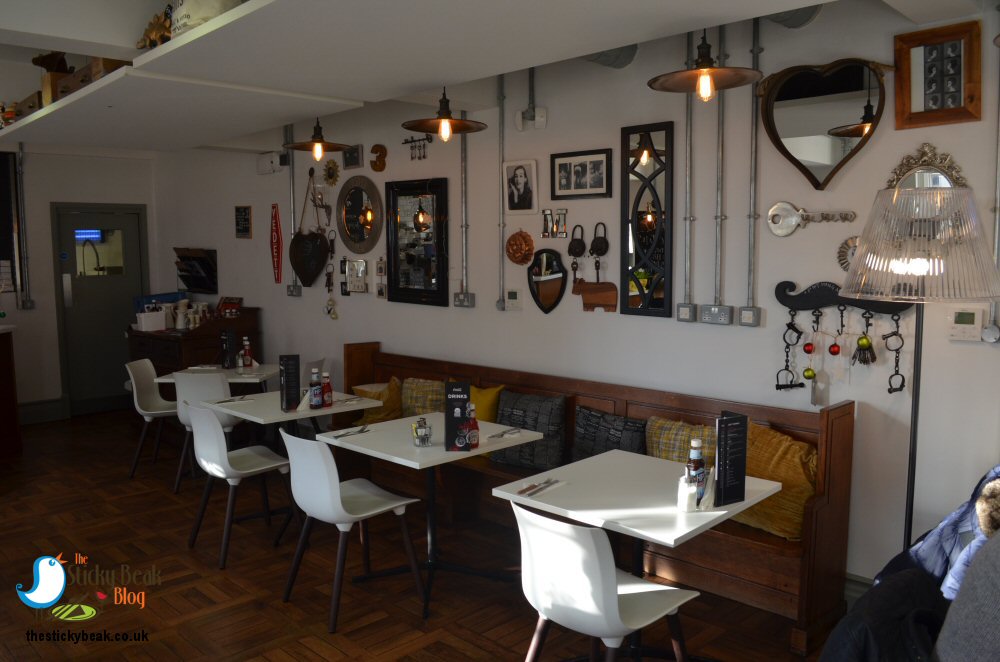 If you've never been to Hide before, you'll love the quirkiness of it; there's a fab collection of vintage food and beverage containers, mis-matched prints and keys all arranged on shelves or mounted on the wall. The colour scheme is very neutral so you don't get visual overload, but the homely comfort factor is amped up with the addition of plump cushions to pop behind you on the bench seats.

Having got us seated, our lovely server took our drinks orders and left us to peruse the menu for a few minutes. The Sunday lunch menu is simply priced: 1 course is £11.95, 2 courses are £16.95 and 3 courses are £22.95 – all prices are per person.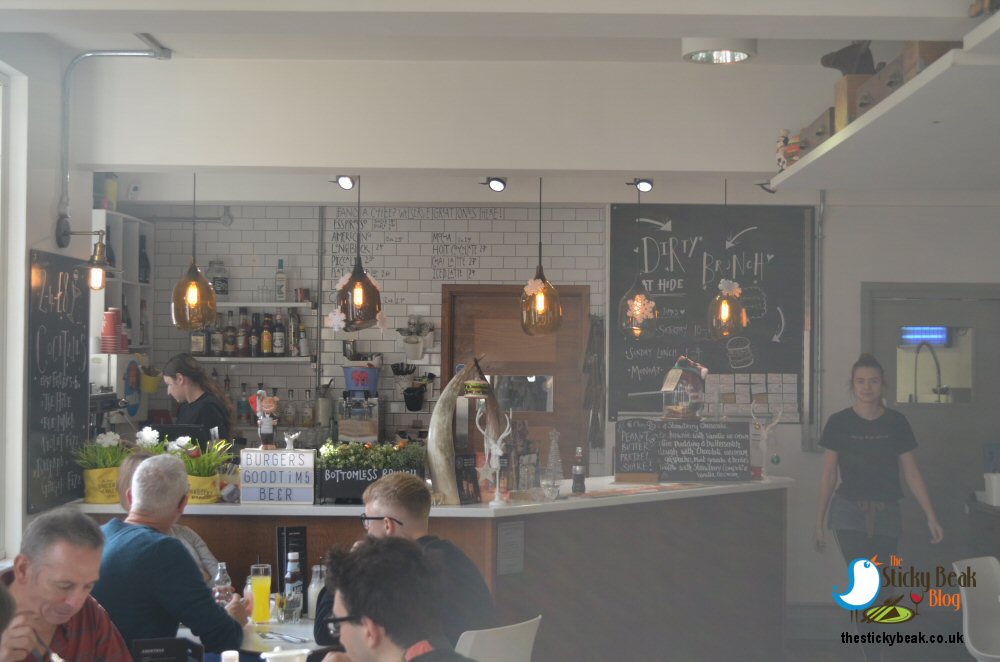 Much as the oven roasted Camembert with Garlic Ciabatta and Chutney appealed, the memory of Camembert-gate in Chesterfield 48 hours earlier was still too fresh, so I opted for the Vodka-infused Smoked Salmon with Lime Crème Fraiche and Caviar to start with instead. The Man Bird chose to kick his meal off with Parma Ham, Balsamic Peaches and Mozzarella, which sounds lovely doesn't it?

For once, the sun was shining and it was nice to feel it warm my skin as I sat back at sipped my glass of Malbec. Finally I could say that the Christmas shopping was done, so I relaxed and enjoyed the moment with my handsome hubby. When our starters came, they looked beautiful; clearly Chef had taken his time over the dishes that left his kitchen.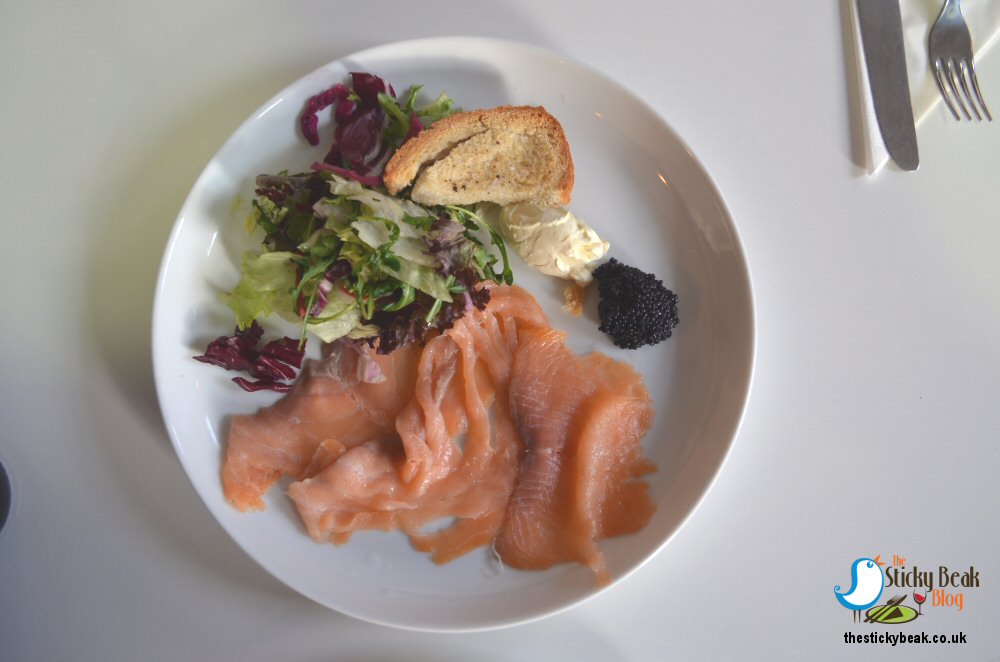 I had plenty of Smoked Salmon to tuck into; the thin slices felt like silk in my mouth and I savoured their fragrant flavour. There was a fantastic zing from the Lime crème Fraiche combined with a gorgeous creaminess, and then my palate got treated to an amazing Ozonic, salty tang from the black beads of Caviar! I get why a lot of folks don't like Caviar, it isn't subtle at all and the sensation of it popping in your mouth when you bite into it doesn't float everyone's boat. Personally, it reminds me of popping candy, albeit a salty version (!), so I really like it.A nice garnish of mixed leaves dressed the plate up just so, and there was a good mix of colours to give this dish a lovely visual appeal.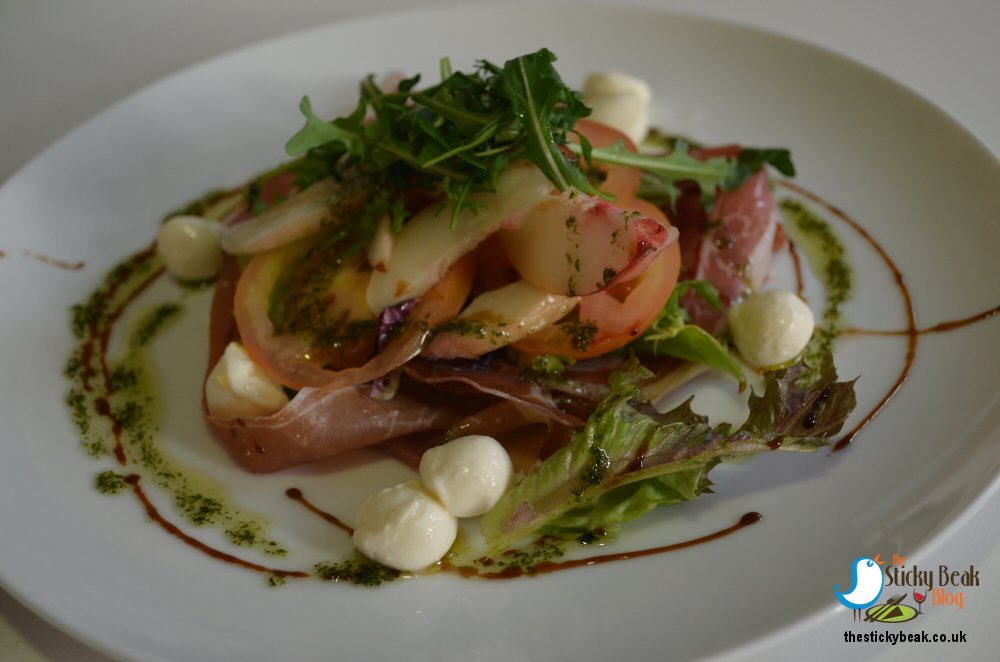 The Man Birds' starter was just as super; finely sliced Peaches nestled among slices of Parma Ham, and dinky pearls of Mozzarella were artfully placed around. Mixed leaves again added some verdancy to the dish and there was the added bonus of Rocket too, so His Nibs had a fab peppery note in his mouth. The peaches were firm to the bite and had that delicious balance of sweet/tart that always gets the juices flowing in the mouth, and this was assuaged wonderfully by the mild creamy Mozzarella.

There is something hypnotic about the taste of Parma Ham; alongside the sweet and salty notes is the mesmerising combination of lean and fat that simply melts in the mouth. Add to that its succulence and moistness, and you can see why this delicacy is so popular year-round. Swirls of pesto decorated the plates' periphery, adding its own punchy taste to the party; His Nibs thought this was a great starter and couldn't wait to see what Hide's interpretation of the classic Sunday roast would be.




As far as I'm concerned, now we're in December it's just about Christmas, and to that end I chose the locally sourced Turkey Breast basted with Orange Butter as my main course meat; The Man stuck to his British guns and had the Great British Roast Beef. All Hide's main courses on the Sunday roast menu come with roasted root vegetables, crispy roasties, gravy and Yorkshire Puddings.

My curiosity had paid off and Hide didn't disappoint in their spin on the roast dinner: the Yorkie Pud was halved and formed a 'burger bun' casing for the mash, meat, roasties and parsnips! Love it! The vegetables came in separate dishes: Broccoli florets, Carrots, Red Cabbage and even homemade Cauliflower Cheese.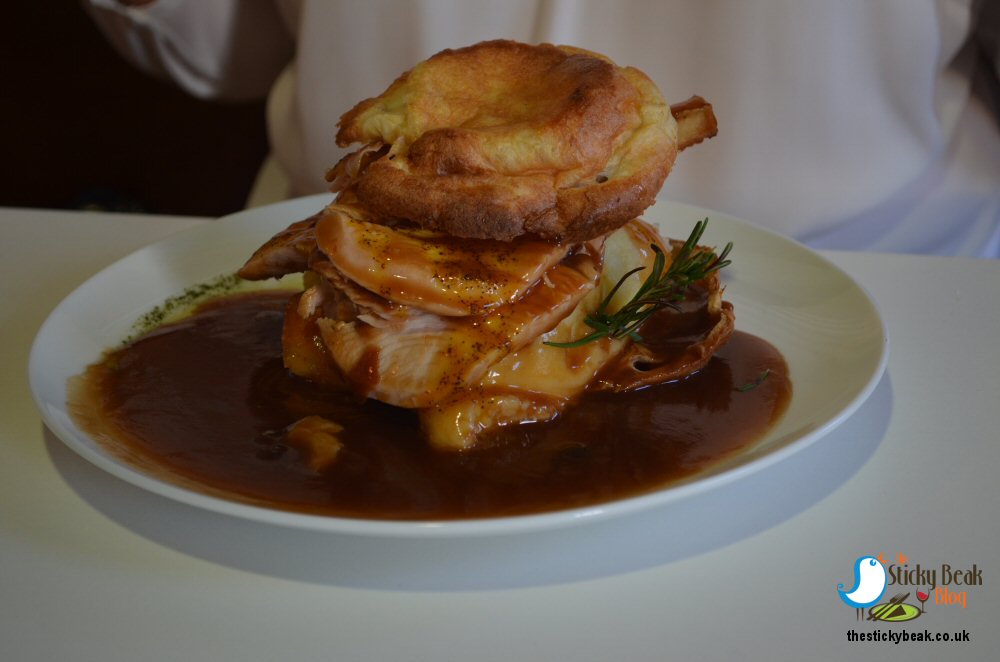 My Turkey was carved into thick slices and their moistness was superb; sometimes Turkey can be easy to dry out, but no chance of that happening in Chef Gary's hands. Martyn was the genius behind the Black tea and Orange glaze, and I have to say that this was a really clean, zingy glaze that popped against the poultry. His Nibs' Beef was equally tasty and plentiful, so we were a pair of happy campers.




We both liked the twist on the mash too. Now don't get me wrong, I love a good, ultra-smooth mash – there's nothing worse than lumpy, bumpy mash – but I have to say that the 'crushed' potato mash that Hide serve is stunning. Clearly you have bits of Potato still in there among the smoother stuff, but it didn't taste like lumps; don't ask me how they do it, but they do it well! It was gorgeously buttery too, and indulgent, which it should be for this iconic British meal (in my opinion).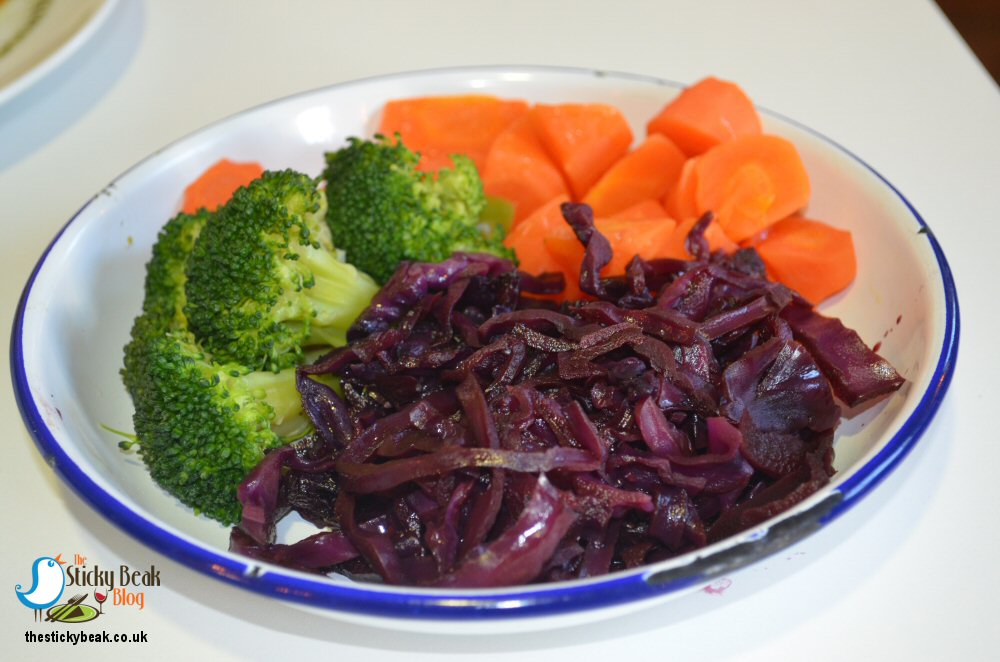 All the veg was cooked perfectly al dente to retain that bit of crunch in the mouth, apart from the Red Cabbage which was lovely and soft and comforting. The Cauliflower Cheese was extremely good; as familiar as a favourite friend or teddy bear and just as pleasing. We both liked the homemade white sauce base, it wasn't claggy or obviously floury and it had lashings of cheese added to it for flavour. As a final flourish, a good layer of cheese had been cooked to golden perfection on the top and provided a nice crust to crunch into.

Yep, this was one good Sunday lunch, no doubt about it. The other good thing about Hide is that nothing is rushed: let's face it; nobody needs to be rushing around on Sunday, do they? Great food served at a relaxed pace, in a fab venue with a superb ambience = one amazing Sunday lunch experience.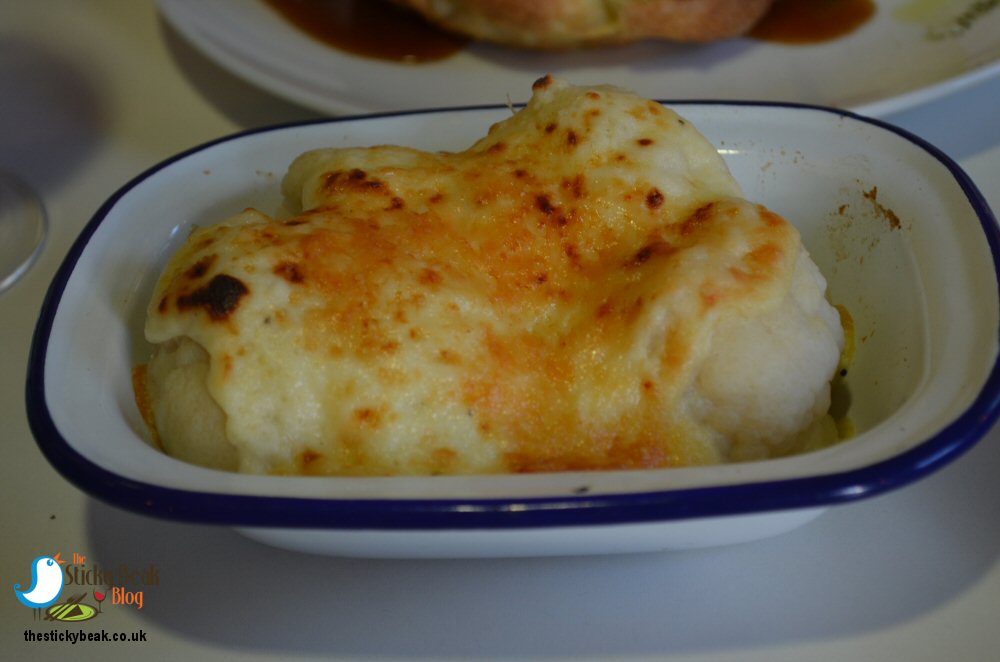 For pudding I had the Pineapple Gazpacho with Mint Granita and berries, and The Man had Cookie Dough with Chocolate Ice Cream (which is cooked fresh to order, so there is a little wait of about 15 minutes).

The Pineapple Gazpacho was the perfect end to my meal; it was tasty, light and refreshing. Serving this simple dessert in a Gin goblet really showed off its gorgeous golden tone and I thoroughly enjoyed the bright taste of the Pineapple as I spooned it into my eager mouth. Tiny verdant flecks of Mint could be seen twinkling in the granita and it just bounced on the palate cleansing it nicely along the way. There were plenty of fresh Raspberries, Strawberries and Blueberries to tuck into as well, so I was certainly going to be hitting my 5-a-day target at Hide!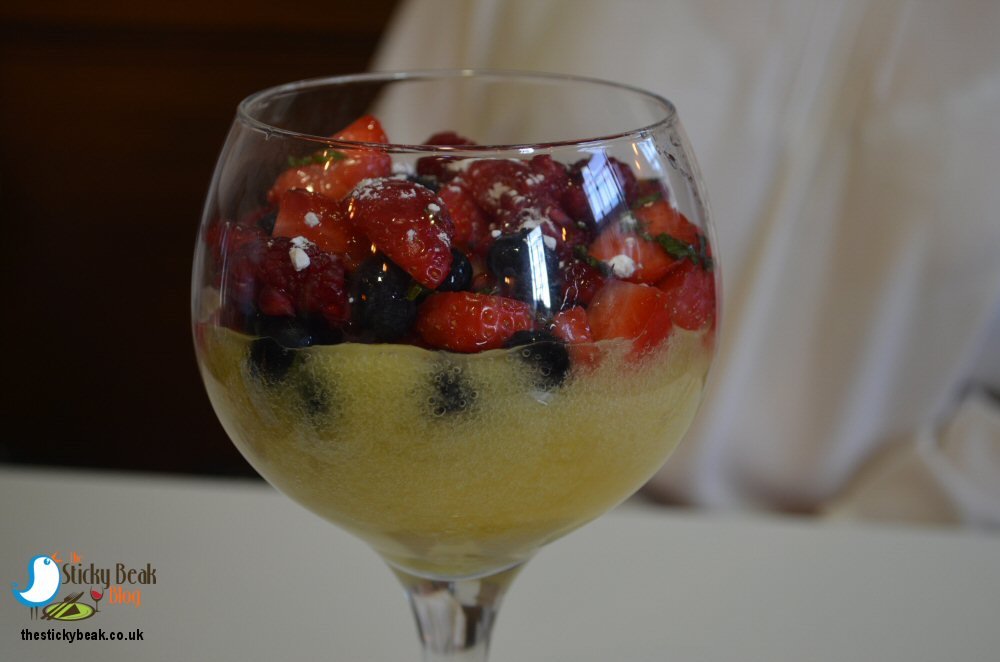 His Nibs was well chuffed with his choice of pud. Imagine the chocolatiest, gooiest morsel in the world and multiply it by ten!! This was a seriously indulgent dessert, packed with taste and very rich – but not particularly heavy on the tum. The heat of the freshly cooked Cookie dough melted the milk chocolate Ice Cream into streams of liquid yumminess, and The Man spooned them up greedily. It's a good job calories consumed in December don't count is all I can say!.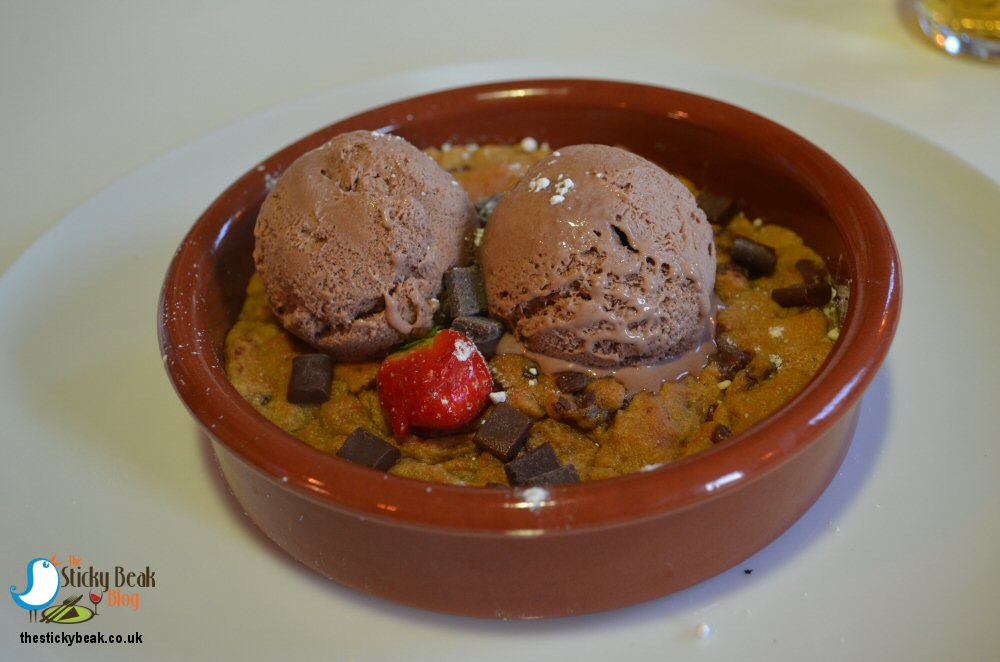 Throughout the meal various team members had come over to check that we were ok for drinks etc. and to see that we were satisfied with our food. Nothing was too much trouble for them and they made our visit a very pleasurable experience. I'm more than happy to award Hot Wings to Martyn and his team, they know their stuff.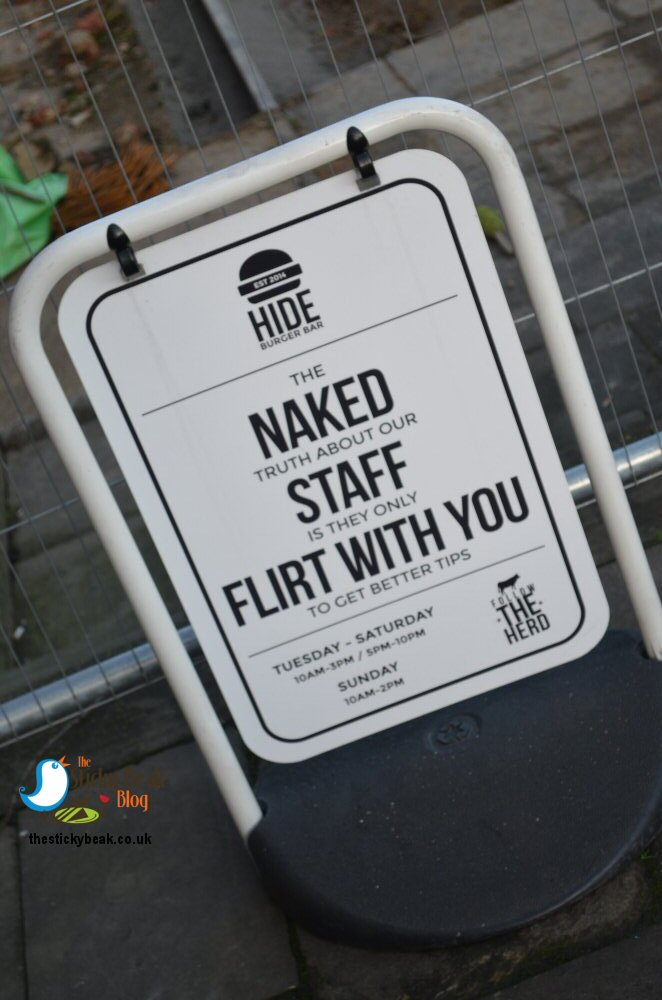 For those of you looking for something a little different to eat, you'll be pleased to know that from 23rd December 2019 Hide are opening on Mondays! The Monday sessions will see them offering a Caribbean menu with the food cooked by their Jamaican Chef, Colin. Dishes will be like nothing Derby has seen before; full of authentic, traditional Caribbean dishes. Simply give the team a call to book your table – and enjoy!
Some form of incentive was provided to visit this venue
read more