Dinner At The Lily Pad Cafe & Restaurant in Chesterfield
---
Published On Sunday 15 Dec 2019 by Sticky Beak
See Recent Dining Out Reviews | See All Recent Reviews


It's been a while since The Man and I were out in Chesterfield, so when the invite to try the new dinner menu at The Lily Pad came through, we jumped at the opportunity. Those of you who live and/or work in Chesterfield will no doubt be familiar with the cafe opening for breakfasts and lunches; it also won the Cafe and Tea Room of the Year award at the Chesterfield Food and Drink Awards a couple of months ago.
The Lily Pad has recently had a refurbishment throughout, thanks to the Chesterfield College Group who owns the business, and it looks clean, modern and welcoming now. Neutral tones of cream, soft grey and duck egg blue are the mainstay of the venues colour scheme, accented with teal and dark navy blue on doors and scatter cushions. A lovely warm glow is cast across the open plan eaterie by the feature lights and the main light levels come from discreet recessed ceiling lights.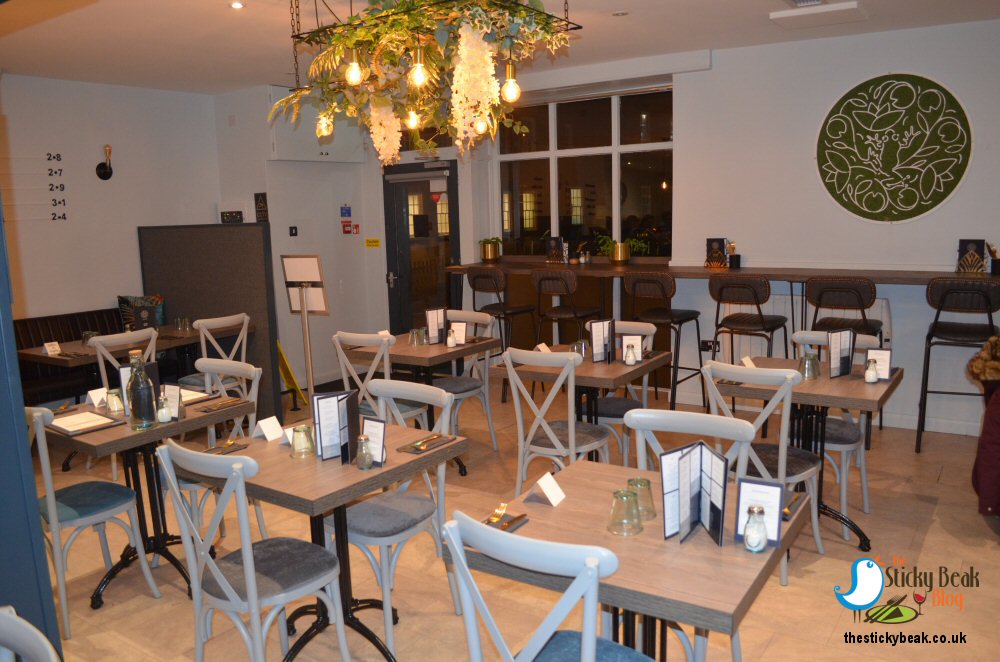 There's a nice space between each of the square tables, all of which are simply set with navy, good quality paper napkins and contrasting gold-toned cutlery. We were seated at one of the tables that have an aged-look brown banquette seat at the back and teal upholstered free standing chairs, opposite the bar area. Along the front side of The Lily Pad is a counter and stools that give a great vantage spot for some people watching during the day.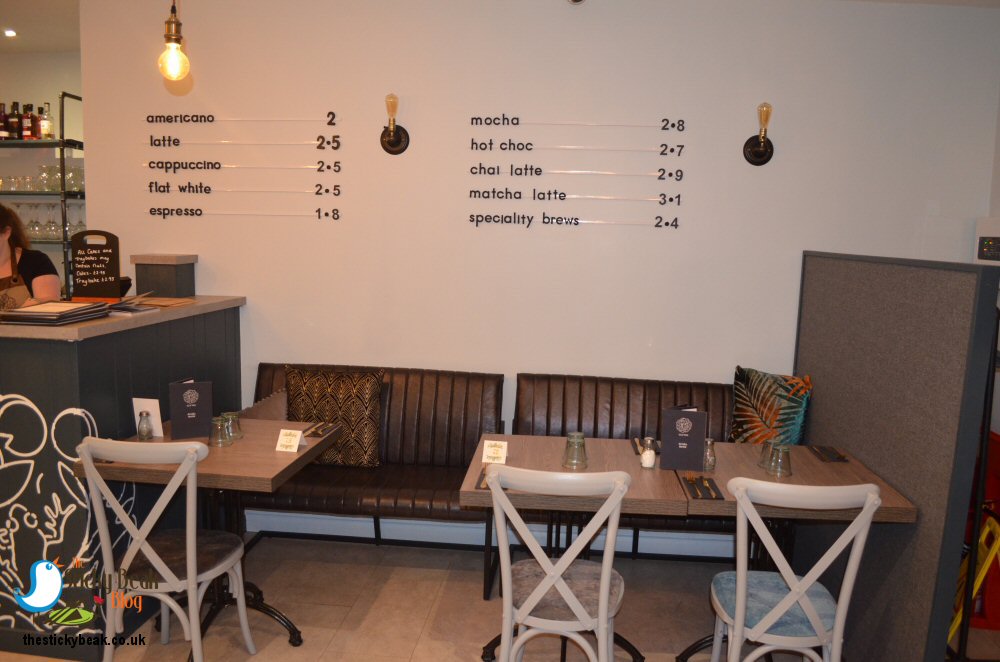 A lovely lady came and sorted our drinks out for us and another member of the young team came and placed the amuse bouche before us: Goats Cheese Beignet with Beetroot Ketchup. His Nibs and I eagerly tucked in to the morsel, delighting in the contrast between the soft, musky cheese and the uber-crunchy, fried crumb coating. The ruby toned Beetroot ketchup was delicious too, releasing a super earthiness onto the palate. There was also a large carafe of chilled water and glasses on the table: a nice touch, as it saves you having to ask.

Head Chef, and Lily Pad Manager, Ryan Purrington has been at the helm for four years now, having previously worked at prestigious venues such as Morley Hayes, Rowley's (now the Prince of Wales) and The Peacock at Rowsley. Young apprentices and Chesterfield College students certainly learn their craft under such good tutelage in the kitchen, and there's no better way to learn than dealing with the public in a front-of-house role. One such person was the lovely young lad who came to serve us with our starters: baked Camembert topped with savoury Granola for moi (£8), Macaroni Cheese Arancini with cafe Ketchup (£4) for The Man.




I'm going to confess to being an absolute dufus here; I made the rookiest of rookie errors and ordered the Camembert solely for myself, thinking (!) that it was for one person as it didn't say it was a sharer. Did the cost (about twice the price of the other starters) not give me a clue, I hear you wonder? Nope, not really – I just assumed that it was costlier because cheese generally does cost more when you eat out. I was feeling hormonal: that's my excuse, and I'm sticking to it! It was a normal sized Camembert, so clearly enough to share; good job I'd done two classes at the gym earlier in the day! Thankfully the yumminess soon made my stupidity a distant memory (to me at least!); the cheese was melty, warm and super-creamy and I loved the crunch and nuttiness that came from the savoury granola. A good tangy relish really gave things a buzz in the mouth and there was plenty of griddled, lightly oiled slices of bread to scoop everything up.




The Man Bird was chowing down happily on his trio of good sized Arancini balls, grinning as he did so. You could hear the crunch coming from their outers as he bit into them and the Mac 'n' Cheese filling was soft and warm: perfect winter comfort food. The cafe ketchup had a real zing to it, giving the taste buds 'summat t' really latch on t'' and warming the belly too. His Nibs commented on how nicely this had been presented on the plate as well. As we'd been munching away, members of the team came over to check that everything was to our liking, make sure we had enough to drink, and generally looking after us.

As the young chap came to clear away the plates, another member of the team placed fresh cutlery and napkins before us after she'd given the table a quick wipe down. No faulting the level of professionalism and customer care here, that's for sure!

Thanks to the weather being blooming cold outside, I was in the mood for some good, filling, no-nonsense comfort food, so I ordered the Braised Ox Cheek with smoked Mash, Carrot, slow cooked Shallots, Gremolata and red wine jus, priced at £14. The Man couldn't decide between the pan fried Lamb Rump (£16), the Crispy Cornflake Chicken Burger (£10), or the Miso-glazed Pork Belly and Vermicelli noodles (£16); eventually he did eeny-meeny-miny-mo and the Pork Belly emerged as victor. We'd both spotted the loaded swine fries and couldn't resist the sound of them: sweet potato fries topped with BBQ pork, melted cheese, jalapenos, crispy shallots, sour cream and Sriracha hot sauce for a fiver.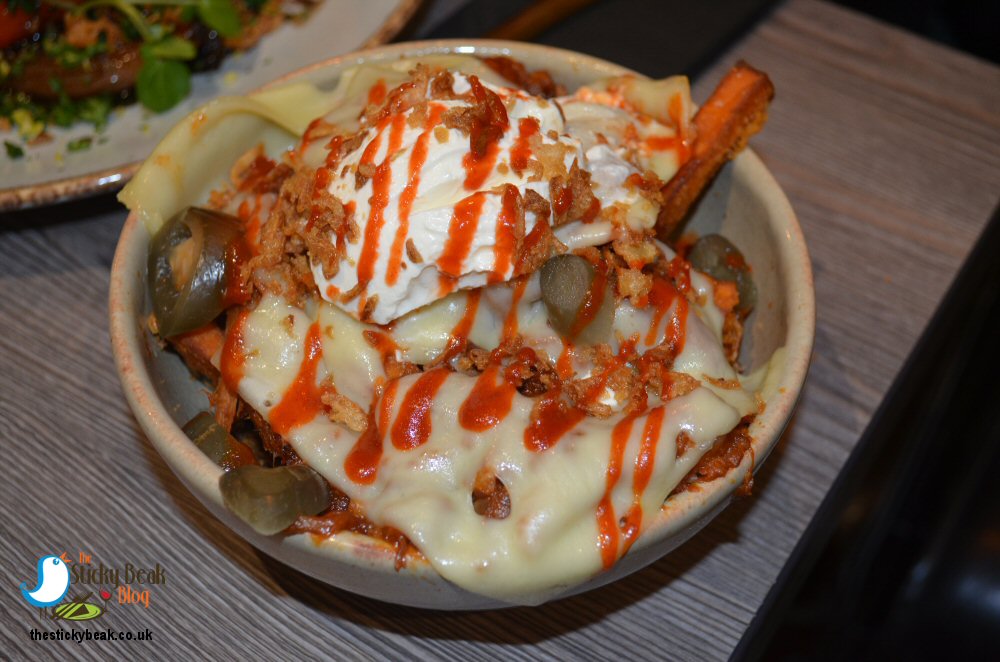 Turns out that the loaded swine fries were a meal in themselves! Chef Ryan certainly doesn't skimp – there were loads of gorgeously soft sweet potato fries, all snuggled under a thick piggy blanket of pulled BBQ pork and waiting to be gobbled up Jalapeno peppers and Sriracha hot sauce added a hefty slice of fire and spice, nicely balanced by creamy, cooling sour cream – the proper thick sort. Normally you get grated cheese that melts subtly over fries, but let's just remember that we're in Chez-Vegas and nowt gets done by halves here! A wodge of cheese had been laid over the pork and fries and grilled to oozy, melty perfection. This dish has it all going on (waaaaay better than Stacey's Mom!) and gets a double thumbs up from us.




My Ox Cheek was everything I hoped it would be: tenderer-than-tender, full of rich flavour and plentiful. Best still was the layer of 'meat candy' on one side of it – I love the intensity of this concentrated meatiness, and its smoky stickiness. The marvellously smooth mash had a gentle smoky note to it too which popped against the sweetness of the roasted Carrots. Shallots always yield their softer side when cooked slowly, and these ones were gorgeous; gently sweet and yielding in the mouth. The rich red wine jus and fresh, bright notes of the Gremolata worked brilliantly together to really fill the mouth with layers of flavour. I really enjoyed this dish, it was a great hearty option that warmed me and satiated the appetite.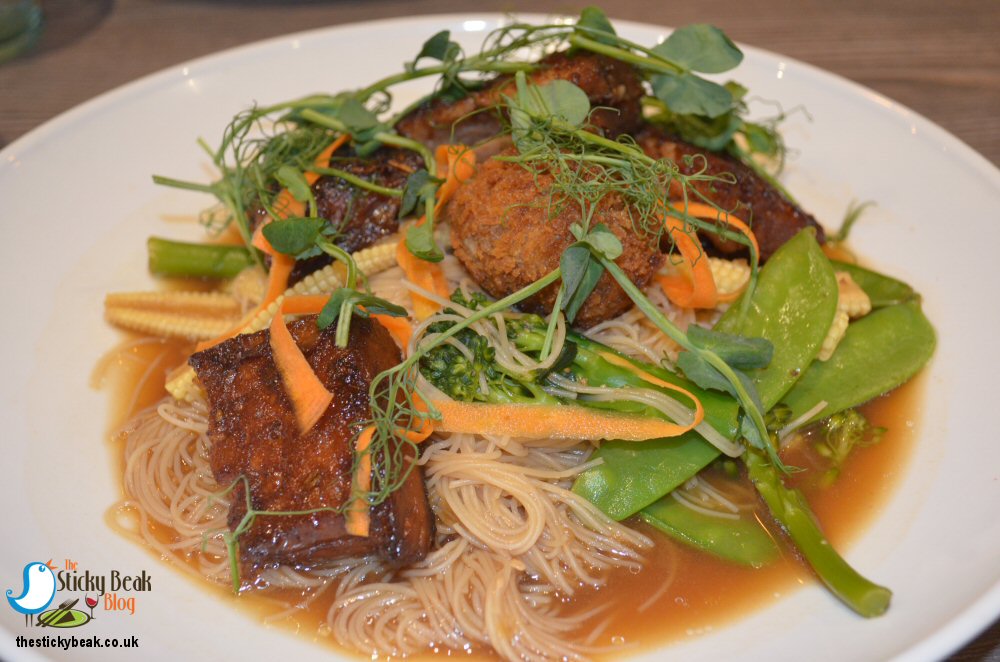 His Nibs was just as chuffed with his choice of main course, cutting through the crispy skin and revealing ribbons of mild, creamy pork underneath. There were four good pieces of Pork Belly to tuck into, all nicely seasoned and spiced and plenty of thin Vermicelli noodles too. There was more Miso broth to enjoy and he did so as he worked his way through the crunchy vegetables: baby Sweetcorn, Mange Tout, pickled Carrot and Tenderstem Broccoli. A plethora of Pea Shoots had garnished the top of the dish and His Nibs loved their clean taste as he munched his way through them.

Our lovely servers had kept checking back on us and were happy to take a pair of clean plates back to the kitchen. I don't know what on earth possessed me to order pudding after the gluttony of Camembert-gate, but I just couldn't resist the sound of a Charcoal Hotcake. I think curiosity got the better of me, in all honesty – I did manage to order it just for one though (£5.50), not the sharing option (£10)!! The Man opted for his fave; Sticky Toffee Pudding with caramelised Pecan nuts, sauce and Vanilla Ice Cream (£6).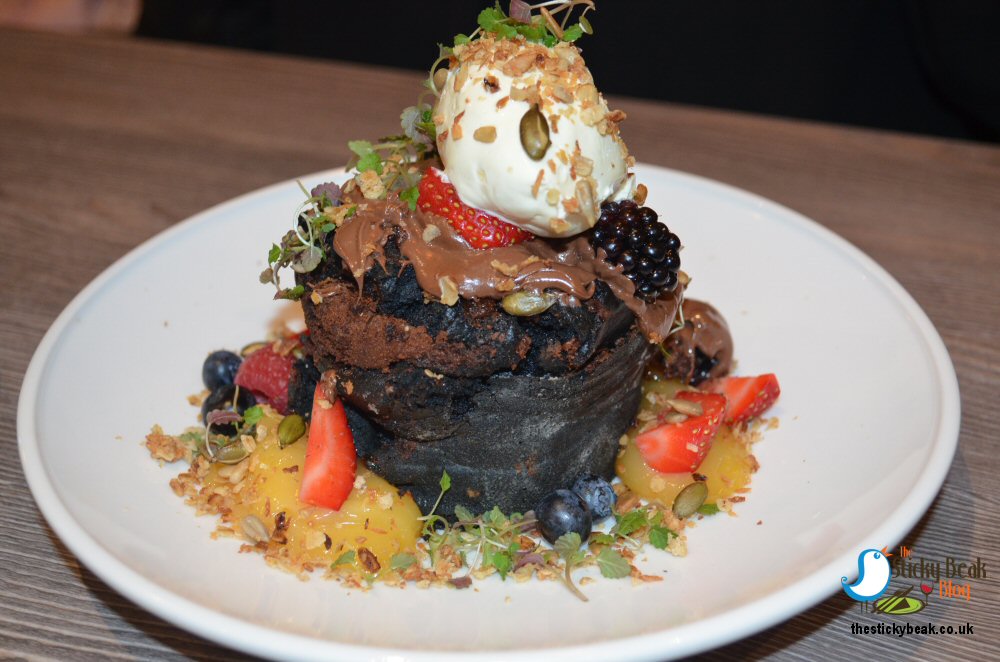 The Charcoal Hotcake is made fresh to order and takes about 20 minutes – perfect, as it gave me a bit of a breather! When it came it was a proper beast and I knew there was no way in hell that I was going to be mistress of it; I gave it my best shot though. Charcoal looks dramatic but it doesn't have a taste as such and it was so finely milled that any grittiness had gone too, so the cake was nice and surprisingly light in texture. I'm a sucker for Nutella so the lashings of this warmed nutty spread were right up my street and I scooped up every last bit that I could see. It wasn't all boringly sweet though; a brilliantly tart Lemon Curd made its presence known and I got a great hit from the fresh berries (Raspberries, Strawberries and Blueberries) in this dessert too. A bit of indulgence came from the fresh cream slathered all over it and texture was provided by the crunchy granola scattered around. Much as it killed me, I did leave some of the cream and fruit – I'm not unfillable y'know!




Every chef makes Sticky Toffee Puddings differently, and the one at The Lily Pad is a gloriously rich, dark affair with a light smoky note to it, that manages to be satiating but not heavy and the sauce was seriously good – very indulgent. The caramelised Pecans were deliciously sticky and crunchy, adding a fab textural layer to this dessert. For His Nibs the pieces-de-resistance were the chunks of solid toffee; they had the same depth of flavour that the pudding itself had. I liked the toffee too – it kept him quiet for absolutely ages as he chewed his way through the chunks!! #smallwins

Our groaning tummies were testament to the fact that all the food we had was irresistible and delicious.... and plentiful! Hot Wings happily awarded to this team The Lily Pad is open for breakfast and lunch every day except Wednesday (it's closed all day) and for evening meals on Fridays, so please go along and support this great venue.
Some form of incentive was provided to visit this venue
read more