Trying Out The Teppanyaki at WasabiSabi in Sheffield
---
Published On Thursday 12 Dec 2019 by Sticky Beak
See Recent Dining Out Reviews | See All Recent Reviews


Since the Fledgling moved to Sheffield to study, His Nibs, The Tribal Elders and I have (in various combinations) been up to visit on a fairly regular basis. All of us love food – gluttony is in my genes, although I have taken it to a whole new level, I grant you (!) - but Daddy Bird can be a bit averse to new things, so we tend to go first as a 'scouting party' and report back. Mummy Bird jumped at the chance to try something new when we suggested visiting WasabiSabi, a Japanese restaurant on London Road that also offers Teppanyaki, so she came with me, The Man and Chickadee.
WasabiSabi is strikingly decorated in red and black, with oriental lanterns scattered around and garlands suspended from above, which gives it an almost-street feel; that iconic kind of passageway feel you see in films, if you know what I mean. The lady at the front-of-house welcomed us warmly and showed us where we could stow our umbrellas – surprise, surprise, it was raining! The Teppanyaki stations are located on the right-hand side of the venue; the more general restaurant seating is to the left.




The lovely lady got us seated and covered our coats up with a protective cover, just in case there was any rogue bits of food or oil later in the evening that went astray. We ordered our drinks: Pinot for Mummy, Cab Sauv for moi, pint of Stella Artois for The Man, and a bottle of water for Fledge. There was a pretty good selection of drinks to choose from, including some nifty cocktails if they're more your thing – the Lychee and Champagne minx is on my radar for next time we go.




At each seat was a freshly prepared, dressed salad and we tucked in – it was probably intended to be eaten a little later in the proceedings, but we were chewing our knuckles so it got started on pronto! The leaves, cucumber and tomato were all nicely chilled and crisp, and dressed in a lightly tangy sauce. The next starter was Miso soup, presented in a little black bowl with black spoon, and this had a nice taste to it; sweet, salty and umami sensing taste buds were all stimulated. With the non-Teppanyaki starters finished, it was time to see what magic Chef was going to come up with.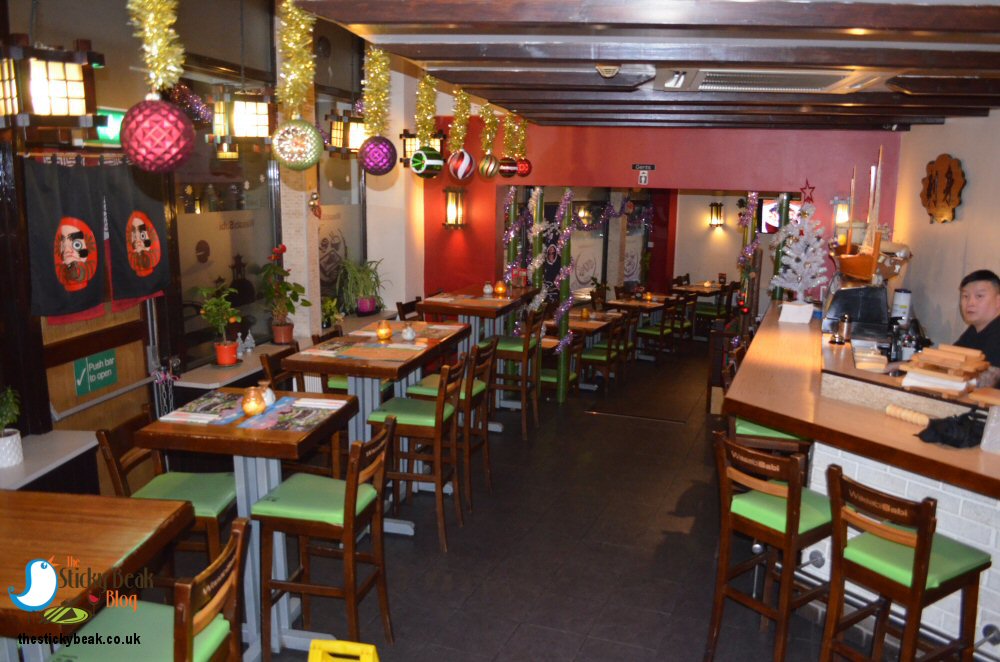 There are two Teppanyaki stations, each seating up to eight people; on the night we went it was arranged as two groups of six. Initially there was just the Head Chef, Daniel, at the stations, making the starters for each party although he was joined by another Chef when it came to main courses and desserts. WasabiSabi offer six set Teppanyaki menus (all named), including a vegetarian one, varying in price from £28.50 - £38.95 per person.




The Man Bird and Fledgling opted for the Sapporo set, Mummy Bird had the Yamato set, and I had the Emperor set. All the menus begin with the salad and Miso soup and then there are differing combinations of meat, fish and seafood to choose from. Chickadee and His Nibs' Sapporo set had Lamb, Duck breast and Chicken breast as their hot starters, Mummy Bird had 2 Jumbo King Prawns, Sea Bass and Salmon to look forward to, and I had Scallops, Sea Bass and a half Lobster Tail.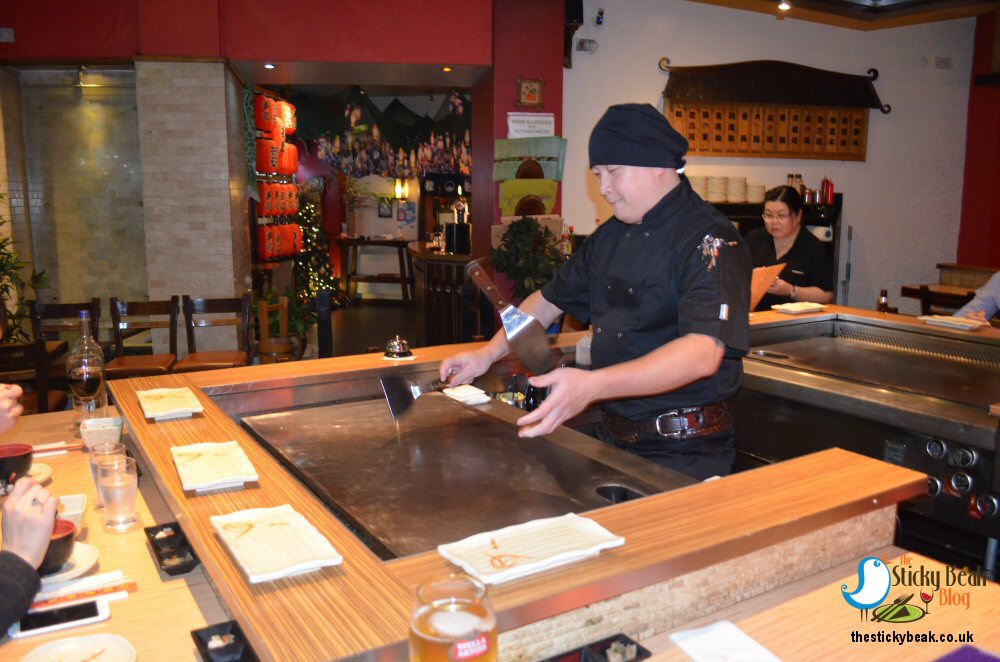 Chef carefully oiled his station, getting it smoking hot before he began to place the meats, fish and seafood on the Teppanyaki grill. At this point we were treated to some incredible table theatre; Chef lit the oil and a massive plume of flame danced towards the ceiling; it was so hot I think I could've toasted some Marshmallows! He asked if we liked Garlic, to which we all replied positively, and the next thing is a large bowl of sliced, roasted Garlic being delved into and plentiful amounts of its contents also being placed on the hot surface! With sharper-than-sharp implements, Chef sliced the produce into smaller bits, seasoned them and began to cook them – all the while playing a musical tune on the metal blades!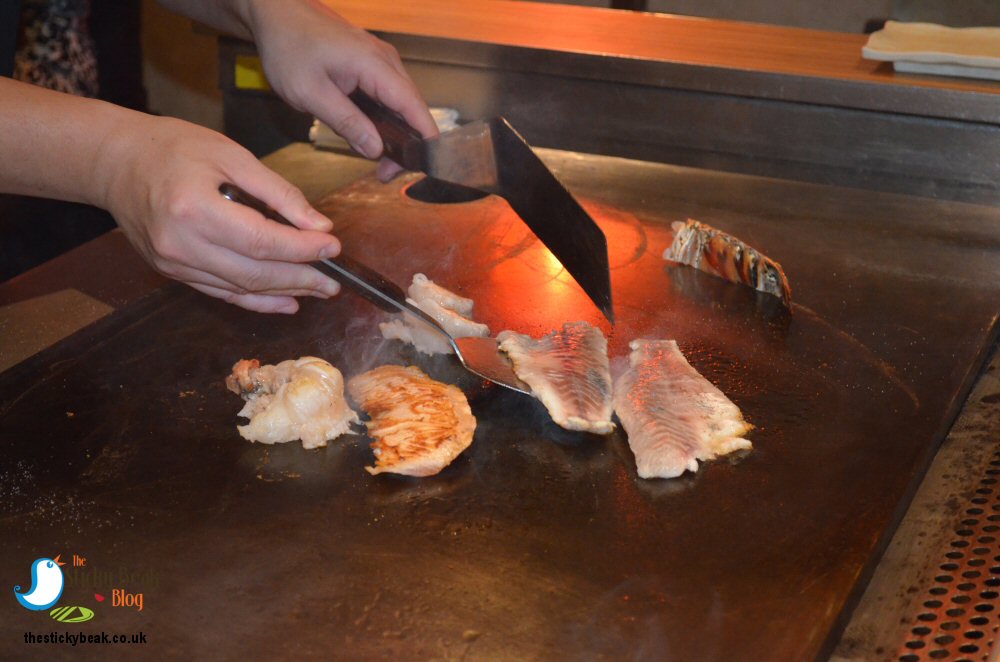 Chickadee isn't the greatest fan of Lamb or Duck, but she was amazed by how good it tasted; gently seasoned to enhance its natural flavour without being at all spicy, incredibly tender and lip-smackingly juicy and flavoursome. Praise indeed from my discerning gal. The Man Bird was in full agreement and I have to say, after trying a bit of each for myself, that it was a hat-trick of hearty "jeez that was amazing" 's.




Mummy Bird and I both loved the Seabass fillets that we had, again they were juicy and moist; you all know that I hate dry, over-cooked fish, and I don't know how this delicate morsel wasn't overwhelmed by the intensity of the heat – but it wasn't. The Man doesn't do 'fishy fish', but Mummy Bird said he'd like her Salmon; he was reticent until I tried a bit and assured him that he would enjoy it. Tentatively he took a little piece and tried it; the look on his face told me all I needed to know: he liked it, and the fact that the Salmon didn't taste strongly of, well, Salmon. I have told him time and again that fresh, good quality fish doesn't have a strong taste, although I don't think that he would've believed me had he not had the same experience with Chef Alan Underhill at the Cavendish Hotel. Equally yummy were the plump, soft Jumbo King Prawns on Mummy Birds menu, and I defy anyone not to savour the sweetness of the Lobster that I had the pleasure of eating.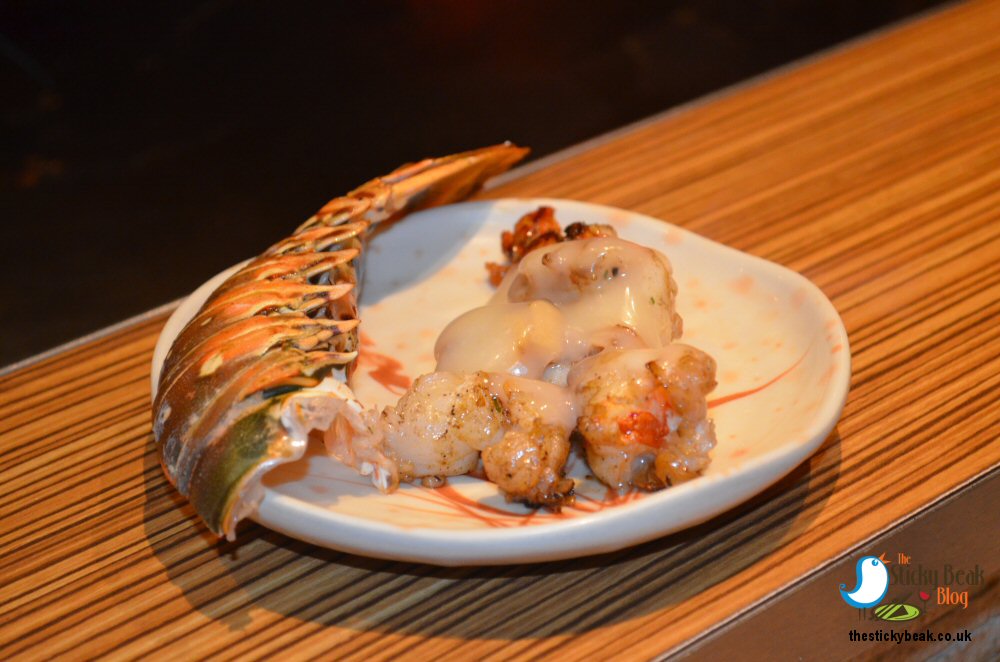 Each menu (with the exception of the vegetarian one) comes with egg fried rice and mixed vegetables as accompaniments to the meat and fish elements of the main course section, and it was to the egg fried rice that Chef turned his attention next. We were all treated to another bit of table theatrics in the form of egg juggling! Said eggs then duly got cracked straight onto the hot-plate and mixed together, turned into an omelette and chopped up finely to go into the ready-cooked rice.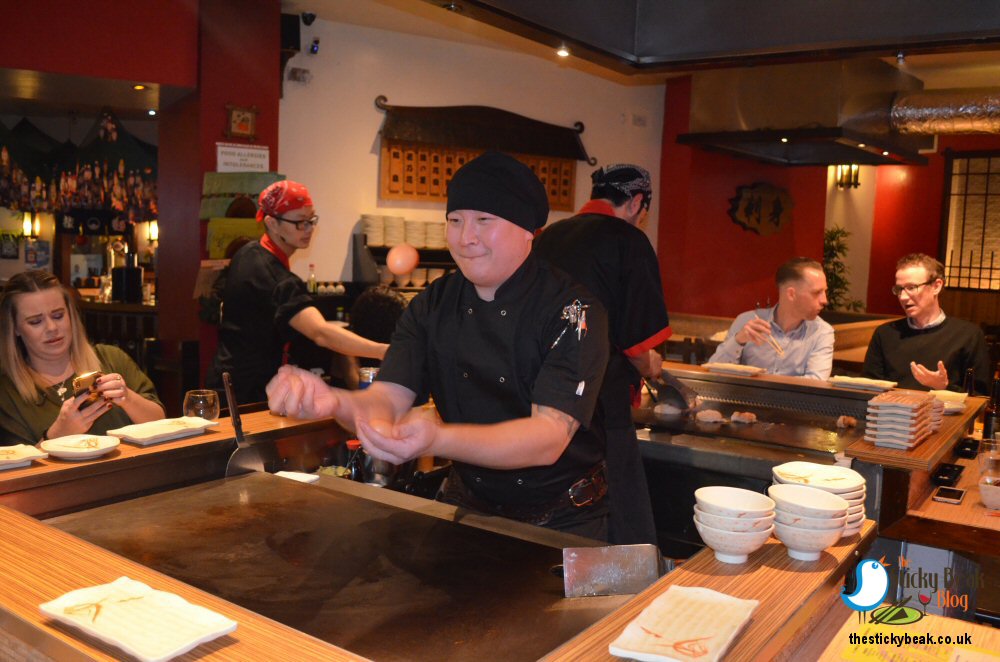 Before the egg got combined with the rice though, it was our turns to shine. Chef Daniel popped pieces of the omelette onto his metal knife and tossed them into the air; we simply had to open our mouths like baby birds and catch it! Thanks to his incredible hand/eye co-ordination, Chef had made it so that literally we didn't have to move in order for the egg to fall into our eager mouths. The pile of rice was duly seasoned and then scooped into bowls and handed to us. You're never going to get egg fried rice fresher than this, and boy does it taste superb; piping hot, soft and fluffy and decidedly moreish.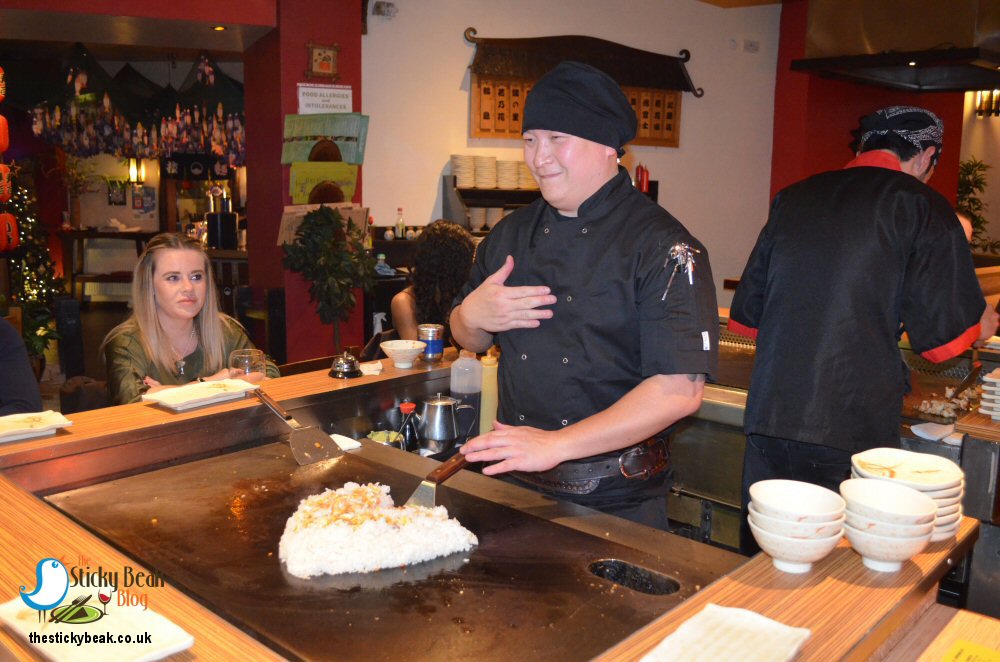 All four of our chosen set menus feature Steak as their main course meat; Sirloin in the Sapporo set, Hibachi Fillet in the Yamato and Emperor sets. Japanese Black Cod is also a main course feature on the Emperor set, and one of the reasons I chose this particular menu; I'd previously had Black Cod (not a member of the Cod family at all, actually) at Chino Latino in Nottingham and fallen in love with its silky texture.




As with the other meats, Chef speedily and precisely cut them into smaller pieces and set about conjuring up delectable morsels for us to enjoy. No surprises when I say that the steak was just flipping incredible, both in terms of depth of taste and texture. As you would expect, the Sirloin was detectably chewier than the Fillet, but I really am splitting hairs because both were delicious; mine and Mummy Birds' palates were buzzing. The Japanese Black Cod was completely different to the fillet I'd had previously, due to the different cooking modes used, I guess.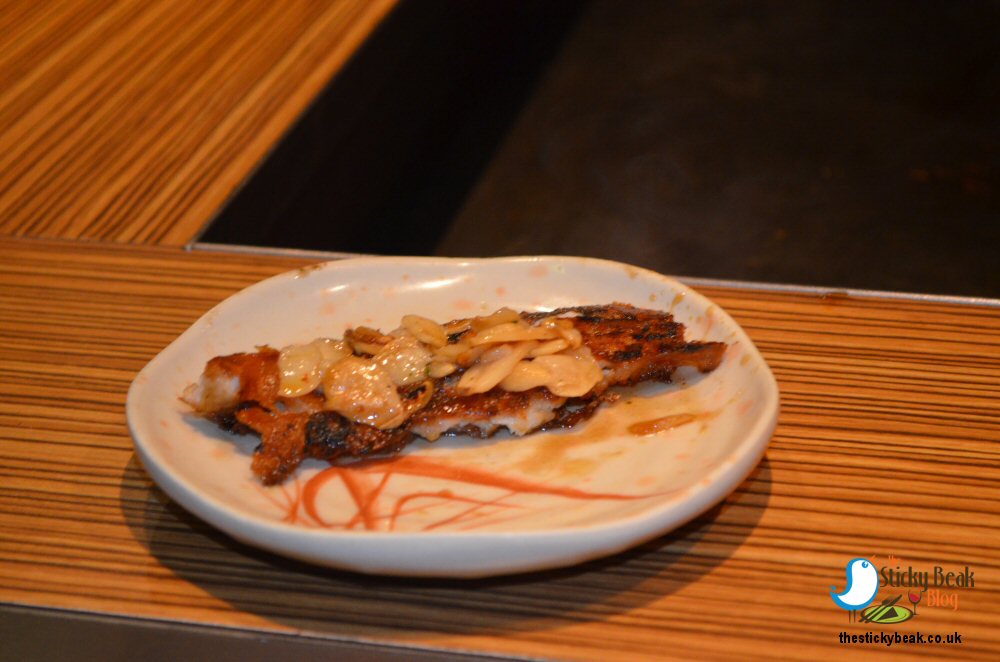 At WasabiSabi, Chef placed the fish skin down whilst he was starting to gather the vegetables together for our final piece of the banquet, and then flipped it over to reveal crisped skin that I couldn't wait to try. The contrast between the silky, creamy tasting flesh and the crunchy, charred flavour of the skin was superb, you literally couldn't have wished for anything bolder. On balance, I would've liked the fish fillet to have been a little thicker, just to provide more of an impact against the skin which was the more dominant taste.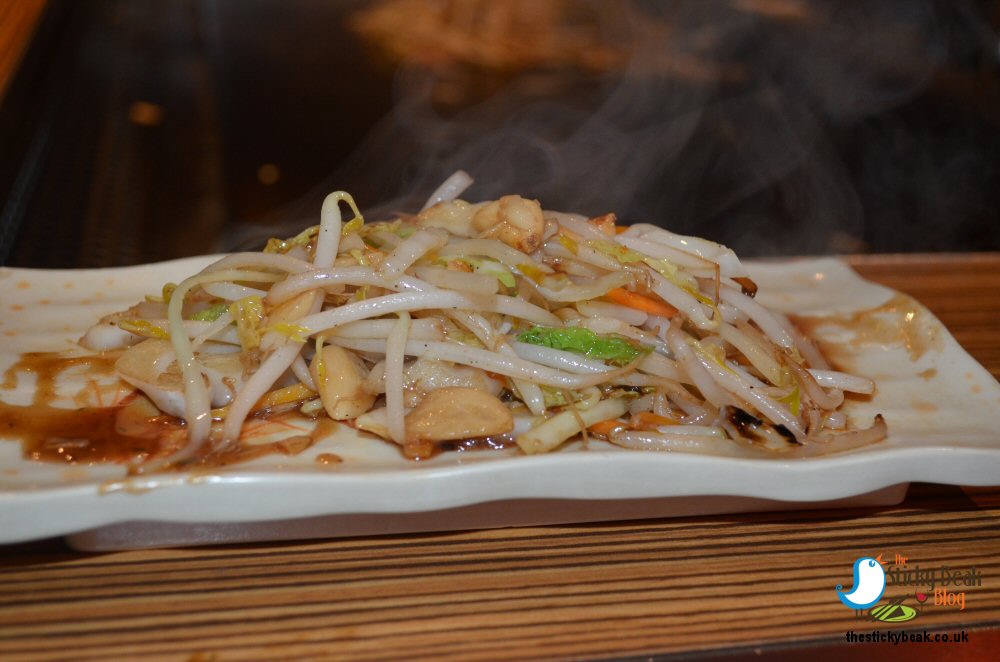 All that remained of the main course was the mixed vegetables and looking at the massive tray of shredded cabbage, carrot, onion and Beansprouts it was hard to imagine that this was just meant for six people! As we all know though, vegetables do tend to shrink in size somewhat during the cooking process and as Chef Daniel quickly moved them across the scorchingly hot surface they did indeed lose some of their volume. They were gorgeously crunchy and refreshing on the palate, making them the perfect finale for the savoury section.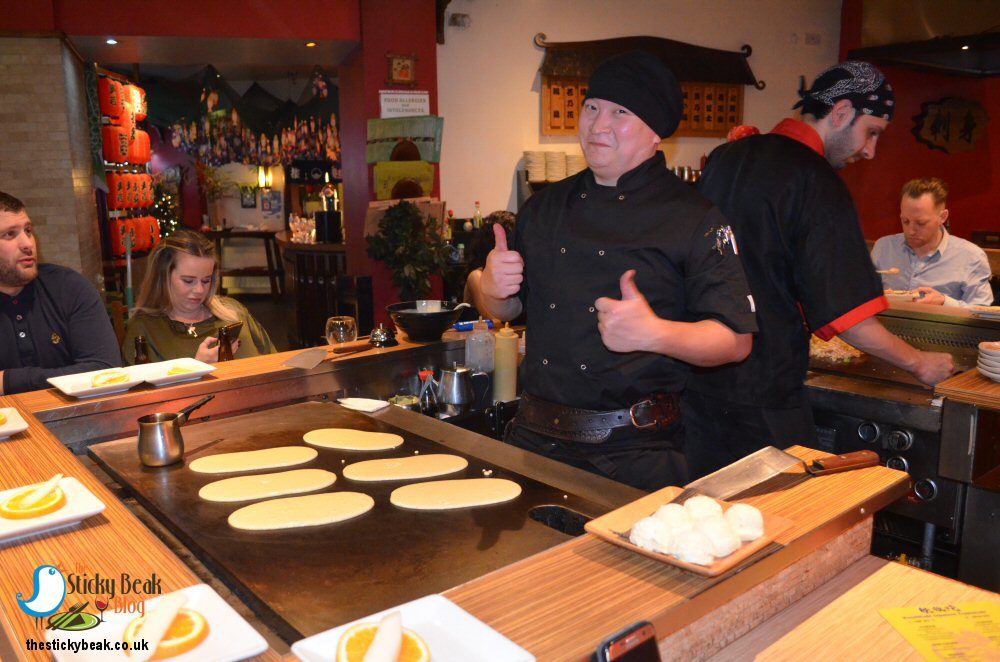 Now you may not think that WasabiSabi Pancake with Ice Cream sounds like a particularly thrilling dessert, but I've said it time and time before that sometimes it's the simple things that are tastiest. To paraphrase a well-known advert: this is not just a pancake, this is a WasabiSabi pancake; it was freshly cooked, light textured and had a nice cakey/doughy taste to it that was beautifully comforting. Combined with a simple scoop of vanilla Ice Cream, this was an unfussy, classic dessert that was appreciated by all the diners.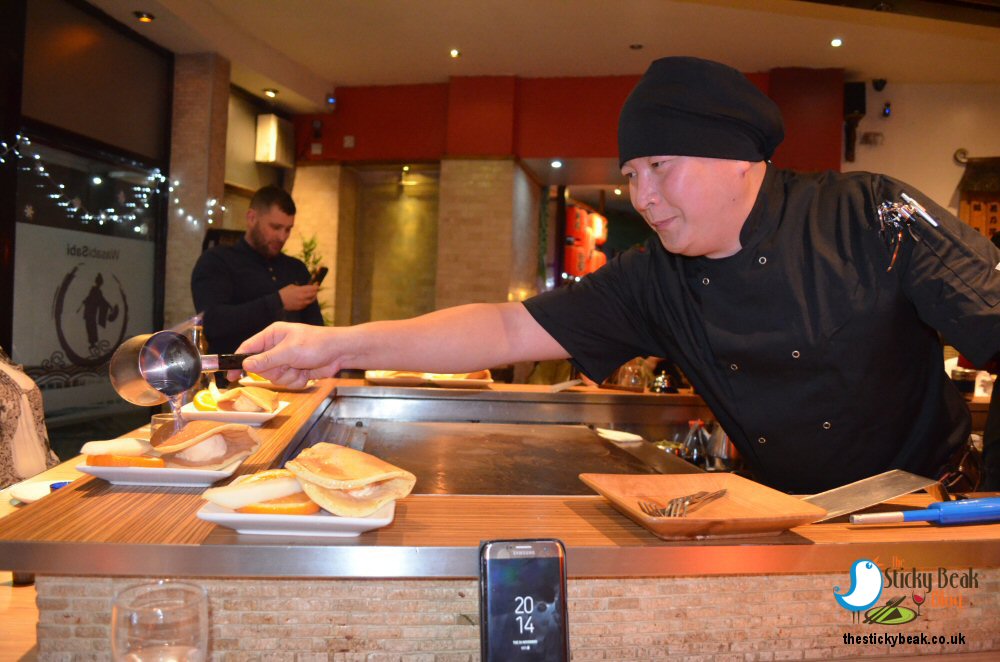 A choice of Green Tea or Coffee brought things to a close - as well as a shot of Palm Wine for my Flock! - and what a fab evening it had been. Hot Wings, although not as hot as the Teppanyaki grill!, happily awarded to this incredible eaterie and its hospitable, talented team.

WasabiSabi is open every day except Sunday and serves a lunch menu Noon-2.30pm Tuesday-Friday. During the week WasabiSabi is open for dinner 5.30pm-11pm, and Friday and Saturday 5.30pm-11.30pm. The Teppanyaki experience is available Tuesday-Saturday 6.30-9pm and requires a £10 deposit per person to secure your place. I would definitely ring ahead to book, given the fact that places are so limited for the Teppanyaki and the restaurant itself is pretty popular too.
No incentive was provided to visit this venue
read more