Sunday Lunch At Fahrenheit @ Genting Riverlights, Derby
---
Published On Wednesday 11 Dec 2019 by Sticky Beak
See Recent Dining Out Reviews | See All Recent Reviews


If I write Sunday --------- and leave a blank space after, what would you put in it? I'm guessing (if you're a Brit) that the majority would say lunch/dinner/roast; there's something imbedded in our collective psyche that ties the two together almost automatically, isn't there? I bet that none of you would think to go and eat a Sunday Roast at Fahrenheit, Genting Casinos restaurant, located at the Riverlights venue in Derby though, and you wouldn't be alone because neither would The Man Bird or I!
His Nibs and I have been fortunate to eat at Fahrenheit on several occasions in the past, but it has been a while, and there was a change immediately apparent as we walked through the door to the casino. Previously, there was a bar in the downstairs lobby area and you then went upstairs to reception and had your photo taken etc; now the reception is where the bar was, and a lovely chap greeted us warmly as he did the necessaries.

The immediate bar area upstairs is the same, but there has been a bit of titivating to the casino floor itself. There is now a sectioned off area dedicate solely to slots, which means you go down a ramp onto the casino floor and round a corner to access the toilets, whereas before you literally just went past the bar and turned right to access them.




Fahrenheit is as smart and modern as before, and the friendly team are as eager as ever to please. Katie took us over to our booth table - the same one we used to have - and took our drink orders whilst letting us look at the menu options. I can thoroughly recommend the Shiraz, it is lovely and rounded with lots of fruity taste to it (perfect to go with the Lamb I planned on having for dinner!), and His Nibs was enjoying the pint of Stella Artois that he held lovingly in his hand.

We had been invited along to try out either the two or three course options, priced at £12.95 and £15.95 respectively. If you just want to have the roast dinner as a stand alone option it is £9 per person for Beef, Lamb, Pork or Chicken, and there is also the choice of Fish and Chips, or vegan diners can have a Mushroom Risotto (both priced at £9.95). The roasts all come with homemade Yorkshire Puds, Roasties, Mash, Stuffing ball and seasonal veggies. For those with intolerance to Gluten, Chef can also make the roast into a Gluten free choice if needed.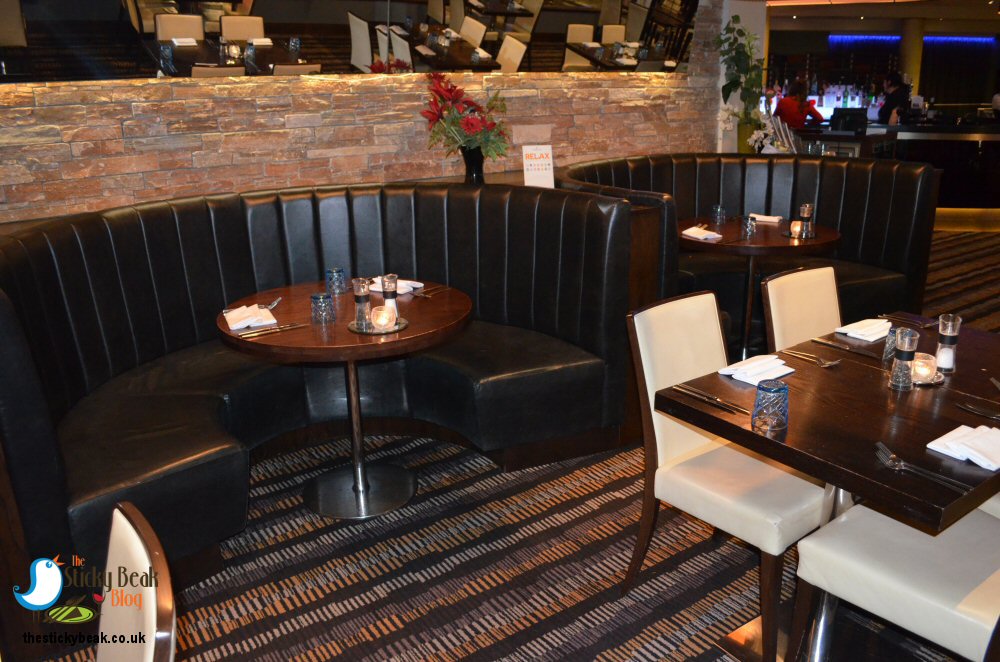 Katie brought over a bottle of chilled water for the table and then took our food orders. We started the meal off with handmade Vegetable Gyoza with Sweet Chilli dipping sauce (me) and Ham Hock Terrine with grilled Red Pepper Chutney and toasted Tomato and Onion bread (The Man); £5 and £5.50 respectively.

The presentation of both starters was excellent; the dishes were beautiful to behold, and we hoped that they were going to taste just as good! My Vegetable Gyozas were arranged in two groups; one at either end of the platter, and separated by a dinky bowl of Sweet Chilli dipping sauce. Each pastry parcel was beautifully golden and crunchy to bite into and was filled with a mixture of just-crunchy Cabbage, Carrot, Chive and Coriander root. The Sweet Chilli dipping sauce had a nice bite to it – not too much, but definitely detectable. I really liked the combination of tastes and the texture was superb too; a gorgeous starter.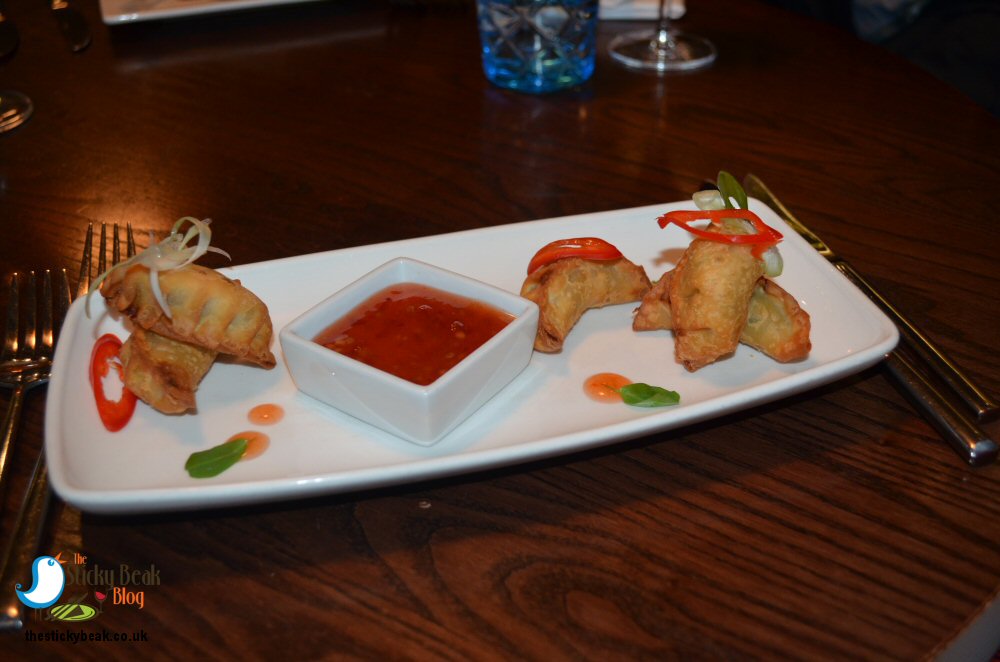 His Nibs really enjoyed his Ham Hock Terrine, and it was lovely to look at with its subtle colour flecks and chunky texture. This was a really tasty morsel; it had a great chew factor, and the ham had a great depth of flavour to it. In contrast to the meaty, herby notes of the terrine, the Red Pepper Chutney had a sweet, smoky character that partnered it wonderfully well. There's nothing more frustrating when you have a Terrine or Pâté than not having enough bread to pop it onto; thankfully, the Fahrenheit team weren't stingy with the Tomato and Onion toast and there was a fab amount on which to slather the terrine and chutney. Happy days! Thinly sliced Gherkins (Dill Pickles) not only added a verdant contrast to the pink meat, they added a great sour edge on the palate too. Another great starter and a surprisingly light one, given its heartiness.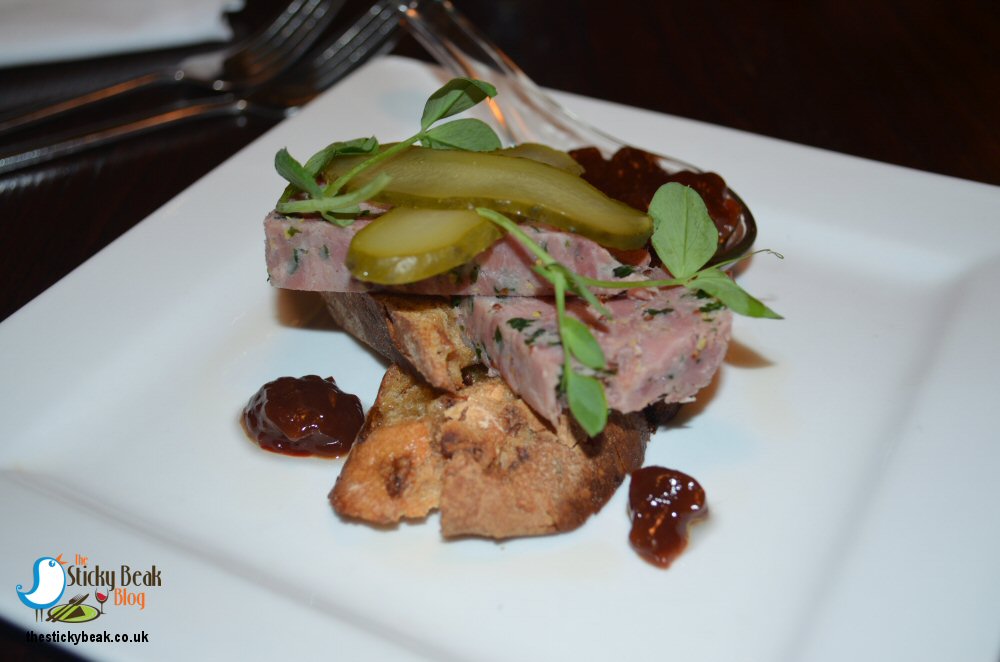 For my roast, I had the Lamb; no prizes for guessing what Him Indoors had: yup that's right, the Beef! Katie was soon arriving back at our table laden with two plates heaving with food. Each plate had juicy, thick slices of the meats we'd selected as well as perfect spheres of Sage and Onion stuffing, large quenelles of glass-smooth mash, plenty of golden Roasties and huge homemade Yorkies. The vegetables also normally come on the plates, but because we'd ordered extra veggies (£2) Chef decided to pop them in separate bowls.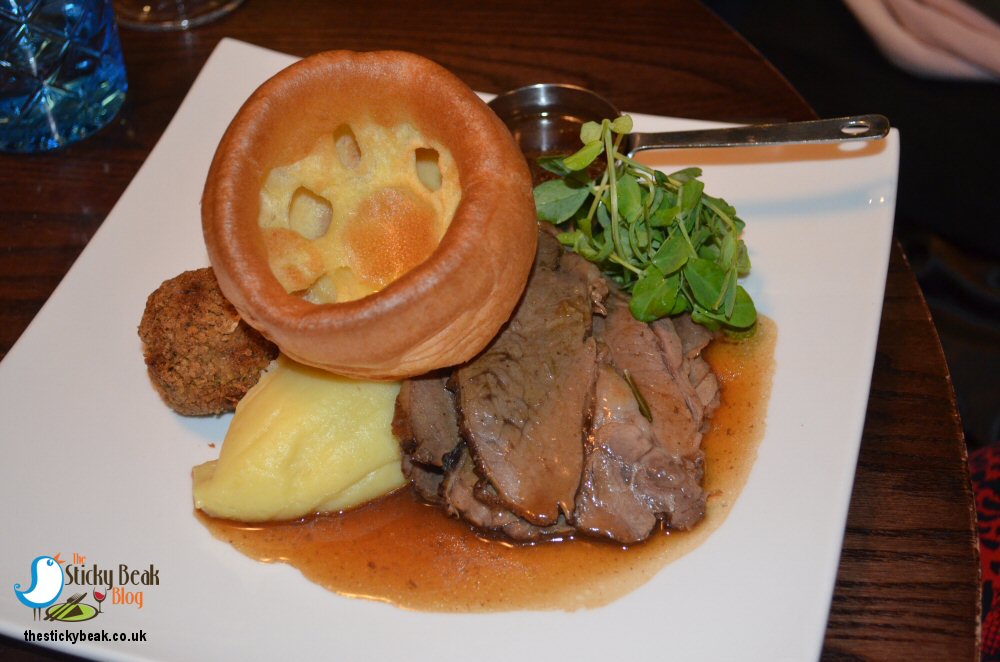 The Carrot batons glistened temptingly with melted butter and tasted gorgeously sweet when we bit into them. I always have a moment of trepidation when I take my first try of Cauliflower; it's a personal thing, but I cannot stand soggy Cauli. I don't like soggy, over-cooked veg anyway but there is something stomach-turning about mushy Cauli, don't you agree? You have no idea just how relieved I was to bite into perfectly done Cauliflower therefore; to some it isn't a big deal, but I grinned with happiness at this little win. Topped-and-tailed whole Green Beans were lovely and sweet and perfectly al dente too, making it a hat-trick of yummy vegetables.




One of the lynch-pins of a classic Sunday Roast is the humble spud, whether it's mashed, boiled or roasted. Fahrenheit's Head Chef, Sam (and his Sous Chef, Connor) had excelled themselves with both the Roasties and the mash! The buttery, ultra-smooth mash hit the spot magnificently and the Roasties were fabulously crisp on the outside with soft, floury inners that melted on the tongue. We applauded ourselves for the decision to order extra Roasties (for a measly quid extra); we could eat these beauties all day long!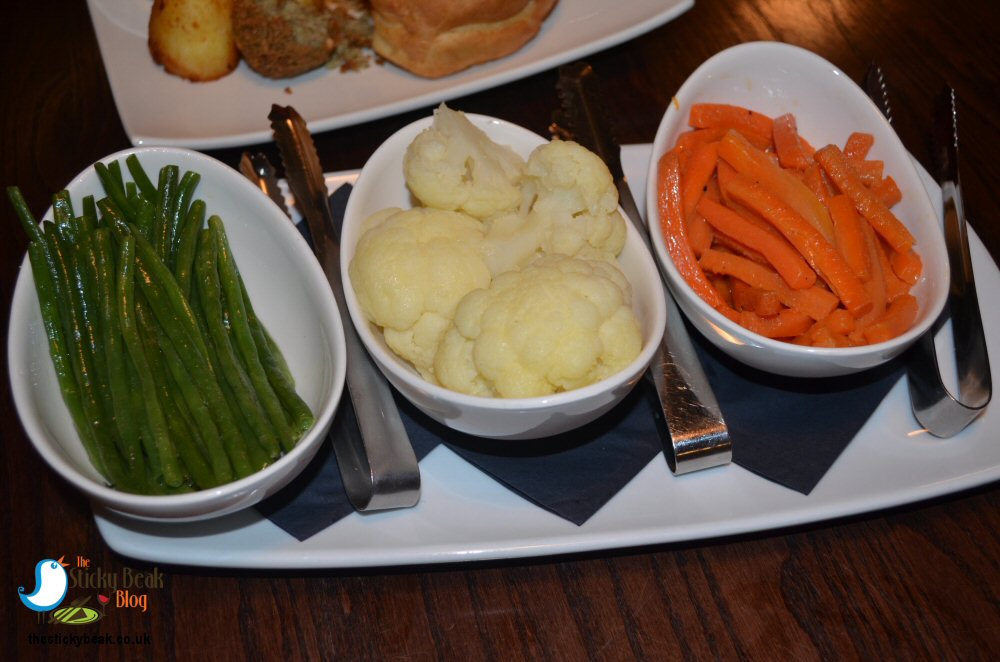 Two other absolute essentials for a successful Sunday lunch are towering Yorkies and proper meaty gravy. Head Chef Sam makes the Yorkshire Puddings himself at Genting Casino's kitchen and his batter has a fantastic intrinsic taste that has hints of eggy creaminess to it. Sam clearly gets his oil blazing hot and the result is wonderfully risen, light, crispy puds that are a total joy to savour. Our roasts were served with a bit of gravy already insitu but there was more to be had, housed in a separate little handled pan. You could see tiny globules of the meat's fat shimmering within the meat juices and the flavour of this authentic gravy was mouth-wateringly good.

There's no disputing that Sam and Connor are feeders, our groaning bellies were witness to that! Every single mouthful had been delicious and we'd left a pair of whistle-clean plates for the lovely Katie to take back to the kitchen. Try as we might, and even with waiting for quarter of an hour, there was no way that we were going to manage dessert – shame, because the deep filled Apple Pie had got my name all over it!! Oh well, another time.

It may have been a while since our last visit, but the wait had been worth it. Hot Wings happily given here Don't forget, you don't have to be a member of the casino to go and dine at Fahrenheit – you can simply book a table and turn up.
Some form of incentive was provided to visit this venue
read more