Making Canapes and Finger Food at Coghlans Cookery School
---
Published On Thursday 5 Dec 2019 by Sticky Beak
See Recent Experience Reviews | See All Recent Reviews


I'm the same type of cook that I am a singer; I have all the enthusiasm, but none of the talent! Luckily there is a culinary saviour out there who can miraculously turn me into a passable cook, albeit temporarily whilst under his watchful eye! The name of this genius? None other than Chef Simon Lilley, Master Chef of Great Britain and Master Chocolatier of Great Britain. Simon now presides over the kitchen at Coghlans School of Wine, Food and Dining, located at stunning Stancliffe Hall, Darley Dale in Derbyshire. What this guy doesn't know about cooking ain't worth knowing, trust me!
You may recall a while ago that The Man and I did the Street Food half-day course with Simon and the resulting dishes even garnered praise from Chickadee; she couldn't believe that I'd managed to produce something edible, but 'twas true, I did! Then the pair of us were kindly invited by Andrew Coghlan himself to one of the 'Dine and Demo' events that the school also runs; another splendid event, very informative and a chance to sample some authentic Portuguese cuisine. Simon had obviously forgotten the trauma and stress of having me in his kitchen and extended the invite to us to come again to a half-day class, this time on Canapés and Finger Food – very swanky.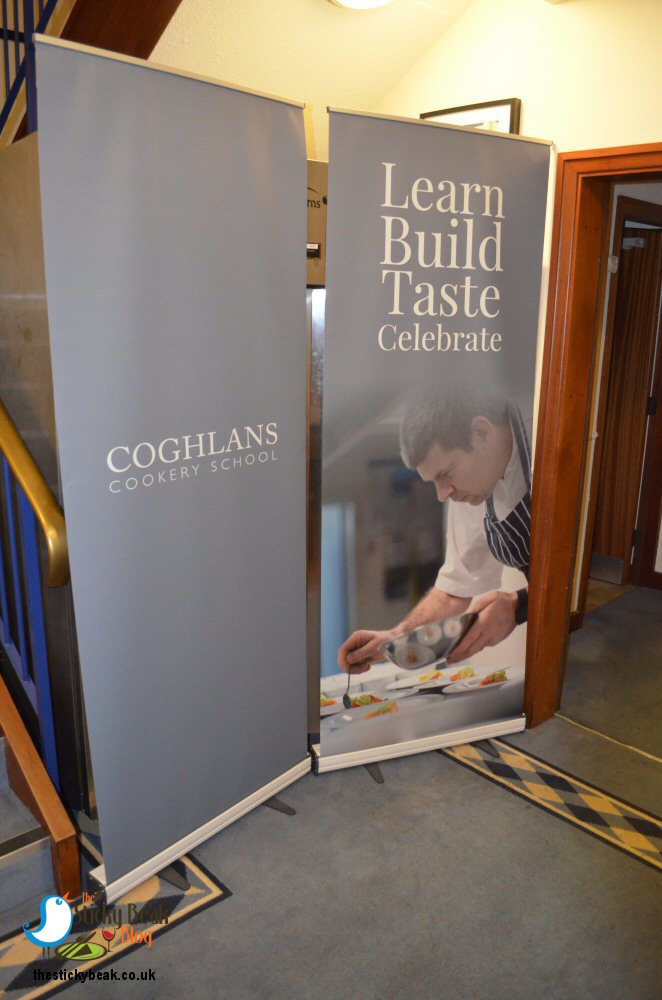 On arrival, we went into the meeting room and had a coffee whilst getting to know our fellow participants. One thing you can pretty much guarantee is that you've got a love of food and cooking in common with your compadres, so this breaks the ice straight away. With introductions made, it was time to heed Chefs' call into the kitchen and discover what we were making. Simon said that we were going to be making a Prawn Cocktail Mousse, Horseradish Parfait (to go into Filo cones that we were making later), Duck Confit and Mango Wraps, and Parmesan Shortbread with Cream Cheese and Roasted Tomatoes. Well, the rest of the class might be making that, but I'd reserve judgement as to whether my creations would turn out as they should!




Every kitchen needs a magic washing up/tidying away fairy, doesn't it? We were very fortunate to have the dashing Steve help us all out; he was nipping between stations to gather dirty bowls, and then washed them, dried them, and returned them. Thank you Steve, you are a legend and a gentleman (as well as a master brewer-upperer!).




You can always tell when I'm concentrating; one, or both, of two things happen: my gob stops working (true story, honest!) and my tongue pokes out the side of my mouth. Turns out I'm not the only one whose gums stop flapping; a hush descended on Coghlans Miele-equipped kitchen as we all turned our attentions to the tasks in hand. Whilst whipping the double cream by hand – which, by the way, negates the need for weights at the gym! - I learned my first interesting fact of the day: due to the high fat content of double cream you need to stop whipping just before it reaches "soft peak" stage as it will continue to thicken for a while after your efforts have ceased. Who knew?!!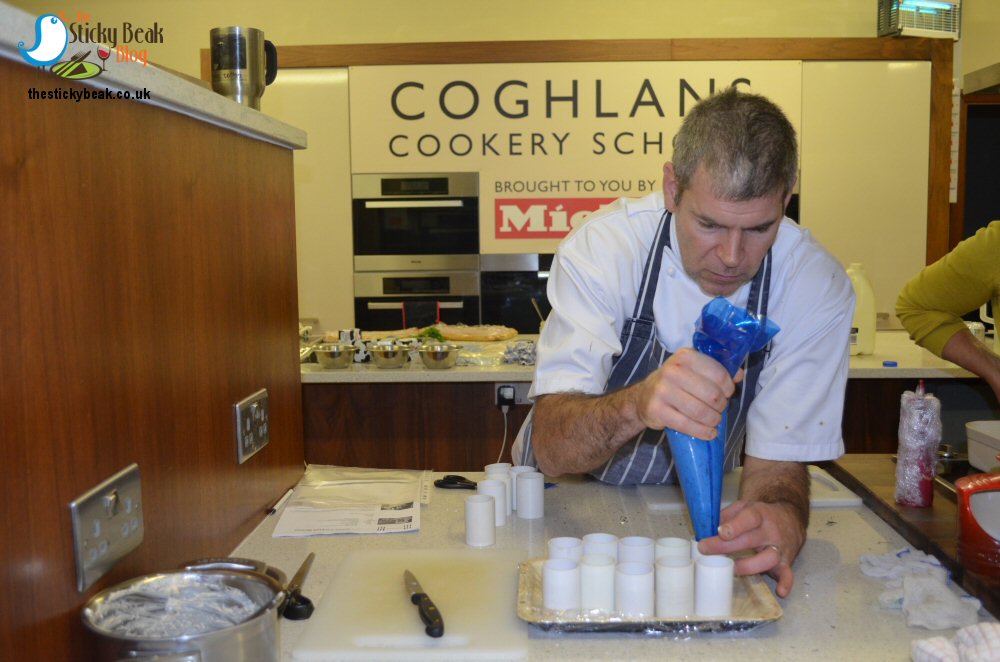 Simon's Sheffield heritage came to the fore with a good glug of Hendo's (Hendersons Relish) going into the cocktail sauce, and he added a little drop extra to ours because we like it a bit spicy – ooer missus! The mousse then got finely chopped fresh prawns added to it, before we spooned it into a piping bag and, miracle of miracles, all of mine made it in; no spills here – yet.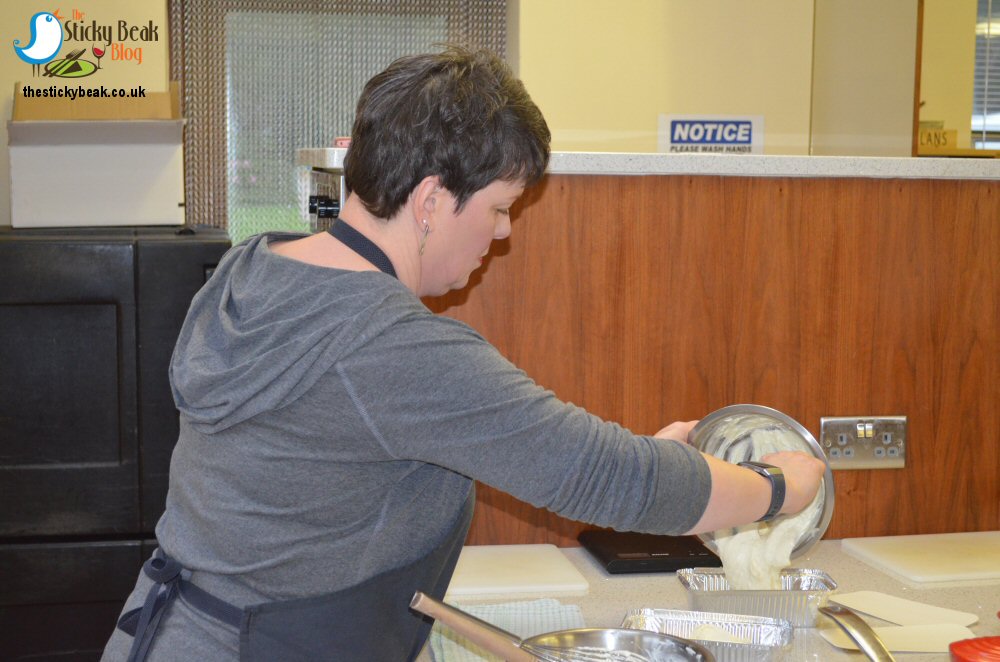 With the mousses chilling in their moulds, it was time to turn our attention to making the Horseradish Parfait; cue more hand-whipping of double cream and sabayon (!) making. Yep, I was turning into a bona-fide Sous Chef Ha ha ha ha, only joking – I wish! I had a sneaky taste of this bad lad before it went into the freezer, and it was blooming good. With these beauts chillin' out - literally – it was time to start on the Duck Confit and Mango wraps.




Clearly, it takes a fair while to confit Duck, so Simon did a bit of a 'Blue Peter' and made them earlier and gave us a bowl each with the Duck leg in. Having removed the meat from the skin and bones, it was time to shred it into small bits that would fit inside a circular bit of tortilla that had been cut using a pastry cutter. For ease in this short space of time, we combined the duck and Mango chutney together and spooned small amounts onto the circle. Then it was just a case of folding the tortilla into a tube shape and securing it with a round of cucumber (a bit like a napkin and holder!). Simple, but visually effective.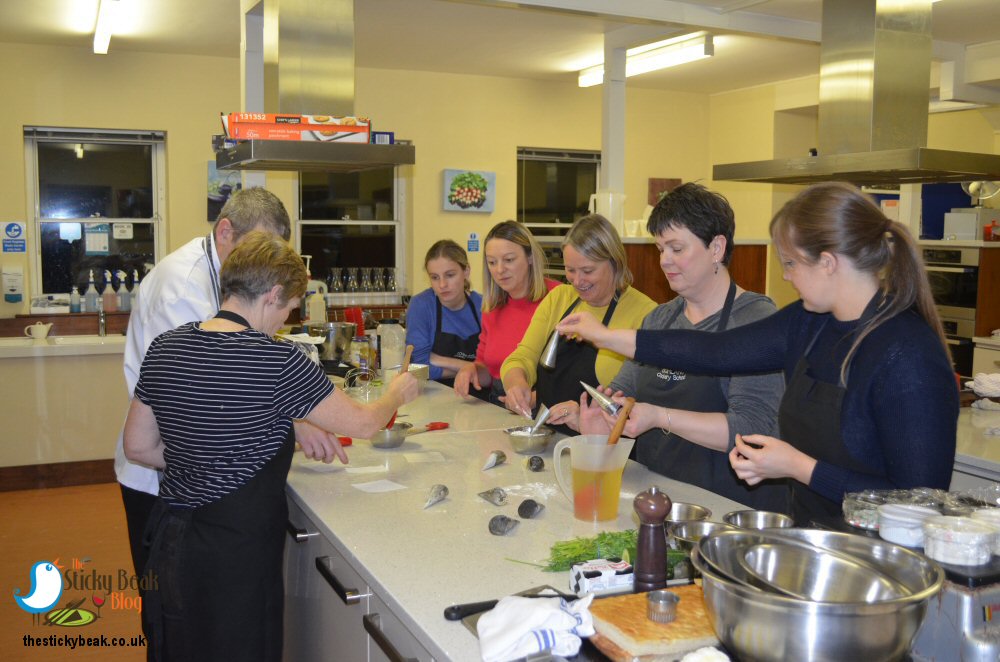 My second hot tip of the day, courtesy of Simon, came when we were making our Parmesan Shortbread. For this dish you don't want the fancy Parmesan Reggiano, you want the "cheap and nasty" stuff that is ready grated and comes in a tub. What, I hear you all cry, why? The reason is the fat content again; the cheaper stuff has more fat in it, perfect for shortbread making. We'd soon got our sausages of shortbread chilling in the fridge and at this point Steve showcased his amazing brew talents, whipping up mugs of tea and coffee that we gulped down eagerly – it's thirsty work this cooking malarkey, y'know!




Yet again, Simon did his Blue Peter routine (someone give him a badge, for goodness' sake!) and had roasted halves of Cherry Tomato for us to pop on our shortbread rounds, along with a dollop of cream cheese and some greenery for garnish. Gotta say, my effort looked food magazine cover ready... from a distance, with a good filter and soft lighting! No, seriously, my shortbread rounds looked good – much to my surprise and happiness. All around me, were trays of beautiful looking nibbles; this class was on fire, baby - not literally though, thank the lord!




The Filo Pastry Cones and Horseradish Parfait were 'take home' items; to be assembled in the comfort of your own abode. His Nibs and I had a bit of the Parfait the following evening (Sunday) as a topping for our steak and onion wraps, and it really brought some heat to the party; very yummy, if I say so myself.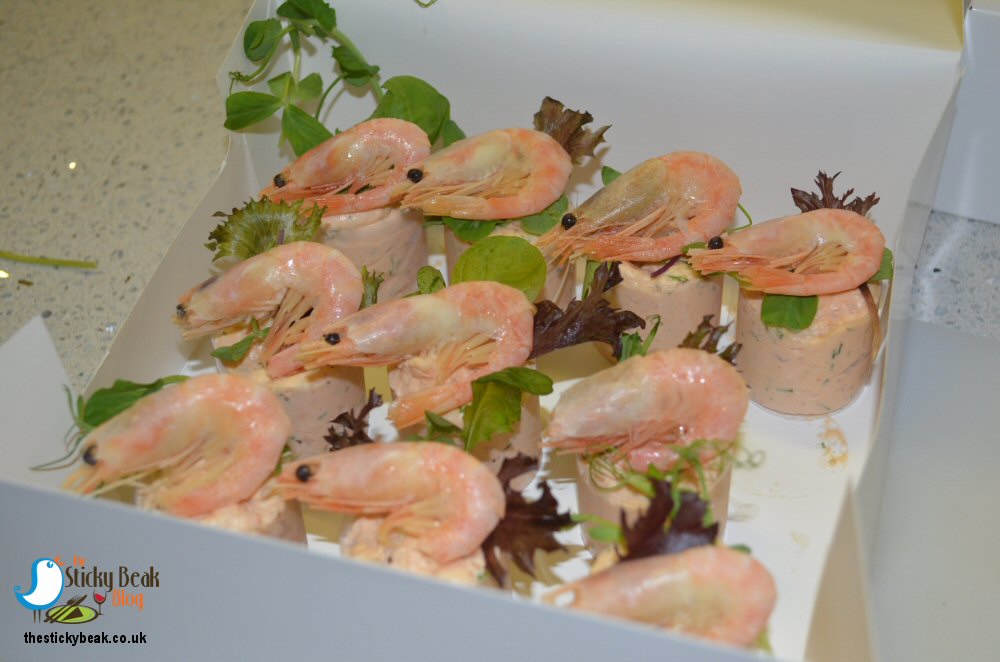 Our Prawn Cocktail mousses had been surrounded by a circle of acetate before going into the circular mould, and this cocoon meant that we could pop on their garnish of a whole fresh Prawn and some greenery, place them in a cake box and take them home without them losing their shape. I love prawns so when we got back to Beak H.Q I ripped their heads off, removed their tails and shell, and tucked in whilst The Man put the mousses in the freezer. Please, please make sure that you use fresh, not pre-frozen prawns if you make this in advance for freezing ahead of your party or occasion; unless you dislike one of your guests on the sly - then go for it! Porcelain throne-in for one, Doris?!




The Duck and Mango wraps were also popped into cake boxes for ease of transportation. I've got to say, Coghlans School of Wine, Food and Dining really think about all aspects of their courses: from content that allows anyone to excel, facilities to cook and store items during the class, to getting your creations safely home for you to show-off.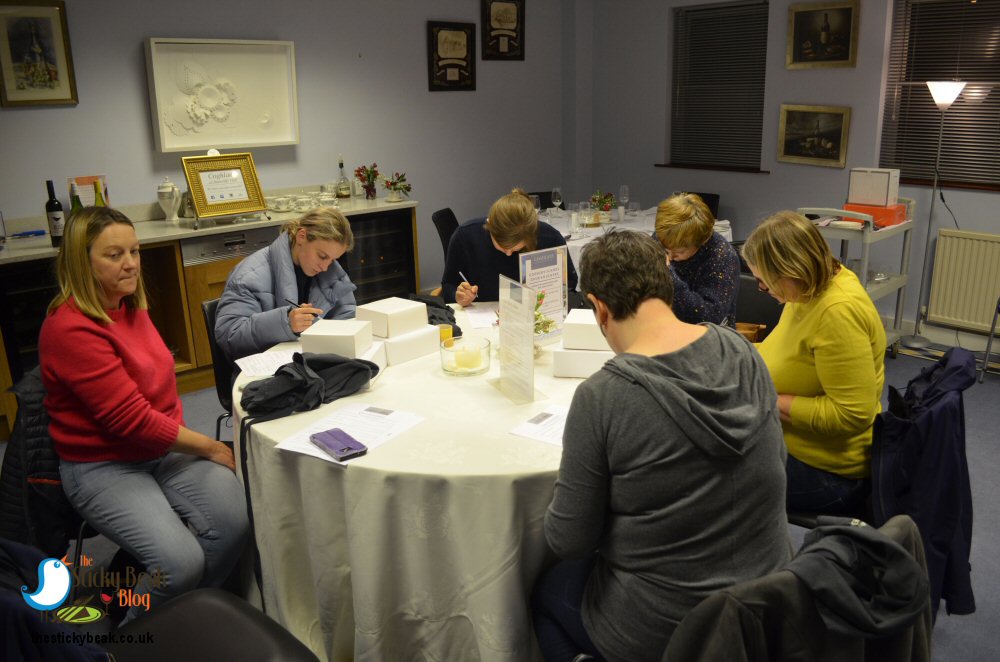 Chef Simon Lilley is an absolute trooper and such a great tutor. Under his guidance you'll make things you thought were beyond your reach and you'll do it all in a relaxed, friendly environment. I defy anyone not to have a giggle during one of Simon's classes; he has a cracking sense of humour and not an ounce of harshness in his bones. I've got to say that I can absolutely eat for England (and reserves.... and under 21 squad.... and under 16's!) but I am the world's worst cook - just ask The Man - but even I produced edible, attractive canapés and finger food under Simon's watchful eye. So if you've got a reticent cook, a budding Chef-in-waiting, someone in the family that is hard to buy for, or a hen/birthday party with a difference then I can whole-heartedly recommend this experience.

Coghlans produce schedules for their classes and events each season, so pop onto their site www.cookingexpert.co.uk for details or even ring up and have a chat with Lisa (she is a diamond, like her dad, Steve). You can also buy cookery school open vouchers for the recipient to use at their convenience – easy peasy, or what?!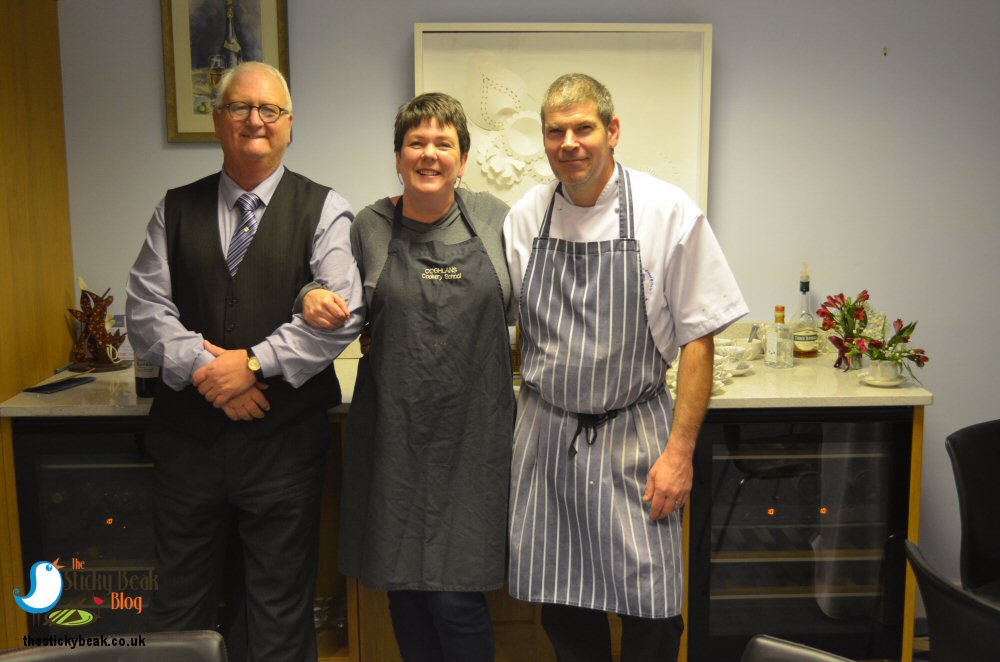 If you want to have fab grub cooked for you, rather than make it, or you just want a chilled evening in the run-up-to-Christmas-chaos then book yourself on to the Exclusive Festive Christmas Dinner at Coghlans at Stancliffe Hall. This four course feast is priced at £41.95 per person, arrival is at 7pm and the time will fly by in a happy haze of great food in great surroundings.

Massive thanks to Steve, Chef Simon and the Coghlans team for your kind invite – The Man Bird and I had an incredible time.