Dinner At The Recently Reopened Silversmiths in Sheffield
---
Published On Sunday 1 Dec 2019 by Sticky Beak
See Recent Dining Out Reviews | See All Recent Reviews


Natives of Sheffield will know all about Silversmiths chequered history; it's a safe bet to say that this historic old building, dating from 1773 no less (!), has had its fair share of ups and downs. First there was its appearance on Gordon Ramsays Kitchen Nightmares to rescue it from the doldrums under its then owner, Justin Rowntree. Having successfully turned it into a thriving business, Justin sold it in 2017 to pursue another passion and in only a couple of years Silversmiths hit the skids again! A couple of months ago it returned under (yet more) new owners and a talented up-and-coming star of the future Chef, Ashley Bagshaw, and this team invited The Man and I to try out the menu.
They say that what doesn't kill you makes you stronger and Silversmiths has certainly come out fighting! As you walk in the door the elegance of the new decor grabs your attention. There is a calming grey on the walls, warm wood floors, and tones of brown for the banquettes in the booth tables, the free-standing seats and the banquettes further in the restaurant.




Then, looking to the right is the sleek, modern bar; you'd have to be blinder than blind not to see its expanse – it truly is huge (and most importantly, well stocked!). If you keep walking towards the rear of the venue there is a little raised area, home to a quartet of tables that seat four, and it was at one of these that The Man Bird and I were seated.




Instead of the grey walls of the lower part of the restaurant, this space had two walls with feature paper in tones of putty, teal, bronze and cream on, and the back wall had had its brickwork painted white. Throughout Silversmiths there is a mix of warm-toned lighting, all modern fixtures, which cast a lovely glow around the venue. The ethos of the Silversmiths team is to offer a fine dining experience and quality without any of the stuffiness or snobbery that can sometimes go with it.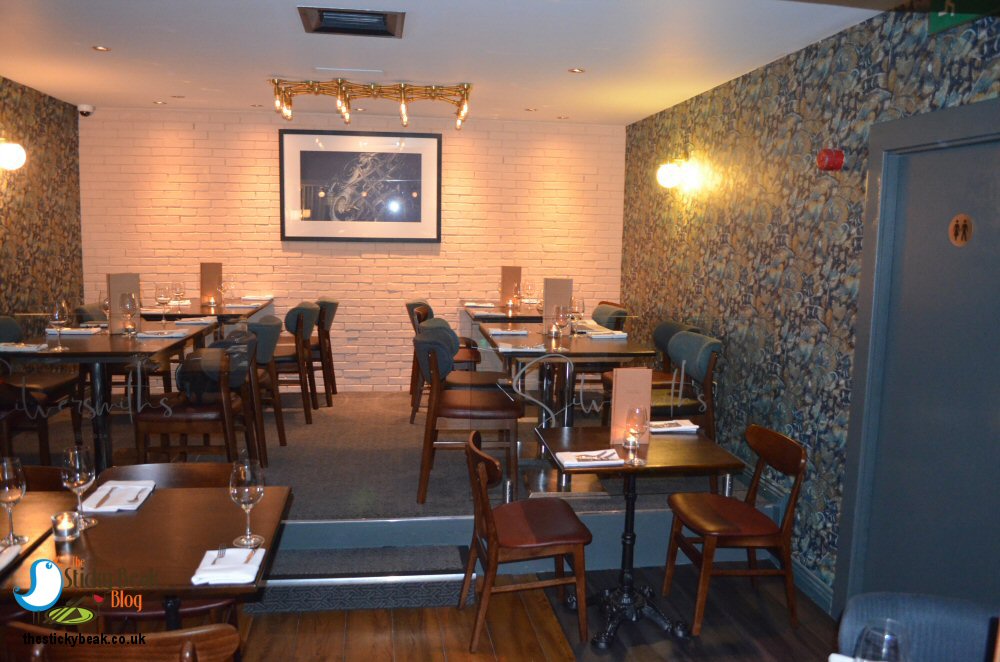 Our lovely server got our drinks sorted PDQ; Malbec for moi and a cheeky NZ Sauvignon Blanc for Him Indoors, and left us to look over the menu for a while. I settled on the Beetroot and Elderflower tartare, Pomegranate, Walnut, Raspberry and Beetroot Sponge and Goats Cheese Cremeux for my starter, and The Man chose the Soup of the Day (Celeriac and Apple on this occasion) served with Toasted Sourdough and house Butter, priced at £8 and £6 respectively.

When the starters arrived we both gave a little gasp of delight; there was no mistaking the skill and artistry that had gone into producing these dishes. My starter was a riot of colour, beautifully vibrant and very tempting. His Nibs' soup came with a little pizzazz of table theatre; the Apple rounds were nestled snugly in the serving bowl and the warm Celeriac component was in a separate jug, housed on a bed of Black Sunflower seeds that also provided a snug bed for the sourdough roll. From some height, and with a confident flourish, the young lady poured the warm soup over the softened Apple rounds in the bowl. If the soup was going to taste as good as it smelled, His Nibs had picked well.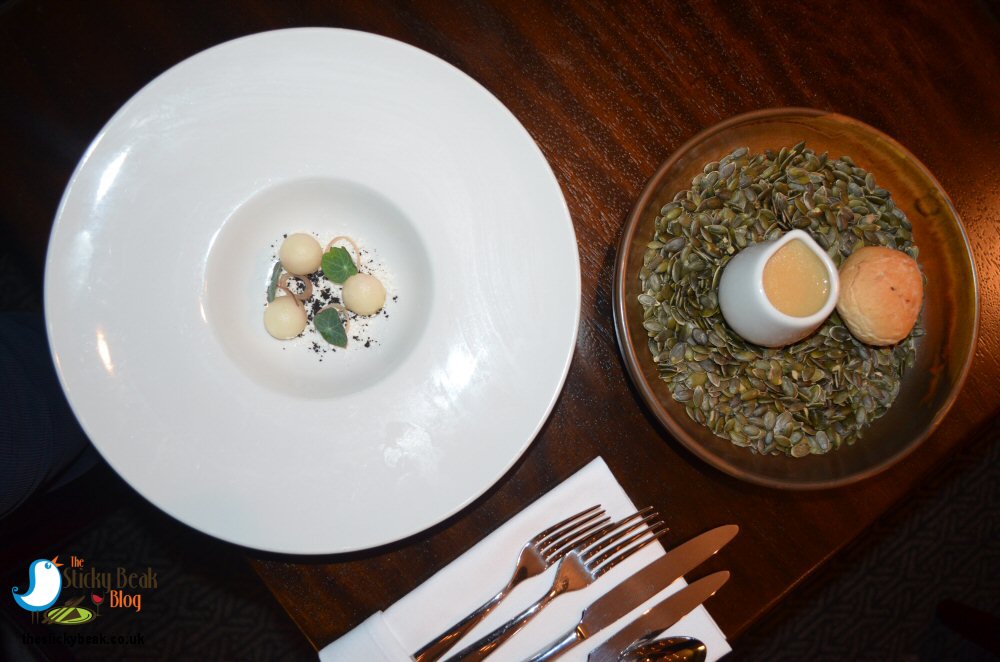 He had indeed chosen well; the Celeriac was smooth and creamy in consistency, with a pleasant nutty tang to it. Chef Ashley had seasoned it perfectly to prevent it from being bland and 'beige', and the sweetness of the Apple partnered the root vegetable superbly. Soup definitely isn't boring at Silversmiths!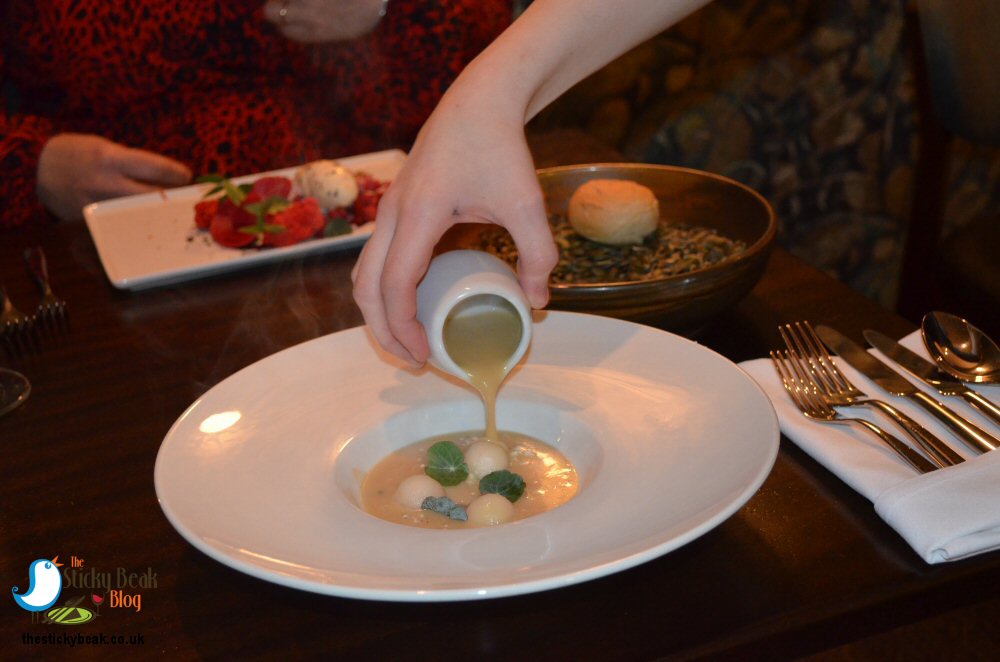 My Beetroot and Elderflower Tartare was excellent, a superb balance of earthiness and light bitterness that really sang on the palate. Rich Pomegranate notes popped against the silky creaminess of the Goats Cheese Cremeux, which took me a little by surprise at its coolness. The Raspberry and Beetroot Sponge was superbly airy; it did actually look like a piece of Sea Sponge – obviously it tasted infinitely better than one! I really liked the balance of the fruits zinginess against the earthier notes of its vegetable counterpart. This is a lovely light starter with more than enough complexity to keep the palate on its toes.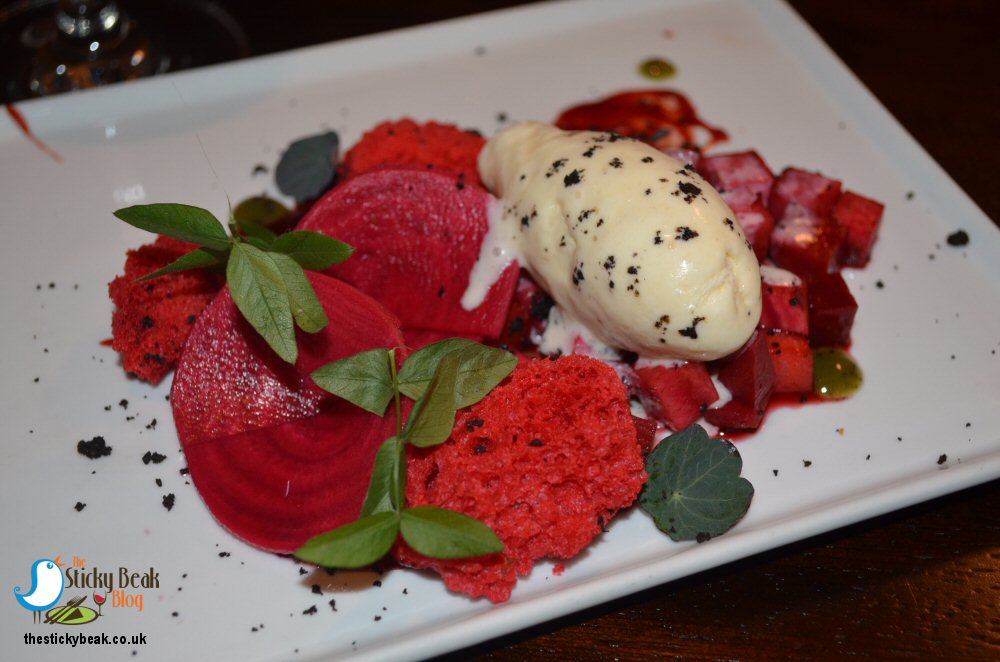 Another common saying is "when in Rome, do as the Romans do"; clearly we weren't in Rome, we were in glorious Sheffield so I have taken a bit of creative artistic licence here: "when in Sheffield, do as the natives do and whack on the Hendo's". For those who are in the dark as to what Hendo's is, it is Henderson's Relish; similar to (but waaaaaaay better than) Worcestershire sauce in its tanginess, and without Anchovies, so it's suitable for vegans. You can't visit the city of steel without sampling this condiment, you just can't; it's the law! Silversmiths Executive Head Chef, Ash, clearly understands this, and has put a banging House smoked Brisket and Hendo's Pie (served with seasonal veg and mash, priced at £14) on the menu.

His Nibs (as an alumnus of Sheffield Uni, and therefore an honorary dee daa / steelmekker) duly ordered the Brisket and Hendo's pie, whilst I had the Lamb Rump with Fondant Potato, Red Cabbage, Mint and Baby Leek (£16).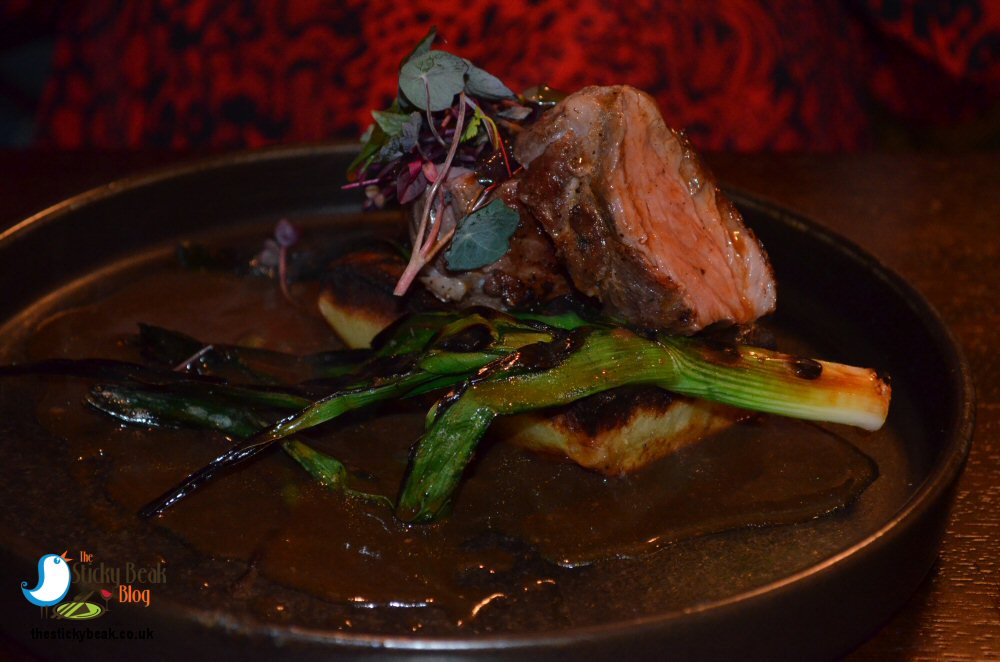 As before, the presentation was superb and as a nice touch (I thought) my gravy was poured over the meat for me at the table. My Lamb was served gorgeously pink and had been allowed to rest properly so that its juices were retained within the meat rather than oozing onto the plate. As I cut into the rump it just came apart easily, no effort required on mine or the knife's part, and the first bite was just sublime. Judging by the depth of flavour and my own assertion that you can tell if an animal has had a happy life by its taste, this had definitely been one ecstatically happy-as-Larry, Larry Lamb. Silversmiths don't skimp on portions either: there were two good sized pieces of Lamb rump to devour and savour, which I eagerly did.




The fondant potato was presented as a rectangle, beautifully crisped on the outside so that you get that lovely charred butter note in the mouth that contrasts nicely with the soft, creamy potato. Head Chef Ash Bagshaw had pressed the potato so that it was firm enough to hold its shape for presentation purposes but not be at all hard to bite into, and the charred Baby Leek was millisecond perfect in its cooking too. Lamb's side-kick, Mint, was beautifully represented in this dish; delicately noticeable rather than overwhelmingly bold as can sometimes be the case. Another master stroke from Chef was the imaginative interpretation of Red Cabbage; instead of the usual (but very yummy) spiced, softened version served at this time of year, Ash had used tiny seedlings of the vegetable which imparted a crisp, bitter, clean taste on the palate.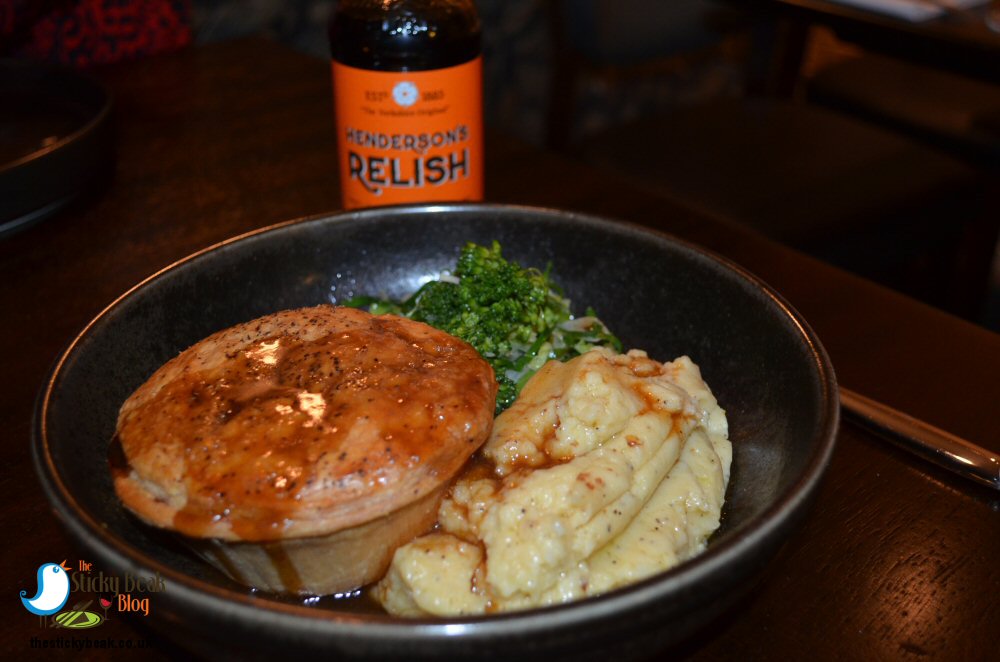 By the grin of delight on His Nibs' mush I was guessing that the house smoked Brisket and Hendo's pie was smashing the taste stakes. I could see just by looking at it, that the pie was rammed to the hilt with (locally sourced) meat, so safe to say that this is a hearty, winter-warmer of a dish. When he came up for air The Man Bird confirmed that it was blooming fab! The puff pastry case was light as a feather and melted like a snowflake on the tongue and it had indeed been stuffed to capacity with chunks of uber-tender Beef Brisket. For all its gentleness in texture, the brisket was certainly sturdy in taste and its meatiness was given some extra wallop from the spicy Henderson's Relish. To compliment these bold elements were the restrained flavours of perfectly al dente Tenderstem Broccoli and an astoundingly creamy, super-smooth mash.

I've been more than a bit remiss in not mentioning the superb service that we'd been receiving throughout the evening; literally the team could not do enough for us and the other diners that were feasting at Silversmiths. Managing to be discreet, they all kept checking if we'd finished our food or if we needed drinks refreshing; crockery and cutlery were cleared away and replenished as needed, quietly and without fuss. This was all done with a smile and total professionalism, no snootiness or obsequiousness in sight; the perfect combination of fine dining without the fear factor that some other top-notch establishments seem to attract.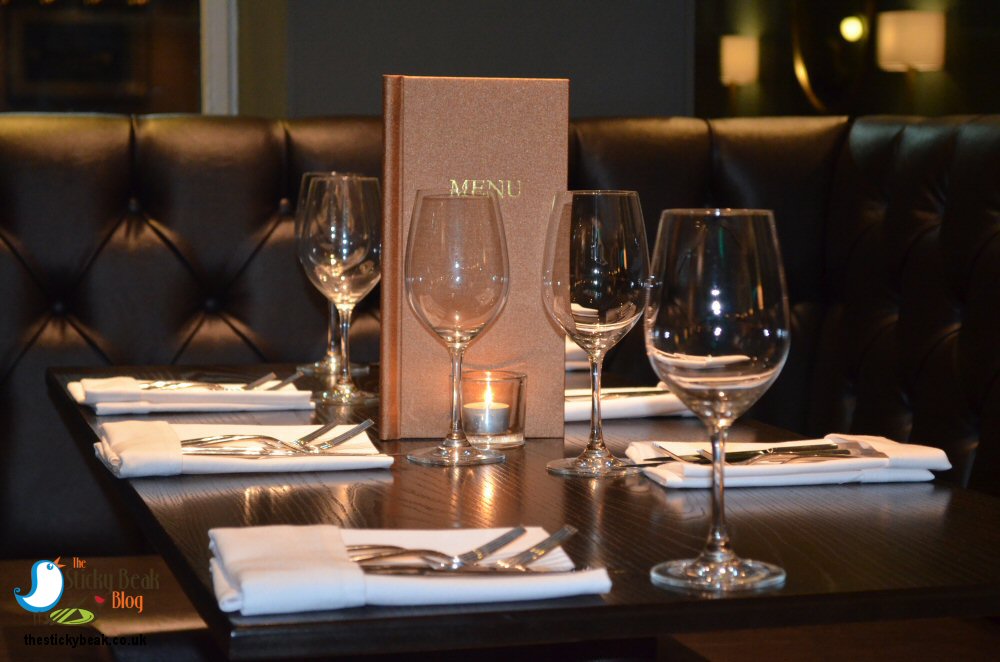 Puddings simply had to be ordered; after the quality of the preceding two courses, it would've been a travesty not to! I had the Spiced Custard Tart with Honeycomb, Whisky Cream and Raspberries (£7) and The Boy Wonder had Chocolate Suet Pudding with Chocolate Custard and Wagon Wheel Shortbread (£7).

When a good pastry chef is in the house, you know that the tart is going to be good; actually it was more than good, it was phenomenal! Whilst managing to be soft to the cut and bite, the pastry wasn't in the least bit soggy - not even on the bottom - and its rich, buttery taste was a delight to eat. I absolutely loved the creamy custard filling; it was gorgeously spiced, imparting sweet but sharp, warming yet brisk notes into my mouth. It would have been so easy for the spices to overwhelm the mellow custard, but Chef had used them judiciously to respect its gentle nature.

In complete contrast to the soft tart was the ridiculously crunchy honeycomb: nothing subtle about this beastie when I bit into it! I was a cheeky minx and dipped my honeycomb into His Nibs' chocolate custard, eager to recreate my childhood favourite "Crunchie" bar, and it worked brilliantly. The final piece of this genius dessert was the Whisky cream, which I'm pleased to report actually left a whispering kiss of warmth at the back of my throat, and the tart, bright notes of the Raspberries that lifted this mesmerising pudding on the palate wonderfully well.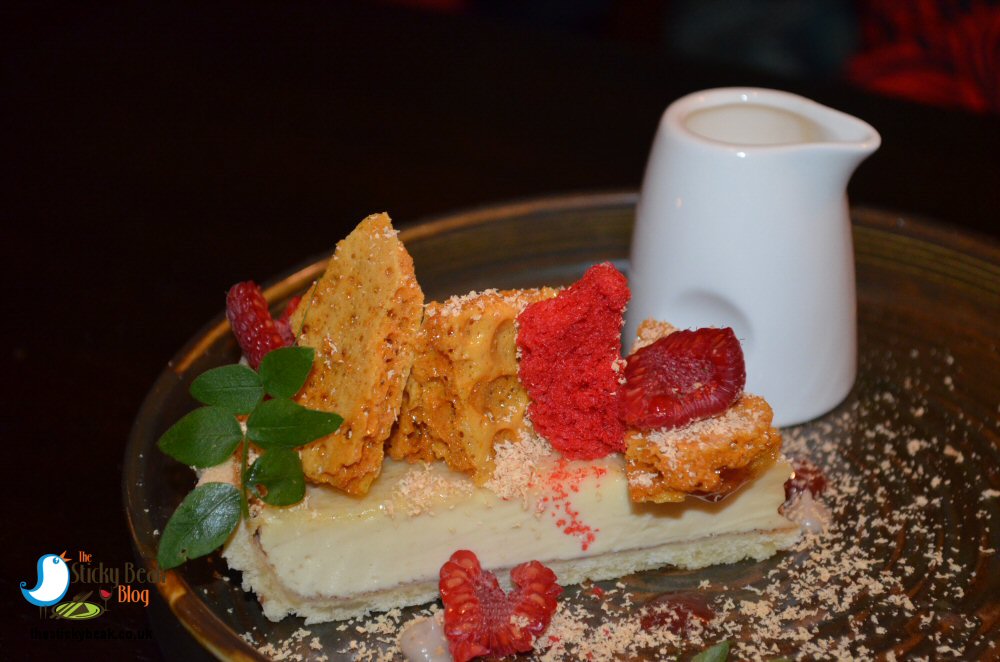 Many folk are put off a pud when they see the word 'suet', thinking that it's going to taste greasy, be clarty in the mouth and weigh heavier than Big Daddy and Giant Haystacks combined in the tum (Google it, young 'uns!). Nothing could be further from the truth. Yes, it was a very satiating pud thanks to the suet's' fat content, and pleasingly dense, but it wasn't heavy at all on the tummy – just totally delicious and chocolatey.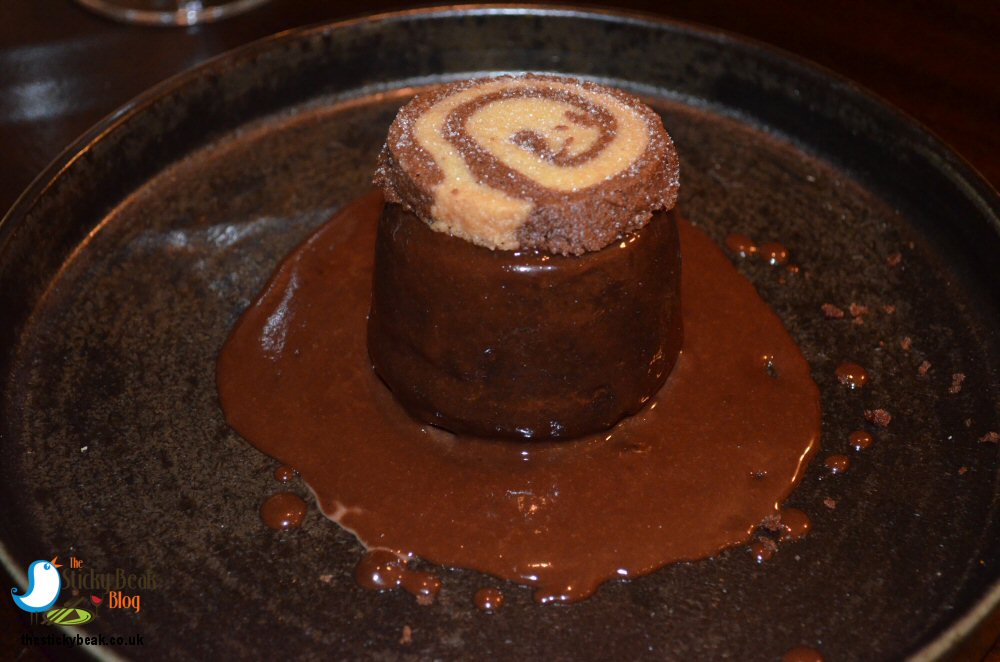 The chocolate theme continued with the chocolatier-than-chocolatey custard that banished all memories of those sad, failed attempts made by school cooks in the 60s and 70s that have traumatised a generation! This was some classy cooking, make no mistake and The Man gobbled it down appreciatively. Perched on top of the suet pudding was a two toned wagon wheel of perhaps the crumbliest, most buttery shortbread this side of the Pennines. His Nibs was desperately trying to hail that elusive DeLorean, eager to relive the joy of this dessert; get in line boyo, get in line!

We sipped our black coffees as we yapped about our favourite bits of the evening (pretty much all of it actually!), and then got a fab surprise offer from Silversmiths Assistant General Manager, Shaun, to go and see the upstairs private dining room. This is a lovely space that can be used in a number of guises: private dining for celebrations, private corporate dining, or as a space to conduct business meetings. It has ample seating for up to 16 people and a large wall-mounted television for presentation purposes; I just liked the impressive circular chandelier, it was stunning! I know, I'm a complete girl when it comes to lighting – my bad.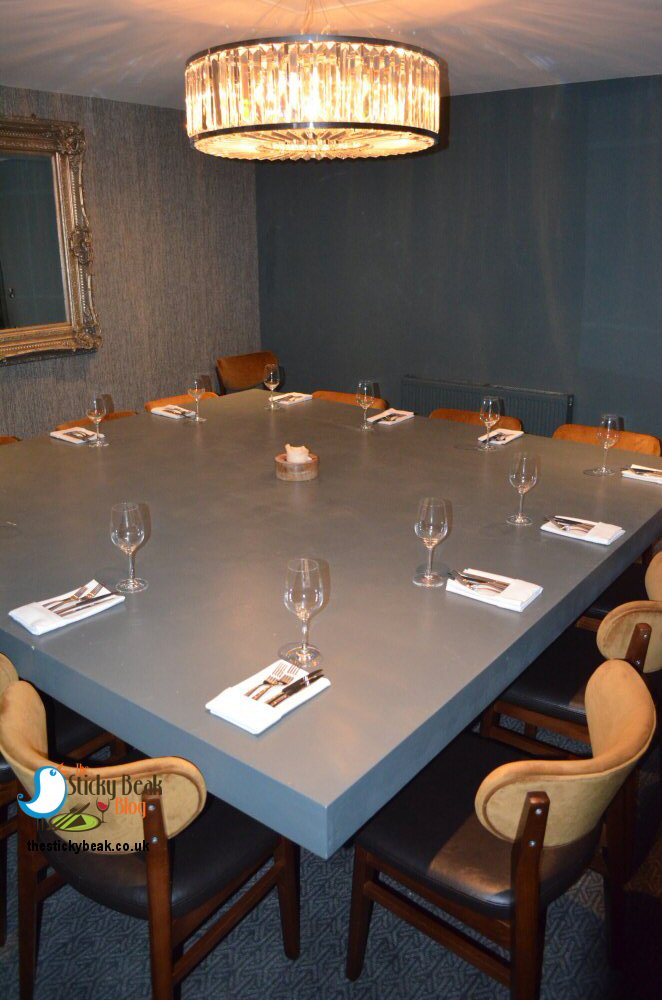 Silversmiths are open for business Wednesday-Friday from 4-11pm and Saturdays Noon-Midnight. They have a superb pre-theatre offer on until 6.30pm each evening of trading; 2 courses £19 per person, 3 courses £23 per person. Silversmiths are located close to both the Lyceum and The Crucible, making it the ideal choice for a bite to eat and drink before an entertainment experience. For members of their business club they offer a generous 15% discount on any food or drink, and there are some exciting plans for after work socials coming soon, so keep an eye on their site for details!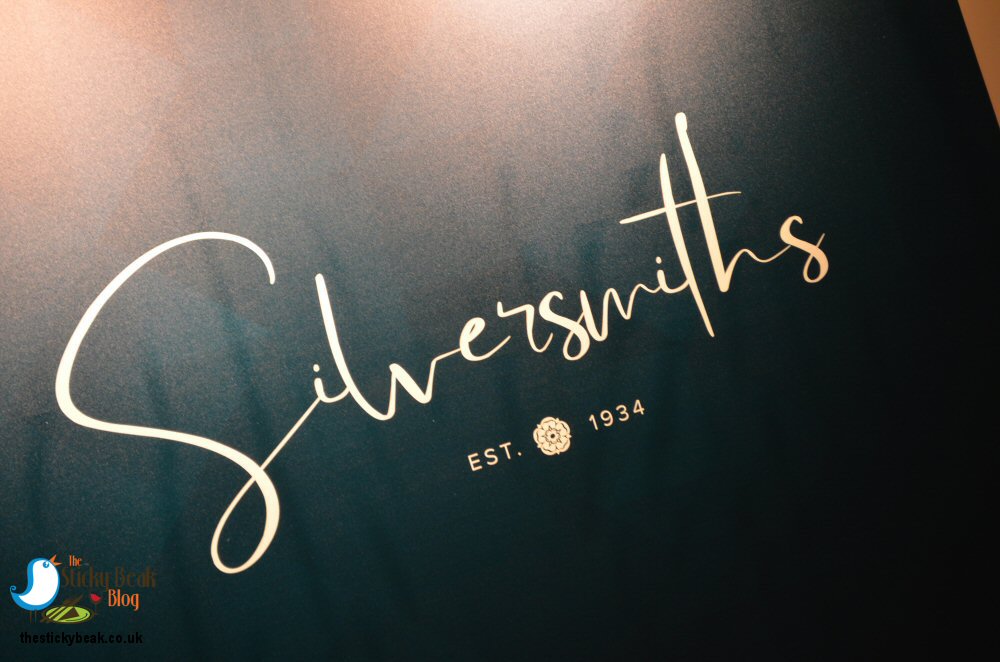 Hot Wings happily given to this team that are working hard to restore the reputation of this long-standing Sheffield eaterie that prides itself on using local, seasonal produce to give diners a truly memorable eating experience. Book online at silversmithsrestaurant.co.uk/book/

***Hot off the Press*** Silversmiths is now (from 25th November 2019) open Tuesdays 4-11pm for their 'PIE NIGHT'. This originally started after Gordon Ramsay visited and is back by popular demand, so definitely one to book ahead for to guarantee a table!
Some form of incentive was provided to visit this venue
read more