Shining the Spotlight on Spotlight at the Nottingham Motorpoint Arena!
---
Published On Thursday 28 Nov 2019 by Sticky Beak
See Recent Dining Out Reviews | See All Recent Reviews


As well as being a foodie, I also like to have a bit of a boogie; so when the opportunity to combine both of these together came along I couldn't help but squeal a little bit in excitement! I doubt that there are many of you out there that don't know about/haven't visited the Motorpoint Arena in Nottingham; it is one of the region's most prominent venues for sporting and musical events, after all.
What used to be the Platinum Suite on level 4 has recently undergone an amazing transformation into the 130-capacity bar and restaurant called Spotlight. Spotlight is a modern, stylish space with the most incredible floor-to-ceiling views over the City of Nottingham, which affords both intimate dinners for couples and relaxed dining for families with children alike.




The Man Bird and I went along to check out the all-new hospitality package (The Spotlight Experience) that the Motorpoint Arena offers: a 3 course meal* in Spotlight and premier seating in the arena bowl for your chosen gig. (* our meal was a 2 course option, and, as the gig was a more family orientated one, the Bistro menu was used rather than the a la carte one, providing something a little less formal – but just as good!). Part of the package is that guests get to use the Spotlight bar during or after the show too, at their leisure.

The Motorpoint Arena team offer a whole raft of suite options too for most shows, and although Spotlight isn't included in these, suite guests are more than welcome to make a table reservation at Spotlight and enjoy a meal here for an additional cost.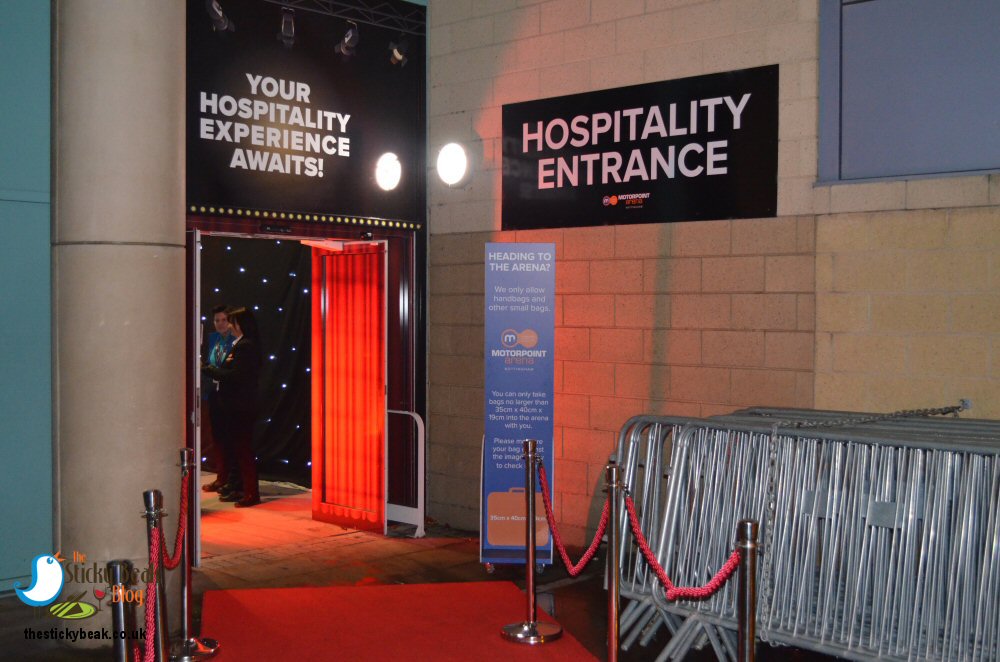 After we'd accepted PR Sarah's invitation, His Nibs and I set about planning a night away – there's got to be some perks to having a Fledgling away at Uni hasn't there?! We settled on Jury's Inn as our perch for the night: it's nicely located, has clean and tidy rooms and you can include breakfast too for ease (which is what we did). Having used the Hotel's nearby parking option, we checked in and then went out for a quick drink, before going back to our room to freshen up and head over to the Motorpoint Arena.

The Hospitality entrance is located just to the right of the main entrance at the venue; you won't miss it, it has a bright sign in front of it! We were greeted warmly by the staff, who then did our bag checks in a lovely friendly manner – they apologised as they confiscated my little can of beverage, saying that you aren't permitted to bring liquids in. Fair enough; you can tell it's been a while since my last gig!




We took the lift up to level 4 via all the lower levels, and that in itself was a real eye-opener for me. I never realised how many levels the Motorpoint Arena had, and (divvy that I am!) I'd always thought that the ice rink got covered up for gigs. Nope, it's on a completely different level and is really, really busy; we bumped into the junior ice hockey squad ahead of their practice session before their match began at 10pm.Well actually, I'm sort of right in my thinking: Nottingham Motorpoint Arena has dual Olympic –sized ice pads, the Panthers use the one in the main arena (covered for the Little Mix gig) for their matches. Super swanky or what?!!!

I had to have a sneaky stop on the main entry level – gotta get me some LM Merch (and some for my niece too, scoring massive Brownie Points) - then we got up to level 4 where Spotlight is located. There were a couple of super-lovely hostesses on the front desk who took our reservation details and showed us to our table; first class service is something the Spotlight team pride themselves on.




Our drinks orders were swiftly brought over; after perusing the very large drinks menu (including a fab range of cocktails and beers) we settled on a couple of G&Ts to kick our evening off. You pre-order your food ahead of your arrival at Spotlight, and although it seems odd to do this, it actually saves a lot of faffing about and works brilliantly in this environment. Whilst we waited for our food, I took in my surroundings a little more, admiring the mix of modern light fittings and the sleek tables.

For my main course I'd opted for the Fillet of Salmon in a Dill Cream sauce, with white wine-poached Grapes and new Potatoes; The Man had gone for the Pan-Seared Supreme of Chicken: succulent Chicken Breast with fine diced Ratatouille, Fondant Potato and rich Red Wine sauce.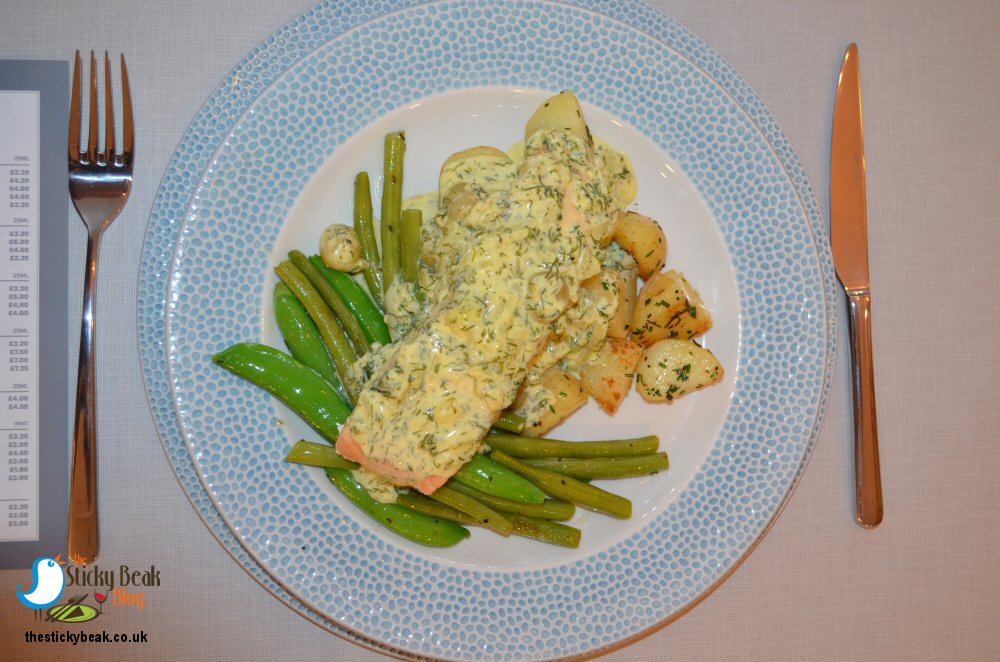 Presentation-wise both dishes were excellent; nothing was out of place and everything had been carefully put on the plate with precision to maximise its visual appeal. I couldn't believe the size of my Salmon fillet: it was massive! No time to waste then, best I tuck in. Now you all know about my pet peeve being dry, over-cooked fish, so I'm glad to report that there was nothing to complain about here. The Salmon was beautifully moist, and the Dill Cream sauce complimented its gentle taste perfectly. As well as plenty of roasted New Potatoes with their crisp edges, there was a mix of Green Beans and Sugar Snap Peas to enjoy, both of which had been cooked nicely al-dente. The dinky, peeled Green Grapes that had been poached in white wine were delicious too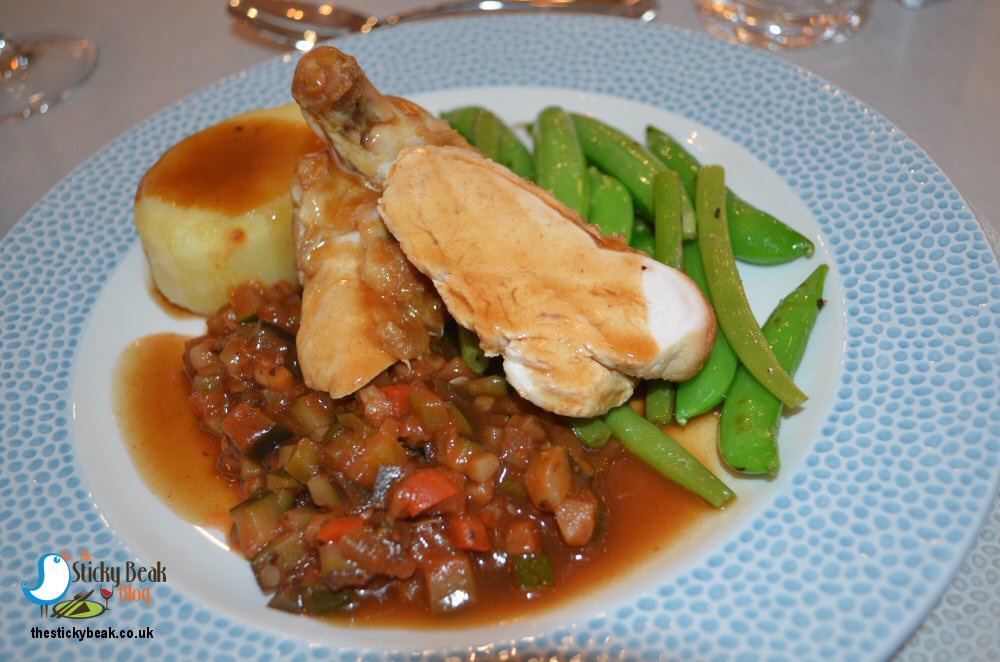 His Nibs was a happy chappy with his Supreme of Chicken too. The gorgeously moist, soft Chicken had a lovely inherent taste to it, complimented by a robust red wine sauce. The tang of the red wine partnered the punchy Tomato notes of the sauce that bound the Ratatouille incredibly well and gave this dish some serious flavour. Genius move with the Ratatouille too; by making the veggies smaller, kids won't realise what they're eating. The Man Bird liked the Fondant Potato; it was nice and firm enough to hold its shape, but not so firm that it needed pressure to be cut into. Best of all was its soft underside; this allowed the magnificent red wine sauce to soak up into the potato – yummy!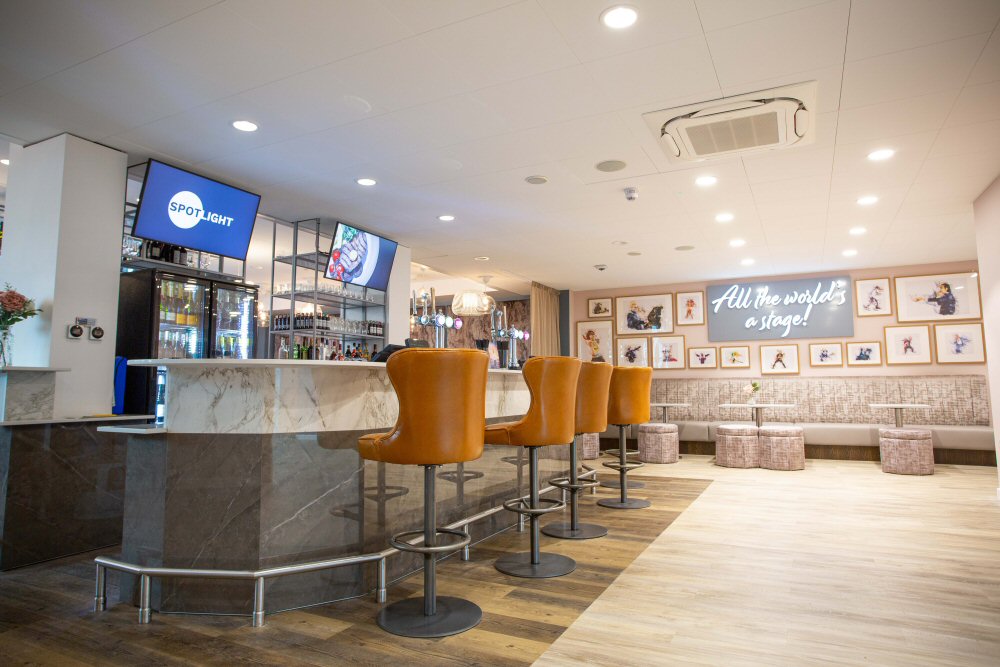 Several of the Spotlight team had come to check that we were enjoying our food and to enquire as to whether they could get us any more drinks. I ordered a glass of Merlot (very smooth as it turned out) and His Nibs had a pint of draught Peroni, which lasted us through the rest of the meal. I saw one of the Jumbo Fish Finger meals go out to another table, and I must say that they looked very tempting in all their crispy, golden glory!

For pudding I had the homemade Chocolate Tart with Honeycomb and an Orange Syrup; The Man had Baked Vanilla Cheesecake with wild fruit and Crème Anglaise sauce. Oh my days!! The Chocolate Tart was ridiculously good, and I do mean ridiculously good; this was possibly the most divine dessert I've had all year. I just can't explain well enough the richness of the chocolate filling; it was high-cocoa content bitter, indulgent, velvet smooth and marvellously dense in texture – so dense that it coats your tongue and the inside of your mouth and lingers for minutes. The base was made of a beautiful buttery pastry – no soggy bottom here! A swirl of thick, whipped fresh cream added even more indulgence to the pudding, but then a brilliantly zesty Orange sauce lifted things a couple of octaves to stop it becoming too much. The honeycomb added a great crunchy element to this dessert, and I loved every single crumb of it.




The Man was happy with his Cheesecake – there was a blooming big wedge of it to tuck into! You can't beat the taste of a proper baked Cheesecake, it has that unmistakeable lightly sour edge to it and a really good "stick factor". By stick factor I mean that it lingers in the mouth nicely due to it coating the tongue and taste buds and clinging to them for a while. The warm rounded notes of Vanilla came through on the palate nicely and contrasted superbly against the tartness of the wild berries and the compote that decorated the Cheesecake. The Crème Anglaise was beautifully smooth and had those same warm Vanilla notes as the Cheesecake itself; this had been a fab dessert.




With our meal over, it was time to go to our seats. We collected our tickets from the Spotlight hostess Steph, and discovered that Sarah had had a surprise for us: she'd given us a seat in one of the executive boxes!!! How lucky did we feel at that moment in time??!! Beyond excited and fortunate is somewhere in the ball-park of how you could describe our mood.

We made our way into the main arena space and were introduced to our suite hostesses, Bobbie and Hannah. Suite hostesses! This was seriously swanky stuff. These lovely young ladies were there to get any drinks or food that you ordered and generally make your life easier and ensure that you had the time of your life at Motorpoint Arena. For management's information, these ladies were absolutely spot on. His Nibs chose to open a tab that you settle as you leave at the end of the night, rather than keep fumbling about for money whilst trying to watch Little Mix strut their stuff.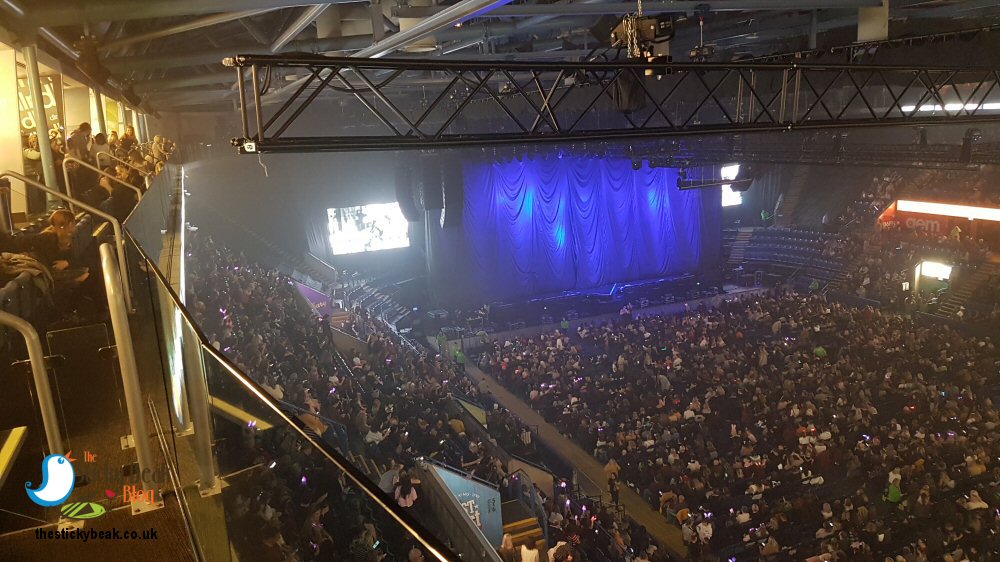 And what I can say about Little Mix, except they put on a heck of a show! These ladies demonstrated why they're so popular, not only in this country but around the world. Actually for those of you that like facts, Little Mix have got the biggest selling album of the Millennium so far with "Glory Days" (the album before this current one, LM5). #GirlPower indeed !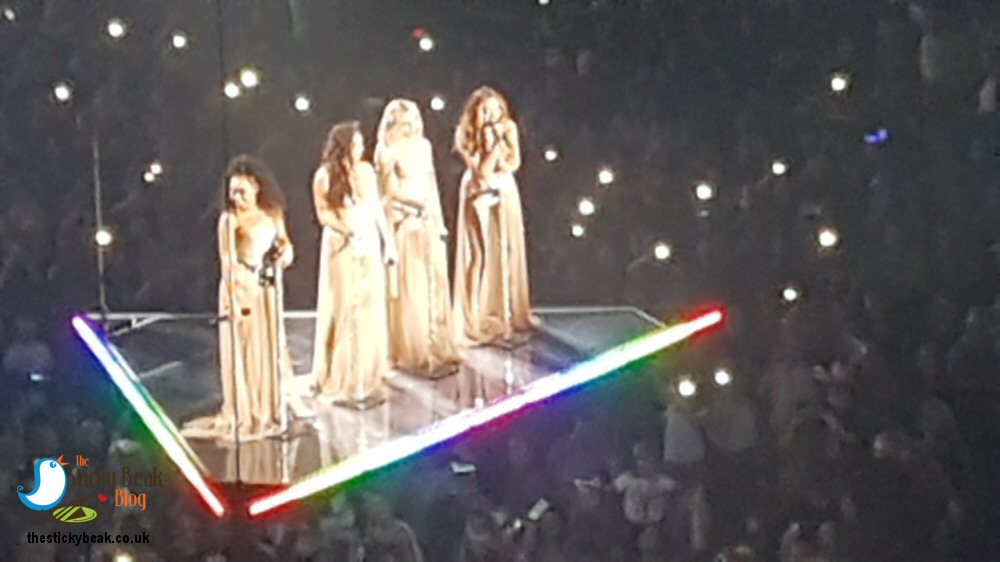 Hot Wings definitely given to the Motorpoint Arena, Nottingham team; from the first moment to the last we had a terrific time. I should award two lots of Hot Wings really; one for Spotlight, and one for the Arena team. I have to say a massive thank you to Sarah McCann too; without her kind invitation, none of this would've happened.

For more details on all the packages available, and up-coming events, please visit the Motorpoint Arena website.
Some form of incentive was provided to visit this venue
read more