A Bottomless Brunch At Revolucion De Cuba, Sheffield
---
Published On Wednesday 27 Nov 2019 by Sticky Beak
See Recent Dining Out Reviews | See All Recent Reviews


Sheffield is the fifth Revolucion De Cuba location that The Man and I have visited, and each one has been different; what has remained constant though is the little slice of Cuba that the RDC teams have brought to their respective cities.
What struck me as we walked in was the seeming 'narrow-ness' of the space, but having subsequently done some research I now know the reason for this. RDC Sheffield's current home, just off West Street, was formerly a shed that housed Trams, Sheffields' iconic transport work-horses. His Nibs and I had brought Mummy Bird along with us, and The Fledgling met us at Revolucion de Cuba, as she now studies in the Steel City.

Wherever we've been we've always had a warm friendly welcome by all the RDC team, and it was no different at Sheffield. The lovely young lady took us upstairs to our table, and very kindly obliged my request to move to a table at the far corner of the mezzanine level: we'd been shopping and didn't want our bags getting trodden on by mistake by other brunchers (something I once did myself!).




You can't beat a bit of eye candy after some heavy-duty retail therapy, and Jonah was as charming as he was handsome. A quartet of Mimosas got handed to us pretty pronto; very much appreciated to quench our initial thirsts! Soon after this, the selection of Bruschettas was placed in the middle of the table for us to help ourselves to, and we all tucked in. The slices of toasted, garlic-rubbed bread had been loaded with plenty of fresh Tomato and thin slices of Ham, and their flavour burst onto our tongues with no hesitation at all. A terracotta bowl filled with Patatas Bravas also came to our table, and we do love these little minxes as you know. The Man and I bit into their crispy outers and savoured the spiciness of them; it had been a little chilly outside and the warmth they spread in our tummies was very welcome.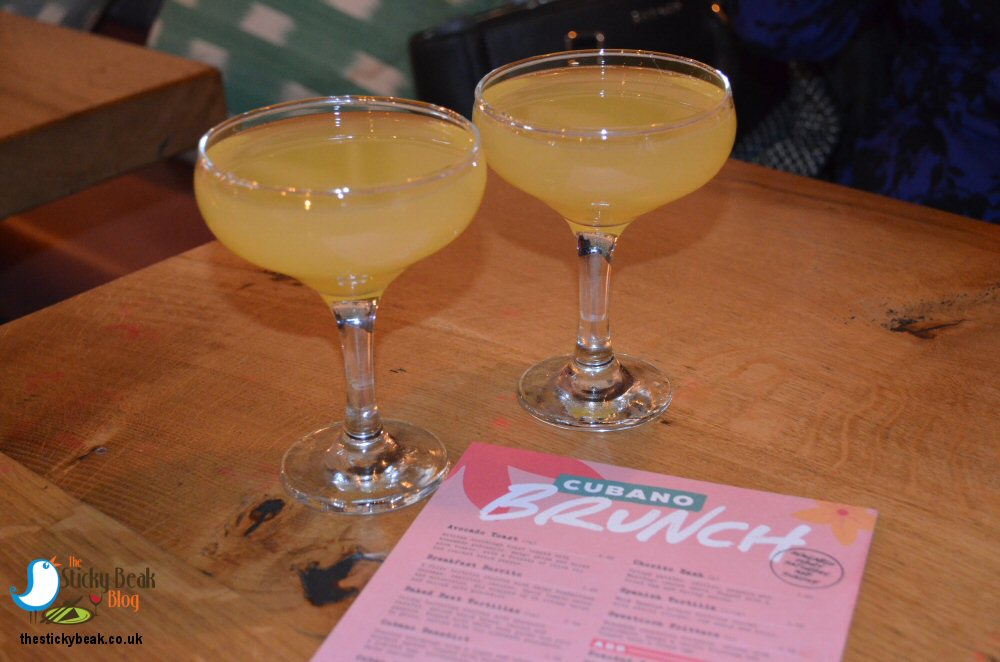 Jonah had clearly got the measure of our group fairly quickly and was bringing over some glasses of Prosecco to keep our mouths from going dry. In fairness, we had told him that we were seasoned RDC Bottomless Brunchers and that we were rather partial to Prosecco; even so, it was slick of him to keep the drinks flowing seamlessly. This is one of the things that Revolucion De Cuba has got down to a fine art – you can't fault their customer care!

Whilst he had brought the Prosecco over, Jonah took the opportunity to grab our brunch orders: Mummy Bird and Chickadee had both opted for the Full Grilled Breakfast, The Man went for his tried-and-trusted favourite (Breakfast Burrito) and I had the Avocado Toast (a Vegan option, for those that need it).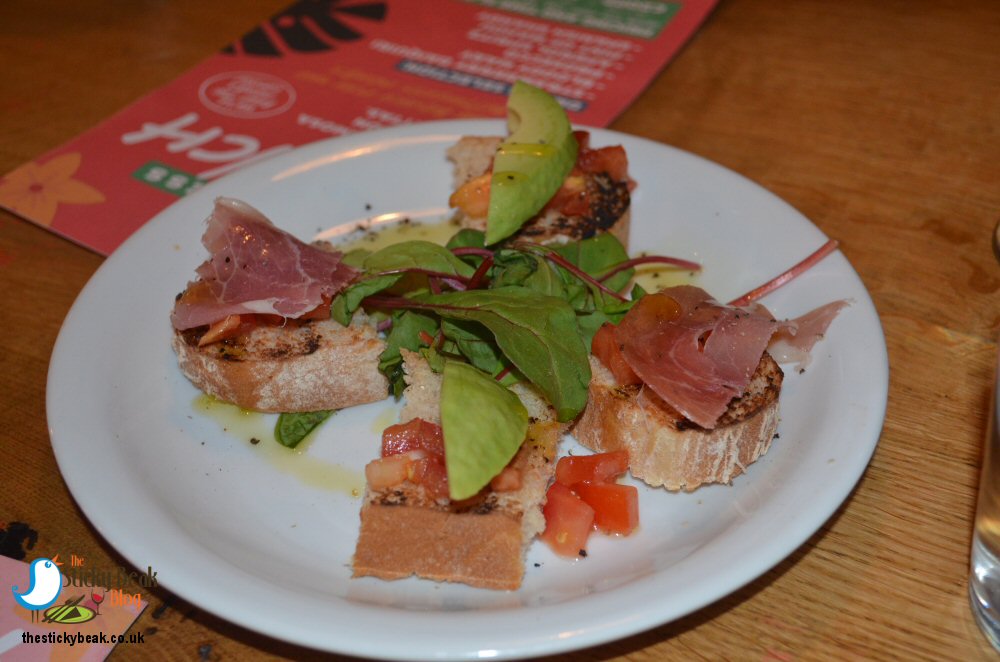 As we waited for our brunch dishes to arrive, we sat back and took in the chilled, happy vibe of RDC Sheffield. The uplifting salsa-inspired music was playing at a nice level and you could hear chatter and laughter coming from tables on both levels of the venue. Our little flock never runs out of things to say anyway, but with us not having seen The Fledgling for a while there was plenty of student shenanigans to catch up on! A lot of Latino cultures are family-orientated, so Revolucion De Cuba fits perfectly with this tribe.

It wasn't long before our choices were placed before us and Jonah took the chance to ask if we'd like more Prosecco, or if we fancied trying a cocktail. Mummy Bird stayed old-school classy with the Prosecco but the rest of us dived straight in to the fruity Strawberry Daiquiris; rude not to, really! There's no denying the fact that RDC make stonkingly great Daiquiris - they went down like one-o !! His Nibs was impressed by the amount of filling there was in his flour tortilla as he began to tuck in.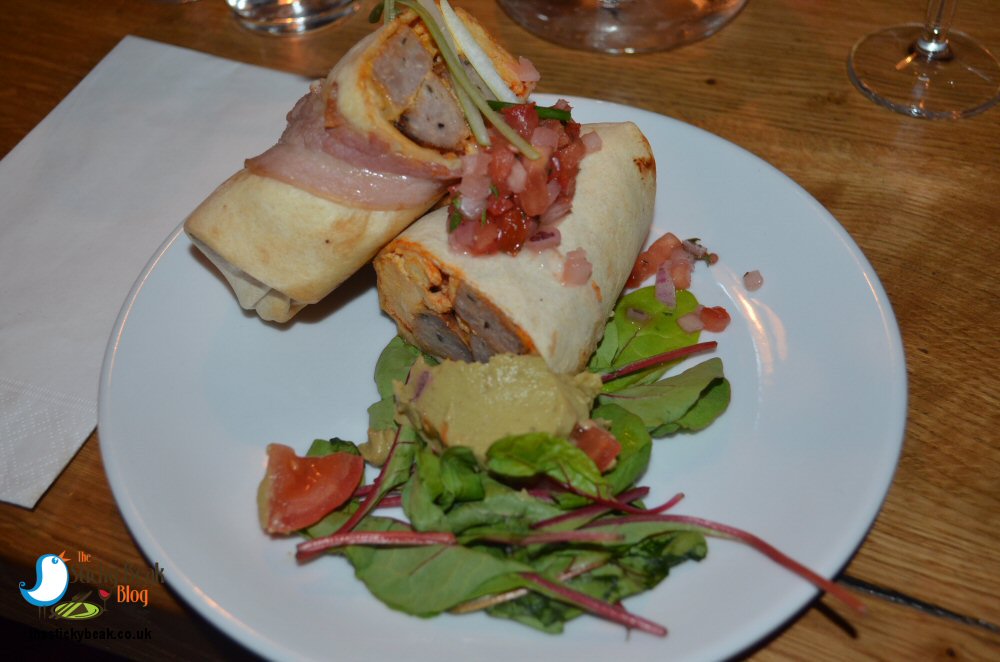 A good, hearty Burrito is one of those marvellous soul-warming foods that make you feel all happy and fuzzy inside, and looking at The Man, I could tell he was a happy chappy. The Cumberland Sausage was nicely herbed and spiced, standing up to the robust Tomato sauce brilliantly, and partnering the smoky Chorizo slices perfectly. Instead of using scrambled egg inside the Burrito (which would escape in bits) the RDC kitchen makes an omelette and pops this in the tortilla instead, making it a much more amenable beast to easy eating. Melted Mozzarella was tempting the senses as it stretched in that lazy way it has, begging to be broken in half by an eager tongue; His Nibs kindly obliged! Yep, the Breakfast Burrito had once again hit the mark.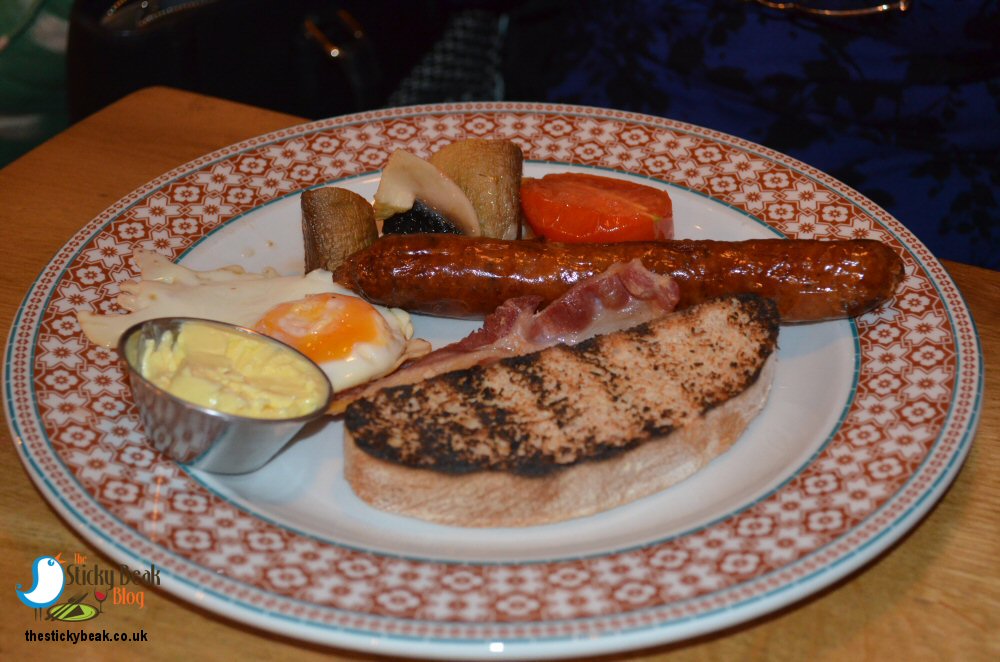 Both Mummy Bird and Chickadee made quick work of the Full Grilled Breakfasts they'd ordered, making their way steadily through each of the elements it's comprised of. Chickadee popped her fried egg onto the slice of toast and burst its yolk, letting its rich, creamy liquid soak into the bread underneath. In the meantime, she tucked into the slices of tasty Streaky Bacon and cut into the hearty Smoked Sausage. It wouldn't be a flock meal if there wasn't a bit of plate-trading going on, and Mummy Bird and The Chick slid bits of food to-and-fro between themselves. It didn't take long until they'd got a pair of clean plates in front of them, so I think it safe to say that they liked their food too.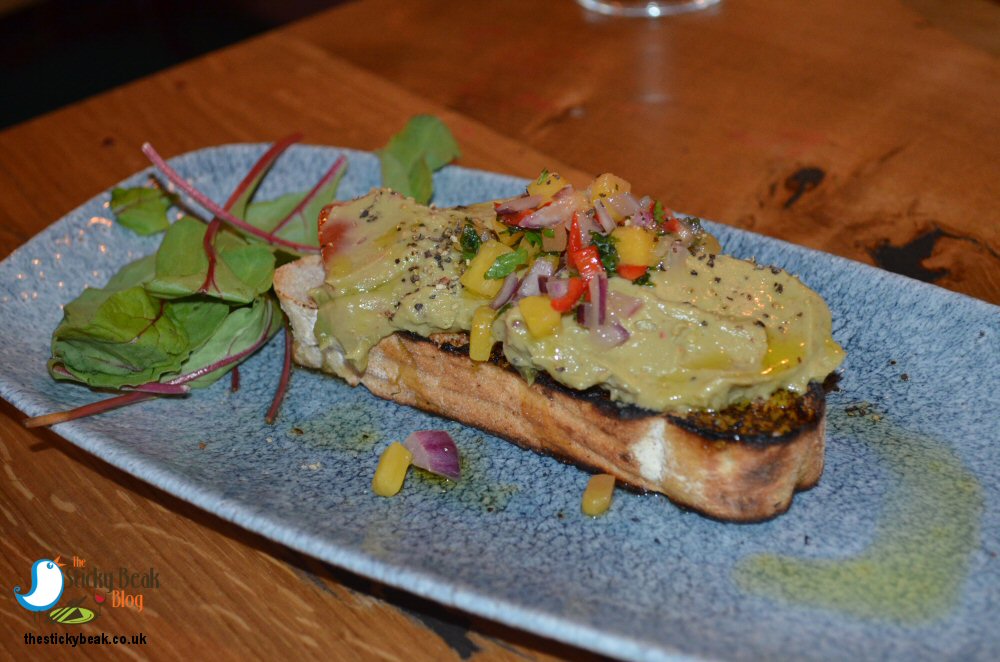 It's no secret that I am a fully paid-up, card carrying member of the carnivore club but that isn't to say that I think vegetarian or vegan food is bland and boring. To me, if it's tasty food, that's all that matters – meat containing or not. I absolutely love Avocados and probably eat them far more than I should, given their calorie content: hey, they contain healthy fats so the calories are all good too, right?! The thick slices of sourdough toast were heaped with RDC's magnificent Guacamole (seriously, you need this in your lives), Mango salsa and lots of diced sweet Plum tomatoes. A generous drizzle of fruity Olive oil and some pungent, fresh cracked Black Pepper topped the pile of temptation in front of me and I gave it my undivided attention. Meat-free it may be, but taste-free it most certainly ain't! My mouth was swooning in delight at the explosion of tastes and textures that danced around in it, and my tummy was getting happier by the second as it began to fill.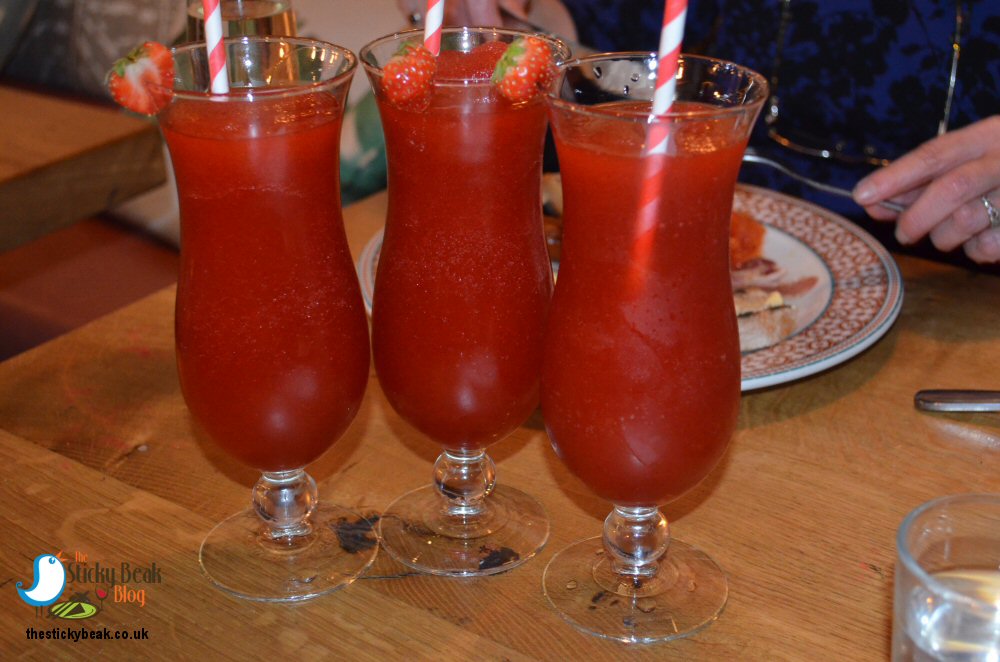 The lure of an Aperol Spritz was too great to resist and I have a serious lack of will-power anyhow, so I gave in and had one of those as His Nibs and Fledgling carried on with the Strawberry Daiquiris and Mummy Bird remained serene and Queenly with the tall flute of Prosecco in her dainty hands.

What we like about the bottomless brunch experience at Revolucion De Cuba is the leisurely two hour slot you have. You get great bang-for-your-buck (which, let's face it, is what we're all after!), but you don't have to chug your drinks down with indecent haste and look like a complete daytime lush; something no-one wants, I'm sure. The food is always hot and tasty, so the bottomless brunch is great on both the eating and drinking fronts: win-win.




Pricing is flexible too: 11am and 11.30am slots are £20 per person, Noon, 12.30 and 1pm are £25 per person, and the 1.30 and 2pm slots are £30 per person. Every slot has its pros-and-cons, so it really comes down to personal preference and circumstance as to which one you decide on. Whichever slot you go for though, one thing is guaranteed: the Latino warmth and good times will be in full swing at Revolucion De Cuba, Sheffield.
Some form of incentive was provided to visit this venue
read more