A Pre-Shopping Breakfast At Tamper Sellers Wheel, Sheffield
---
Published On Sunday 24 Nov 2019 by Sticky Beak
See Recent Dining Out Reviews | See All Recent Reviews


Food is essential to life, right? Therefore (in my mind) there is always a right time to eat, and one of the cardinal rules according to my Mummy Bird is that you never, ever skip breakfast; heck, you'll get no argument from me! The Man, Mummy Bird and I were off on the train to Sheffield to see The Chick in the city where she has chosen to fledge whilst she studies.
Thanks to all the rainfall and subsequent flooding, we weren't sure whether we'd get to Sheffield, but the travel gods were shining down on us and the trains were still running. When we got to Sheffield, the first job was to refuel; it'd been an early start and, having had no brekkie, our tummies were rumbling. Given the retail therapy expedition that we'd got planned, we were all going to need some sustenance to keep us going!

Tamper is a little off the beaten track, but if you haven't been before (and we hadn't) it is well worth a visit let me say now. Tamper has a trio of locations around the city, but we went to the one called Sellers Wheel on Arundel Street (S1) in the heart of Sheffield's Cultural Industries Quarter. The ethos of the team is to bring a little slice of New Zealand/ Kiwi cafe culture to us Brits, and if the warm greeting we were given as we stepped inside was anything to go by, we were certainly going to get that by the bucket-load.

We were taken down a couple of steps and seated at one of the tables at the edge of the space. What struck me immediately was the fantastic arches of the red brick ceiling, they're so unusual! Apparently the building was originally a silversmith's back in the 19th century, along with several others on the street. The Tamper team have kept things fairly simple so as to respect its heritage, but also bring a modern edge to the decor too.
Once we'd got settled in, a lovely lass came to take our drinks orders: Latte for me and Mummy, Hot Choc for Fledge and a black coffee for The Man. His Nibs does like his coffee as you know, so I knew it was something good when he offered a sip to me! The guy we took to be the owner or manager is one heck of a passionate guy when it comes to coffee, and on hearing His Nibs' delight, came over to wax lyrical for a bit about the bean (NOT that bean, you filthy animals lol). Before we knew it, another coffee was being brought over for The Man to try; not only was this a lovely gesture, it turned out to be a great sales tactic, as we ended up buying a bag to bring back to the nest!

With our initial thirsts slaked, we turned our attention to the breakfast dishes on offer. As well as a selection of cakes and pastries from local business, The Depot Bakery, Tamper does a cracking range of items for what is regarded by many as the most important meal of the day. They make their own in-house Granola if that's your thing, or there's an indulgence-sounding Coconut and Chia Rice Pudding with Golden Sultanas, Pistachio and Berries, which did temporarily catch my eye before I settled on the Big Kiwi (£11) . Mummy Bird and Chick had Eggs on Toast (£5.50): two eggs done your way on toasted Depot Ciabatta with Hazelnut Dukkah and His Nibs had one variety of the multitude of Eggs Benedict on offer: Salt Beef Benedict (£9).

It's pretty much acknowledged country-wide that Sheffield folk are really friendly and without fail, every single member of the Tamper team were great, especially the young chap with beautifully dishevelled, curly hair (yes, I got hair envy!) who brought our food over to us. We were sat at a table that gave us a great view of the kitchen (located at the rear of the venue) and trust me, those guys were working their socks off the entire time we were there!




If there had to be a criticism, it would be that both Mummy Bird and Chickadee struggled to cut into their Ciabatta; its thick crust was certainly taking no prisoners, but by gum it tasted good when they did conquer it. The eggs were beautifully rich-yolked, their taste bursting onto the tongue instantly, and the contrast between their sweetness and the slight tart note of the bread was excellent. Crust-gate aside, the sourdough was delicious and very satiating, and both ladies said that they'd have this breakfast option again.

One thing I should've mentioned right at the start was the fact that as soon as we were seated at our table a metal carafe of chilled water and glasses was placed before us – a nice touch, don't you think? At this point, as we were all tucking in, we asked for some more drinks and it didn't take long for them to arrive; the baristas are on top of their game, that's for sure.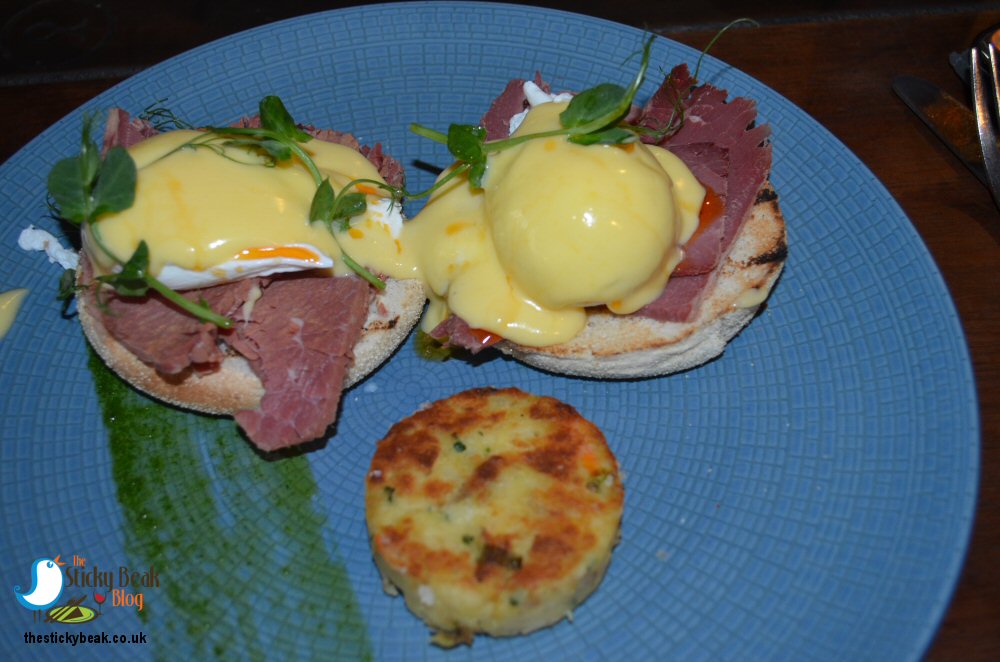 His Nibs' Salt Beef Benedict was a hearty dish, make no mistake; the toasted Muffin at the bottom was groaning under the weight of a generous Bubble n Squeak patty, mounds of Salt Beef that had been thinly sliced, and two soft-poached eggs. The eggs had the same great taste as Mummy and Chickadee's and this partnered the flavoursome meat superbly. As a young Chick myself, I can remember the Sunday evening supper dish of Bubble n Squeak that Mummy Bird used to whip up for Daddy Bird and I. So good was her interpretation that kids from neighbouring houses used to just 'appear', calling on me at supper time! Anyhow this simple, usually shallow fried combo of potatoes and greens that punches taste-wise way above its looks (let's face it!) was delish at Tamper, and The Man was gobbling it down like it was going to go out of fashion.

My Big Kiwi was the NZ take on our classic "Full English", so there was a couple of tweaks in there. The thick slices of Bacon were other-worldly in their deliciousness; these hit the hunger spot on the bulls' eye with their fantastic depth of flavour and texture. This was the tastiest bacon I've had for a while, I'm not gonna lie. Equally great were the couple of fat, juicy Tomato and Basil Sausages; you really do get both tastes coming through on the palate. I like having the egg yolk run all over my plate in a fry-up (not any other time, don't ask me why!) and the huge field mushroom got chopped up and used to scoop the yolk into my eager mouth, along with some of the Apple and Date Black Pudding. Told you to expect some quirks, didn't I? In all honesty I wasn't sure about this version of Black Pud, so I popped the first bit into my mouth a bit gingerly. It was pretty good, I have to say; sweeter than its usual cousin, but very tasty nonetheless. If I had to choose, I'd still go for the original type, but this made an excellent change and I'd definitely eat it again.




Keeping the sweet theme going was half a Sweetcorn Cob on a skewer, glistening lightly with melted butter. I absolutely love Sweetcorn (especially fresh stuff on the cob) so I was a very happy birdie as I tucked into this, even if I was a bit surprised to see it on a brekkie plate! It works really well, to be honest, so when it's back in season next year I shall be adding this onto my breakfast dish when I cook at the nest.

I'm a big believer of 'everything in balance', so it figured to me that where that was sweetness there should also be spice. Enter the pot of Tamper's Spiced Beans in all their rich jewel-toned glory. Beans are good for the digestion thanks to their fibre content, and the virtues of spices for digestive purposes are well-documented, so put together this was a marvellous combination that worked superbly well.

My Bubble and Squeak patty was flippin' magnif! Not as good as Mummy Birds' (obvs!), but damn close. It was nice and firm in texture, so it didn't disintegrate in the pan whilst being fried or when it was cut into with knife and fork; taste-wise it mighty fine too, thanks to a little bit of seasoning that brought the veggies natural flavour out very well. Choice, as the Kiwis would say; NOT bonzer that's Aussie!

With my plate squeakier-than-squeaky clean, this hungus was well and truly stuffed - and happy! Hungus is the New Zealand term for someone who loves food a lot; we just call them gluttons here in Blighty, but hungus sounds nicer I think.

Hot Wings more than happily awarded here to this cracking venue, you certainly want to add this to your list of places to check out when you're in Sheffield, folks. As well as breakfasts, cakes and pastries, Sellers Wheel opens for lunches too; opening times are as follows: Mon-Thurs 8am-5pm, Friday 8am-6pm, Saturday 9am-6pm and Sunday 9am-4pm. They also open on Bank Holidays from 9am-4pm. The kitchen shuts one hour before closing on all trading days, just so you know!
No incentive was provided to visit this venue
read more