Trying Out The Tasting Menu At The Recently Opened Juniper & Grapes in Belper
---
Published On Sunday 17 Nov 2019 by Sticky Beak
See All Recent Reviews


Juniper and Grapes closed January 2020
Those of you in Belper will be familiar with The Loft restaurant, but since Saturday 19th October 2019 this has been transformed into Juniper and Grapes, a venue that affords both drinking and dining opportunities to those that enjoy Gin, wine and fine food.
Co-owners Craig and Emily have worked tirelessly around the clock to totally re-vamp the space in just two weeks – rather them than me! The result is a much more airy, modern place to eat and drink; the bar has been moved to be more central, so you are greeted as soon as you come up the stairs – far more sociable. To the left of the bar is a dedicated area for those wishing to enjoy a drink or two, and there are plenty of tables and comfy seats to relax and take a load off. The right side of the bar area is home to a fresh feeling dining area that can be made more intimate by the pulling across of a curtain, separating it from the bustle elsewhere in Juniper and Grapes.




Clean white walls have really brightened the place up and the clever use of flower and foliage garlands makes it feel welcoming and relaxed, rather than over-powering and invasive. The wood floors have been spruced up so that their naturally warm tones come through, and this warmth is further picked up by the ceiling lights that cast a gentle glow around. Flickering tealights are housed in Himalayan Salt holders and they pick up the rosy pink tones nicely as they burn.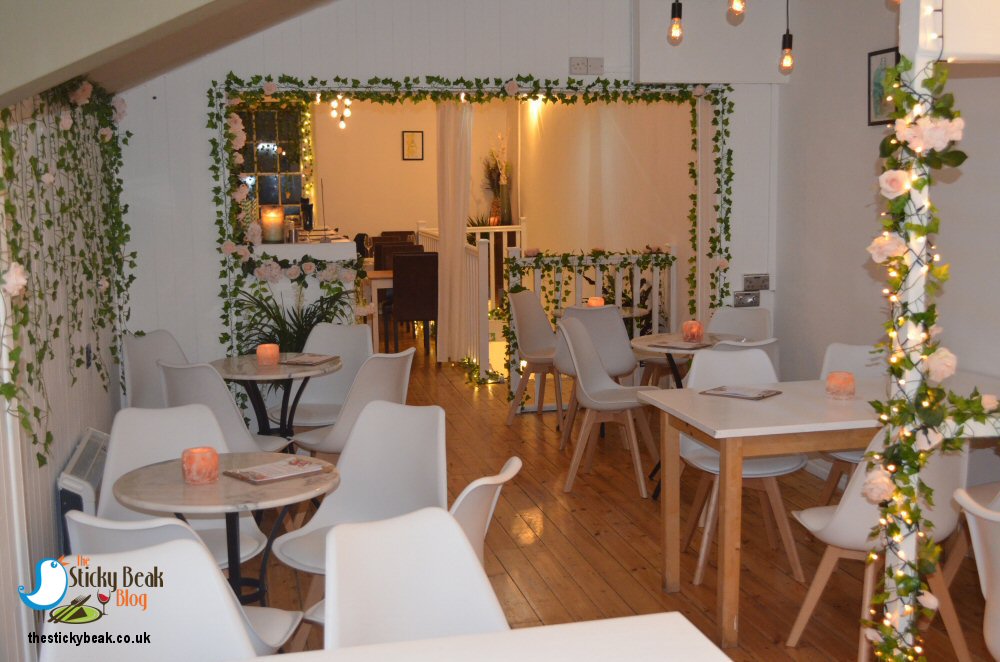 To keep the relaxed feel of the eating space the tables are simply set with white pristine white cloths, plain silver-toned cutlery, grey napkins and copper salt and pepper grinders. We were invited along to try out the 9 course "Autumn Inspirations" Tasting menu, but the table wasn't set with the entire 9 course cutlery – that would've been very complicated and a little daunting! Instead, our lovely young server came round after every 3 courses to refresh our utensils.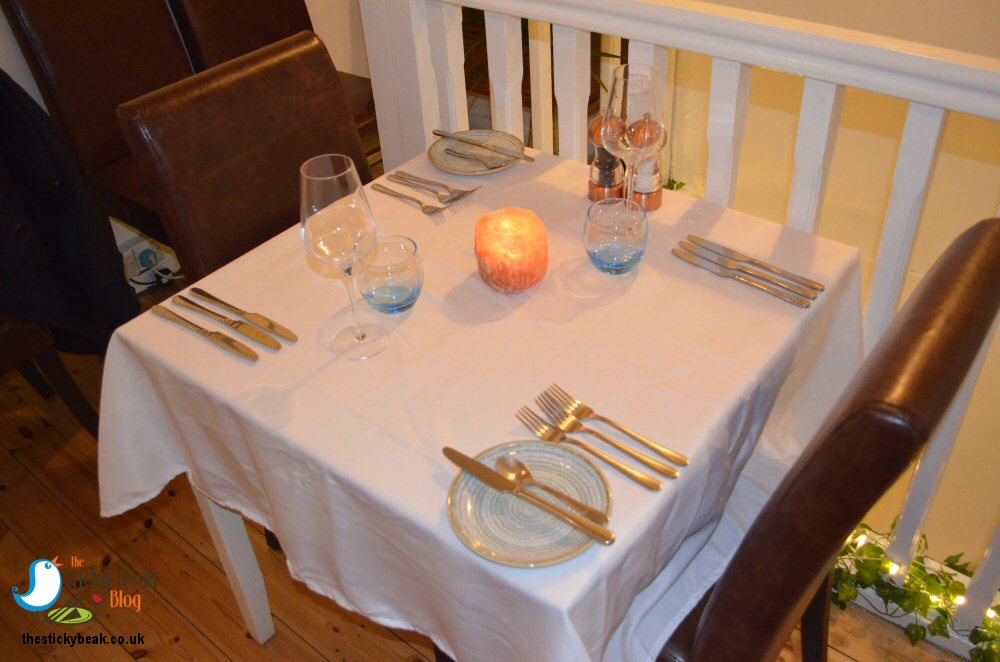 We opted not to have the accompanying wine flight that compliments the tasting menu; His Nibs was driving and I'm not one for drinking solo. Juniper and Grapes offers no less than 30 Gins to choose from though, so I had a Shining Cliff Spiced number (with Aromatic Tonic) and The Man had a Peaky Blinders Spiced Gin with the same tonic as I'd chosen.

With no further ado, it was time for our first course to come out; Bread, Veloute and Celeriac was the brief description and it certainly piqued our curiosity. A wooden board containing thick slices of Guinness and Treacle bread (and pat of unsalted fresh butter), Artichoke veloute, and Celeriac Croquettes with Plum jam was carefully placed before us and we eagerly tucked in. The bread was wonderfully malty with a nice smoky treacle hint and had a good thick crust to it that was firm but not tough. Small glasses held a piping hot Artichoke veloute that was well seasoned, creamy and had a fabulous sweet, nutty, earthy taste to it. The Celeriac Croquette had a superb crispy outer that managed to be crunchy whilst yielding easily to the knife, and its inner was ultra-smooth in contrast. I loved the delicate anise tones and celery-esque character of the Celeriac, it partnered the tangy-yet-sweet, fragrant Plum jam brilliantly.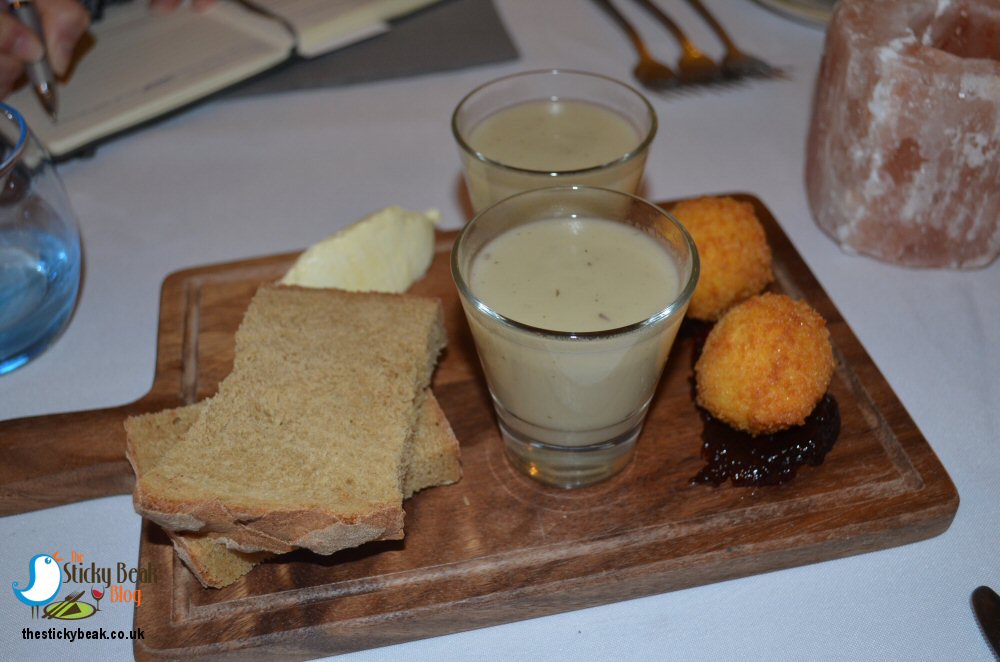 Our second course was 'Roast Chicken, Mushrooms and Leeks'; not much to go on there, we'd just have to wait and see what Chef Craig had in store for us. Shredded Chicken meat had been pressed into a circular mould and filled with a Mushroom Duxelle in its centre, with dots of roasted Garlic purée and sentinel-like baby Leeks positioned around the plate artfully. The chicken was moist and juicy, creamy and mild in taste, which allowed the rich earthy taste of the duxelle to shine through. Baby Leeks had been carefully softened and charred, and you could smell their oniony aroma as soon as the dish was served to the table. Having been puréed and then roasted, the Garlic remained beautifully pungent but its bitter tang had become altogether softer and more rounded, with a gorgeous smoky edge to it.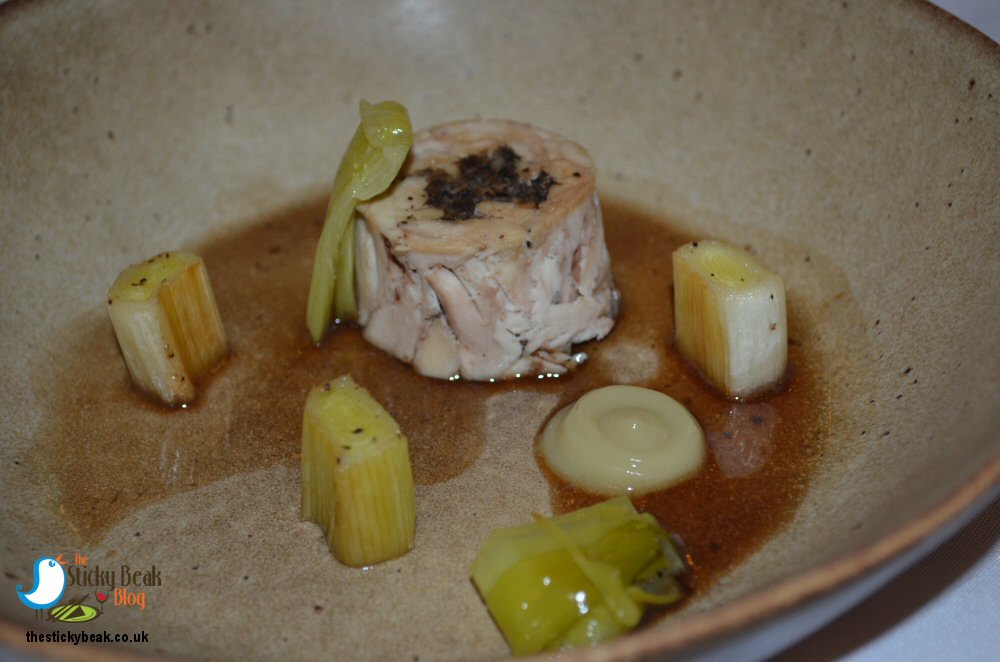 Beetroot, Charcoal and Radish; those four words comprised the introduction for course number 3. In fact, Chef Craig had cooked lovely soft Gnocchi and filled them with a delicious creamy Horseradish concoction and these formed the focal centre of the dish. Dots of sweet Beetroot and mellow White Radish purée were swirled around the plate and a precise straight line of powdered Charcoal drew the eye to the Gnocchi. The Gnocchi wasn't gooey or claggy and it definitely wasn't bland! Both of us loved the Horseradish element here; people often shy away from Horseradish, fearing its heat – and yes, it can sometimes be very strong and burning. Here though, we got a gentle whisper of its heat on the backs of our tongues that was rounded and warm, rather than harsh or bitter. The Charcoal itself didn't have a distinct taste but it added a gentle graininess in the mouth which was much appreciated for textural context.




Course number four was an interlude of 3 P's: Pineapple, Passion fruit and Prosecco. This was a superb palate-cleansing course; fresh, fruity, clean and bright. A warmed slice of Pineapple was adorned with an almost-coral toned Passion fruit granita, with the seeds of the fruit scattered around the plate; then there was a dinky glass of bubbly Prosecco to enjoy too. This was one of those mind-tricking chameleon courses! Before the fruit, the Prosecco was semi-dry; post pineapple and passion fruit consumption it became distinctly dry in character. Then the same happened with the passion fruit: eaten solo it was Tang-Fastic like in its (face scrunchingly tart) intensity, but eaten with pineapple it harmonised with this fruits' sweetness! The granita's ice particles were the perfect size, not too tiny as to be sorbet, but not too large as to be gritty either. This course was very clever, and very enjoyable.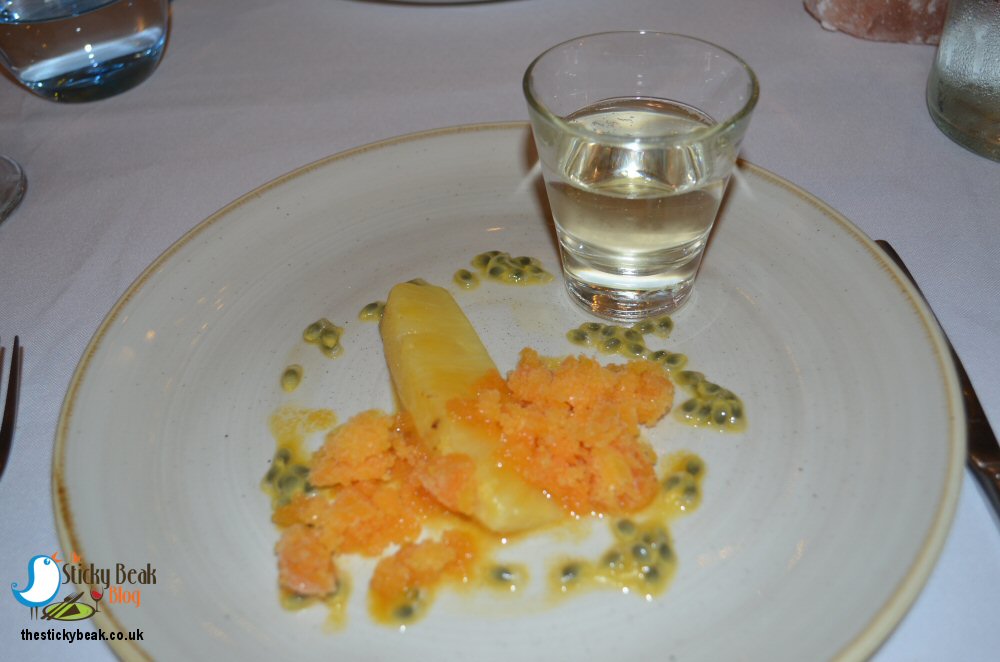 With our palates suitably cleansed it was time to meet the fish course: Sole Veronique. Fillets of Lemon Sole had been poached in Vermouth and served with Golden Sultanas and peeled seedless Green Grapes. The fish was cooked perfectly; it was moist, velvety soft in texture, and its small flakes didn't fall apart as soon as they were cut into. Vermouth added its dryness and Anise hints to the creamy sauce and dampened down its richness, which would've overwhelmed the delicate Lemon Sole, I think. I loved the sweetness of the Golden Sultanas within the sauce; they added to the fruit theme of the peeled Green Grapes whose coolness contrasted well against the warmth of the dish. This course may have been delicate in nature but it certainly didn't lack flavour.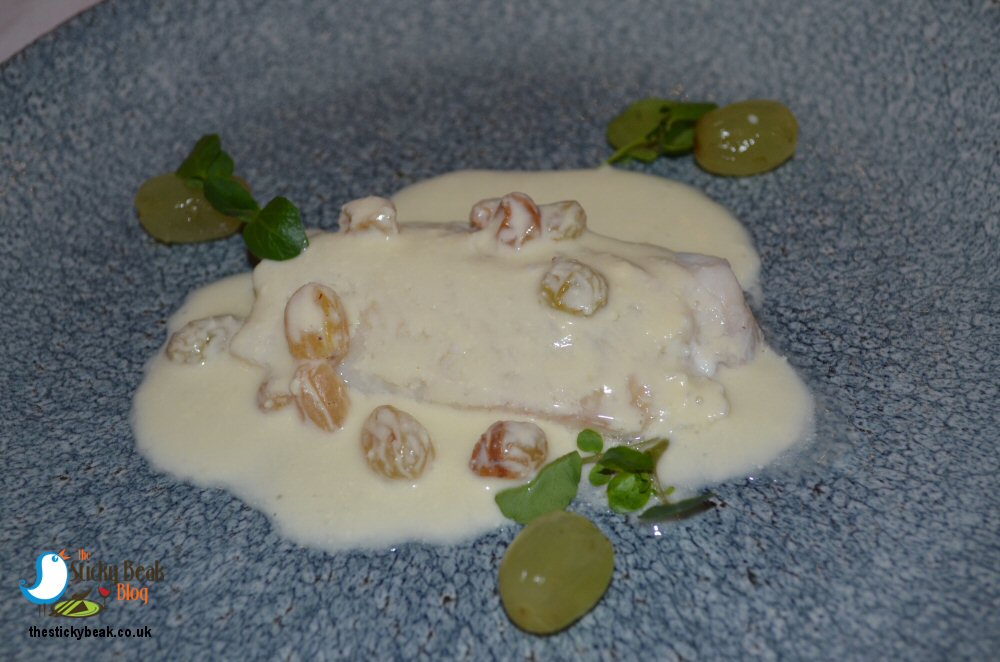 The sixth course was Belly Pork, Pumpkin and Bramley Apple. This trio of yumminess was joined by thick slices of a marvellously dense, rich and earthy-tasting Black Pudding. This made me very happy as I adore a proper Black Pud, as you well know. The pieces of Belly Pork were ridiculously good - seriously. As soon as you cut into the meat it was falling apart in ribbons and its creamy tenderness hit the tongue straight away. The Pork flesh then also melted instantly on the tongue, leaving you longing for more. Pumpkin is absolutely at its peak right now, and when we bit into the roasted chunks we were rewarded with a superb level of sweet mellowness. There was also a glass-smooth purée of Pumpkin to dip the Pork into as well: a double whammy of yum! It would've been easy to leave this dish as a celebration of sweet, creamy gentleness, but that would've been too boring and 2D; instead Craig ramped up the intensity with a wickedly crisp Bramley Apple purée. The Apple seemed to enhance the Pumpkin's sweetness and the Pork Belly's creaminess, and you got a marvellous trinity of flavours bursting in the mouth.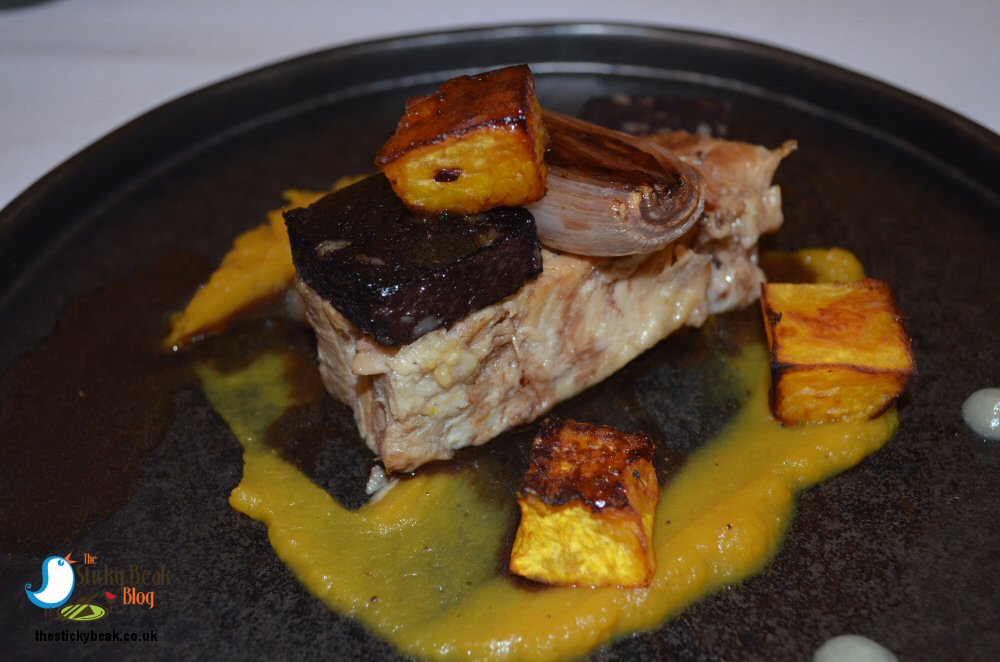 'The Cheese Course' had also been "Craig'd": fantastically robust Sage Derby cheese had been transformed into a Panna Cotta, and by golly was it good! You got that great burst of flavour from the cheese that then reveals a creamier aftertaste that coats your tongue and lingers there nicely. Flecks of fragrant Sage permeated the creamy white dome and a lone fried Sage leaf garnished it. A stonkingly sticky, punchy Tomato jam popped superbly against the cheese and a zingy Black Pepper crisp added crunch and some spice to this well executed course.




Who wouldn't clap their hands in glee at the sound of the penultimate course: 'Time for Chocolate, Caramel and Coffee'? Comprised of a Baileys and Chocolate Mousse, Salted Caramel sauce and Coffee Ice Cream this was one seriously indulgent, seriously good pudding.... with an addiction factor to match! You actually got the taste of the Bailey's Irish Cream liqueur coming through in this wickedly rich mousse, then you got a marvellous salty tang from the Caramel sauce that cut through really well. I loved the fact that the coffee ice cream wasn't strong enough to dominate this dessert; in fact, all three elements were perfectly balanced. A generous amount of Chocolate crumb was sprinkled over the mousse, adding texture and preventing this from being a purely smooth offering.




Our final course was entitled 'Childhood Memories' and was made up of Jaffa Cakes, Nougat and Bubble Gum. What's not to like here? I thought it was actual, proper Bubble Gum that had somehow been powdered, because it made my teeth stick lightly together when I scooped a load of it up and chewed it. Nope, it was those blue bubblegum flavoured "Millions" sweets, blitzed up finely – genius! The Nougat pieces were softened so you didn't have to bite hard on them, but not so soft that they stuck annoyingly to your teeth or fingers. Pieces of fruit and nuts added a satisfying texture to this sweet morsel. I have to say that Craig did a stunning take on the iconic Jaffa Cake. That distinctive sponge base was there, but instead of a smooth orange jelly topping, Craig had put pieces of peel and the Orange flesh in too, which made it much more interesting in the mouth. Although the Jaffa Cake is essentially a sweet treat, the covering of dark, bitter chocolate that Craig had used stopped it being cloying. This was another superb offering and a great finish to an excellent, expectation-defying meal.




Belper, you have got yourselves an unsung hero of the kitchen in Chef Craig! I think he's definitely been under-rated up until now, and I sincerely hope that changes; he's too good to stay under wraps in my opinion.

Juniper and Grapes offers their tasting menu on Fridays and Saturdays only at 7.30pm, and booking is essential for this. The price is £40 per person for food only, or £70 for food and accompanying wine flight. A bar menu is available until 8pm during the week and until 7pm at weekends, and Juniper and Grapes opens from Noon on Saturdays. Vegan dishes can be offered, but Chef does require advance notice of this requirement due to kitchen constraints.

Hot Wings absolutely, 100% given here; this was a magnificent experience, and one that I heartily recommend to you all.To book, visit Juniper and Grapes' Facebook page, or email them directly at juniperandgrapes@gmail.com. Thank you Emily and Craig for inviting us along, it was certainly a night that will stay in our memories.