A Rainy Evening Visit To Nottingham For Dinner At Oaks Restaurant
---
Published On Thursday 14 Nov 2019 by Sticky Beak
See All Recent Reviews


Oaks Restaurant Closed Permanently In December 2019
On an absolute swine of an evening (the one where it seemed all the rivers had burst their banks and every road was closed) His Nibs and I were making our way to Nottingham to visit Oaks restaurant and sample their food. Remarkably, we not only arrived in one piece, we arrived on time! Having parked the trusty jalopy safely, we headed over the road to the warmth and comfort of Oaks, where manager Chris welcomed us before introducing us to our server for the evening, Martina.
Oaks is a trendy, modern venue; open plan and simply furnished, and decorated in light colours. The white ceilings bounce the light around effortlessly and you can't help but notice the magnificent, circular lights in the centre of the restaurant. Arranged around the circumference of these large lights are pairs of white, unlit candles – suspended by their long, uncut wicks in an uneven fashion; a simple idea, but a very effective one. There's another of these fantastic lights in the reception/bar area that is separated from the restaurant by a pair of feature metal, chain-mail like curtains. Oaks play the background music at a sociable level, so you don't have to shout across the table at your dining companion.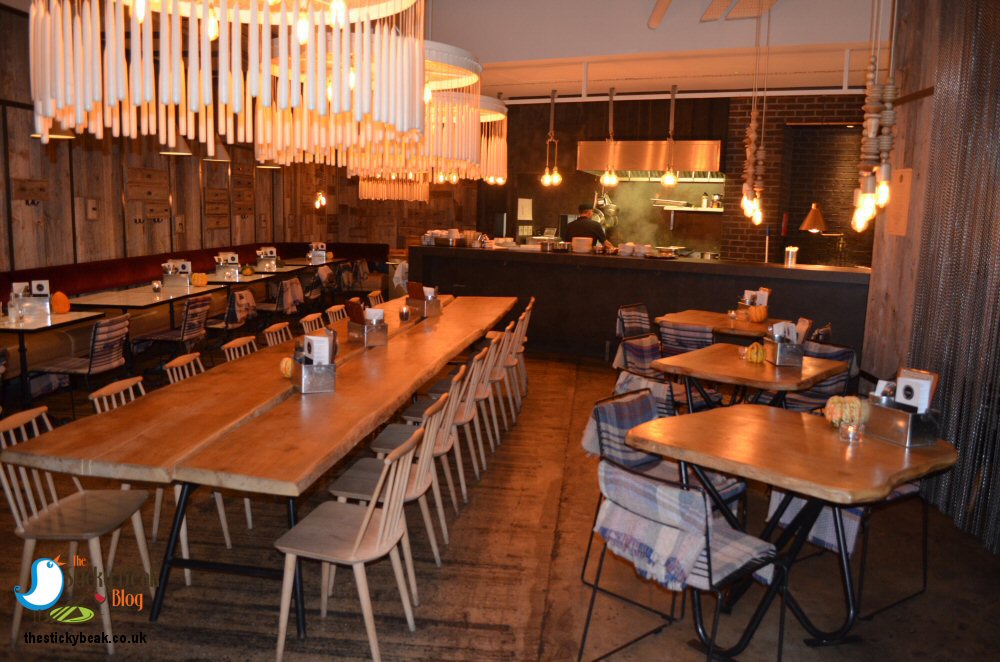 Uncluttered wood tables and chairs with rug coverings are set with cutlery in containers and the drinks and Gin menus in a wooden box. Running in an L-shape along two walls is a Bordeaux coloured banquette, and it was on this, in a corner, that The Man and I perched ourselves. Martina offered us some water for the table immediately, went off to fetch that and then came to take our drinks orders: Malbec for me, a pint of Freedom Four lager for The Man.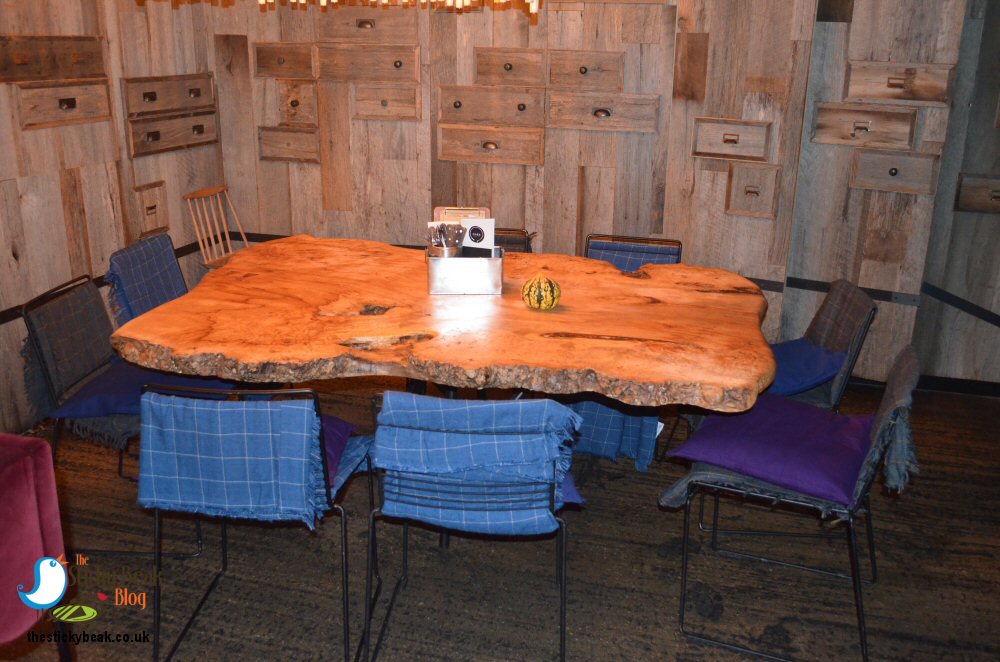 After telling us about the "Thursday Rumpday" offer (8oz Rump Steak, Chips and Peppercorn sauce for £9.99) Martina left us for a while to peruse the menu, before coming back and taking our food order. To start, His Nibs chose the Beef and Quail Scotch Eggs and I had the grilled King Prawns with Garlic and Herb Butter; priced at £5.50 and £6.50 respectively. A bowl with warm water and slices of Lemon and Lime in was placed at the side of me, ready for me to clean my fingers when I'd picked the Prawns apart.

We didn't have long to wait for our starters and they were both served in warm-toned Terracotta bowls. The Man was really chuffed with his Quail and Beef Scotch Eggs, and rightly so; I had a cheeky nibble and it was delish! The gorgeously rich, soft-yolked Quails' eggs were surrounded by a layer of very flavoursome, finely minced beef, and the balls of yumminess were then coated in a layer of breadcrumbs and fried to utterly glorious levels of crispiness. There was a little salad garnish to pick at too, but best of all was the wonderfully lively Mustard Mayo that popped superbly against the Scotch Eggs. Not a single crumb was left on His Nibs' plate!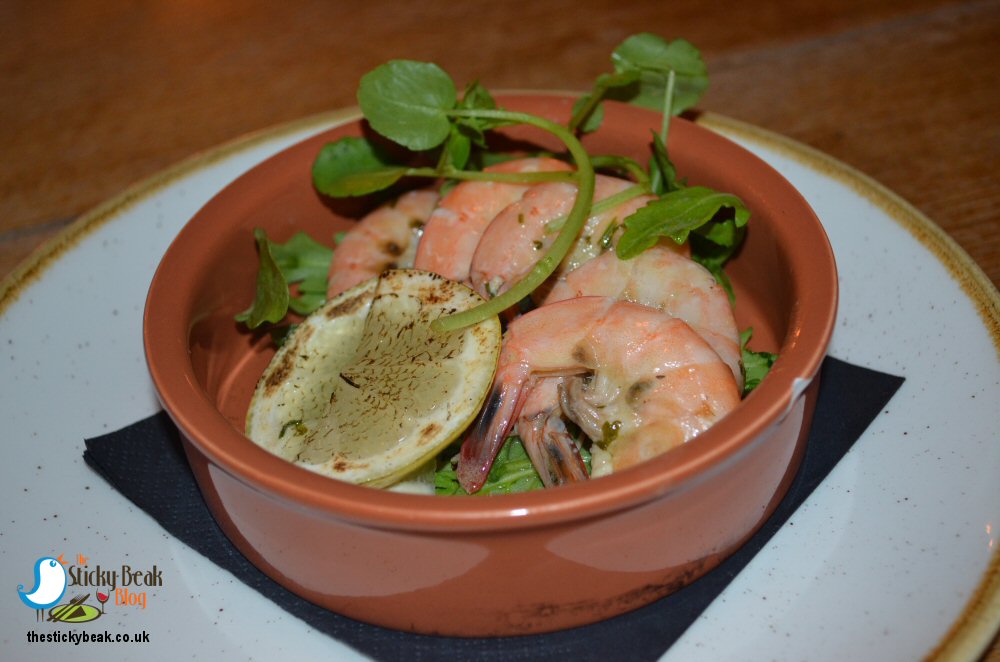 In my Terracotta bowl was a quintet of shell on (but head off) King prawns that had all been given a cover-star worthy gloss, courtesy of a yummy Garlic and Herb Butter. Needless to say, I spent several moments licking my fingers to get every last bit of the butter off them, but the warm water helped get them spotlessly clean. The King Prawns themselves were marvellously sweet tasting, with good firm flesh to bite into, and I always think you appreciate them more when you've had to remove their shells and take a bit of time over them, don't you? A mix of salad leaves had provided a nice bed for the Prawns to lie on and these had got coated with the Garlic and Herb Butter too, so they got scoffed as well! For a dash of extra visual appeal, the King Prawns had been served with charred slices of Lemon. Martina had come to check we'd been happy with our food, so it was no surprise to her that the plates she took away were whistle-clean.




The assortment of smells emanating across the restaurant from the open kitchen hadn't escaped my keen sense, and after I'd finished my starter I went to see their source. Oaks has a massive custom-made-in-Italy wood and charcoal burning grill installed in the kitchen that cooks the burgers and locally sourced meat in its embers, sealing in all their natural flavour and juiciness .It has two sections that can be individually raised and lowered by hand-cranks, giving the Chefs total control over the cooking process for meat or fish, burger or steak. There is also a cast iron bracket at the back that holds burning logs which allows Chef to control cooking from the side as well as below; nothing is left to chance at Oaks! Take it from me; the smells will make your mouth water! For those of you with an eco-conscience, the logs for this grill are the by-product of sustainable coppicing done by the Nottinghamshire Wildlife Trust.




His Nibs had decided to have the full rack of Smoked BBQ Ribs as his main course (£19), and I chose the 10oz Rib Eye Steak (£19) for mine. All Oaks' main courses come with a choice of chopped salad or hand-cut chips –you can upgrade your chips to one of the specialty versions by just paying the difference. I had the chopped salad with my steak, The Man upgraded his chips to the Truffle Oil and Cheddar ones (for an extra 95p); we also ordered sides of Mac n Cheese, Green Beans with Garlic Butter and Cajun Spiced Onion Rings: £4.50, £3.50 and £3.95 respectively.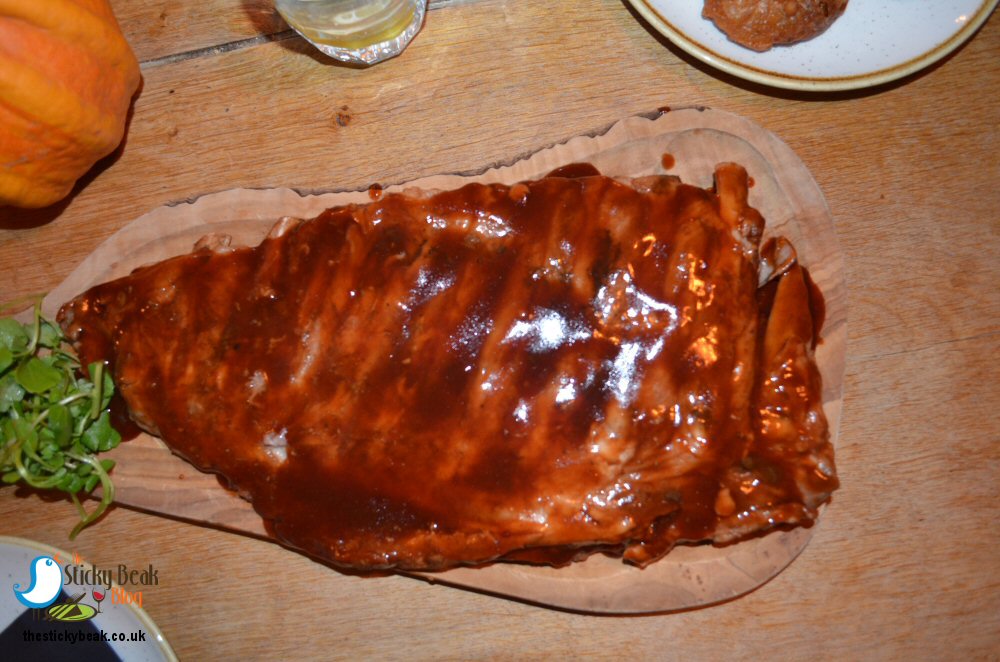 Now there's a full rack of ribs and then there's the Oaks' full rack of ribs! Honestly, you could feed an army on this beast; even The Man did a double-take as Martina placed them before him. I have been called cynical in my time (I know, right?!) and just for a moment I wondered if this was going to be one of those occasions where His Nibs' joy would be short-lived due to the size being down to rib, rather than meat, content. Nope, it was definitely the meat that accounted for the bulk of the ribs' size. The meat was beautifully moist and tender too, falling off the bone with no effort at all, and it had a great natural flavour to it that the tangy sauce enhanced rather than drowned.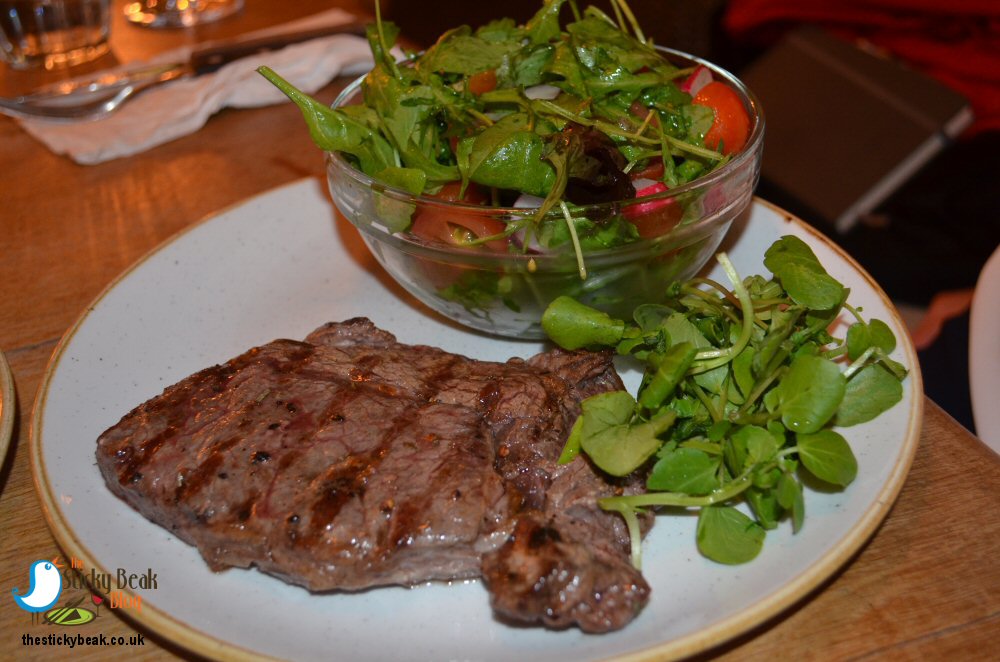 I'd asked for my Rib Eye to be cooked medium-rare (unusual for me, as I normally have steak rare) so that the fat within this cut could soften and release its taste into the meat. Chef did exactly as I asked and I got a superb piece of Beef put before me by the lovely Martina. It had a lovely density to it, texturally, and the chew time was perfect so that I really got to appreciate the beefs' taste. I was certainly a happy bird with my choice of main.




The Truffle and Cheddar chips were amazing! You can't make a silk purse out of a sow's ear as granny would say, so we were happy to taste that the chips themselves were good, with nice crisp outers and soft inners; this paved the way for a tasty potato morsel. The Chef at Oaks uses full flavoured mature Cheddar on his fries and this paired beautifully with the musky, earthy notes of the truffle oil. We had to tip the chips upside down as the cheese had all sunk to the bottom, but it was worth the little bit of extra effort.




In all honesty I'd ordered the Green Beans with Garlic Butter knowing damn fine that they would be mine all mine – or at least 90% of them would be if The Man did decide he wanted some. He didn't, so I got to savour all of their crunchy, fresh glory; I even got all the pungent Garlic Butter to myself too.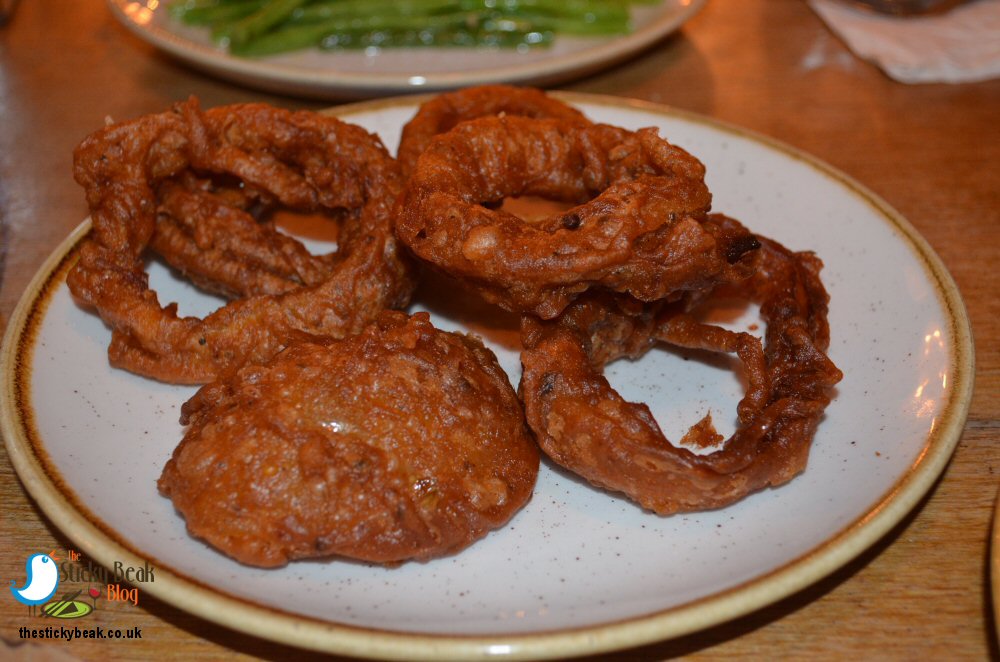 His Nibs is partial to onion rings as you all know, and the ones at Oaks looked really good as they were set down. The Man bit into the fat slices of Onion that had been coated in a crunchy, spiced Cajun batter and I waited to see his reaction. A smile slowly crept across his face as he invited me to try one, and I have to agree with his opinion that they were belting. The batter wasn't the lightest we've ever had, but it made up for this with its punchy flavour and its thickness. You get a great sensation as you bite into its substance, and thanks to the lack of greasiness the flavour of the Cajun spices come through really well.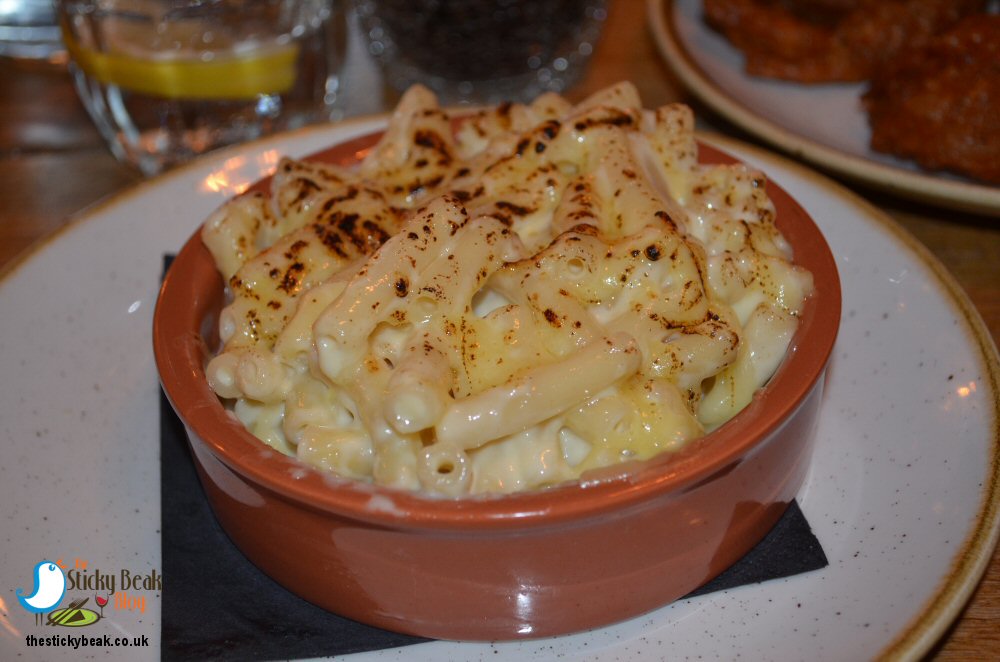 Mac n Cheese features on the Oaks' menu no less than four times; as a side, then in a trio of guises as a main course on the main menu: Classic, Portobello Mushroom, Garlic and Spinach, and Pulled Pork and Crispy Bacon. From this amount of mentions I was assuming that Chef is pretty confident in its quality, and it turns out that assumption wasn't the proverbial mother of all doozies this time – I was correct in my hunch. A lightly charred, crisp crust is the first thing you see then, as you dig into it, you get to see a soft combination of Macaroni pasta and a thick cheese sauce. There is nothing wrong at all with the Mac n Cheese as it is, but I decided to add a good dollop of the house Mustard Mayo and stir it in; genius move on my part, I have to say. The tang and heat of the Mustard really ramped things up nicely and took this to the next level, in my opinion. You can thank me later for the top tip.
Pudding was a fairly straight-forward, low-faff affair this time; I had the Salted Caramel Sundae (£5.95) and The Man had the Chocolate Brownie with Vanilla Ice Cream (£5). The Brownie was perfectly soft and gooey and was served warm which increased its comfort-food factor massively. It really had a great depth of chocolatiness that cradled the palate nicely and contrasted well with the creaminess and rounded flavour of the Vanilla Ice Cream. A fine digestive crumb added a fab textural element to the dessert and for even more chocolate intensity there was a wickedly rich dark chocolate sauce to finish things off.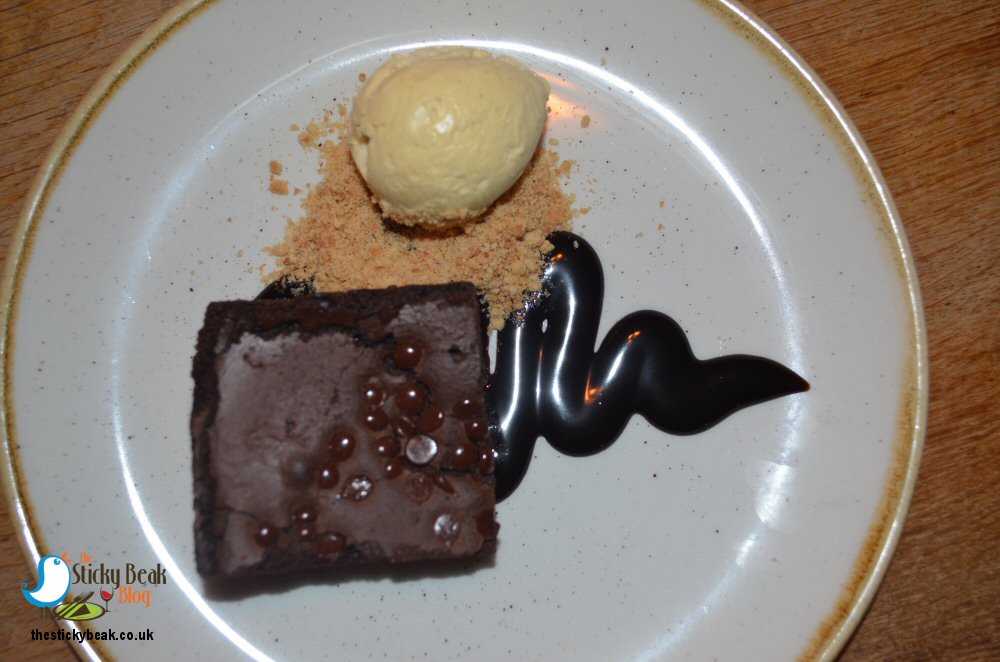 My Sundae was no less yummy with its generous amount of Salted Caramel Ice Cream that had been swirled with dark chocolate sauce and topped with lots of thick whipped cream. Even more of that indecently indulgent sauce was on top of the cream and my sweet tooth was swooning in delight! For a bit of sensory interest there were pieces of semi-hard Caramel within the Ice Cream too, and I loved every mouthful of this fairly simple dessert.

Martina brought over some black coffees for us and we sipped them slowly, chatting about our best bits of the evening. Oaks is definitely somewhere worth visiting and it perhaps isn't your natural first choice for dining, with it being attached to the Park Plaza Hotel. All I can say is "make the effort"; it's got a menu that offers some great dishes – suitable for vegetarians and pescatarians as well as carnivores like us.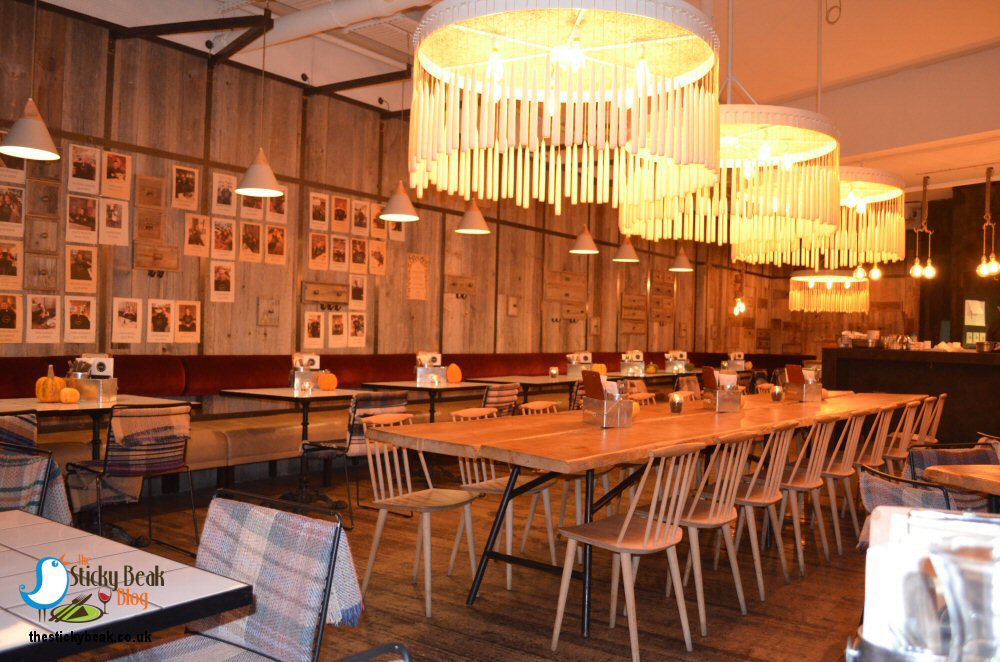 Oaks also do a Wine and Dine Wednesday offer that gives you a complimentary bottle of house wine with a sharing steak, and this is available from 5pm which I think would be the perfect after-work dinner (no washing up to do either, bonus!). If you're partial to a good old Sunday Roast, Oaks have got you covered there too: between Noon-5pm there's a choice of roasted Beef rump, Grilled Pork Belly strip or Garlic and Herb Chicken from £14.95 per person. Kids under 10 years old eat for a measly £4.95, which is cracking value for a city centre venue.




For those of you who feel frazzled after work, and let's face it, who doesn't, Chris and his team at Oaks have got your back again with their after works drinks offers. Between 5-7pm on Wednesday and Thursday, and 4-7pm on Fridays, house wine, beer and sprit mixers are £3.95 and all cocktails are 2-4-£10. So that's hump day blues banished, early starts to the weekend, and Fri-yay's all sorted.

Hot Wings awarded here, not just for the food but also for the service