Back For Pizza At La Pizza Derby
---
Published On Sunday 10 Nov 2019 by Sticky Beak
See All Recent Reviews


La Pizza in Derby closed in December 2019
It's been quite some time since The Man and I visited La Pizza in Derby; in fact, I'm going back at least a couple of years back to when it had recently opened. We had kindly been invited back by owner Antonio, but fate had other ideas: if you remember we had some almighty rain in October which leaked into La Pizza, and they had to shut for repairs. They are now OPEN again folks, despite the scaffolding outside, which might make you think otherwise!
What struck me was the fact that the interior still looks as box-fresh as when La Pizza first opened! I love the monochrome logo mural on the wall opposite the entrance; it really grabs your attention. More striking though is the mural on the long side wall; a riot of colour, this artwork depicts many sides of Italian culture and heritage: the Fiat car, a cherry red scooter (both Vespa and Lambretta are Italian), a Pizza, and Pulcinella (a masked commedia dell'arte character from Naples). Safe to say that Antonio is proud of his Italian heritage.




You can't help but be mesmerised by the triangular glass ceiling either; it's high enough to do a "mission impossible" style dangle from, or abseil down if that's more your bag! A single chandelier adorns the space and its light is augmented by several down lights mounted on the walls. The tables have a nice privacy space between them too, so you don't feel cramped at all. The lovely Julie showed us to our table and let us peruse the menu over an Aperol Spritz and pint of draught Italian Manabrea beer.

We opted to have the Fritto Misto platter, priced at £7.95; an assortment of Italian speciality fried street food served with a Sweet Chilli dip. This platter had Aubergine Cakes, Arancini (rice balls), Fried Polenta, and Panzarotti (fried potato croquettes with Mozzarella filling), and Pizzaiolo Luca added some yummy Bolognese ragu-topped dough balls too. I was also cheeky and asked for some of the authentically made Bruschetta Al Forno; I love the combination of fresh bread and zingy chopped fresh Tomatoes and Oregano.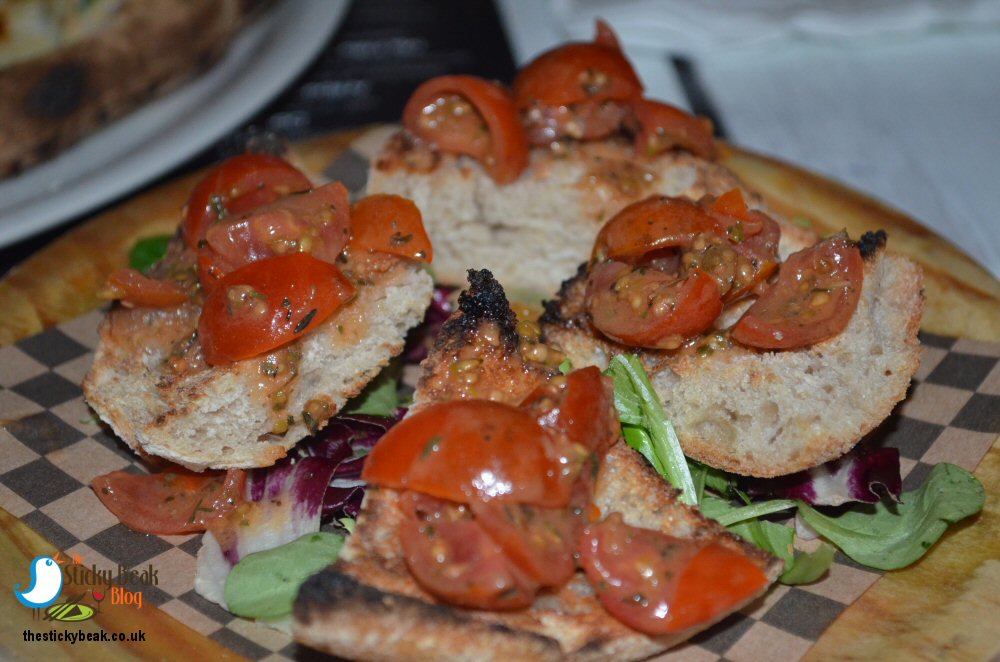 It wasn't long before Chloe brought the Fritto Misto out to us, and what a carnival of colour it was! Seriously, this was food with masses of visual appeal – and the smells were just as good, making both our noses twitch.

Miracles can happen, and I saw proof of it! His Nibs is a master at dodging veggies as you all know, but he was blown away by the Aubergine cakes – much to his surprise. By his own admission, this was the one item on the platter that he wasn't looking forward to trying; just goes to show the wisdom of trying something before drawing your final conclusion. No surprise, therefore, that we both dubbed these "miracle morsels". I can promise confidently that you've never had such flavoursome, sweet-yet-sturdy Aubergine in your life; no trace of the insipid or uninspiring here, oh no! The contrast between the crisp, crunchy outers and the soft inner was beautifully stark; a real treat for the senses.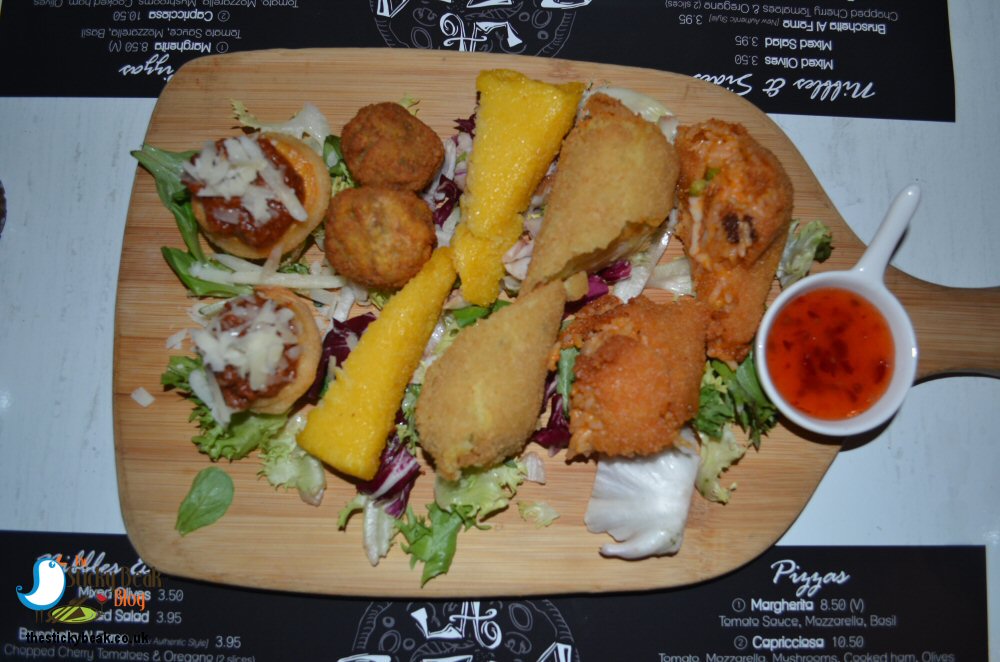 Equally great were the Potato Croquettes. These divine morsels had the same fantastic, crisp outers that yielded a soul-warming crunch when bitten into, and then you got that sublime silkiness of melted Mozzarella too. There was no trace of oiliness or grease at all with these croquettes, and we could've eaten them all day long.

The dough balls and Bolognese ragu were excellent: La Pizza makes possibly the best pizza dough you'll come across in the county; soft and full of flavour, it provided the perfect canvas against which the robust ragu could shine.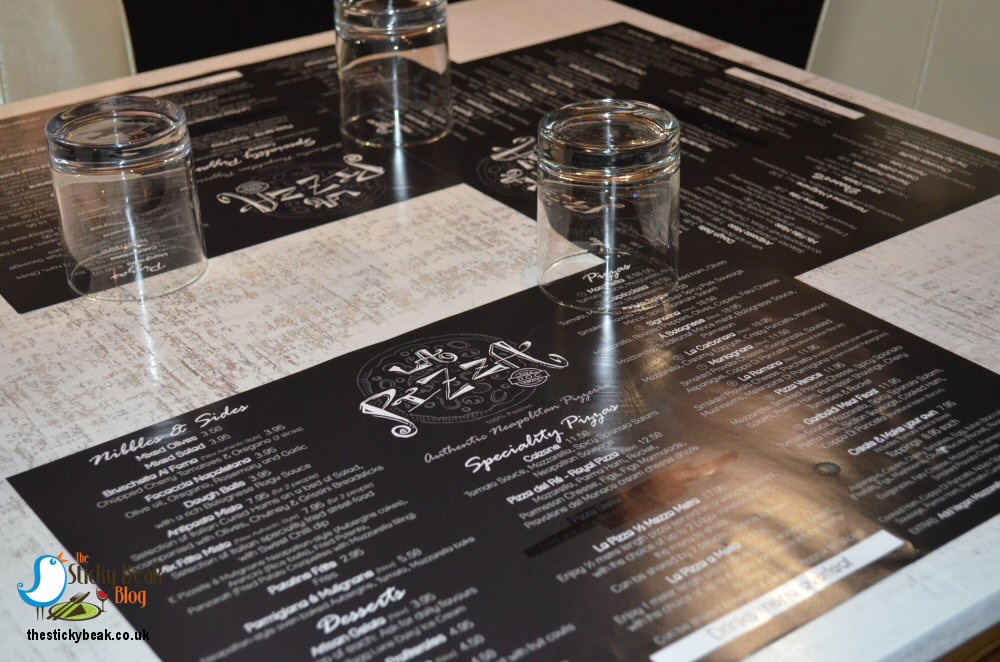 Arancini balls are simple sounding treats; balls of rice combined with herbs and filled with any filling your imagination can conjure. At La Pizza, the rice balls are given a generous coating of bread crumbs and fried to glorious crunchy perfection, providing your mouth with a real burst of sensation as it revels in the crunchiness, the softness of the rice and the flavours therein. There was no mistaking the punch of Parmesan in these small-but-mighty bites, and we both loved them.

Another surprise were the wedges of fried Polenta; who knew that humble corn could be ground and transformed into something so yummy? Not me, that's for sure! Pizzaiolo Luca had done a great job here, producing a thick crisp outer that didn't disintegrate (a must for street food where ease of eating is paramount!), partnered by a soft, moist inner. The benefit of Polenta is that its creamy character allows other flavours to "pop" against it; in this case, Sweet Chilli dip.




I can heartily recommend the Fritto Misto platter at La Pizza if you want something to share that has a great range of tastes and textures to explore. The platter comes with a garnish of mixed leaves too, and the bitter notes from the Radicchio and Curly Endive were perfect against the hot items of this selection.

If you want a lighter starter choice, then the Bruschetta Al Forno is a winner. The Bruschetta was crisp and light, crunching nicely when bitten into. There is something utterly joyful about intensely sweet, Cherry Tomatoes and when chopped and combined with fragrant Oregano, it makes your taste buds sing with happiness.

As we'd steadily been munching our way through all this deliciousness, Julie had been checking on our progress and seeing if we needed more drinks. It was Chloe, though, who came to clear away our clean plates and the empty platter, so she got to hear our praise first off.




For my main course I'd chosen one of the new speciality pizzas; the Pizza del Re (Royal Pizza), whilst The Man fancied the Garibaldi Meat Feast (cheekily adding some N'duja spicy Pork Sausage too!). Prices range from £8.50 - £12.50 for pizzas, but you can also have the half-metre pizza for £17.95 or the belly-busting, 1 metre pizza for £33.50 – to share, obvs!!

Have I mentioned just how incredibly good the pizzas are at La Pizza? Well, let me reiterate their yumminess for good measure; they are incredible! The secret (other than Pizzaiolo Luca's skill, clearly!) lies in the Naples-made wood burning, brick Pizza Oven. This vessel creates cooking temperatures of a blistering 500 degrees, and the slow levitation and blast cooking process seals the flour's inherent aroma and moisture, creating a soft, easily digested crust. There was no denying the tremendously light, thin base of my Royal Pizza – and it somehow managed to be laden with toppings yet remain crisp to the bite.




The wondrously rich San Marzano Tomato sauce provides a superb base on which to layer Mozzarella and Parmesan cheeses, Rocket leaves, intense-tasting Parma Ham, fragrant Fig Marmalade and fresh Fig pieces, and a flourish of Provolone del Monaco cream cheese to finish. This pizza had a fantastic mix of tastes and textures; sweet fig, peppery Rocket and smooth but intense-tasting Provolone del Monaco cream cheese. Seriously, this was a cleverly put together combination of ingredients and one that satisfied this discerning bird 100%.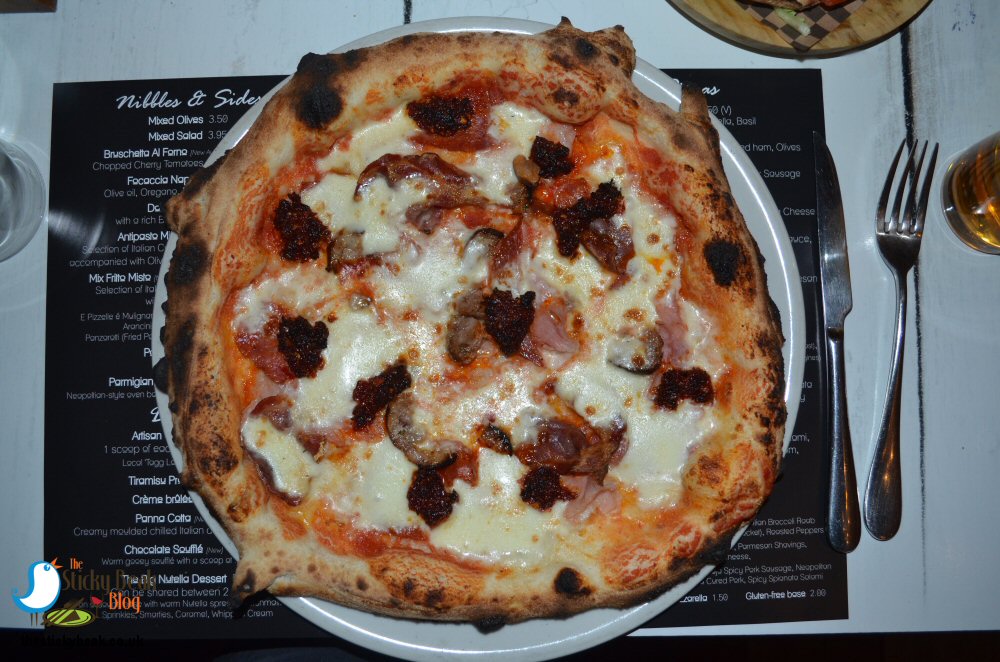 His Nibs' Garibaldi Meat Feast Pizza had the same stonkingly good pizza base and San Marzano Tomato sauce as mine, and the robust, tangy nature of the Tomato really came into its own against the powerful meat flavours on this pizza. The Coppa di Pancetta was gorgeously smoky tasting and had crisped up perfectly during the cooking process; the spicy notes of the N'duja sausage made their presence known on the palate too. Between them, the Spicy Spianata Salami, Parma Ham, cooked Ham, and Sicilian Sausage pretty much had the spectrum of flavour covered: sweet, spicy, smoky, tangy and mild were all in the mix. Unsurprisingly, given the amount of protein-rich meat on board, this was one heck of a filling pizza! The Man Bird managed to finish it though – what a trooper.

We have got so used to mass-produced, chain venue pizzas' uniform appearance that we've begun to think that this is the norm. No, no, no! Let me stop you there folks. A hand-crafted, authentic pizza will have random air pockets develop in the dough base, and as it cooks these bubbles expand and catch the heat quicker than the flatter parts. Consequently, you get "hot spots" of more well-cooked crust (usually on the edges) that some people consider to be burnt. Here's an idea; if you don't like the smoked character or crispiness of these bits, leave them – a bit like scrolling down on a social media post that you don't like/aren't interested in. Don't complain that your pizza's burnt, it isn't! For the record, I left a couple of small, very charred bits of crust, but ate the mid-charred bits as I like their taste.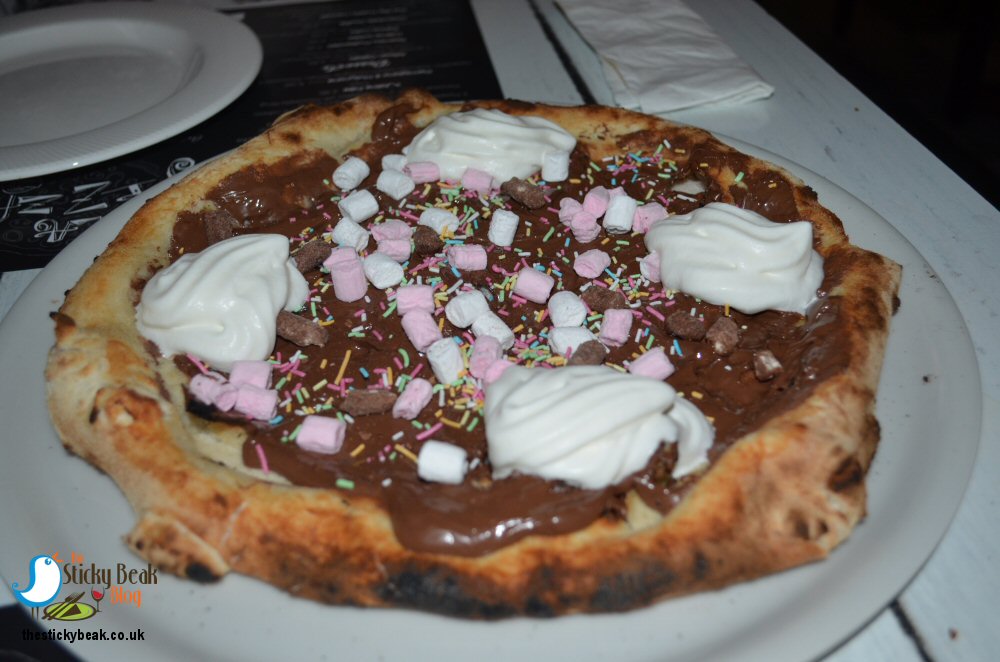 Our tummies were more than full at this point but, yet again (!), our gluttony got the better of us and we had a gander at the dessert section of the menu. I was sorely tempted by the Tiramisu Profiteroles (and the Crème Brulee, and the Panna Cotta, and the Chocolate Soufflé... you get the idea), but couldn't resist the Big Nutella Dessert. I mean, it isn't every day you come across a sweet pizza is it; so when you do, you have to have it, right? This is designed for sharing, but even so, it's a whopper by anyone's standards, and it's good value at £7.95.

The only way to describe the Big Nutella Dessert is as Nutella-y, mini Marshmallow-y, Creamy, nom-nom-nominess!! The Tomato base of a savoury pizza is replaced by warm, gooey Nutella that is then laden with scoops of Cream and decorated with plenty of Caramel Chocolate chunks, 100s and 1000s (which give a fab crunchy side to this dessert) and lots of mini Marshmallows. If you ain't got a sweet tooth, don't bother ordering this! If you do love sweet things, this'll be bang up your alley. The Big Nutella Dessert is a proper, full on blow-out, but every so often, it's gotta be done!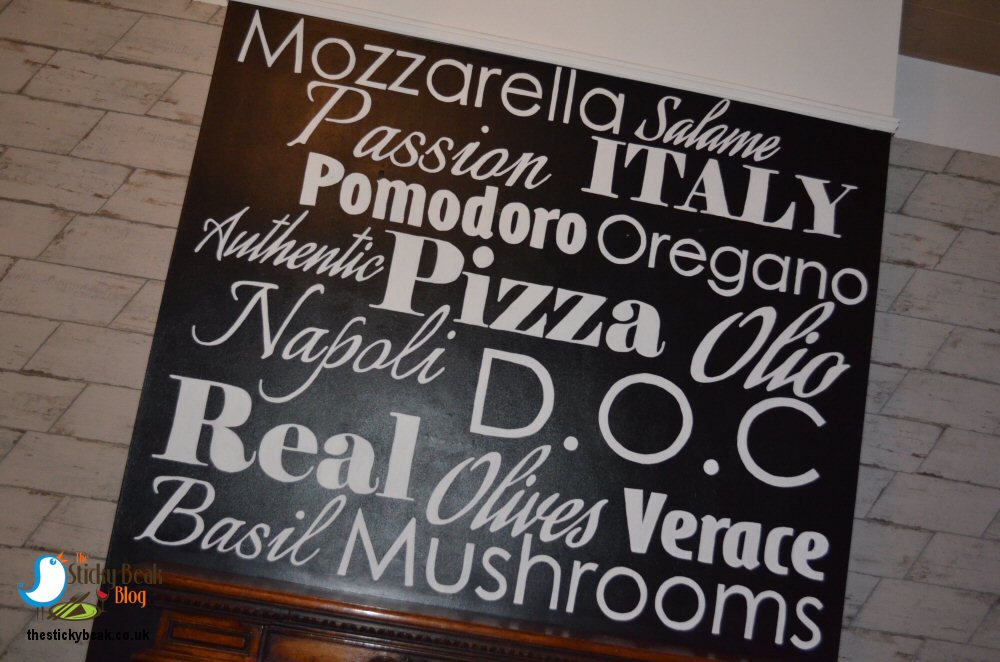 The Man and I rolled out of La Pizza like greedy Weebles! We were definitely going to regret our gluttony at some point, but it was sooooo worth it! Hot Wings whole-heartedly given to La Pizza in Derby; and thank you to Julie, Chloe and Luca for being such great hosts, Antonio has got a great team in you guys.