An Anniversary Dinner At The Butchers Bar & Steakhouse, Long Eaton
---
Published On Sunday 6 Oct 2019 by Sticky Beak
See Recent Dining Out Reviews | See All Recent Reviews


I love playing with words, and what better introduction for a blog than to say "The Man and I went to have a butcher's at the butchers at The Butchers (Bar and Steakhouse)"? Try saying that when you've had one too many G&T's!!
The Butchers Bar and Steakhouse is located in Long Eaton, not the obvious place for such a quirky eatery, in what was once a Victorian Mill building. The space itself is vast, with impossibly high ceilings and red brickwork.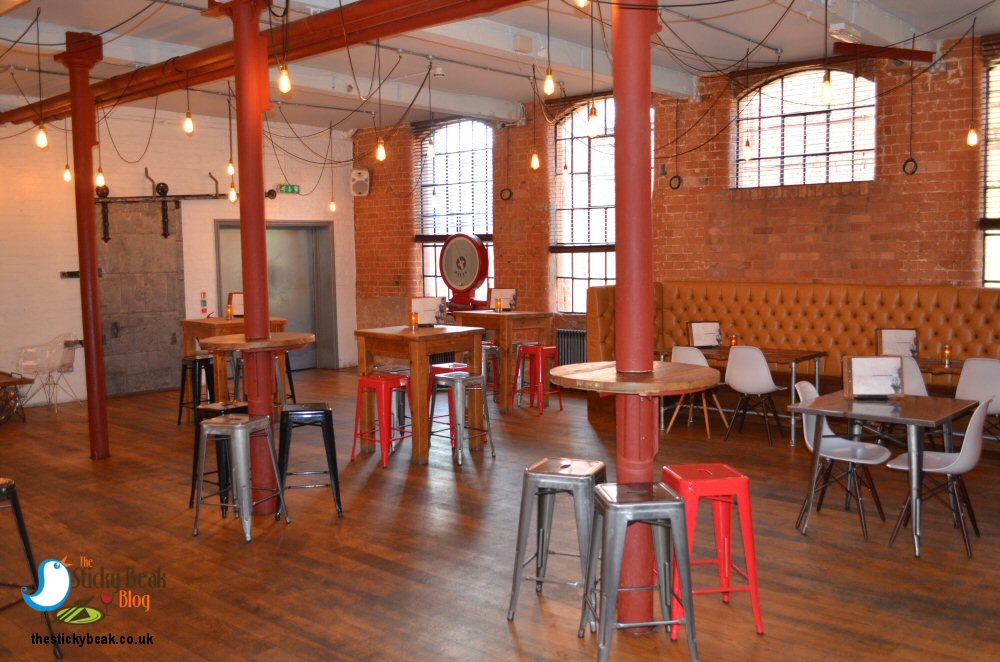 You first walk into the bar area; the open, industrial feel lends itself to sociable interaction and good times, and then you go through to an equally modern restaurant area with open kitchen. Metal pillars stand proudly in the centre, tying in nicely with the metal pole table legs. Amber hued bare light bulbs sprawl, chaotic spider web-like, across the room, and contemporary artwork perches on the walls.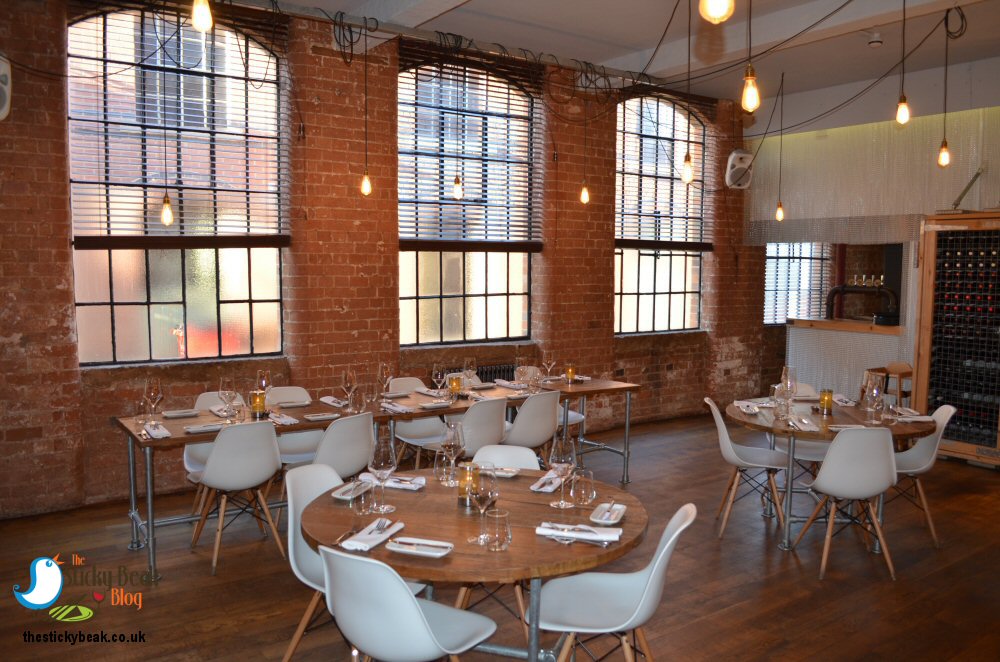 One thing that caught my eye was the metal chain curtain adjacent to the kitchen; my dark humour appreciated its nod to the butchery trade and abattoirs – well, there's no point being squeamish about such things if you're a carnivore is there?!




The tables were set with proper thick, white cloth napkins, solid glassware and hefty cutlery designed to cut through meat. No messing about here, the butchers clearly take their food seriously! There's also a really generous space between the tables, so there's zero chance of being overheard – unless you're one of those braying Henrietta types, in which case pipe down love, no-one cares what shade of Shellac you're sporting!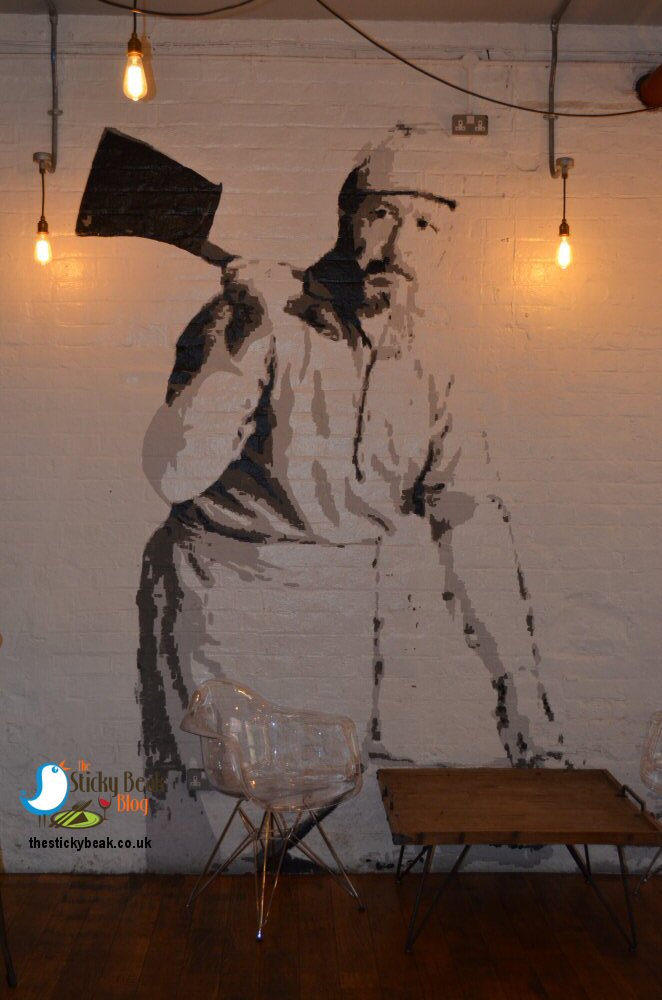 It was our wedding anniversary and, let's face it, both of us deserve medals for putting up with the other (!), so we decided to push the boat out and have the amazing sounding "Steak Flight"; a whopping 26oz of beef to chow our way through (£50). Normally we'd go for a starter, but given the sheer scale of the meat feast ahead, we opted instead to just have some of the Josper charcoal-roasted Padron Peppers to graze on. The peppers were beautifully charred, with a gentle sweetness to them – we managed to dodge getting any of the rogue hot ones! Sea salt flakes counter-balanced the peppers' natural sweet tones perfectly, and they just had a light sheen of oil on their outers to give them a bit of "super model gloss" visual appeal.




Our server was a lovely young lass and she'd come to check that we were enjoying the peppers and make sure we had everything we needed. We ate all the peppers and sat back for the steak flight, a platter consisting of three cuts of steak: Bavette, Denver and Onglet; all cooked either medium/rare or medium (depending on your preference) to release their full potential. The Steak Flight comes with charred Vine Tomato, roasted Field Mushroom, a dressed mixed leaf salad, Mac n Cheese, and house seasoned chips.

When the platter arrived there was certainly no doubt at all that Head Chef Danny Holloway and his team take their meat seriously; the trio of sliced cuts sat proudly, taking centre stage. Accompanying this were our individual plates with the tomatoes sliced in half and placed on a large field Mushroom, as well as a dome of verdant salad-y loveliness. Both the Mac n Cheese and house seasoned chips came in separate receptacles that were meant to share (!).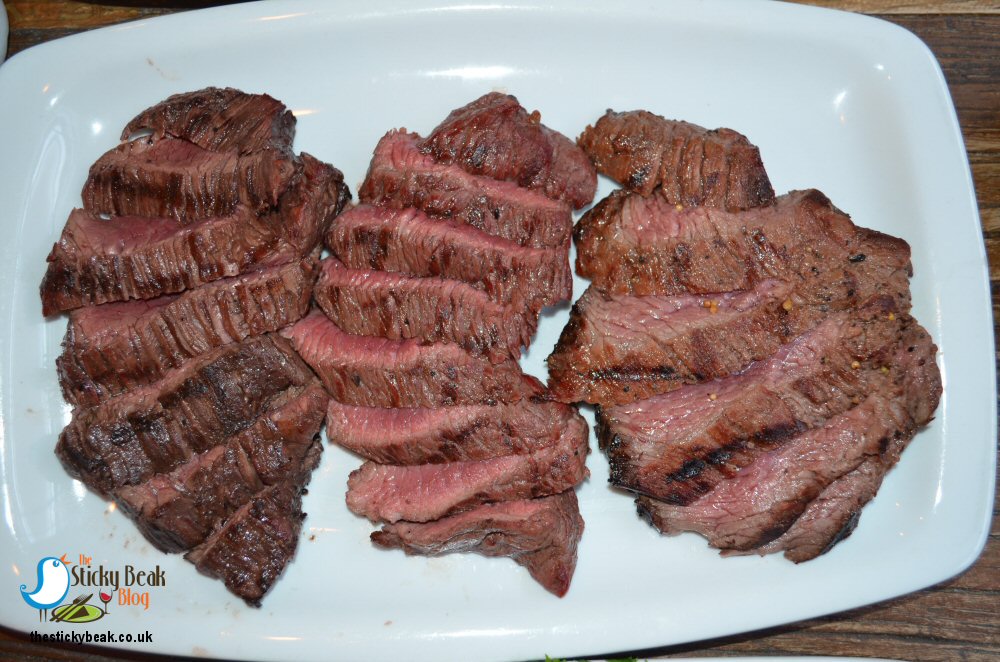 We decided to go from L-R on the platter, so up first was the Bavette (Bavette d'Aloyau) steak which is cut from the thin flank. The team at The Butchers Bar and Steakhouse marinate this steak in a combination of 7 ingredients, including Black Pepper, Mustard Seeds and Soy Sauce, as this particular cut is like a sponge in the way it absorbs other flavours. The meat pulled apart fairly easily with not much pressure from the cutlery, and whilst it was nice enough, I wouldn't say that this was the richest (natural) flavoured beef I've ever eaten. I can appreciate why this is marinated; it needs that little extra oomph given to it.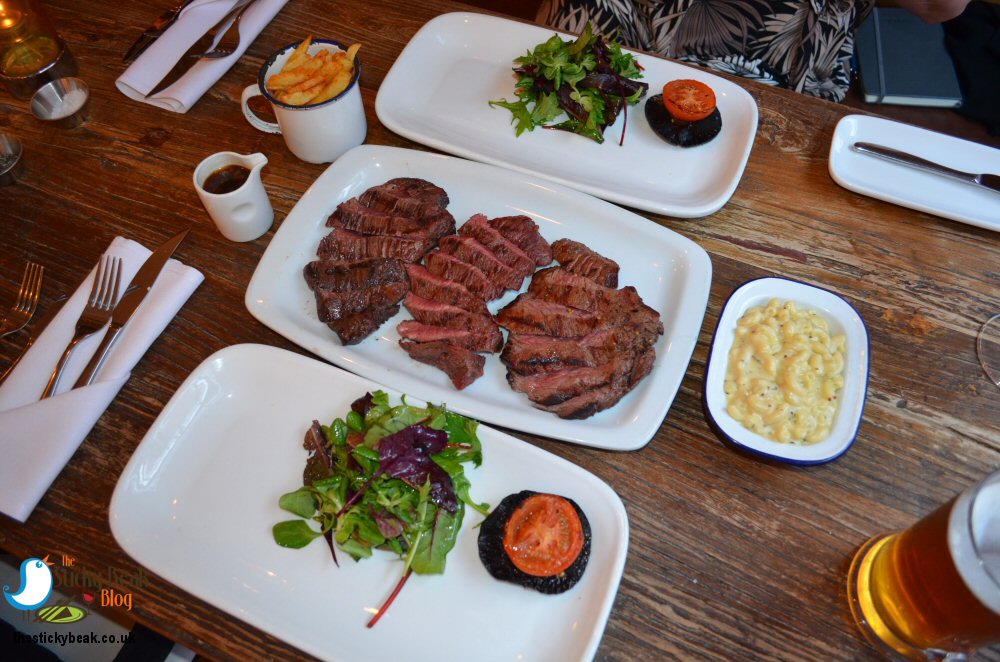 Our second cut was the Denver steak (aka Zabuton and Under Blade Steak), and this was a beautifully flavoursome piece of meat. This had a great texture to it, more substantial than the Bavette, and it warranted being savoured. Similar to a New York Strip Steak taste-wise, this was a really juicy bit of beef thanks to the marbling of fat it had within it. I think in terms of taste and texture this was my favourite of the three cuts, but it was a close call between this and the Onglet.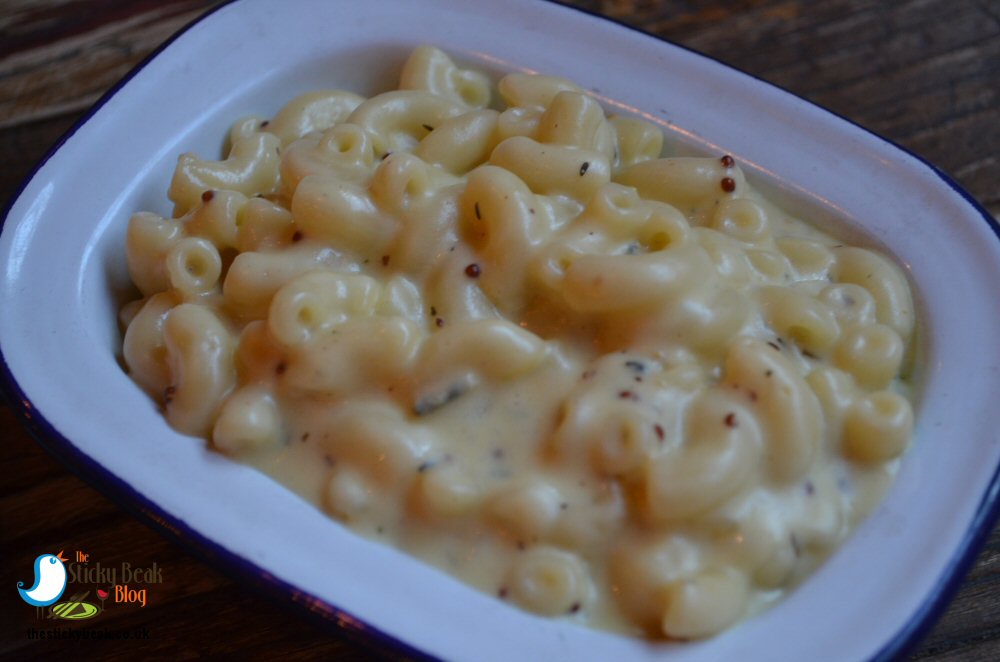 The third and final bit of beef to sample was the Onglet, prized by butchers for its top-notch flavour; it's said that butchers used to save this cut for themselves rather than putting it on display for customers. I've got to say that it was a superb bit o' beast! Personally I loved the generous amount of "meat candy" (you know, the charred outer bits that always taste richer and meatier) that came with this cut on its outer edges. At The Butchers' they marinate this in Red Wine and Fennel Seeds to tenderise and flavour it, and you do get that lovely warming Anise hint in the mouth. Visually, we could see lovely thin ribbons of fat running through the steak, which imparted a delicious moistness and juiciness to this beef cut.

We'd chosen to have the red wine and Shallot sauce to go with our Steak Flight, figuring that it would be a fairly simple affair that wouldn't detract too much from the meaty stars of the show, and we were right. Finely chopped Shallots and red wine are a classic accompaniment to many steak dishes and they don't have a strong taste that can over-power or distract the taste buds from the meat. Perfect.




I was a happy gal as I got to have both the mushrooms, although I did play nicely and let His Nibs have both halves of the Tomato. We both loved the homemade Mac n Cheese with Mustard – this was proper comfort food at its finest: piping hot, warming Mustard hint and soft, cosseting pasta; this dish had all the boxes ticked. My only complaint was that there wasn't enough of it!! The house seasoned chips had a nice zip to them, and we actually ordered a second portion of these as we started to eat our third steak. From being a young chick, I've always punctured my chips with a multitude of fine stabs from my knife; this might seem odd, but I've always used it as a way to absorb any excess juice, gravy or sauce! Try it, it's a life hack worth knowing.




With every last scrap having being eaten, our lovely server came to clear the plates away and asked if we'd like to see the dessert menu – heck, yeah! As with the steak selection, there was plenty on the sweet section to tempt everyone; I couldn't decide and neither could The Man Bird so we chose the "All Together" dessert. The All Together consists of three absolute bobby dazzlers: Crème Brulee, Chocolate Brownie, and Sticky Date Pudding.

The Crème Brulee was marvellously indulgent with a good "thwack" factor to the sugar crust top. I was an instant fan of the Lemon Sorbet; rather than being artificial and harsh, this was natural and gentle in its flavour and married beautifully with the Vanilla of the Crème. The final element in this dessert was a round of gorgeously moreish Shortbread that was rich, buttery and crumbly. Everyone needs this Shortbread in their life, trust me!

In a brilliant, off-beat twist, the Brownie comes with Meringue Pieces, Clotted Cream Ice cream and fresh Passion Fruit. This means that you get all the indulgence and waistline-busting elements with a tart, zingy blast from the Passion Fruit; genius move if you ask me, and one that certainly made my taste buds sit up and take notice.




The Sticky Date Pudding certainly was sticky, marvellously so, and it had a lovely natural sweetness to it from the Dates. Best of all, it was deeply satisfying but without being heavy on the tum – which let's face it, no-one wants at the end of a meal, do they? This sweet treat doesn't just come with a lovely creamy Ice Cream; it comes with a totally wondrous, warm Caramel sauce too, and I could easily eat a vat full of this bad gal!!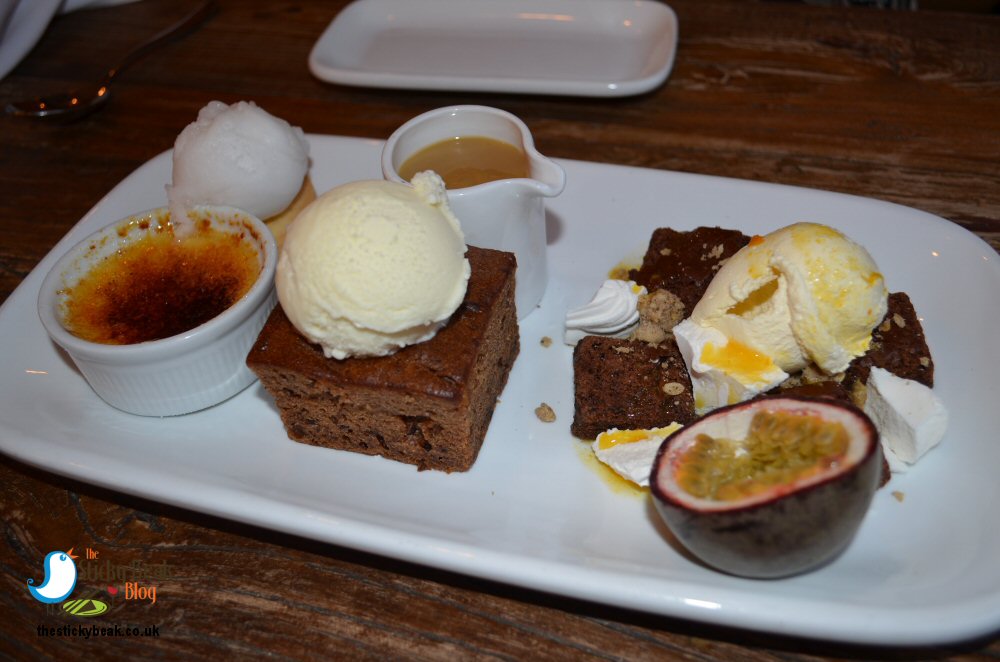 We finished off with a couple of our customary black coffees (Rija is served at The Butchers') and grinned happily with our choice of eaterie – who'd have thought that Long Eaton had such a gem?!

The Butchers Bar and Steakhouse is open Wednesday-Sunday: Noon-10pm Weds and Thurs, Noon-10.30pm Fri-Sat, and Noon-6pm on Sundays. The Bar does stay open slightly later than the steakhouse (except on Sunday); until 11pm midweek and until midnight Friday and Saturday. Even better, is the fact that you can get a whopping 20% discount on the main menu Weds-Friday Noon-5pm.

Hot Wings given to this fab venue that defied everyone's predictions of longevity!
No incentive was provided to visit this venue
read more