Dinner At Salvaged Kitchen and Bar, Clowne, Chesterfield
---
Published On Sunday 29 Sep 2019 by Sticky Beak
See All Recent Reviews


Salvaged Kitchen and Bar in Clowne closed down in January 2020
They say that what doesn't kill you makes you stronger, and despite some serious attempts to kill Salvaged Kitchen and Bars reputation by previous staff, owner Wayne has cleared the decks and come out stronger. Wayne has employed an entirely new team: Chefs, managers, and food and drinks service members, and in just a few weeks they have come together, determined to resurrect this establishments' name.
Salvaged Kitchen is easy enough to find, mostly because Clowne isn't the most sprawling village you'll ever come across! There is some parking available on-site (although not a lot) and more along the road, so His Nibs found a spot for the trusty jalopy in the car park and we walked up to the door. Pleasingly, there are separate doors for the restaurant and the bar.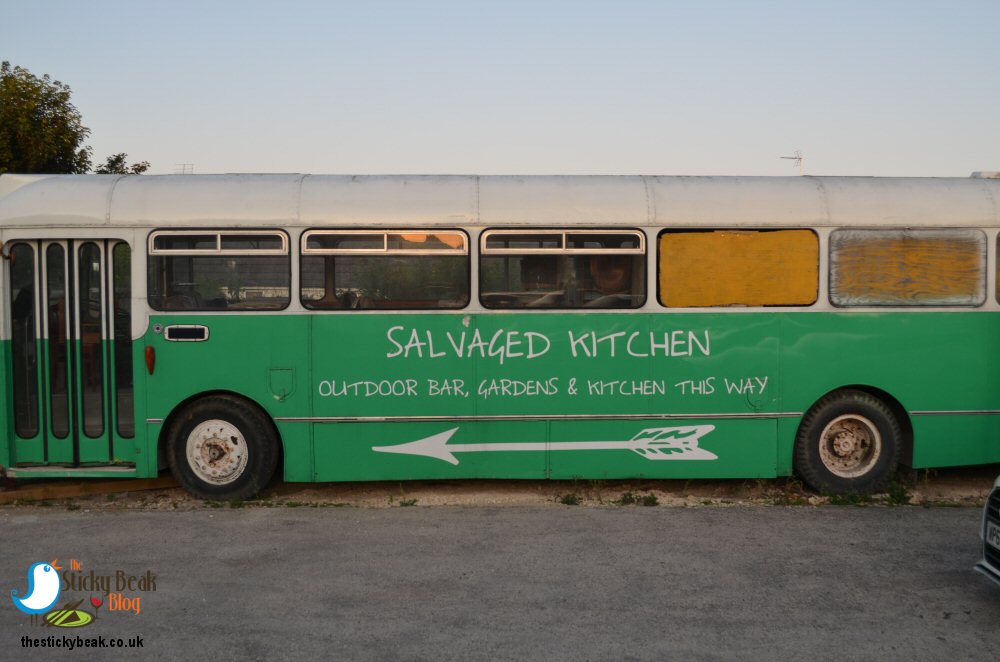 Inside, The Salvaged Kitchen and Bar is one of the quirkiest places we've ever been. The entire interior is fashioned from reclaimed items; literally from floor to ceiling! I thought it had a barn feel to it with its high ceilings, wooden beams, and exposed brickwork, and on the walls there was a selection of metal advertising signs from companies such as Lyon's and Colman's.

Very cleverly (I thought) a ladder had been used as a sort of rustic lighting rig to suspend the lights above the cafe/bar in the restaurant. The thing that I loved above all else though was the cart that had been turned into a table, its static wheels making lovely decorative "legs".
Lucy was our server for the evening (she turned out to be an absolute diamond) and she brought us a glass of pink Prosecco with a fresh Raspberry in its bubbles to sip on – V.I.P treatment or what?! A tray of Amuse Bouches was also brought over to us, comprising Pulled Pork on Bruschetta, Salmon Pinwheels with Caviar, and Pea and Coconut Gazpachio.




I was a very happy birdie straightaway; His Nibs isn't a fan of Salmon so that was two pinwheels for me then! The Salmon was lovely and sweet, punctuated by the salty tang of the Caviar as it burst in my mouth; the pastry encasing it was nice and buttery and not soggy at all. Decorating it all was a delicate edible flower, which added a visual pop to it as well. After having a sip of the Gazpachio, I let The Man have the rest to redress the balance somewhat. This cold soup was beautiful, full of fresh Pea's optimistic tones with creaminess from the Coconut element gently discernible.

Both of us loved the smoky, spicy taste of the Pulled Pork on Bruschetta, although I have to say that it wasn't what I would call Bruschetta. The bread was quite a thick slice, not the thinner affair that typifies Bruschetta, and I don't think it had been toasted or brushed with Garlic. For all that though, it was good quality bread with texture from the grains within it and it had a great taste of its own. The pea shoot garnish had a fab bright flavour that bounced happily on my palate and lifted this morsels taste beautifully.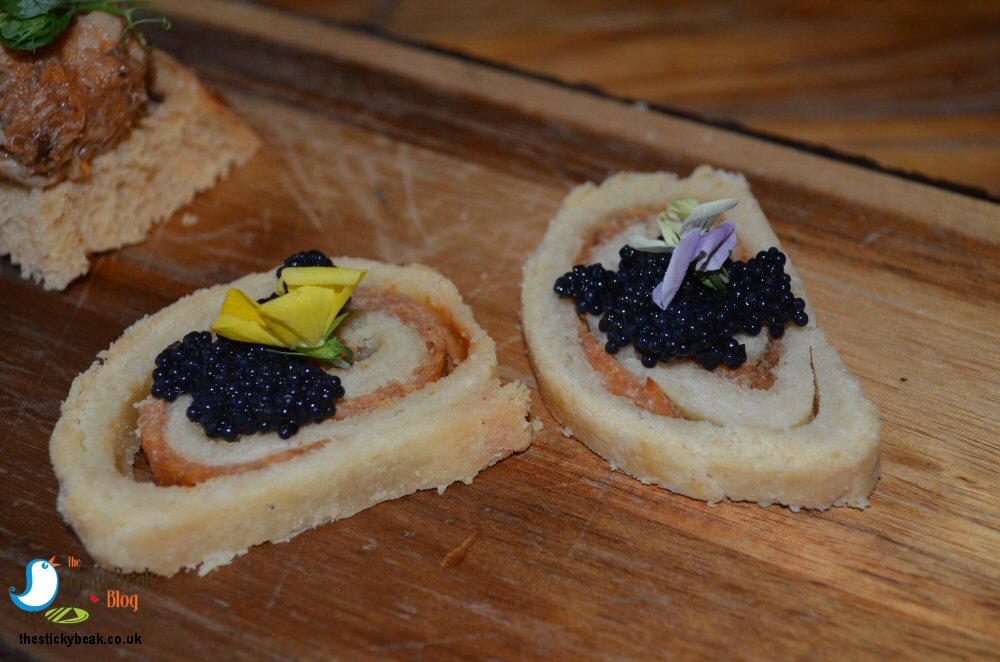 Salvaged Kitchen gives you two menu options: a la carte or bar menu. For starters we'd both gone for the a la carte choices: Pigeon with Courgette, Radish, Granola and Berry jus for me; Scallops with Artichoke and Grapefruit for The Man (£9 and £10 respectively).

When the starters came out you could see Head Chef Stephen's Michelin experience coming through; there was literally nothing a millimetre out of place and the colours on both plates were superb. My Pigeon breast was served perfectly pink and had been rested so that the juices that reabsorbed into the meat and not leaked onto the plate – no blood in sight at all. I loved the rich gamey flavour of the Pigeon (it was quite strong which suited me down to the ground) and it contrasted well with the sharper Radish taste.

A pleasing crunch came from the granola that was scattered around the plate and the berry jus was nicely robust. The uber-thin ribbons of Courgette shimmered with their opacity and melted on the tongue, simultaneously providing a garnish element along with the fresh Strawberry halves and whole fresh Blueberries.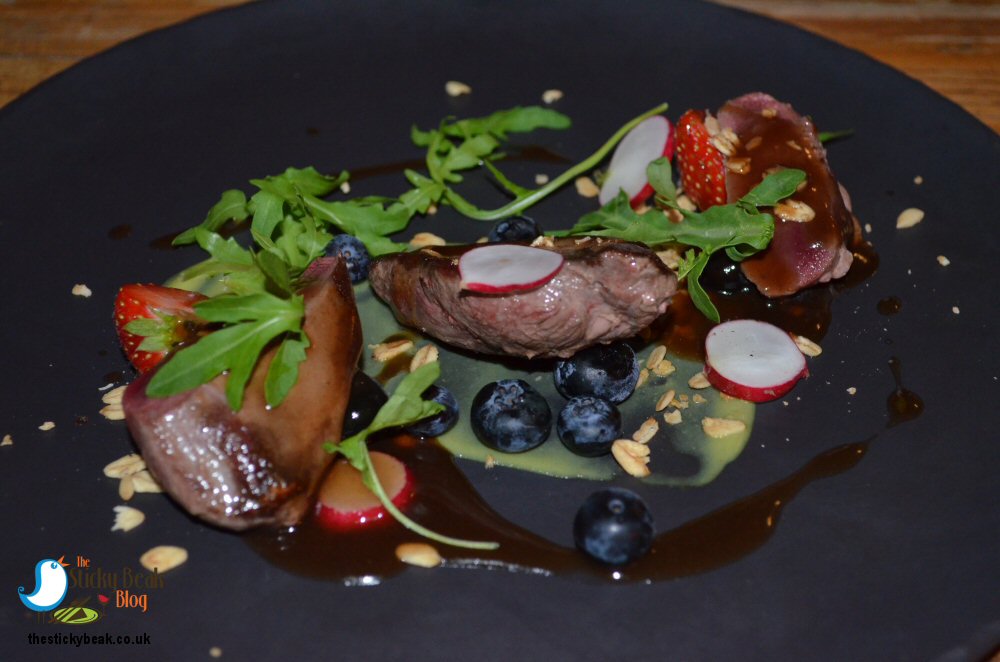 His Nibs' Scallops were no-less exquisitely presented, with one of them being served in the shell with its companions symmetrically placed on the platter. A swoosh of Artichoke purée looked very arty on the plate, its creamy taste silky smooth on the tongue, and the Scallops added their sweet softness to the mix very nicely. Carefully segmented Pink Grapefruit added a marvellous tang to this starter, enhanced by the equally zingy grapefruit granita. The coldness of the granita contrasted with the warmth of the seafood stimulating the senses very cleverly.




Lucy had come over to check that we'd been happy with our starters and came to clear away our plates when we'd finished them. Naomi was the duty manager and was making sure that everything was running smoothly, no mean feat when there was a large party eating in the bar area (the massive platter of food that made its way to them was delicious-looking by the way!) and live music being played by the talented JayRar. Talking of the live music, it was very good; boy can sing that's for sure! JayRar sang a varied repertoire, including our request of Simon and Garfunkel's "Sound of Silence", and I can highly recommend you go check out this Chesterfield fella.
Find JayRar On Facebook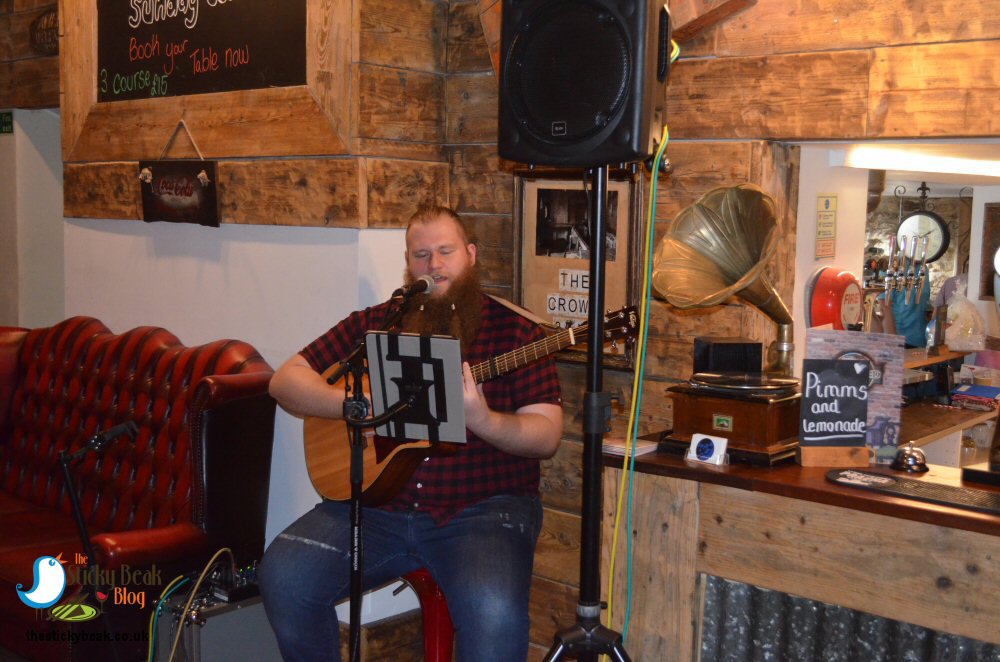 Main courses saw The Man and I follow different paths; I had the a la carte dish of Duck, Liquorice, Potato, Carrot, and Red Berry jus (£18), His Nibs had the bar menu offering of Marinated Chicken Skewer (with mild Piri Piri sauce), Flatbread, Coleslaw, Salad, Chips, and Roasted Garlic Mayo (£13.95).

Yet again you couldn't fault the presentation; it was fine dining quality in an informal setting. Not pretentious, just self-assured and quietly confident; again the Michelin experience was evident. My duck breast was beautifully cooked, sliced and served pink in a careful arrangement that showcased the subtle changes in the birds' colour. You can't beat properly mashed potatoes and the ones coming out of the kitchen here were superb; ultra-smooth and buttery.

Lengthways-sliced Carrots had been roasted to intensify their natural sweetness and give them a touch of charred colour along their edges. As with my Pigeon starter, the meat had been combined with fruity elements in one of the classic culinary pairings and it was delicious. Liquorice added its warming hint gently so as not to overpower the other ingredients in the dish; very nice.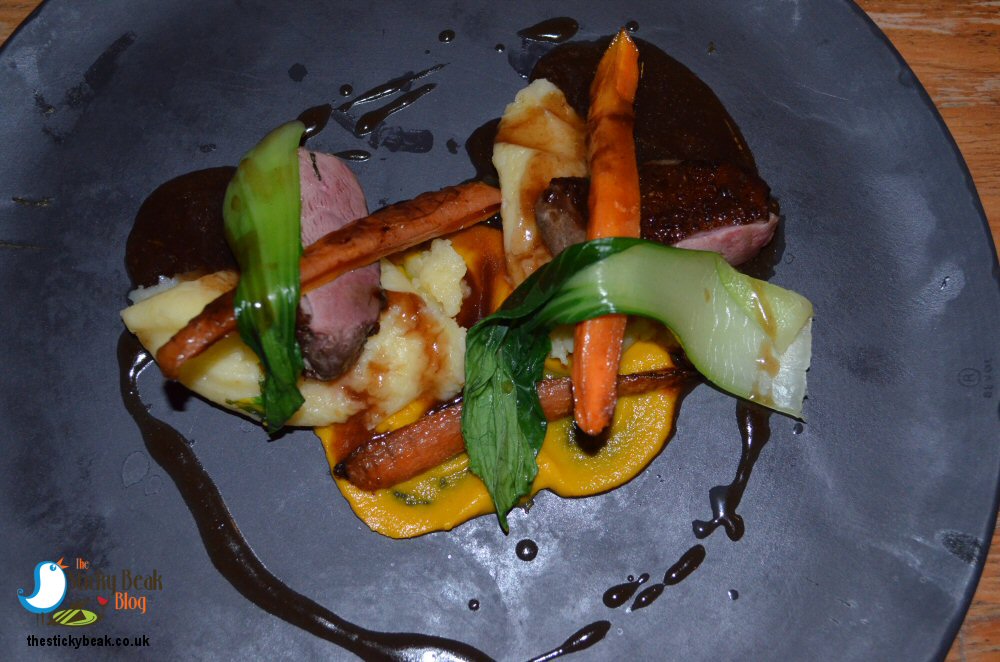 The Man Bird has eaten his fair share of Chicken Skewers over the years, but the one at Salvaged Kitchen and Bar is probably one of the heartiest he's had; the wooden skewer was rammed to the hilt with pieces of breast meat! Better still was the fact that the chicken pieces were juicy and moist. His Nibs had been umming and aahing over which Piri Piri sauce to have: the Crazy Hot, Hot, or Mild version; thankfully he'd erred on the side of caution and gone for the Mild one.

To say mild I think is an under-statement, it packed a fair old punch! True fire-heads will enjoy the Hot or Crazy Hot varieties, but the Mild is more than adequate for regular spice lovers. The puffy, warm Flatbread begged to be filled with the succulent Chicken and the superb skin-on fries – so that's just what The Boy Wonder did. I scavenged a bit of his improvised chip butty and it was delish!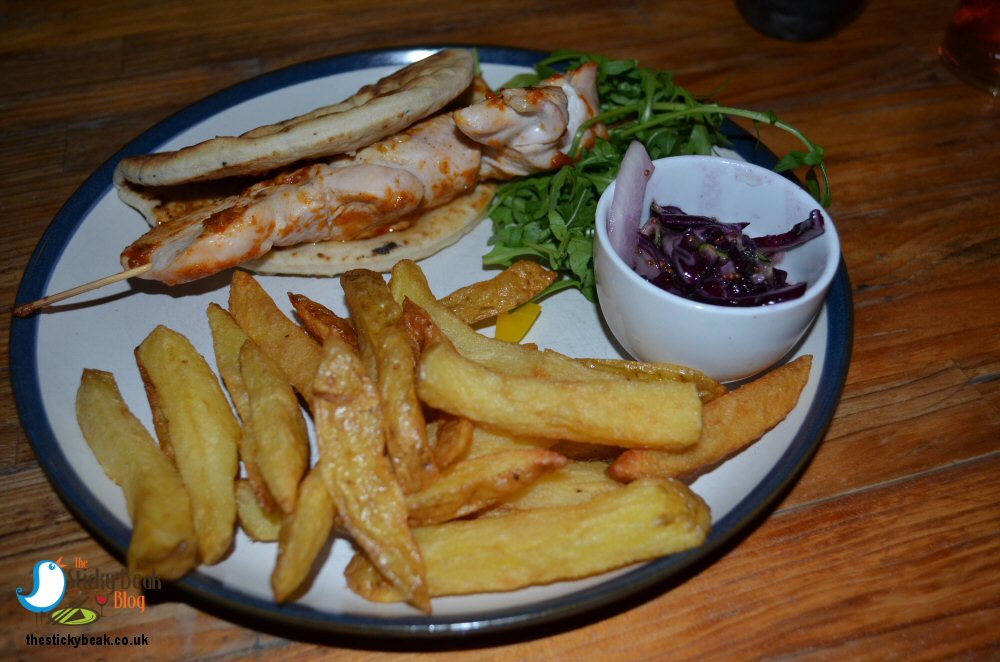 There's something about the taste of honest skin-on fries, they have an earthy note that is soft and somehow sweet at the same time. This distinct taste was evident and then as an added bonus, the fries were softer in nature; more like the ones you make at home rather than the "really crisp on the outside" ones that are all the rage in restaurants normally.

These soul-soothing 'taters required no effort to be eaten, you can simply pop them into your mouth and let their texture cocoon your senses – yummy. A Rocket salad revved things up with its peppery notes and there was a final (lovely) surprise in the form of a warm (!) Red Cabbage and Onion coleslaw which was fab.
We did request to have a bit of a rest before pudding was brought to us and during this time I took in a few of the offers available at Salvaged Kitchen and Bar: Tuesdays is Tapas Tuesday with a great 3-4-£10 on any Tapas selection (as well as having sharers and Paella available) and there's a 3 course Sunday Lunch for £15 on the "day of rest". This is definitely a family friendly venue, as evidenced by the plentiful stack of high chairs just waiting to be used. You can also pop down to enjoy coffee, tea, cakes, and light bites during the day too, you don't have to wait until the evening to enjoy food and drink at Salvaged Kitchen and Bar.

For dessert I had the Blueberry Panna Cotta with Vegan crumb and Strawberry (£8) and The Man had his fave – Sticky Toffee pudding with Caramel sauce, Honeycomb, and Custard (£4.25); his choice was from the bar menu, mine from the a la carte.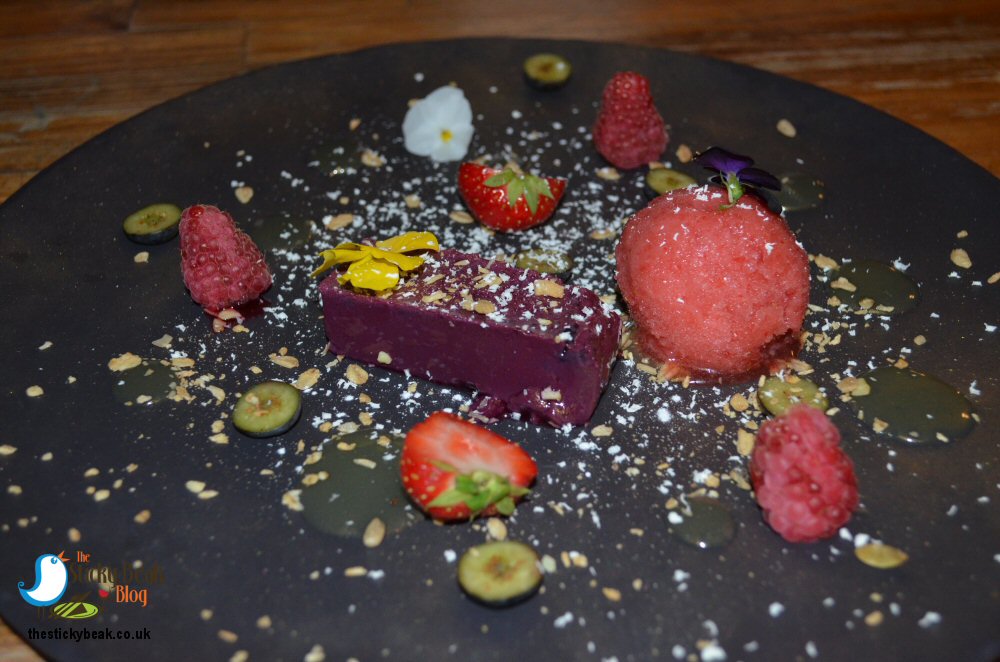 My dessert was a gorgeous deep purple colour and had pieces of the fruit mixed in it. Personally I prefer my Panna Cottas completely smooth, but having said that I did enjoy it. The Panna Cotta had a delicate Blueberry taste to it, accentuated by the more intense flavour of the "au natural" fresh Blueberries that were arranged carefully on the platter.

Dots of incredibly zingy Lemon gel were placed at regular intervals at the circumference of the dish and there was a scoop of tinglingly vibrant Strawberry Sorbet to dig into – which I did with much enthusiasm! This was a refreshing, flavoursome end to my meal.

The Man Birds' Sticky Toffee Pud was served in fingers, which was a little different. The outer had just a hint of crispiness to it, giving it a nice bite factor, rather than being completely soft as some are.

Lovely rich toffee notes were making themselves known on the palate as the puds textural character announced its presence in the mouth. His Nibs was revelling in the silky Caramel sauces' caress, and loved the dinky pieces of crunchy Honeycomb as he broke them against his teeth. Thoughtfully, the custard came in a separate little pot so you could add as much or as little as the mood took you.




We finished off with a couple of black coffees and these came with small rounds of caster sugar-dusted, buttery shortbread that instantly melted on the tongue. Yep, we'd had a lovely experience at Salvaged Kitchen and Bar in Clowne, not least thanks to the live music which brought a bit of city buzz to this suburban venue. I think this team will go on to grow into its skin even more as time goes on; they're already working nicely together in these early days, so with increased experience they can only get even better.

Hot Wings given to this determined village venue! Keep showing that bulldog spirit and doing what you're good at and you'll not go wrong.