Enjoying Some Fresh Seafood At Riley's Fish Shack
---
Published On Thursday 26 Sep 2019 by Sticky Beak
See Recent Dining Out Reviews | See All Recent Reviews


For those of you partial to dining al fresco, Riley's Fish Shack will be your idea of Nirvana! The transformed shipping container (yes, really!) is as close to the sea as you're gonna get without actually paddling in it. Located in King Edward's Bay at Tynemouth this beachfront eaterie is a fish-loving foodies paradise, but there is also steak on the menu for meat munchers and vegetarian options too.
Sometimes my lack of common sense and wisdom knows no bounds, case in point on this particular evening; no-one in their right mind would attempt the 120 steep-step descent from the road to the shack whilst suffering with vertigo, would they? Nope. No-one except yours truly! By the time The Man and I got down to Riley's Fish Shack I was positively reeling; thank goodness there was a rather juicy Argentinean Malbec to take my mind off it (kill or cure, and all that!).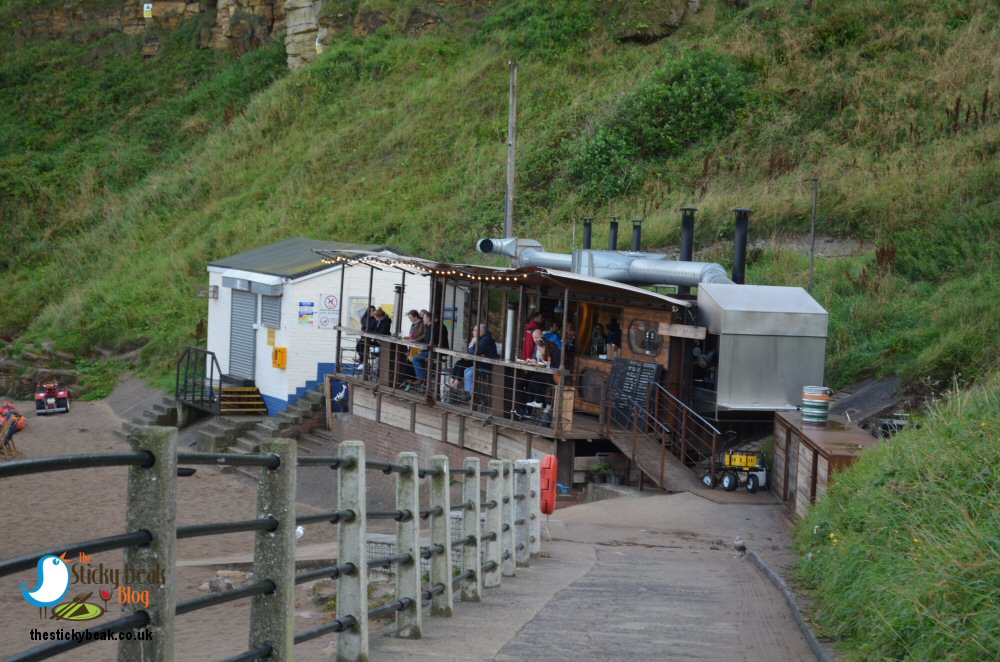 After a long drive up here, His Nibs and I were chewing our knuckles with hunger, so we decided to have a selection of Empanadas and Fishcakes to kick off: £4.50 each or 3 for £12. The Chilli Fish Empanada had sold out, replaced by a Mackerel one, and we had the Curried Cauli and Paneer one and the Bacalhau fishcake. When you place your order, you give your first name and when your food's ready a member of the team calls you and brings them over, which makes everyone feel like they're mates on first name terms rather than just a customer.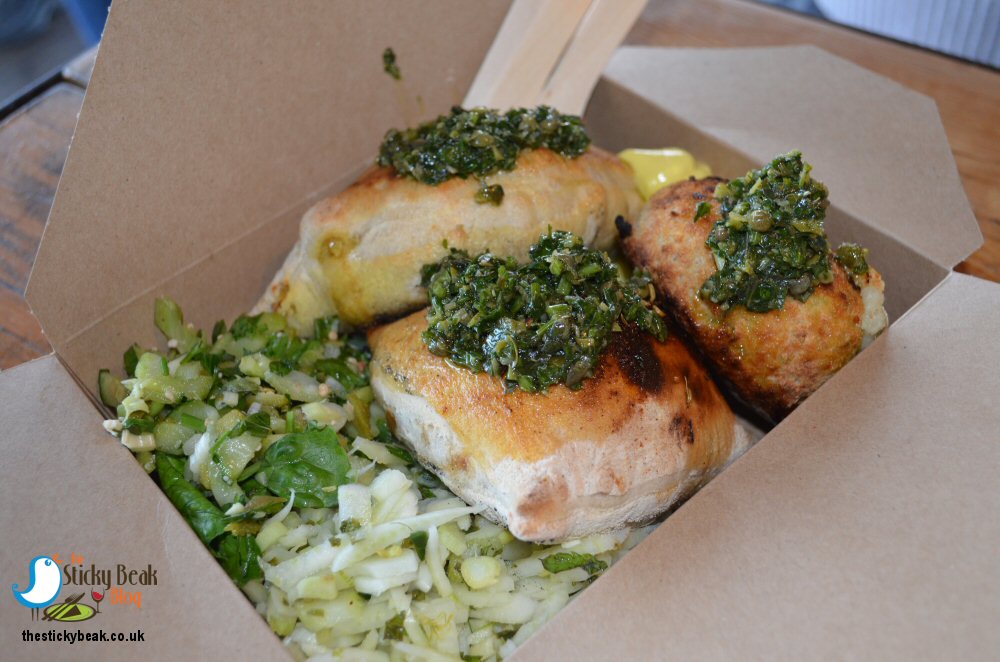 That's one of the (many) great things about Riley's; you can just rock up for a drink and take advantage of the beautiful setting or you can have a full-on chow down and do likewise, which is what we did. Adam Riley's one venue empire began life back in 2012 as a mobile BBQ cart for Tynemouth food festival, the cart having been replaced now with the container and its wood-fired oven.




Adam wanted to set up in King Edward's Bay purely because it's his fave spot, and having experienced its laid-back charm and inherent calmness I can see why he loves it – and I'm not alone. The fact that it only seats 15 folk inside and about the same on the "veranda" doesn't stop folks flocking there year-round, and there's always the option of grabbing a deck chair and eating on the sand with the waves lapping close by. Demand is naturally high due to the fact that you can't book here; you turn up and take your chance.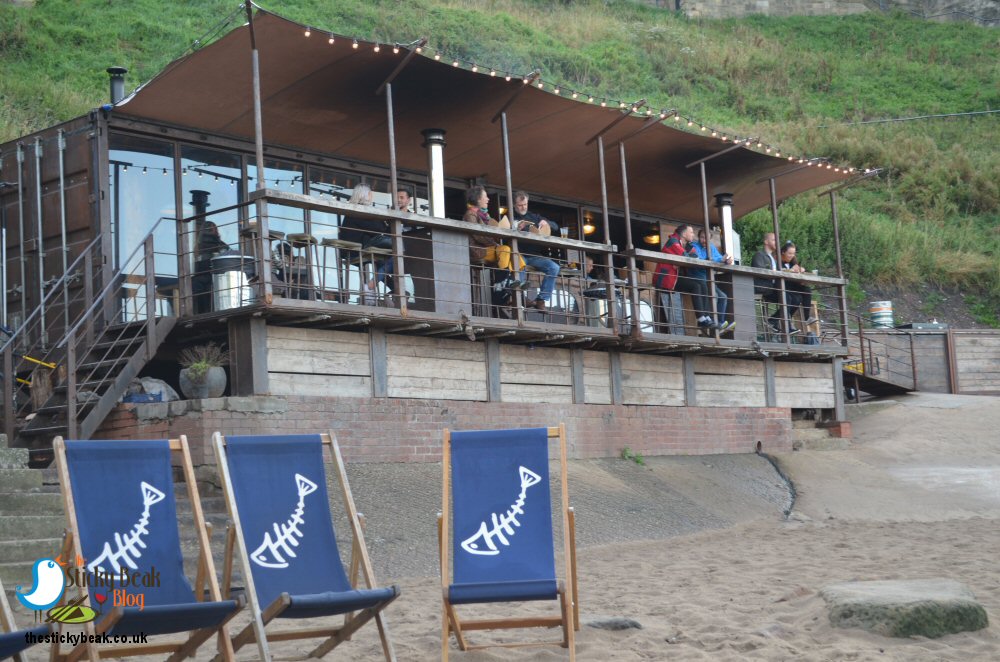 Riley and his team have thought of everything you could need for comfort, providing thick blankets to wrap up with on chillier days as well as wood burning heaters on the veranda and inside, and even fire pits that they'll set up for beach diners. The fairy light festooned venue is open all year round, standing up to Mother Nature's challenges robustly; Adam is quoted as saying that they only lost three days to the snow when the Beast from the East hit – pretty impressive I reckon!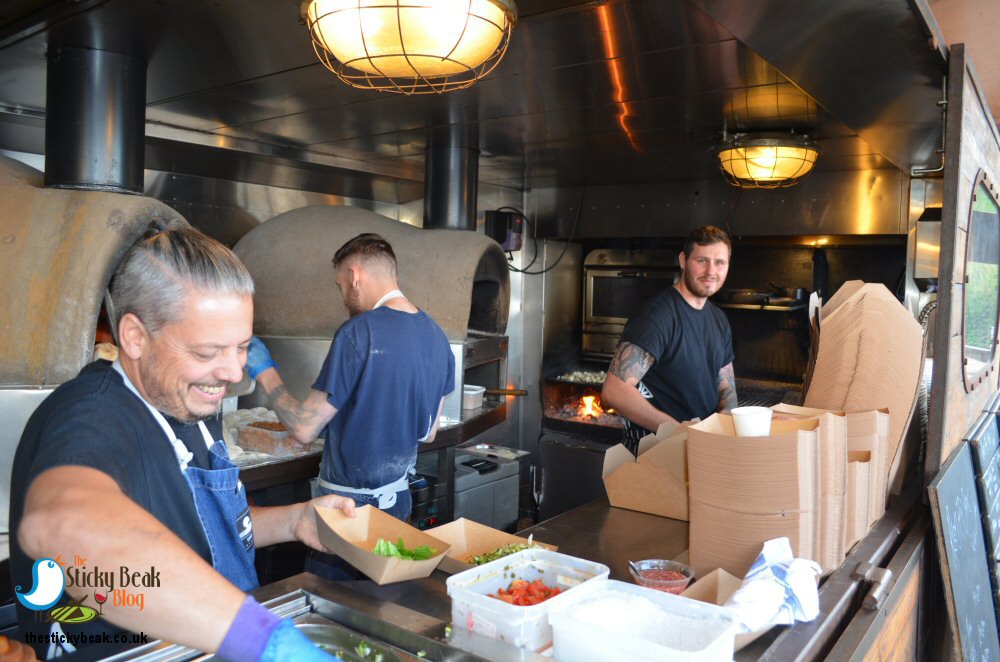 It wasn't long before we were tucking into our piping hot food, complete with wonderfully garlicky Aioli and two freshly prepared salads: Gherkin, Cucumber, Lettuce and Parsley, and Fennel and White Cabbage. Both were lovely and crunchy, bursting with a great fresh, vibrant flavour that bounced like a hyped-up cheerleader in our mouths. Eco-friendly cardboard containers rather than plates are used for the food, and disposable cups for drinks, so it's all beach-friendly and easily to pop in the many bins at Riley's.




We munched and chatted our way leisurely through our "starters"; I had the Mackerel Empanada (The Man doesn't like fishy fish!!) and it was beautifully fragrant, its soft flakes delicately seasoned and encased in a tasty dough duvet. The curried Cauli and Paneer number had a fab spice to it that meant there was no chance of this been another bland veggie number, no sirree, and the Cauli was still nicely firm when bitten into. It was a case of having to play nicely and divvy up the fishcake between us, which we managed to do (!) and were rewarded with a deliciously soft, comforting mix of succulent fish and mash that had a wonderful mix of herbs in it. Distracted by the relaxed beat of the music His Nibs even ate some of the salad!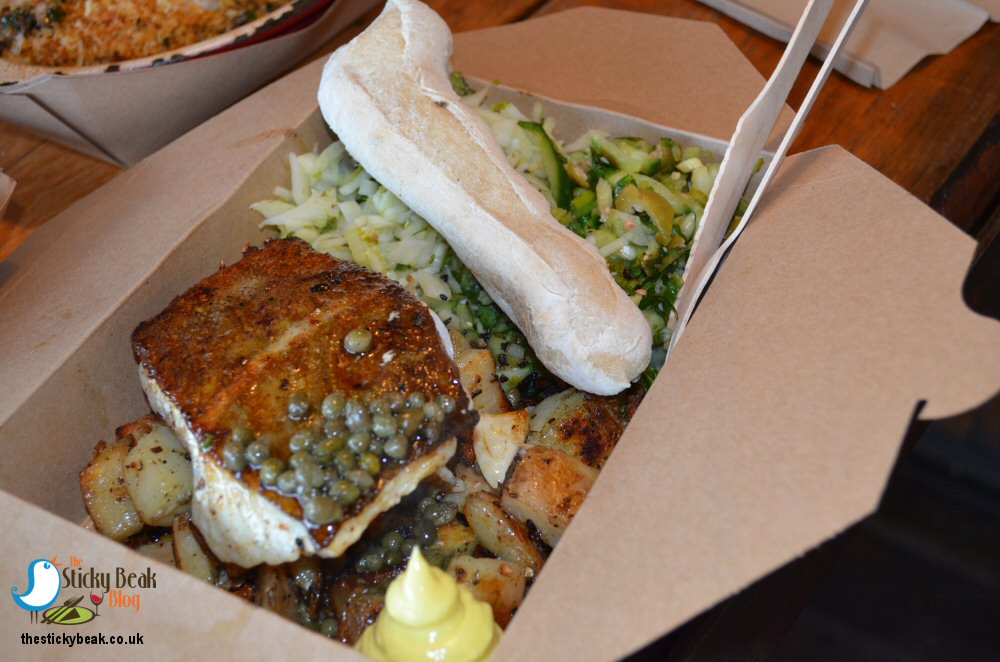 Due to the uncomplicated nature of the food, nothing ever takes long to cook so we ordered our second course just as we were finishing up the first batch of yumminess. The menu changes on a daily basis depending on what the boats have caught and I was tempted to have Oysters Rockefeller, but settled on the Wood Roasted Coley instead that came with baked Onion, Pancetta, Ceps and Chanterelles, roasted Potatoes, Salad and a twist of Sourdough. I had thought that The Boy Wonder might've gone for the Rare Breed Steak Wrap, but he his piscine journey with Salted Cod in Caper Butter with Potatoes, Salad and Sourdough.

Both mains were £18.50 and although you don't have fancy-pants crockery or cutlery, the food is most definitely of fine dining quality and plentiful in quantity too. My Coley had been cooked in a metal bowl then popped in aforementioned cardboard box and the accompaniments warranted another receptacle, so bountiful were they!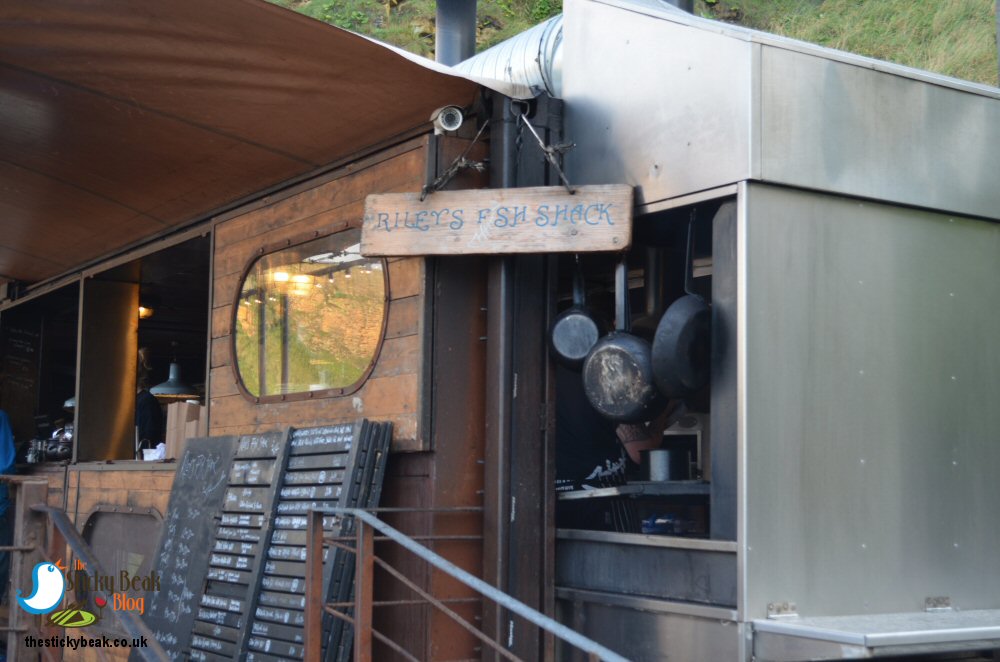 It'll come as no surprise when I tell you that my Coley was magnificent, I'm sure; Adam and his team are supremely skilled at cooking seafood. The Coley had a wonderful sweetness to it with a tang of smoke coming through from the wood fire used to cook it in. In contrast to its silky smoothness, the fine gratin top added a pleasing crunch and the variety of vegetables providing a bed for the fish to rest on were all tasty too. I liked the chunky nature of the Onion and the fact that the Mushrooms were largely left entire too; I got a real satiating sense from biting into them. The Pancetta was cut into good thick cubes too so you got a proper sense of them –I like to chomp on lardons, not go ferreting about trying to find them! I found myself scooping up the unctuous Aioli with chunks of Sourdough and then piling salad and fish on top; this dish was so good I wanted to experience it all at once, as well as eating the components separately!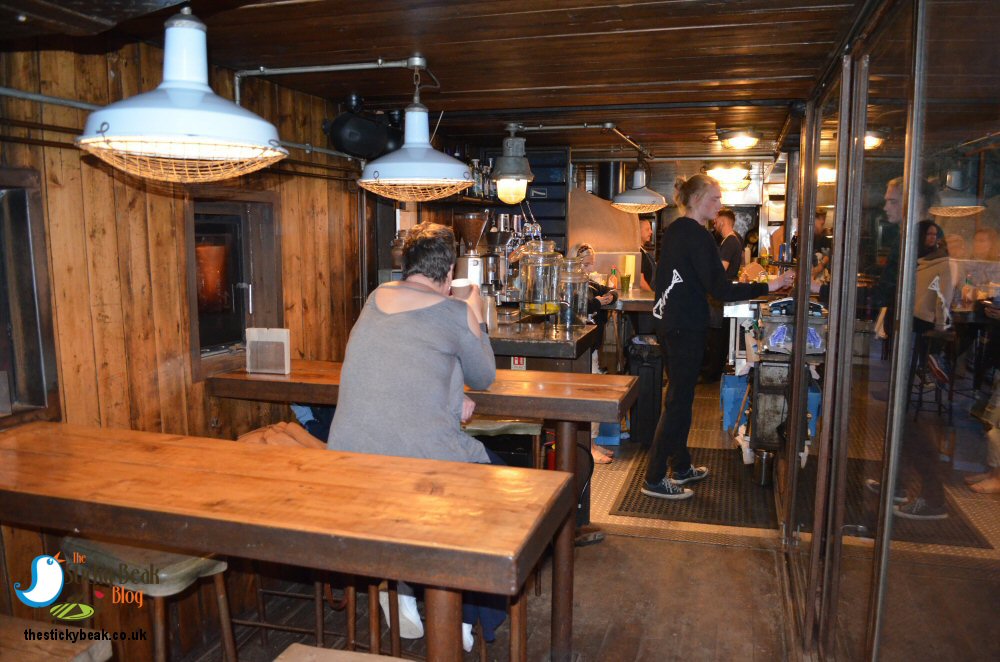 His Nibs' Salted Cod was ridiculously succulent and sweet – he said he'd never tasted a finer piece of fish. I must say I agree with him, the fish was uber-fresh and you really can tell the difference; its texture was more substantial, the taste clearer and just "more" somehow. To those who don't do fish, I would say to come to Riley's Fish Shack and sample their fare, you'll be shocked as to how fish tastes when it's fresh and done well.




Having polished off our mains, we sipped a couple of coffees and watched the sun begin to descend. Out of the corner of my eye I caught the bright caps and buoys of a pair open water swimmers making their way back to shore; simultaneously I thought that they were bonkers whilst feeling jealous of the view they must have of the beautiful setting from the sea. I don't know whether it was tiredness, feeing full after a jolly fine meal, the incredible venue (or a combination of all three), but my soul felt at peace and all was right with the world. Priceless. And more than deserving of Hot Wings!
No incentive was provided to visit this venue
read more