Back For Afternoon Tea at The Flying Childers, Chatsworth House
---
Published On Thursday 19 Sep 2019 by Sticky Beak
See Recent Dining Out Reviews | See All Recent Reviews


Originally I had planned to just take Mummy Bird to Afternoon Tea at The Flying Childers at Chatsworth House for her birthday, but then Chickadee got her University place so it became more of a double celebration! Yay!
We booked online and, having got our confirmation slips online, His Nibs was dibbed as chauffeur for the day. Our trusty jalopy was polished to perfection and off we set for the "Palace of The Peaks". When we arrived we simply showed our booking to the lovely ladies at the arrival booths and they directed us to the car park; no fuss, no hassle. Lady Luck had clearly go the memo and there was a space right up at the top of the car park, so not too much walking for my Mummy Bird to do.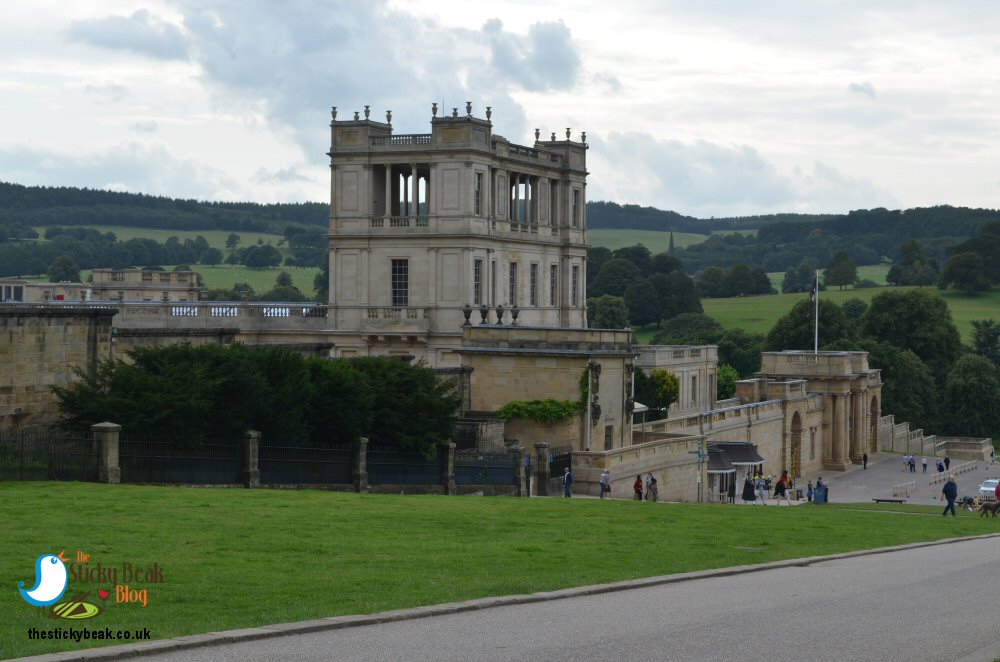 Traffic had been lighter than we'd anticipated, so we got to The Flying Childers earlier than our timeslot, but it wasn't a problem for Chatsworth's finely tuned staff; they bade us sit for a few minutes whilst they readied our table. Hey presto!




The standard Afternoon Tea is priced at £35 per person, and you can add on a glass of Laurent Perrier Champagne for £10 each – so that's what we did. There are other drinks options available too, including cocktails, and details of these are in the menus onsite. A wide range of teas and coffees is included in the price of the Afternoon Tea package: I had Darjeeling, His Nibs had Earl Grey (both Wedgewood speciality teas) and Mummy Bird had the Oriental Jewel form Wanderlust Teas. Chick doesn't really do hot beverages so she had an Elderflower cordial.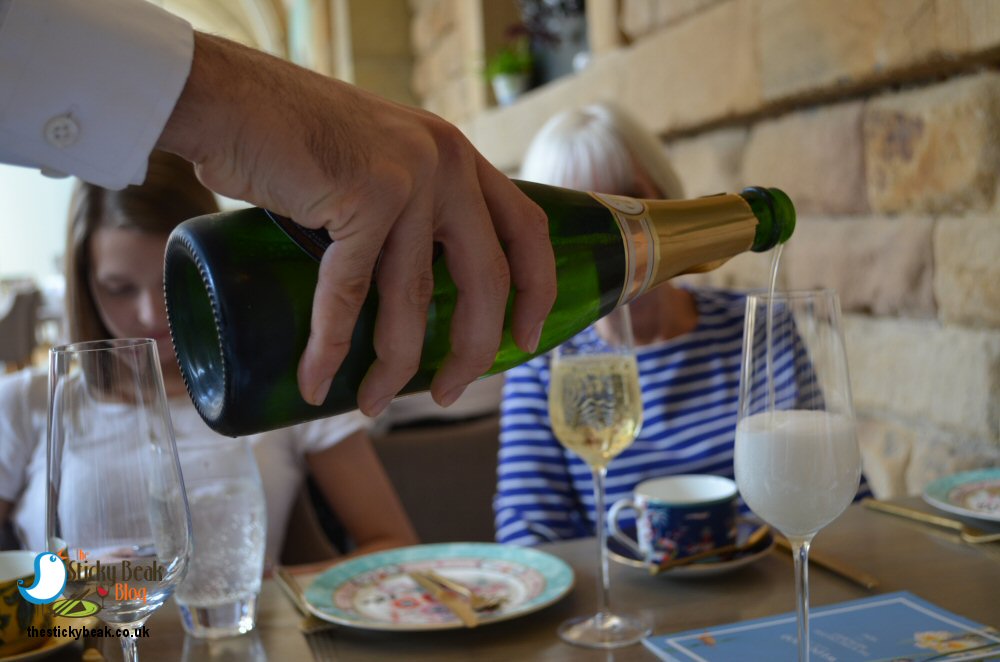 Chatsworth offers their Afternoon Tea in partnership with Wedgewood, so the crockery is all exquisite in design; bright colours and striking motifs abound. Thick cloth napkins and gleaming cutlery complete this most refined of settings, and we settled back into our comfortable chairs ready to enjoy the morsels to come.

First up was the Beetroot cured Scottish Loch Salmon with Pickled Fennel, Beetroot Pearls and a Cucumber Gel. Artfully arranged on a white rectangular platter, this symphony of beautiful summer hues were bright and clean on the palate. The Salmon's flesh was nicely firm to the bite and sweet in taste, contrasting with the tart edge of the pickled Fennel. Gentle earthy notes from the Beetroot rounded things wonderfully well, and then there was the refreshing taste of the Cucumber gel to marry it all together. This was the perfect introductory course, whetting the appetite nicely and building the sense of anticipation for what was to follow.




It wasn't long before one of the extremely smartly attired staff came along with our tea stands, both of which were laden with 3 tiers of deliciousness. Having sampled the Afternoon Tea at Chatsworth before, The Man and I had forewarned Mummy Bird and Chickadee not to eat too much earlier in the day; this time around the selection was equally bounteous, and we all tucked in.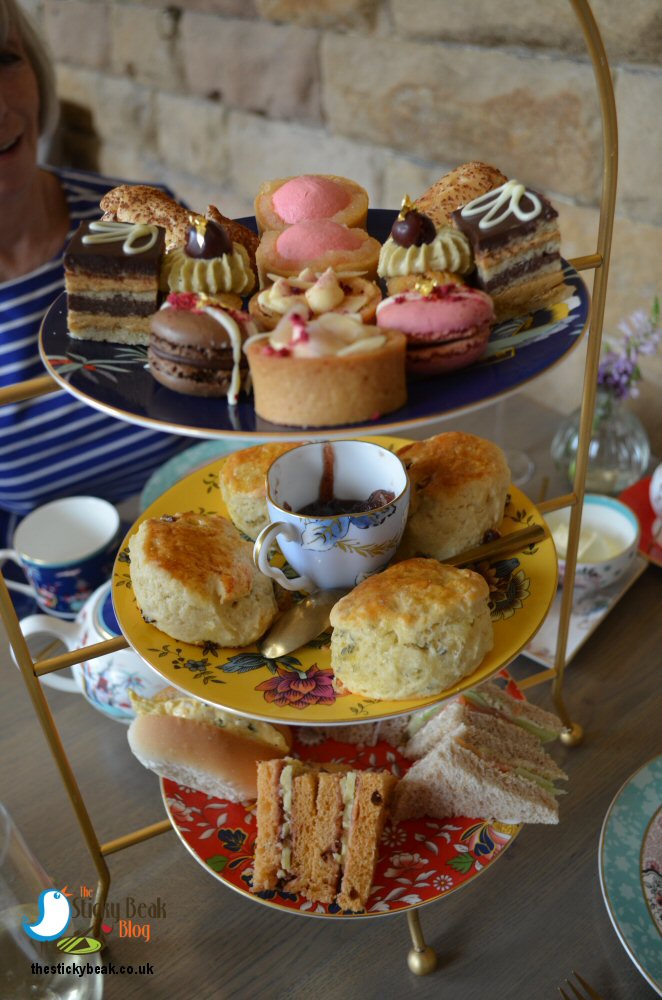 The selection of handcut sandwiches comprised Smoked Salmon with Cucumber Crème Fraiche on wholemeal bread, Egg and Cress in a mini bridge roll, Chatsworth Ham and Wholegrain Mustard mayonnaise on wholemeal bread and cave-aged Cheddar with Plum Chutney on Tomato bread. No surprise when I say that they were all superb: the breads were fresh and springy and each filling was plentiful and top quality.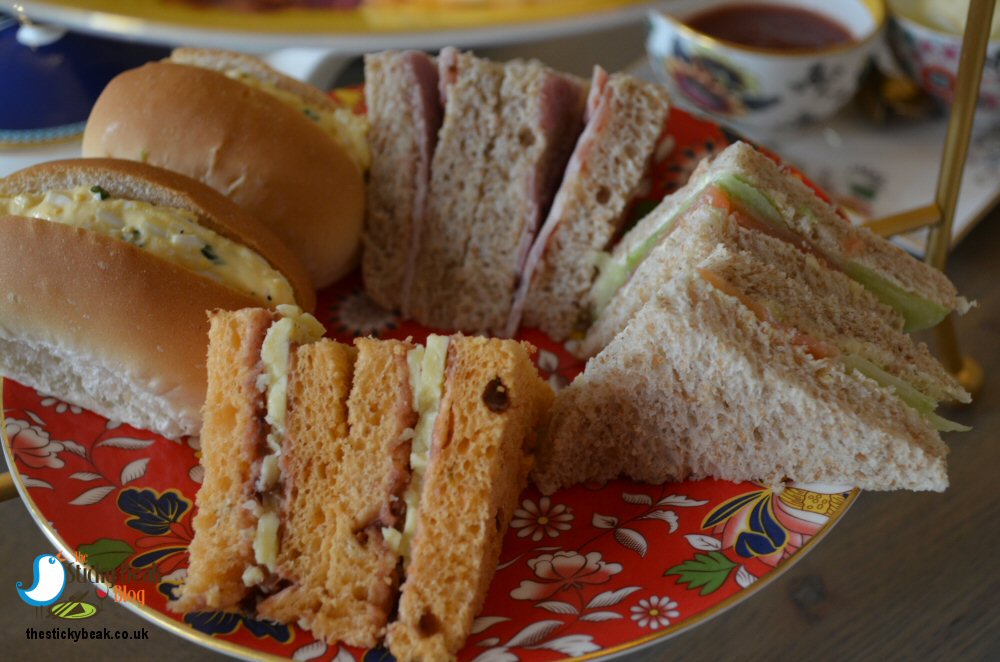 On the middle tier of the tea stand was a freshly baked duo of Scones: fruit with homemade Strawberry jam and thick Clotted Cream and Hartington Blue Cheese with Onion marmalade. We all decided to start with the savoury cheese scone and this had a marvellous twang of the Blue Cheese in it that was partnered perfectly with the sticky, rich Onion marmalade. When it came to the fruit scone we had a divided camp; some put the cream on first followed by the jam, others did it jam first, cream second. Both scones had a pleasing texture to them, not too dense as to be heavy, but not too light as to make them ridiculously crumbly when cut into either.




For those with a sweet tooth, you will be pleased to hear that there are plenty of cakes and fancies to keep you amused and satisfied. I have to confess that I was disappointed not to see Wedgewood's iconic blue represented amongst the sweet treats this time around; last time there'd been a stunning fruit cake slice topped with that mesmerising Wedgewood Blue shade icing.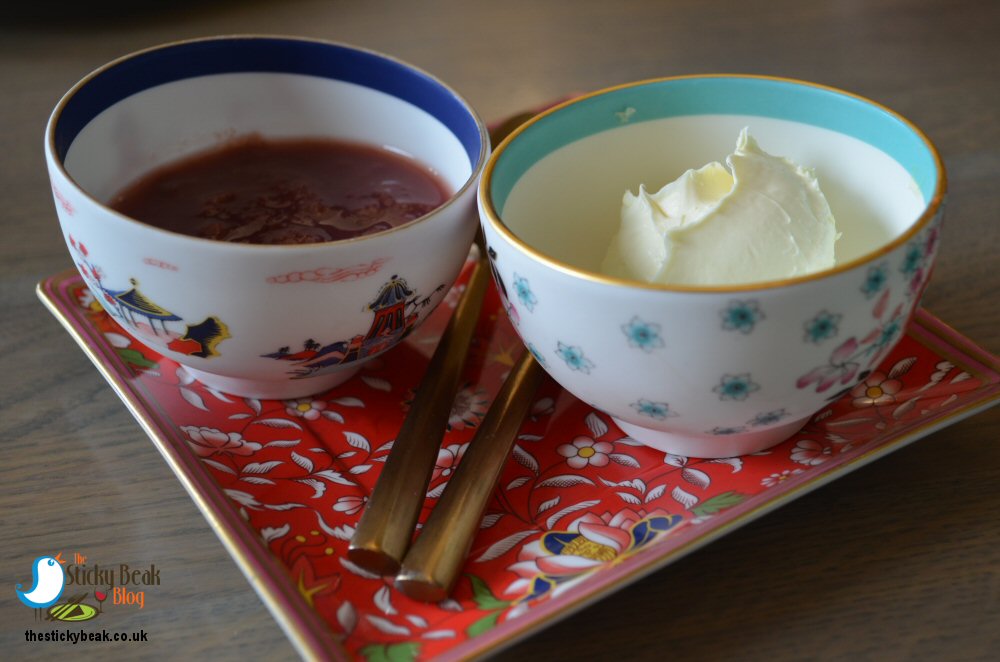 Not liking Banana, I steered clear of the Banoffee Éclair, leaving the others to devour them; jolly nice they were too, apparently. Chickadee was a fan of the Chocolate Opera cake with mirror glaze, and we all loved the gold leaf topped Macaroons; who can resist their soft chewiness? Personal favourites for me were the mini Bakewell Tarts and the Pistachio and Cherry Financier, both perfect balances of fruit and nut elements.




I'd pegged The Man Bird as putting the Chocolate Opera cake as his fave, but he actually fell for the summery charms of the Rhubarb and Ginger custard tart. There was a great range of tastes and textures over the selection of cakes and fancies, with something to suit everyone. They do also cater for dietary needs at The Flying Childers, you just need to let staff know when you arrive if you have any allergies or intolerances.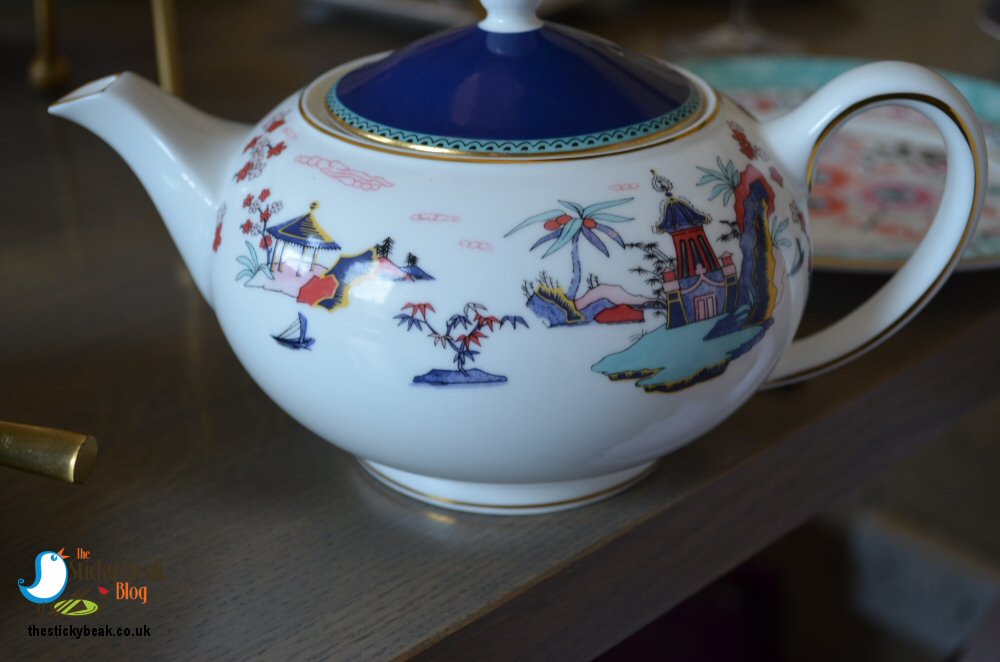 We'd ordered more tea as well throughout the course of the afternoon; you can order different ones if you wish, but our flock all stuck to or original choices. Chick ordered a Latte and said that it was nice and mellow tasting.

Yet again, the team at Chatsworth House and The Flying Childers have delivered an extraordinary offering; Hot Wings happily given here.
No incentive was provided to visit this venue
read more