Dinner At The White Lion in Brinsley
---
Published On Sunday 25 Aug 2019 by Sticky Beak
See Recent Dining Out Reviews | See All Recent Reviews


Every now and then The Man and I just get itchy feet, so we just closed our eyes, randomly went down our list of "to visit" places with a pen and rang up where it landed. On this occasion it was The Lion at Brinsley, so off we trotted in our trusty jalopy. There's a decent sized car park (always a bonus), but there's also other parking nearby too if that gets full.
Inside, The Lion is lovely and light with plenty of areas in which to eat; the bar area is dog friendly, so pooch can come too. Wood floors, neutral toned walls and recessed ceiling lights all add to The Lions relaxed, informal charm with its local, community feel. You couldn't call it posh or fancy pants at all, but it's modern and spotlessly clean - and I know which I'd rather have!




A lovely young lass greeted us as we walked in, checked our reservation, and showed us our table. Unwittingly, we'd rocked up on Steak Night (Tuesday) where you get two steaks and a bottle of wine for £30 per couple; thankfully we'd gone early, so it wasn't heaving as we arrived (it was when we left though!!).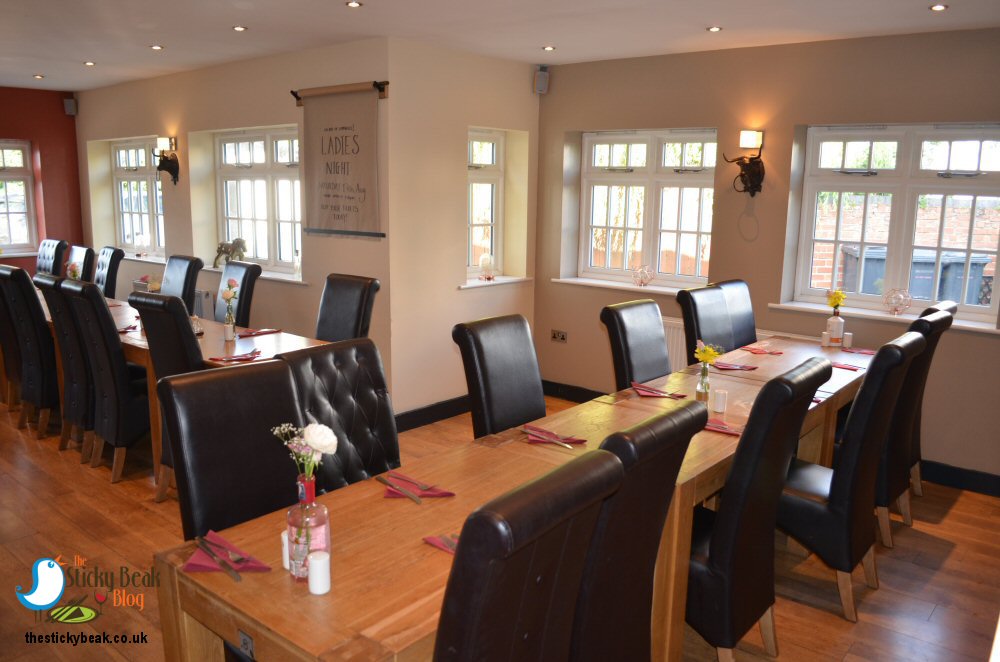 To start with, I had the Garlic and Spinach stuffed Portobello Mushroom topped with charred Goats' Cheese in a slow-roasted Tomato sauce, and The Man had slow-cooked Sticky BBQ Ribs (£5.95 and £6.95 respectively).

His Nibs' Ribs, of which there were 5 large specimens, were nicely stacked in a bowl (not just wanged in willy-nilly) and garnished with young Watercress for presentation purposes. You wouldn't want to put money on ever coming across such tender ribs again; the meat was literally falling away from the bone with no effort required at all! The meat had a lovely flavour to it intrinsically, and the fabulously sticky sauce had a lovely smoky BBQ edge to it that complimented it very nicely.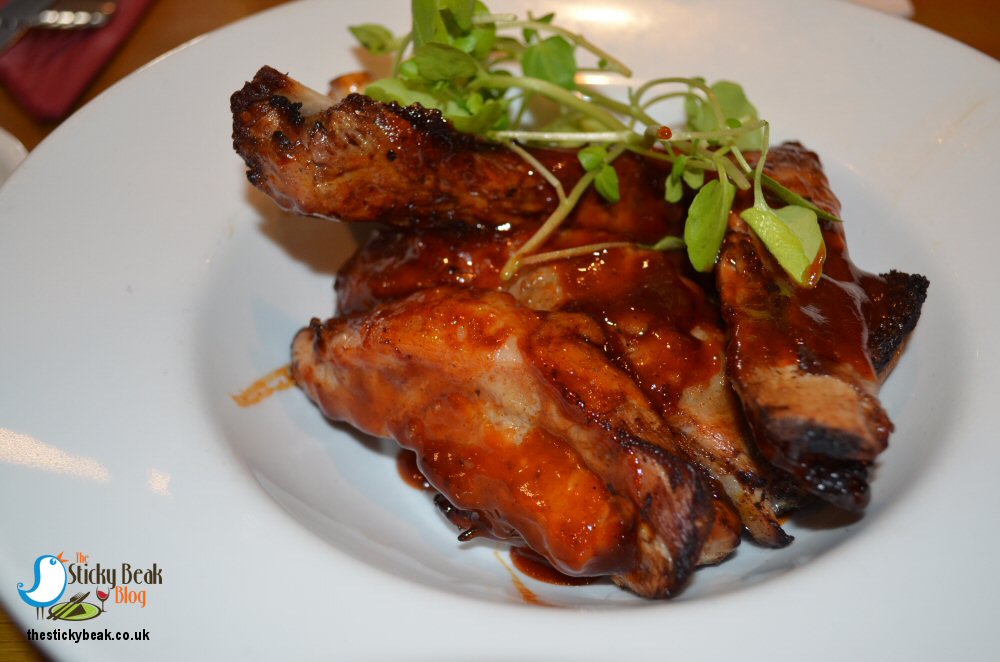 Now everyone knows that you just don't eat ribs with cutlery; you've got to get stuck in with your fingers and just go for it, right? The team at The Lion clearly understand this and the young lady brought out a bowl with warm water and lemon slices in it, to clean messy fingers with.

I tucked into my large Portobello Mushroom with my customary gusto, slicing through the Goats' cheese and wilted Spinach layers and scooping up some of the sauce on my fork. The mushroom was glorious in its deep earthy taste, providing the perfect backdrop for the brighter Spinach and tangy cheese to shine against. If I had a criticism it would be that I would've liked more of a garlic bop to the dish; I like Dracula to smell it at a thousand miles away, but "normal" folks will find that it's ok. The slow-roasted Tomato sauce was beautiful though; sweet, rich and rounded. I liked how it was poured around the outside edge of the serving plate, rather than all over the mushroom stack itself.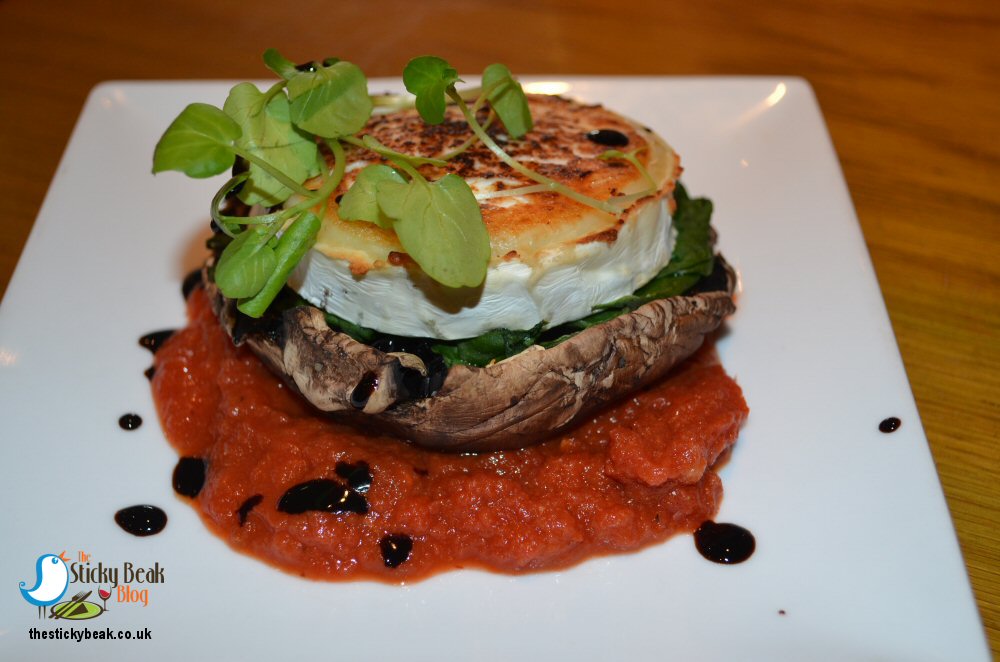 The Man chose to have the homemade Lasagne with choice of Chips, Salad garnish and Garlic Bread, priced at £9.95; when this dish is done well it's one of those soul-nourishing dishes, and it's hard to beat. I was going to have the pan-fried Sea Bass, but changed my mind at the last minute, opting instead to have the "Moo Blue" gourmet burger.

It isn't often I have a burger, but just recently I seem to have a hankering for them, so I went with the flow! The Moo Blue (£9.95) is a double beef patty affair, topped with Stilton cheese, Smoked Bacon and The Lion's secret sauce; it comes with a choice of chips and Onion rings. I have to say that it's a complete beast of a burger! The pair of patties were huge, and superbly dense in texture with an equally fab taste. On top of each patty was a thick slice of proper farmhouse Bacon – no skinny slices here! – and a lovely thick bit of Stilton that had softened to that great oozy texture.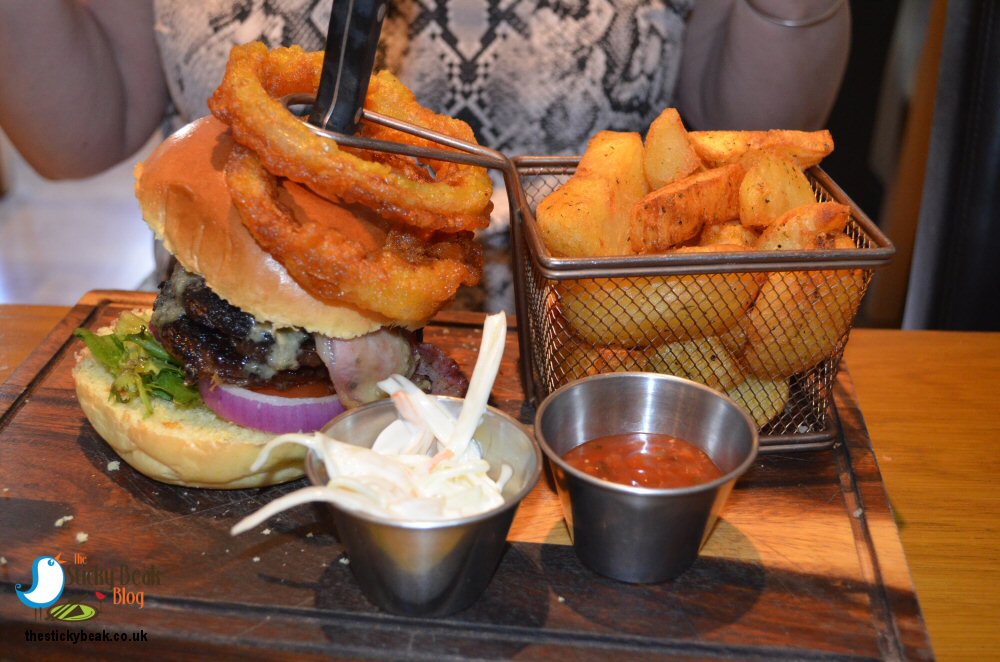 A buttery Brioche bun struggle to contain all this yumminess, but the pair of Onion rings crowning this Queen of Burgers was assisted by a steak knife that went all the way through the many layers of this gastro stack. A symphony of tastes and textures flooded my mouth as I took bite after bite, revelling in all the beauty that was assaulting my taste buds.

I'd chosen to have the chunky chips with steak rub on them rather than skinny fries and it turned out to be a blinding choice if you ask me! No word of a lie, these beauts were the width of a fork in depth, so at least 1" thick, and the seasoning was very flavoursome. I dunked a few of them into the pot of tangy salsa-type sauce, and then into the creamy 'slaw.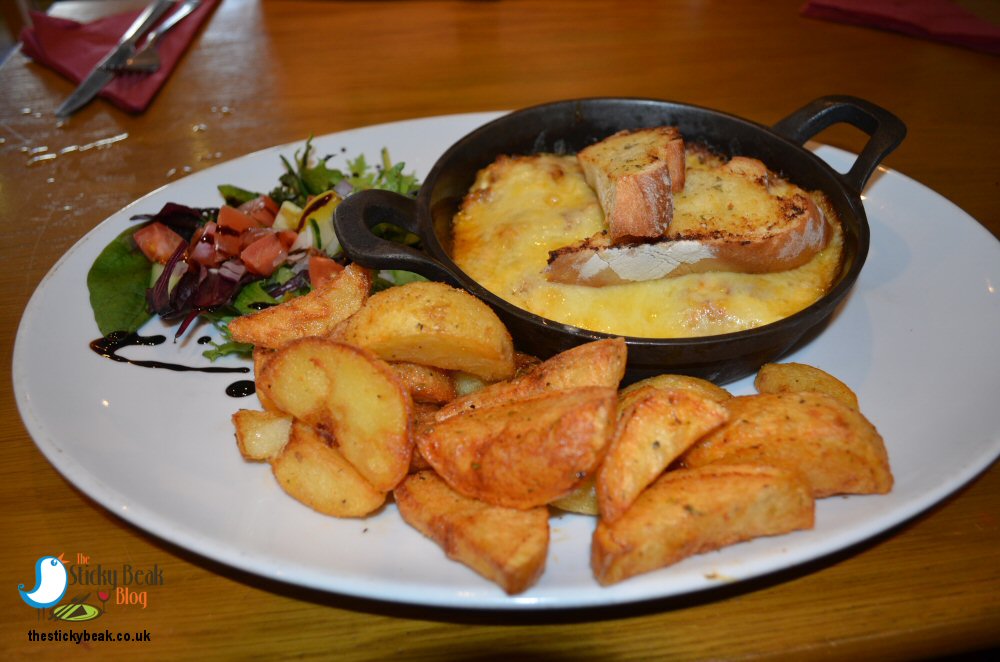 It turns out that the kitchen team at The Lion, Brinsley do indeed know how to make a classic meaty Lasagne. His Nibs' grin of delight when he took his first mouthful was huge! The Lasagne itself is contained in a metal skillet that then sits on the larger serving plate alongside the chips and Balsamic-glazed Salad. You could see by the plumes of steam coming from it that the Lasagne was piping hot, so please take care if you order it not to burn your tongue.

There was enough deep-tasting beef mince in here to feed an entire army, so if you have a tiny appetite, you might want to request a doggy bag because there's no chance that you'll finish it! What The Man really liked though was the fact that this Lasagne was neither too wet, nor too dry; the balance of rich tomato sauce, Béchamel, pasta and meat was perfect. The multiple layers were all topped off with a nice crust of melted cheese that was bubbling and golden-toned.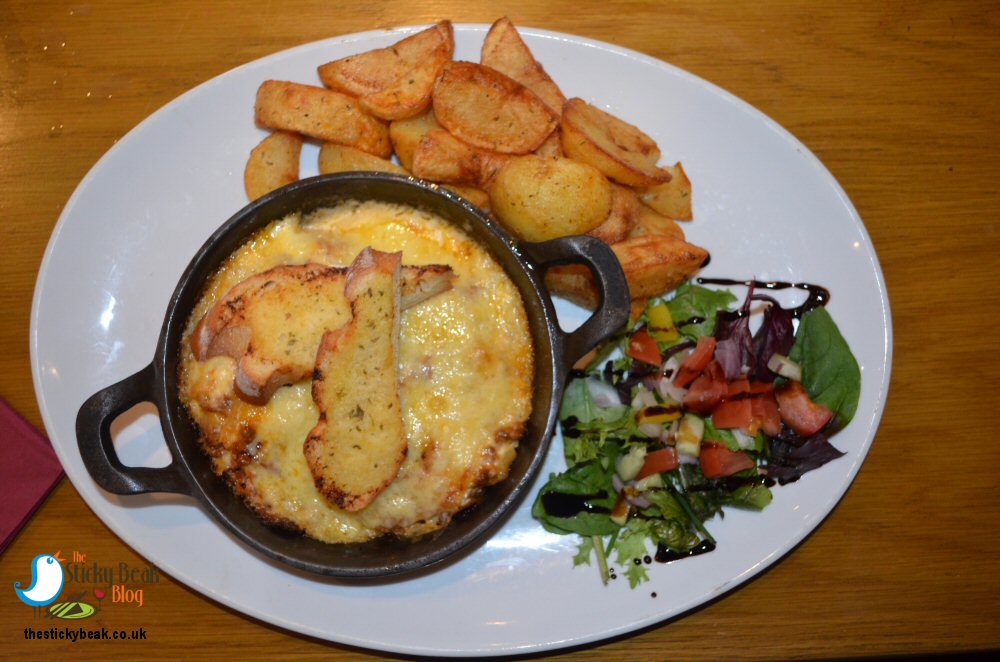 The Garlic Bread was homemade too, not shop bought. You could see this by the fact the slices of white Bloomer bread had been used as the base upon which a garlic and herb butter had been spread, rather than the uniform rounds of shop bought versions. It had a "homemade recipe" taste to the garlic butter too.

For desserts we had Sticky Toffee Pudding with Salted Caramel Ice Cream (no prizes for guessing whose choice that was!) and Chefs' Homemade Cheesecake of the Day (Vanilla on this occasion) with Cream. All desserts are priced at £5.95, with the exception of Ice creams and Sorbets: £1.50 single scoop, £3.95 triple scoop.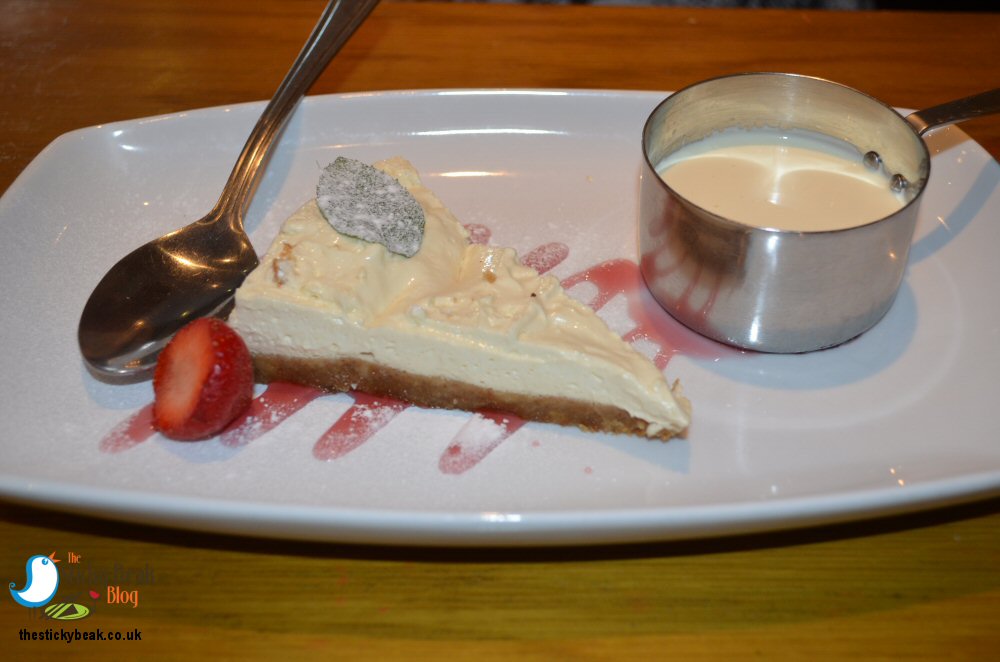 My cheesecake was delicious; lovely and creamy with a mellow Vanilla taste to it. It wasn't as "set" as some others that I've come across, but this merely allowed it to coat the inside of my mouth quicker – bonus! The base was nice too, not too thick and again softer in texture than some out there. I chose to have it with pouring cream rather than Ice Cream, but I'm sure it would've been just a scrummy with a good Vanilla Ice cream.

His Nibs' Sticky Toffee Pud was also a hit. It had a superbly deep, dark Toffee taste; not quite Treacly, but definitely rich like Cinder Toffee. This was a fabulously dense-textured pudding that proved very moreish and satisfying. Combined with a beautiful Salted Caramel Ice Cream, this made for a great end to The Man Birds' meal.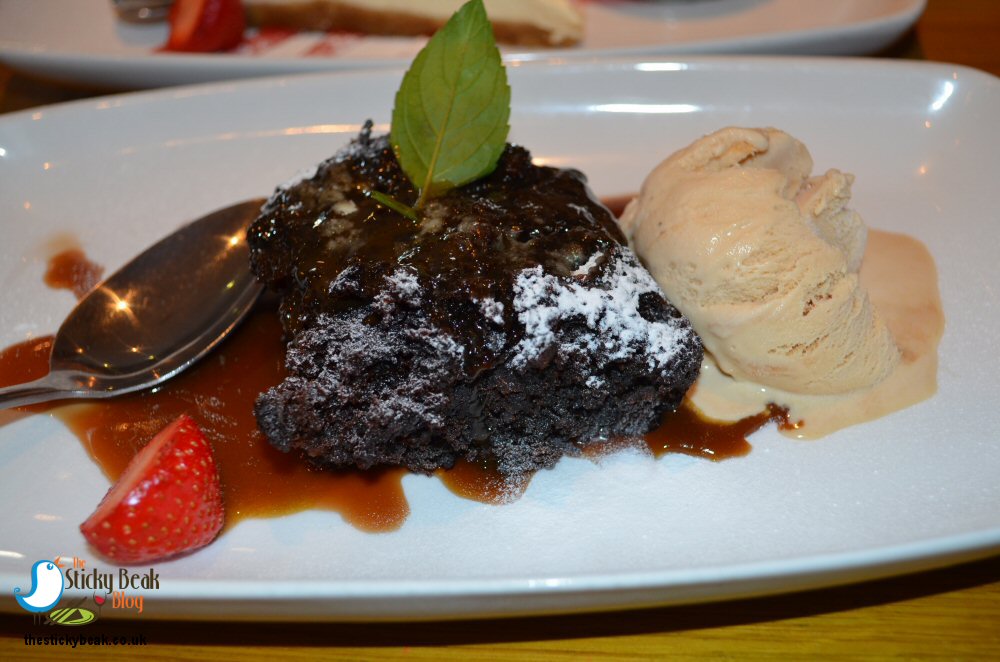 Throughout our evening our lovely server had been really good, checking back at every course that our food was to our liking and seeing if we needed drinks re-filling etc. Even when it got really busy with folks arriving for the Steak Night, the standards didn't slip; food may have been taking longer to come out (as you would expect), but it was all freshly cooked and piping hot.

Chelsea and Lisa had been the front-of-house stars, with Liam, Jake and Mitch cooking up a storm in the kitchen, and they all work well together as a team to ensure guests are happy. We certainly had a great experience in their care.

I don't know why I didn't realise sooner, but it suddenly dawned on me that one of the steaks was described as "Jurassic", something we'd seen at Porterhouse by Barlow's in Annesley. To cut a long story short, the owner of Porterhouse by Barlow's and the owner of The Lion are brother and sister!! That'll explain why the meat at The lion is spot-on too!




I would definitely recommend you book ahead if you're thinking of going to the Tuesday steak night, it's getting more and more popular. They also do Sunday lunches at The Lion, with prices starting at £7.95 per head, and kiddies at £5.95 from Noon-5.30pm. Champagne Breakfasts are also served here Tuesday-Saturday from 10am at £9.95 each – booking is essential for this, so plan ahead.

Lunches are served Tuesday-Saturday Noon-3pm, and the main menu is served Monday-Saturday from 5-9pm.

Hot Wings given to this lovely team, there's nothing not to like!
No incentive was provided to visit this venue
read more