Out For Dinner At The Queens Head in Little Eaton
---
Published On Thursday 22 Aug 2019 by Sticky Beak
See Recent Dining Out Reviews | See All Recent Reviews


Our latest adventure took The Man and me to Little Eaton, to visit The Queens Head pub. Formerly owned by Derby Brewing Company, this venue has had a bit of a chequered history according to current owner Justin; all good places have to have a bit of history – it's character building. What is it they say: what doesn't kill you makes you stronger?!
Anyhow, Justin and his partner in business and life, Wayne, have certainly hit the ground running, that's for sure. A mere 11 weeks ago they took over the premises and set about chucking out all the frozen "ding" meals they found in the kitchen's freezers, and telling the kitchen team that changes were definitely going to be made. Having found that they couldn't shape up, the old team shipped out; paving the way for the current team of Head Chef Dan, Charlotte, and Ryan in the kitchen. The 3-week-old menu is still in development but the emphasis is on homemade dishes that use as much locally sourced produce as possible.
The first thing you need to know is that there's plenty of parking at The Queen's Head; if you can't get in their car park, there is plenty of space around to park up without hindering anybody. Call me boring, but I love to see colourful hanging baskets bursting with colourful blooms – you can't get much more English summertime than this. There were folks enjoying a pint in the beer garden, the rain had temporarily stopped and it was still plenty warm enough to sit out; if the temperature drops though, there are blankets provided for you to pop round your shoulders or over your knees.
Heading inside, you see a lovely quintessentially English village pub: stone walls (exposed in parts, painted white in others), wooden ceiling beams and a log burner in one end that is quietly waiting for its time to shine in autumn and winter. My keen eye picked up the distinct differences in flooring; one area had tiles, the other (where we were seated) had carpet. There's a reason for this. As a dog-friendly venue, the Queen's Head allows Dogs and their humans anywhere where the floor is tiled, and there are plenty of tables for eating at (the full menu is available) where your dog can be present.

Little humans are most welcome too, and when we first arrived there were already several family groups with kids of all ages tucking into their meals. Children have their own menu, done in a pick-n-mix style to appeal to them, which costs £4.95; desserts are £2.95 extra. There is no shortage of high chairs either, so don't panic if you have teeny-tinies with you as well as older kiddies.

The lovely Phoebe took us to our table and went off to fetch our drinks, as well as bring us a jug of water with Lemon and ice in for the table. When she returned, she told us what the specials were for the day too and then gave us a few minutes before her colleague, Jasmine, came over to see what we fancied.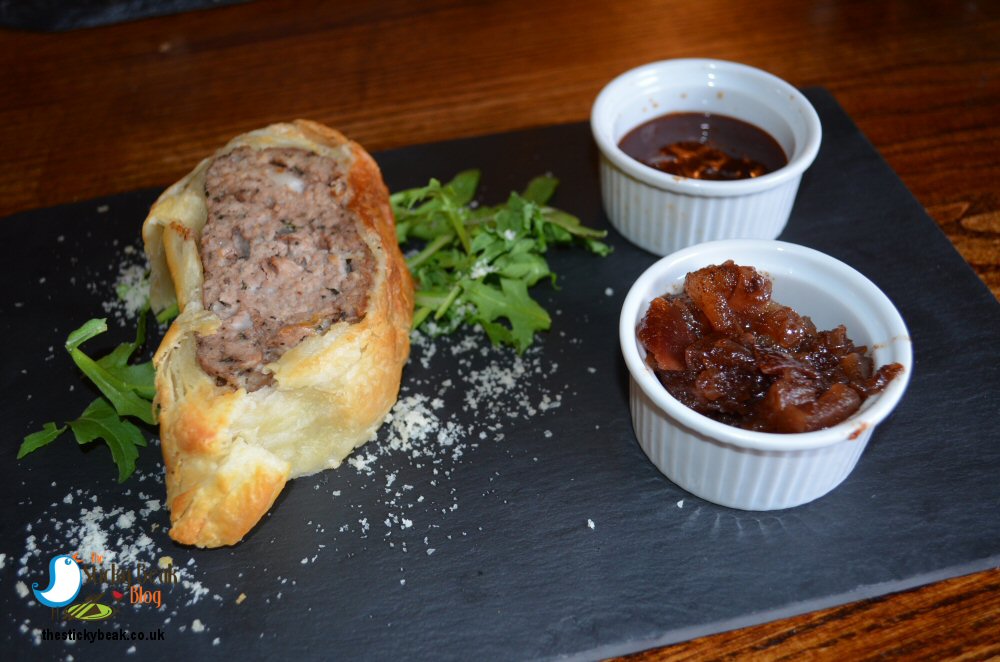 His Nibs liked the sound of the homemade Sausage Roll with Spiced Apple Chutney and house BBQ sauce to start with (there are also vegetarian and vegan rolls, too) and I had the pan-fried wild Mushrooms on toasted Brioche with Rocket and Parmesan. Jasmine said that both choices were very yummy as she wrote our orders down.

The sausage roll is absolutely belting! Owen Taylor provides the sausage meat, so it's top quality stuff to start with (no repeat factor here!), but Chef Dan adds his own bit of pixie dust to the mix to give you a gorgeously herby, non-spicy treat. Instead of it being the usual sausage roll shape, Dan had fashioned a giant version which he then cuts into slices, and this is what is served to customers. I tell you what; a couple of slices of this with a bowl of fresh chips and a bit of salad would make a hearty lunch or quick after work bite (or even a cheeky supper whilst out walking the dog, for those in the village savvy enough to employ such tactics!). The puff pastry was nice and light, and there was plenty of the sausage filling within it; the spiced Apple Chutney (homemade) is a total gem, and really gives a lift to this starter, as does the smoky BBQ sauce. This starter really did have it all going on - a bit like Stacey's Mom, for those of you old enough to remember the song!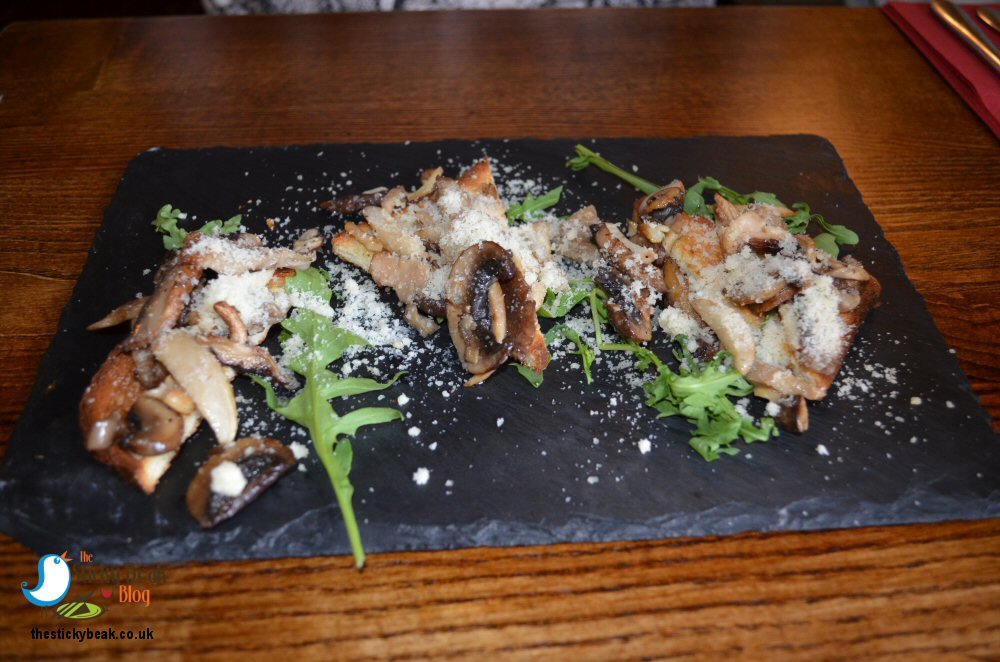 My pan-fried Mushrooms were served cold, which I wasn't expecting; thinking about it logically though, this is the best way to serve them in summer: cold and light in warmer seasons, then warm and in a rich sauce in colder months. Whatever, they were delicious; not at all greasy, and full of earthiness and taste. The mushroom medley had been nicely seasoned and there were certainly plenty of them on each of the three triangles of toasted buttery Brioche. A scattering of Rocket added a dash of peppery brightness, with a smidge of pungency and depth coming from the finely grated Parmesan.

I am just going to do a trendy "served on a slate" *ALERT*. Mentioning no names (my Daddy Bird!), some folk have a thing that "slates belong on roofs only", so if you don't do slates as plates, mention it to the serving team beforehand! This was the only food served in this manner, I should add.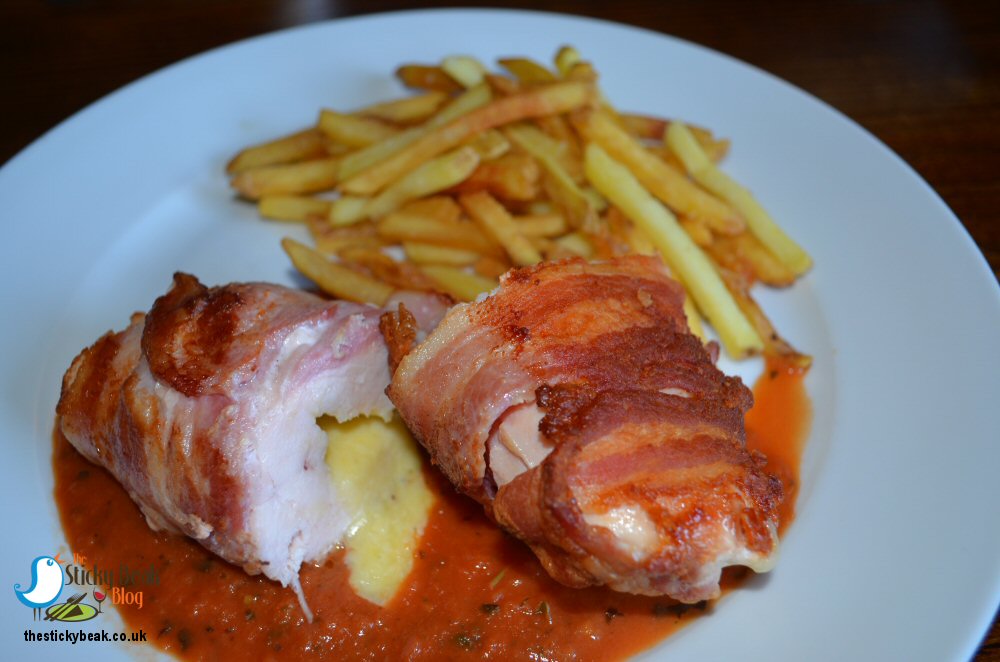 The Man Bird had spied the Queen's Hunters Chicken straightaway, so that was his choice of main course sorted (with skin-on fries instead of seasonal veggies). I was tempted by both the pan-fried Seabass and the pan-seared Lamb but, strangely for me, it was the 6oz Minted Lamb burger (from Owen Taylors again) with Harissa and Pomegranate Yoghurt that won out.

When Henry placed the Hunters Chicken in front of Him Indoors, I gasped a little due to the size and thickness of it (steady, ladies!). Let's just say that Head Chef Dan is a feeder! The thick, moist chicken breast had been filled with cheese (in a Kiev style) and bound with strips of Bacon before being cooked then sliced in half for presentation purposes. There's something fab about that crunch you get when cutting into crisped Bacon: the morsel used here was really tasty too and gave a great contrast against the softness of the poultry. Cheddar cheese had completely melted and was oozing gently from the cut breast before it got scooped onto His Nibs' fork and gobbled up! Pleasingly, the sauce had been poured around the entire dish rather than plastered all over it; now this might seem a small detail, but it meant that The Boy Wonder could have as much or as little in each mouthful as he wanted.

The skin-on fries were yummy too, but more of those later.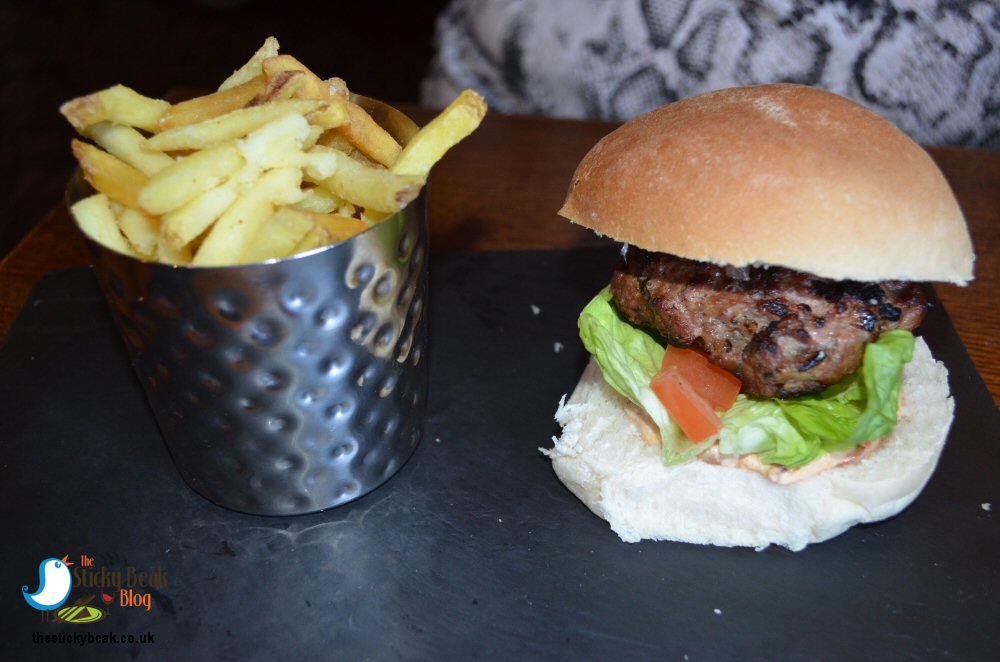 Refreshingly, my Minted Lamb Burger was a simple straightforward number. Don't get me wrong, I love a stack-it-high, load-everything-on burger as much as the next gal; but it's now become the norm rather than a novelty, and to be honest it's getting a bit samey. Like, ovah it, already. At The Queen's Head in Little Eaton they have taken it right back to the start, old-school style. A simple white bun/bap/cob contains the 6oz patty, and it's topped with a bit of lettuce and the Harissa and Pomegranate yoghurt dressing. That's your lot! And do you know what; because it's pared down you get to taste each element properly and really savour it. The sweet Lamb, the bright Mint, the spicy Harissa and tart Pomegranate, the creamy yoghurt; they all marry together well and you can taste each of them on the palate. Best of all, you can pick this burger up in your hands and bite into it as is; just as it was originally intended.

I think that a little side salad would've complemented the burger nicely, but I did mention earlier that the menu is still a work in progress, so who knows? Maybe this will be an addition soon. I wasn't sure whether it came with chips from the description on the menu, so I ordered a side of the skin-on fries for myself just in case, as well as some homemade Onion rings.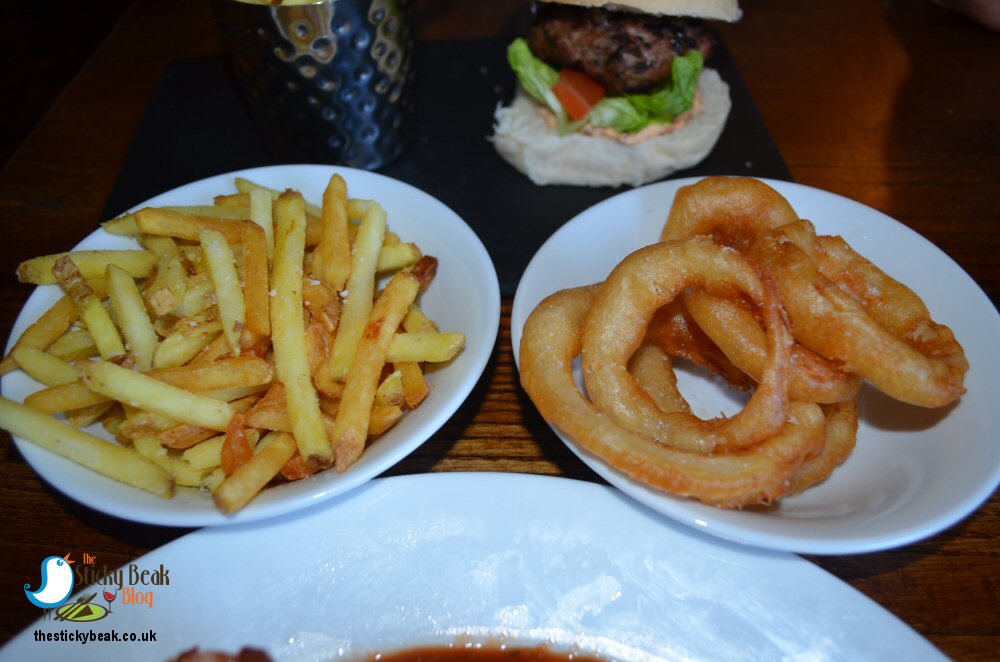 The skin-on fries are yummy; there's plenty of taste to them thanks to the skin being there. French fry –type chips can be prone to greasiness, but the ones here aren't at all; instead, they're nicely crispy and gently seasoned. Same goes for the homemade Onion Rings: no trace of greasiness on them, just thick slices of Onion coated in a light batter and fried to uber-crisp perfection. Nom nom.

As it stands, the dessert menu was a bit lactose-heavy; Justin says changes are already in the planning and to look out for more fruit offerings and the ubiquitous chocolate dessert choice. I went for the house-made cheesecake of the day, a Raspberry and White Chocolate number and His Nibs decided to have the same, seeing as the home-made mini doughnuts had sold out.

The cheesecake came in individual dishes, with a layer of crushed Digestive biscuits at the bottom. On top of this was a layer of mixed together cream, cream cheese and Raspberries; indulgently rich and very moreish. To crown it all and make it look pretty was a scattering of mini White chocolate buttons. I just managed to finish mine, but by golly it took some determination! His Nibs didn't manage to finish his entire portion, it really is incredibly filling!




A couple of black Illy coffees finished our meal off and what a lovely meal it had been, too.

I think it'll be exciting to see what Justin, Wayne, Dan and the rest of the team develop over the coming weeks and months. To say they only came in 11weeks ago, have got an entirely new team in, and have done a complete overhaul of the menu, I think they've done really well.

The Queen's Head at Little Eaton also serve sandwiches and light bites at lunchtimes: Monday-Thursday Noon-2.30pm, and Friday-Saturday Noon-3.30pm. The lighter bites include homemade Soups and Quiches, Omelettes, Burgers, meat or vegetable Chilli, Chicken Goujons and Beer battered half-fillet of Fish and chips. Classic BLT, minute Steak and Onion, and Posh Fish Finger are some of the sandwiches available.

Hot Wings given here to this super-friendly team.
Some form of incentive was provided to visit this venue
read more