Dinner At Hart's Kitchen In Nottingham
---
Published On Sunday 18 Aug 2019 by Sticky Beak
See Recent Dining Out Reviews | See All Recent Reviews


Hart's Kitchen in Nottingham has recently (end of July, 2019) been awarded 2 AA Rosettes and, keen to share their joy, invited me and The Man along to sample their innovative dishes. Although Hart's Kitchen is part of Hart's Hotel, you don't have to be resident to dine there. Members of the public can also grab a slice of the a la carte action Monday-Saturday, and there is a theatre lovers' two-course menu for £22 per person available between 5.30-6pm, Sunday-Thursday. Sundays have their own menu, which differs slightly from the usual a la carte one; this available from Noon-9pm and is priced at £23 for 2 courses or £29 for three courses.
The restaurant itself, which has been open since March 2019, is a light, open-plan space with a modern, uncluttered feel to it. Recessed lights and simply dressed windows further enhance the relaxed feel, with their cool natural inspired tones of blue, green and a touch of terracotta. Chunky lamps pick up the Terracotta tones again and brick-red cushions help add a dash of colour.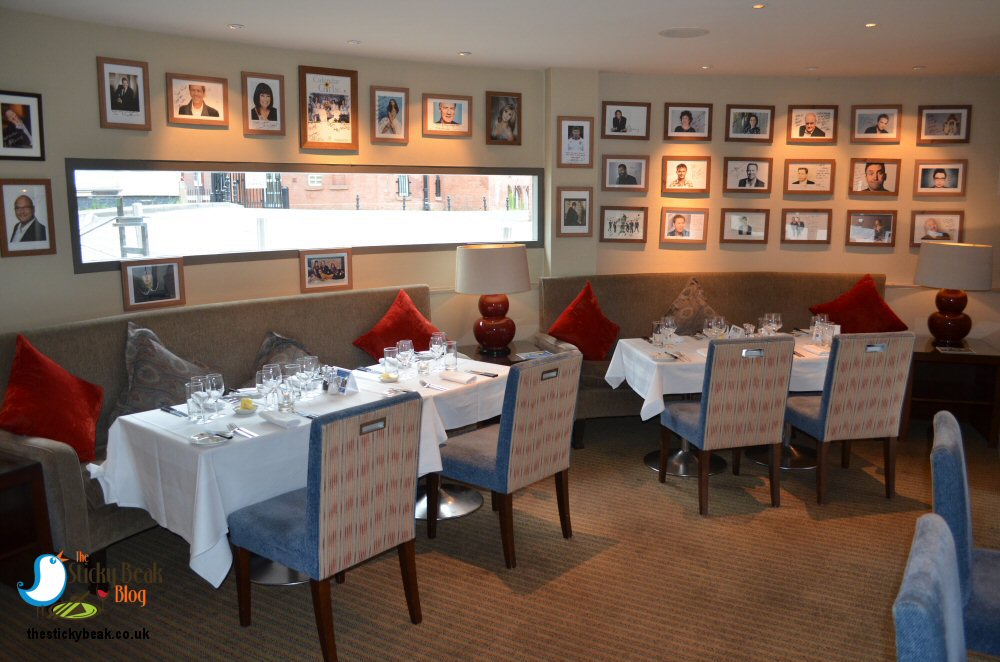 One end of the room has a quirky rounded curve to it, and on its wall is an impressive array of celebrities past and present, all of whom have stayed at Hart's Hotel. His Nibs and I had great fun trying to identify as many as we could from our classically set, white cloth draped table.

A member of the smartly dressed team came and offered us a choice of breads: Sourdough, White or Granary; both of us opted for slices of the Sourdough and spread softened unsalted butter generously on. I loved the thick crust on the Sourdough and the bread had that distinct tang characteristic of its type. I should just say that the bread comes from Hart's sister company, Hambleton Bakery.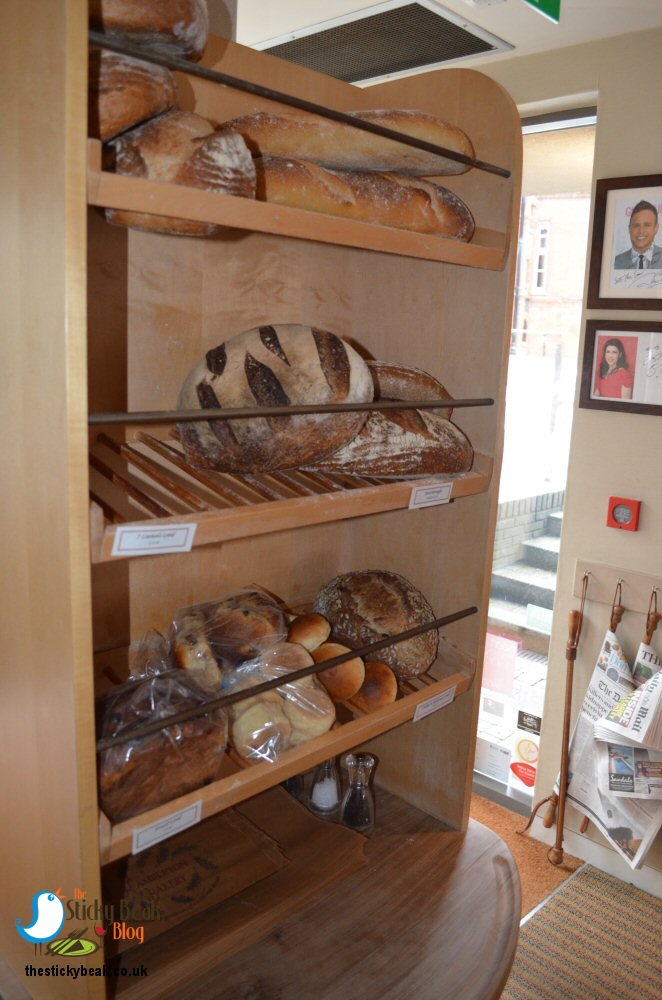 Hart's Kitchen matches its food offerings with an equally impressive wine list, listed according to region and depth of body. Many of the wines are available either by the glass or half carafes too, which is nice to see. After a bit of deliberation, we opted to have a bottle of Chablis (an excellent choice, it turned out); our server was more than happy to give us some advice, so there's definitely no snobbery or snootiness at Hart's Kitchen.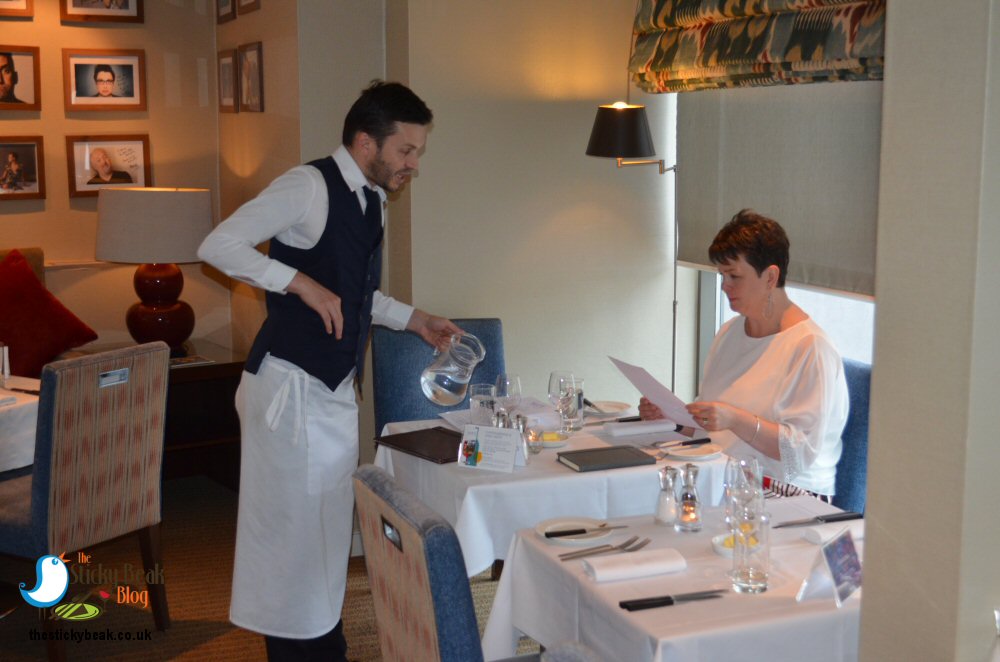 Looking through the seasonally inspired menu, it's easy to see why Head Chef Martin Sludds got the 2 Rosette accolade; the menu is imaginative enough to satisfy gourmands, but not so outré that it loses its broad appeal to a wider audience. Quality is at the heart of everything Mr Sludds produces and he is unwavering in this demand, which is why the specials board is every bit as tempting as the a la carte menu.

For my starter I had the Steamed Clams with Pancetta, Garlic and Sherry, and The Man had the Cured Beef Braeseola salad with pickled Pear, Gorgonzola and Walnuts. Our lovely server thoughtfully brought me a dish of water with Lemon in to cleanse my fingers, and a separate dish for the discarded shells.




It would've been easy to let the Sherry's warmth dominate this dish but Chef Martin's skill prevented this from being the case. Instead, he created the perfect balance between it, Cream and Garlic that allowed each component to marry harmoniously together. There was a fab Ozonic tang from the Clams' flesh that partnered the smoky notes of the thin cut Pancetta really nicely. Liberal use of fresh Parsley brightened things up on the palate, and I made good use of the slice of toasted Sourdough that had adorned the top of the dish – well, the juices were so good that it would've been a travesty to leave any!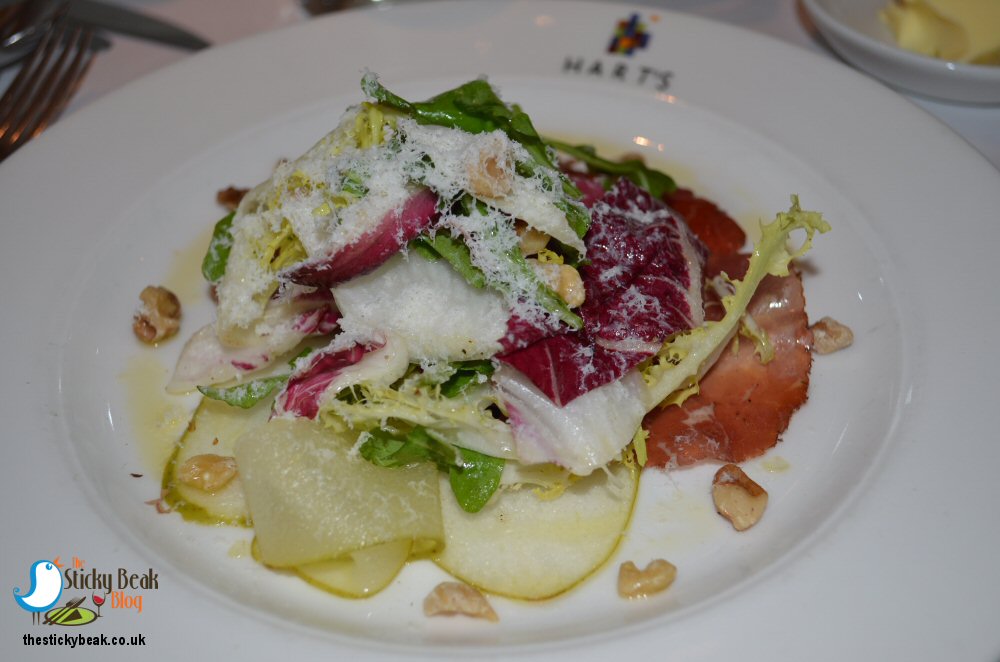 The Man was most enthused with his light, flavour-packed starter too. Uber thin sliced Bresaola imparted its wonderfully robust, almost musty, taste onto the tongue as it danced with the crumbled Gorgonzola. Gorgonzola can range from quite nutty and mild through to mature and pungent; the one in this particular dish was somewhere in the middle I would say, quite creamy still but with a touch of Parmesan's whiffy nature, if you get my drift. The pickled Pear was clean and crisp in the mouth, their whisper thin slices releasing a gently grainy texture when breached by teeth. Pieces of Walnut provided a lovely textural element to this summery starter, with bitter leaves providing a final trumpet of brightness.

I chose one of the specials, roast herb-crusted Loin of Lamb, Garlic Spinach, Charred Baby Gem and Artichoke Purée for my main course, whilst The Man went for pan fried Guinea Fowl with Pea and Mint Risotto. We weren't sure whether we'd need extra sides, so ordered them in case: chunky Chips and Purple Sprouting Broccoli.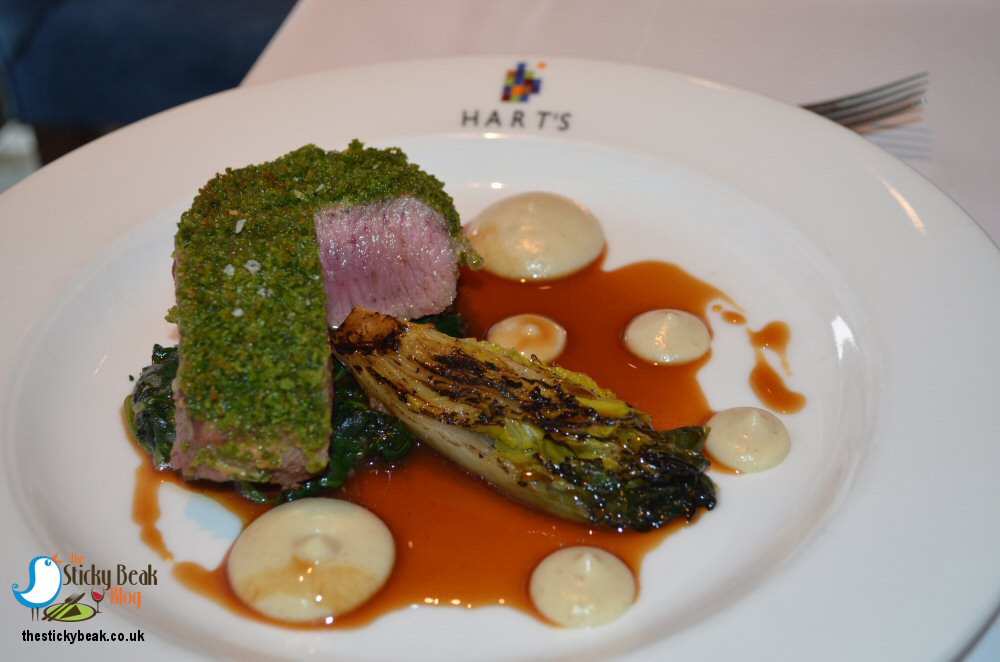 Now, at £30, no-one is pretending that my dish is the cheapest on the planet – it was actually costlier than anything on the regular a la carte menu – but by gum, it was worth every penny! Two magnificently, well, meaty, pieces of Lamb loin beckoned me to come hither and enjoy their dense, still-firm, pink flesh, so I did. Their succulent sweet-yet-earthy taste rolled over my taste buds, and I took my time to savour its full glory. A deep, lush carpet of herbs and salt sat on the lamb, springing to life in my mouth with a burst of vibrant joy.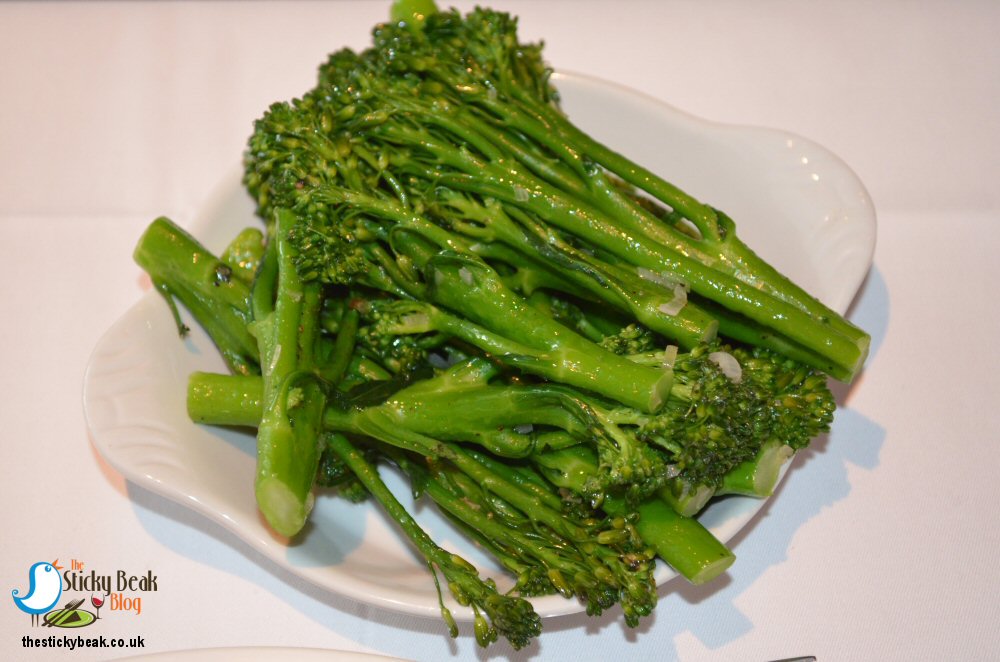 The tender, wilted Spinach was lifted by a gentle breeze of Garlic, whilst the smoky taste of the Charred Baby Gem added a bitter edge that was unusual, but delicious. I liked the comparative simplicity of the still-firm, nicely seasoned Sprouting Broccoli too, and the creamy flavour of the Artichoke purée was gorgeous.

His Nibs' Guinea Fowl was £19.50. The on-bone meat was sweet and juicy; truly the taste of a bird in the soaring flight of its prime. You expect a game bird to be deeper in taste than other fowl, but the breast was surprisingly mild and creamy; the leg was definitely more robust in flavour, but The Man Bird loved it just as much. A bed of Pea and Mint Risotto provided a perfect summery backdrop for the Guinea Fowl, and there was a pleasing amount of it too. There was still a beautiful, subtle bite to the risotto rice, and the lively, clean character of both the Pea and Mint shine through nicely.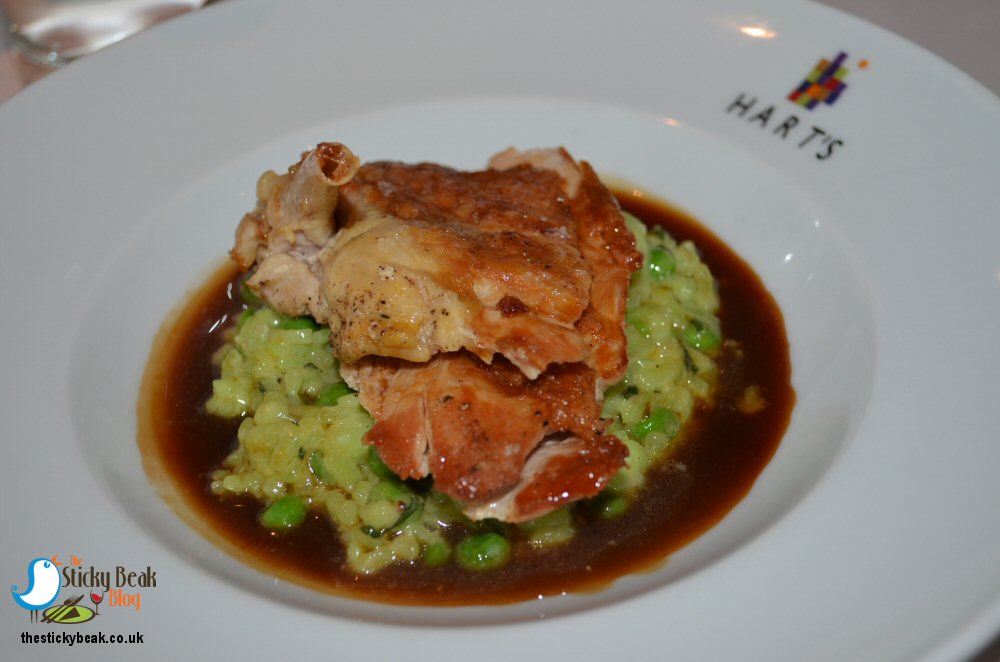 No surprise when I tell you that the chunky chips were perfect; in a 2 AA Rosette awarded establishment you wouldn't expect anything less than perfectly crisp outers paired with soft inners, would you?




As soon as The Man spied the word 'chocolate' on the dessert menu that was his mind made up, so Chocolate Mousse with Passion fruit and Pistachio Praline it was for him then! I had the Poached Peach, Lavender Syrup, Raspberries and Vanilla Mascapone for my third course. It isn't often you see poached Peaches, poached Pears seem to be more favoured, so i was looking forward to eating this summers' delight.

On the outside, the poached Peach was a gorgeous light Ruby tone; when cut into, the contrast between this jewel colour and the orange hued inner was stunning. I did take a moment to appreciate this beauty and to also just let the aroma from the warmed fruit travel up to my nose. Peaches are a wonderfully perfumed fruit in their own right but when combined with the floral notes of the Lavender syrup you get a gloriously perfumed dessert, and this only serves to make the tart Raspberries "pop" on the palate even more! Wow! I was so rapture-bound by this fragrant treasure that I'd completely forgotten about the precise quenelle of Vanilla Mascapone on its separate little plate.




Luckily my gluttony helped me out and I tucked into its silky creaminess and satisfyingly dense texture, letting it linger on my tongue. Actually, I think that I did the right thing enjoying the Mascapone separately; to me, its ultra creaminess would've detracted from the sheer exuberance of the fruit-and-flower elements of the dessert.

You can always tell when The Boy Wonder is really enthused by a dessert; he gets this goofy, glazed, "lights-on, no-one-home" look on his mush! As I looked across the table, I saw this expression creep over him; I waited for a few moments to let the sensations get processed by his brain before enquiring as to their source. According to him this mousse is perhaps the most insanely decadent mousse you will ever encounter! I managed to try a bit myself, and it was indeed crazily good; rich and deep tasting, not sweet, but just a light bitter edge to it. Zingy Passion fruit was cleverly used to good effect in the praline to stop the richness of the chocolate being the only facet to this dessert, and more Pistachio pieces added crunch.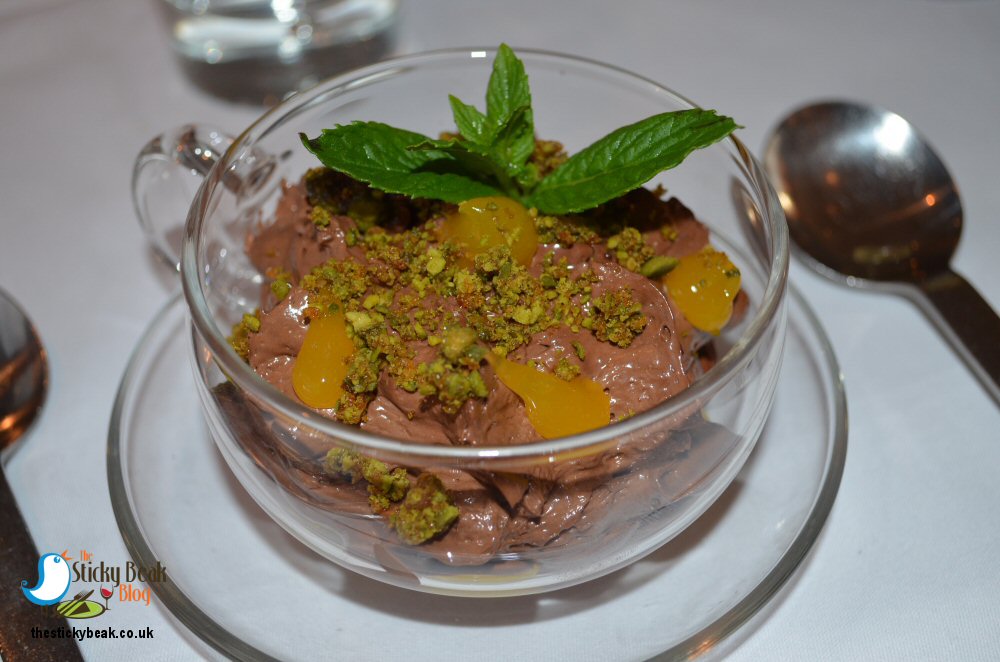 The black coffees we drank to round our dinner off was a classy, rich after dinner blend with a good amount of bite to cleanse the palate; not so bitter as to require the addition of sugar though. The Man Bird and I had a thoroughly lovely experience at Hart's Kitchen, and I'm happy to award Hot Wings to this venue without reserve.

Hart's Kitchen is open for food Monday-Thursday Noon-2.30pm, and 5.30-9.30pm; Friday and Saturday Noon-2.30pm, and 5.30-10pm. As previously mentioned the Pre-theatre dining offer is available Sunday-Thursday 5.30-6pm, and don't forget about the Sunday menu either with its 2 courses for £23 or 3 courses for £29 offer between Noon-9pm. Afternoon Tea lovers are also catered for; this is available Monday-Saturday 12-5pm. Sunday Lunch Menu

One last thing to mention, lest I forget (!), is the upcoming event "Chateaubriand and Wine Evening" on Friday 23rd August, 2019; this will be very popular, so if you fancy it, don't delay in booking your place!
Some form of incentive was provided to visit this venue
read more