Dinner At Marco Pierre White's Steakhouse in Nottingham
---
Published On Thursday 15 Aug 2019 by Sticky Beak
See Recent Dining Out Reviews | See All Recent Reviews


After the rain (and there was a lot of it that day!) comes the sunshine, so they say. The Man Bird and I were looking forward to a fab evening at another Nottingham venue, but fate had other plans; a burst water main scuppered our evenings' plans, but then the team at Marco Pierre White Steakhouse Bar and Grill stepped in to save the day!
In signature style, the first thing you see when you walk through the venues' doors is THAT over-sized monochrome armchair. I couldn't help myself; before you could say "Marco" I'd perched my derriere on it! In fact, everything about the place screams Mr White – it's as sleek, stylish and strong as the man himself; it's also as disciplined as Marco, with a place for everything and everything in its place (as my Nana would say, bless her).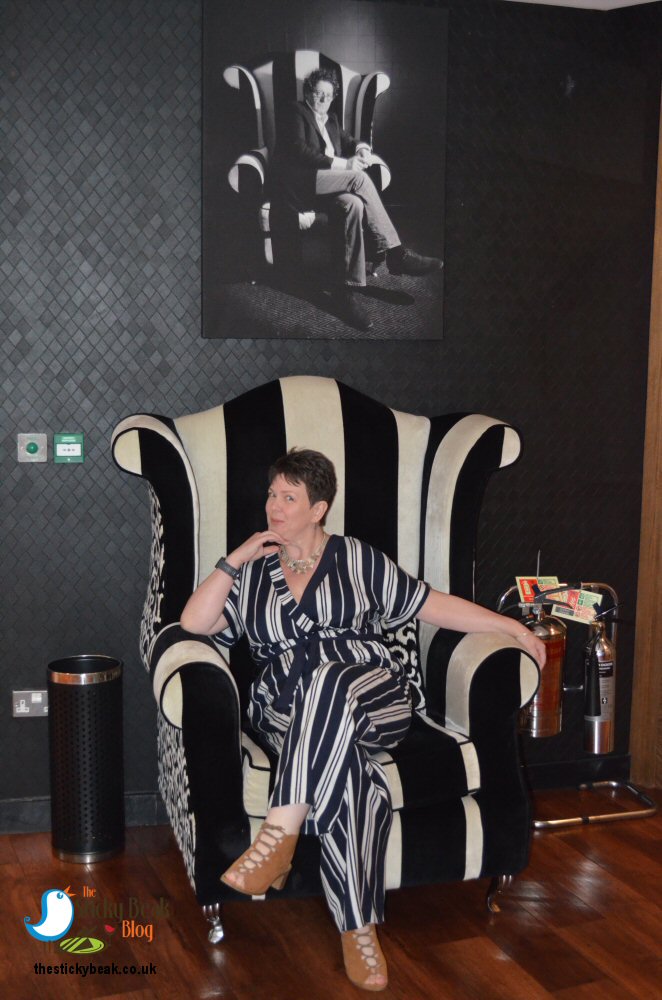 The very dapper Evans took our reservation details and escorted us to our table, and I couldn't help but run my fingers over the soft, pony skin chairs at one of the tables. My attention was also drawn to the striking, red Ostrich-skin pattern chairs that are at a couple of the other tables around the restaurant. Style gurus will think they've died and gone to heaven! Monochrome prints of Mr MPW in various locations and situations adorn the walls throughout the space, tying the look together very nicely.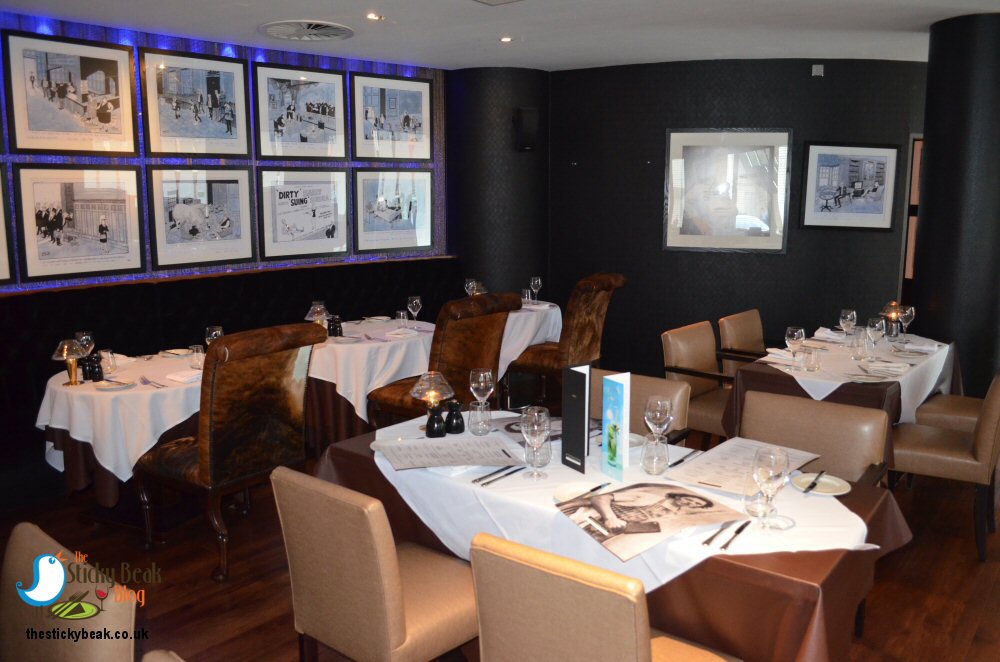 The circular bar serves both Marco Pierre White Steakhouse Bar and Grill and the Alea Casino, which are separated by swish opaque glass doors. Even this is far from boring with a mesmerising, circular canopy of metal strands! You'd think with all these fantastic features that it would be overkill, but there are some restrained elements that prevent this, such as the simple recessed lights, the wooden blinds at the windows and the elegant wood floor.




Evans had handed us over to the care of Marta and Annie, who shall henceforth be known as the dynamic duo! Seriously, these ladies have got customer care down to a fine art; nothing was too much trouble at all throughout our experience, and they came up with some blinding recommendations. To kick off, they suggested we try the Chorizo with Honey to graze on whilst we looked over the menu's contents, instead of our usual bread and oil or Olive habit.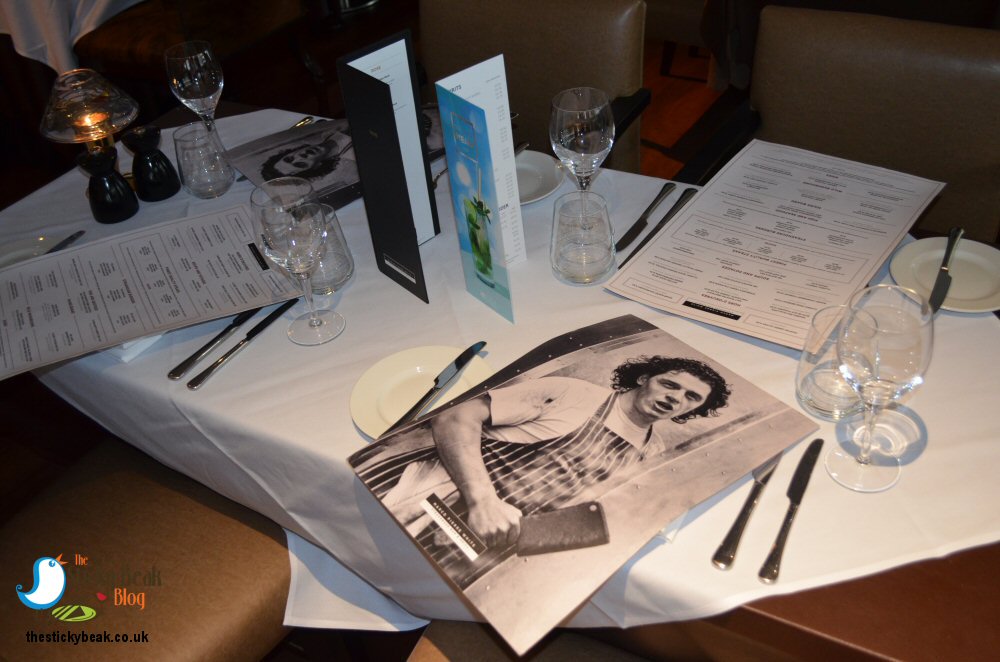 What can I say about the Chorizo? It was superb! The slices were coated in a gloriously sticky honey and mustard seed glaze that packed the perfect sweet/savoury balance and it coated our mouths beautifully. Chorizo is excellent cold, but when served warm it reveals more layers of its character; waves of smokiness and sweetness lapped at our palates softly and sensually. There was nothing harsh about this morsel at all, just sublime gastronomic pleasure.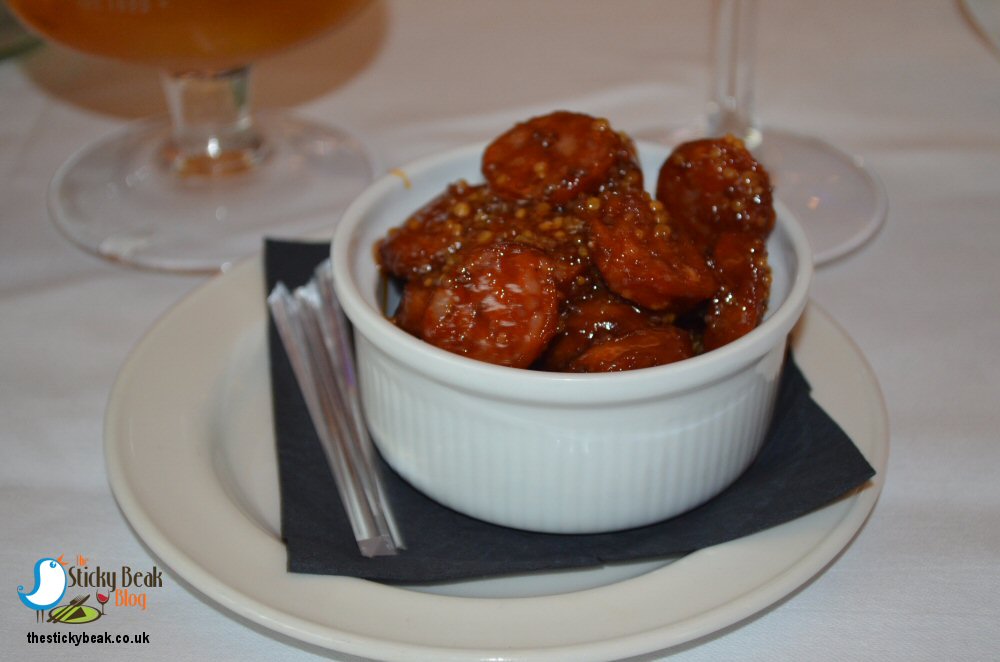 For starter I chose the Beetroot and Goats' cheese salad and His Nibs had Mr White's Scotch Egg with Colonel Mustard sauce. Needless to say the presentation was spot on - it's hardly going to just get chucked on the plate here, is it?!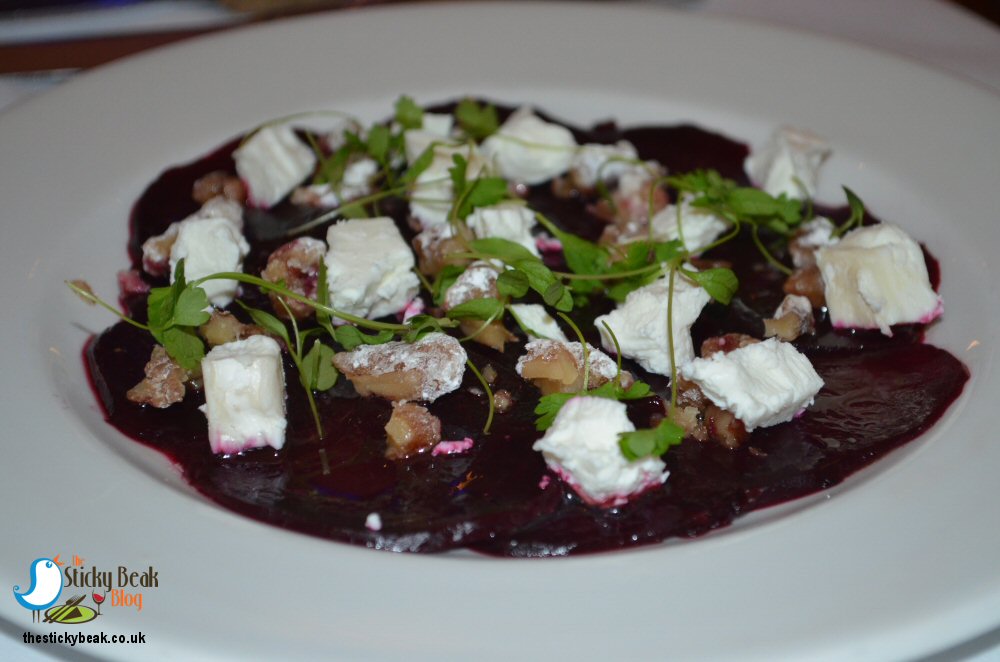 I know I tend to wang on about the simple things in life being the best; but tough, I'm going to do it again! The Beetroot was sliced ridiculously thin which seemed to bring out its rounded notes more than usual so that that they really popped against the soft tang of the cubed Goats' cheese. Pieces of candied Walnut added a nice sweet element to this gorgeously summery dish, and a scattering of verdant micro-herbs gave it some visual pizzazz.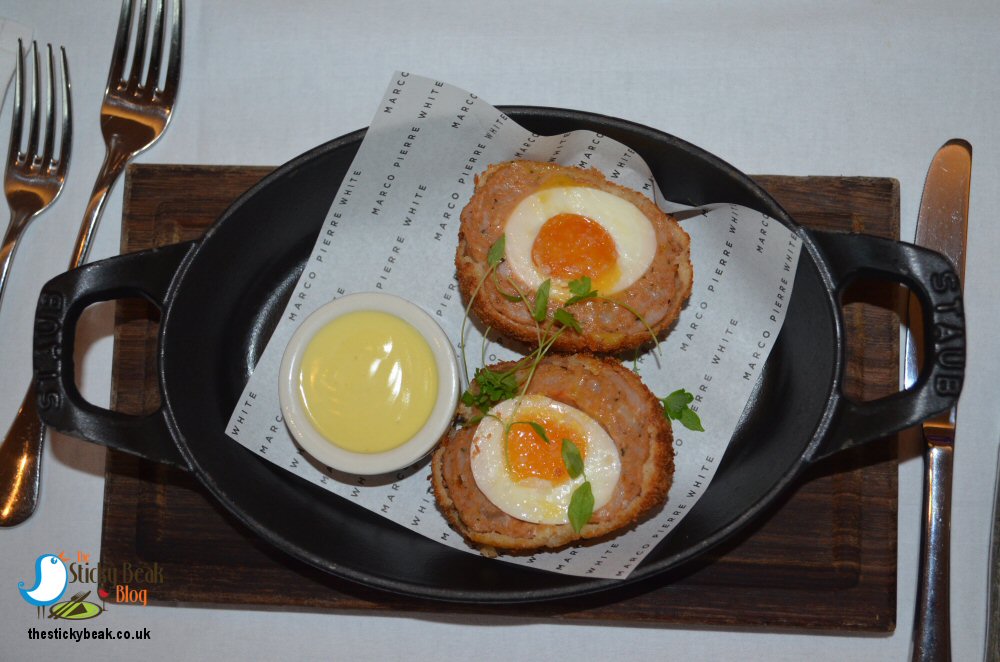 Across the table, The Man was in some sort of ecstatic trance; he kept muttering "jeez, this is belting" repeatedly like some sort of reverential mantra. I have to say though, that as soon as Marta had gently placed the Scotch Egg on the table you could see that it was going to be next level; and so it proved to be. A richly golden, just-soft yolk coated the Mans' tongue in its velvety glory, releasing its honeyed notes. Around the perimeter of the egg white, where it met the sausage meat, was a hint of salt that provided a delicate partnership of seasoning with the herbs in the sausage meat itself. The sausage wasn't a spicy variety (so no repeat factor), but this simplicity allowed the full impact of the pungent Colonel Mustard sauce to be appreciated – and boy, did The Man get a wallop of Mustardy heat! As a seasoned connoisseur of Scotch Eggs, His Nibs knows a good one when he tastes it, so for him to herald it as the Best Scotch Egg he's had (apart from Mummy Birds', obvs) is some praise.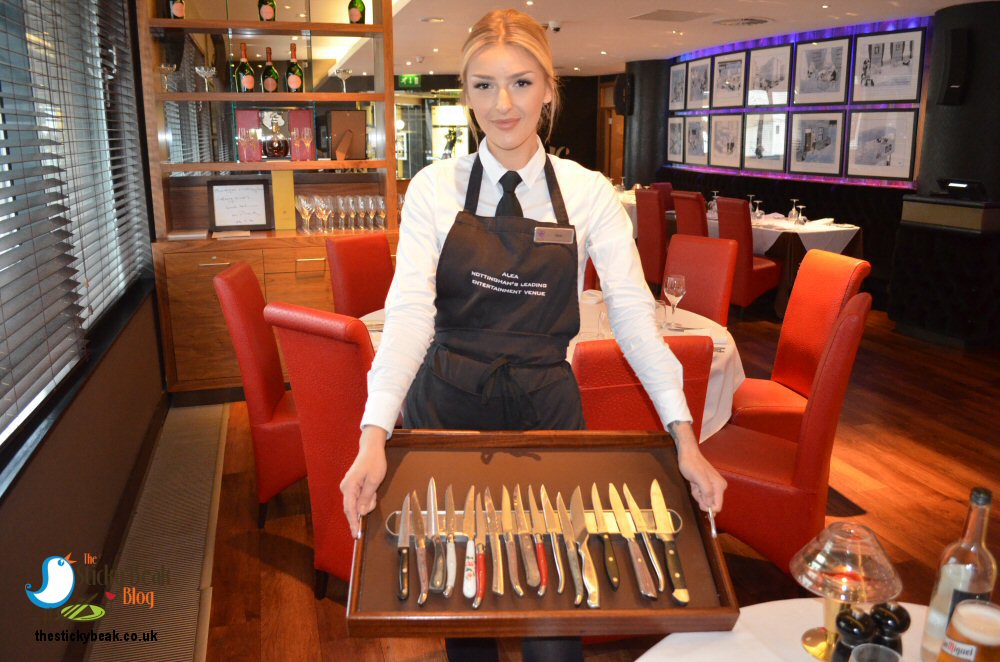 With the name of the venue including the word "steakhouse", it made sense for one of us to sample a steak, so The Man opted for the 8oz,centre-cut Fillet at £32.50. I fancied the roast rump of Lamb a la Dijonnaise with Gratin Dauphinoise, Haricot Verts and Rosemary roasting juices, which came in at £24.50. We also ordered sides of crispy Onion rings and creamed leaf Spinach with Horseradish; all sides are a flat price of £3.75.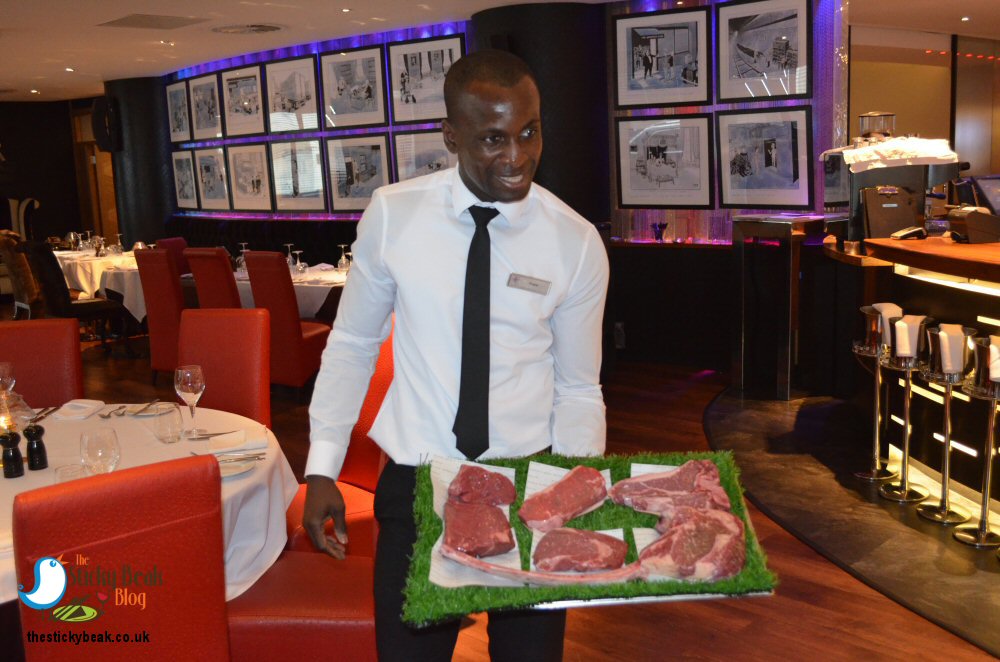 Now, it's well known that we like a bit of flair table-side and Marta provided some with the board of steak knives that she brought out on a magnetic board; and what a selection of knives there were to behold! There were all manner of sizes, differing handle shapes, and many levels of decoration and finishes on the handles. His Nibs chose a fairly plain one, and I did the same. But the theatre wasn't finished there; Evans came out with a tray laden with all the different cuts of steak to show us!




The Man had chosen triple cooked chips to go with his steak, but you can also have pommes frites or green salad with Truffle dressing if you prefer; each steak comes with roasted Vine Tomatoes and English Watercress too. When it arrived, the Fillet was a simply stunning piece of meat with an incredible depth of flavour and melt-in-the-mouth texture to it. His Nibs had requested it be cooked medium, and this was done to absolute perfection – as you would expect in such an establishment as this. The Tomatoes were wonderfully sweet and nicely softened with roasting, in contrast to the crisp, cool, peppery Watercress which gave a fab zing in the mouth.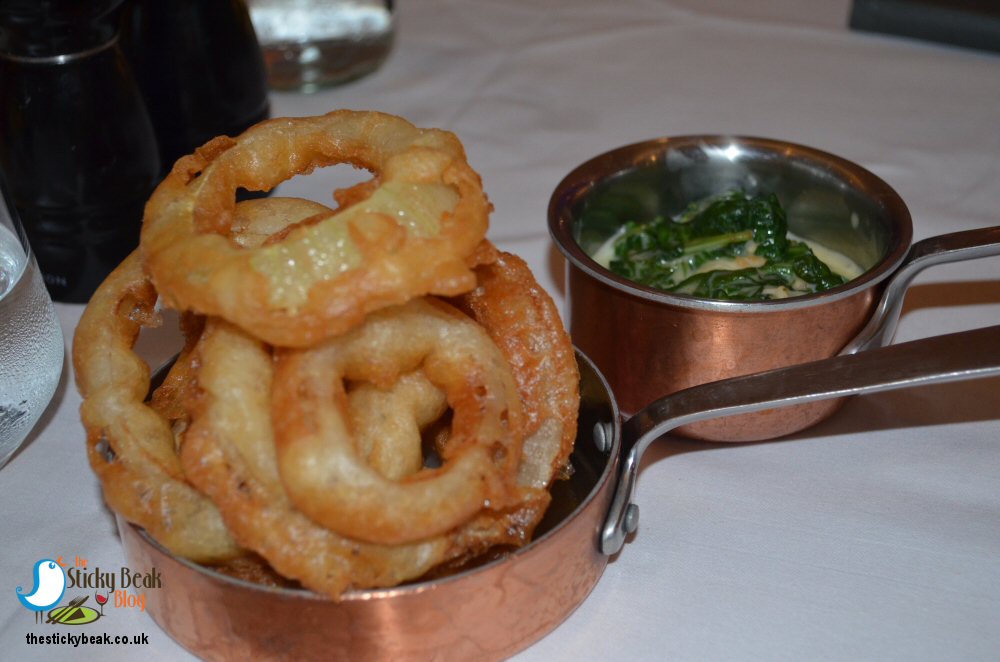 The triple cooked chips were gorgeous; crisp outers complimented by soft, earthy tasting inners. However, it was the Onion rings that stole the accompaniment crown! These beauties were brutal in their amazing crispness, thanks to the light, wonderfully seasoned batter being expertly cooked. All hail His Nibs' new Onion Ring Kings!

I had asked that my Lamb rump be served pink, and as Annie placed it before me I could see that it was spot-on. I am rather partial to a nice piece of Larry (Lamb) and this was shining example of everything that Lamb should be; bouncing with taste and yielding tenderly to a knifes' light pressure. As I took my first bite I was rewarded with a pleasantly substantial density to the meat that melted on my tongue instantly and matched the Lambs' flavour marvellously.




The Haricot Verts (green beans in English!) were still crunchy and full of summers' optimism, partnered with a ridiculously good square of gratin Dauphinoise. The MPW kitchens elevate this humble spud-and-cheese dish into something altogether more fantastic, and I cherished each mouthful. Normally I would have a good dollop of Mint sauce with my Lamb, but the Rosemary roasting juices were so flavoursome it seemed a travesty not to let them take centre stage. The creamed leaf Spinach with Horseradish was another bobby dazzler; wilted baby Spinach was at its optimum in terms of taste and accepted the Horseradish hit brilliantly, so that palate could appreciate both components.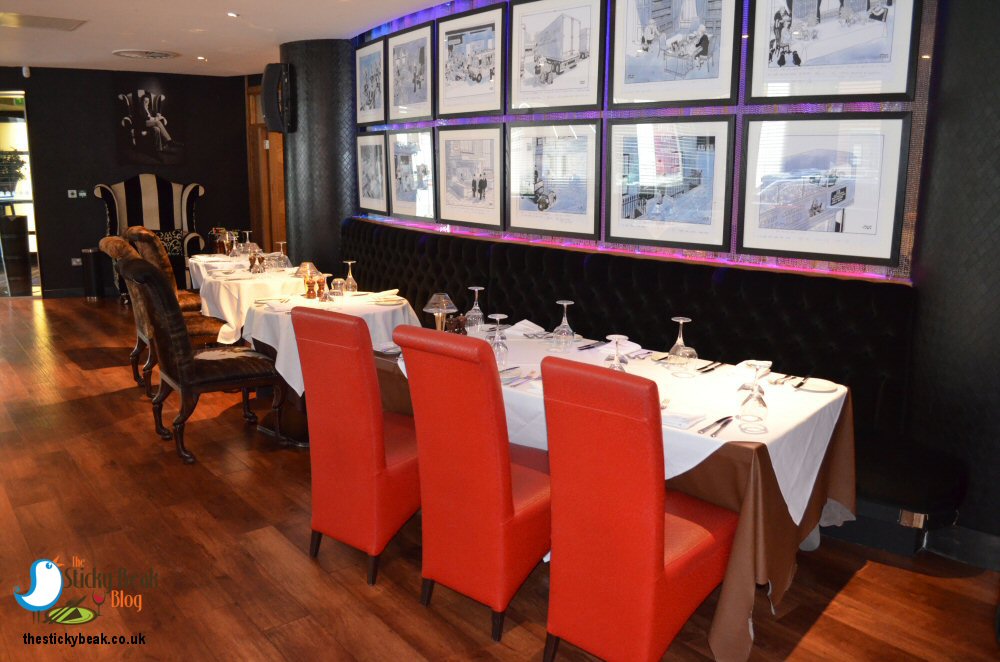 It goes without saying that pudding was ordered; not just because we're gluttons, but because the food had been so glorious that we weren't going to pass up the opportunity to indulge! The selection of sweet treats had us pondering for a while as there was nothing that we didn't fancy, to be quite honest. In the end, after reluctantly discounting Mr White's Billionaire's Shortbread with rich Caramel and Gold Leaf, I chose Marco's Rice Pudding with Sherry soaked Prunes (£6.50). The Man had Mr Coulson's Sticky Toffee Pudding, Caramel Ice Cream and warm Butterscotch sauce (£6.95).




Yet again, The Man was sat next to me muttering like some devotee at the temple of Marco Pierre White; the Sticky Toffee Pudding had made it a hat-trick of magnificence chez MPW! It was incredible, or at least the teeny bit I was allowed to sample was! This temptation was gorgeously sticky with a deep flavour and superb texture that made it just sublime to eat. At the bottom was a layer of smooth, creamy Butterscotch sauce that was intensely rich and indulgent, and crowning the pudding was a perfect scoop of smooth-tasting Caramel Ice Cream that was melting slowly on its warm pudding bed.




You're probably thinking that Rice Pudding with (Sherry-soaked) Prunes sounds a bit school dinnery. Wrong, wrong, wrong! There is nothing school-esque in the slightest, remotest, vague-hint-in-the-universe-ist about this gem of a dessert, let me set that record straight right now!! What you get is an honest-to-goodness, proper, thick rice pudding that will stick to your ribs and/or put hairs on your chest, as my Nana would've said. This luxuriously creamy pud coats your mouth, letting you savour every atom of its being to the maximum – something I was more than happy to do. Soft, perfumed Prunes shed their boring, fusty image as they donned their gown of smooth, rounded Sherry that glimmered warmly on the tongue. I could eat this every day of the week, quite happily!

With our tummies full to the brim (they don't skimp on portions at Marco Pierre White Steakhouse Bar and Grill in Nottingham that is for sure!), we took our time to sip the black coffees that rounded our evening off. Hot Wings absolutely, unreservedly given to this cracking Nottingham restaurant where style, substance and service reign supreme.
Some form of incentive was provided to visit this venue
read more