Pizza Night At The Loaf, Crich
---
Published On Sunday 4 Aug 2019 by Sticky Beak
See Recent Dining Out Reviews | See All Recent Reviews


It's been *ahem* 3 years (!) since The Man Bird, Tribal Elders, Chickadee and myself went to The Loaf in Crich for their Pizza night on Wednesdays; I know, I couldn't believe it had been so long either. Daddy Bird always goes down for his Full English breakfast and large Americano on Friday or Saturday mornings, so he came back with news a while back that Andrew and Roger had decided to sell the business.
Fast forward a bit and the new owners Tim and Danny are going great guns; the bread is still being sold from the shop in Crich, retail customers are still getting their stock delivered, and customers are picking orders up from either the shop or from various markets that the team stand at. They've also given the premises a bit of a zhuzh up with a lick of paint, new tables, new lighting and new (very chic) coffee cups and saucers. The layout of the eating space has changed too; gone is the dated breakfast bar at the window, and there is a swanky banquette style seating arrangement against the long wall.




Anyhow, Chickadee had been on her hols with Boyf Bird and his family, and we'd originally planned to have a catch up over pizzas at The Loaf when she got back. Best laid plans and all that jazz.... nothing ever quite runs smoothly with kids does it? Long story short: Chick had told us the wrong time of her flight; it wasn't 2am, it was 2pm that they were leaving Dubai! Not a chance then that she was going to be back in the Shire for pizza at 6pm – or the later sitting at 8pm, come to think of it!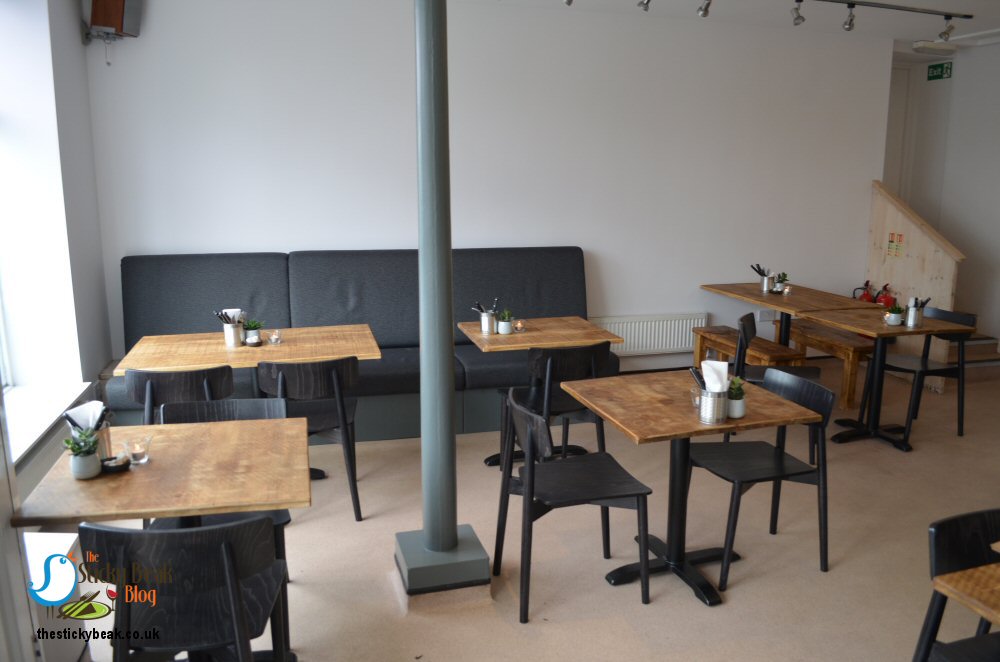 Mummy Bird had been super organised and brought bottles of Peroni and a bottle of Pinot in a cool bag with frozen blocks to keep them chilled; you do need to bring your own alcohol, but there is a fab selection of soft drinks to purchase at The Loaf if you're not imbibing.

A lovely young lad called George got us settled at our table and gave us a couple of minutes to look at the menu before taking our orders. One thing different from before was the fact that you can choose any pizza off the menu and have it as a Calzone; a nice option, I thought. Mummy Bird decided she was going to have her "Loaf Special" pizza as a Calzone, the rest of us had them as they came.




We also ordered a Garlic Pizza Base to share, just to get the juices flowing, and it was a proper bobby-dazzler. The base itself was nice: light, thin, and crispy, and it was adorned with plenty of chopped herbs and small chunks of fresh Garlic were scattered liberally all over. As a sharing starter it was just perfect; we'd remembered from previous experience that we always get too full if we have starters and a Pizza, meaning that we struggle to have pudding – and the puds looked very tempting in the cabinet.

All the food is cooked fresh to order, which when it's busy means there's a bit of a wait; I have previously said though that I never mind a small wait when stuff is made fresh for me. We all gasped as the pizzas were place in front of us – they were bigger than the ones Andrew and Roger used to make (and they were hardly stingy!) and steam was billowing from them all. Danny was Pizzaiolo on this particular evening and had thoughtfully scored the pizzas roughly, so all we had to do was go over the lines with a light pressure of the knife to cut them all the way through.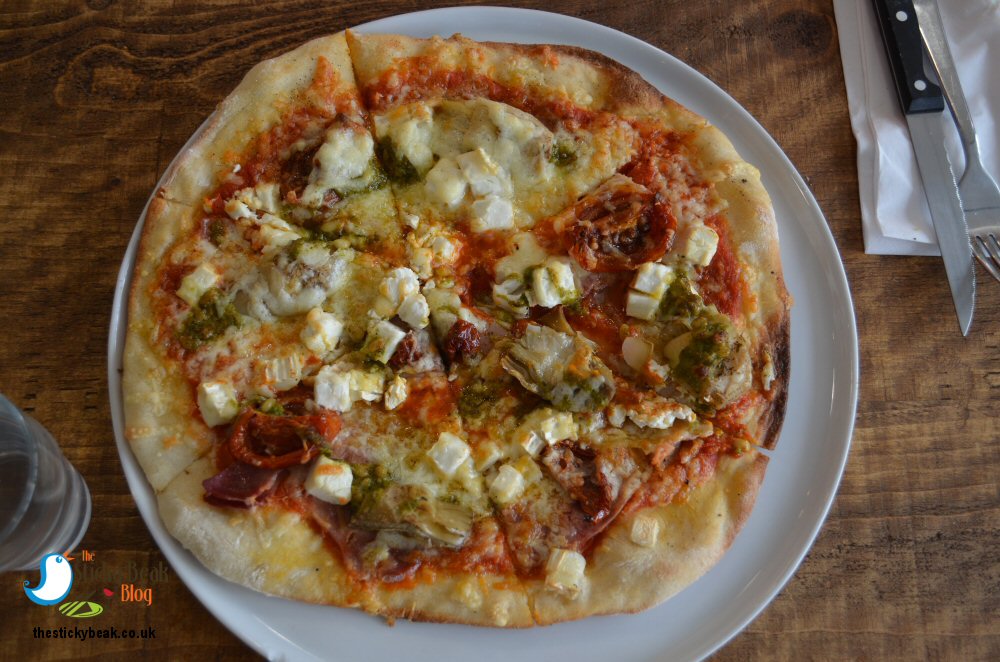 I had the Carciofo, a Ham, Artichoke, Sun-blushed Tomato, Goats Cheese, Pecorino, and Pesto- laden masterpiece. The Goats cheese had been cut into little cubes and their tangy flavour contrasted beautifully against the intense sweetness of the sun-blush Tomato halves and the creaminess of the Artichoke quarters. I got a great meaty blast from the thick pieces of Ham, matched by the punchy Pesto with its concentrated Basil notes. The grin plastered on my face answered Alex's question when he asked "are you enjoying your food?" Yes, yes I was!.

With the foresight of experience (and age!), Mummy Bird had pierced several holes in the top of her Calzone to let the steam – and heat – escape from it. Her Pizza (the Loaf special) had a lot in common with mine: sun-blushed Tomato, Goats cheese, and Pesto, but hers had Grana Padano and Roast Peppers in too. The Calzone really was a beast-and-a-half; I doubt that either The Man or I could've finished it entirely, so it was no surprise that Mummy Bird left a little on her plate (mainly the crust, it has to be said), but it pained her to do so!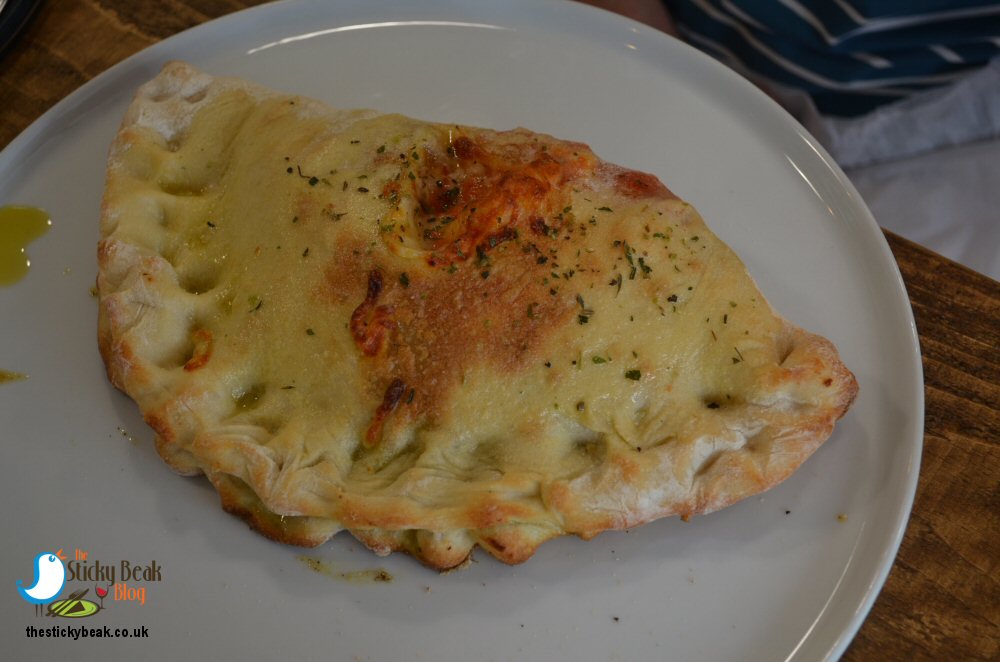 Daddy Bird threw a curve-ball when he ordered the Meat Feast pizza; I wondered whether he'd be ok with the Chorizo, seeing as he isn't renowned for liking spicy things. As it happened, I needn't have worried; the lot soon got demolished! The Chorizo wasn't overly spicy either, so in conjunction with the Chicken, Ham, Roasted Peppers, and Mozzarella, its heat got dissipated nicely. All the meats were delicious and plentiful, so that was another full tummy.

My delightful hubster went the whole nine yards, as usual, and ordered the Chorizo pizza. As well as the nicely spiced Chorizo there was Roasted Peppers, Oregano, Onion, and Chilli on this morsel; it was going to be a fun night in our nest when it came to bedtime snuggles. Double tooth clean and extra mouthwash for him, methinks!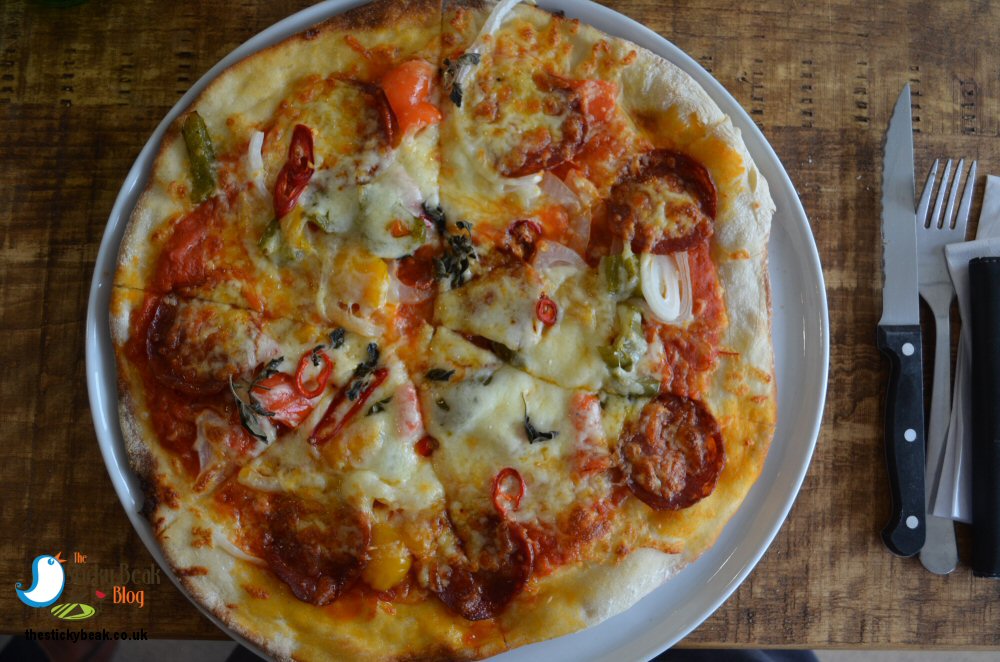 All the pizzas were set on marvellously crisp bases and the quality of the ingredients shone through. Talking of quality, you know that the pizzas are good when one of The Loaf's former owners, Andrew, pops in to order a take-out pizza to collect whilst walking the dog! I have come across Danny's cooking previously when he was Chef at The Orangery at St. Elphins Park in Darley Dale, so I wasn't expecting anything less than something delicious.

I mentioned the puddings earlier on, and it was now time to decide whether we'd got room for them. The Tribal Elders piked out, so it was down to me and His Nibs to fly the flag for dessert lovers. I had the Pear Frangipane tart (with cream, although you can also have Ice Cream) and The Man had the Lemon Cheesecake, forgoing the cream or Ice Cream; we also had a couple of black coffees with pudding.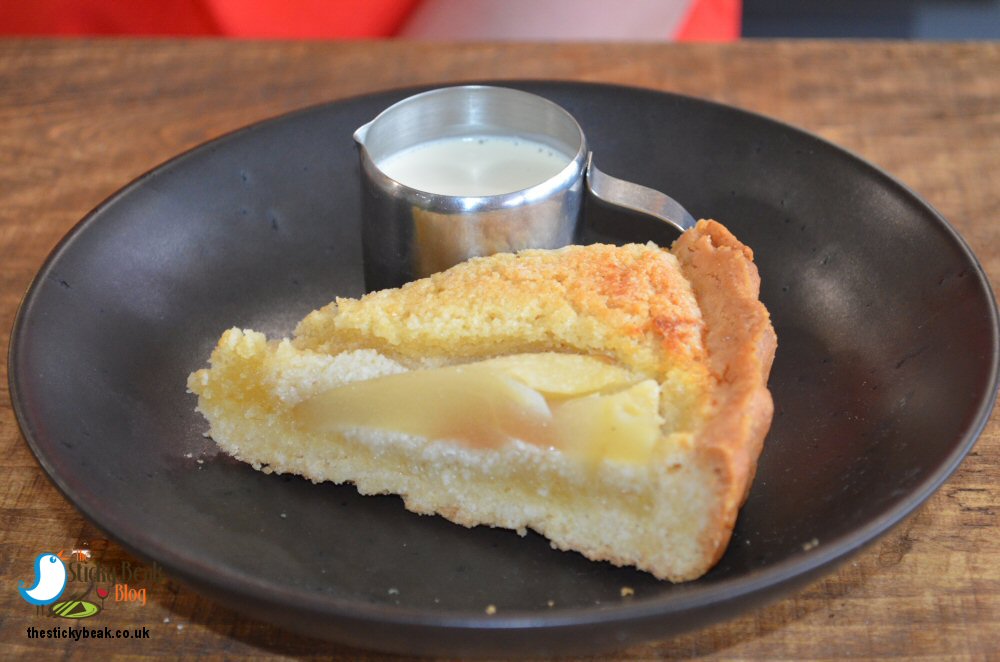 Soft slices of fragrant, ripe Pear nestled on top of the moist Frangipane filling, making this is decadently sweet treat. Often, a tangier fruit such as Raspberry is used with sweet Frangipane, but I have to say that I really enjoyed this "double whammy" of sweetness; it wasn't ridiculously sweet and it certainly didn't wallop you and get the teeth tingling, rather it gently hugged you with its familiar comfort. The pastry case was an utter delight too; it literally melted on the tongue. I didn't hold back on the cream either, the whole small jug went on. Well, in for a penny, in for a pound I reckon – especially when I'd chomped a whole pizza down to myself; self-restraint seemed a little pointless at this stage!




His Nibs' Lemon Cheesecake was absolutely otherworldly with its feather-light mousse texture and crumbly, buttery base. The vibrant, bold Citrus filling was really refreshing on the palate and provided a stunning conclusion to The Man Birds' meal. It's difficult to get the ratio of base: filling right when it comes to a cheesecake, but Danny managed it perfectly. I was sorely tempted to bring a slice home, and if I hadn't been out with The Tribal Elders and having to give the illusion of a modicum of self-control, I would've!

The coffee was a rather good affair, too; nice and robust, but not sharp – perfect for after pizza! Hot Wings given to The Loaf at Crich for its weekly (Wednesday) Pizza night, we loved every mouthful. There is limited seating at The Loaf – approximately 26 – and there are two sittings: 6pm and 8pm, so I would definitely ring ahead (at least a fortnight) to reserve a table.
No incentive was provided to visit this venue
read more