A Post-Shopping Lunch At Koo In Chesterfield
---
Published On Thursday 1 Aug 2019 by Sticky Beak
See Recent Dining Out Reviews | See All Recent Reviews


Mummy Bird and I are absolute legends in our own lifetimes when it comes to shopping; seriously, if it was an Olympic sport no-one else need bother turning up 'cos that gold medal would be ours! It had been mission "decorate the bedroom and bathroom" at Beak HQ, and as we all know, that means new linens, towels, lights etc etc. His Nibs had come along primarily as bag carrier but (just between you and me) he'd been working like a total trooper, so he was in need of some sustenance at this point in time.
After a hard couple of hours of retail therapy – and a spot of impromptu clothes shopping! – it was time to rest our weary bones and satiate our built-up appetites. Chatsworth Road in Chesterfield is a wonderful place, home to some cracking independent shops and eateries; many of which we've visited previously. Some venues aren't open at lunchtimes, but luckily for us Koo is.

The sun was shining down nicely and as we walked towards the venue, we could see folks sat outside on Koo's swanky terrace area. The rattan furniture was spotlessly clean and the chairs had got light-weight throws on them just in case the breeze picked up and people wanted some coverage. I also noticed a couple of patio heaters for the evenings when the sun has gone down and the temperature drops. This space is very much dog friendly; you can see the water station as soon as you sit down and there were a couple of canines availing themselves of the facilities when we arrived.




Inside is pretty swish too, with its twinkly chandelier lights and massive, ornate mirrors. A striking teal colour is the main colour for the interior, accentuated by a feature wall with gold and teal patterned paper on it. Dark wood floors and dark tables and chairs toned things down a little: it is possible to have too much of a good (shiny) thing, much as it pains me to say it!

I've said before that shopping is thirsty work, so without any ado we ordered Prosecco for Mummy, sparkling water for me, and Birra Moretti for The Man. They also have a cracking range of wines by the glass, and some rather nifty lunchtime cocktails to enjoy.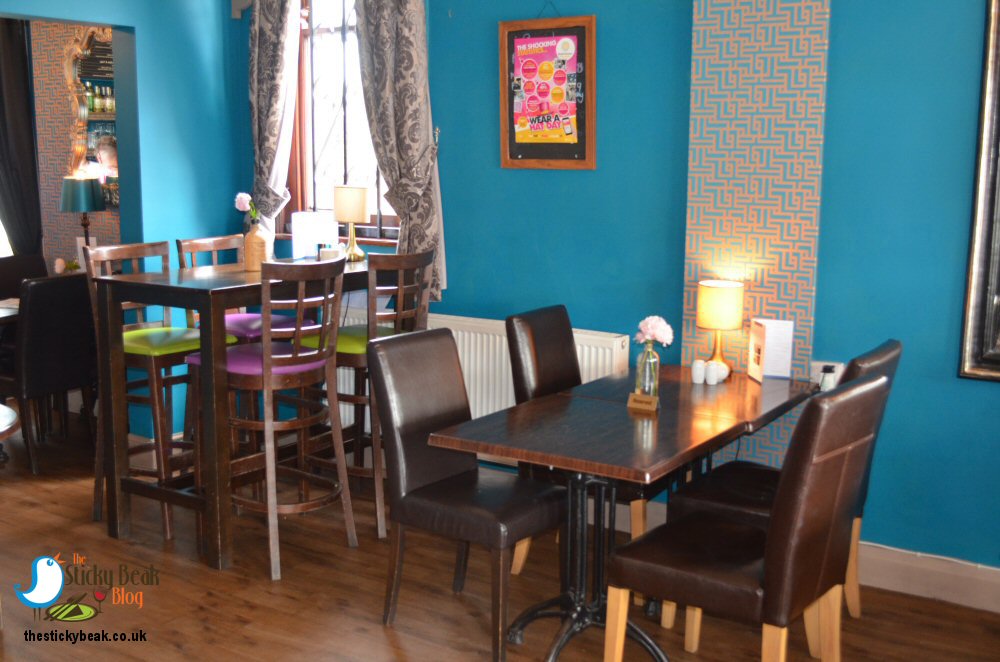 Now I know we came for lunch but that doesn't mean you can't appreciate the quality of the Breakfast menu too, right? From the humble toast with butter and choice of preserve at £2.45, through breakfast Bagels, Porridge, and American Pancakes, and landing at Eggs Benedict, Smoked Salmon and Scrambled Eggs, or the Full English Breakfast at £8.45, the Breakfast menu has something for everyone.

But back to the lunch menu, the reason we were at Koo. Again, there's a huge variety of items to choose from whether you just fancy a light bite/nibble or a starter before your main course, right through the gamut of burgers, salads, sandwiches and heartier dishes. Price-wise it's very sensible too; Olives are the cheapest item at £2.95, with Moules Marinieres being the most expensive at £10.95. Side dishes range from £1.20 for Halloumi (yum yum!) to £3.50 for Beer battered Onion Rings.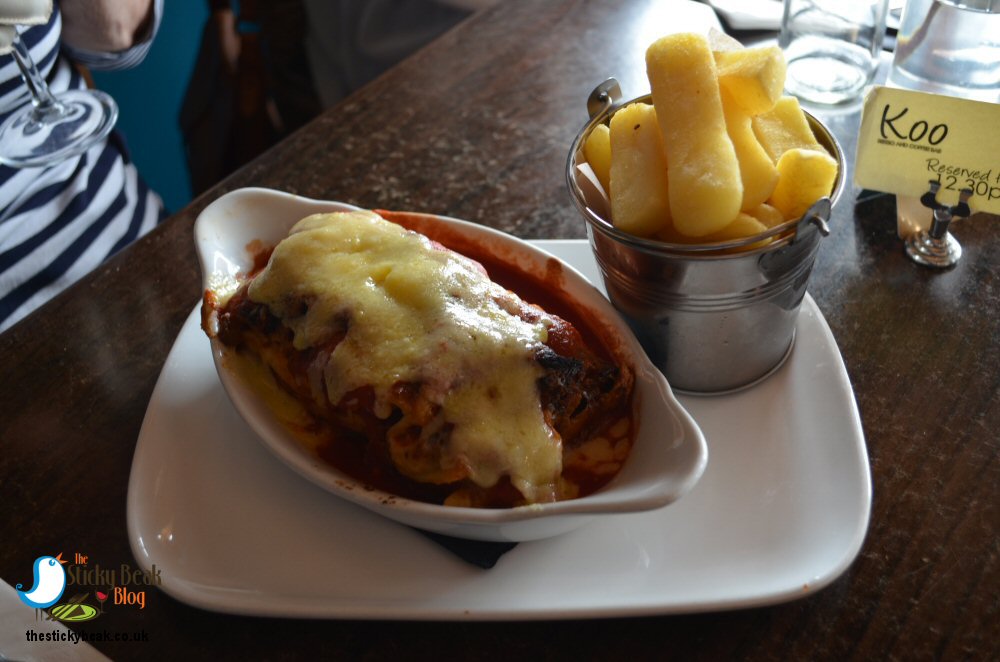 Mummy Bird had originally fancied her beloved Moules Marinieres, but then she spotted the Homemade Lasagne with salad and went with that and some chunky chips instead. I had the Seabass, Ginger, and Lime Fishcakes with skin-on Fries, Mixed Salad and Tartare sauce, and His Nibs had the 8oz Ultimate Burger (with Cheddar, Pastrami, Tomato, Gem Lettuce, and Pickle) and skin-on Fries and homemade 'slaw.

Everything is cooked fresh to order so there is a little wait, but let's face it, no-one minds waiting when their food is being individually prepared for them do they? When our meals arrived they had been carefully presented on the plates and nicely garnished to maximise their visual appeal.




My fishcakes were the bomb! Lovely juicy flakes of the Seabass released their gentle sweetness in my mouth and I got a fab flavour from both the zesty Lime and the warming heat of the Ginger. What I really loved though was the texture of the fishcake; sometimes you get ones that are a bit "wet" and clag in your mouth a bit too much, or it goes t'other way and they're too dry which makes them fall apart and you have to "wallo' 'em around in your mouth" as my Nana would say. Thankfully the ones at Koo are spot-on, and I could just chomp away and savour them without any distraction or hindrance.

The side salad was beautifully chilled and crisp, and although it wasn't anything particularly fancy, everything was fresh so its natural tastes and textures came shining through. My fries came in a separate little basket and were lightly seasoned. Keeping the skin on not only gives you a bit more fibre (crucial in any self-respecting modern diet; we don't get enough nowadays), but it imparts that lovely earthy note that gives a bit of depth on the palate. Chef at Koo had fried the fries to give them a nice crispy outer, and drained off the excess oil so they weren't greasy at all when I bit into them; inside they were beautifully soft and flavoursome.




Mummy Bird was more than happy with her homemade Lasagne, and it really was a fantastic example of this classic Italian dish. The meat was in a tongue-twistingly rich Tomato sauce, you could see the substantial layers of the Lasagne sheets, and the white sauce was thick and cheese-enhanced: basically this was perfection on a plate! Italian mammas are real feeders, and this could quell the most ardent of appetites; His Nibs and I had to help my Mummy out (and we were stuffed from our own meals!).

As with my meal, the salad with Mummy Birds' Lasagne was delicious and she tucked in happily. Her chunky chips were beautifully ample and had those sigh-inducingly soft inners that melt on your tongue. The outers of the chunky chips were nicely crisp too; not overly so, but enough to give a little resistance when bitten into. Satisfied customer number 2 then for Koo.




Actually, from the way His Nibs was chowing down on his Ultimate Burger (and the grin on his mush) I think it safe to say that Koo had a trio of happy customers. How on earth The Man Bird managed to finish the mahooooosive, dense 8oz beef patty I will never know, but he did; granted, it took him a bit of time to do it, but he did eat every morsel. The pastrami was really tasty too, and took us back to when we ate "Pastrami on Rye" at Katz's deli in NYC, the venue where Harry met Sally – now I'm showing my age!! Nothing about this burger was ordinary let me tell you, it really was superb all round; classic fries and homemade chunky 'slaw were all the accompaniment this bad lad needed.




Much as we wanted to, there was no way we could manage dessert! It's a good excuse to visit Koo another time – perhaps for dinner one Friday evening; I've got my eye on those Moules. Koo opens from 8.30 am weekday mornings – although they only offer a take-out service until 9am, and shut at 4pm. On Fridays they open until 11pm, and they do occasionally run events on Saturdays evenings, so check out their events calendar for details of these. Sundays is the usual 10am-4pm opening (used by many retail outlets), making Koo ideal for a lazy brunch

Hot Wings definitely given to this fab Chesterfield team.
No incentive was provided to visit this venue
read more