Trying Out Some New Dishes at Wagamama, Intu Derby
---
Published On Thursday 11 Jul 2019 by Sticky Beak
See Recent Dining Out Reviews | See All Recent Reviews


Summer had finally arrived, and what better way to kick it off than with an unexpected invite from the Wagamama team at Intu, Derby, to sample some of their new dishes! We arrived just after 6pm at the Intu centre, meaning we could take advantage of their cracking evening parking rate: £2.50 for for the evening.
A familiar face greeted us at Wagamama's entrance; none other than Matt Bean, who we'd met in his previous venue. Lovely to see him again, he's such a personable gent who's well suited to the vibrant hustle and bustle of Wagamama. He soon got us seated and introduced us to our server for the evening, Traian, who turned out to be a total legend, but all I knew at that time was that he's pretty easy on the eye!

Wagamama was buzzing when we arrived, clearly the good weather had got people in a good mood and the fab food had brought them together to socialise. His Nibs had an Asahi lager to quench his thirst and I had a deliciously chilled glass (large, of course!) of Sauv Blanc; crisp and refreshing, which was exactly the thing I wanted after a warm car journey.




The perennial favourite, Bang Bang Cauliflower, has been given an update, so that's what The Man Bird chose for his starter, and I fancied the Tori Kara Age. You could see the hive of activity in the open kitchen as the team of Chefs cooked up a storm for the multitude of eager diners, and the smells were making my nostrils twitch excitedly. It wasn't long before our starters came out to us, only a couple of minutes apart, and we decided to play nicely and share – clearly the sunshine was affecting us more than we'd thought!

My Chicken pieces were nicely crispy on the outside with tender inners, and I loved the spicy sesame and soy sauce that they were coated in; this same sauce also came in a little bowl so that you could dunk the chicken in if you so wanted. I do like a citrus kick as you know, so the fresh Lime wedge got squeezed over the whole dish too, making it brilliantly tart in the mouth. This was a great, light starter that was packed full of taste.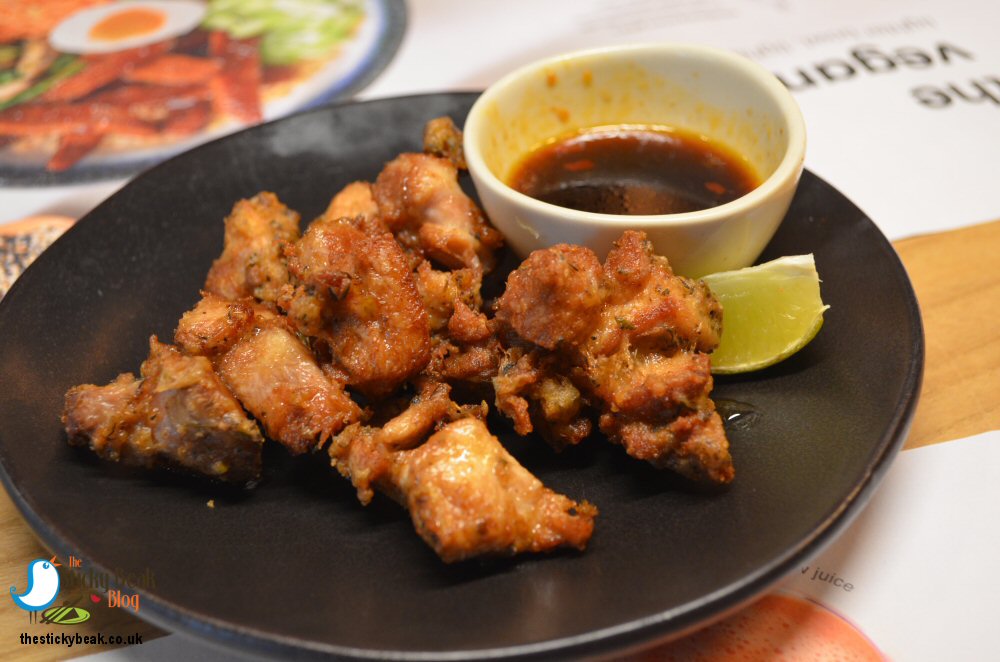 There used to be a common perception that vegetable starters were going to be dull, unimaginative, and bland, which thankfully has been totally rubbished in recent years. Wagamama has been at the forefront of the trend to deliver cutting-edge, inspiring vegetable dishes, and their Bang Bang Cauliflower is one such example of this.

The florets of still-crunchy Cauliflower were coated in Waga's awesome Firecracker sauce, which if you haven't had it before is just an explosion of spice and heat on your palate. What makes it so fabulous though is that whilst it undoubtedly smacks you around the chops, it doesn't have you running for the nearest jug of iced water or give you that uncomfortable lip- and tongue-tingle. Spring Onion and Red Onion were both finely sliced, giving a nice texture to the dish, and fresh Coriander leaf gave a pop of colour and a beautifully fresh note in the mouth.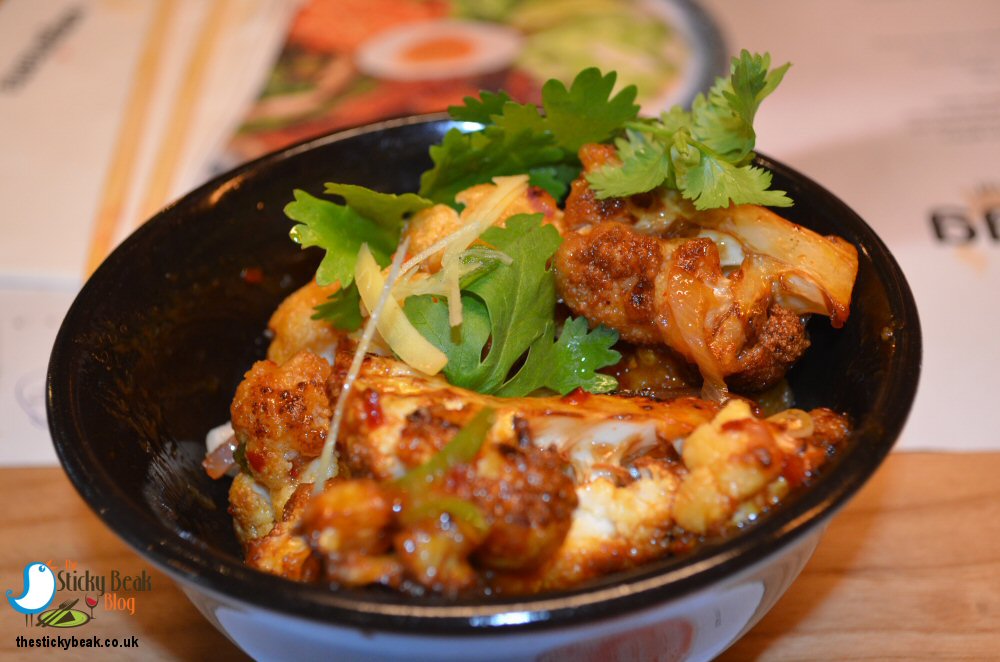 Traian came to check we were happy with our food, and was soon taking a pair of empty plates away. He came to see what we would like for our mains, and to see if we needed more drinks; refreshment-wise we were fine, and ordered Tantanmen Beef Brisket Ramen for His Nibs, and Cod Mokutan Soba (a new dish on the menu) for me. Despite it being incredibly busy, we weren't waiting long for our mains.




His Nibs' Korean Barbeque Beef Brisket was incredibly tender, melting on his tongue the moment he chewed, with a superb depth of flavour to it. A generous nest of noodles were bathing lazily in a bath of extra rich Chicken broth that had been zhuzhed up with some Chilli oil and Coriander. There was plenty of crunch and texture in this dish thanks to the Kimchee, Menma, and Spring Onions, and to top it all off was a halved tea-stained egg with possibly the richest tasting just-soft yolk you'll ever eat. So that you don't have to disgrace yourself like I do all the time (!), Wagamama provide you with a wooden mini-ladle to sip the broth with when you've eaten all the solid dish components.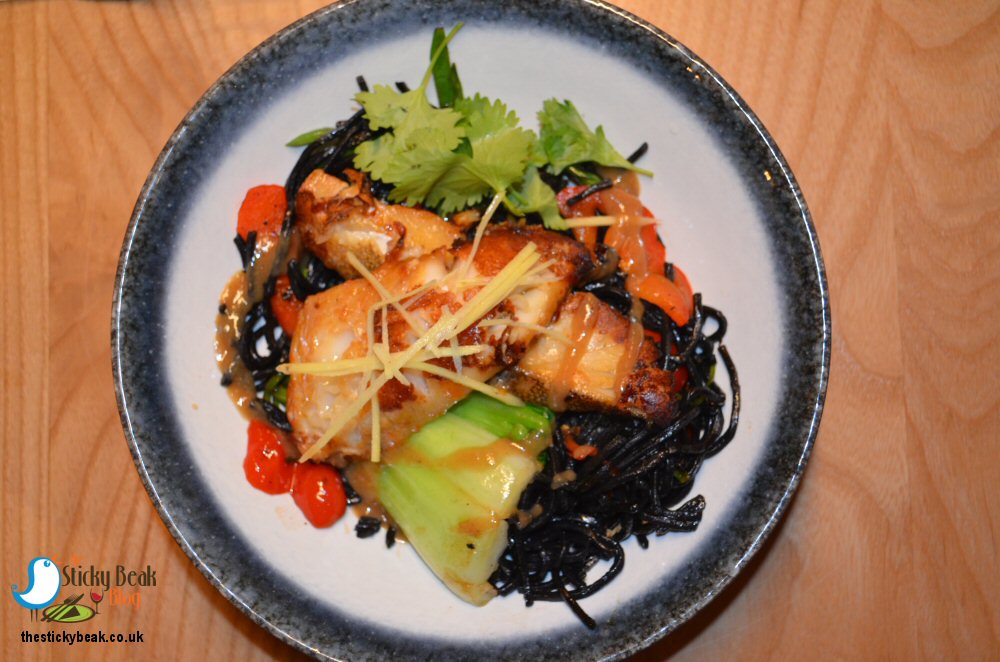 My Cod Mokutan Soba dish was phenomenal, it really was. The pair of Miso-glazed Cod fillets was cooked to absolute perfection, so the fish was juicy and succulent, and still firm. In a nod to the Oriental principles of Yin and Yang, the white flesh of the fish contrasted nicely with the black charcoal soba noodles, making this a visually striking dish. The soba noodles were slightly different in texture to "normal" ones, and the best way I can describe them is slightly grainy, like Buckwheat noodles. Taste-wise there was no discernible difference, although I'm hoping my gut biome is appreciating the extra bit of TLC it will have got from the charcoal. Mixed in amongst the smooth noodles were strips of crunchy Mangetout and slices of Red Pepper and Spring Onion to give the dish some texture. For an added punch, strips of fresh Ginger and copious amounts of fresh Coriander leaf had been used to garnish the entire plate and my taste buds were revelling in the whole experience.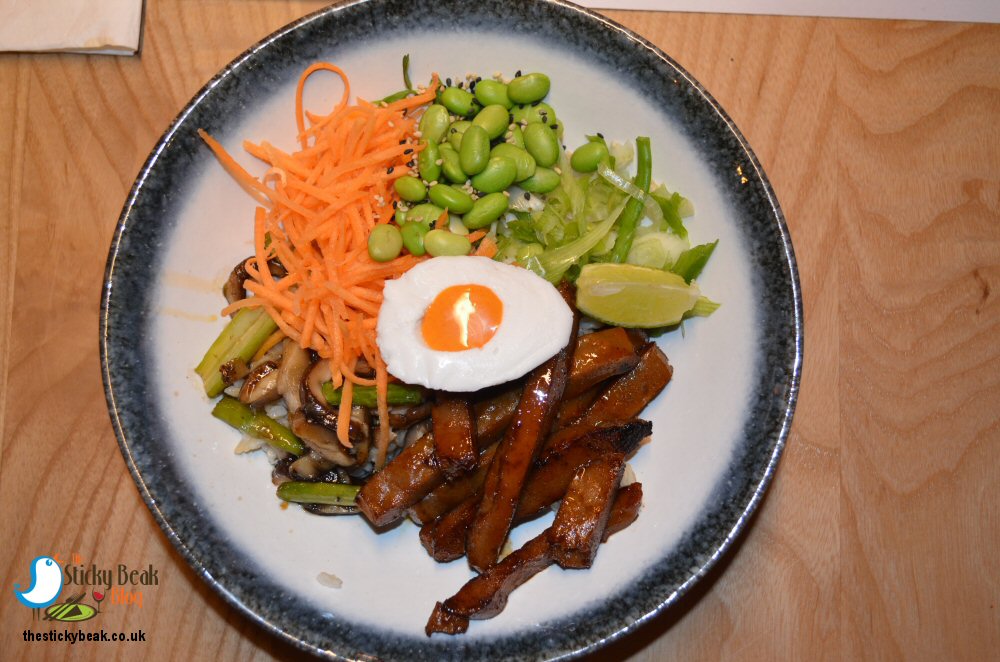 It was at this point that Traian brought over an extra dish for us to try: the Vegan dish, Avant Gard'n, which is a collaboration between Wagamama and Vegan Chef Gaz Oakley. This rice and vegetable dish is a new-comer to the menu and Matt wanted to garner our opinion, especially (I suspect) about the vegan egg; yep, you read that right, a vegan egg! Obviously it isn't "egg" at all, but it has been fashioned to resemble a boiled egg for visual purposes; in actuality it is a coconut white with a Sriracha yolk. Now I have to admit that I wasn't at all sure about how this was going to work, but I've always been known for my open-minded approach when it comes to food and trying new things; now was not the time to bottle it!

Turns out it's not half bad; for me the only thing that let it down (for want of a better phrase) was that the coconut wasn't quite as firm as a conventional boiled white is. Flavour-wise though this a great fusion of creamy coconut and punchy Sriracha that worked very nicely together, so if you can put "egg" out of your mind, you're in a for a tasty treat. Strips of barbeque-glazed Seitan nestled on top of a bed of brown rice and when I bit into it, I was surprised by how firm and meaty (no pun or offence intended) the Seitan was. This meat-substitute soaks up any flavour put to it, and the barbeque glaze was wonderfully intense.Grilled Shiitake Mushrooms and Asparagus were both delightful, and I crunched away merrily on the Edamame beans, grated Carrot, and sliced Spring Onions. There is no doubt that visually this is an awesome summer dish, and having sampled it, I would say for you to try it; it's packed with taste and texture!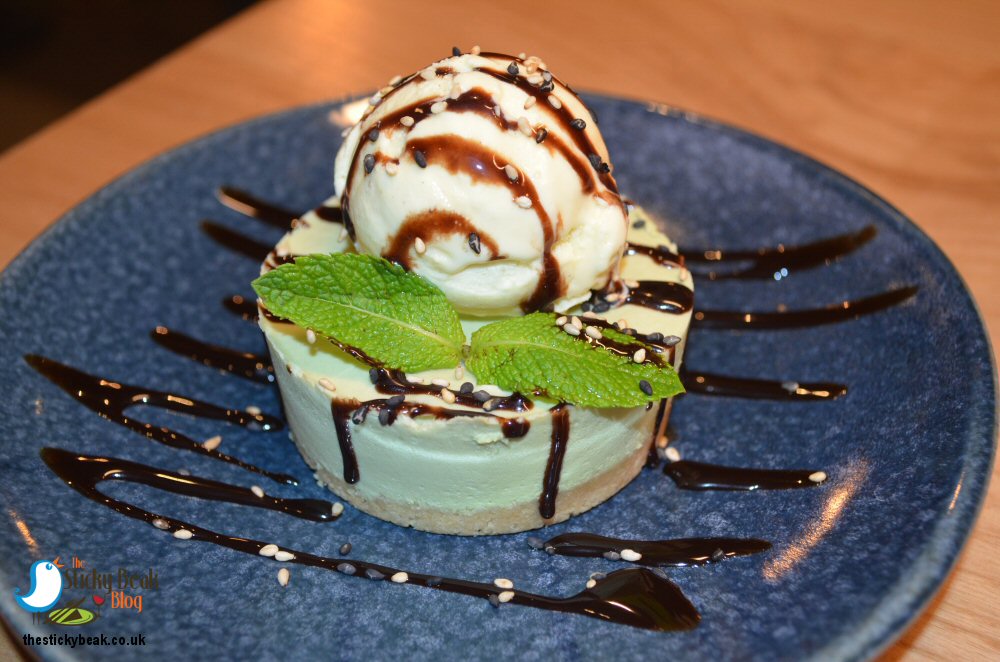 Thankfully Traian gave us a little more time to let the extra food digest before he came to ask if we'd like to see the dessert menu! There are four newbies to the sweet section of Wagamama's menu, and in all honesty I could've eaten all of them. Although the Mango and Matcha Layer Cake and the Salted Caramel Cheesecake both sounded amazing, The Man and I opted for the Smoked Chocolate Caramel Cake and White Chocolate and Matcha Cheesecake respectively.

The White Chocolate and Matcha Cheesecake was a delicate pastel green circle of scrumminess, decorated with contrasting ribbons of dark chocolate sauce, mixed sesame seeds, and a central sprig of verdant Mint. Creamy notes of the White Chocolate married perfectly with the gentle, clean notes of the powdered Matcha tea, making my palate sigh in happiness. A precisely placed scoop of Vanilla Ice Cream complimented the cheesecake, and was again scattered with Sesame seeds which added a little crunch and nuttiness to the sweet treat.




Where my pudding had been light, The Man Birds' choice was rich and indulgent. A deep base of Chocolate biscuit and lighter toned Salted Caramel biscuit was topped with an impossibly decadent combination of Smoked Chocolate Mousse, Chocolate Ganache, and Chocolate Fudge Brownie. This is seriously a choc-o-holics dream! The smoky edge was detectable but didn't dominate the dessert; you still got the chocolate and caramel coming through first. A scoop of creamy Vanilla Ice Cream provided the final flourish to this dessert, and contrasted with the dark tones of the Cheesecake.

What a belting start to summer, I say! Thank you so much to Matt and his amazing team for inviting us down to sample the new dishes – they're fabulous. I should say as well, that although our main server was Traian, every other member of the team that came to our table was so friendly and professional . If you visit Wagamama at Derby's Intu centre, you won't have a bad time; the team will make sure of that! Hot Wings awarded for the new dishes at Wagamama.
Some form of incentive was provided to visit this venue
read more