Dinner At Delhi Nights In South Normanton
---
Published On Tuesday 9 Jul 2019 by Sticky Beak
See Recent Dining Out Reviews | See All Recent Reviews


It's a good job His Nibs and I love Indian food; in the space of a week we've been invited to two different establishments to sample their cuisine. Hot on the heels of a foray into the bright lights of Nottingham city, came a visit to one of our local curry houses – Delhi Nights in South Normanton (J28, M1). Sometimes I amaze myself at the sheer level of my idiocy, and this was one of those classic occasions. I drive through South Normanton regularly but I can't remember seeing Delhi Nights, although it has apparently been there for about 2 years!
Anyhow, my stupidity aside, we rocked up and managed to find a parking space literally outside the venue – if you're familiar with South Normo, you'll appreciate how lucky this was! With it being right on the main road, parking is plentiful, so no worries on that score. Inside, it's fairly compact and seats 24 people at maximum capacity, but it has a lovely, light airy feel that makes it seem larger. Now, regular readers will know that I love a place that has nooks and crannies, and Delhi Nights has got a brilliantly quirky lay-out with tables around corners and tucked out of sight.




We were seated in one of the booths at the front of the restaurant and it was a gorgeously comfy, deep-padded bench that my derriere plonked on. The back rests were upholstered in velvety, neutral toned fabric that was again comfy to relax back upon. Recessed ceiling lights made the most of the ceilings standard height and the pale grey walls reflected their glow very nicely. One wall had a quartet of canvas panels on it that had a Red Chilli spread over the four of them, and other visual features included coloured jars and a tall, ornate shisha pipe.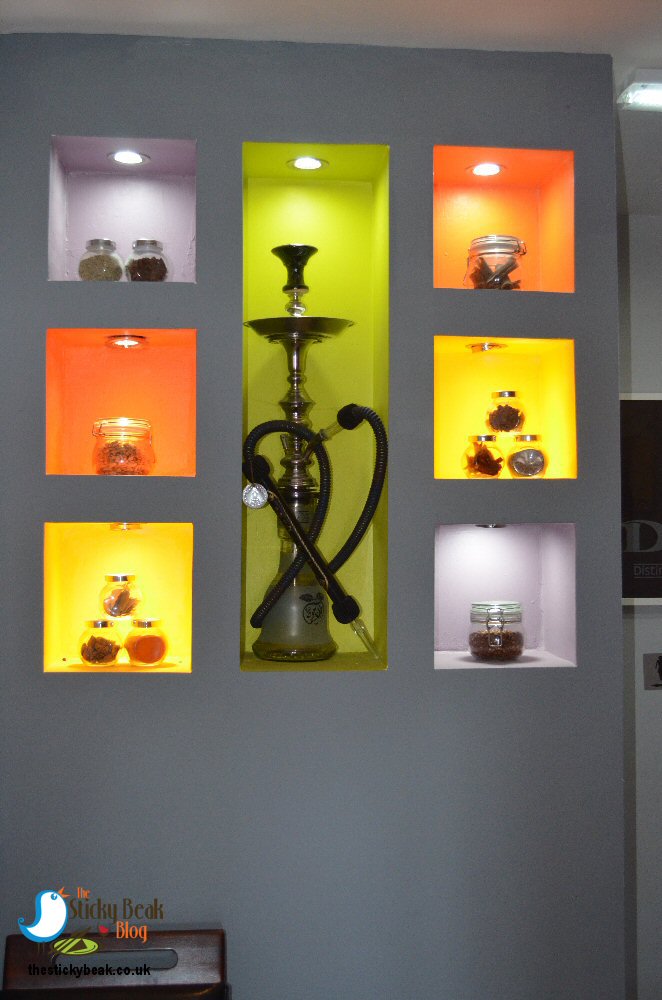 Whilst we studied the menu we nibbled on Poppadoms and a Pickle tray with the usual suspects on: Mango Chutney, Onion salad, Minted Yoghurt, and a superbly spicy, tart Lime Pickle. I loved the fact that the menu dishes had wine recommendations next to each of them; people often don't order wine at Indian restaurants simply because they don't know which ones will suit the food. Top marks for helpfulness guys. I plumped for a glass of Merlot, whilst His Nibs indulged in a pint of draught Kingfisher lager; he hadn't had this for ages, and grinned happily as his taste buds reacquainted themselves with its gentle hoppiness.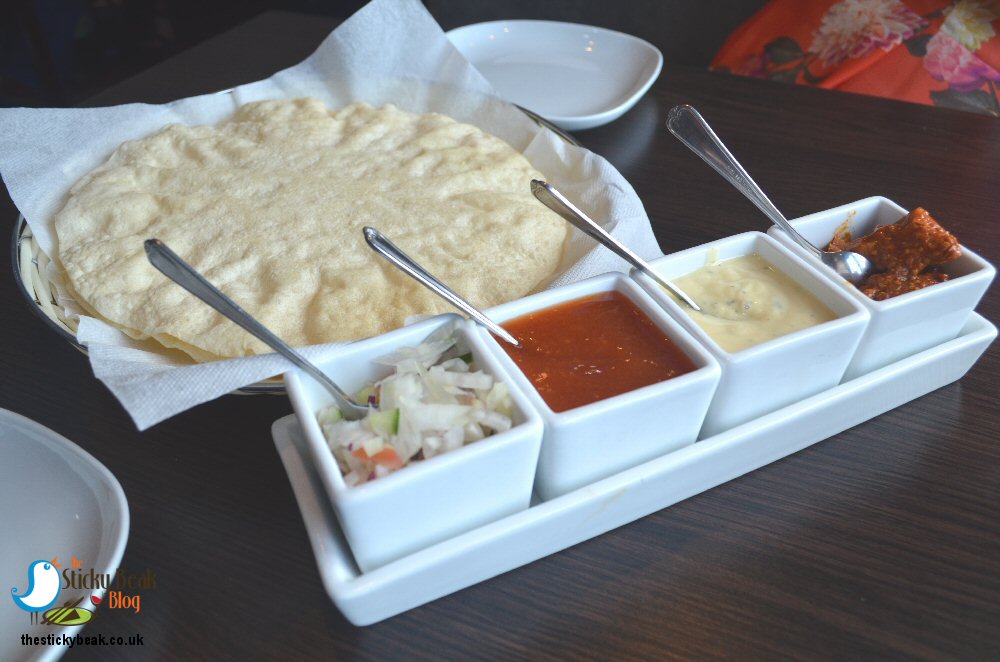 Starters range from £4.50-£6.50, and our choices (Vegetable/Sabzi Platter and Tandoori Platter) cost £4.95 and £5.95 respectively. Both platters came with a Mint Yoghurt dip and colourful side salad that had Black Grapes, Strawberry, Tomato, mixed leaves, Orange slice, and Lemon wedge in a metal squeezer.




My Tandoori platter consisted of Chicken Tikka, Lamb Chop, and Seekh Kebab; all of which were very tasty. The Chicken breast in the Tikka dish was lovely and moist and the coating was plentiful enough to give plenty of taste in the mouth. I really liked the Seekh Kebab; it had a fab texture that instead of being smooth had a bit of chunk to it thanks to the minced meat being coarser than usual. Another thing I liked about this dish was the spiciness of it - it had a bit more bite to it than your average version. The Lamb Chop was nice and meaty: I don't know about you, but nothing puts me in a bad mood more than a measly scrap of meat on a big bone; you just feel short-changed, don't you? No mood dampener on this occasion, thankfully. A nice variety of earthy spices had been used to partner the Lamb's more robust nature, making this a beautifully satisfying morsel.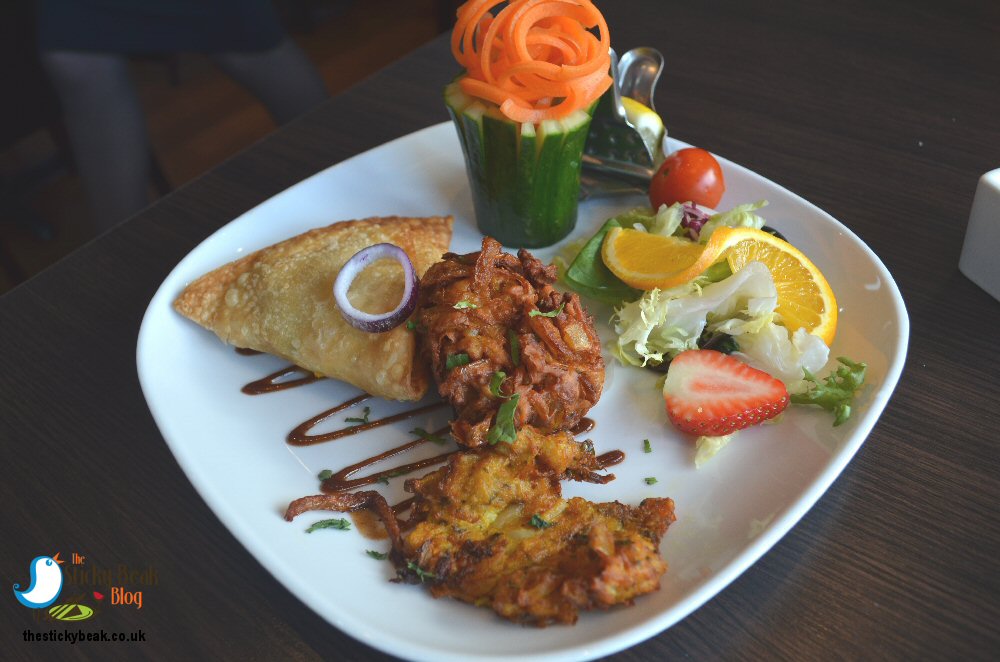 The Man Birds' vegetable selection was also really good, and was composed of Onion Bhaji, Vegetable Samosa, and Vegetable Pakora. Years ago, Indian friends of Mummy and Daddy Bird used to bring round containers of freshly made, chunky home-style Onion Bhaji and when I tried the one that Chef at Delhi Nights produces, I was instantly taken back to this time of friendship and happiness. Thick slices of Onion had been mixed with spices and gram flour before being fried to golden, crispy deliciousness and they had a super heat to them. Equally good were the Pakora and Samosa; neither was greasy, and both had plenty of vegetables in them.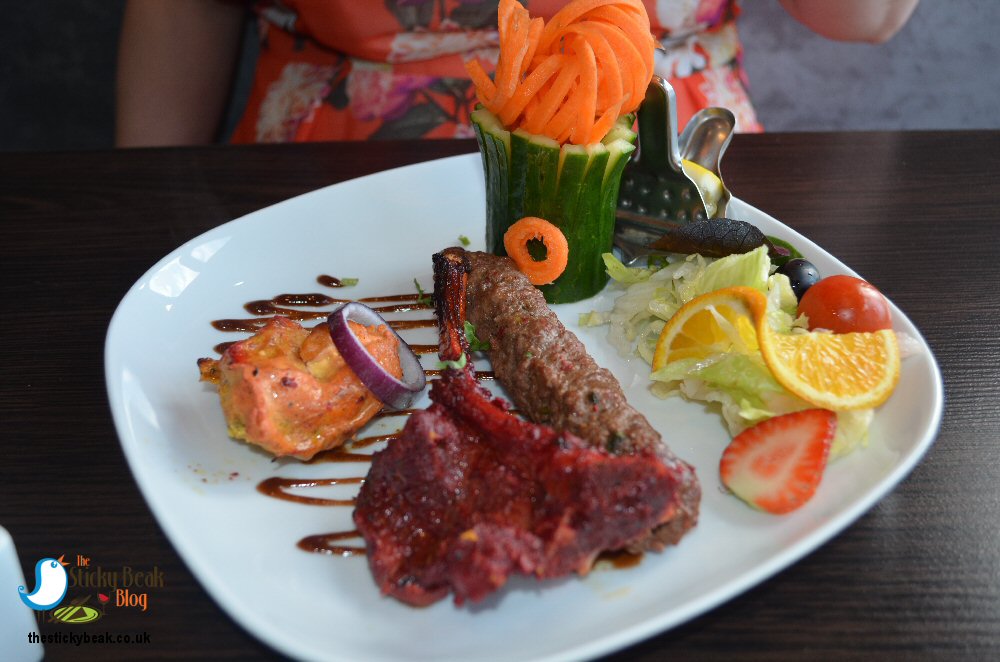 All six dishes of the two platters had been spot on, and each one had discernibly different spices within them; some were earthier, some were sweeter, and some were pungent. The Man Bird and I were both very happy with this introductory course at Delhi Nights; you can tell that Chef has experience of working in city establishments – this was definitely good Indian cuisine!

Emboldened by this initial success, I chose a Salmon curry (Jalpuri) at £11.95 and His Nibs had the Lahori Gosht (Lamb) which is £9.95, both of which are described as medium spicy. To go with our mains we ordered a portion of Lemon rice and Coriander Naan bread.

I had to look twice when my dish was placed before me: the metal bowl contained what looked like at least a side of Salmon cut into smaller fillets. I know I'm a blooming glutton, but even I was going to have my work cut out to eat all this! The Mans' dish was no less generous, so we girded our loins and dug in!




My Salmon was skinless and boneless, and it was incredibly moist and succulent; Chef had cooked it very skilfully to preserve its texture, meaning that the fillets stayed intact rather than disintegrating into small pieces. The coconut milk based sauce had been enhanced with the inclusion of Mustard Seeds, Green Chilli, and Curry Leaf, so I was expecting a deeper tasting dish, not a fruity, sweet one. And I wasn't disappointed; the sauce was gorgeously spicy in a flavour way, not particularly heat-wise, and really balanced the fragrance of the Salmon's flesh nicely. Within the sauce you could see the whole Mustard seeds and I got rewarded with their pungency when I bit into one.




His Nibs also had plenty of meat in his dish; lovely thick chunks of Lamb were nestled in their sauce, just waiting to be savoured. You really couldn't wish for lovelier Lamb, it was wonderfully tender with a great full flavour that bounced around in the mouth. Lamb is a deep tasting meat and the sauce matched it brilliantly, both in terms of heat and complexity of spices used. When The Man went to cut into one of the chunks with his cutlery it yielded to the lightest pressure, falling apart into ribbons.




Both dishes had been quite rich and deep so our choice of the zesty, sharp Lemon rice (£3.75) proved to have been an inspired move. The rice itself was cooked perfectly and had been randomly flecked with colouring to enhance its visual appeal. Scattered through the grains were pieces of Lemon zest which were bright and refreshing on the palate, as was the plentiful fresh Coriander leaf that had provided a colourful garnish.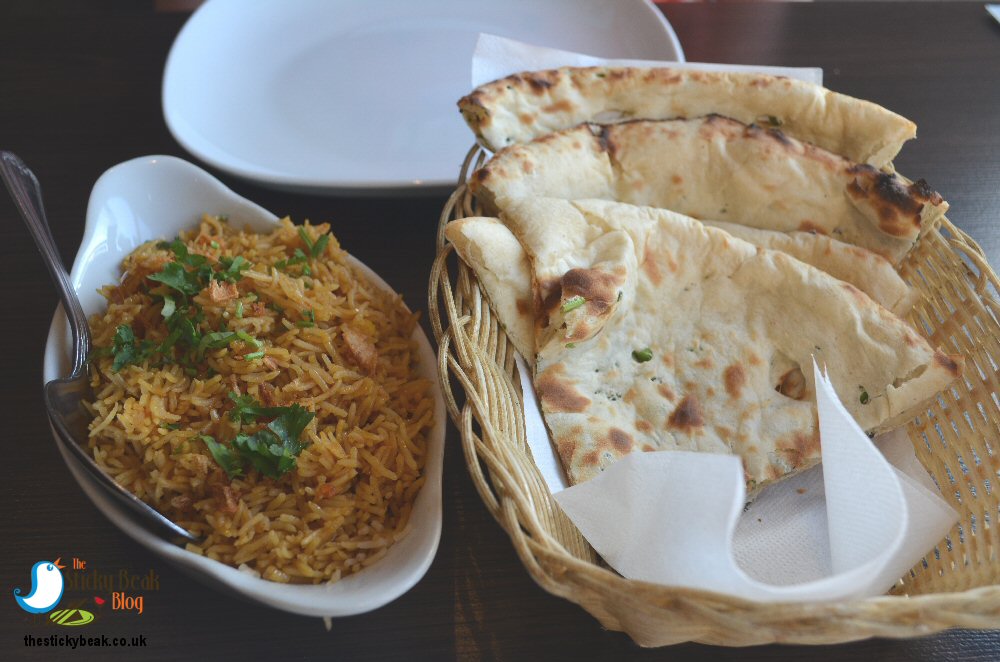 The Coriander Naan (£3.50) was freshly made, so it had that amazing softness to it as we both bit into it. Plenty of Coriander had been used in its making, and the warmth of the bread made its fragrance waft up to our noses – which only made us more urgent in our eating of it!

Despite our very best efforts, neither of us managed to quite finish all our food! We'd both left some of our sauce (I'd left a bit of my Salmon) and a piece of the Naan had also been left; as you know, dear reader, it isn't often that we're defeated! I think it safe to say therefore, the Delhi Nights Chef and his kitchen team don't skimp on either the quality or quantity of their food.




Throughout our meal, members of the serving team had checked to make sure that we were happy with our food and to ask if they could get us more drinks or dips and to just let them know if they could help. When we'd finished our mains those hot lemon-scented wipes were brought over to us and we ripped the packets open, inhaling their citrus smell as we did so. I thought this was another nice touch from the Delhi Nights' team.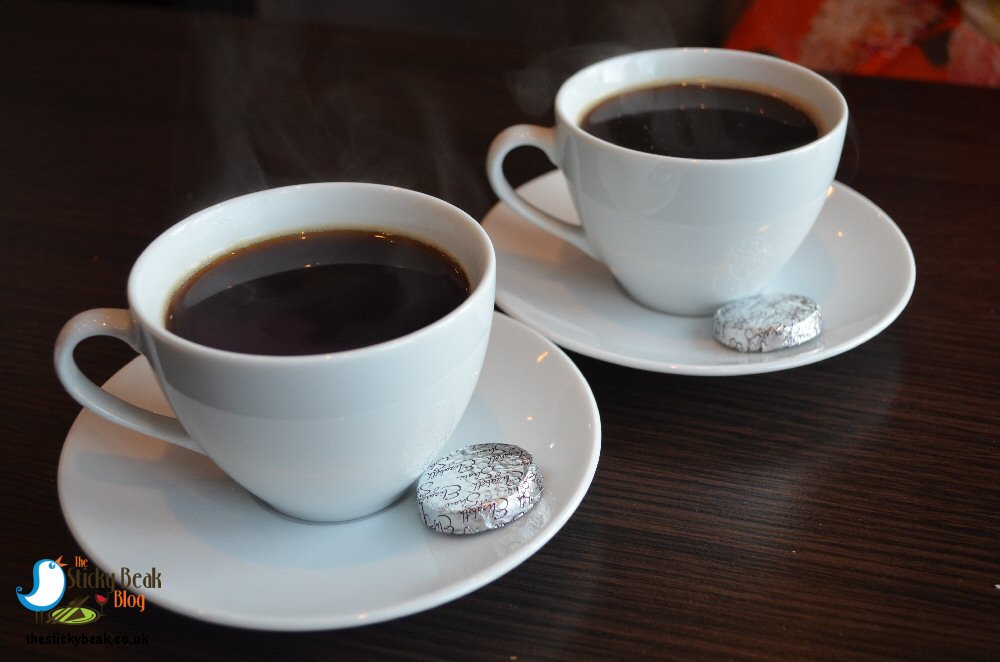 We were offered coffee, with an apology that it was "just" filter stuff. No need to apologise, not everyone has fancy machines that make Lattes and Cappu's – especially when space is at a premium. As it was, the coffee was lovely; a nice after-dinner blend that certainly rounded our experience off perfectly.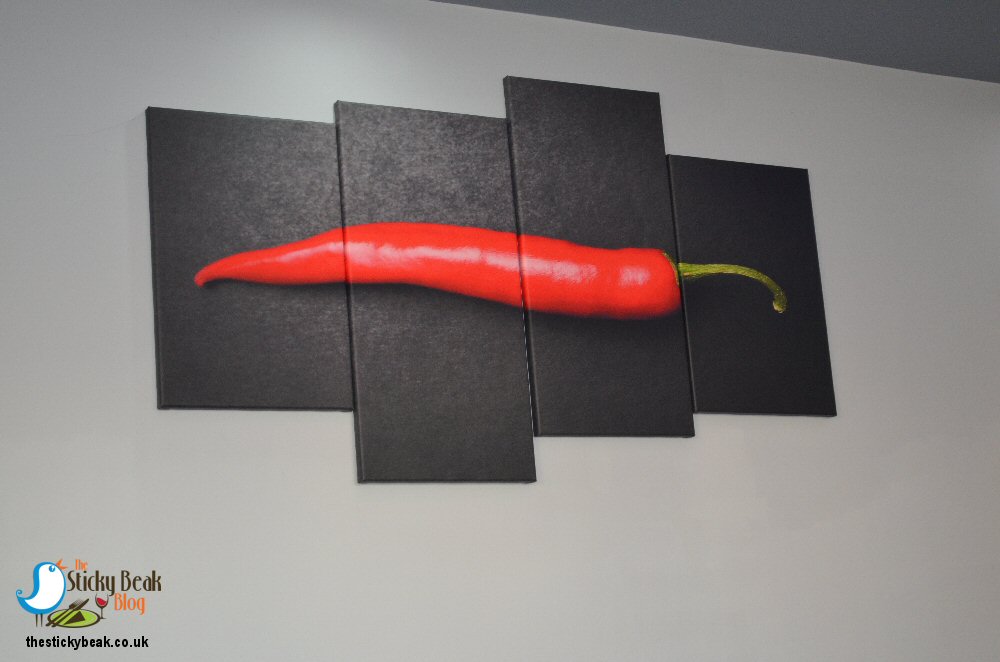 Delhi Nights in South Normanton is open 7 days a week (yay!!): Sunday – Thursday from 5-10.30pm, and Friday and Saturdays from 5-11pm.

Hot Wings happily given here, but I would definitely book ahead for a table given its very limited seating or there's a high chance you'll be disappointed. Then again, you could always decide to have a takeaway instead from them and given the amount of times the telephone was ringing, plenty of folks do this!
Some form of incentive was provided to visit this venue
read more