Dinner At The Recently Opened Maharaja's Retreat in Nottingham
---
Published On Sunday 7 Jul 2019 by Sticky Beak
See Recent Dining Out Reviews | See All Recent Reviews


The Man Bird and I seem to have taken up semi-permanent residency in Nottingham at the moment; not that we're complaining, it is a beautiful city without doubt. On this particular occasion we were there to visit newly opened Indian Restaurant, The Maharaja's Retreat; sister venue to the hugely popular Calcutta Club, which is only a few doors away.
Stepping inside, you feel an instant sense of calm wash over you thanks to the refined elegance of the venue. The high ceiling gives a sense of scale and grandeur, accentuated by both the huge mirror on the wall and the ornate, wrought gilded metal chandelier.

Maharaja's retreat is one of those restaurants that seems to go back forever, and as you walk along its length you appreciate the subtle differences in character that unfurl. The front reception section has the high ceiling I mentioned, as well as a couple of tables with raised seats that allow diners to have a drink before being seated at their table if they so wish. The other side of a small partition in this area has several darkwood tables with carved dark chairs, and this is where we sat for our meal.




Further along is the bar itself and there are a couple of tables to seat couples dining, which then opens out into the back area with more of the group tables like the ones at the front of the premises. Pictures and prints of Indian scenes adorn the walls that have a beautiful red and gold toned paper on them that really pops visually.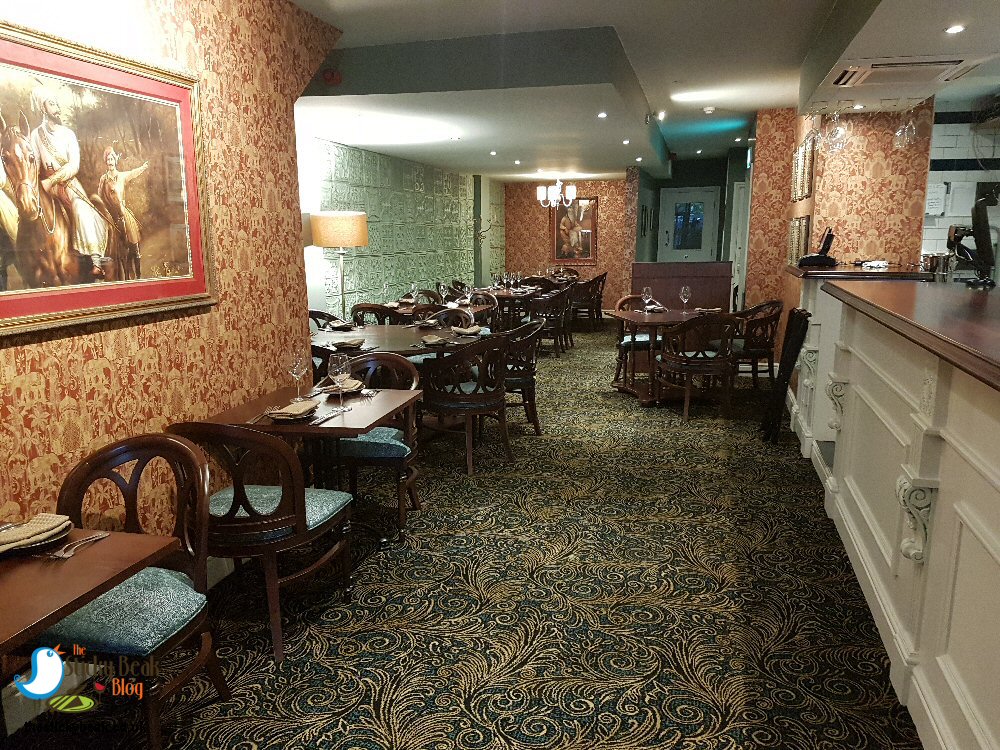 The area where we sat has contemporary green blinds at the window that, combined with the pale grey walls and white panelling, gives serenity to this space. I loved the paisley printed covering on my chair, but not nearly as much as the sapphire blue and gold carpet with its feather-type pattern!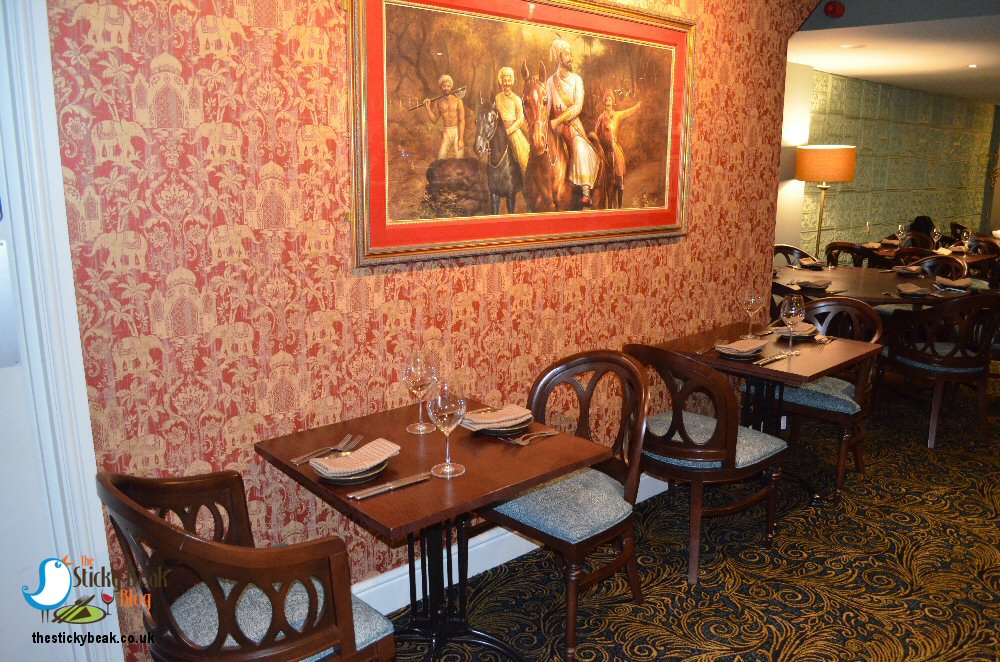 Having taken in the beauty of my surroundings, it was time to turn my attention to the menu itself. There is a really good choice of starters, and both His Nibs and I wanted to try as many as possible; you can do this thanks to the brilliant Tiranga selections that are available for the Vegetable, Lamb, Chicken and Seafood starters. Basically the Tiranga is where you get one of each of the 3 starters of a particular genre. I opted for the veggie selection, so this meant I had one each of the Potato and Spinach (Aloo Palak) Patties, Spiced Potato and Peas in Pastry (Punjabi Samosa), and the Spinach, Aubergine, Potato, and Cauliflower Sabzi Pakora. The Man had the Chicken (Murgh) Tiranga, which consisted of Boneless Tikka Thigh (Lahasuni Murgh Tikka), Tandoori Chicken Niblets (Kalmi Murgh Kebab), and Marinated breast pieces (Reshmi Kebab).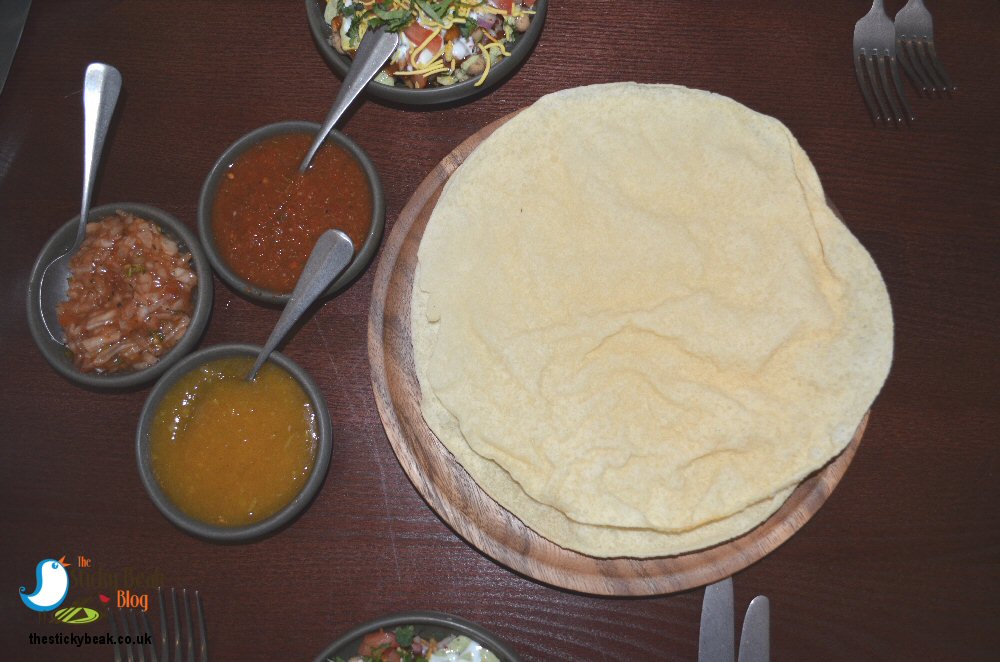 Whilst you can definitely see the similarities between The Maharaja's Retreat and Calcutta Club in terms of quality of venue and service, the sister venues are keen to remain distinctly separate in terms of food offerings and dining style: the cloth-less tables being an obvious example of this. With this in mind, our server was keen for us to try the Sev Pappadi Chaat as well as Poppadoms and Pickles first. Now, I have never tried Sev Pappadi Chaat before and my over-whelming curiosity had well and truly been piqued!

I think the best way to describe this cold dish is a one-pot wonder! Seriously, it has everything you could possibly want in a side dish/starter/ quick meal (if served as a larger portion): crunchy shapes made from Chickpea flour paste, creamy Chickpeas, fresh Tomatoes and Onion, finely chopped Coriander and Mint, Yoghurt, and Tamarind chutney. It has texture and taste galore, with my tangy, hot, sweet taste buds all being stimulated at once. Now, it would be easy to just chuck everything in the bowl, as it really is easy food at its street-style finest, but it does look so much more than its humble total when put together carefully. The Maharaja's Retreat team have nailed this presentation angle 100%: the dough crispies (like hollow pillows) and Chickpeas were carefully placed on the bottom, then came a layer of fresh chopped Tomato and red Onion, chopped fresh Coriander leaf and Mint, and finally yoghurt and Tamarind chutney scattered with more crispy tubes and herbs. It wasn't overly "wet" with the yoghurt and chutney, making it perfect spoon food. Delicious and highly addictive!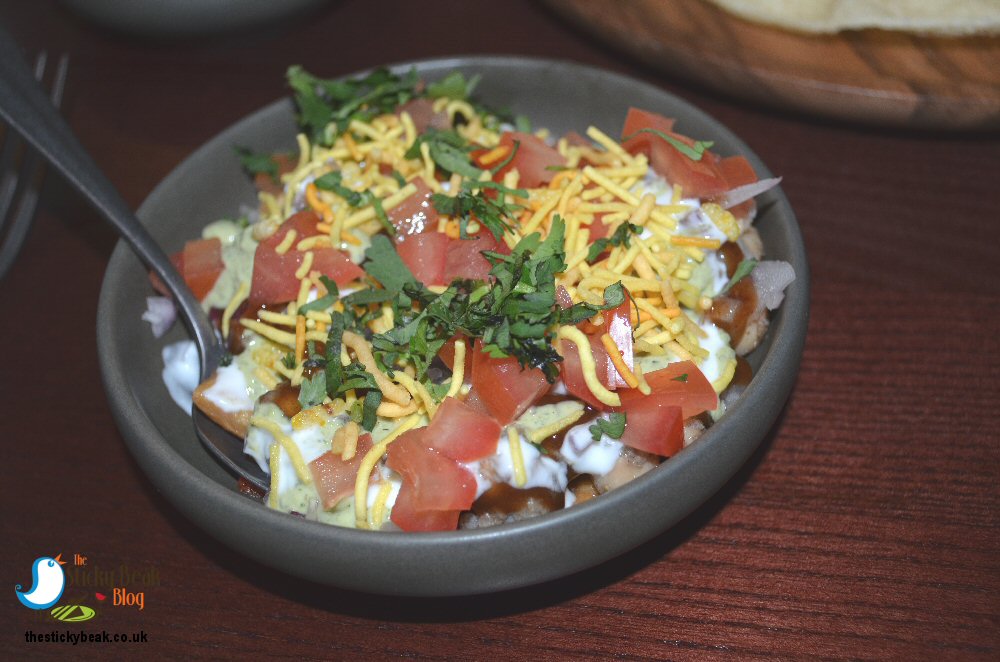 The Poppadoms were wonderfully crispy and not at all greasy, and we both loved the pickles served with them. A tangy Mango and Lime chutney really pinged in the mouth, managing to be sweet and fruity as well as tartly citrus. The Red Pepper chutney was equally dazzling in its taste-o-meter ranking; it was spicy, but not hot in a way that has you reaching for water or Lassi. Spiced Onions were the final pickle in the trio of accompaniments, and these were sourer than the usual high-street fare, which to be honest, suits the Onion's character much better.

We were definitely on a high after the Sev Pappadi Chaat, and thankfully the starters matched this standard. My Aloo Palak patties were very similar to "bubble and squeak" that my Mummy Bird used to make on Monday evenings with Sunday lunches leftovers; the lightly crispy, golden outer was perfect and the vegetables were beautifully tasty. A lot of people don't like Samosas because they've had oily ones in the past and so are put off, but all I can say is that the ones at The Maharaja's Retreat are glorious. Not a trace of grease remains on them, so the pastry is crisp to bite (but not hard to cut into) and they had a great spiciness to them. I really liked the fresh peas in this dish; they were nicely firm and incredibly fresh-tasting. In the Sabzi Pakora, the Potato was also still just-firm to the bite which I liked because it wasn't a "mush" when bitten into.




His Nibs was smitten with his trio of Chicken starters too. One of the thigh bones had been left on the Tikka-infused morsel, allowing you to grab this and really get every last smidge of the moist meat off – and why wouldn't you when it tastes this good?! I managed to cadge one of the Tandoori nibbles and it was gorgeous –very moreish. The combination of spices used really did get the taste buds' attention; not particularly in terms of "heat" ,more in terms of complexity and variety. It was the Reshmi Kebab (breast pieces) that really grabbed The Man's attention though. First off, the use of cream cheese gave it a lovely moist coating that clung to the tongue and seemed to enhance the spices impact on the palate, but then the flavour and juiciness of the Chicken itself was excellent too. As a final flourish, this starter gave a superb punch from the Black Pepper which brought it to the fore-front in the mouth.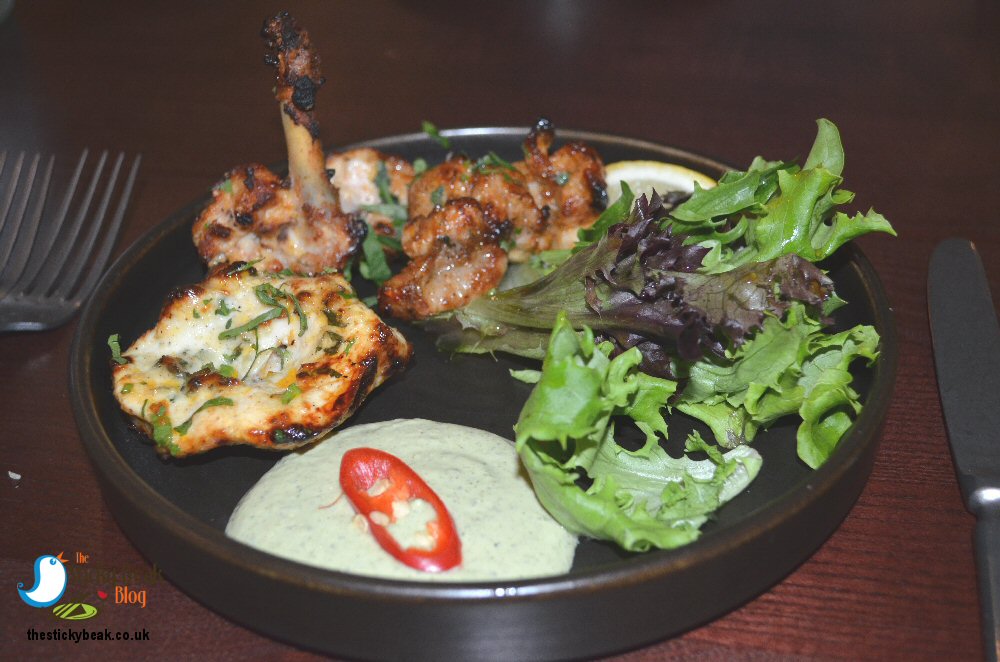 With it being our first time at The Maharaja's Retreat we decide to have the Palace Specials for our main courses: Mango Fish Tikka for me, Gosht Zaika (braised Lamb shoulder) for Him Indoors. To go with these dishes we had a portion of Garlic and Onion rice and a Pratha Lucchadar (layered Paratha bread) between us.

The Man Bird was absolutely delighted with his Lamb dish – probably because the first thing he spooned out of the bowl was a massive chunk of meat! There's something magical about slow-cooked Lamb, especially a shoulder piece that is as succulent and tasty as this was; it was positively bursting with flavour and was gorgeously soft in the mouth. The sauce in which it was served was just as good and had a great depth of flavour that enabled it to stand up to the rich Lamb. You got a fab heat from the Ginger in the sauce and this was assuaged nicely by the sweet Tomatoes that had been cooked and reduced down to intensify their taste. Chef is a feeder I think, the portion was pleasingly on the generous side.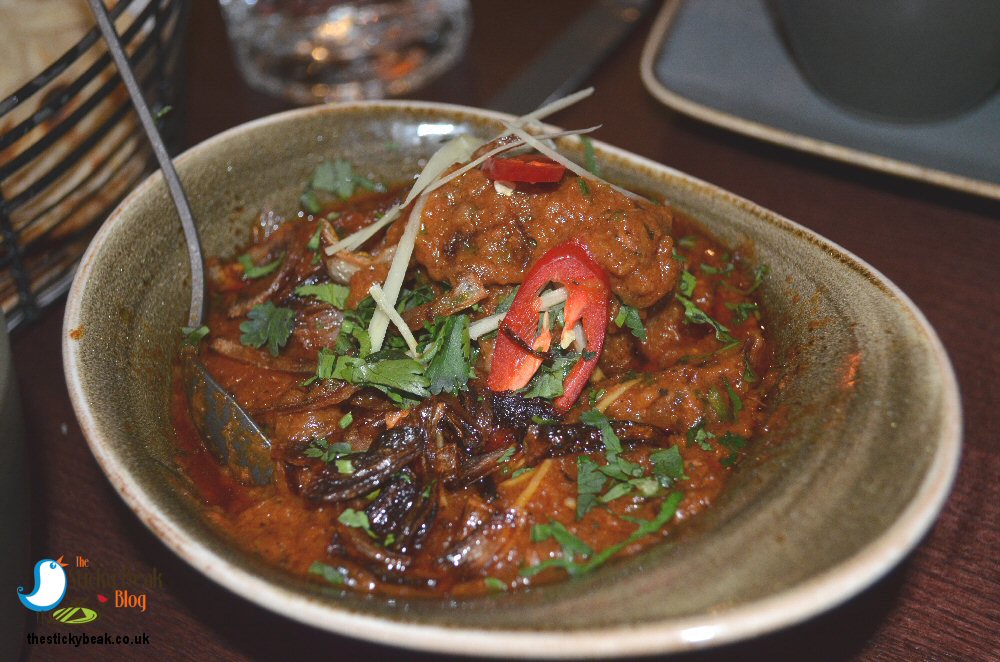 Where to start with my Mango Fish Curry? It was an obscenely good bit of Monkfish: a thick fillet that was firm, moist, and silky in the mouth and I loved the marinade coating that had been transformed into a lightly charred crust when baked. I got a superb fruity taste from the Mango, but also a nice heat from the crushed Peppercorns and Kashmiri Chilli in the marinade; the use of fresh Lime juice added a superb sour element as well. This dish comes with a mixed leaf salad and a bowl of Dal Makhani, both of which were beautiful: the leaves were cool and crunchy, and the Dal had a lovely thickness to it but with the Lentils still firm.




I'm always pleased when rice is given the attention it deserves; this humble grain often gets neglected, yet with a little thought it can be transformed into something outstanding. What was outstanding in this dish was the roasted Garlic; it was beautifully rounded taste-wise, not at all bitter as can happen when it's overly cooked, and it gave a nice hint of smokiness too. The rice itself was perfectly cooked and fluffed, and there were plenty of slivers of white Onion running through it.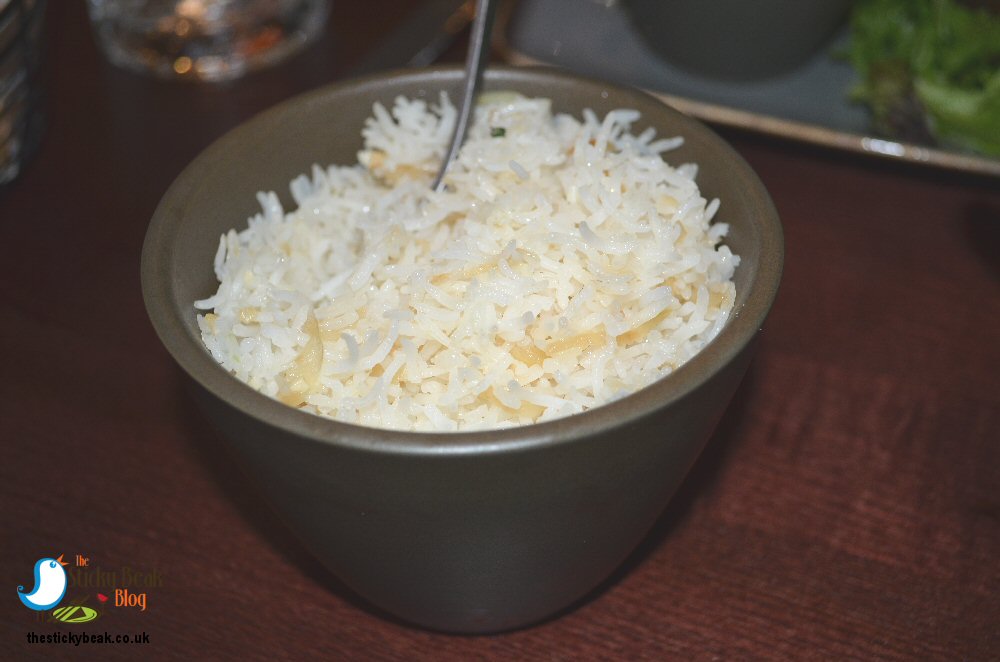 We've had layered Paratha before, but this one was amazingly buttery – yet not greasy or soggy. It had a beautiful flakiness to it that made it soft to chew, and gave it a fantastic "comfort factor" that well made fresh bread has.




All that remained on our table were the remnants of sauce in His Nibs' dish and a couple of spoons of the rice, other than that we demolished everything! It doesn't happen often, but we couldn't face a third course, although we didn't refuse the offer of a chocolate at the end of the meal!

In another unique "Maharaja" twist, guests are offered chocolates when they are about to leave. On this occasion there was a choice of Chocolate covered Marshmallows, Chocolate dipped Strawberries, or milk and dark chocolates. All these treats are presented on a two-tiered silver stand, which looks stunning when brought to your table and makes a change from the mint chocolates or sweets usually on offer.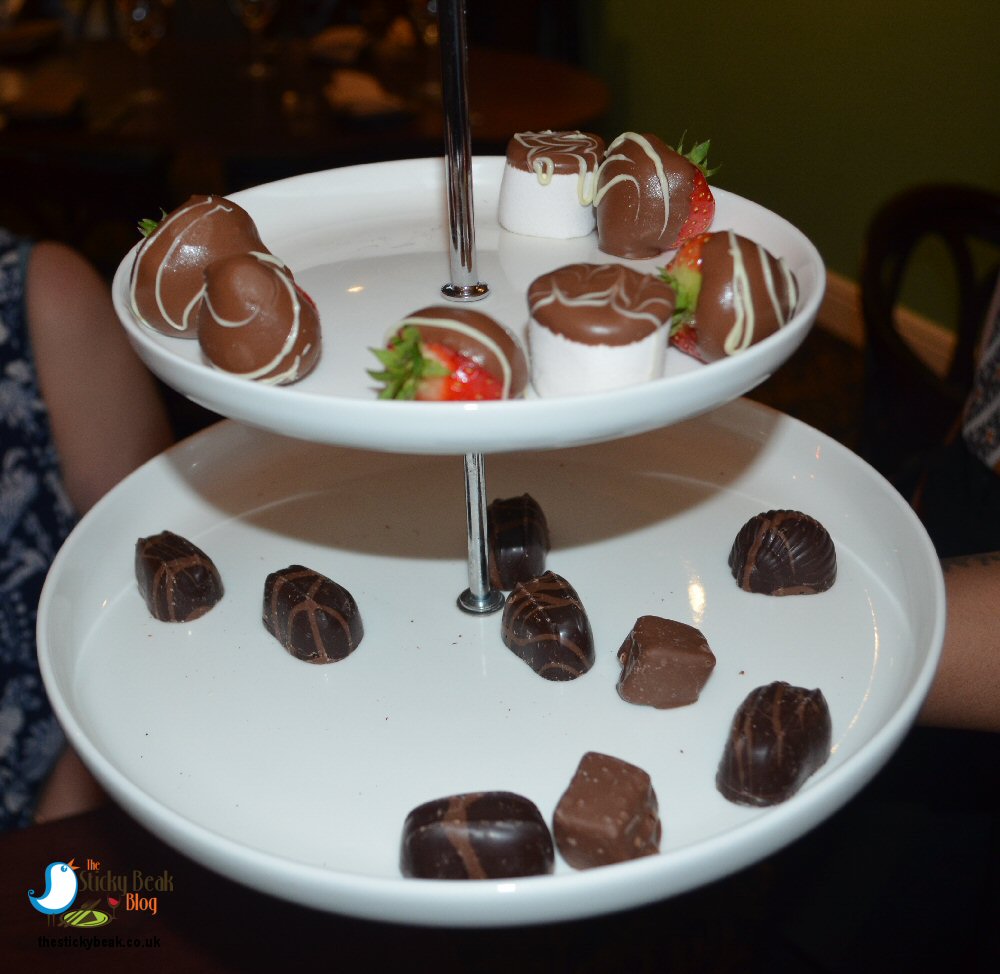 From beginning to end, this had been a wonderful evening. Each and every member of the team had spared no effort in making sure that we were satisfied with our meals, and this level of attention was extended to all the diners. Bearing in mind that we visited on a Tuesday evening, I would say that The Maharaja's Retreat was 70-75% full – no mean feat in these tough economic times, and certainly impressive for a restaurant that has been open a mere 4 weeks at the time of writing this! I should just mention the early bird offer too: if you dine before 6.15pm you get 20% discount on your food bill.

Hot Wings most definitely given here, but I would urge you to book ahead and reserve a table at weekends to avoid disappointment.
Some form of incentive was provided to visit this venue
read more