The Dining Room at 121, Derby On The Pre-Opening Tasting Evening
---
Published On Saturday 29 Jun 2019 by Sticky Beak
See Recent Dining Out Reviews | See All Recent Reviews


"Chuff me!" Not very elegant, granted, but that was exactly how I felt as The Man Bird and I left after what can only be described as an outstanding evening at The Dining Room at 121 ahead of their official opening. Sometimes you experience something akin to culinary Alchemy, almost other-worldly, and this was one of those nights!
Chef/Owner Simon Bates (formerly of The Wonky Table and Blacksmiths Loft) has spent all of May and part of June gutting the premises previously home to Terroir Bistro on Derby's Friar Gate, and you wouldn't recognise it from its prior decor. Gone is the dark, occlusive interior; you now have a sleek, modern venue with exposed brick, pale painted walls, simple glass lights and a fab Marine Blue exterior with a matte Gold logo. The Marine accent is picked up inside too, as a feature near the bar -which stocks a fab selection of British Wines, Blue Monkey Infinity IPA, and British lagers from Curious Brew and Thornbridge, incidentally.




We were warmly greeted by Simon himself and Barman extraordinaire, Marco, who promptly handed us a glass of English-produced Chapel Down Brut NV bubbly. Cheers, good health, and all that! Following swiftly behind was the lovely Ria and the equally lovely Stuart, fellow bloggers and food enthusiasts; they savoured the bubbles too before sitting down to see what the evening had in store. Looking around, I could see some stylish artwork on the walls in this ultra bijoux restaurant; trust me, it definitely is bijoux, seating 24 folks normally but with the capacity to increase to just 30.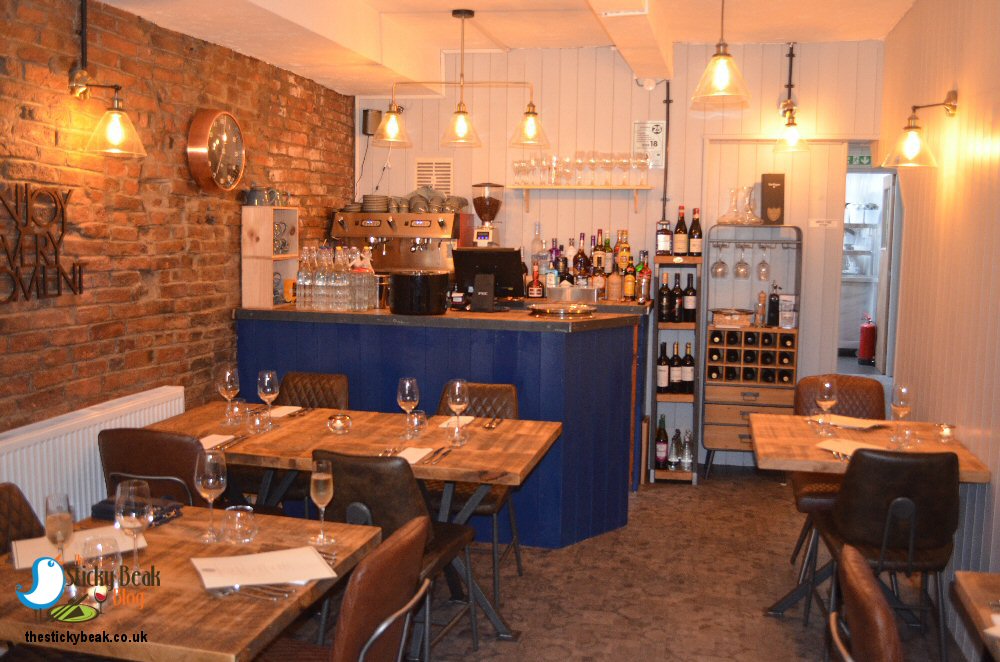 As well as Head Chef Simon, Chef Robbie Bolitho will be cooking up a storm for diners, using only the finest British seasonal produce. This means you can be assured of the very most flavoursome ingredients in your dishes, which by the way are served in the snazziest crockery I've seen in a long while! The menu will change regularly to keep us all on our toes, and to ensure that the flavours are at their peak. Marco and a lovely young lass called Chloe were our servers at this preview event, and Simon intends to keep his team small and tight-knit so that everyone is as passionate as he is about The Dining Room.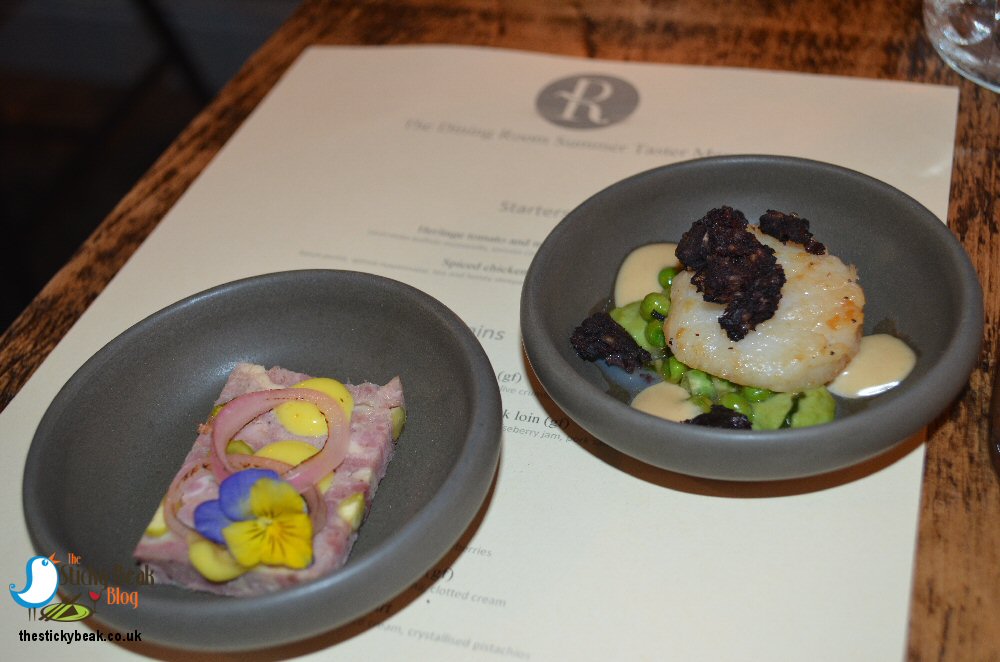 Canapés were placed before us (I suspect to stop me being nosey and sneaking a peek in the kitchen where there were some seriously good smells wafting from!) and we took a moment to appreciate their beauty. We tucked straight into the Scallop with Minted Pea purée and Black Pudding crumb, and it was fab! The Scallop was sweet, firm and juicy with that wonderful melt-in-the-mouth character nature gave it, and which skilful Chefs preserve. Mint lifted things on the palate and the peas themselves were just firm to the bite, which gave a little texture to the dish. To balance the brightness of the Mint, the Black Pudding crumb with its earthiness did just the job, making this a great little morsel to kick things off.




The other canapé was a Chicken, Ham, and Pistachio Terrine with Pickled Onion, and Piccalilli Mayonnaise. His Nibs and I both loved the soft texture of this terrine, which belied the punch you got from the depth of its meaty taste – it was really incredible! There was a nice sharpness from the slices of pickled Onion, and a pleasant light spice from the creamy Piccalilli Mayo. In true Canapé style, they might have been small, but they were certainly mighty in terms of taste!




We were having a pair of starter dishes next: Heritage Tomato and Mozzarella Salad, and Spiced Chicken Terrine. In keeping with his (bestowed by me) moniker of British Champion, the Buffalo Mozzarella is British (Laverstoke Buffalo Mozzarella) and is as good as any other ones I've tried; it has that mild-yet-intense creaminess and a tongue cosseting softness to its texture. But it was the Tomatoes that stole the show. Not content with merely chopping the different varieties of Tomato, Simon also produced a clear Tomato consommé, and a Tomato foam!! Every element was clean tasting with that sharp/sweet Tomato character that we all adore, and this was accentuated by Tomatoes classic partner, Basil, in the form of dots of intensely fragrant oil.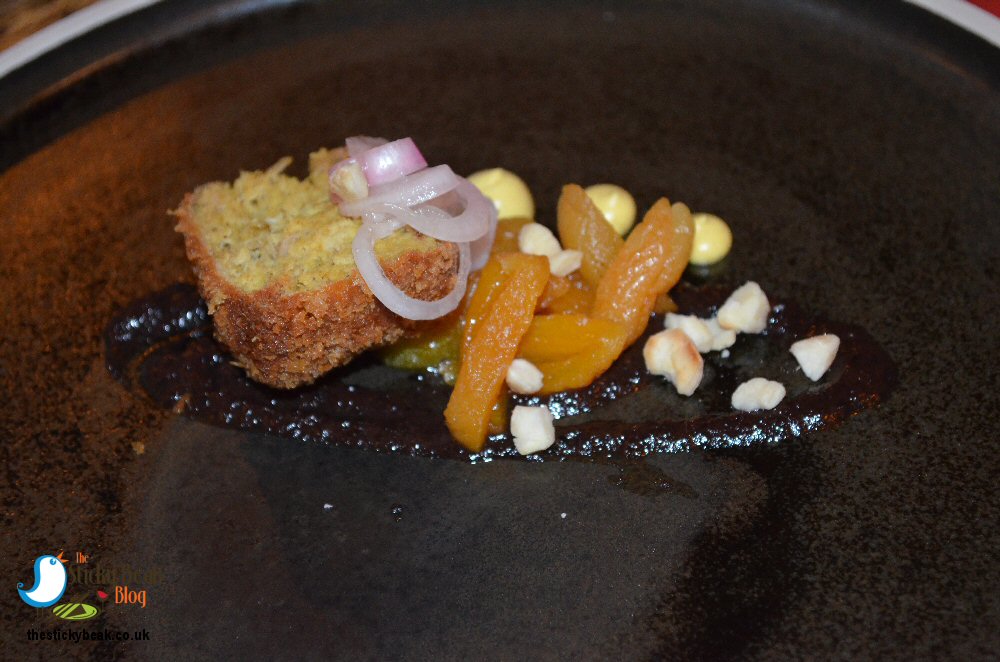 With such a wondrous starter, surely nothing could compete? Enter the Spiced Chicken Terrine. The Terrine itself was superb, having an unusual texture to it other than the standard soft one; it had a lightly crisped outer (that you don't normally have) and the centre was just-off smooth. A mind-bogglingly potent Raisin purée was an utter joy to experience, and that was before our taste buds got to sample the curried Mayonnaise! The fusion of these two flavours was a genius move, further enhanced by the Tea-and –Honey steeped Apricots. These were gentler and sweeter, giving balance to the Raisin and Curry notes, and contrasting with the sharpness of the slivers of Pickled Shallot in the dish. Nuggets of toasted Almond provided crunch and texture.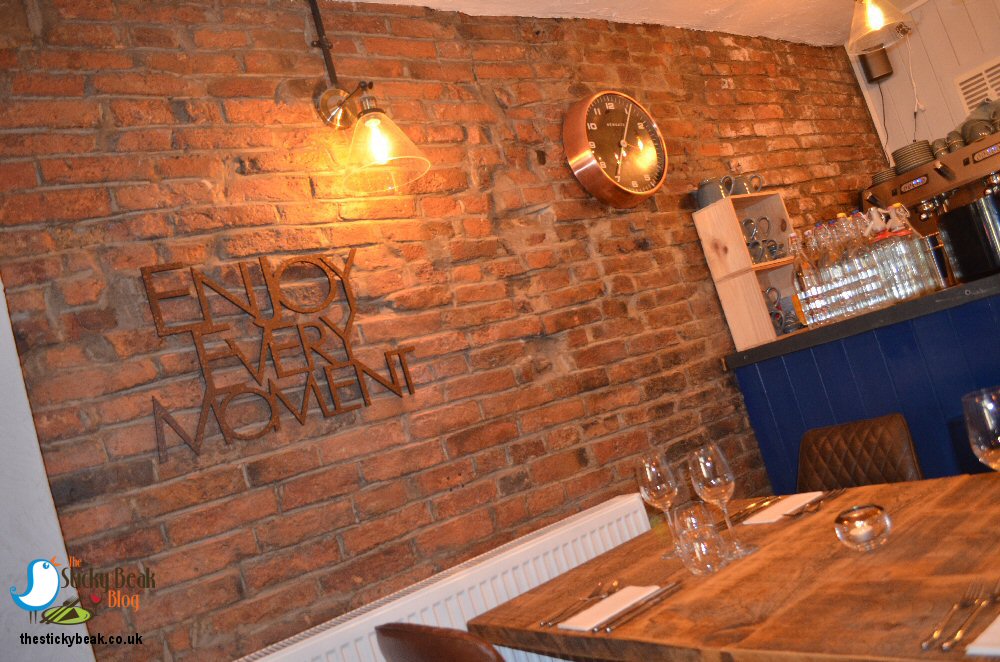 Our plates were spotlessly clean, and looking around it seemed as if our fellow diners had also enjoyed their first courses. Simon came out to gather some feedback and to inform us that there would be a small interlude of about 15 minutes whilst our main course meats were being cooked. To be perfectly honest, after the canapés and the starters I was feeling a little full, so a breather sounded perfect to me – Simon is certainly a feeder!




The duo of mains (both Gluten Free) were worth the wait, let me tell you. I tucked into the Chicken Supreme and sighed with happiness as the moist chicken breast hit my tongue; good chicken has a beautiful taste to it, gently sweet and also slightly creamy. Simon (or Robbie!) had gently crisped the skin too, and this was gorgeously rich in flavour. A good wodge of Smoked Garlic mash hit the spot too with its light Garlic notes that were discernible but not in any way vampire banishing! One of my peeves is soggy vegetables as you know, so I was proper chuffed when I bit into a lovely firm stem of Broccoli (which I dipped into the delicious Tomato sauce that was covering tender ribbons of Courgette). Fine crumbs of Black Olive added a great taste to this dish as well, which had been a proper belter all round in my opinion.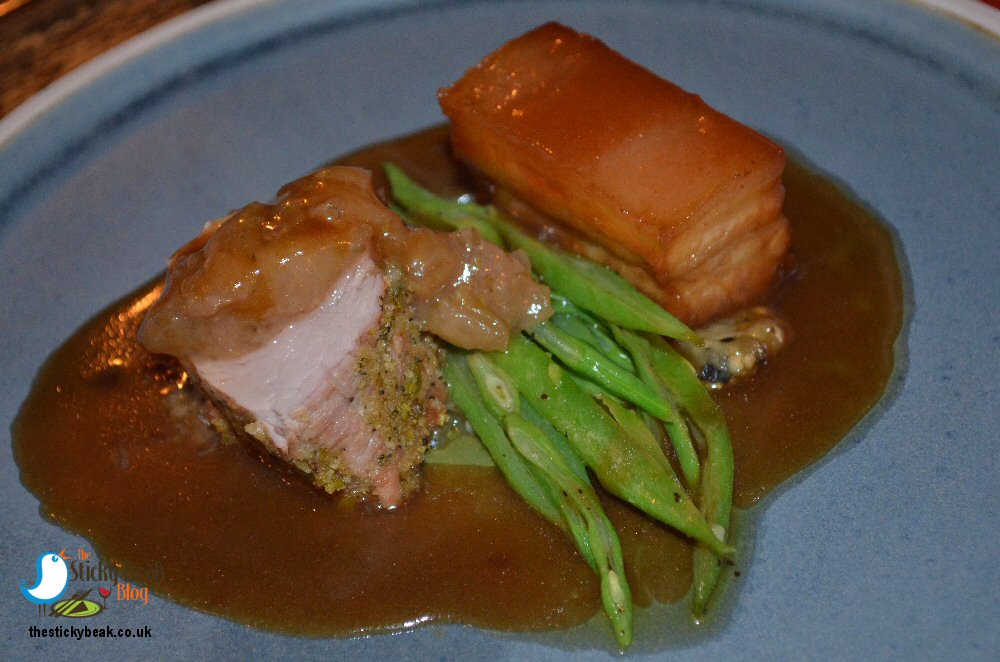 His Nibs is rather partial to a bit of Pork Belly, so he was delighted to see it on his plate as well as the Pistachio and Herb crusted Loin. Simon prides himself on the quality of the meat he procures, and the Pork dish was next level! We both gasped at the creaminess of the Belly Pork with its lightly sticky top, and when a bit of the Aubergine Caviar was eaten with it you got a fantastic contrast of creamy and smoky notes. For me, the Loin was unbeatable; it had a superb depth of flavour to it and a great texture – firm but yielding nicely to the bite. Tart Gooseberry jam sliced through the creamy meat, keeping the palate on high alert, and I don't think I've ever had better "gravy" than the insanely meaty Pork sauce that Marco poured over the meat for me. Sliced runner beans were marvellously bright in the mouth, and because they're in season they weren't tough or stringy, which is what I think turns a lot of people off with this great veg.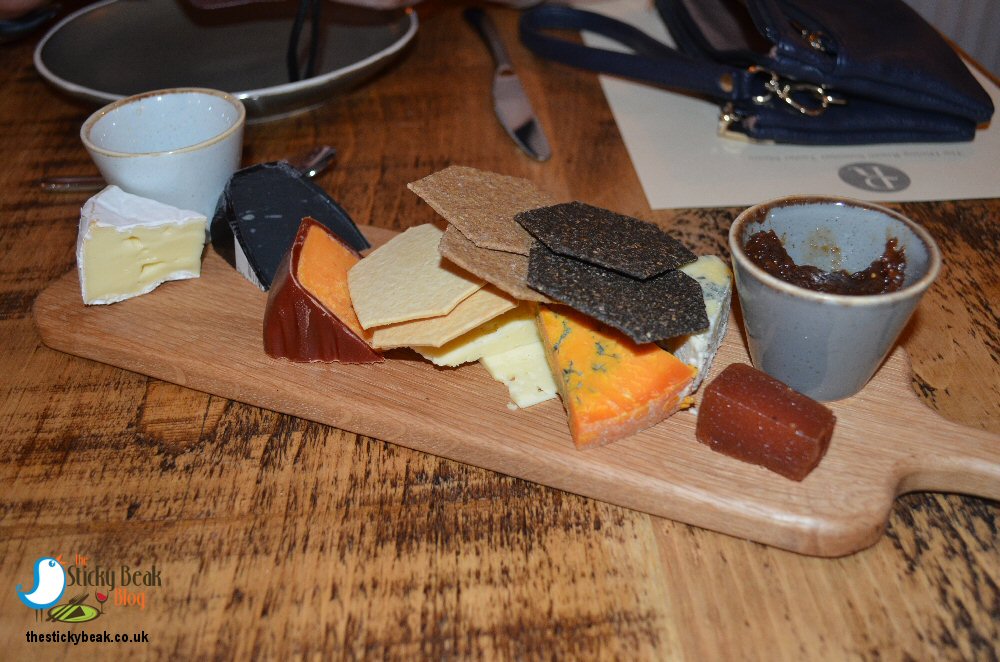 Fellow Cheese lovers rejoice! The Dining Room at 121 has a dedicated cheese menu. Yes! There is a God!! Around the British Isles there are literally 100's of wonderful cheeses, and they hardly ever get a sniff (no pun intended!) of recognition. We were treated to a board of no less than 7 magnificent (pun intended this time) cheeses with a slice of Quince Jelly, a bowl of Fig Chutney, Honey, and crackers. At this point I got quite giddy with excitement and just cut chunks off to eat with my fingers, dipping them into the sweet accompaniments! There was Wild Garlic Cheddar, Cornish Truffler, Charcoal, Cornish Jarg, Red Storm (a Red Leicester), and two Blue Cheeses: Webster's Blue, and Wensley Blue 16. His Nibs possibly managed to get a handful of bites in, before I'd chomped my way through all the milky moreishness. Greedy? Yep, and zero whatsits given!

Thank goodness for my gluttonous capacity; in my cheese-chomping mania I'd completely forgotten that there were two puddings to sample too. Dig deep gal, you've got your Bridget Jones's on, so it'll be alright!




Gooseberry Mess was the first sweet treat we tucked into, and I let The Man have most of this as Meringue and I aren't the best of friends. However, I did savour the tangy Gooseberry syllabub, the dehydrated Gooseberry (mentally intense!) and freshly whipped cream- and I thoroughly enjoyed each mouthful.

His Nibs is a bit of a connoisseur when it comes to Sticky Toffee Puddings and the gleam of utter delight in his eyes when he'd taken his first mouthful of Simon's offering told me all I needed to know. I have to admit, this was sublime; you couldn't wish for a better textured pud. It wasn't heavy at all, but had that fantastic stick-to-the-roof-of-your-mouth persona that my Nana swore by as her benchmark of a good dessert. Sticky, sweet Dates added their depth to the deliciously rich pudding, ably assisted by slices of Caramelised Banana (which I dodged). The Salted Caramel was exquisite with its opposition to the sweet notes, giving a lovely balance to this dessert, and to top all this brilliance off was a large quenelle of Clotted Cream. Absolutely 100% indulgent, but life's too short – eat the damn dessert I say!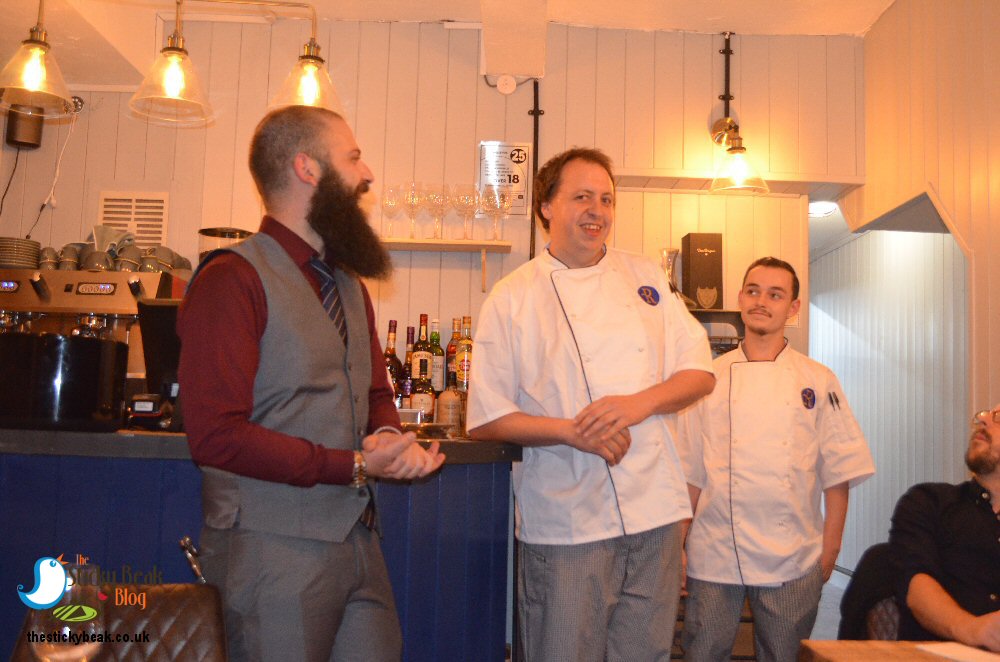 No self-respecting restaurant omits a Chocolate tart: it's a crowd pleaser, and makes diners stay that bit longer and maybe have another glass of wine or a coffee afterwards. The Dining Room at 121 has a complete show-stopper of a Chocolate Tart that it partners with a ridiculously tangy Raspberry Gel, Raspberry Caviar, Vanilla Ice Cream, and Crystallised Pistachios. If you like intensely rich, cocoa tastes then this is the fella for you, it's got it by the bucket load. The top is lightly crusted which makes the almost –ganache centre even more remarkable, and when you factor in the crunchiness of the crystallised Pistachios it is just heavenly.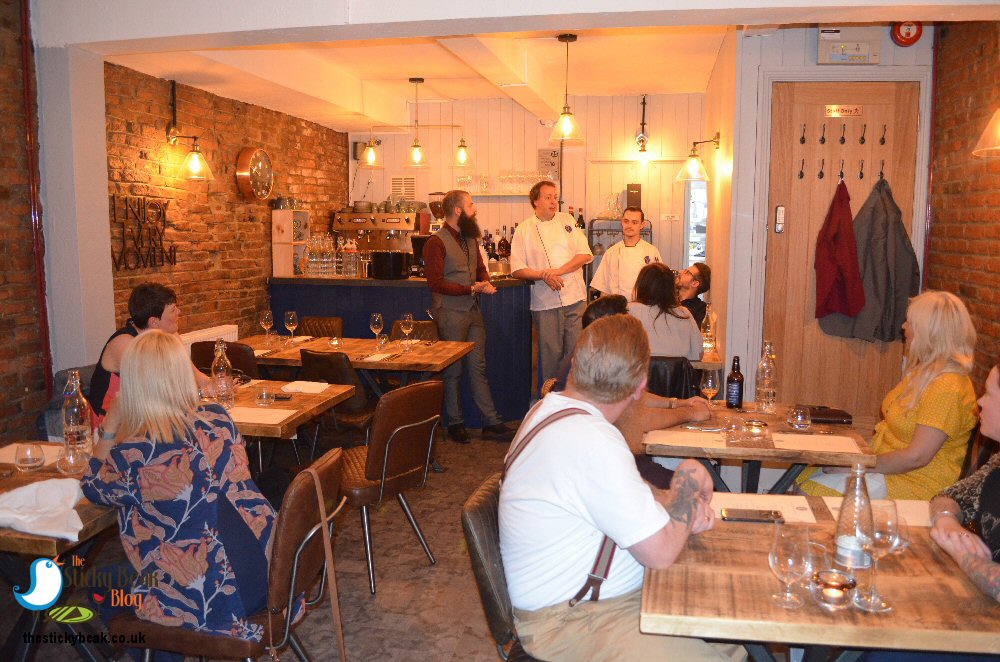 My taste buds were spinning in a manner that would make even Beetlejuice gasp in awe. Remember the film scene where Michael Keaton's character endlessly spins his head 360 degrees? That's what my palate was doing, trying to process all the wondrous tastes and textures it had just indulged in! You may have gathered that The Dining Room at 121 is firmly on my radar, but don't take my word for it, go and see for yourself. Oh, they do Sunday Lunches too by the way: 2 courses for £16.95 pp, and 3 courses for £19.95 – if you happen to go and have that, please let me know how it is.

Opening hours are: Weds 5-11.30pm, Thurs-Sat Noon-11.30pm, and Sunday Noon-6pm. Last bookings are taken 2 hours before closing time.

Hot Wings totally and unreservedly awarded here, and special mention to Simon's wife Claire who couldn't be with us on the preview night (she was being a fab mummy to their young children). We all know that behind a good man is a great woman, right?!!
Some form of incentive was provided to visit this venue
read more