Dinner At The Dapper Spaniel, Rolleston near Newark
---
Published On Sunday 23 Jun 2019 by Sticky Beak
See Recent Dining Out Reviews | See All Recent Reviews


Ok, I admit it; as I'm getting older my Geography is getting worse – not that it was great to start with, despite Mr Hamps best efforts (sorry sir!). When Chef Karl Tyler and his partner Kat invited His Nibs and me over to their new venture in Rolleston I did do a bit of a double-take: Rolleston, as in Rolleston, Newark? I initially thought that this was going to be outside of our ordinary remit of venues within a 30 mile radius of Beak HQ, but nope, it's a mere 25 miles away; closer as it turns out than some of the venues within the 'shire that we've visited!
Rolleston is a lovely little village and despite it being jolly close to both Staythorpe and the power station there and to Newark, you really feel as if you're in the glorious British Countryside thanks to the windy lanes and green fields. The weather was being stubbornly inclement; June shows no sign whatsoever of being "flaming" - more like flaming soggy - but this didn't thwart our mood at all.

You may or may not know, but The Man Bird and I have had the pleasure of experiencing Chef Karl Tyler's culinary skills a few times now within the setting of our own home, so we can attest to the very high standard of his food. It was going to be interesting to see what he came up with from his own kitchen, and we couldn't wait!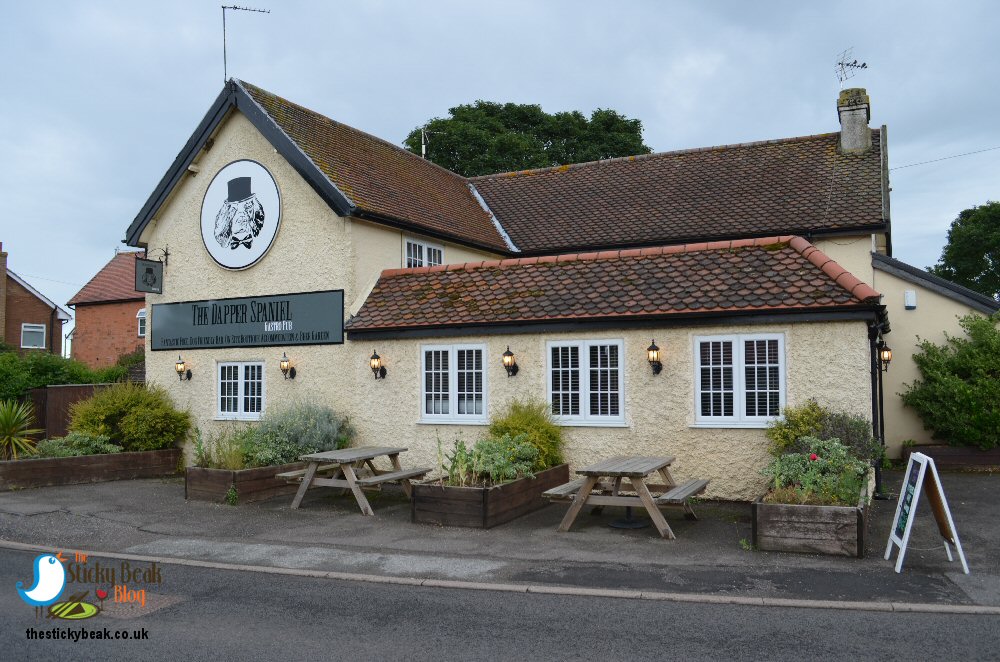 Between the two of them, Kat and Karl have more than 25 years experience working in the Hospitality field and so when it came to styling their own venue, they both had a clear sense of what they wanted. The Dapper Spaniel has all the charm of a traditional English country Pub and dogs are more than welcome in the bar area and even in the first dining space; they have their own beds to lounge on and also a water station and dedicated doggie menu! In case you're curious; The Dapper Spaniel is named after Kat and Karls eldest Spaniel, Archie, himself a bit of an older dapper gent.

As well as the restaurant, the venue also has accommodation; each room has an en-suite bathroom and shower, TV and drinks station, and the Wi-Fi is complimentary. Those with dogs can take their companion with them, as your pooch will have their own cosy bed and water bowl. Double rooms are £85 per night and twin rooms are £65 per night; both rates include a hot breakfast cooked fresh between 8 – 10.30am.




The dining area that we sat in is dog-free and has a lovely, natural light feel to it thanks to the liberal use of pale woods and dove grey on most of the walls. One wall has a gorgeous denim blue printed paper on it, which makes it a great focal point; this darker blue is picked up again on the cloth napkins on the tables. Simple white blinds at the window keep the look clean and unfussy, and it gives the space a calming edge for you to enjoy whilst dining.

Executive Chef Karl and his Head Chef James strive to use the freshest local produce available seasonally, so that they can bring you the very best flavours to the table. On our visit, Karl told us that all their meat is currently sourced within a 5 mile radius of The Dapper Spaniel – definitely low carbon footprint!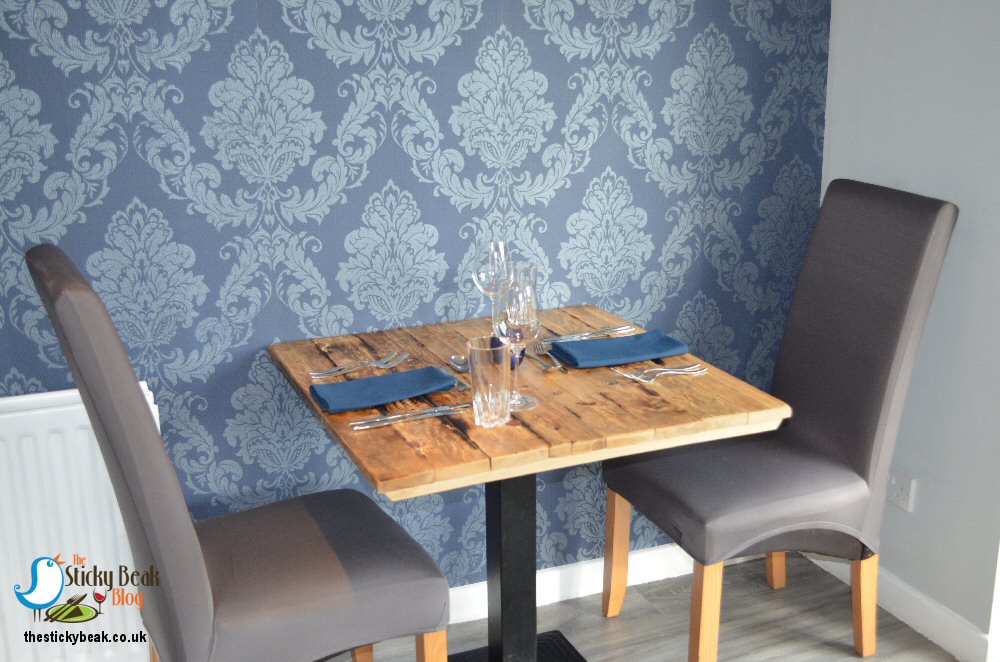 As well as the pub classics bar menu (that features the mouth-watering Brioche rolls until 5pm) there is an a la carte menu, which is what we chose from. For starters we had the Hot Smoked Maple cured Salmon with Samphire, Oyster emulsion and Wild Fennel (my choice) and the pan-seared Scallops with Fresh English Peas and Chicken Skin (The Man), priced at £7.50 and £9.95 respectively.

Both dishes were superbly presented and were bursting with colour befitting the glory of summer's bounty. I loved the contrast between the pink Salmon and verdant Samphire and Pea Shoots on my plate, and this colour pop continued on His Nibs' plate with the bright corals of the Scallops contrasting with the green Peas.




My Salmon was cooked perfectly, preserving the natural moistness of this oil-rich fish. I cut into the lovely firm flesh of the thick fillet and savoured that first waft of its aroma as it drifted up to my nose. Its crisp skin had an amazing smoky-yet-sweet flavour that perfectly captured the balance of the smoke and Maple used on the Salmon. The sweet edge of the Salmon was opposed superbly by the crunchy, salty Samphire and its Ozonic character and the creamy Oyster emulsion added a soft, silky note to the dish. Yep, I had chosen a real pearler of a starter.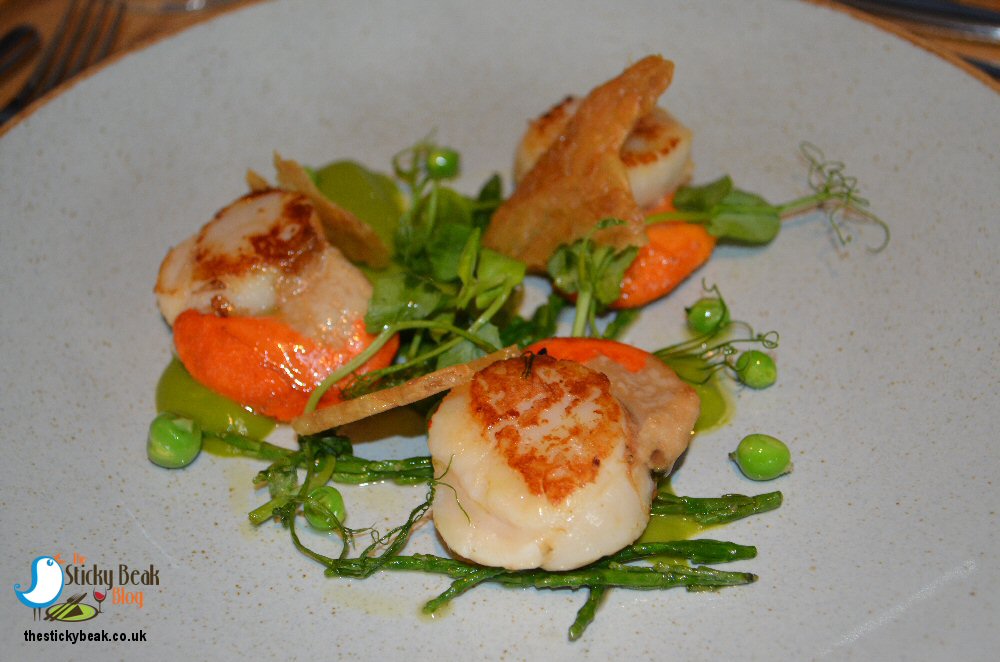 The Man Bird was eagerly tucking into his newly discovered best pal of the starter world, Scallops, revelling in the fat, juicy trio of beauties laid before him. I did have reservations as to whether he would like the more intense flavour of the corals, but he did (drat!) so I sat there with my best begging face on, hoping he would take pity on me and share. I got the merest scrap you could politely offer someone; don't worry chap, I'll remember this occasion! I have to agree with him that the Scallops succulence and sweetness had been perfectly preserved and paired with the bright optimism of the Peas' taste, this was a gorgeous dish. Thin slivers of Chicken skin had been "crackled" to give them a wicked crunch in the mouth and they had a marvellous depth of flavour too.

Hannah and her serving team were taking excellent care of us, checking to see that everything was to our satisfaction, topping up our water and generally being lovely. I have been a little remiss in not sharing our drinks choice with you: I had a large glass of an Argentinean Malbec that was bursting with ripe fruit flavours and His Nibs had a pint of Birra Moretti. There is a great selection of drinks on offer at The Dapper Spaniel, and you're equally welcome to just pop in for a tipple as you are to dine – just as it should be at a village pub.

A family group including nippers came in, so I will just draw your attention to the fact that there is a dedicated children's menu too: mains are all £4.95 and puddings are £2. This all-encompassing hospitality is typical of Kat and Karl; a nicer couple you couldn't wish to meet, and they just love meeting new people of all ages.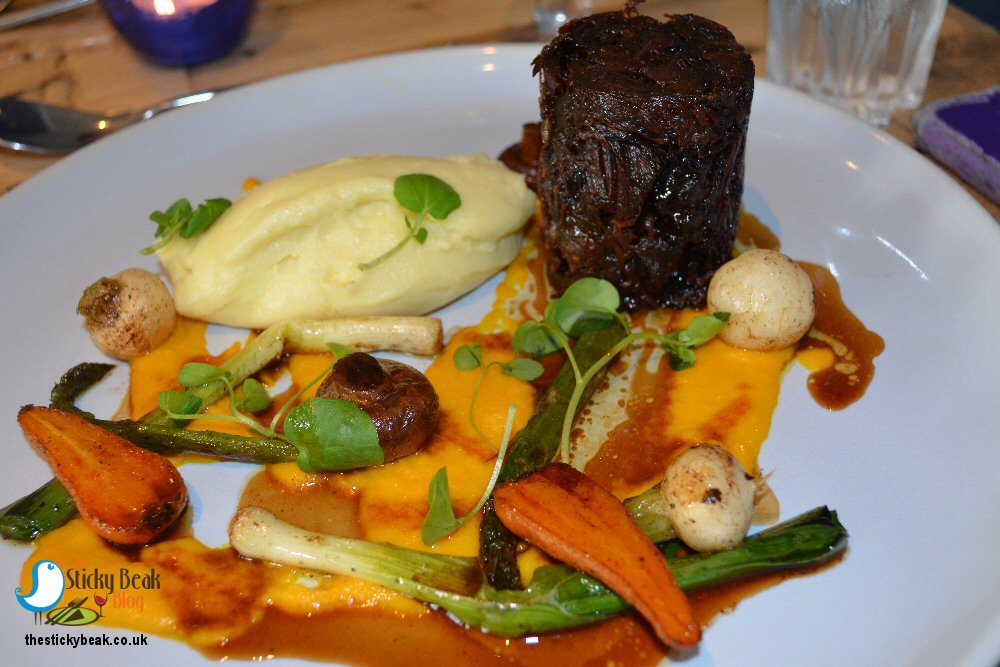 Every now and then an utterly unforgettable dish enters your life dish and trust me, once you've tried Karl's Feather blade of Beef you'll never forget it! As soon as we clapped eyes on it we looked at each other with that "who's having it then?" stare; clearly I had to yield seeing as it was The Man Birds' birthday. My disappointment soon got forgotten about though when I spotted the Brown Crab and Lobster Risotto, with Bisque and Tarragon: come to Mamma!

When he took his first mouthful, a huge grin spread across The Mans' chops and he declared that this was everything he'd remembered and more! The Beef is Treacle brined and braised slowly and you are rewarded with an exquisitely rich tasting, moist dish that reveals its depth of flavour over several seconds; this dish is one to really be savoured. Perfectly seasoned, glass-smooth Potato purée and a medley of vegetables provided even more delight when eaten, and the Marrow jus was just phenomenally fab! Best of all though, I got to have the pair of smoked Chestnut Mushrooms and they were ruddy delicious.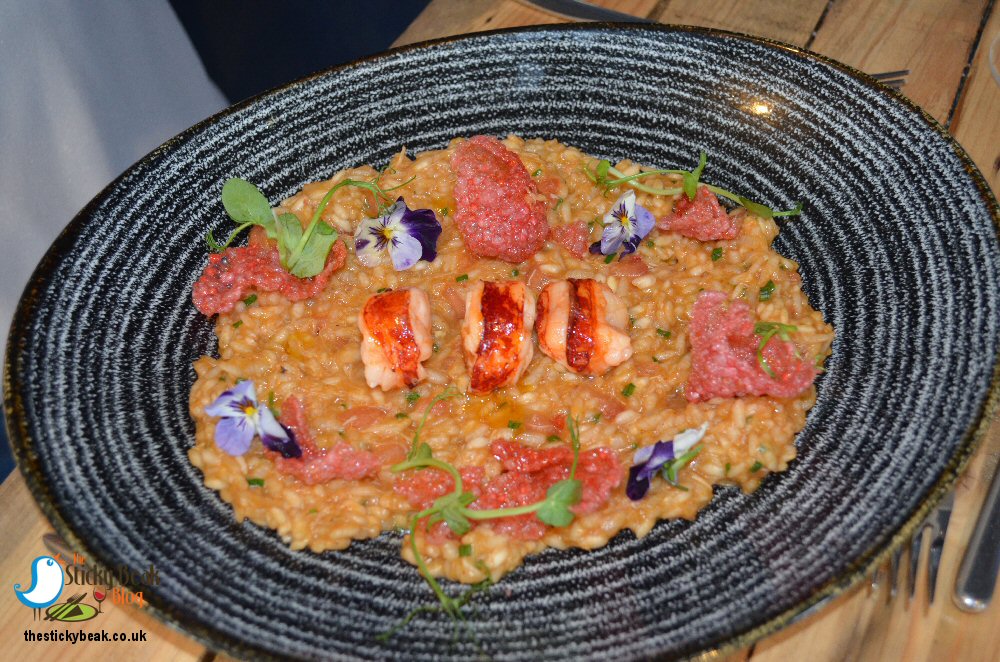 The culinary genius continued with what I can only describe as a risotto fit for the gods. There was a light bite still to the risotto rice, so that it was creamy in the mouth and lovely and moist but not wet; those that eat risotto regularly will know what I mean. There is a world of difference between moist and wet in risotto parlance; one is moreish, the other is forgettable at best. Karl and James definitely get it right. The sweet taste of brown Crab permeated the entire dish, further enhanced by the fragrant Lobster whose tail had been sliced and carefully arranged on top of the rice. Edible flowers, Pea shoots, and Beetroot coloured crisp pieces adorned the plate, making this a dish truly beautiful to behold and to taste. This is a simple, elegant dish with a determined, flavoursome core and one that I could eat time and again.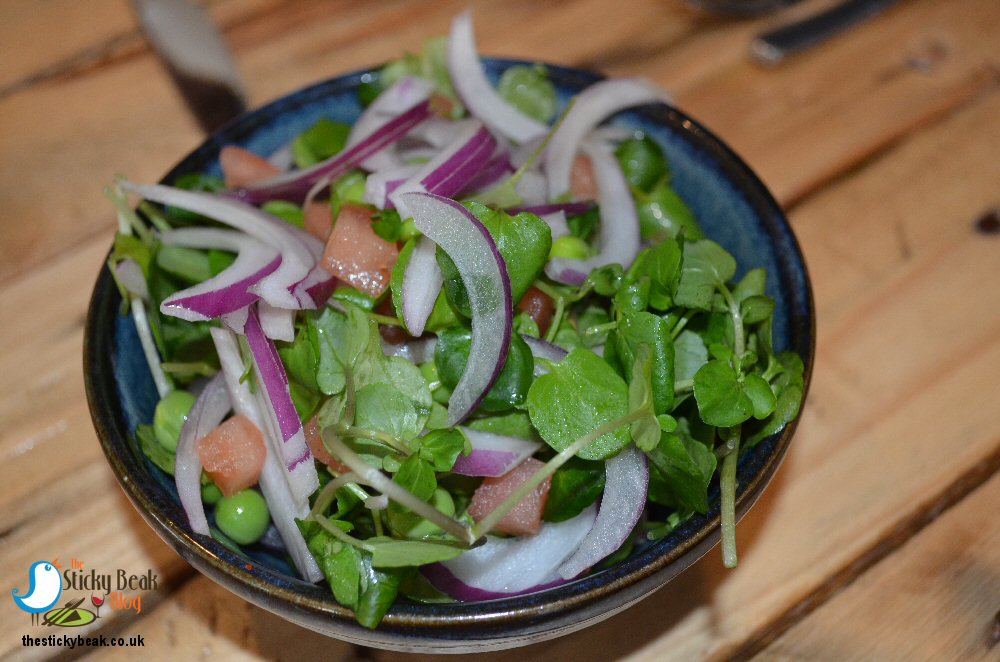 I've said before that whenever you go somewhere new to eat that it's a tricky call as to whether to order side dishes or not. Truth be told, I should've known that Chef Karl Tyler is a bit of a feeder and not to have bothered with sides; but I forgot (flipping Menopause is playing havoc with my memory – gah!), so we had a portion of the Watercress salad and some Duck Fat, triple-cooked chips to go with our mains.




The chips were stunning; ultimate chips, if you will! They had wonderfully crisp outers with rich hints of the Duck fat discernible, and a superb taste from the Potato itself. Piping hot, fluffy inners caressed the tongue and melted like clouds; we both let out little sighs of happiness with these morsels. Equally fab was the bright, peppery Watercress salad with its fresh Peas, sliced Red Onion, Fennel fronds, diced sweet Tomato and of course, young Watercress. Everything was super-fresh, crunchy, and delicious.

For pudding, I had desperately wanted the baked Dark Chocolate Fondant. I've had this before at the hands of Karl and it is a thing of wondrous beauty. However, it was my beloved's birthday and I could see that he really wanted it too, so I stepped aside and let him order it; I had the Cherry Bakewell Tart with Salted Almond Praline and Kirsch cream instead.




The Chocolate Fondant is cooked to order, so you do need to exercise a little patience for about 15 -20 minutes, but it really is worth the wait. His Nibs was like Tigger, bouncing around with anticipation at the treasure he was about to have, and when it arrived he could barely contain his excitement. The fondant is wickedly indulgent; the lightly bitter dark Chocolate outer is softly baked and reveals a melted, velvet centre that you wish would never end. Despite it lingering beautifully on the tongue, it does sadly fade eventually but the memory of it lasts an awful lot longer. The Ice Cream was lovely and creamy with a nice hint of Pistachio that had been finely ground to impart a gentle textural element.




My Cherry Bakewell Tart had a superbly buttery base to it and this in turn had been slathered with a chunky Cherry layer and then covered with a thick Frangipane layer. This was a beautifully springy sponge layer with a fragrant Almond note to it that partnered the Cherry brilliantly. I was particularly enamoured with the Kirsch cream; you got a fab hit of the Cherry again, but this time it was within the airy whipped cream. For a contrast, the Salty note of the Praline was perfect; you knew it was there, but it was completely in harmony with the other tastes. In this dessert, the combination of sweet and salty elements was very cleverly executed; compliments to the Chefs.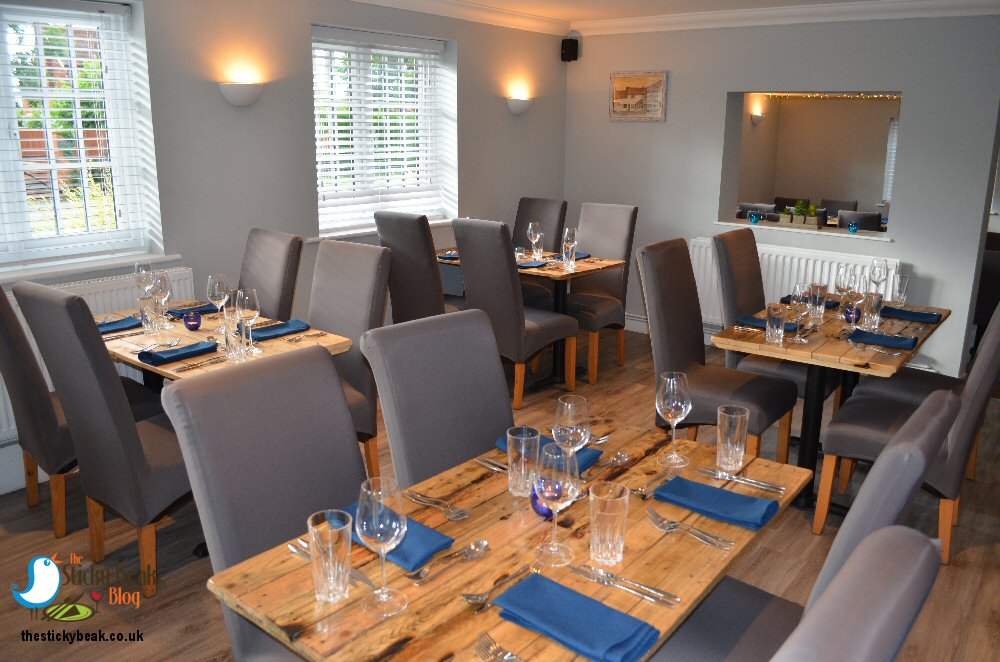 We finished our meals off with coffee and took the time to reflect on what a pleasurable evening it had been. It seems the locals are getting in on the act fairly swiftly, it was quite busy. When something is this good though, it seems a shame for it to remain solely in Nottinghamshire's clutches, so I would urge you to go and give The Dapper Spaniel a try for yourselves. The journey is a dead simple one from J28 M1; you go down the A38, turn off onto the A617 and then turn off for Rolleston village; even I managed it!!

Karl and Kat know that us Brits like an offer, and have got a couple of real pearlers for their customers: Wednesday-Saturday, Noon-2.30pm lets you enjoy a Brioche Bun Sandwich with Fries, Salad, and a pint or small glass of wine for £7, and Thursdays Steak Night offers a range of locally sourced, 35-day matured steaks with Triple cooked Chips, Salad and a bottle of wine for 2 people from £24.75 each (for a Ribeye Steak) or £29.75 per person for the Fillet steak option. Booking ahead for this Steak promotion is recommended, as it's proving popular!

Hot Wings most happily given for Karl and Kat, thank you for inviting us along to your beautiful venue.
Some form of incentive was provided to visit this venue
read more