Out For Breakfast At Mercia In Wirksworth
---
Published On Wednesday 19 Jun 2019 by Sticky Beak
See Recent Dining Out Reviews | See All Recent Reviews


It takes more than a few pesky late spring showers to derail the Beak Posse plans. Mummy bird fancied a run up to Tansley car boot and market on Bank Holiday Monday, so His Nibs and I played chauffeur and pootled around carrying bags for her as she made her purchases. The temperatures had taken a bit of a nosedive and even a fab cup of Yorkshire tea wasn't warming the cockles enough, so we formulated a plan to go and grab breakfast somewhere rather than just head back to the Tribal Elders' nest.
Ages ago, The Man and I had gone to Mercia restaurant in Wirksworth and had a lovely dinner; since then the previous owners had sold the business and so we took the review down – shame because it had been a superb meal. After a bit of discussion of several possible candidates, we settled on visiting Mercia for breakfast and a quick phone call confirmed that they were open and trading on this morning.




Mercia doesn't have its own car park and the one across the way was shut for some reason (probs an event going on seeing as it was Bank Holiday Monday!); not to worry though, The Man dropped Mummy Bird and I at Mercia and went to park the jalopy up the road. The young chap was lovely and welcoming, greeting us warmly as he handed us the drink- and food- menus to look at.

I ordered a couple of lattes for Mummy and me, and a black coffee for Him Indoors whilst we looked at all the yummy options to choose from. Only a couple of minutes had passed and His Nibs was coming through the door and joining us at the table. Had we not been going out in the evening, the Mercia Royal Breakfast would've been making its way into The Boy Wonders' belly! This absolute beast of a breakfast contains Ribeye Steak, double fried Egg, Smoked Bacon, Tomato, Mushroom, Blue Cheese, Chips, Watercress, fried Onion, and Aioli ; priced at £23, and definitely not for the faint-hearted.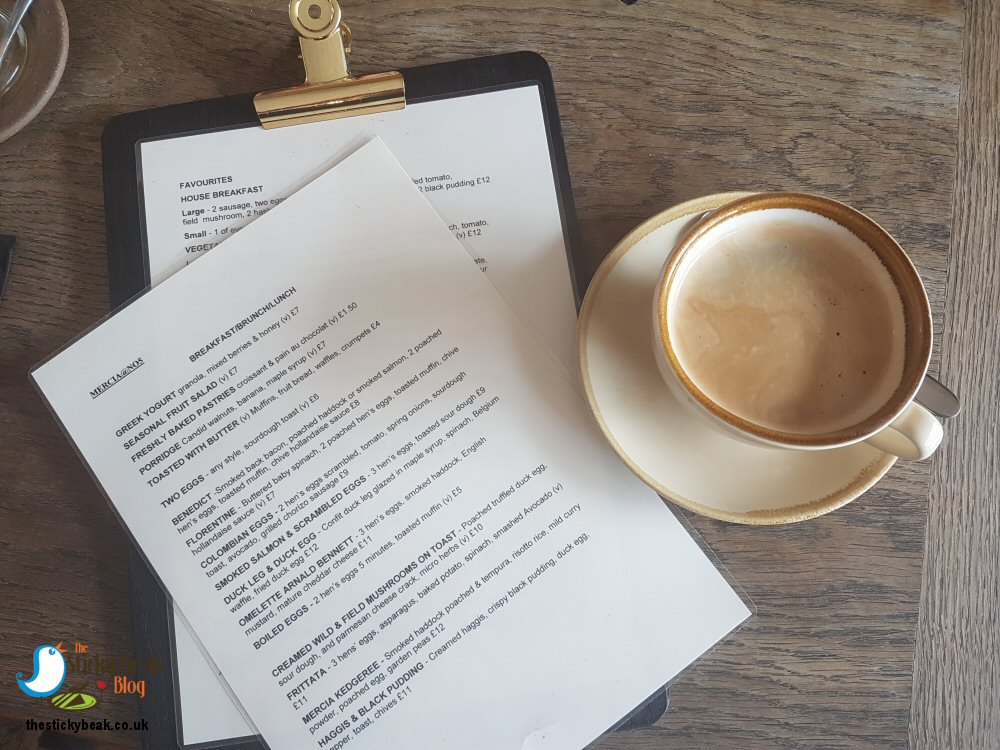 Showing a little common sense (for once!), he chose instead the more restrained House Breakfast (albeit the large option!) with 2 Sausage, 2 Eggs (fried, poached or scrambled), 2 slices of dry-cured Bacon, grilled Tomato, field Mushroom, 2 Hash Brown, fried Sour dough bread, Baked Beans, and 2 slices of Black Pudding. This comes in at £12, with the smaller version being priced at £7.

Mummy Bird hasn't had Eggs Benedict in yonks so that's what tickled her fancy, and I went for Creamed Wild and Field Mushrooms on toast with poached, truffled Duck Egg on Sour dough, Parmesan cheese crack and micro herbs.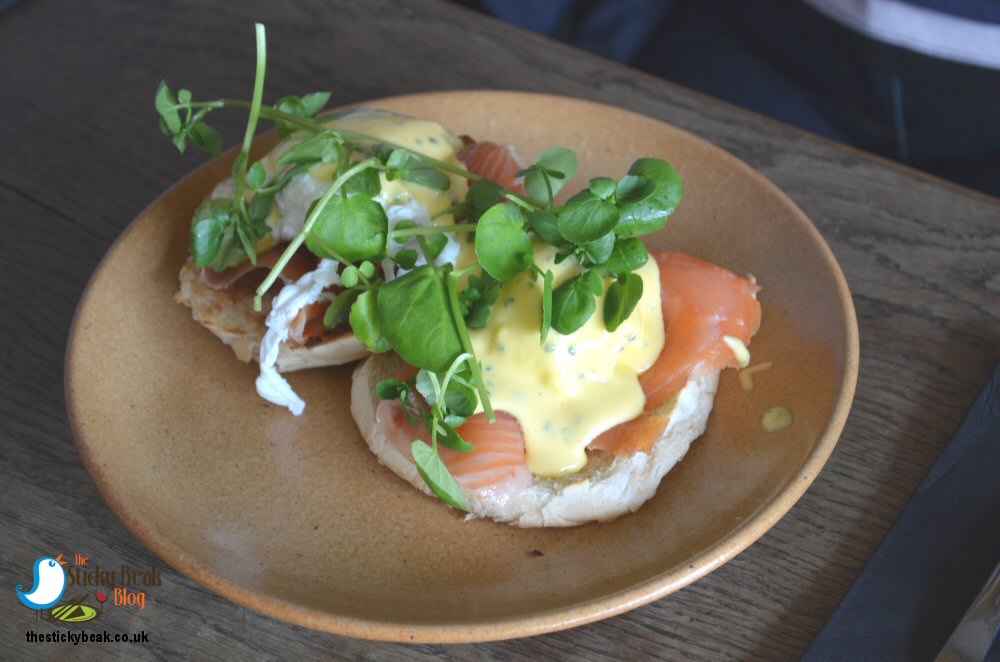 Everything is cooked fresh to order and seeing as there were a couple of other tables that had put their food orders in ahead of ours, we knew there would be a little wait. To pass the time we chatted among ourselves (we can play nicely and chat without arguing occasionally you know!) as we sipped our coffees. I have to say that the coffee really was lovely; not bitter at all, but nice and deep in taste. In fact, Mummy and I ordered another couple of Lattes when our food arrived; His Nibs had an Orange juice.

Needless to say, all the food was hot –you wouldn't expect any else when it's cooked fresh to order though, would you? It was also plentiful; essential for the most important meal of the day.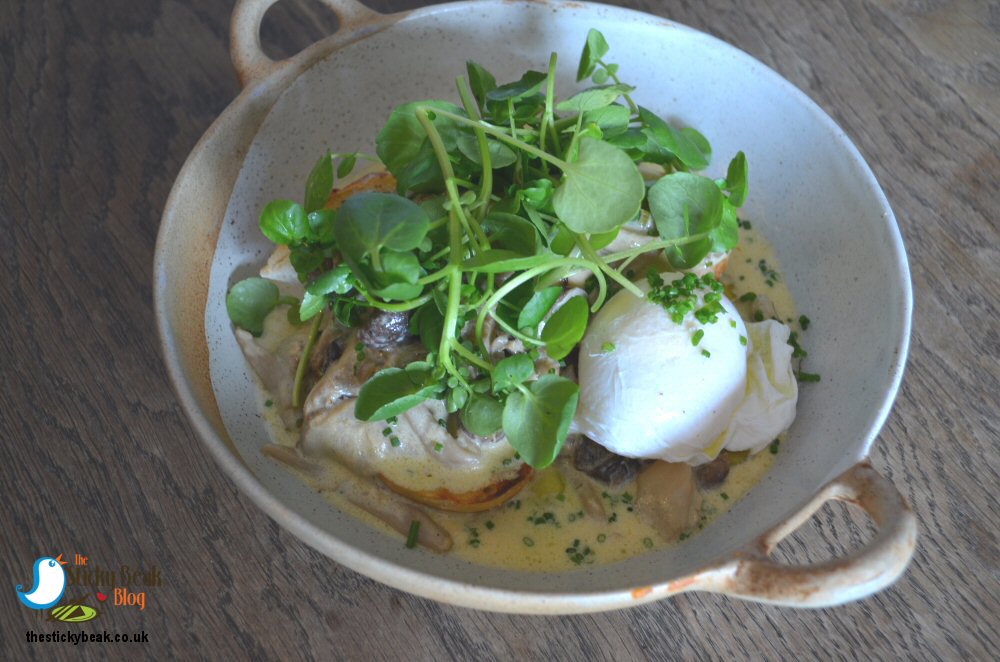 I cut into my poached duck egg and was rewarded with a brilliant sunny-toned river of liquid yolk; I scooped it up with a bit of the sour dough that I'd cut off and got a fantastically rich taste from it. Duck eggs are definitely more intense and richer than their hen cousins, and slightly larger too. The drizzle of truffle oil was just enough to impart its earthy note, but not enough to overwhelm the creamy Mushroom medley that was the star of the show. I was more than pleased with the assortment of mushrooms on offer and really enjoyed the variety of textures and tastes that this dish had within it; although it was creamy it most definitely wasn't bland thanks to the seasoning and herbs that had been used.

The Man Bird was in an uncharacteristically generous mood, sharing his Black Pudding around so that Mummy and I got a taste each of this lovely, dense textured morsel. As usual, the field Mushroom got passed over to my plate (no complaints here) and this was a gorgeously meaty textured fella with plenty of flavour to it. I purloined a super-crispy bit of the Bacons' edge to try and it was delicious; His Nibs said that the Bacon really packed a punch taste-wise and had a good chew factor to it that made it really satiating. Everything on his plate was top notch and it wasn't long before he'd performed his usual trick of "now you see it, now you don't!"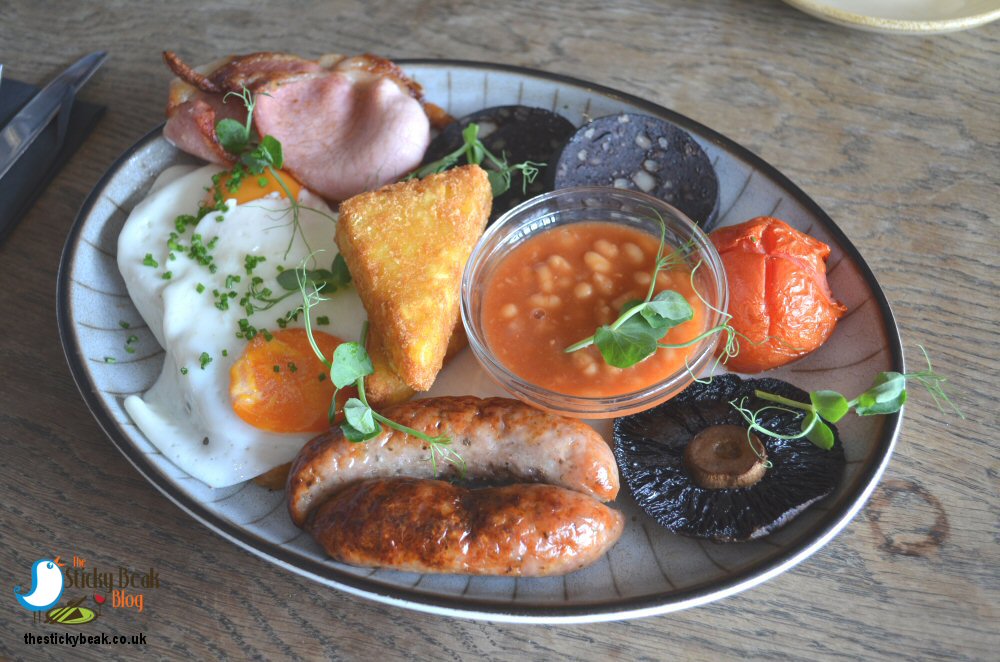 At Mercia, Wirksworth, their Eggs Benedict come with a choice of Smoked Back Bacon, poached Haddock, or Smoked Salmon to accompany the pair of poached Hens' Eggs, and Mummy Bird had opted for Smoked Salmon. On top of the toasted muffin lay a couple of wonderfully thick slices of the Salmon, perched on these were the neatly proportioned Eggs which were themselves crowned with a generous blanket of Chive enhanced Hollandaise sauce.

The Hens' eggs were perfectly runny in the centre and had an intense richness to their yolks. Actually, to say the Hollandaise sauce is rich and creamy, and the Salmon is a rich, oily fish, this breakfast option was surprisingly light on the tummy and not cloying in the mouth. Top marks given to this from my Mummy, both for taste and for portion size.




Mercia have an incredible breakfast/brunch/lunch menu, there is so much choice – perhaps one of the most diverse menus I've seen in a while. Elements Coffee House in Derby sprang to mind as I thought this, as their menu also impressed me. As well as traditional fry-ups, there are lighter options - Greek Yoghurt, Granola, Mixed Berries and Honey, Porridge with Candied Walnuts, Banana, and Maple Syrup, and fresh Pastries or Seasonal Fruit salad – and also rarer treats such as whole grilled Kippers, hot Smoked Salmon Gratin, and Roasted Cauliflower. I was sorely tempted (believe it or not) by the Vegan House Breakfast that includes treats such as Artichoke, Asparagus, Onion and Cumin pâté, and oyster Mushrooms.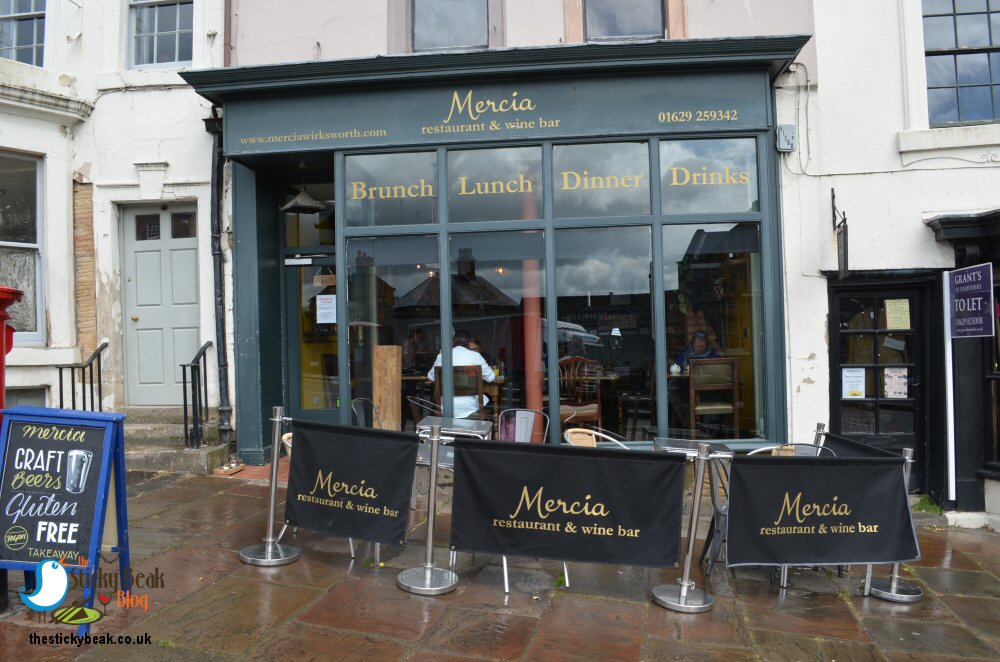 Hot Wings happily awarded here, all round; we couldn't fault the premises, service or food and drink at all. If you're tempted to try it yourself, you'll be pleased to know that Mercia is open 7 days-a-week: 9am-10pm Monday-Saturday, and 9am-6pm on Sunday.
No incentive was provided to visit this venue
read more